Valentine's Day is coming near, and there's nothing better you can do than to bring someone special that romantic cheer. How will it be done this year? Well the answer is clear. Show them how very much in your heart they are dear. With these select bouquets, it's never been easier to do just that. Not only will you bring a smile to their face, but give them a lasting centerpiece that you all can cherish for a long time to come. Bringing the essence and beauty of nature could not be simpler and more care free than with our Nearly Natural collection. Without the need for water, sunlight or cautious handling, the perfection of botanical symmetry can bring joy to your spouse and even uplift the ambience of your home or workplace decor. No one will know your flowers are faux unless you mention it.
The quality of these beautiful arrangements speak for themselves. Bring home a unique arrangement or display and create a fun, wild, cute or romantic experience that will bring fond recollections for decades ahead. Further, our arrangements are perfect for DIY home decor projects, in fact, here's a guide to help you get started with making your first flower arrangement for your home. The joy of Valentine's Day will never be the same once you see our selection, ranging from traditional classics to unique masterpieces.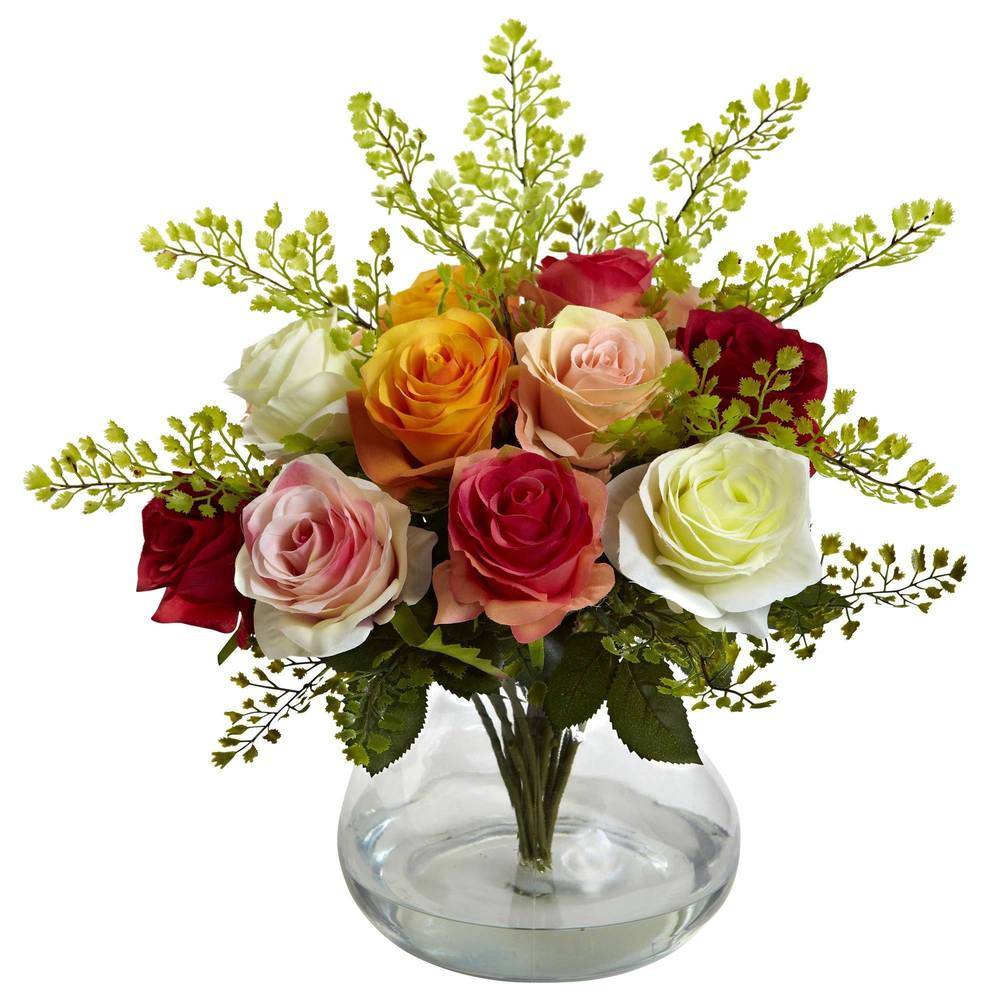 Rose & Maiden Hair Arrangement in Vase

If you want someone to know every shade of your affection, this is the arrangement for you. This piece provides gentle roundness of the vase combined with an abundant, vibrant display of romantic colors that's bound to convey every aspect of your love. The Maiden Hair creates a healthy balance of flower and foliage. Bring this to your home and create a new atmosphere wherever it ends up. It can even make a great centerpiece at a dinner table for many romantic nights to come. Put the lights on dim and enjoy. With a choice of color options, any mood can be set.
Rose Arrangement in Decorative Chest

This adorable chest of roses is a treasure that could compliment just about any room in your house. Put it on a table in the bedroom or a window sill in the kitchen, the charm will permeate to everyone who sees it. Sneak a treat, maybe a chocolate bar or a gift card, into the chest when you gift it to your loved one and leave a hint in the card. What better way to start off Valentine's Day than with some clever playfulness? There are so many ways to have fun with this gift and it will continue to serve you even after Valentine's Day. This cute gift is not only versatile in use, but also in color. With red, dark red, orange, and white, one can compliment or match any other arrangement or bigger gift.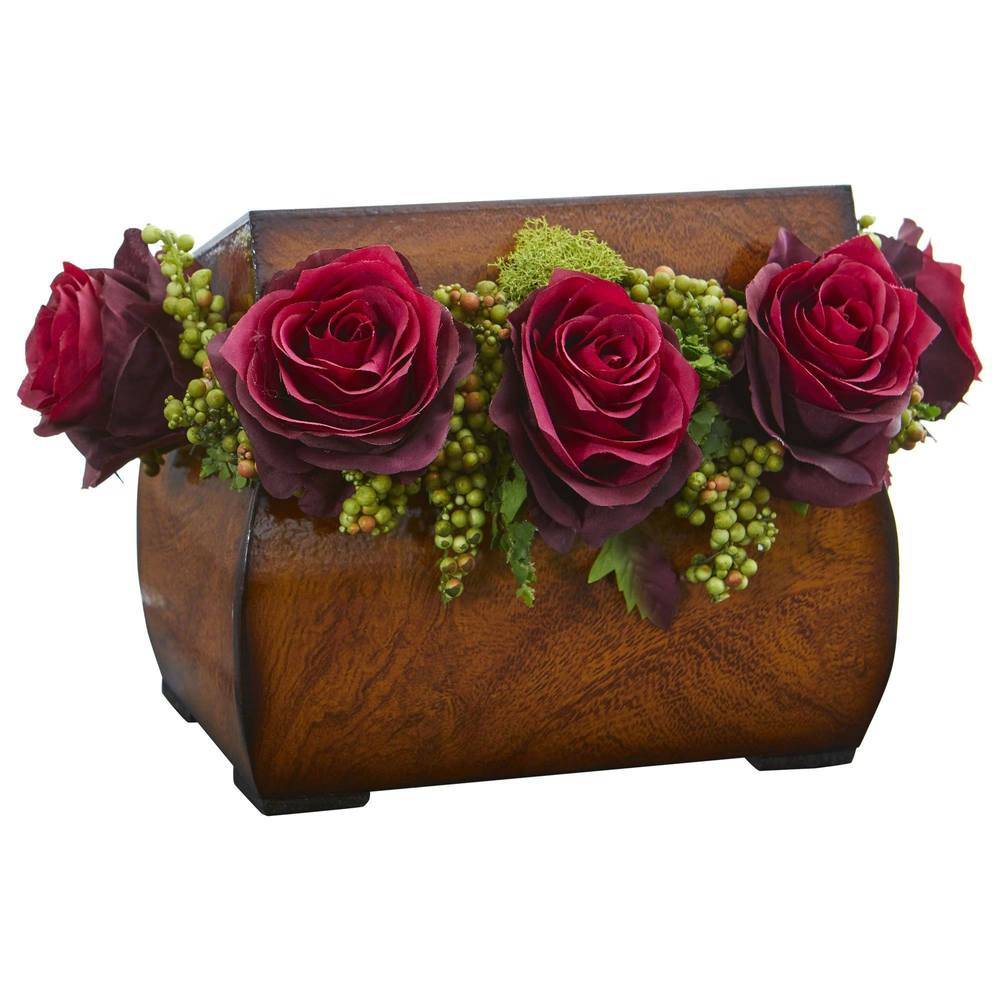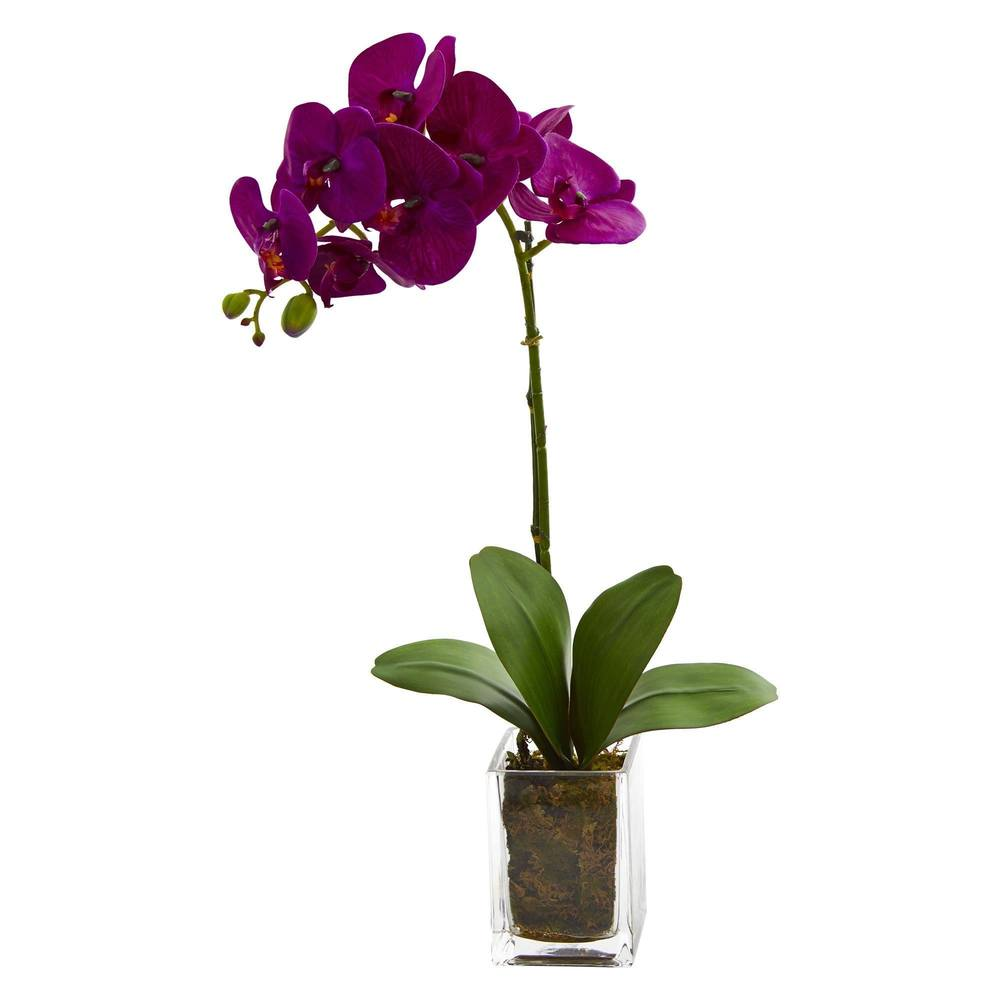 Orchid Phalaenopsis Artificial Arrangement in Vase

The perfect arrangement to surprise your minimalist partner who prefers a more modest approach to Valentine's Day gifts. With its long and elegant beauty, this fragile wisp of a flower will bring a refined yet simple taste to any decor that it joins. With color options of purple, white or a heathered mix of the two, one can create a relaxing atmosphere anywhere in the house. A purple orchid can bring a sense of royalty and sophistication while white orchids can create the feeling of purity and innocence. One can never go wrong with orchids as they bring the message of love in an appropriate way for any relationship, from romance to business settings.
Giant Rose Silk Flower Arrangement

For those who want to escalate the atmosphere of romance to the highest level, this piece will not disappoint even the highest of tastes. As the pinnacle of our rose collections, this bouquet will make your mate's Valentine's Day one to remember for many years to come. The fine silk fabrication of roses resting on a bed of vividly green leaves makes this spectacle the ultimate symbol of love, affection, and adoration. Standing nearly three feet tall, these beautiful roses will be guaranteed to bring the full attention of anyone in the room. A perfect fit for the most auspicious of occasions.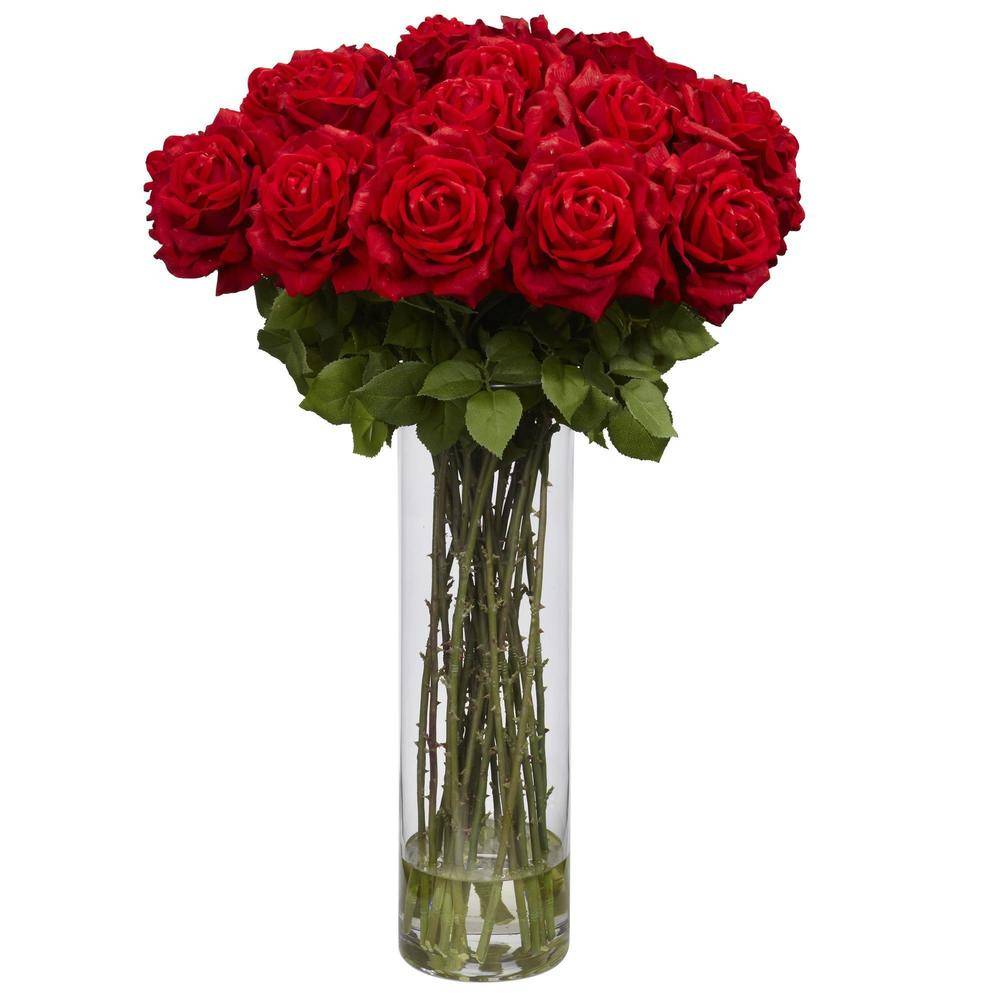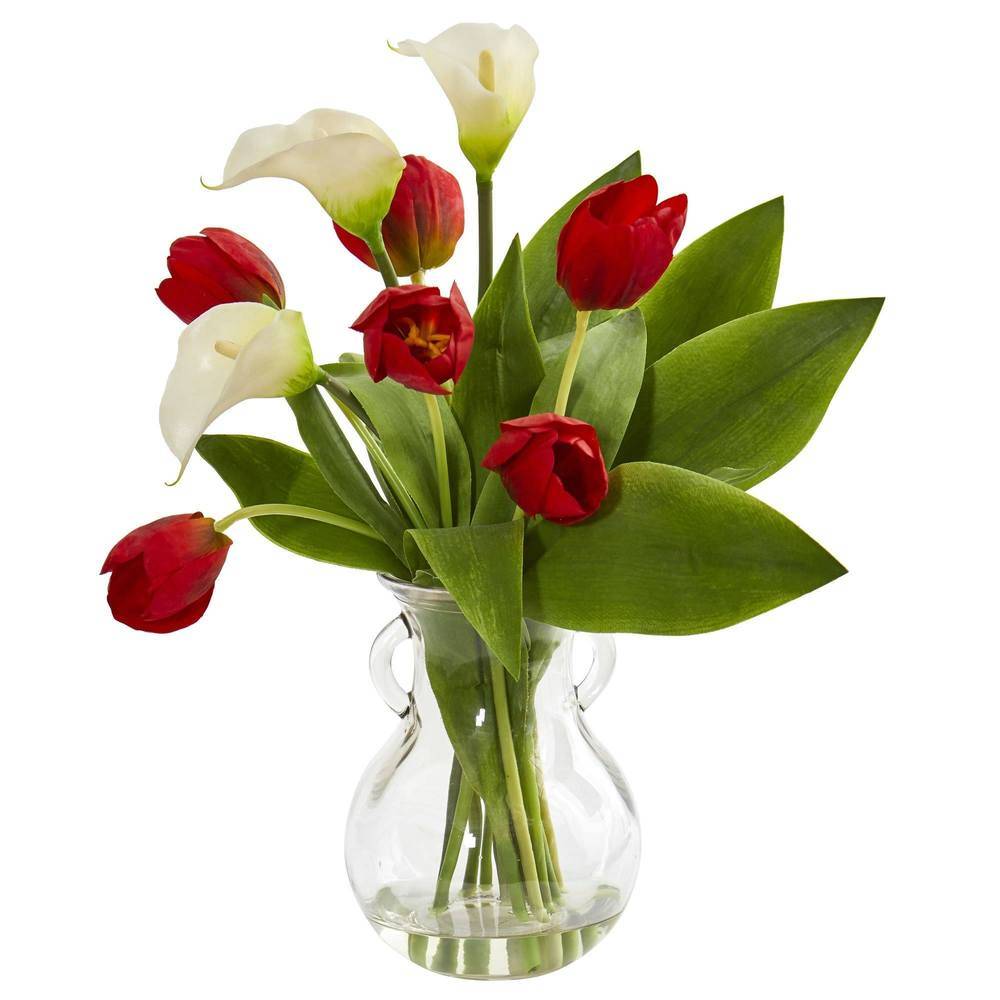 Calla Lily and Tulip Arrangement in Vase

Show your layers of love with the powerful combination of calla lilies and tulips. Symbolize your open declaration of love and passion with the red tulip color option. White calla lilies will tell your beloved of their magnificent beauty without having to say a word. The decorative vase adds an adorable touch with its small rounded handles, while deep green leaves provide a healthy backdrop. This simple yet stunning arrangement can go along with just about any Valentine's Day product you could think of. Slide your favorite picture or a romantic postcard onto the flat array of supporting foliage and create beautiful piece of art.
Silk Peony with Fluted Vase and Budding Blossoms

Give your partner the message of bashful affection with this audacious arrangement. Peonies represent a joyful, happy life and every step of the way is represented in the young bud, the blossoming adolescent, and the well developed, mature bloom. Choose the red palette to show your loving passion or white to exemplify your wistful innocence. If you are feeling roses to be a bit cliche this year, peonies can bring just as much romance with a new twist. The fluted vase adds a quaint note of elegance that will charm one of any age. This smaller arrangement will look absolutely adorable on top of a new book or gift wrapped box.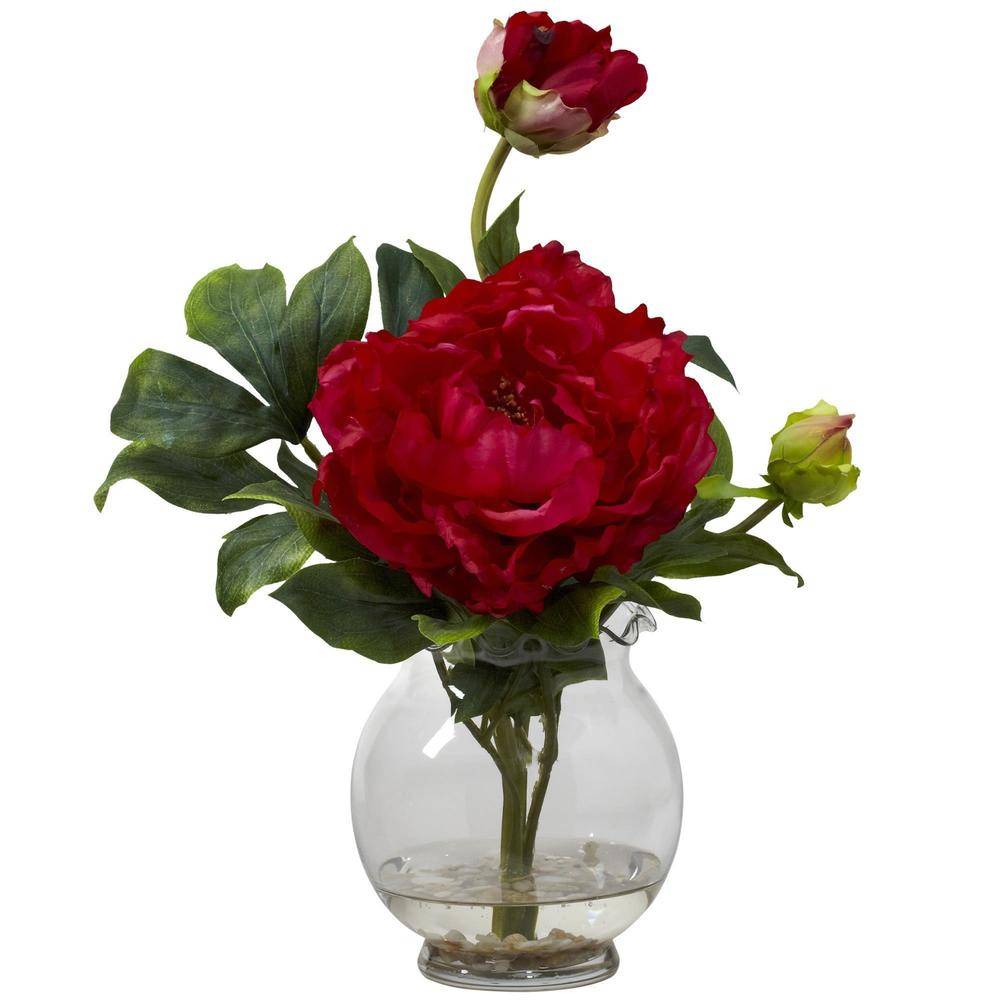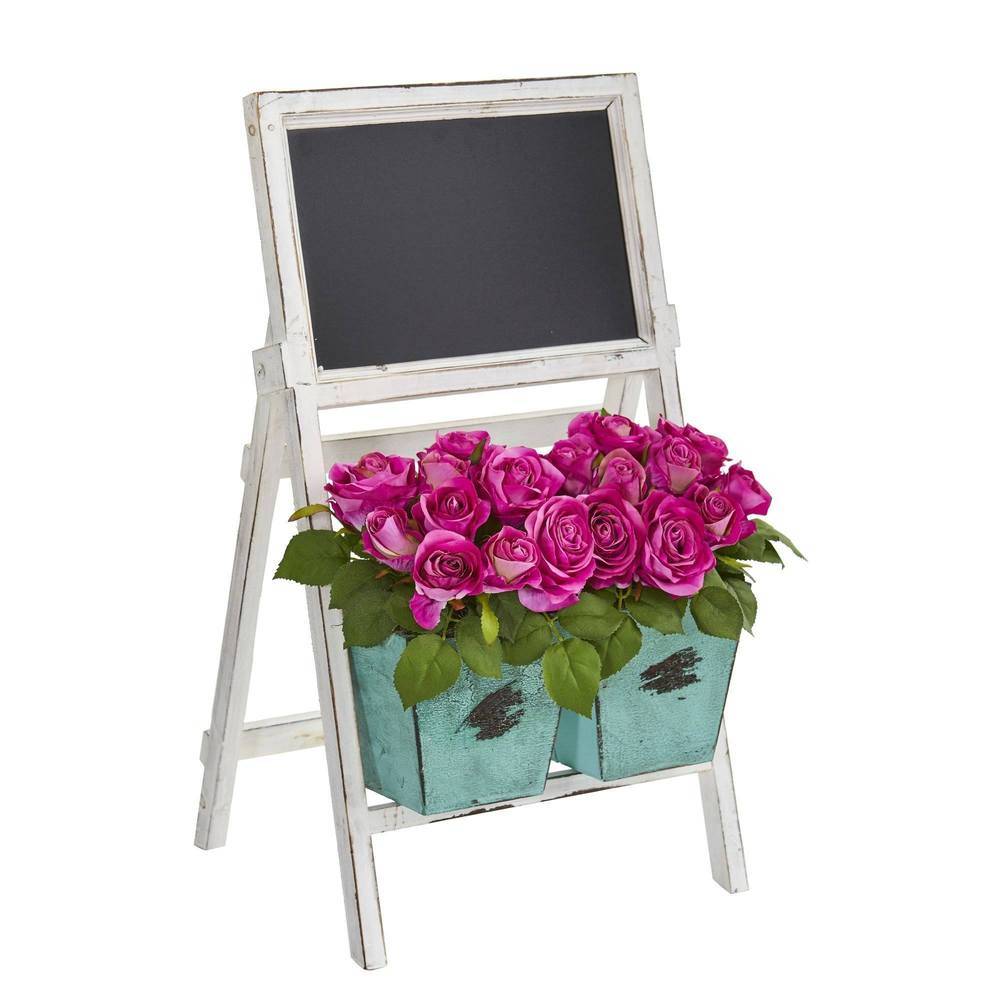 Rose Arrangement in Farmhouse Stand with Chalkboard

If you want to bring in the country charm, there's no better way than with this farm stand full of regal purple roses. Surprise your loved one by setting this up in the entrance of your abode. Take this home today to create the Valentine's Day memory of a lifetime! With a genuine chalkboard on top, the possibilities of cuteness and creativity are endless. It can be used for just about anything after the Valentine's Day novelty wears off. Use it as a menu, a guest welcome, or even as a reminder. It will always remind you of the sweet and special way it came into your life.
Red Roses in Designer Chalice

Show your goblet of fiery passion with this unique Valentine's Day product that is guaranteed to make that particular someone feel like a Greek god or goddess this year. With an artistic curved ring of gold bridged through a layer of heathered gray faux stone, this unique artifact will most certainly shock and impress. A fitting addition to any dresser, mantle or table. It will be cherished by anyone who enjoys a touch of aristocratic aesthetics mixed with Roman romanticism. Bring this home if you want to bring an unforgettable smile to your Valentine.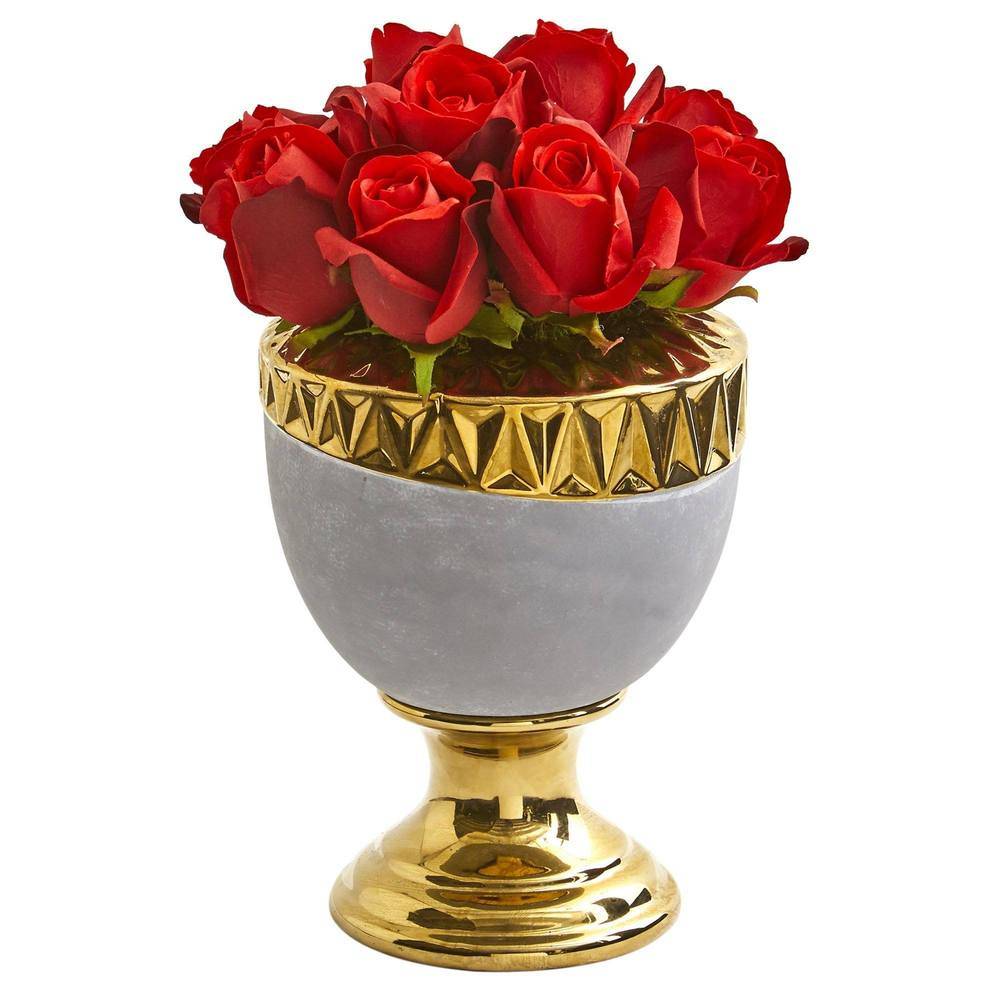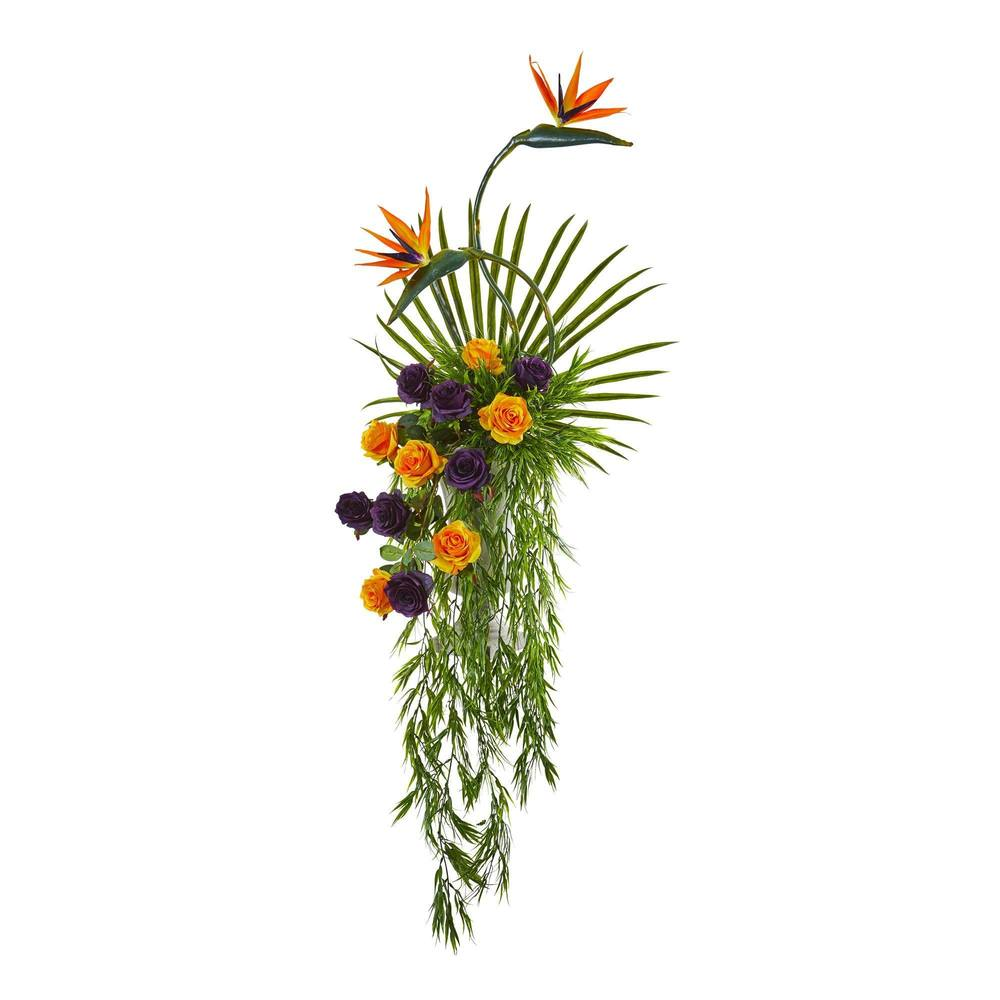 Roses and Bird of Paradise with Palm Fan

Transport you partner to a tropical oasis this winter with the ultimate display of rainforest paradise. Make this Valentine's Day like no other with flamboyant birds of paradise, bringing the feel of an exotic wonderland into your own home. With choice orange and purple roses set to perfectly match the two colors of birds of paradise, this ostentatious piece will totally entrance all those who are graced with its presence. At an astounding five feet tall, this ornamentation is its own masterpiece for admiration as it sits on an exquisite, sleek white vase. The combination of roses and birds of paradise bring feelings of tropical honeymoon getaway with classical courtship.
Drop a little taste of summer sunshine with this simple arrangement of sunflowers. These dwarf sunflowers bring back memories of childhood freedom and represent adoration for your loved one. With a little bit of work, you can free up a space in your home to rediscover the light of nature's beauty. Clear your table and find the relaxing and realistic ambience of our specialty sunflowers. Without close analysis one would never notice the expert imitation of these beauties. Liquid Illusion water creates a pleasing sense of natural harmony and brings peace of mind and rustic elegance.