5 Trending Christmas Wreaths DIY
What better way to create a space to love than with a thoughtful Christmas wreath that's perfect for welcoming guests? We love wreaths because they're perfect for any space no matter the size, there are a few items that spark interest in any space. What better time of the year to display one than during the holiday season? No matter your style, the perfect wreaths await you, from traditional, trendy, farmhouse-inspired to modern, you're in control this season. Perfect for indoor and outdoor use, designers with scores of experience, craft every single wreath with meticulous attention to detail and capture mother nature's beauty at every branch, stem, and leaf.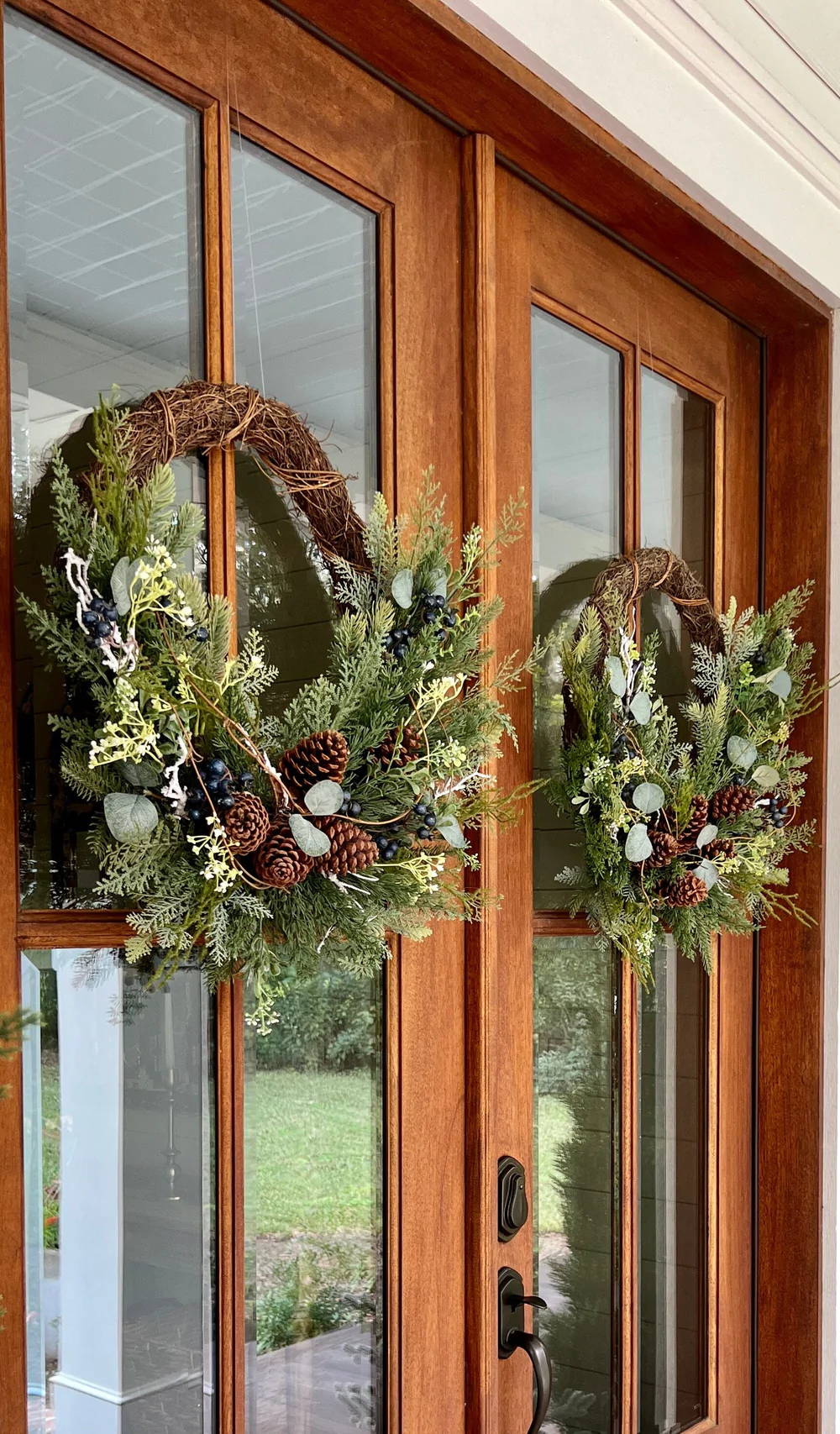 We know that decorating a front porch with two doors can be a challenge at times. But a great way to add some visual interest is by adding two of the same wreaths on each door. Especially if you're looking for a cozy, rustic-inspired porch, pinecones and berries bring natural elements for a realistic look. Since the winter can be harsh on the flora, we recommend going team faux to achieve this look. Have one less worry for a low price and save time and money on caring for live plants.
---
Have you ever seen a large Christmas before? We're here to surprise you with this oversize, fun, 4' ft wreath. Our friend @bridgewaydesign shows how to add this piece to an entryway to bring in that merry Christmas cheer. This particular item also has lights so you can illuminate any space you'd like to accent. To add your touch, consider some ornaments or ribbons for an added touch to the holidays. Consider decorating with a few faux trees or flower stems on the entryway to complete the look.
---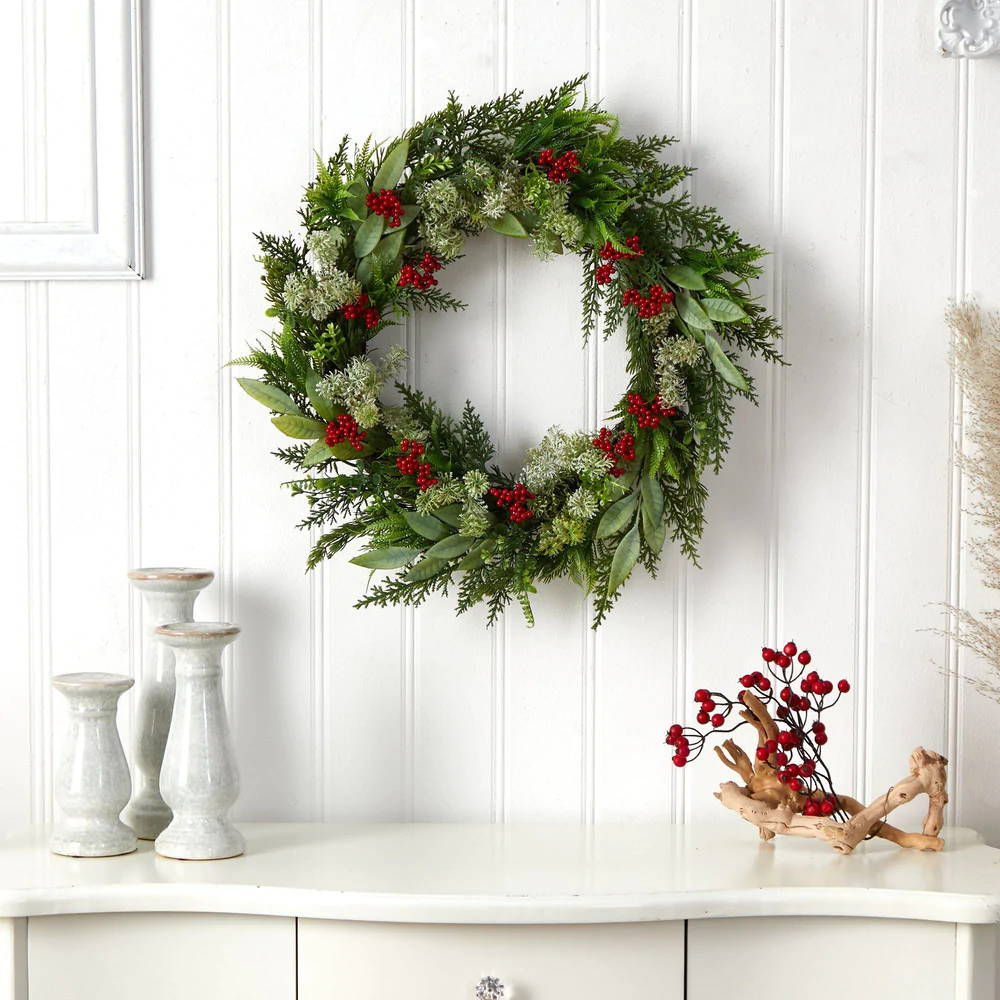 Who doesn't love Home Alone? The traditional holiday movie always makes us reminisce on those special moments from our childhood. Why not recreate the look today? You can! Our cedar wreath with berries and eucalyptus makes this possible. Consider adding a few indoors on the windows and take your dining room to the next level. If your budget permits, display one in every window and accent the look with ribbons and matching cushions. Look for a Christmasy color pattern, reds, whites, and greens are fine.
---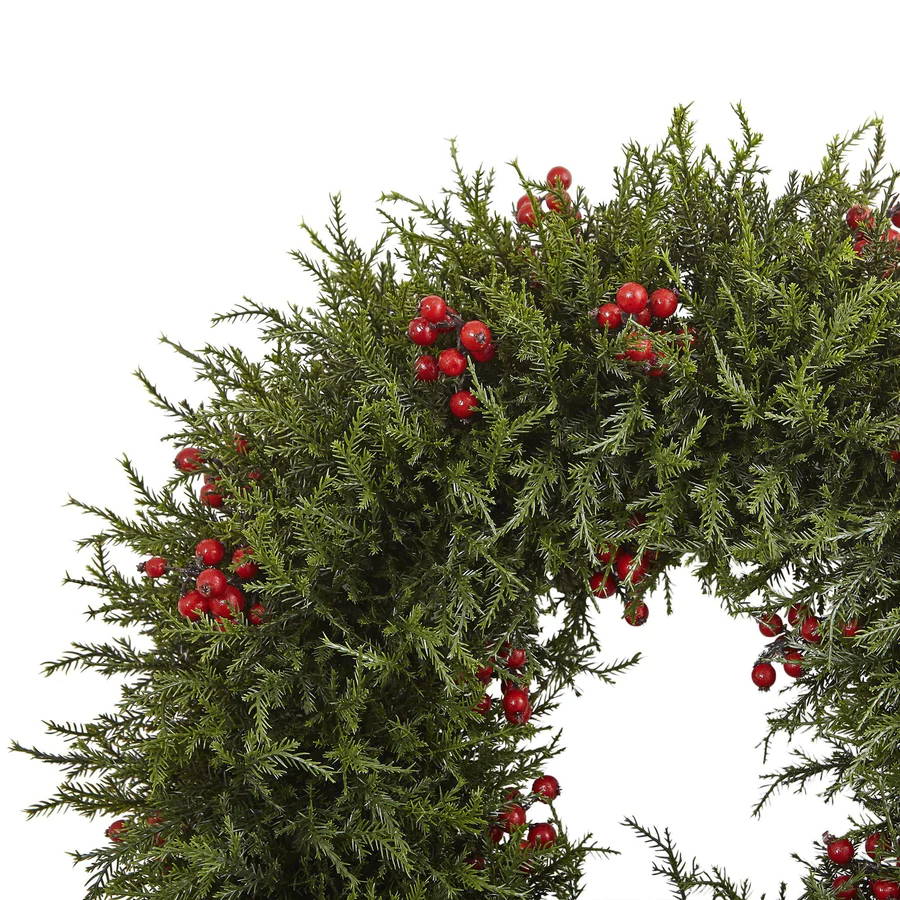 Puppies and Christmas? What could be better than that? A great deal for these front porch wreaths. Get this elevated and cheerful look with our cedar wreath with berries, perfect for the holidays and beyond. The beauty of cedar is that it works well for any time of the year, you can DIY and add other goodies to match your existing décor. Ribbons are one of the best, low-cost ways to make a statement in your space without making it too much. Consider a black one if you want an elegant look or red for a more cheerful aesthetic.
---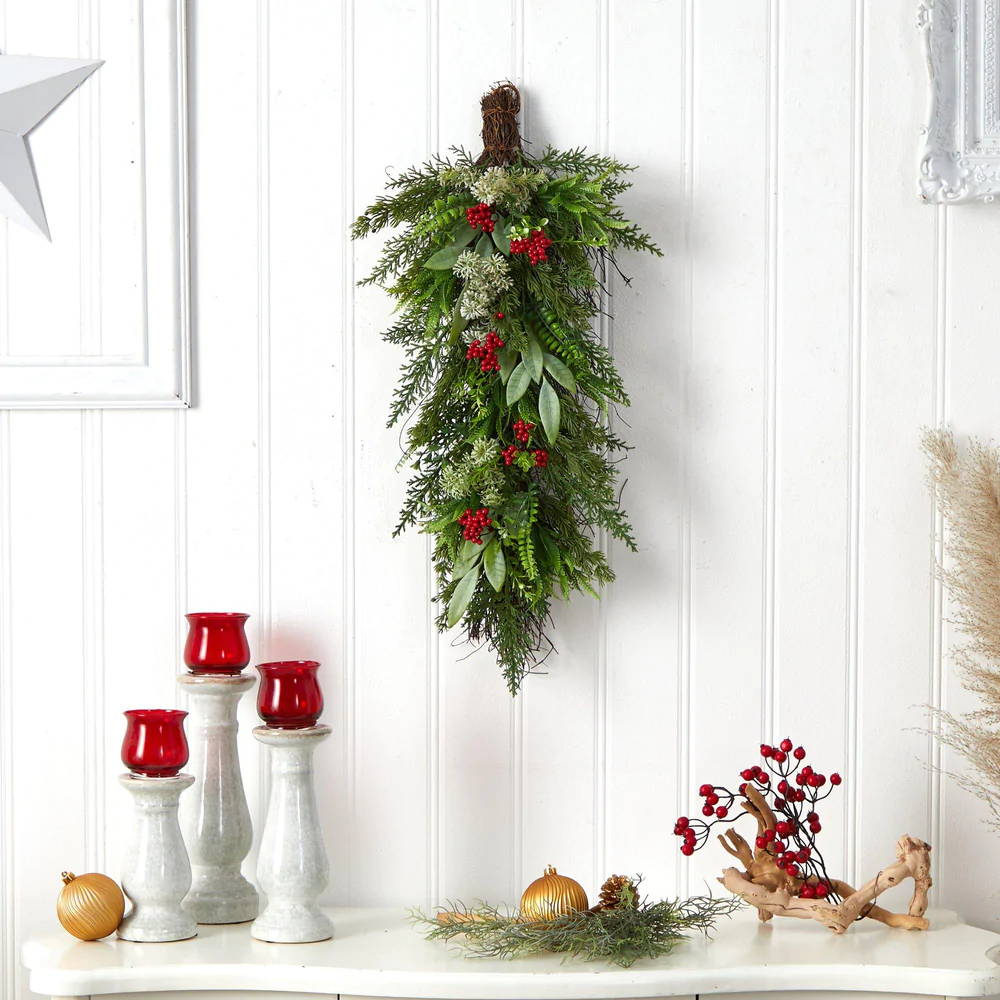 We love how entryways serve as a blank canvas for making all your holiday wishes come true. If you have a few extra Christmas wreaths around, think about displaying them on top of the console. Or another idea is to add them directly on the console for an elevated and upscale look. Don't fear using other additions on the wreaths, this is an excellent way to add some visual interest and make the scene unique with your personal touches. We love ornaments, pinecones, dried fruits and ribbons. But you can be creative! This is your holiday. Make it yours today.
---
Do you feel inspired with our top influencer looks for the holidays? No matter the size of your space, wreaths make for a great budget-friendly addition. Starting from $35+, our wide selection of faux wreaths provide everyone the opportunity to celebrate holidays your way. No matter the size of your space, style or budget, your dream Christmas is within reach. Our interior decorators are here to help you! Take advantage of our many promotions when you sign up for SMS, email and social media. Follow us on today to see our daily dose of inspo for all spaces, indoors and outdoors.