It's almost time for your wedding. You've been waiting for this moment for a while and for a good reason. It's the most important day of your life. Imagine being surrounded by your closest friends and family, celebrating love, compassion, and union. While many people say the wedding planning process can be stressful, it doesn't have to be. Even without a wedding planner, you can still enjoy your day effortlessly by planning and setting a budget. Don't feel bad if your budget is smaller than you'd like.
With the extra time at home, many brides have gotten crafty and started investing efforts into DIY projects that give them more control over their budgets and style. One aspect that is a must for the big day is flowers. From the centerpiece to the bouquet, flowers are undoubtedly the most important feature – that brings a room together. Flowers cannot only run costs into the thousands, but certain types of flowers can be tough to find during certain seasons. For example, peonies are very difficult to find in January; they will most likely be imported from South America at a steep price if you're even lucky to find them. One way to ensure you have your dream flowers is by using fake flowers for a wedding that look real.
You might worry that fake wedding flowers look tacky but think again. Artificial flowers can be a better alternative for many people. For example, also, to their availability year-round, you can spend more time DIY. This is a great way to save time and money on one of the largest wedding expenses you will have on your big day. Faux flowers may seem more expensive at first, but they're better in the long run. They don't even look fake at all. They're faux-bulous and give you more control over your wedding. Just like your memories, these faux flowers will last a lifetime. Learn more on why artificial flowers make the perfect wedding flowers (editor's top 10 flower recommendations included).
Frequently Asked Questions

Is it tacky to use fake plants for a wedding?

Using fake flowers or plants for a wedding is not tacky at all as long as you select high-quality artificial plants that look just as natural as the real ones. In fact, high-quality faux plants or flowers can even make your wedding appear more elegant while stretching the dollar.
Are fake flowers cheaper than real flowers for a wedding?

This is a good question. Perhaps the most significant expense in a wedding is the flowers; couples spend an average of 8-10% of the budget on florals, according to Brides.com. With this number in mind, artificial flowers are a lot more economical. Think about it; you can DIY versus paying an expensive flower company. Look to Pinterest for design inspiration. We have more time at home, and the savvy budget bride can look to friends for help. This gives you even greater control over your planning while saving a ton of money. As a fun idea, set some time with girlfriends and family to help create all the centerpieces and flower needs.
How to clean fake flowers?

Cleaning fake flowers is easy. While there's a lot of misinformation on how to clean artificial flowers, it's effortless. It would help if you dusted them once a month, and that's it. No need to do anything crazy with these faux flowers; it requires minimal effort. If you take care of them correctly, they can last many years and serve as a reminder of your special day for years to come. You might even be able to show some future kids one day. When you dust off, do it gently not to damage the leaves; set a time on your calendar so you always do it on the same date and won't forget.
How to store artificial flowers?

You can store your artificial flowers quickly and effortlessly. We recommend using the Nearly Natural box that your faux flowers came in. So, remember, don't throw this box away. It serves as storage for when you're not using the flowers. When you do decide to re-use the flowers, use a feather duster for cleaning.
How to make a bouquet of fake flowers?

To make a bouquet of fake flowers, you will need the following:
Artificial floral stems

Artificial leaves

Ribbons

A mood board of design ideas

Some girlfriends

Scissors

A bottle of wine
Once you have these supplies, it's simple to create a faux flower bouquet. Best of all? No one will know it's fake; it'll be faux-bolous.
Cut leaves from stems, about 2/3, and leave the leaves that are near the blooms.

Use 3 flower stems as the base

Once you have all the flowers, use a ribbon to secure the bouquet

We recommend using some greenery and leaves to fill out the bouquet and bring a little color.  
By following these easy steps, you're on your way to creating your dream bouquet effortlessly and on a budget. Here is an in-depth guide on how to make create your own wedding bouquet with artificial flowers
Here's our list of 7 things to consider if you're using fake flowers for a wedding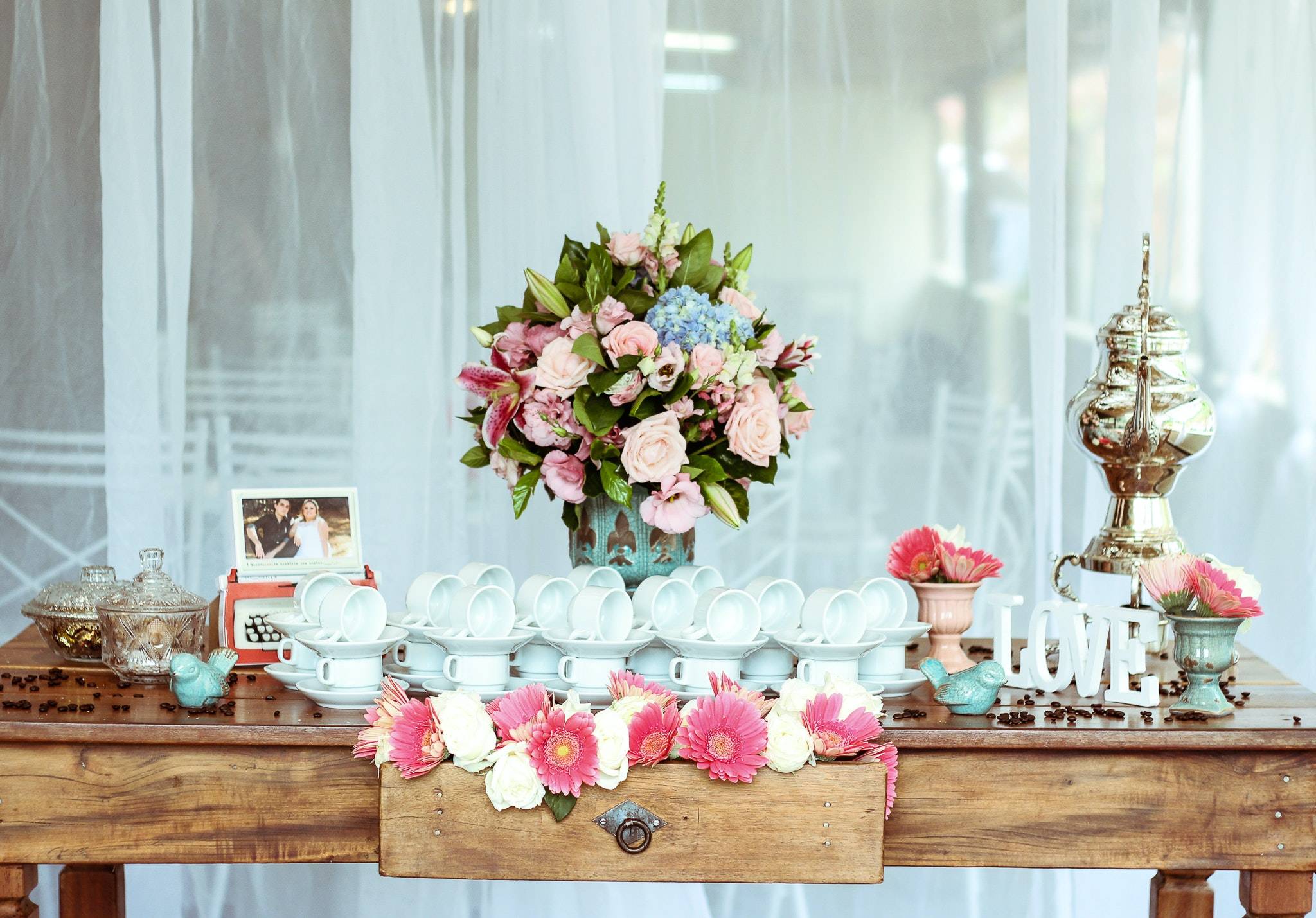 Finalize your Wedding Flower Budget

We know finances can be a tricky subject, especially when it comes to the big day. Expensive is the first word that comes to mind. Setting a budget early is the best way to avoid headaches down the road. You and your fiancé can sit down and decide on the budget that you feel comfortable with. If you have a family that has offered to help, sit down with each one separately to see how they can contribute. Remember that DIY is a great alternative that can save time and money if you have a tighter budget.
While faux flowers don't "die," remember to be proactive rather than reactive when working on the centerpieces, flower bouquet, and other accents. By starting your crafts early, you can get a piece of mind knowing how many flowers you need, re-order if you need be, and cross one thing off your to-do-list. For some design inspo, look at our Pinterest page that's full of DIY ideas that you can recreate.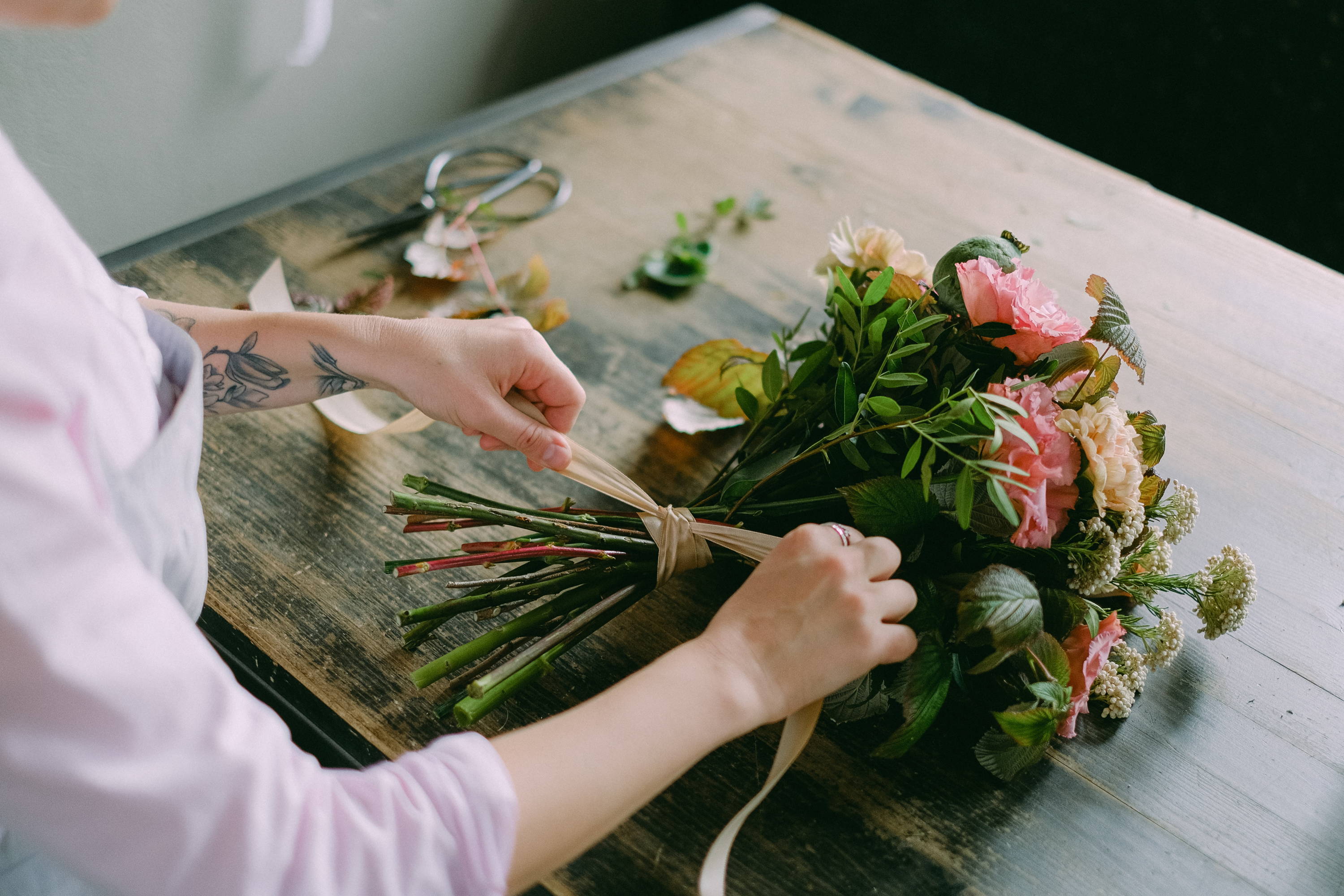 Invest in High-Quality Faux Wedding Flowers

It might be more economical to buy flowers from the local dollar store or another craft store, but investing in top of the line silk flowers is a better option, especially if you want fake flowers that look real. Not only is this a better investment because they look natural, but they can last a lifetime just like your love. With high-quality flowers, you will be reminded every day of your wedding, and depending on care, maybe you can pass the flowers to every generation after. Who knows? Your children might use the same bouquet at their wedding one day. With the proper maintenance, silk flowers can last years. You only need to feather dust them about once a month.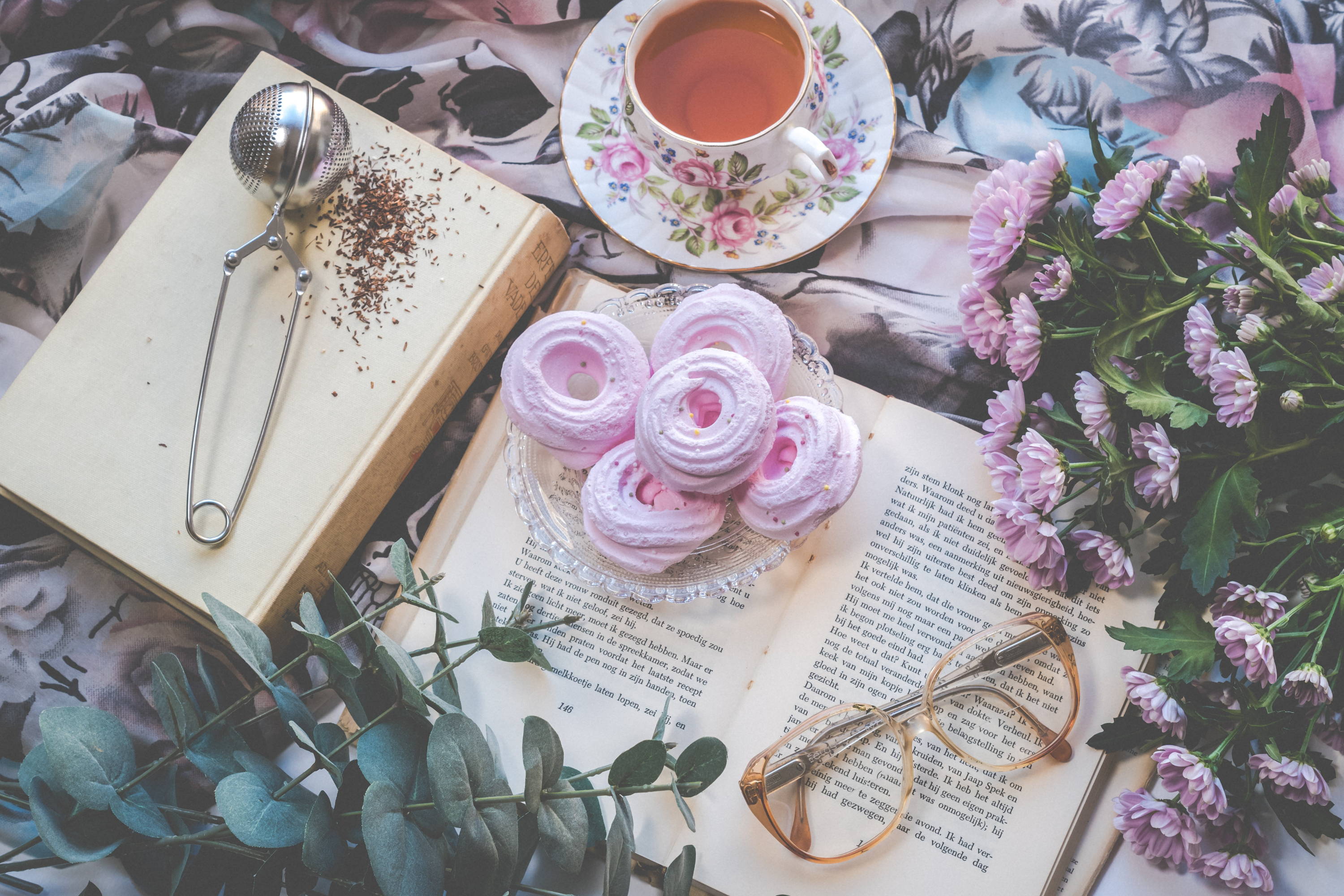 Remember About the Extra Accents

Now that you've picked your fake flowers, it's also time to start looking for accents that complement them. Before you can DIY, get all the supplies you might need to complete the job, this might include scissors, ribbons, moss, vases, foam tape, glue, wine, and patience. Make sure to have all these necessities before you start crafting. Mix and match with products from other stores to not limit your creativity, as some shops might be specialized in another area; you can get the best of the best.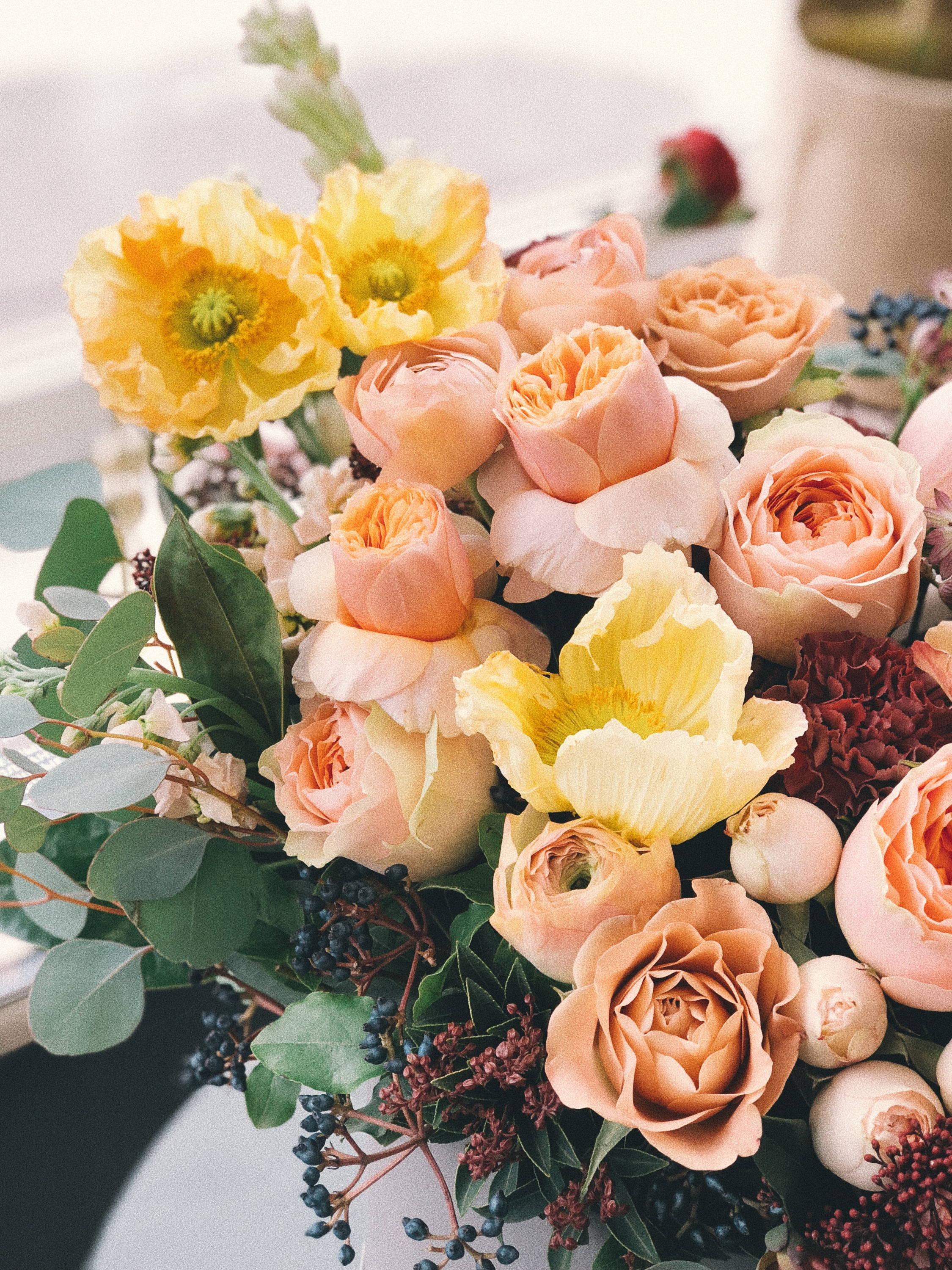 Just as when you buy a new car, reviewing the quality of artificial flowers is crucial. Give the flowers a test drive by ordering a few flowers and comparing them to competition; this is the best way to determine which ones are perfect for you. With Nearly Natural's flowers, you get FREE shipping and returns; we're so sure you'll love your new flowers that we provide an extra level of guarantee. Get peace of mind knowing you have the option to return.
It can get overwhelming; we get it. Peonies, Cherry Blossoms, or dried flowers? No matter which flowers you pick, relax, and enjoy the process. You can still achieve your style aesthetic effortlessly; remember that any flower is available year-round with faux flowers. You can decorate months or weeks in advance.
Gifts are a bonus at any wedding. As a courtesy to loved ones, why not create a little flower accent similar to the centerpieces, this way they'll always remember the special night. You can use leftover flowers or gift the centerpieces after the wedding to guests.
Don't forget about the centerpiece

The centerpiece plays a large role in elevating the aesthetics and atmosphere of your wedding venue which is the reason why investing in high-quality faux flowers is of utmost importance. Arrange your flowers in varying heights, shapes, and sizes to create a centerpiece that mimics the beauty of nature.
5 Tips on How To Make Fake Flowers Look More Real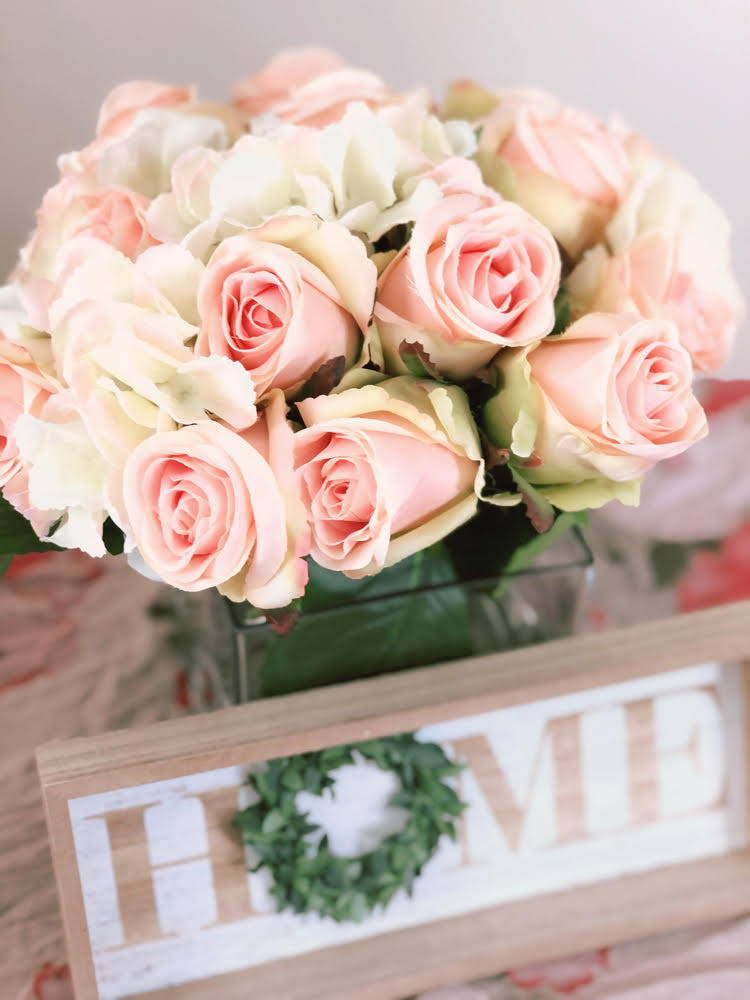 Choosing artificial flowers that are indistinguishable from their natural counterparts can make all the difference in your wedding aesthetics because flowers are the most integral parts of your wedding's theme and decor.
1. Invest in high-quality fake flowers

When it comes to making your fake flowers look amazingly real, there is no better way to start than by investing in high-quality fake flowers. Considering the aesthetics and durability of high-quality fake flowers, you will not only have everlasting artificial flowers that look like the real deal but also allow yourself to save more money on flowers for your upcoming events.
2. Clean your fake flowers

To make your artificial flowers look natural, ensure to dust them gently a day before the event so that they can look fresher than ever. If you've purchased the flowers several months prior to the event, then make it a point to have them dusted once a month even if they're in storage.
3. Make use of vases, planters, and other extra accents

Nothing can make your artificial flowers look more natural than making use of vases, planters, and other extra accents that are commonly used in real flowers. Consider arranging your faux flowers in a vase or wrapping them beautifully like a flower bouquet and even placing them on a planter so that they can look like real plants.
4. Add natural elements to your decor

Take your faux flower game to a whole new level by adding a few natural elements to your flower arrangements. Think of soil, pebbles, moss, or even fake water to incorporate in your decors and make your fake flowers look as authentic as the real ones.
5. Blend fake flowers with real flowers

If you're still not perfectly satisfied with your faux flower arrangements, then mixing your artificial flowers with a few real flowers would be the ultimate solution for you. With this simple and ingenious trick, you can ensure that your flower decors will look impeccably amazing. This plays a trick on the eye.
No matter your budget, lifestyle, wedding date, or location, fake flowers for a wedding are a lifesaver. Their ease of use, year-round availability, and affordability can take any wedding to the next level. With the endless options for floral arrangements out there, you have a big decision to make. But with the right faux flowers, you can create the wedding you've envisioned since you were a kid. Even if the flowers you want aren't in season, taking the faux route allows for the ultimate creative freedom and access to exotic flowers all year. The best part? With the proper care and nurturing, they can last as long as your love – a lifetime. Put your creative thinking hats on, get a bottle of wine, and gather your girlfriends. It's time to start decorating and DIY. Your dream wedding is almost here.