All About Fake Plant Wall Décor 2021
You've seen it all over Instagram. Perhaps at a wedding, party or your friend's house. It's the latest trend in the home décor world – vertical gardens. If you've always wanted to try this new trend yourself but felt it required too much effort, you're right. Imagine watering the plants and all the maintenance that comes with having one, but now you have to do it vertically. If you still want to create a vertical garden without the fuss, we recommend faux plant wall décor. Look through any glossy magazine, celebrity patio, and you'll see fake foliage walls, especially outdoor wall planters.
Before You Start: Tips on how to build a vertical garden - indoor/outdoors

Measure Your Wall - Before growing your vertical garden, it's essential to measure your wall. How to measure your wall? It's easy! All you need is a tape measure. Start with the width by measuring the widest area; this is usually towards the center. Write the measurement in inches and round to the nearest inch. For the height, measure from top to bottom but don't include the crown molding. Record these numbers and measure them against the wall hanging planters you are interested in.
Choose The Right Wall Mounted Planters - Are you into the jungle look? Modern farmhouse? Minimalist chic? No matter your style décor, there is a wall-mounted planter for your space. This might have started as a trend for boho and eclectic home décor styles but has morphed into all home styles. Ensure your vase can house your plant. For example, some Nearly Natural faux plants come without a planter, and you need to make sure you can find the correct sized pot to stabilize it. Pick one that fits your taste and budget; some like to use to shelves and decorate them with different plants.
Decorating with Artificial Outdoor Wall Plants:

When decorating with boxwood hedges for the outdoor, you will need to measure the area of your outdoor borders. Depending on the size of your backyard, you will probably need many outdoor wall mats. While the price might seem high at first, remember that this is more economical in the long run. Landscaping costs can run in the thousands and require seasonal maintenance, especially in the winter, where some plants need more care and supervision. This is why artificial outdoor wall plants and artificial outdoor plants for wall décor are the perfect solution. Not only do they add cohesiveness, but they serve as barriers for added privacy.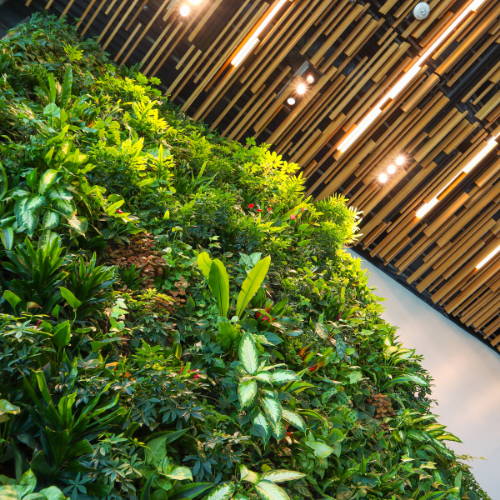 Tips for Decorating Outdoors:

Choose The Correct Outdoor Plants - While style and budget are a personal choice, we recommend shopping for plants that say UV resistant or indoor/outdoor in the title because these fake plants were explicitly designed to withstand natural elements. We don't want you spending time and money on items that are not suitable for the outdoors and will deteriorate quickly in those conditions. Artificial outdoor plants and artificial boxwood hedges are mostly designed for outdoors but double-check the title and description.
Measure Your Space - This one gets tricky. You might want to cover your whole fencing or just a new planter. When decorating with artificial boxwood hedges, it's better to be conservative with the amount you will need and buy more than less, especially if you're having someone help with the installation. With Nearly Natural, you get a 30-day money-back guarantee plus free returns. It never hurts to be on the safer side. You can also keep the extras just in case you need a replacement. Use these panels to cover walls or old fences.
Have Your Tools Ready - We design products that need no tools for use but you will occasionally need some assembly tools depending on where you want to house your vertical garden or decorative plants. For example, if you're going to add outdoor wall planters, you will need to drill a hole if the planter isn't hanging. For a fake foliage wall, you will need to ensure the artificial plants are mounted safely to avoid it falling. Don't be scared! This is easy! If you feel a bit safer enlisting a professional's help, we recommend you go that route.
Fancy a trip to the Caribbean, but live in the cold? Transform your outdoor space into a tropical vacation to relax and unwind after a long day with an outdoor artificial plant. Inspired by nature and crafted from high-quality materials, this UV-resistant faux tree will make an excellent addition to any patio, no matter the location. Trade your boring concrete patio for one full of green with some palm trees and an artificial plant wall.
---
If you're craving a vacation to Europe, cure your wanderlust with this regal boxwood topiary that is UV-resistant against the sun. Complete your Versailles escape by placing two on each side of the front door in your patio. Housed in a rustic, inspired planter, display in any outdoor area that needs a little more life and transform your space with some artificial outdoor trees.
---
The classic cedar is perfect for year-round display. Completely maintenance-free and safe for outdoor use, this mini cedar is the perfect accent for those hard-to-decorate-for spaces in need of some life. Many customers enjoy adding multiples in a line for a cohesive and parallel look on the front patio or back yard areas. Especially if you have outdoor wall décor, the cedar complements this.
---
It's time to party in the tropics, all from the comfort of your home. Inspired by nature and crafted from high-quality materials, transform any outdoor area into a Floridian vacation, completely maintenance-free. Perfect for spring and summer, transform your space into an oasis without lifting a finger.
---
If you live in an apartment and want a bit more privacy, the black bamboo is perfect for creating a green barrier between you and your neighbors. Add a sense of calm and serenity wherever displayed and watch as this tree moves with the wind. Perfect for a Japandi-inspired space. You can also add some artificial plant outdoor wall décor like boxwood to complement your Japandi look.
---
The mean girl from the bunch, the fiddle, is a beautiful yet challenging tree to maintain. Luckily, you can show off your plant parenting skills with this faux fiddle inspired by nature. Recreate the influencer look outdoors by displaying these trees and transforming your space into a jungle green oasis.
---
An outdoor tree list wouldn't be complete, without the customer favorite olive tree. Recreate a rustic, Italian, alfresco space by placing this olive in an area needing some olive love. Best of all? No maintenance. Especially if you love the 82" inch olive, you can recreate the best of the Mediterranean with this mini tree.
---
To enhance your front patio vertical area, why not add some hanging plants? Display your creativity and personality with this String of Pearl hanging plant that brings texture and green to any space. DIY and have some fun by adding this artificial plant to a macrame for an artistic look. Hanging plant wall décor has risen in popularity. Plants on wall décor is a great choice for a space in need of green.
---
Top 3 Customer Favorite Artificial Outdoor Wall Plants

With its lush, densely clustered foliage, the artificial Mediterranean fern wall panel is UV resistant and can be used for outdoor purposes. If you have old fences, wall cracks, or other unsightly structures in your yard, then you can conceal them from view with one or more wall panel. Or you can put multiple together to create an artificial living wall.
---
The rich foliage of this artificial living wall is UV-resistant and is for outdoor decor. It can be used to redecorate old structures, like an outside wall or fence. Or, if you want to bring a bit of greenery indoors, then you can use several panels to cover a bland interior wall to make a bold statement in any outdoor living area. Create your outdoor jungle where you can relax after a long day.
---
A mix of thick green foliage and small lifelike ferns makes this UV-resistant greens and fern wall appear almost natural. Suitable for both indoor and outdoor purposes, it can be used to dress up a bland wall. Place several of this three-foot by three-foot panels on a wall to make a fashionable, natural-looking accent wall.
---
Decorating with Artificial Indoor Wall Plants:

The indoor vertical garden is a trend that is perfect for those with a tight space. These popular vertical accents have been gaining popularity in commercial settings, especially offices and live event venues. This is because they help bring a sense of nature indoors, including all the benefits plants instill in a space.
Tips when curating artificial plants for wall décor:

Pick Your Style - With the many décor trends out there, choose one that reflects who you are. Once reserved for boho style, vertical gardens have grown in other home interior trends. You can now see them in a modern, contemporary, eclectic, or rustic farmhouse. If you're into Feng Sui, make sure your new vertical garden blends.
home Office - With working from home growing, maybe you can try adding a vertical garden to a home office and create a great backdrop during video meetings. This subtle but drastic change can also help you increase focus and creativity. Staying at home has caused some fatigue, and many people are tired of seeing the same four walls spruce up your space with some faux plant wall décor. You can start small and grow your garden from there with a DIY project.
Jungle Look - One of our favorite vertical garden looks is the overgrowth of foliage similar to the jungle. With fake plant wall décor you can easily bring the outdoors in by creating an indoor jungle. Some of these plants are exotic, remote, and difficult to grow but with artificial, you can easily achieve the look - and here's how you can decorate with tropical plants.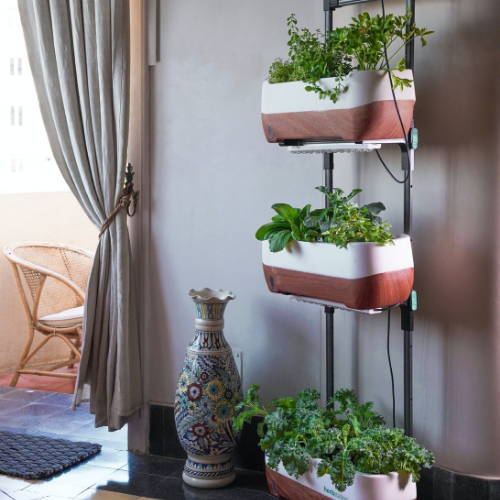 Hanging plants for wall - same style planters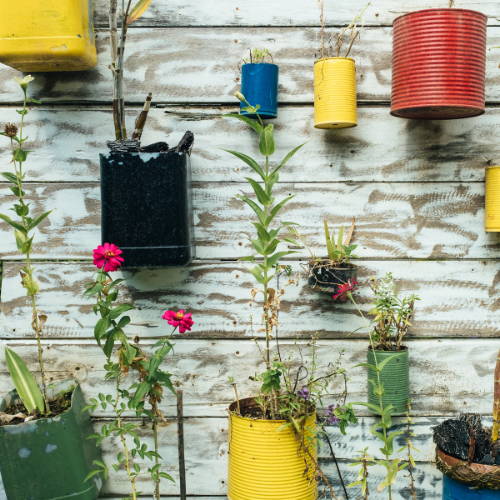 Vertical garden - mixed planters
Our Top 3 Wall Hanging Plants for Indoor Areas

Add some artistry to home decor with this stunning artificial succulent living wall. Designed from the finest materials, this 19" realistic living wall portrays a variation of mixed succulents, nestled in with lifelike evergreens. Its lush greenery adds to home interiors without the worry of upkeep or maintenance.
---
If you're short on space but want to add a beautiful piece of decor to your home, then this artificial bromeliad wandering Jew is the perfect solution. The included wall decor planter is filled with three plants. Dramatically cascading variegated green wandering jew foliage fills the top and bottom planters, while dense layers of green foliage with unique red bromeliad blooms dominate the center of the arrangement. Set this in the entryway or foyer with your vintage wall decor for a stunning finish.
---
A room that needs a burst of life and color but has limited floor space needs this artificial rose arrangement. Each wall decor planter contains bright red, yellow, and light green blooms resting on a bed of lush green leaves. This piece is virtually indistinguishable from the real thing! Settle this next to your built-in wall shelf with other wooden decors in your living room or bedroom for a complete arrangement.
---
When it comes to Christmas wall décor, there's a few things to consider before you go all out. We love the recent Christmas wall décor idea where wreaths and garlands are on top of the bed, bar cart or sofa. Using our loose stems or garlands, DIY Christmas wall décor for a truly unique holiday settings. Stop dreaming about it and create the Christmas your family deserves with wall décor Christmas.
Evoke the holiday spirit starting at the front door while at the same time adding serious curb-side appeal with the help of this artificial Christmas wreath intricately designed from a rich overgrowth of cedar evergreens, beautifully accented throughout with silk poinsettia flowers in mid-bloom, showcasing their signature, bright red coloring. A stunning addition for the holiday season, this 24" (in diameter) decorative faux wreath makes for an inviting holiday accent and will undoubtedly transform any entrance all season long.
---
Add the WOW factor to your holiday décor with this flocked artificial Christmas wreath intricately designed from realistic looking pine foliage in a palette of seasonal evergreens flocked in a coat of faux-snow, carefully accented throughout with faux pinecones that look incredibly realistic. Arriving pre-strung with 400 clear LED lights to effortlessly illuminate either a large wall or door, this 6' (in diameter) decorative wreath makes for an inviting accent and will undoubtedly transform any entrance all throughout the holiday season. Perfect for a large space in need of some holiday cheer.
---
Complete your own winter-inspired wonderland this holiday with the help of this artificial winter garland, intricately designed from realistic looking evergreens with 160 branches for easy styling. This faux garland also comes with 100 LED lights. Great for showcasing over a mantle, bare counter, or stair banister, this impressive 6' long artificial garland will undoubtedly complete a traditional holiday setting for years to come.
---
Love wreaths? Take your Christmas décor to the next level with this Christmas lantern artificial wreath. Designed from high-quality materials, evergreens in a counterclockwise motion are accented by pinecones, poinsettia and berries. To make things brighter, a lantern in a dark finish houses an LED candle in the center. With a diameter of 28", set the scene for an intimate night with friends. Illuminate a bare wall.
---
Frequently Asked Questions

1. How to hang plants on wall

To hang plants on the wall, look for unique hanging planters that make this a breeze. You can use a magnet to hang. Especially if you're renting, we recommend using hanging planters not to ruin the walls or ceilings.
Please note some imagery featured is purely inspiration and not a product of Nearly Natural.