Artificial Greenery Spring Decor Guide 2022
Spring is in the air. Refresh, unwind and explore all shades of the beautiful season. This new change is the perfect time to emerge from a long winter to a releaf and share it with those you love. With spring décor comes the next question of, which spring decorating ideas, you'd like to pursue. Our leading interior decorators recommend looking front porch ideas and deciding which style suits you. And no matter whatever kind goes with your décor, consider using artificial plants as they require no maintenance and look incredibly lifelike. Inspired by nature and crafted by horticulturists from high-quality materials, our spring décor items are a must for this season. Because many of us struggle with maintaining natural plants alive, especially the ones we'd like, many people go for artificial greenery for spring. There's always a décor piece from wreaths, trees, and topiaries.
What to Consider Before You Begin

But before you put on your decorating hats, there are a few things to consider to ensure it's a smooth ride throughout. From setting expectations to measuring your space and then developing a budget, there's a lot to keep in mind before splurging on your dreamy room.
Pick a Theme - We recommend you look for inspiration and styles that you'd like to emulate; this way, you know which items you'll need to recreate the look you're going for. Some living themes right now are farmhouse, country, and minimalist. Feel free to create your piece by mixing and matching elements from each style.
Set a Budget - Most people try to spread the dollar as much as possible; this is why setting a budget is a significant first step in setting realistic expectations and not feeling bad about how much you spend. Consider allocating about 10% more of this budget to expenses if something pops up.
Complement with Artificial Greenery - Artificial greenery is a great way to take any space to the next level. Because of the nuances of caring for live plants, many people choose artificial greenery for their spring décor needs. Inspired by nature and crafted from high-quality materials, take your décor to the next level by adding a couple of faux trees.
Pick The Right Colors - This is where you can be as bold as you want or as minimalist. We love pastels for spring, but if you dare to become a little different, look into spreading vivid hues throughout through the use of your spring décor. Keep a cohesive look by using the same tones so as not to overdo it.
Less is More! - Sometimes we go all out. We buy everything we like, some of it is unnecessary, and we have no use for these new items. This is why less is always more; when you think about it, living a more streamlined life is better for our clarity and mental health.
Quality Over Quantity - This goes without saying; you get what you pay for when it comes to decorations. However, especially if you're looking for more sustainable and longer-lasting items, it might be worthwhile to spend a bit more. Just to ensure the décor will last you years versus buying the most convenient things that break after one use and displaying them once.
Decor Ideas for The Outdoor Area

The good news? There are so many décor ideas to implement that can easily be recreated. Get inspired by the top influencers on social media who all use faux greenery. No matter your style décor, budget, or space size, the perfect accent piece is waiting for you.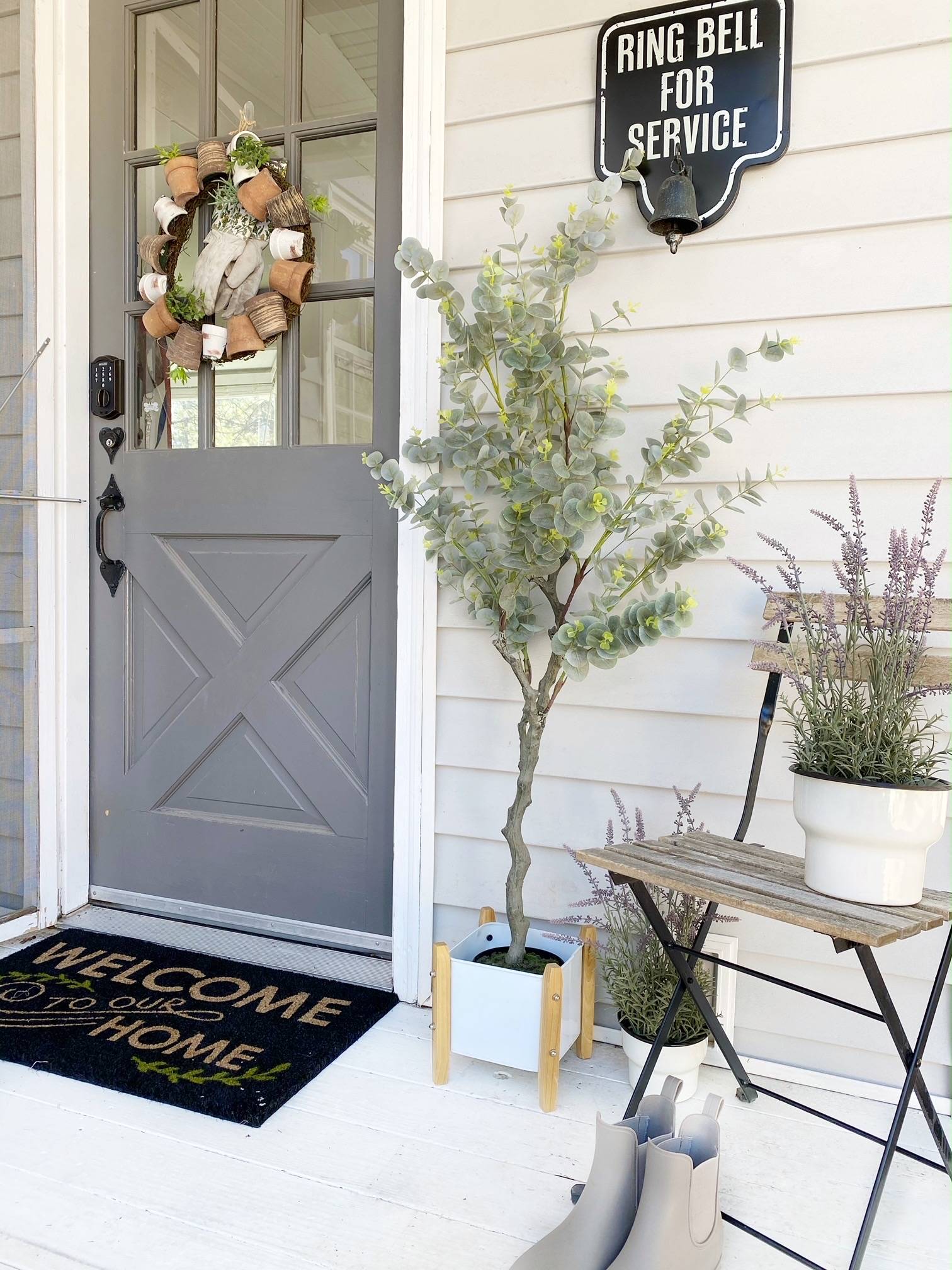 1. Use Outdoor Artificial Plants

Because not everyone is blessed to live in a place with excellent year-round weather, you can still experience bliss with high-quality artificial outdoor trees. Think about adding some customer-loved options such as faux olives, palm trees, flowers, and more; mix and match to create the space of your dreams.
2. Consider Adding Tall Planters

Because the outdoors provides specific situations and sometimes plants aren't the desired height, tall planters are a space-saving solution for when you want a bit more size. Tall planters help with height issues, but they can also enhance the look by bringing visual interest wherever displayed.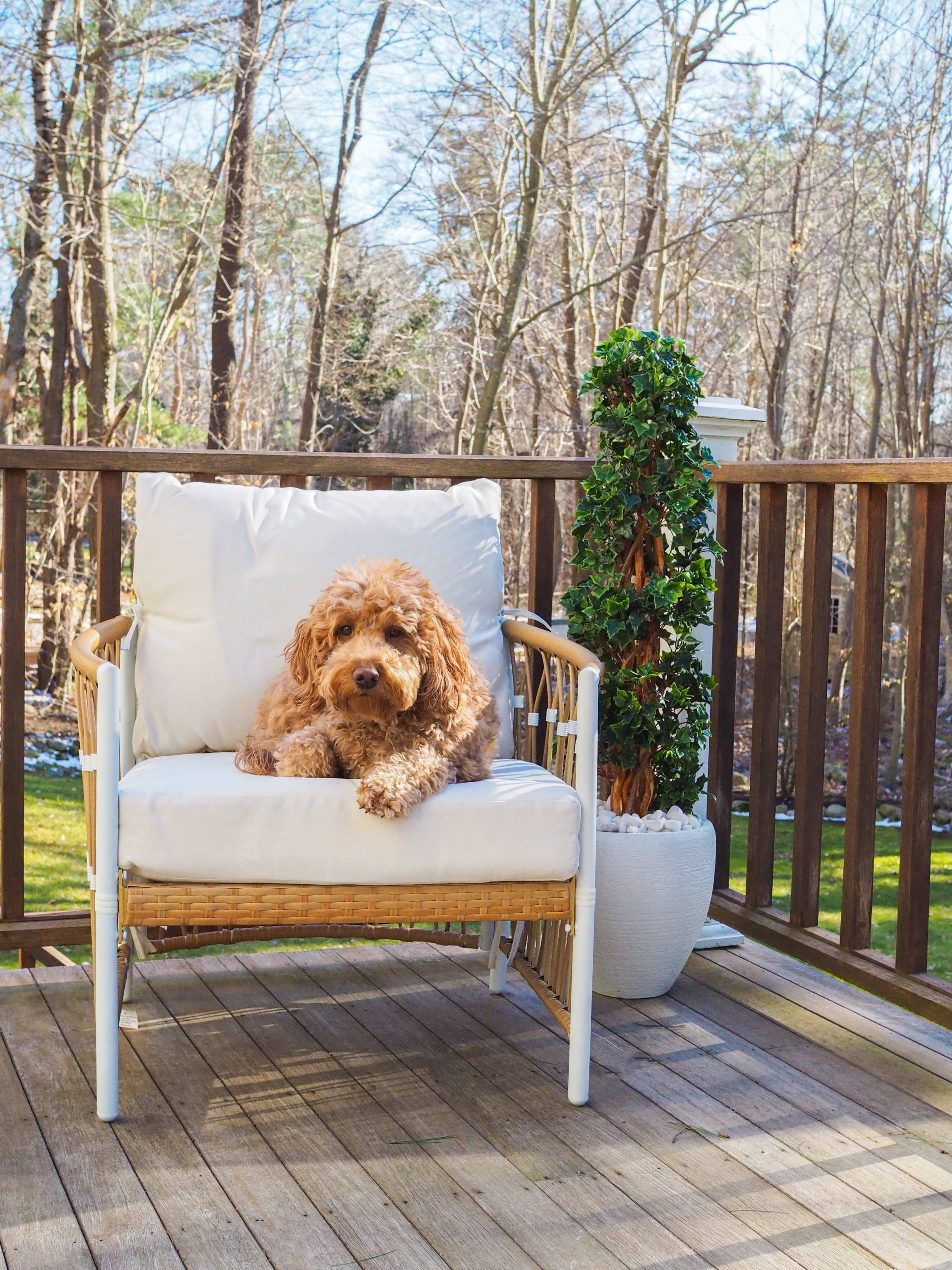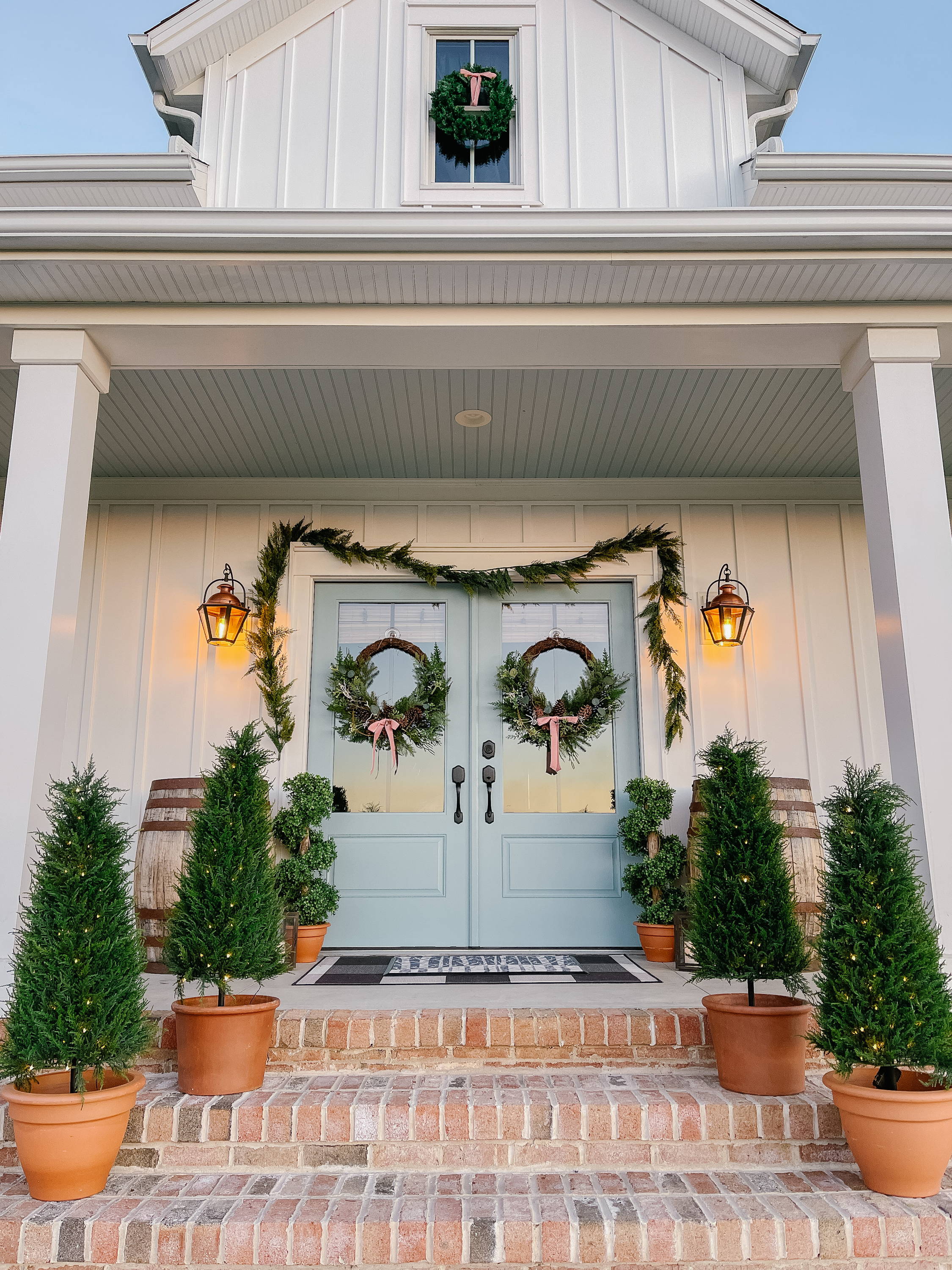 There's the rule of three in interior design, where items grouped in odd numbers look more cohesive than those grouped in even numbers. We suggest you look into adding multiples to maintain consistency and the appeal of a well-thought-of space. Especially with hanging plants, this is a great deal.
1. Look at Front Porch Décor Tips for Spring

Before you start, get an idea of the styles and look you'd like to emulate so you can quickly source the materials you need to recreate the look. From traditional to modern farmhouse to everything in between, mix and match your favorite styles for a unique aesthetic.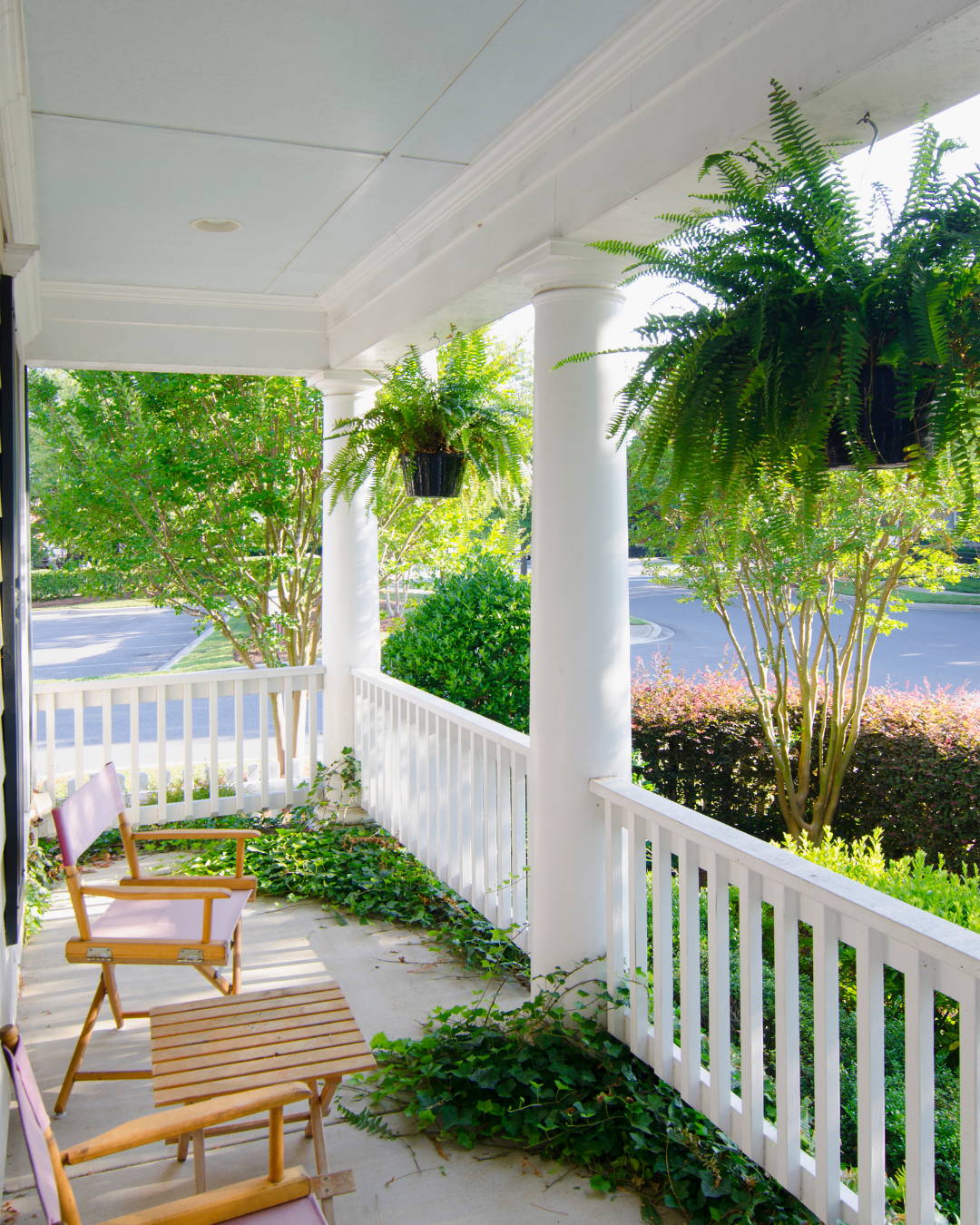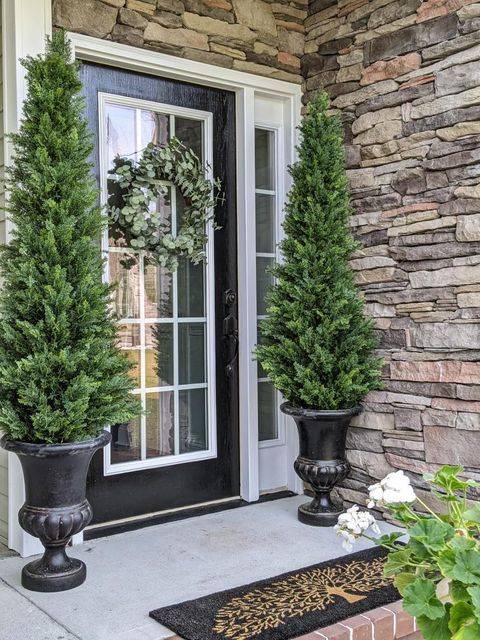 For a posh, upscale look, add two faux outdoor trees door side, one on each side. They don't have to be the same faux tree. Have some fun and add different styles for more fun and different look. For example, they can be two trees of different heights.
3. Complement With Silk Flowers

Silk flowers in a vase can easily inject those spring vibes into any space. For example, under your faux trees, in the planter, consider decorating with silk flowers in the bottom for a touch of color. No maintenance is required; faux flowers are the perfect solution to your gardening needs, no matter where you live.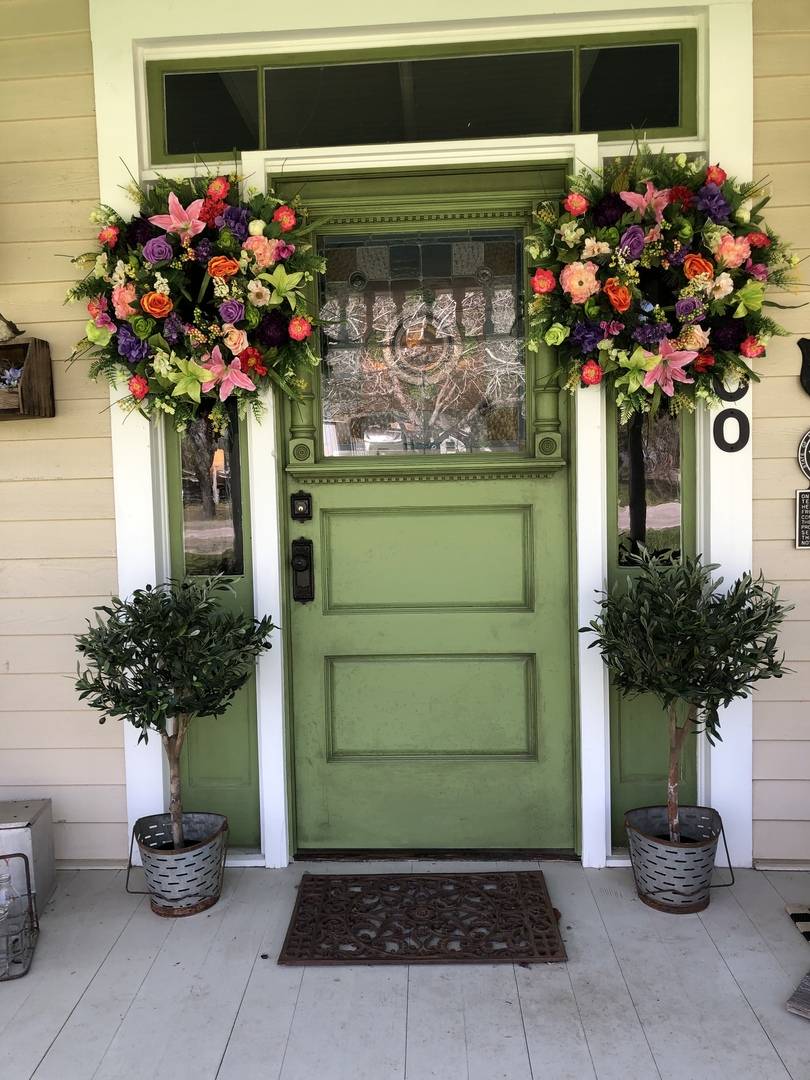 1. Hang an Artificial Wreath

Going back to what we discussed earlier with the rules of three if you're going to display two faux trees door side, add a wreath to the door to complete the look. If you don't have two trees door side, you can display flowers or other greenery to complement the faux wreath.
We'll be spending most of our time outdoors; because of this, a doormat is a great way to keep the home clean. Not only that, but it can also add a fun accent to your existing décor. You can even add a doormat with a positive message to invite those feel-good feelings.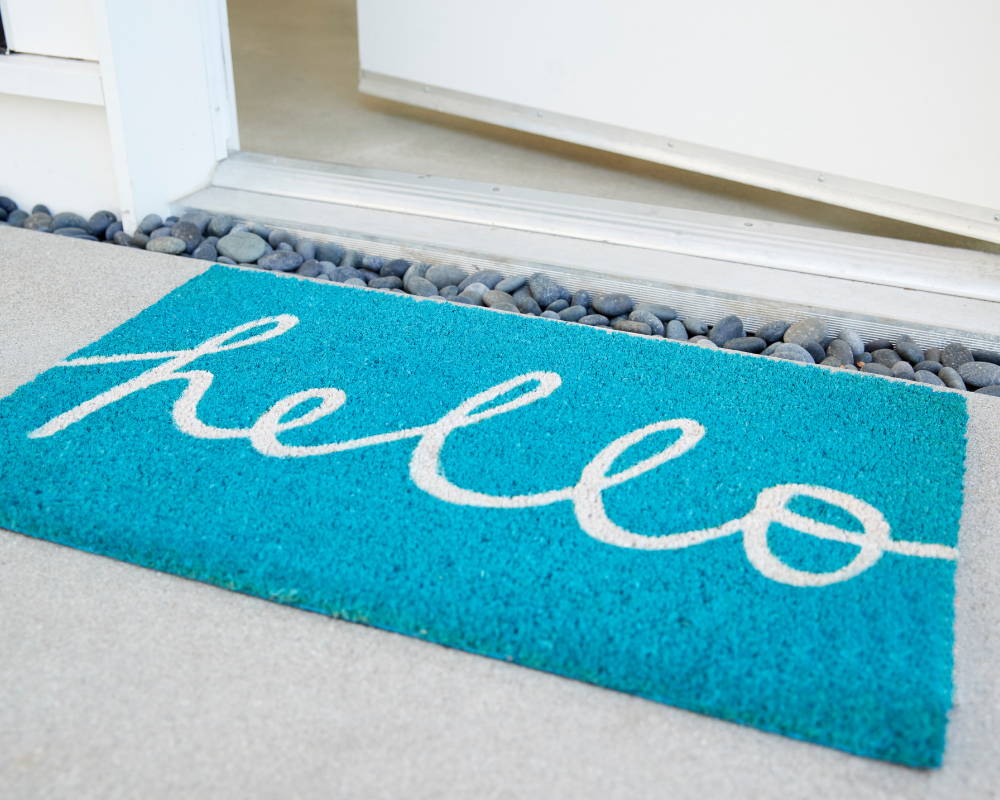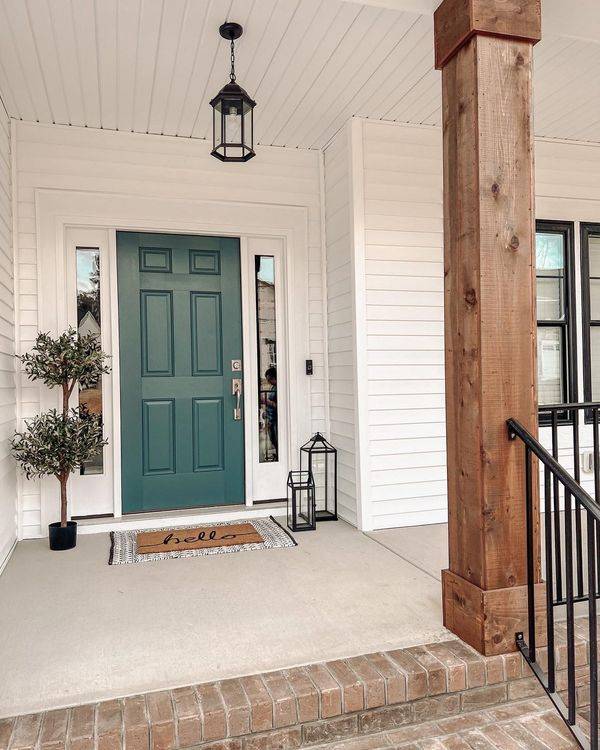 Why not create some curb appeal by staining your door? We know this is a much bigger project to tackle, but it's one of the best ways to change the look of your home without spending too much. A new stain will bring some new life to your space.
Because we might not think of the mantel as the first place to draw attention, it's a great place to bring in some freshness. By displaying a few faux plants or silk flowers, you can completely change the look and elevate your mantel easily, effortlessly, and on a budget.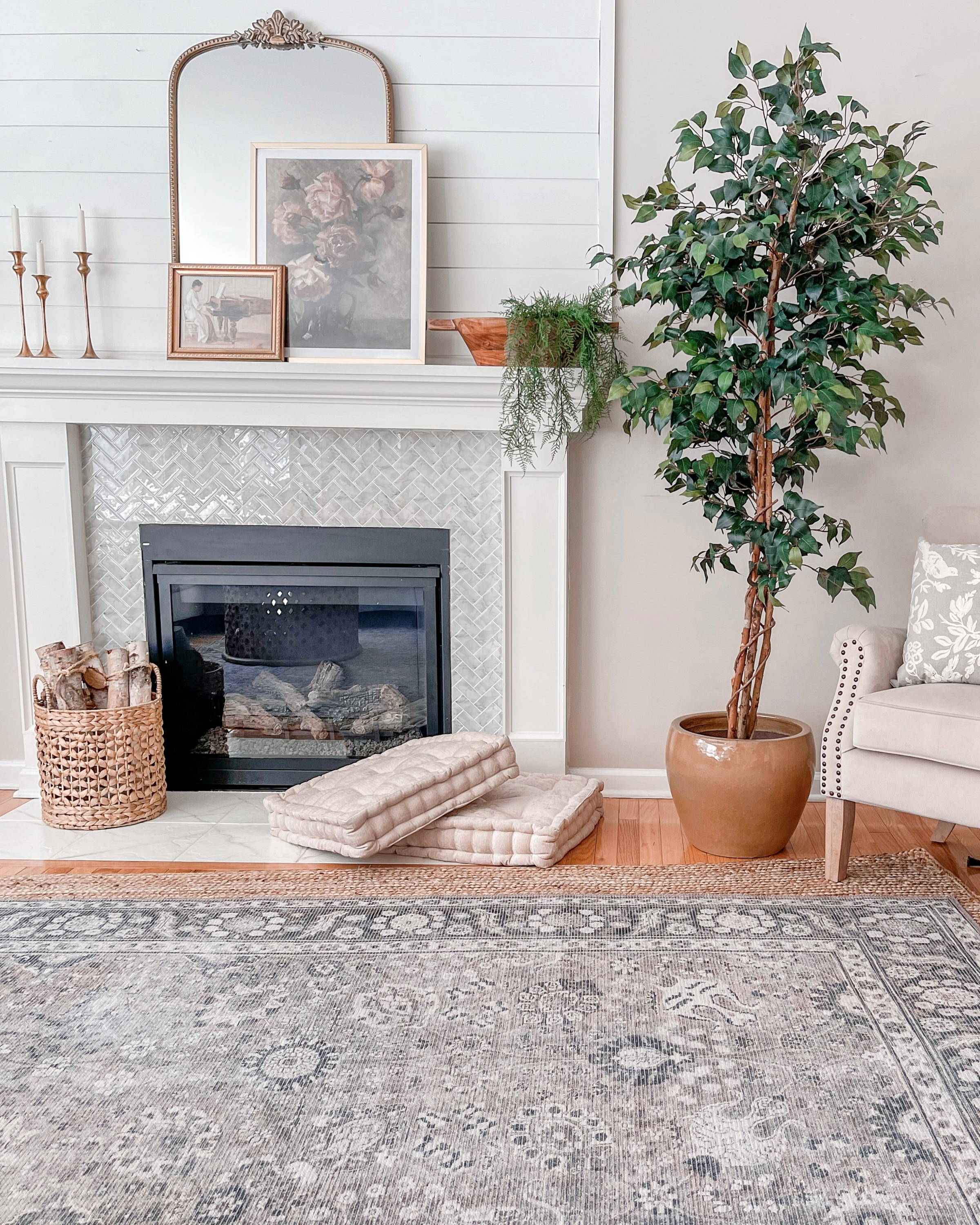 We love how wreaths, and did you know? Placing them on a mantel creates dimension and depth in an otherwise flat area. Especially vivid colored wreaths, they can recreate the space by bringing it to life quickly; you can even create a tradition and change it as the seasons come.
3. Add Side Artifical Trees

One of the best ways to create some cohesion is by curating lush faux trees on each side of the mantel. An excellent tree for this space is the famous, customer-favorite faux olive tree in a jute planter or another base of your choice to complement the look.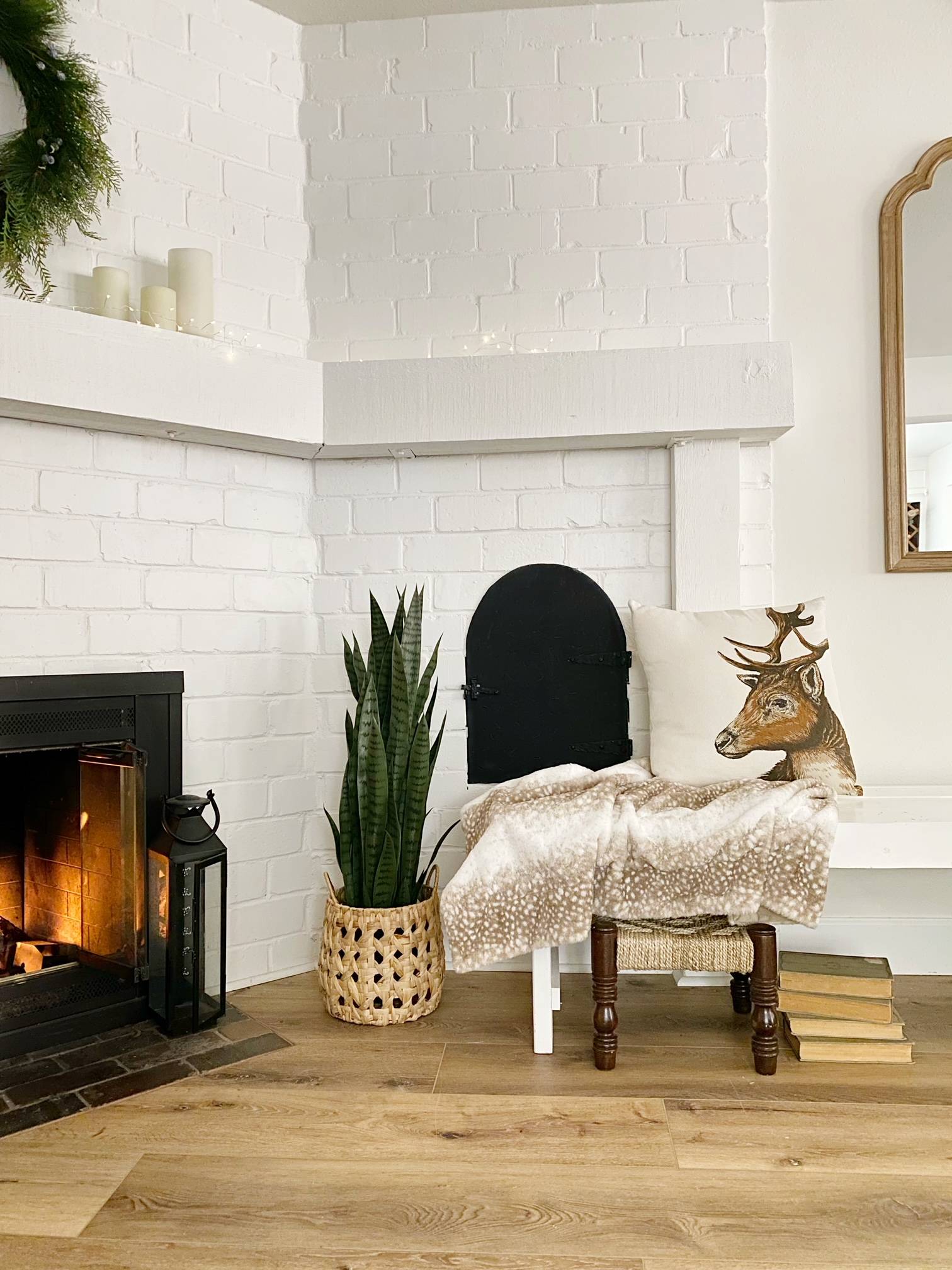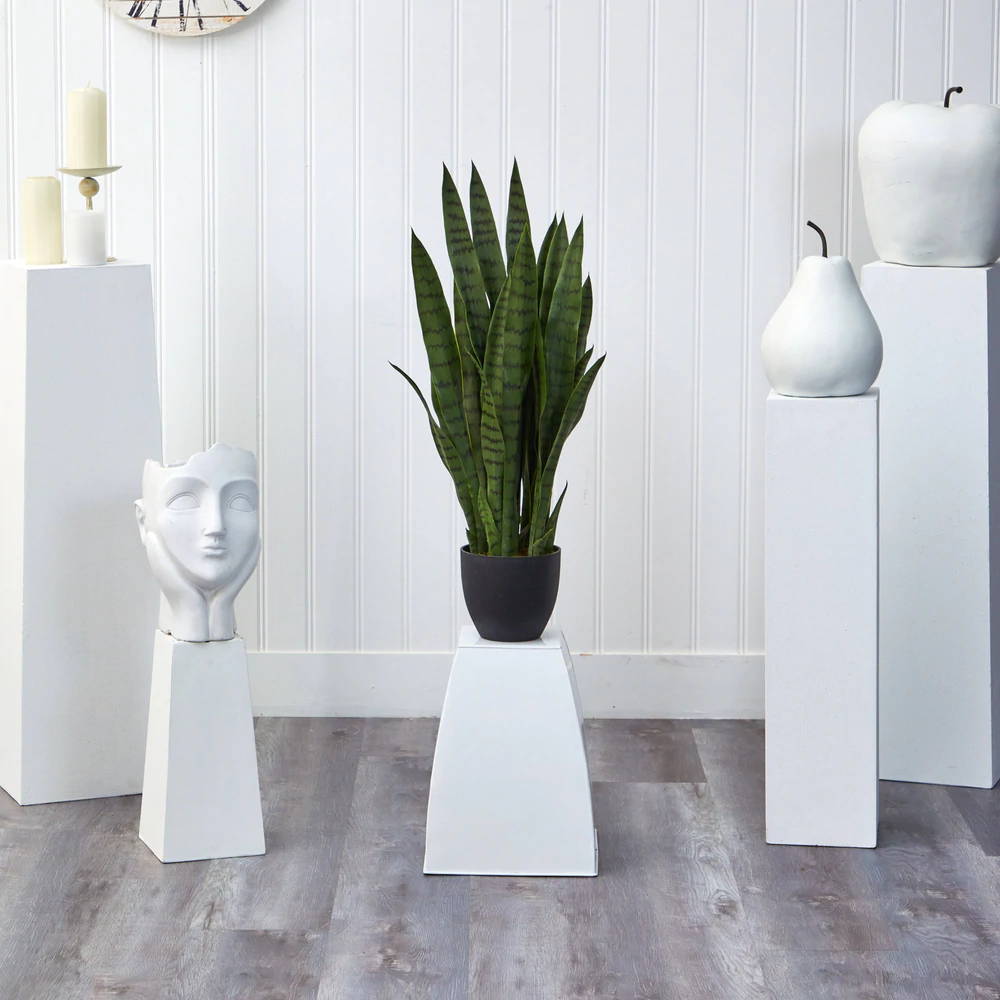 1. Decorate with Faux Trees in Empty Colors

The best places to add artificial plants are those lonely corners that seem a bit off, but you're unsure how to make them pop. For these awkward spaces, brighten them quickly and effortlessly with faux plants because some trendy plants require sunlight; adding an empty corner is challenging.
Look at the coffee table in the living room center, where you place items or drinks while chilling on the sofa. What better time than spring to add a few silk flowers to liven the look. Because maintaining real ones takes patience and a weekly trip to the market, add your favorite vase – no maintenance needed.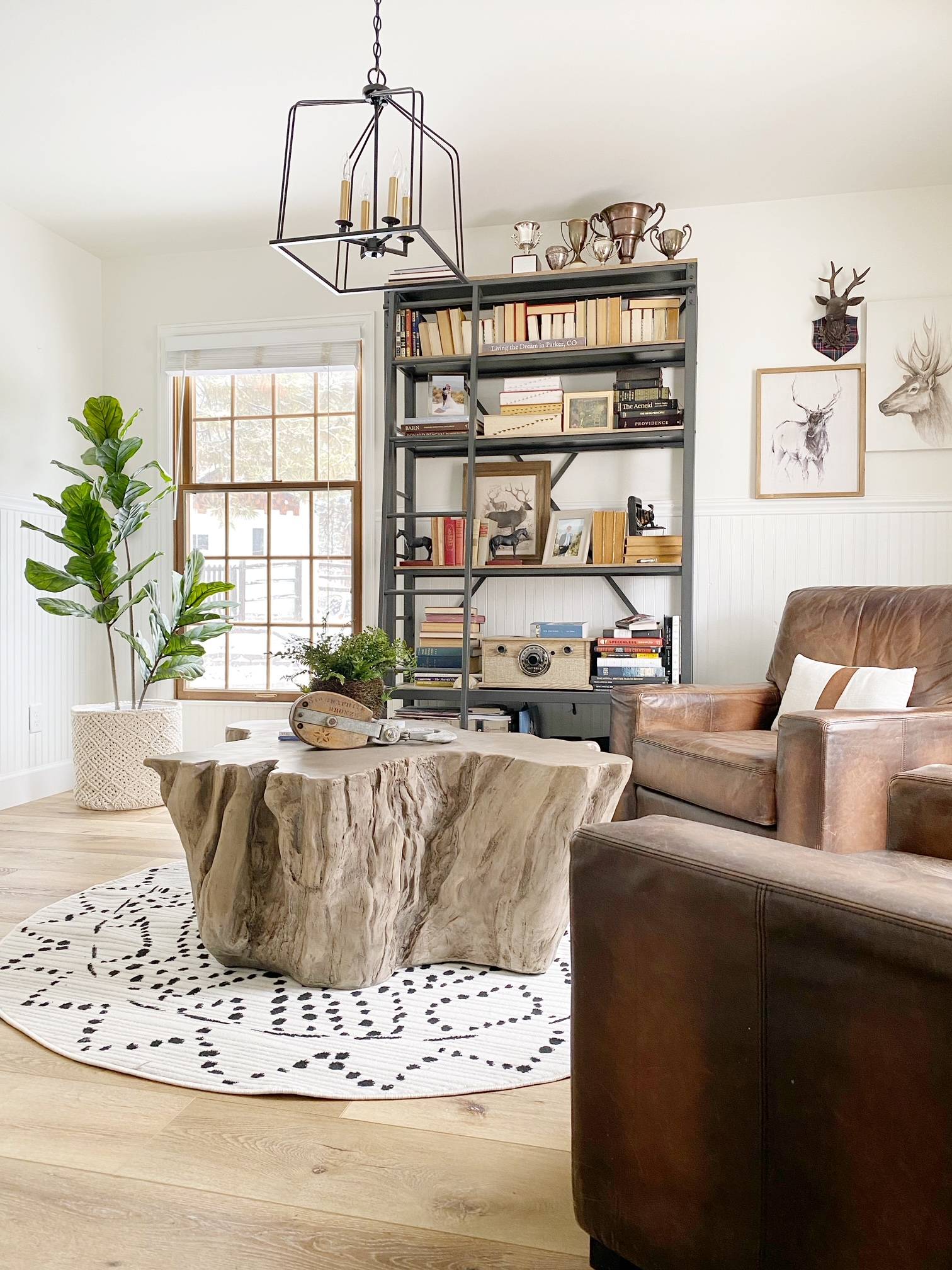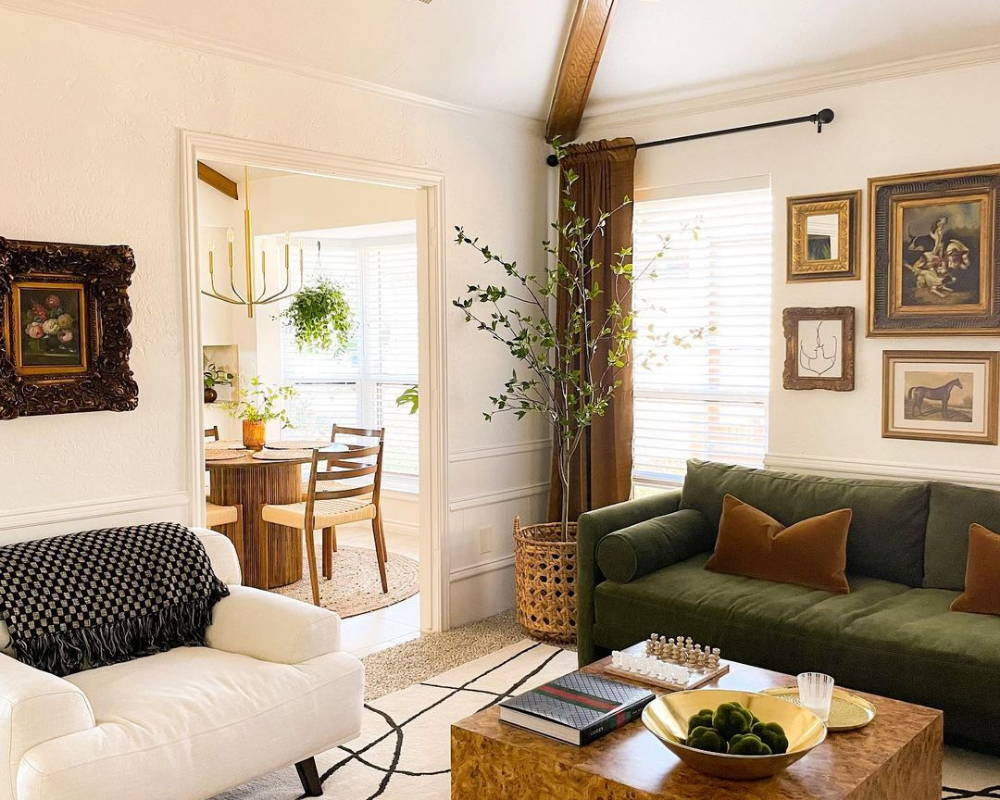 3. Look for Some New Sofa Cushions

This is an excellent way to keep up with the seasons, including the holidays. Not only is this easy and quick, but also budget-friendly; you don't have to spend a fortune to attain the look. Look for colors that blend with spring, or choose a primary hue for a bit more flair.
If you look at your favorite coffee shop, bar, or restaurant, you'll notice the new trend of creating vertical gardens to add a touch of green. Many decorators recommend using faux greenery as caring for a living wall is difficult and can damage the dry wall with its moisture and water.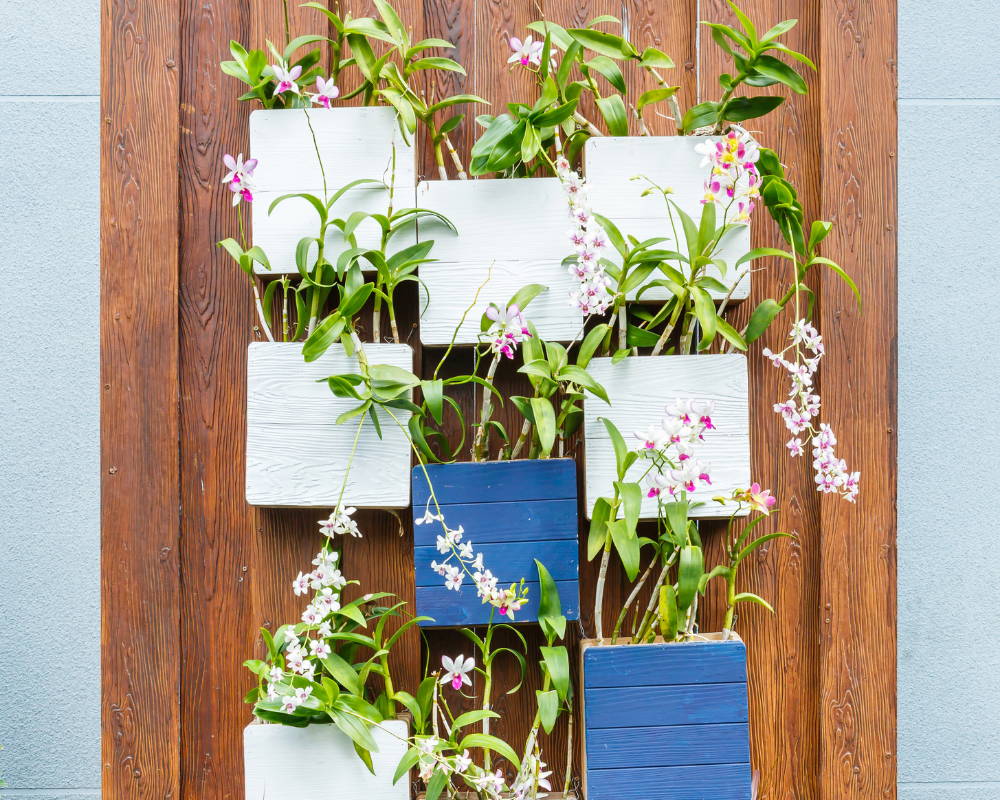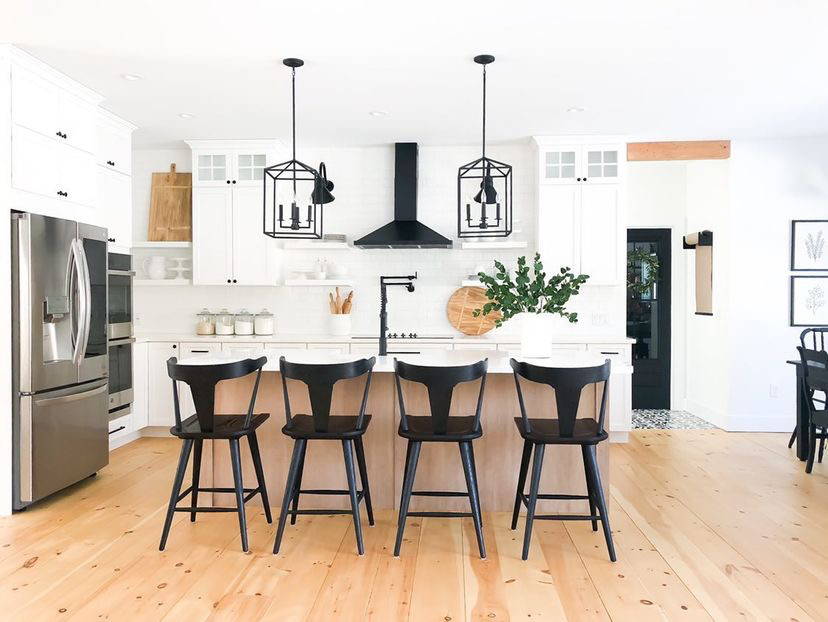 2. Enhance The Kitchen Island

Create a focal point on the kitchen island by adding a centerpiece. Nothing says spring more than a fresh bouquet from the garden. Accent the look by adding it in a tray or displaying it in an upscale vase that matches your existing décor; consider faux if you live a busy lifestyle.
We're hoping on the trend here. But seriously, lemons are always en vogue; this is why we recommend decorating with faux lemon trees. Because the real ones are difficult to nurture and bear fruit, it is not guaranteed to complete your spring dreams today with an artificial lemon tree for any space.
1. Farmhouse Bathroom Décor

One of the trendiest styles right now is – modern farmhouse. Characterized by bringing the outdoors in and enhancing by wooden accents, we recommend this style if you're into trends and clean, modern aesthetics. Wood art pictures are an excellent texture for any wall needing more dimension.
2. Add a Mini Faux Olive Tree

By adding a new mini fake olive tree, the baby of the most famous tree on the internet, you're bringing the outdoors in quickly. Join the fam; a community of social media followers is already partaking in this trend. If you're a fan of the tall olive, you will love the mini even more.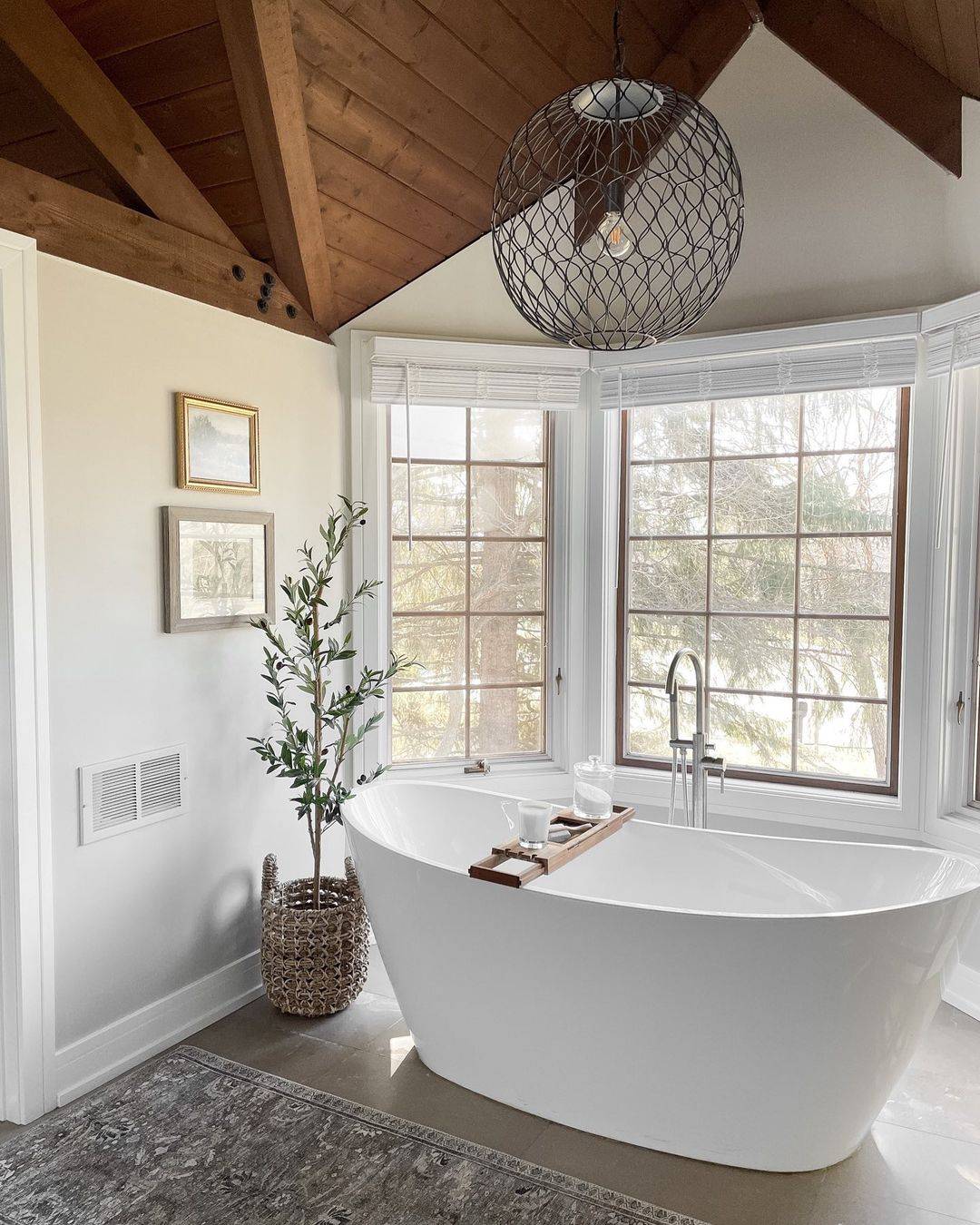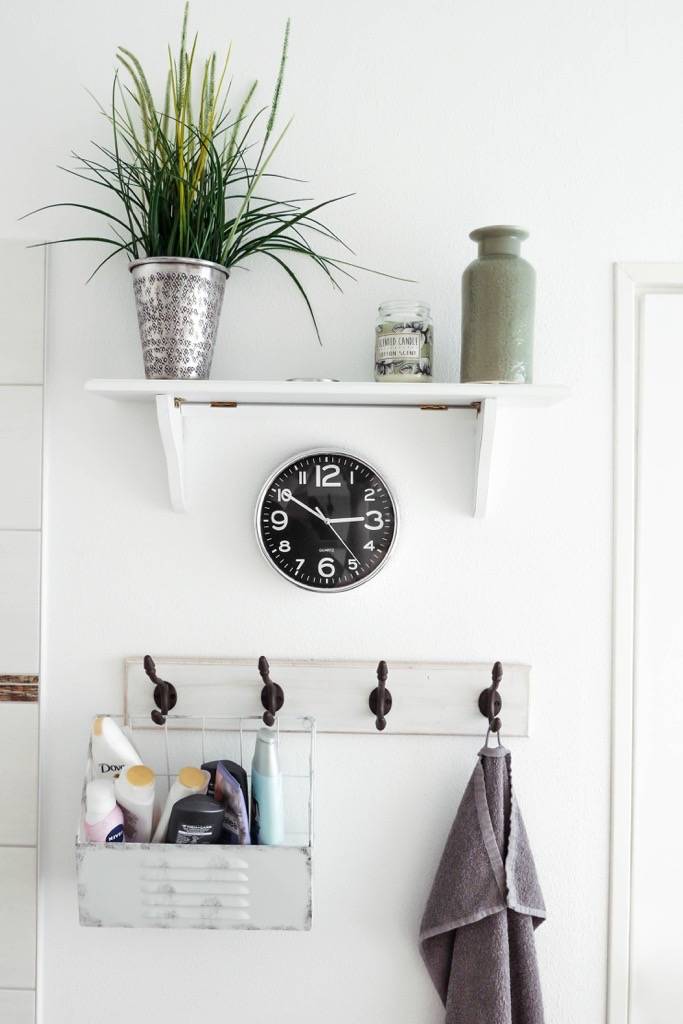 Especially if you plan on having guests over, we recommend thinking about refreshing the vanity counter with a fresh bouquet. Not only will you soften the look by bringing brightness to your space, but it's also a nice gesture. Think about doing this for Easter and Mother's Day.
1. Palm Trees Next to The Nightstand

We recommend a fake plant décor tip to add some faux palm trees next to the nightstand; why you may ask? We know palm trees are typically associated with the summer, but you can't go wrong with a palm to get you in those island vibes. To add a touch of spring, consider a few florals on top of the planter.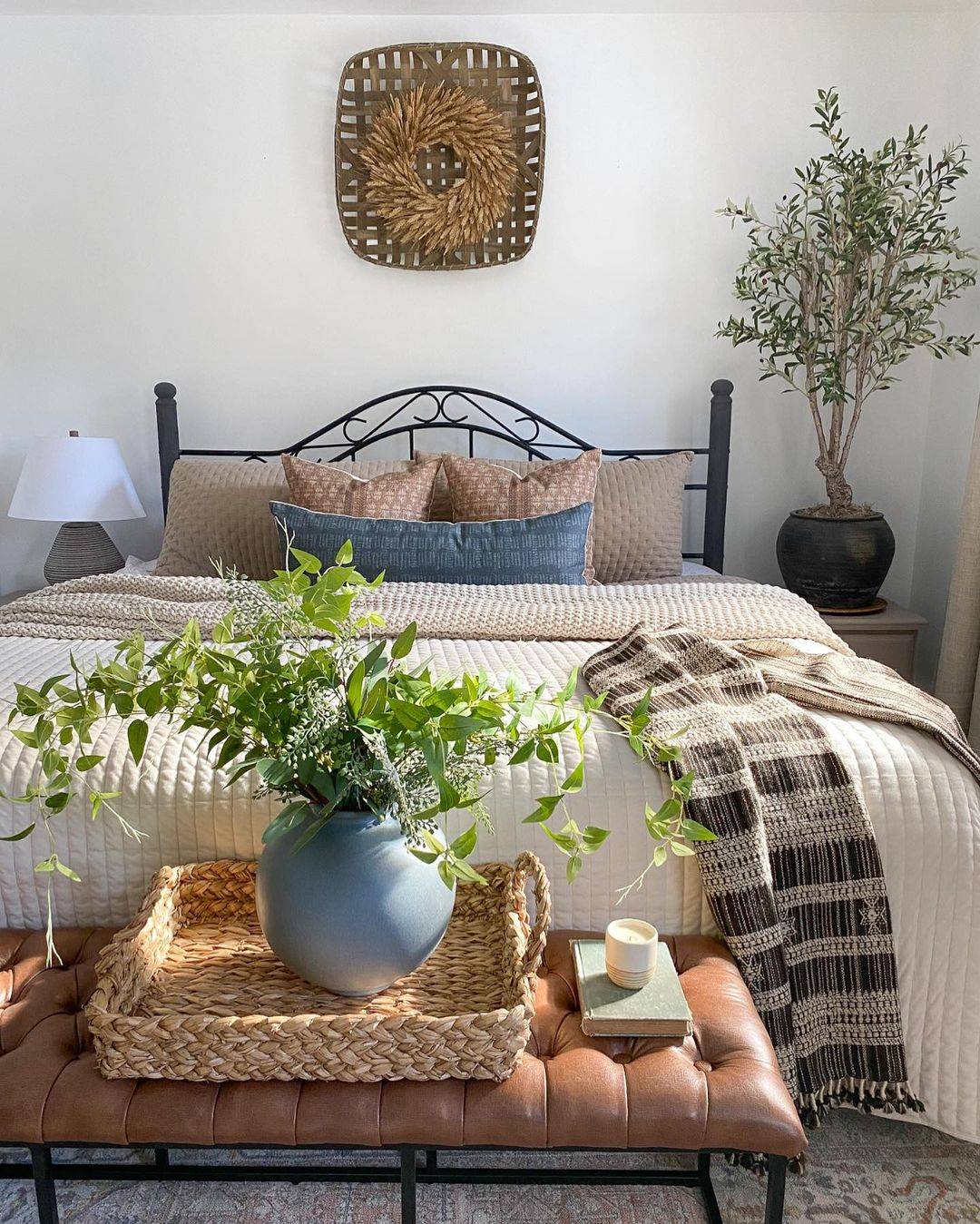 2. Refresh with New Spring-inspired Décor

Decorating doesn't involve expensive purchases; sometimes, it's as easy as changing the basics and swapping it for more festive colors that blend with the season. Consider the pillow, covers, and other accents that need a few spring sprinkles and change as the year and a new season begin.
Especially in those bland walls, a wreath can't hurt anybody. We know how difficult adding those festive vibes in any space can be, but a tremendous seasonal change you can implement is decorating with a new wreath every 3-4 months; this keeps the look fresh and clean.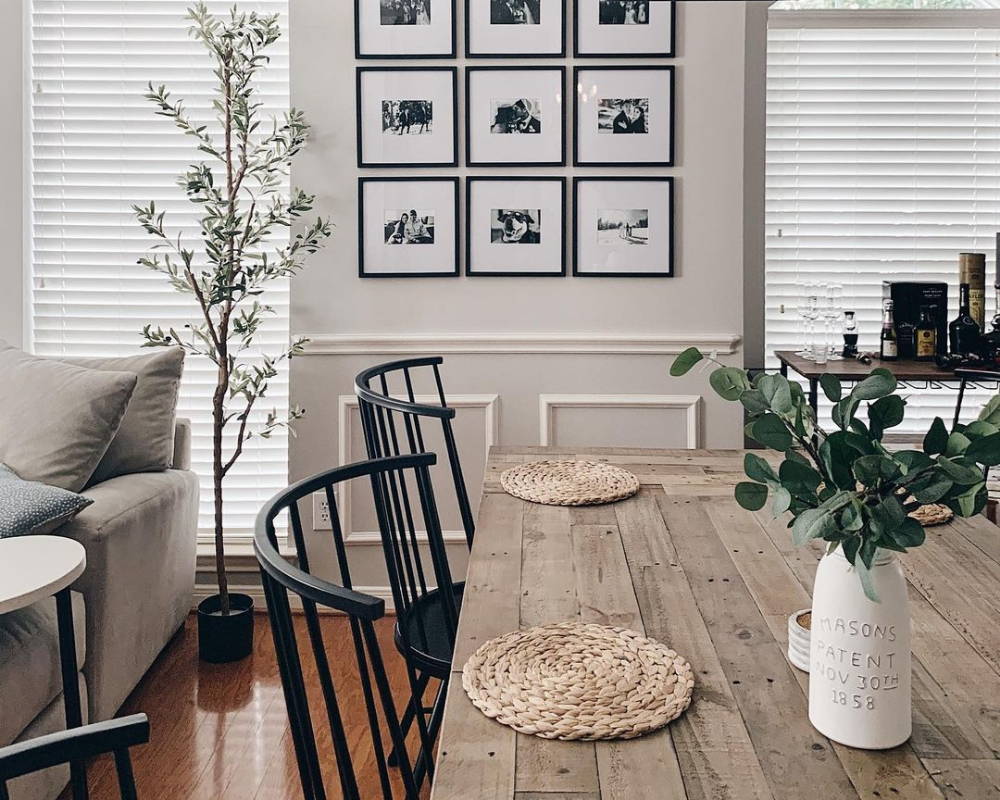 Sometimes, the most details go a long way, such as adding a floral centerpiece in the dining room. There's nothing else to say about this classic and elegant way to spruce up any space, especially in spring, have a fresh bouquet to brighten your area – no green thumb required.
For a little more farmhouse dining room décor tips, consider a farmhouse-inspired vase for housing your centerpiece or adding in a wooden one. Those touches create a sense of warmth and invite your guests to a special celebration. Make them feel at home.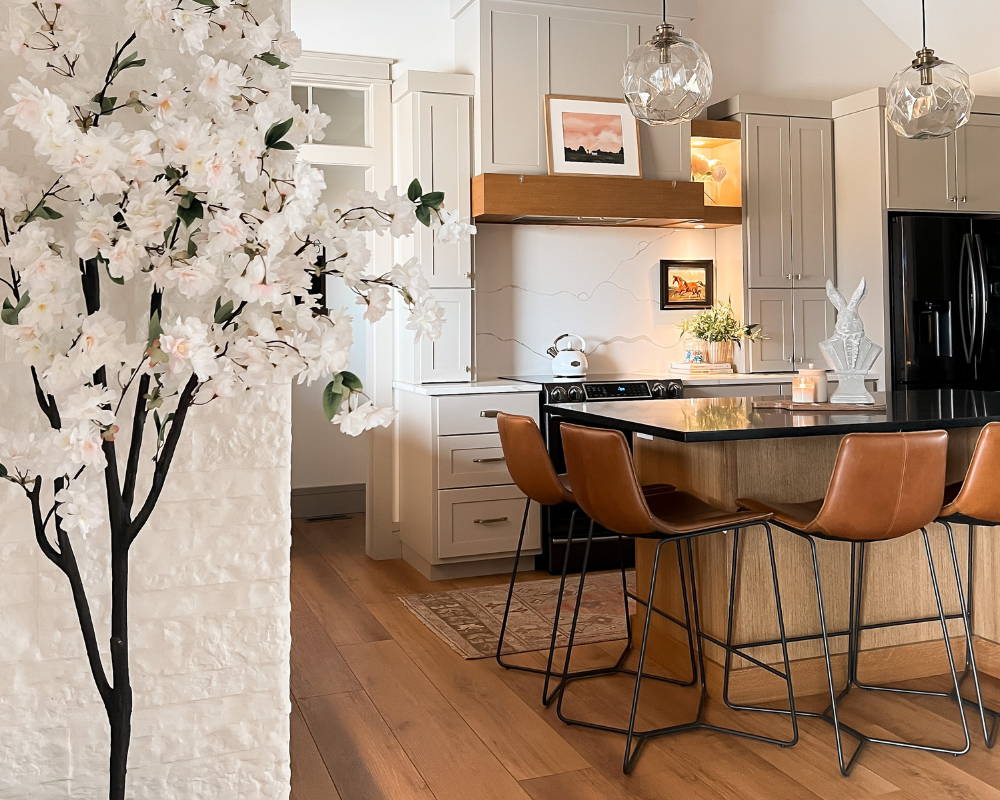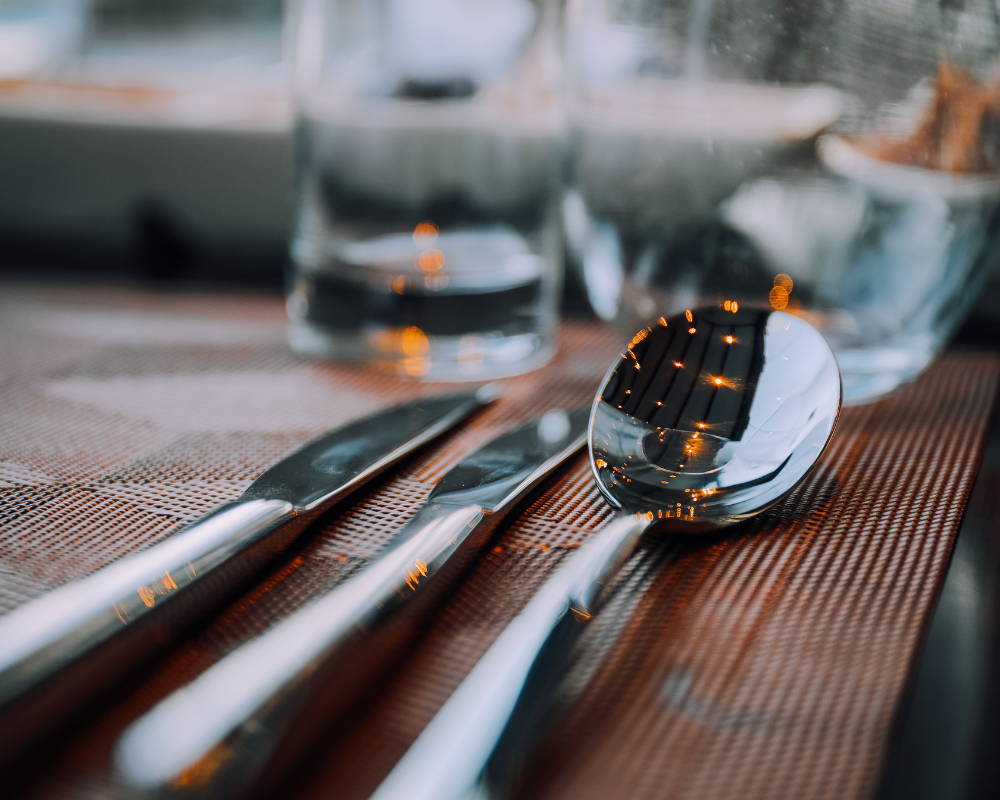 3. Look for Spring-Inspired Silverware and Tableware

For an easy refresh, consider spring-inspired silver and other goodies for decorating those special seasonal celebrations; this extends beyond the bunny. Florals and pastels are a great option, but if you're into a more clean design, consider softer, neutral colors and enhance them with flowers.
Trending Spring Decorations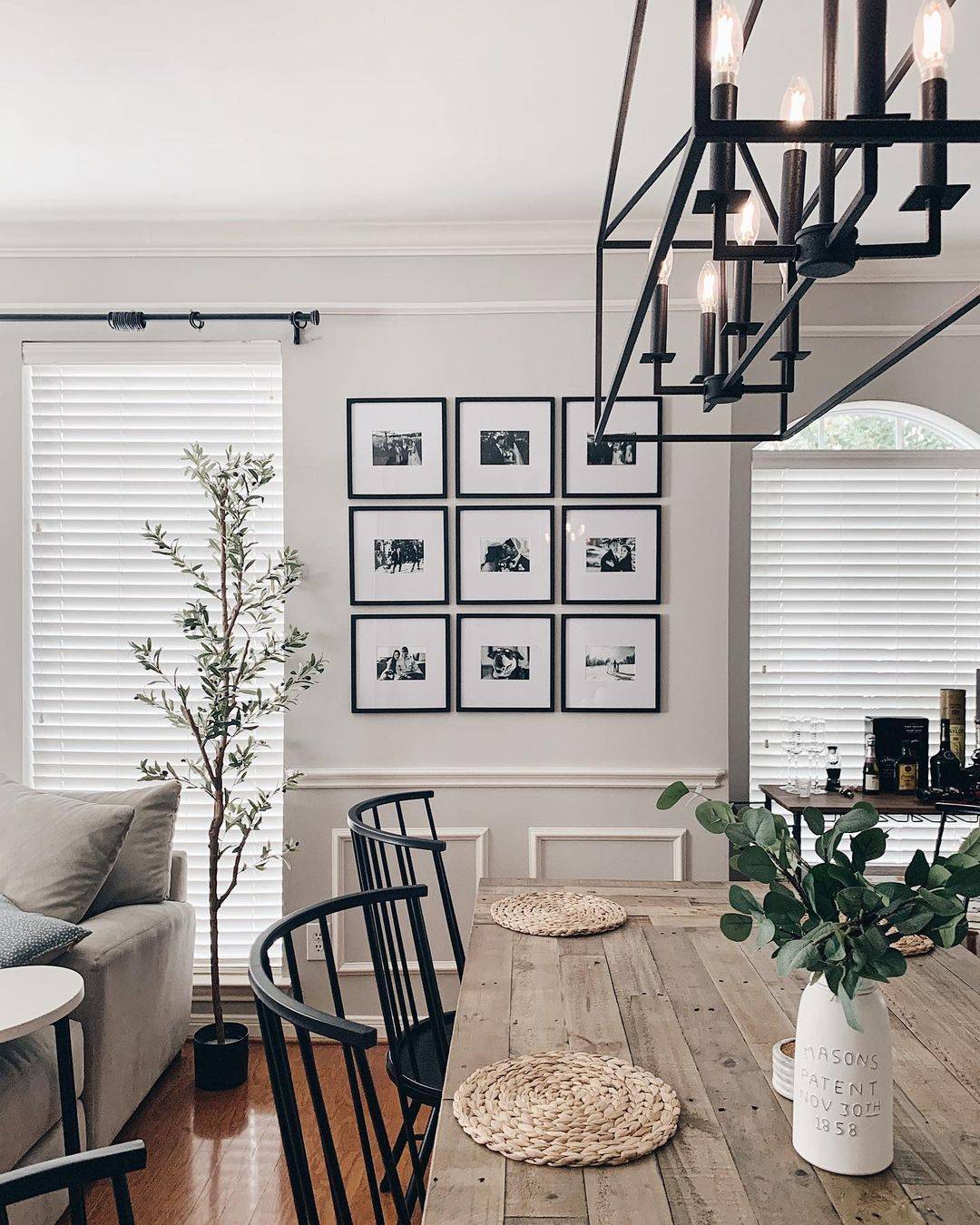 Always en vogue, we're obsessed with olive trees, and many customers are too. Because of their lifelike appearance, inspired by the Tuscan countryside, feel inspired by the wonders of this tree; even having olive fruit sprouting from its natural trunk, it's great for any spring celebration.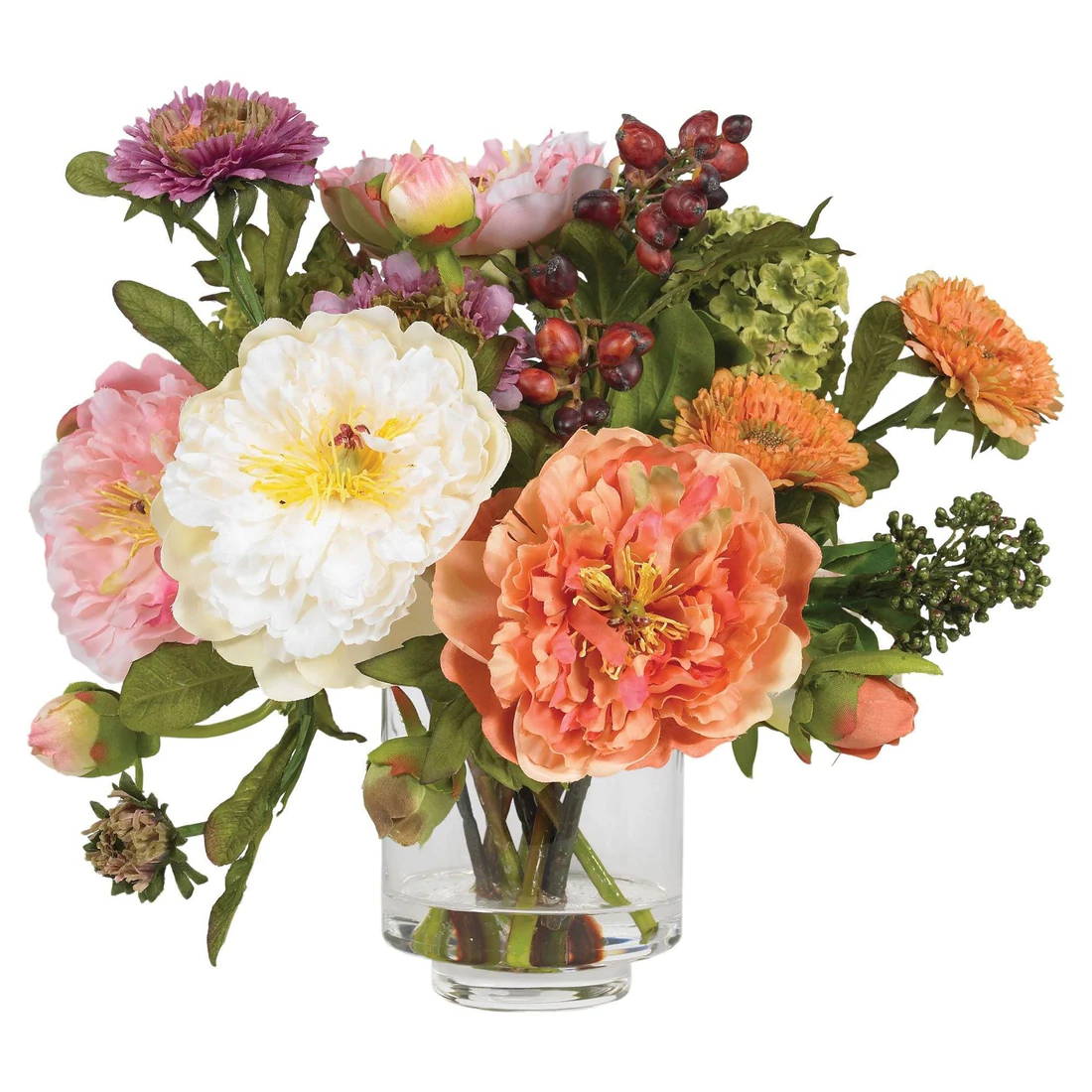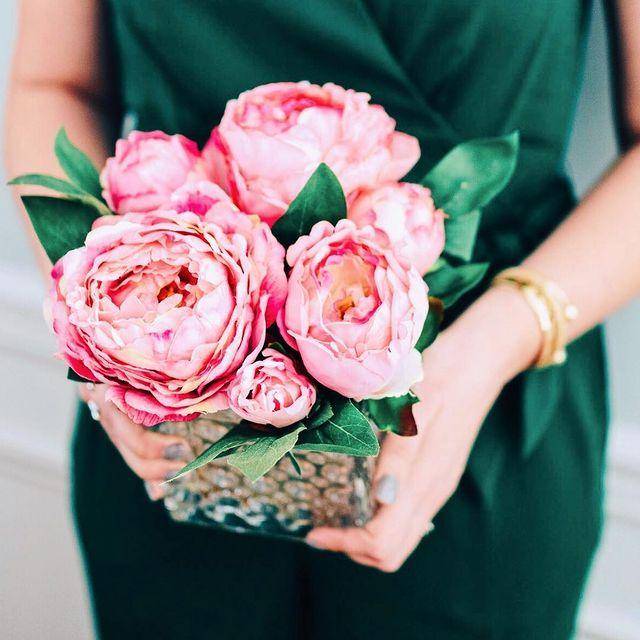 Peonies are some of the most beautiful flowers for a good reason. They're known for their pillowy look and feel and brighten any home corner. Add them to any space needing some seasonal cheer; we recommend kitchen islands, dining tables, bathrooms, and more.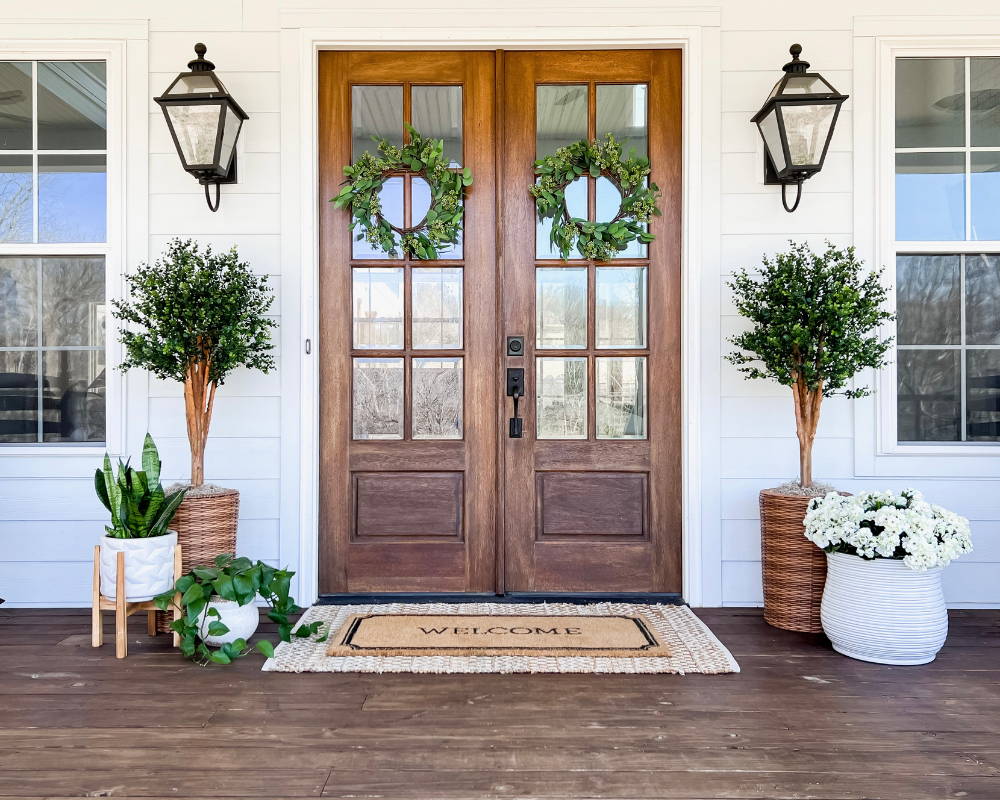 This is always trending, but we're starting to love the look of hanging two wreaths in the front of the door, especially when you have a larger door or two front ones. This look creates a timeless appeal and welcomes all who pass into your home.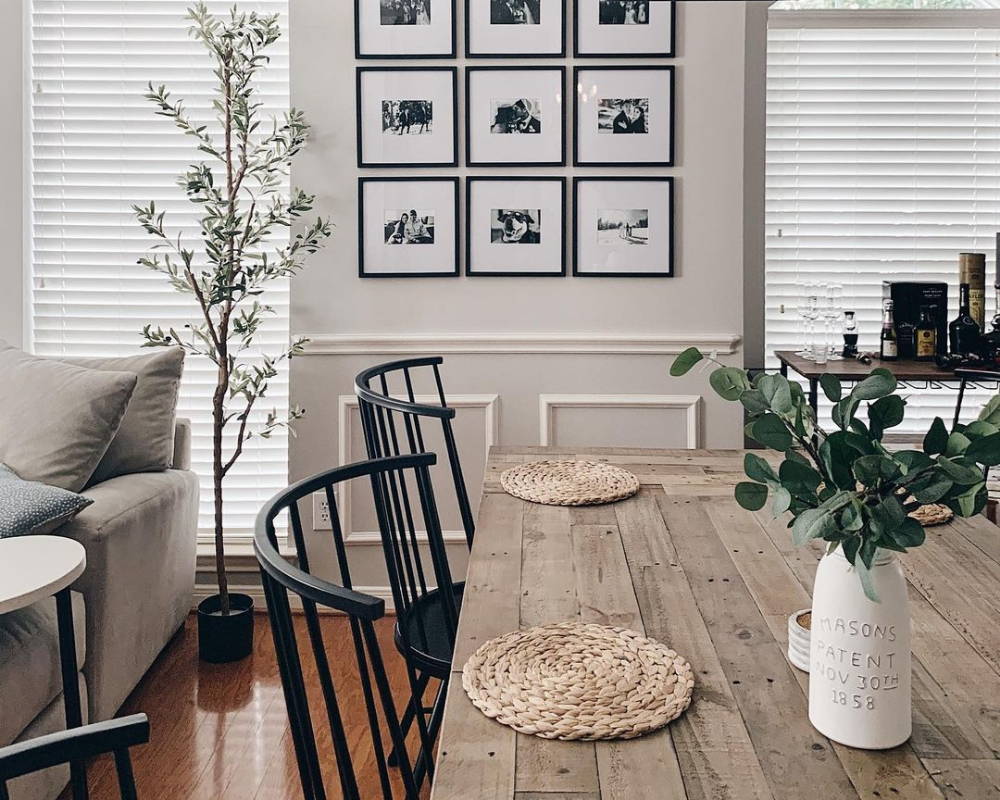 Hanging Mason Jars with Flowers

Who doesn't love mason jars? They've become more popular with the modern farmhouse style, and now many people prefer to add artificial flowers to them for their low maintenance and ease of care. Get the look with a few mason jars that you can easily find in any design store.
Chic Florals Inside Boho Basket

Boho baskets, especially those made from jute, are having a comeback this season because of their chic look and style. Even if your style isn't boho, you can add hints of boho baskets and make it blend with existing décor. Some stylish florals to consider are peonies, preserved, and tulips.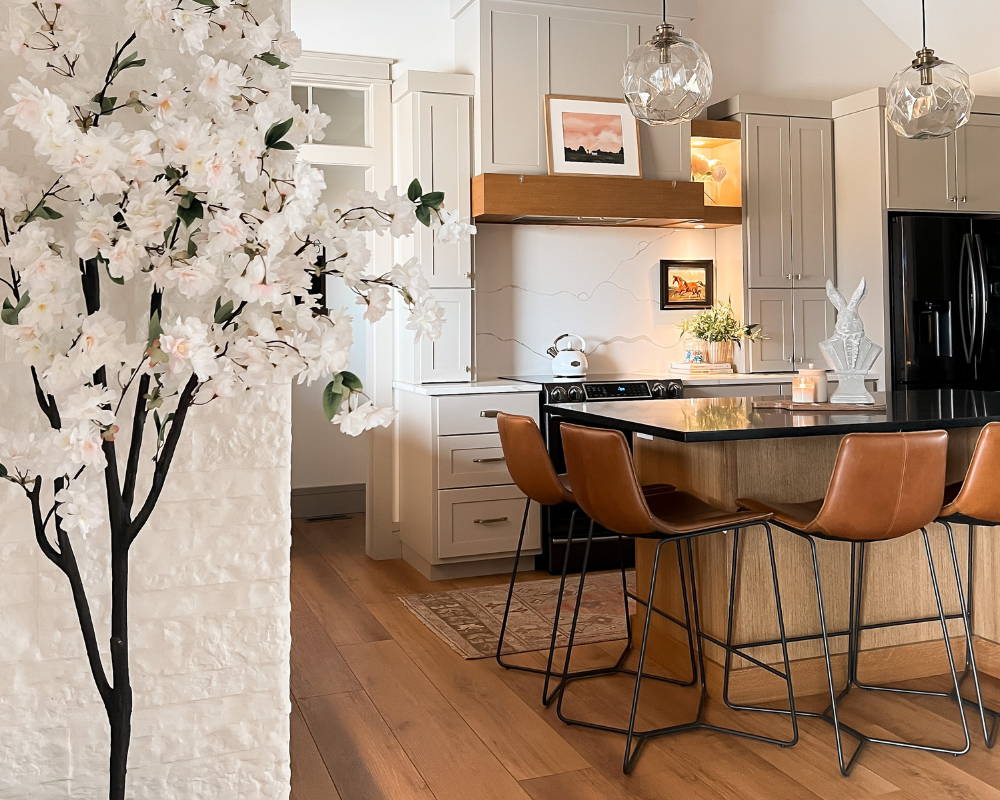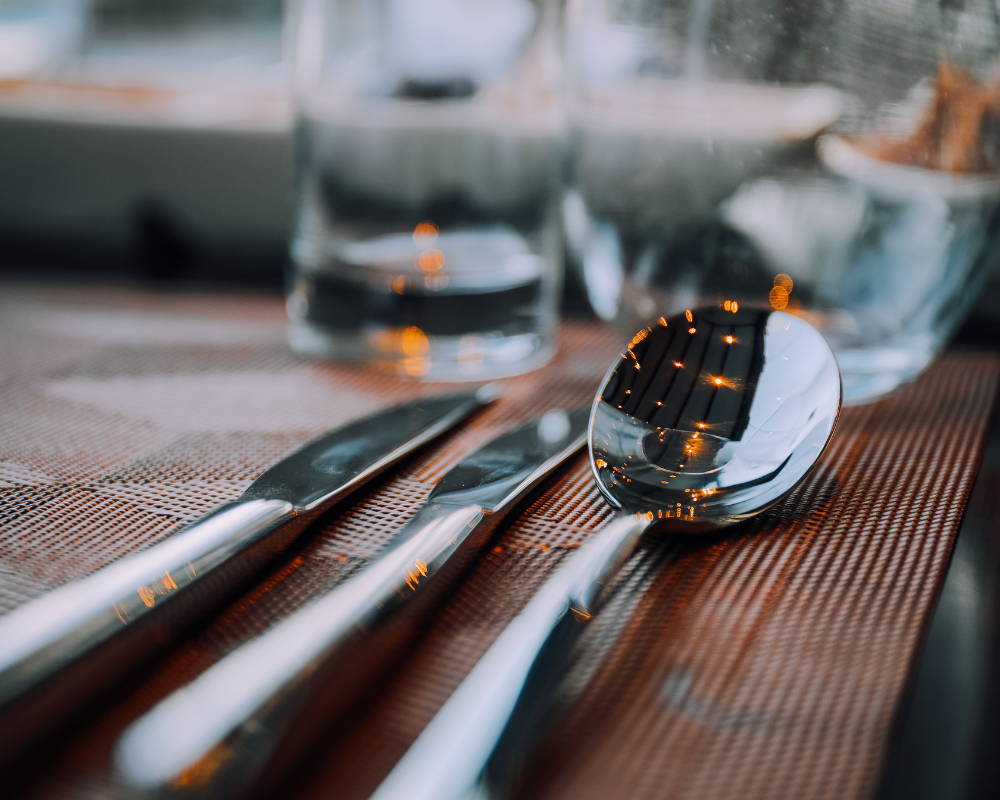 Indoor potted plants are great for compact spaces; add small faux plants to any space needing a little refresh. We love them on the desk, bathroom, mantel, or a side table for spring. There's no better way to bring the outdoors in than with a little, lifelike faux plant.
Entryways are a blank canvas, turning you into an artist in your own home. Some entryways are awkward, and some provide ample space to create the space of your dreams. A look we love that's easy to recreate – is to add planters and baskets to the bottom of the console table.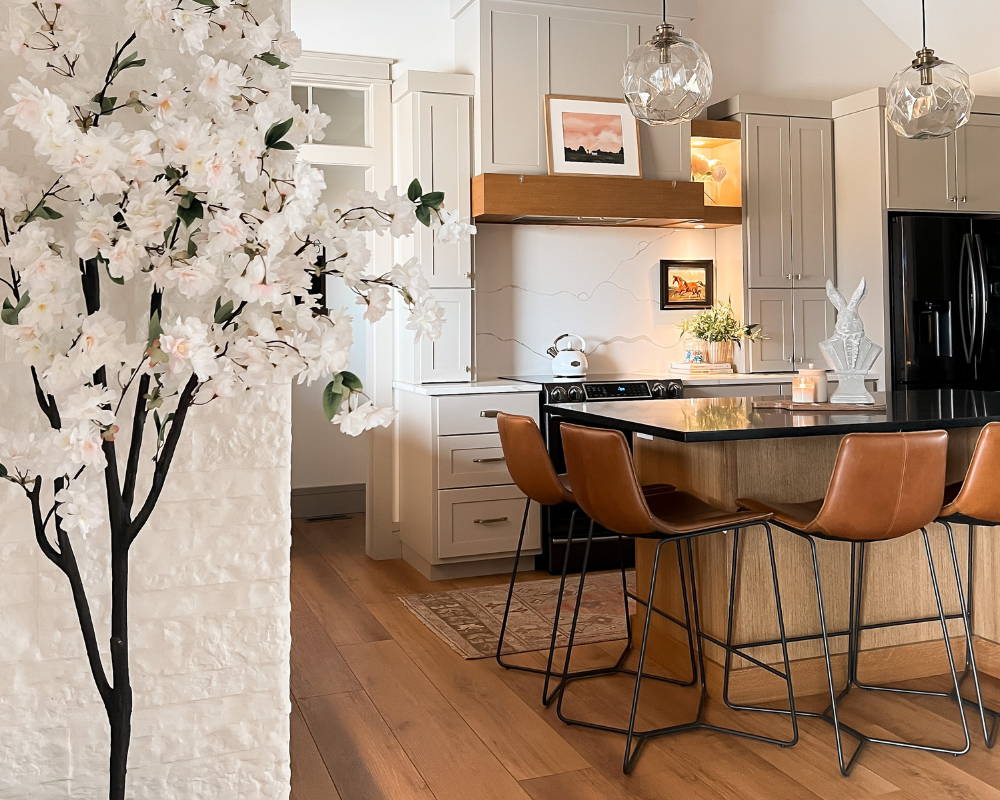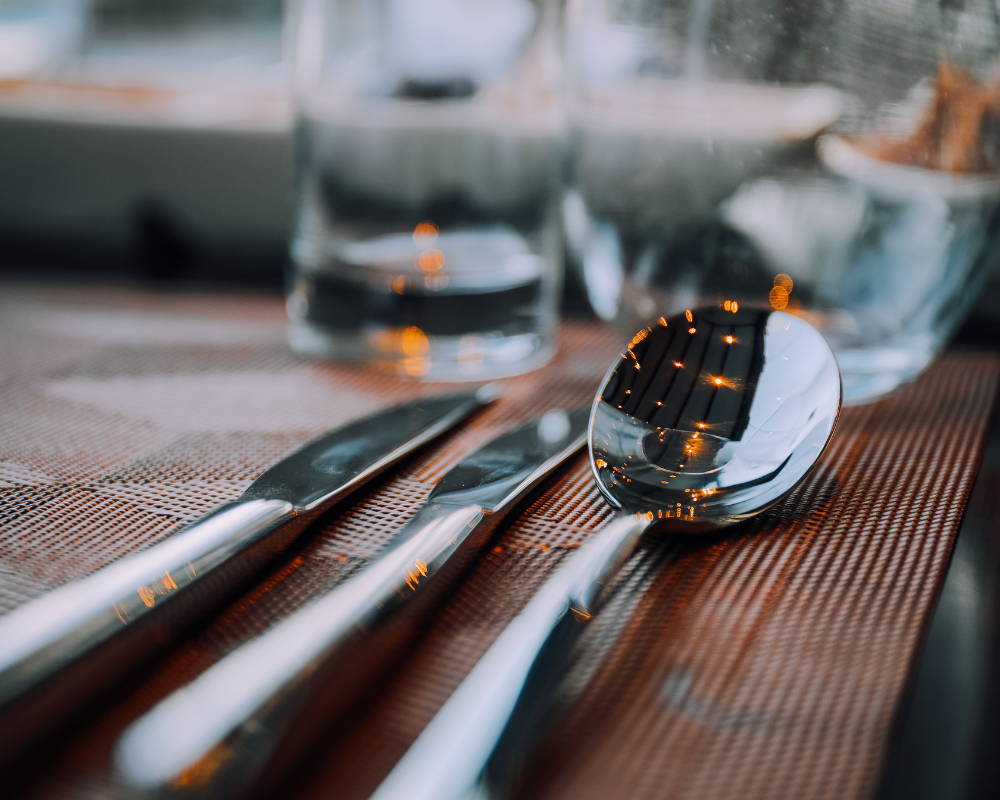 Porch Decor w/ Hanging Plants

Artificial Hanging plants provide the same comfort as plants, without the hassle. Especially in patios that get too much sunlight or not enough, transform your space into your dreamy oasis. And for those with smaller patios, consider displaying these in your porch spring décor for a fun pop of color.
Our Favorite Spring Home Decor Greenery

This depends on the style of your home; the choice is truly yours. This is what we love about spring décor; there's no wrong or correct answer; you can create your dreamy setup without looking at trends or what the next person is doing. Instead, go bold today and add spring items by bringing the outdoors in.
Light, thin and airy, many love this tree for its sophisticated yet rustic look and feel. Adorned with faux olives, so lifelike that you'll feel as you're walking through the Italian countryside. Enhance the beauty of your home by adding this artificial olive tree to any corner of your space. We recommend a natural basket or any planter that blends with your existing décor. The best part? This faux tree blends with many style decors.
---
Unlike the real Ficus tree (which is finicky and practically leafless in almost any home light conditions), our Ficus tree is eternally verdant and deep green with 1008 individual leaves on several sturdy branches. This excellent reproduction Ficus would look lovely in a picture window, home entranceway, or even the office, measuring six feet in height.
---
The beach is anywhere you want it to be with this amazing little Areca Palm Tree. Standing thirty inches in height, it features several stout trunks, and more than 325 leaves, bringing a definitive tropical feel to your home or office. Plus, it's fully UV resistant, so you can keep it inside or bring it out to your patio, garden, deck, or a little "tropical vibe" is called for. Makes a fine gift as well.
---
Adorn your home or office space in classic Mediterranean style with this traditional olive tree. A symbol of peace, wisdom, and abundance, this elegant creation is a welcome addition to any room. Standing 5 feet high, this everlasting beauty contains over thirteen-hundred rich green leaves and eighty-six brightly-hued olives. A strong twisting trunk flocked with long slender branches and lush foliage projects an all-natural appearance pleasing to the eye.
---
Want to transform your space into a tropical Floridian oasis? Turn your areas into a jungle with this Artificial Dracaena Tree. Dramatic foliage defines the dracaena. This realistic succulent has spears of dark green leaves exploding from delicate brown stems. No matter your style décor, this faux tree blends with any style and brings classic charm to any space. With the included sand-colored vase (included in height), this eye-catching plant can stand alone to accent your office decor. Place it near an armchair or next to your bookcase.
---