Artificial Versus Real Christmas Trees: Which Should You Buy?
For many of us, the Christmas season is our favorite time of year. Christmas lights, strolls down decorated neighborhoods with hot chocolate in hand, gingerbread houses, presents, and of course Christmas decorations all add to this festive holiday.
Christmas trees are the focal point of your indoor Christmas décor. And let's face it, Christmas trees are a blast to decorate.
When it comes to choosing the right Christmas tree, you have a decision to make. Do you get a real tree or an artificial tree? And to clarify, if you buy the right artificial tree, it will look exactly like a real tree.
Here at Nearly Natural, we like to help our audience with helpful tips and how to make the right purchase decisions. So, in this post, we will help you decide if you're going to buy a real tree or a fake tree.
Pros/cons of Real Christmas Trees
There are a ton of places in your area to purchase a real tree so they're not hard to find. Let's take a look at the pros of real Christmas trees.
Real Christmas trees have that amazing pine scent that fills your home with that Christmas smell

When Christmas is over, you can plant your real tree in your yard or take it to get recycled

You don't need to store real Christmas trees when Christmas is over

Picking out your tree is something your whole family can enjoy

They're good for the environment
While real Christmas trees may be a tempting choice, there are a few cons of opting for a real Christmas tree.
The needles fall off and make a mess

Some people have allergies to real Christmas trees

They have to be watered

You have to re-purchase a real Christmas tree every year
Pros/cons of Artificial Christmas Trees
As we mentioned, artificial Christmas trees look like real Christmas trees if you buy from a high quality company like Nearly Natural. Here are some pros when it comes to buying a fake Christmas tree.
They're more economical because they last for 10 years

Artificial Christmas trees are easy to maintain because they don't need to be watered

They don't release needles and make a mess

They are easy to set up and store

Many artificial Christmas trees come pre-lit so you don't have to worried about tangled strands of Christmas lights

Artificial Christmas trees are flame retardant

There is more of a variety with artificial Christmas trees like white or red trees
...and here are the cons of owning an artificial Christmas tree
With artificial Christmas trees you don't get that lovely pine scent

They require assembly

Artificial Christmas trees require storage space

They're not biodegradable
The Top 5 Artificial Christmas Trees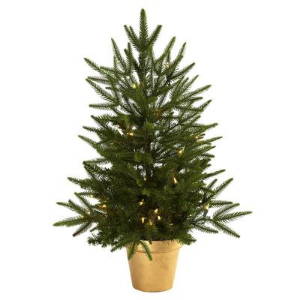 2.5' Christmas Tree With Golden Planter and Clear Lights
This tree comes pre-lit and is a great option if you have a desk or a table top that you want to spruce up with a Christmas tree. The decorative planter it comes in adds a nice touch to the aesthetic of this Christmas tree.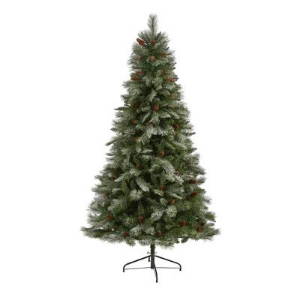 Snowed French Alps Mountain Pine Tree w/ Pinecones
This tree is one of our most beautiful options as it comes with slightly frosted branches that looks like snow. It stands at 9 feet high so it's a great choice if you have high ceilings. It also comes with pinecones adding to the nature inspired look of this tree.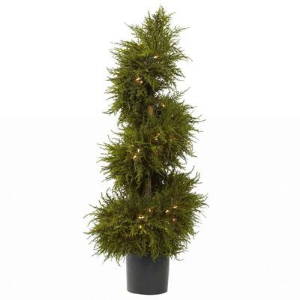 Cedar Topiary With Lights
Want something unique that you can't get with a real tree? Check out this topiary tree as it is beautiful and original and you'll be sure to get many compliments.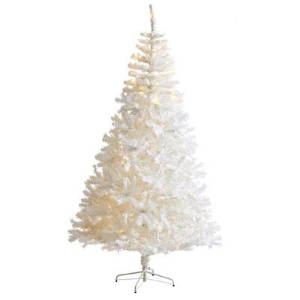 White Artificial Christmas Tree
This white tree is beautiful and unique. It's pre-lit with 400 LED lights so you can avoid the hassle of strands of Christmas lights. Since it's white, it matches any décor and will be a great addition to your home this holiday season and for years to come. Once assembled, which is an easy process, the tree will be ready for you to personalize it with your choice of ornaments.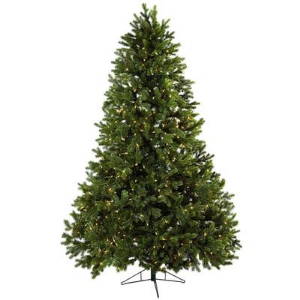 Royal Grand Christmas Tree With Clear Lights
This tree is one of our more classic and iconic options. It is 7.5 feet tall so it will be sure to dominate the space you put it in. It has 1,481 branches that are pliable allowing the tree to fit in the space you want to put it in. It also has 800 clear light bulbs and if one burns out the others don't as is the case with traditional strands of light bulbs.
Ever wonder how we create fake trees, flowers and plants that look like the real thing? Well, Nearly Natural was founded by a very talented horticulturalist. He had a fine eye for detail and used his expertise to create fake products that look real.
His knowledge and attention to detail has been passed down through the years at Nearly Natural and his talent exists today in all of the products that we create.
Because we believe in our products so much, we offer free shipping and hassle-free returns so that you can find the perfect Christmas tree for your home.
Choosing a Christmas tree is no easy decision. Picking a real tree or an artificial tree requires some serious thought. Hopefully outlining the pros and cons with each type of tree will make your decision easier.
Weighing the pros and cons of real trees versus artificial trees shows that artificial trees comes out as the winner. However, choosing a fake tree is still a hard decision because there are so many to choose from. Check out the 5 most popular trees we listed earlier in the post and check out our website for even more options.
Do you decorate your home for the holidays with an artificial Christmas Tree? We'd love to hear all about it in the comments below!