Christmas Outdoor Decor Tips, Ideas, and Inspirations
Who doesn't love decorating for the holidays? We do! This is why we recommend expanding the decorations to the outdoors with Christmas outdoor decor .We know that the weather constraints limit the amount of items that you can place outdoors and flora is difficult to maintain during this time, this is why Christmas decor for outdoors is crucial for this space. Our interior designers with scores of experience are here to help you craft a winter wonderland on a budget and share their tips for outdoor Christmas decorating.
5 Reasons Why The Reader Should Decorate Their Outdoor Space For Christmas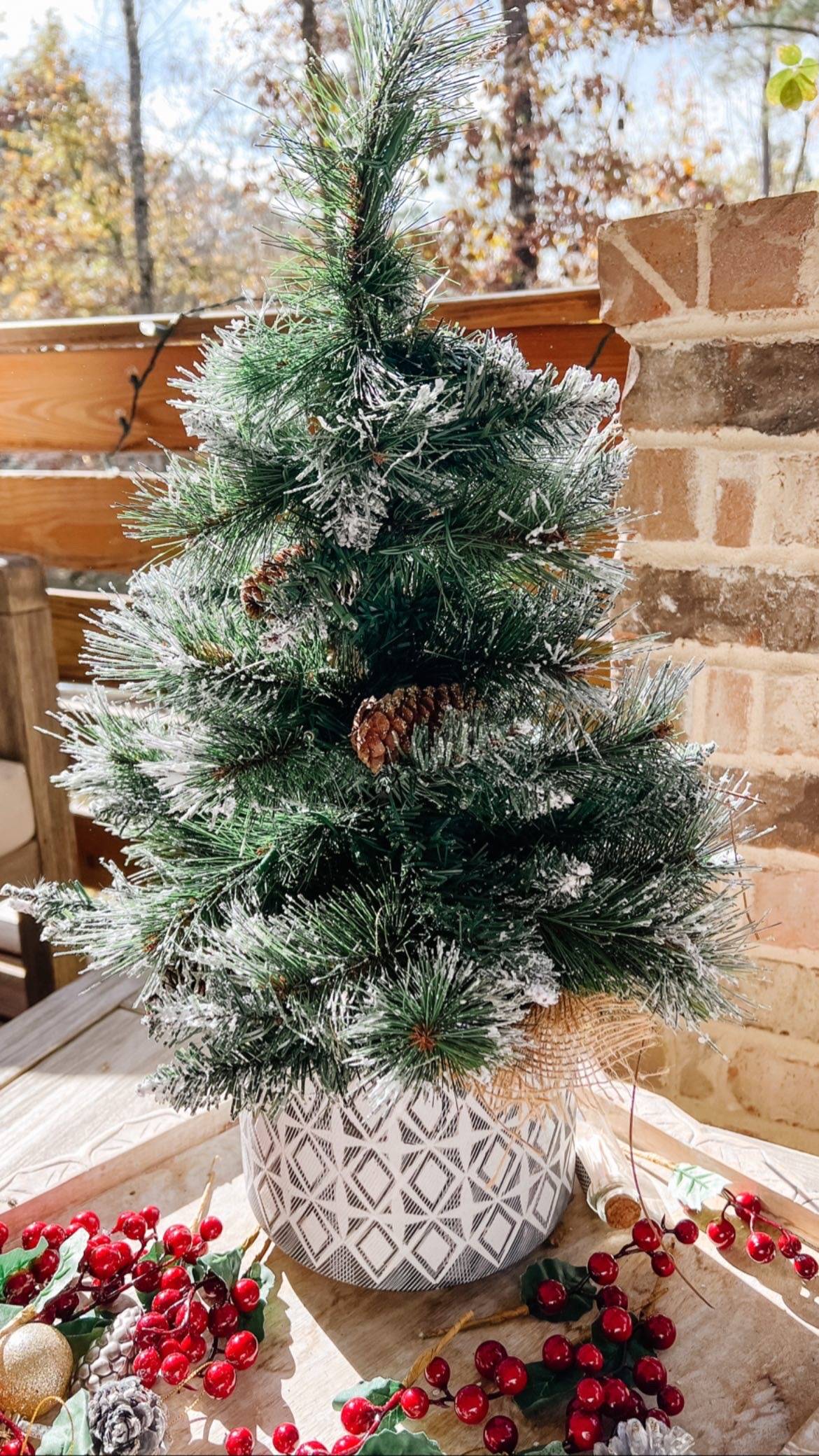 We know that most of you have a Christmas tree and decorate indoors, but you can also set the tone for the season by decorating outdoors. We know that the weather in many places prohibits natural flowers from blooming but that's why team faux is perfect for these areas. Especially the front porch and backyard, add some green against a white backdrop for a touch of holiday.
With high-quality, faux plants and trees crafted for outdoor-use, you can give your space a needed refresh and some life. No matter where you live, add the essence of the season through the use of color. Consider our UV resistant and outdoor-safe trees to ensure they can be displayed outside. We have trees, wreaths and plants that are sure to delight any space.
One of the best parts of the holidays is the decorating. The kids love it and the final product is always something you can be proud of. Take great family photos to show off to your friends and family and make them feel inspired.
4. Create Memories With Family

The most important reason for the season is spending time with those closest to you and creating memories that'll last a lifetime. And what better way to do that than with some holiday decorating? This will allow all family members to express their creativity through design, especially if you have kids, they love expressing themselves in crafts.
5. Greet Everyone to a festive home

We know that with the many events and holiday parties to host, you have a lot on your plate already, but decorating is easy and quick once you have everything you need. And what's better than having a well-decorated home to welcome all? Make your guests feel the Christmas spirit throughout every space in your home.
1. Place Two Trees Doorside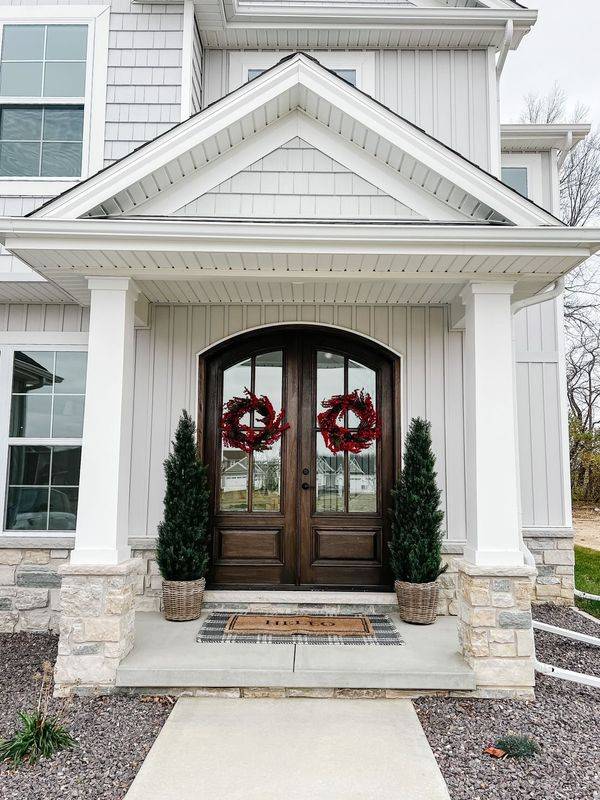 The front porch is one of the most important spaces in creating curb appeal. And the best part? You can take your porch to the next level with just a few items. That's all it takes. For the front porch we love the cedar, olive trees, and more! When looking for a holiday refresh, some of our customers love adding ornaments to the outdoor trees for a little refresh.
2. Don't Forget About The Wreath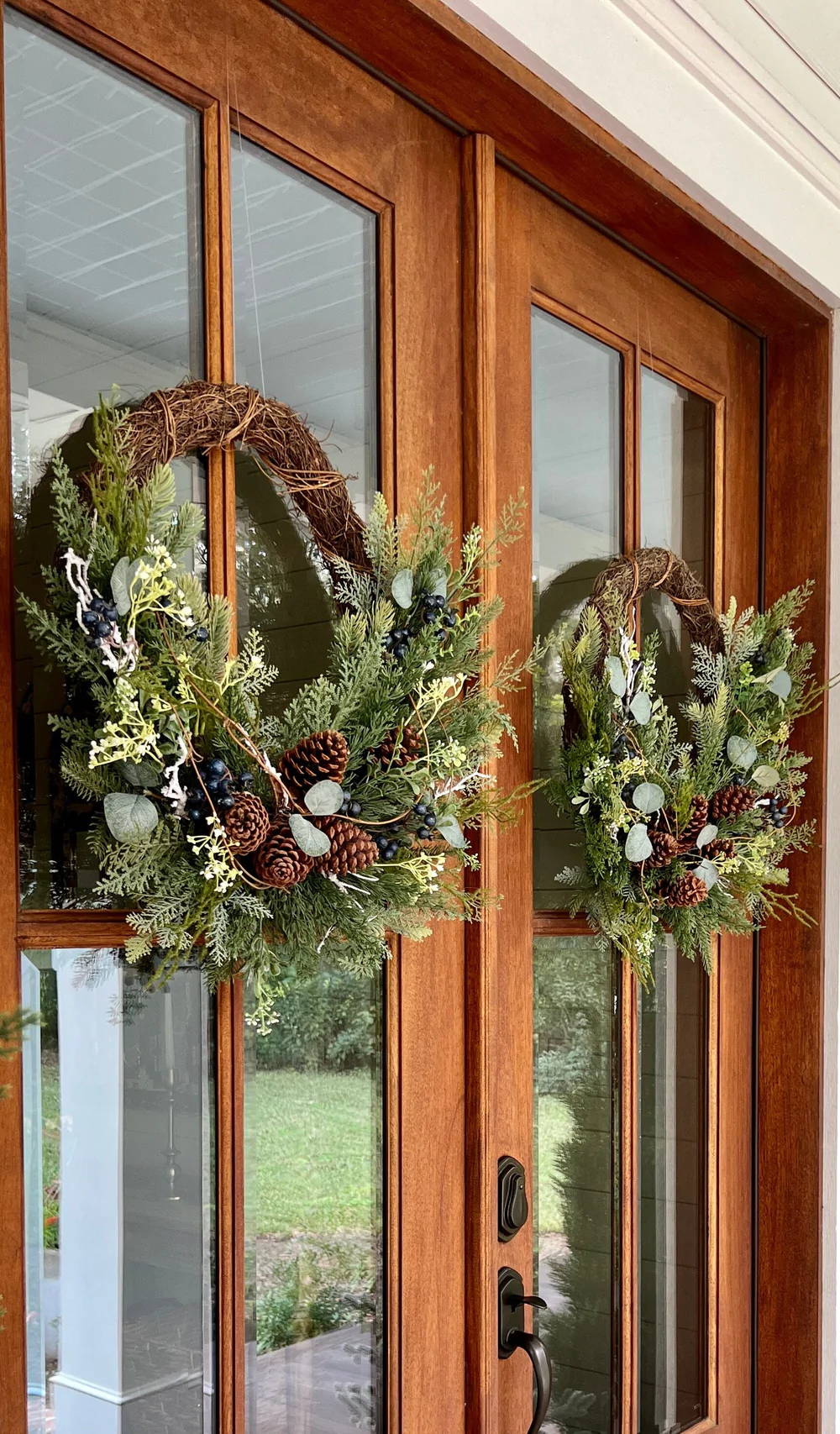 Have you heard about the rule of three in design? If you have a tight space or are looking for a quick way to spruce up your space, add two trees doorside and a wreath in the center of the door, for a touch of seasonal charm. This is all you need for an elevated and well-thought of space. For the holidays we love wreaths with berries, pinecones, pine and poinsettias.
3. Double Wreaths For Larger Doors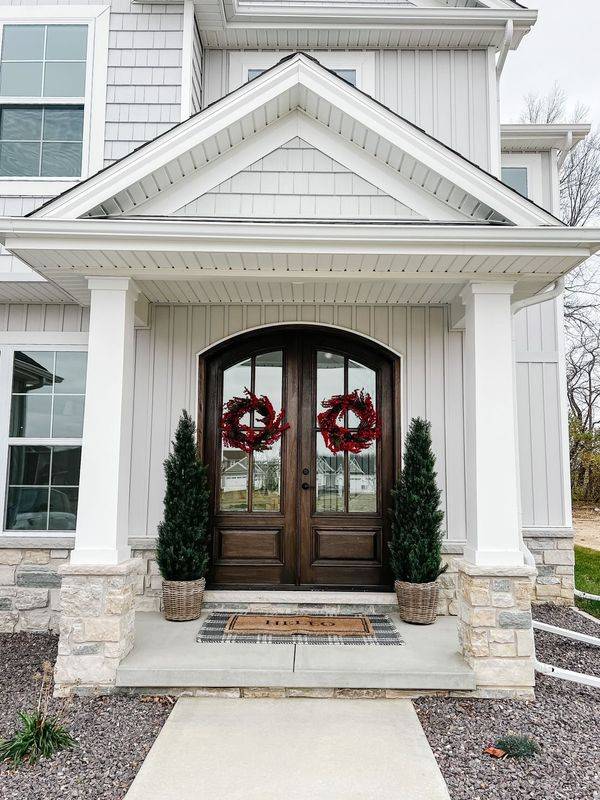 For those of you with a larger front porch, add two wreaths, one on each door. This creates symmetry and drama, accent the look with your faux plants doorside. We recommend choosing the same wreath for an elevated and clean look.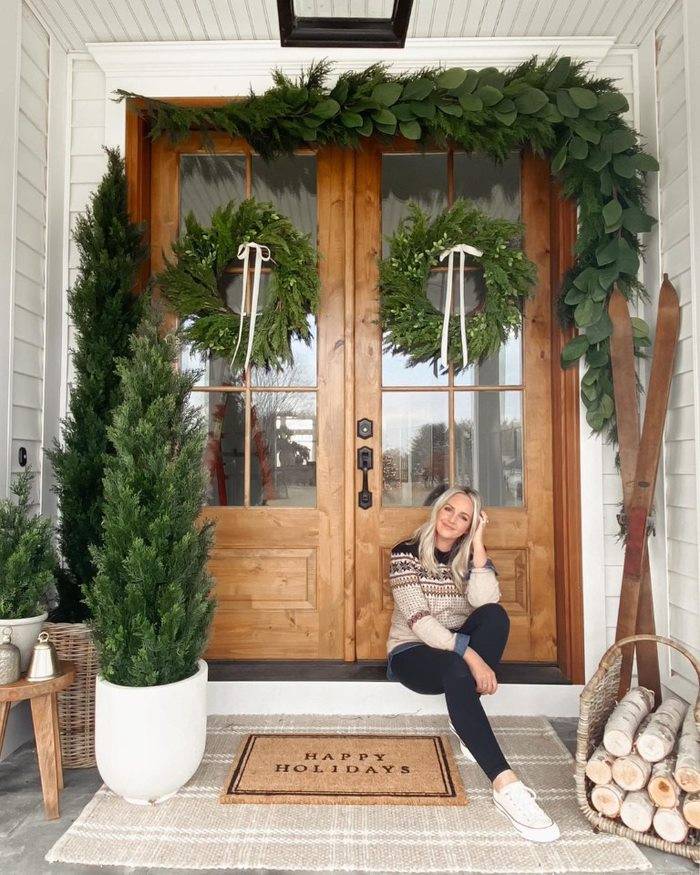 One of our best selling garlands is the cedar and for a good reason. People flock to the cedar during the holidays because it's a great piece for year-round use and perfect for all decor styles. Clean, simple and green, add one near the front porch door for some character, as the seasons change, you can leave it up or swap for another garland. We love the versatility of pieces that can transition easily. It's great for stretching the dollar.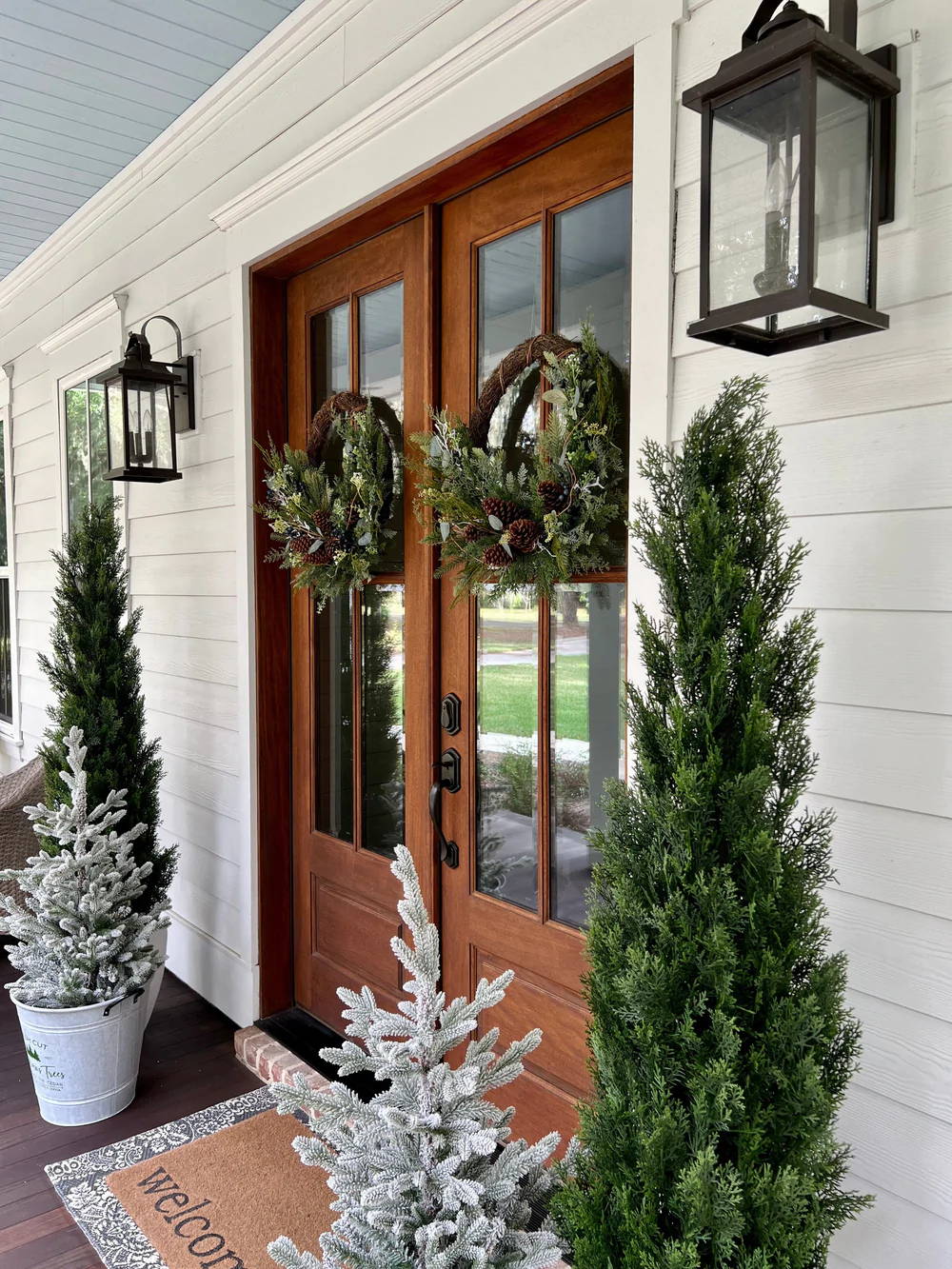 We know that decorating and choosing the correct sized accents can be a bit time consuming and difficult, this is why planters are great for complementing any look. If you'd like to add a few inches to elevate your faux tree, consider a taller base for more visual interest.
We know that adding Christmas lights can be a bit of a tedious task, but it really brings out the essence of the season and makes it a great addition to any outdoor space. Especially during the get-togethers, the lights add warmth to any get celebration. Go all out and opt for colorful ones or classic white ones.
7. Faux Trees Of Varying Heights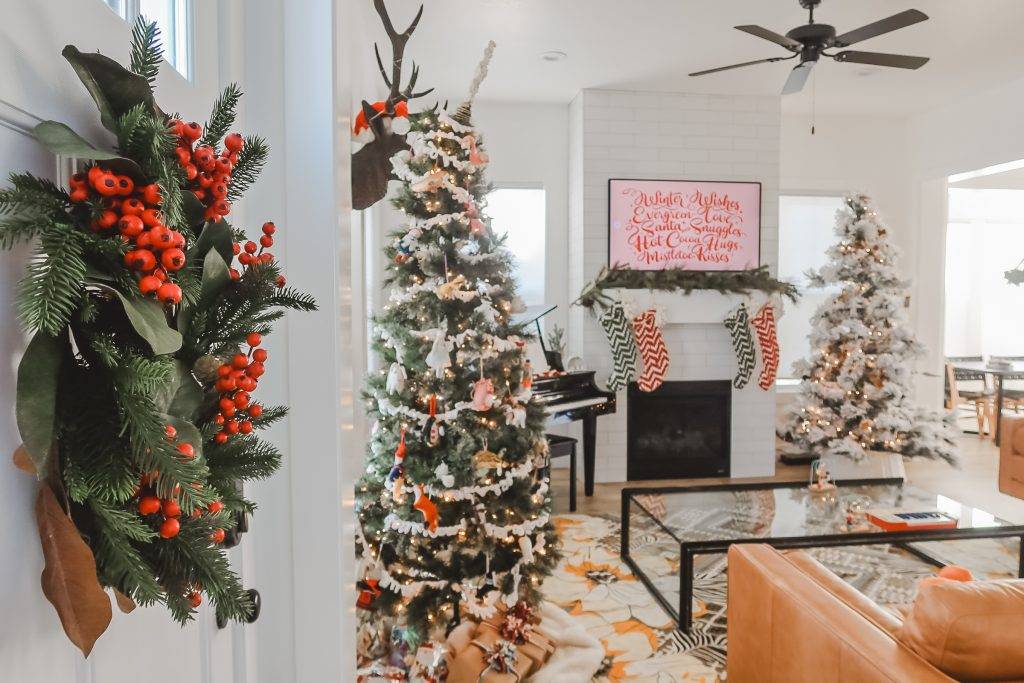 In the front porch, we recommend at least two trees doorside but if you want to elevate your space, consider adding four faux trees, two of different heights. For example, you can display the shorter ones behind the taller ones, for some contrast and depth. Many social media influencers love incorporating this into their decor as it truly takes the front porch to the next level. The trees don't have to be the same style, you can mix and match.
8. Cedars For Year-Round Use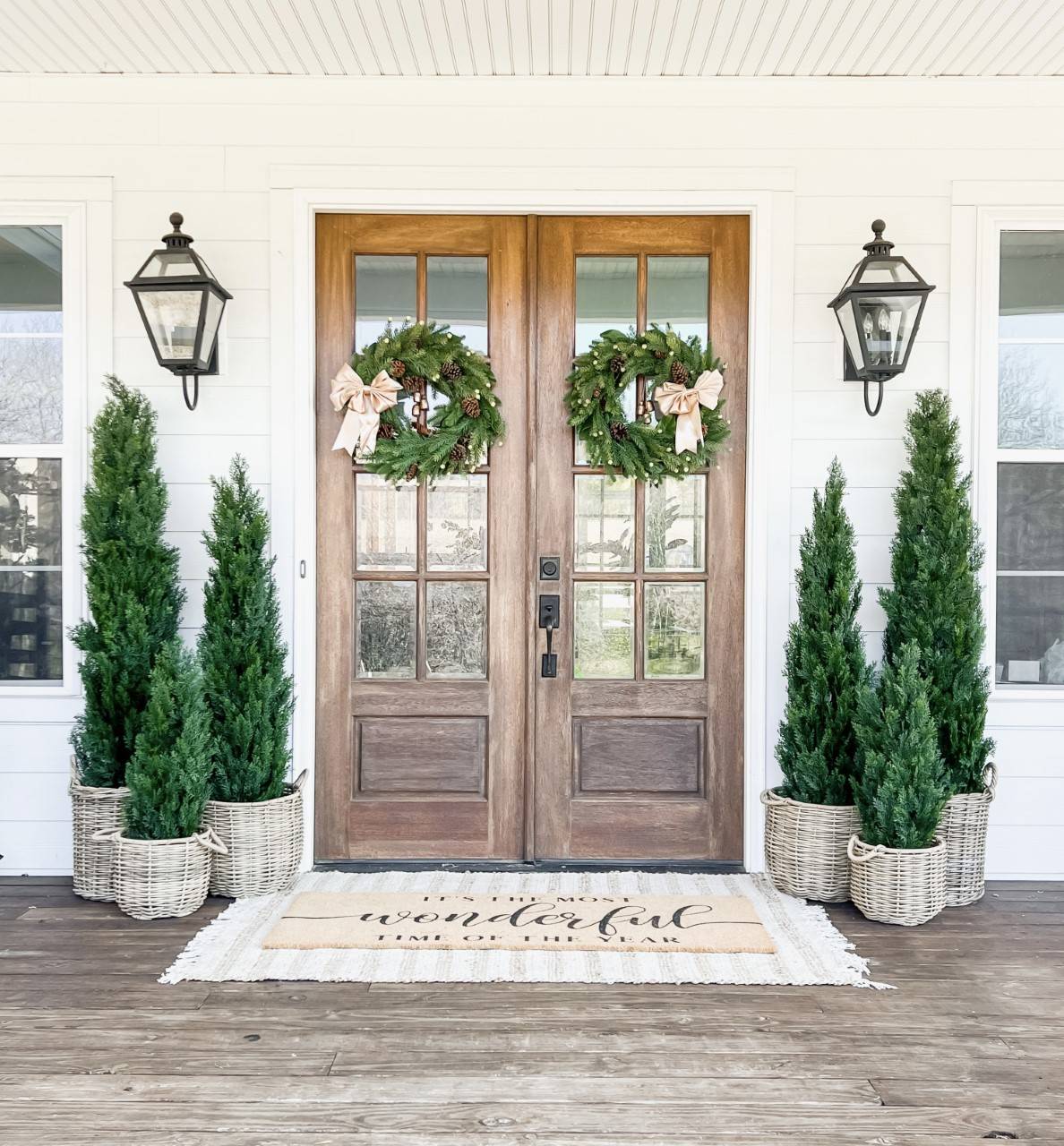 We love cedars! Especially during the holidays, you can't go wrong with this style. Our cedar garland and tree for the front porch are always a best-seller for their simple, yet classical look. Feel free to sprinkle hints of holiday cheer by decorating with mini ornaments and other holiday items. One of the best parts of the cedars is that you reuse the whole year, not only for the holidays.
9. Use Wooden Items For A Touch Of Rustic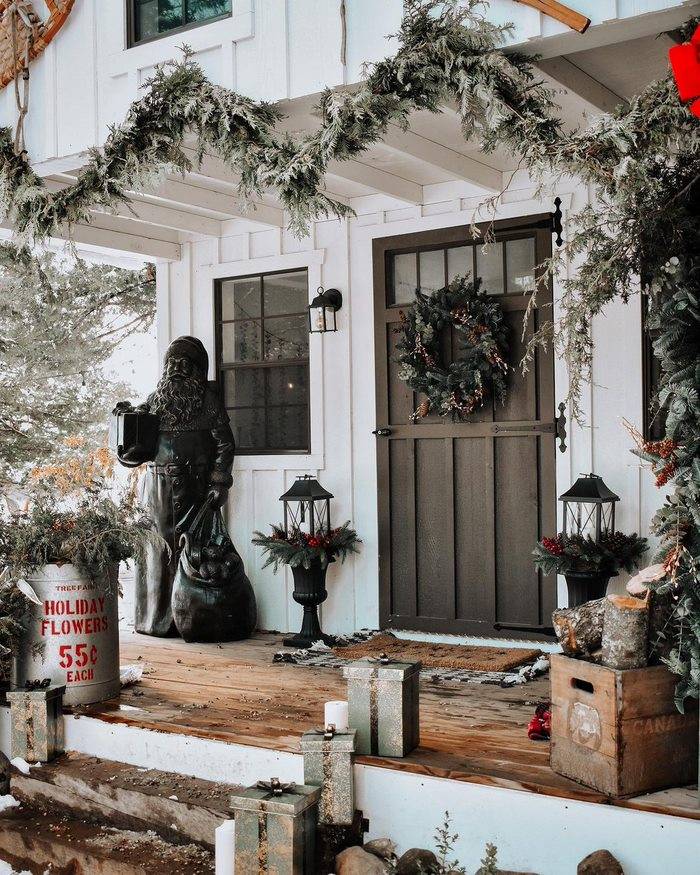 We know that wooden touches add some coziness and a natural element in any space, bringing you closer to the outdoors. But for that rustic, ski chalet look, look for nature-inspired pieces such as pinecones, twigs, tree skirts and more. This is great for setting that sense of nature.
We love silk flowers for winter! They're low-maintenance, realistic looking and budget-friendly. Never worry about watering them, add these colorful blooms in a matching vase in an outdoor table or front porch in need of some more color. Especially if you have pets, poinsettias are poisonous for animals and can be lethal, keep them safe with faux flowers.
Themes To Consider When Decorating Outdoors

While the theme depends on your style, some of our favorites are candyland, rustic chalet, traditional, gingerbread and more. These are just a few of the most popular but feel free to create your own theme and explore new ones. We'd love to hear more about your style so let us know in the comments.