Christmas Tree Decor: How To Transform Your Living Space Into A Winter Wonderland
Is it that time of year finally? Where you stress about holiday shopping, decorations, get-togethers, and Christmas trees. Decking the halls is fun every year, but in a year where uncertainty has dominated every aspect of life, you can take control of your holiday planning. Discover our top Christmas trends 2021, beat the holiday rush, and get a head start on your Christmas shopping. Start with the centerpiece of the season, the Christmas tree.
For larger homes, we recommend a large Christmas tree that can display accents and decorations. Don't know where to begin decorating for Christmas? We gathered our top 2020 Christmas trends for large indoor spaces.
If you have higher ceilings than the traditional 9', you can opt for a taller tree that looks proportional in your space. Don't know which tree to pick? With endless options ranging from flocked, natural, skinny, and white, it can seem overwhelming at first. We recommend sticking to a theme and decorating around that theme. For example, if you want a winter wonderland, a large artificial flocked Christmas tree can help achieve this look. This year, we have over 500 Christmas tree styles – giving you the option to decorate with multiple Christmas trees for a little Christmas tree family.
Wondering how to put Christmas lights on a large tree?

First, figure out how many lights you need. We recommend about 100 lights for every foot of tree. Before you begin, make sure all the bulbs are working. Start at the bottom of the tree and go up and down. According to the Rockefeller Center, try trunk to tip and divide the tree into sections and string by section.
2. Multiple Christmas Trees

After you pick your large Christmas tree, a holiday décor trend for 2021 is curating multiple smaller Christmas trees side by side and adding a mini tree to every room. We all have more time at home now; maybe the kids are online learning, entertain them with some DIY projects that are perfect for unleashing their creativity and imagination. Here are some Christmas living room décor ideas: different colored trees, a trio of the same tree in various sizes, and other textured trees. For example, you can make the centerpiece a large alpine tree, and on the sides, you can have flocked alpine trees for a winter wonderland look. Alternatively, you can have a large white tree as the center with little white trees on the sides.
3. Christmas Bedroom Decor Ideas

Spread the holiday magic to all rooms in the home, including the bedrooms. You might be WFH or might want to change your scenery for the holidays; the bedroom is the perfect place to spread Christmas magic. Start by decorating the doors with wreaths and swags. Don't forget about the walls! Decorate the walls and windows with some garlands that match your theme. This is where you can DIY and have fun creating your retreat. With just some simple, affordable Christmas decorations, you can have the Christmas you've dreamed of. This can also be applied to the kid's room.
Let them have some Christmas fun by letting them choose a theme and a mini Christmas tree that complements that selection – if they're stuck, encourage them to DIY. As a bonus, let the kids have a fun design competition with each other. Turn the event into a family activity by allowing them to pick their Christmas decorations.
Christmas Tree Decor Trends for 2021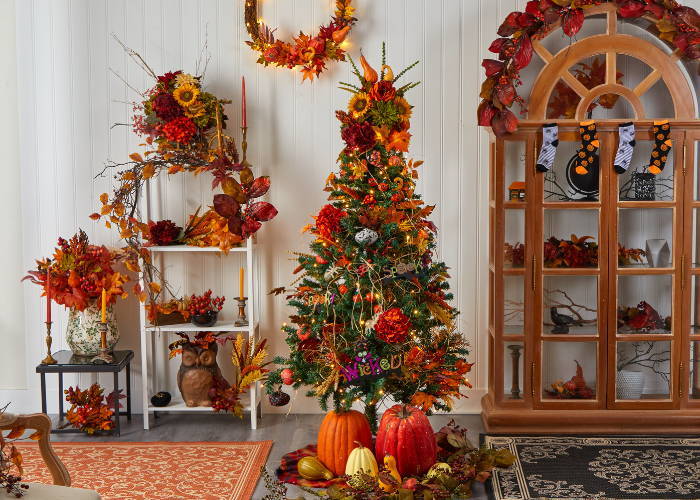 If you're extra excited about starting the festivities for the holidays a bit earlier than usual, you must decorate a Fall Christmas tree. Not only will you have the most epic backdrop for Thanksgiving, but it's one more DIY project you can tackle at home with the family.
2. Artificial Halloween Christmas Tree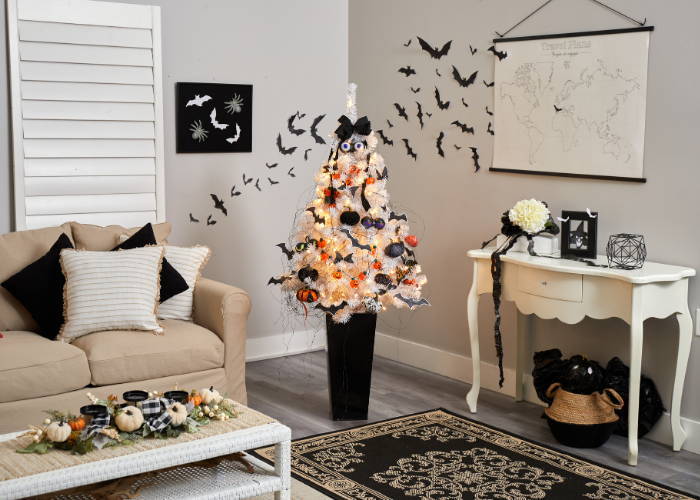 Are you a fan of the Nightmare Before Christmas? How about creating your own spooktacular Halloween Christmas tree using the same artificial Christmas tree you use for Christmas? If you're a fan of the holidays, there's no better way to celebrate than with a unique, spooky Halloween Christmas tree.
3. Flocked Christmas Tree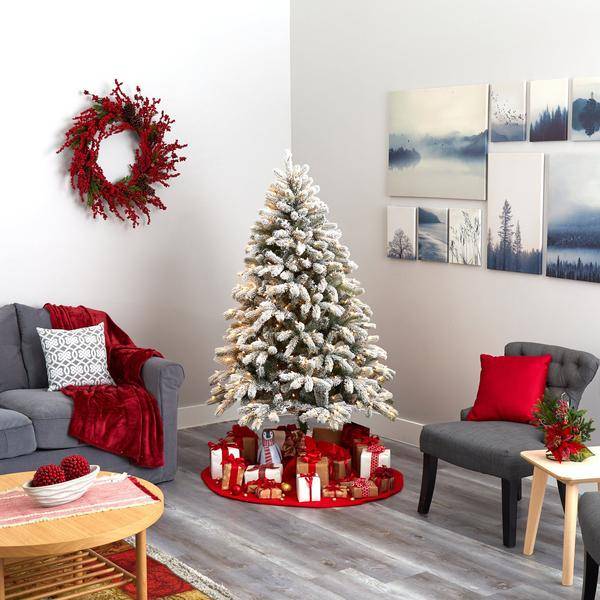 If you're dreaming of a white Christmas, a flocked Christmas tree is sure to make those wishes come true. Covered in snow-like texture, our artificial flocked trees are the perfect accent to gather round' in the company of family.
4. Grand Alpine Christmas Tree

Fancy the idyllic backdrop of the rugged Alaskan forest? The artificial Alpine Christmas tree mimics the beauty of nature's most remote landscape. Dare to be different this year by adding a unique artificial Christmas tree.