Coastal Decorating Ideas For Living Rooms
Coastal decorations take on a new look when adding a few nautical themes, and we will take a look at the coastal living room and add a few coastal decor ideas for summer and autumn. Given the right look, like some faux hanging plants and big leaf plants, the good news is that making the changes is not expensive with artificial plants or artificial trees, the living room will look like a resort, and coming home feels like a holiday.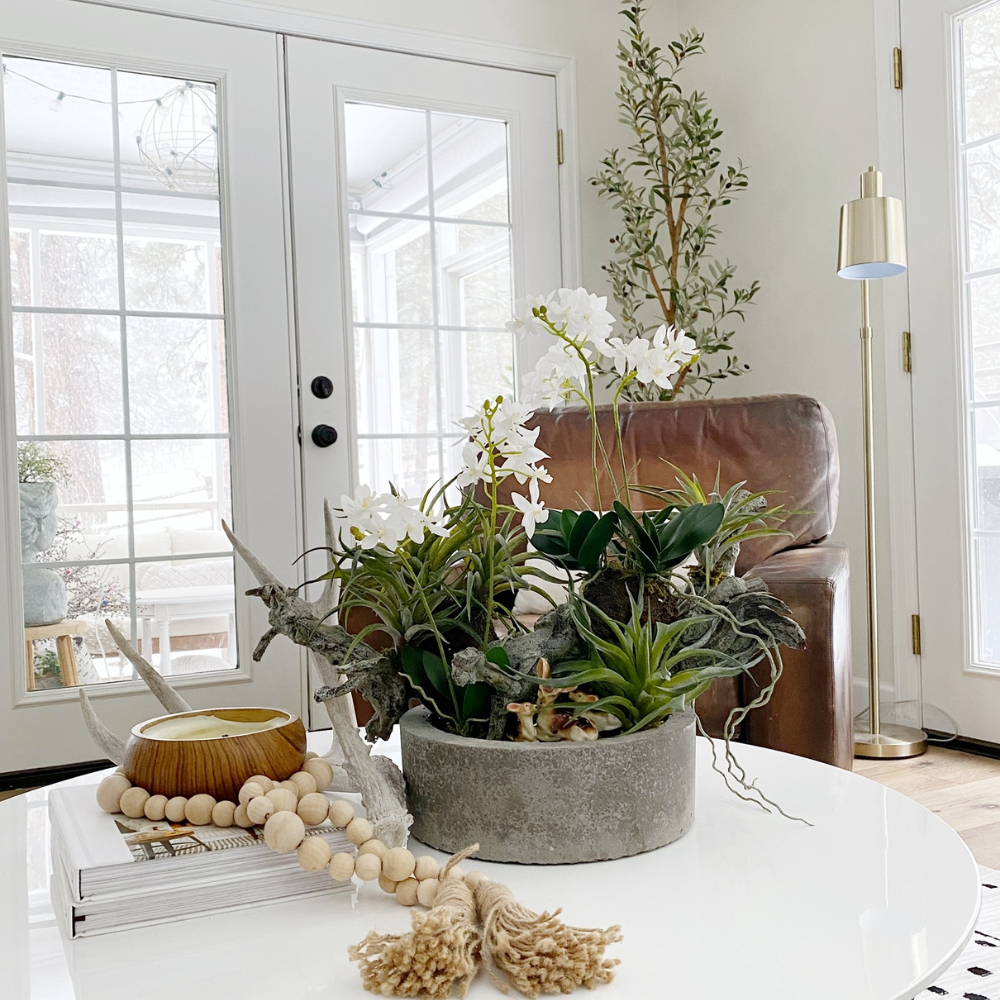 White, bright room with white table and brass lamp. A pot of faux succulents interspersed with gorgeous white orchids sits on the table.Shells on a rope bring a nautical touch to the room, and a pretty candle. The succulents in their pot look incredibly lifelike and never require any care.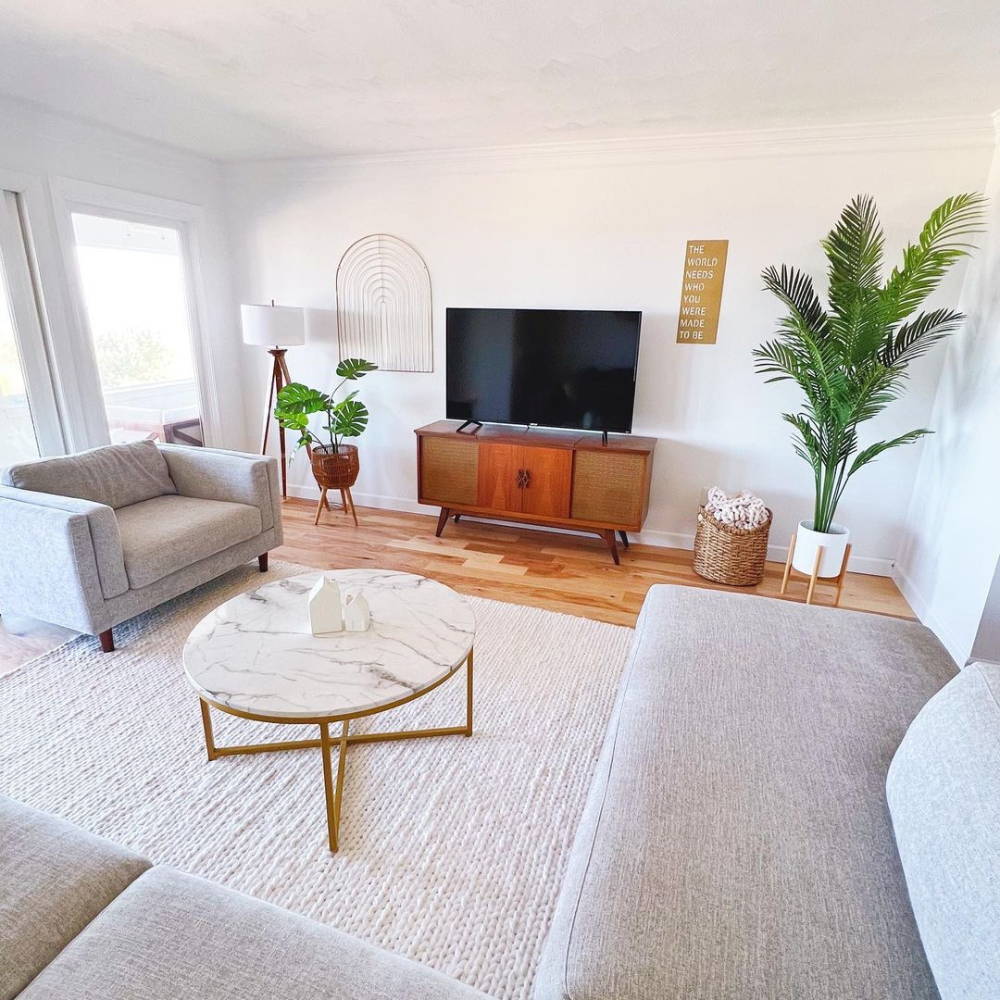 A TV on a retro cabinet sits at the end of a white room with a gray couch and a gray chair. Two big faux leaf plants add lovely greenery and a small marble table.
3. The Living Room Corner

A canvas weave chair sits in the corner of the room, next to a giant faux cactus in a gray pot. This room glimpse illustrated good use of space with a corner chair and the cactus.
4. The Country Living Room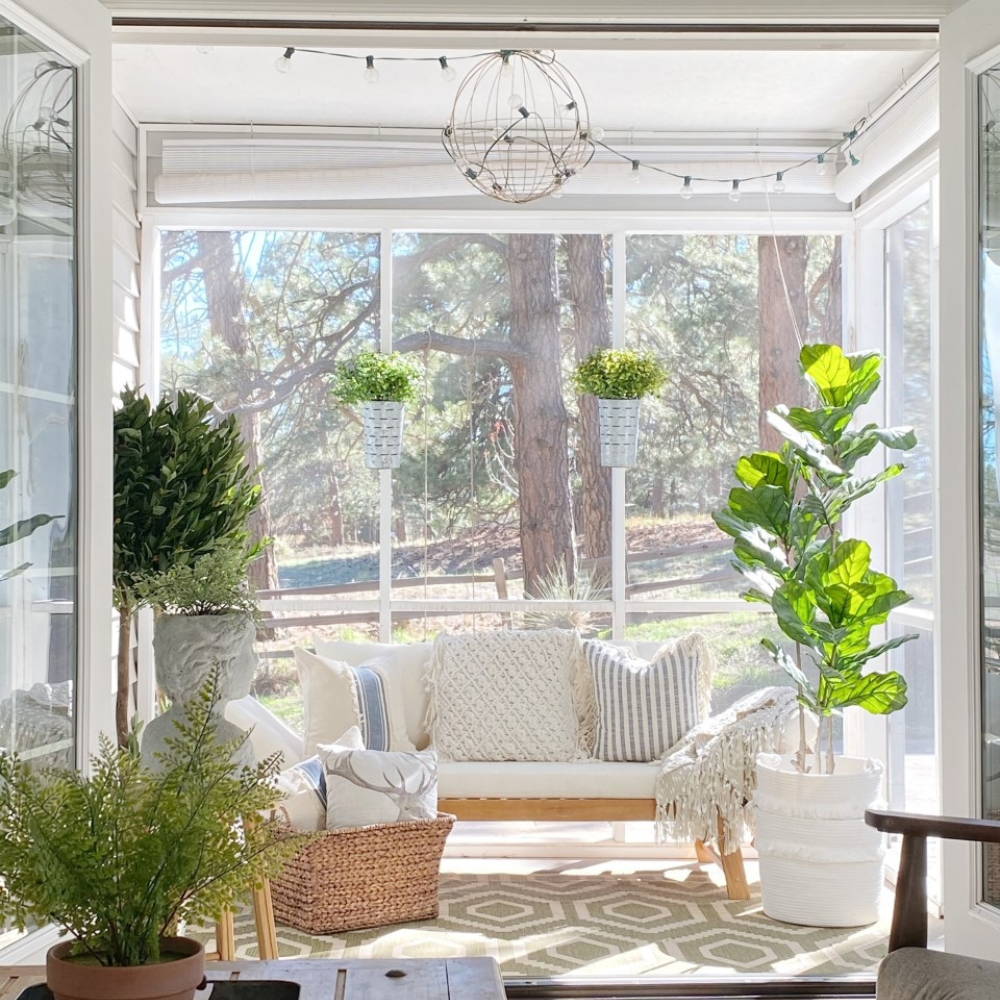 This gorgeous country scene is framed in the bay windows that look onto woodlands, presumably somewhere in a coastal location. Under the window is a white coach with varied cushions and a rattan basket containing more buffers. Two faux hanging plants are strung from the ceiling in the window. In the front of the window are two large-leafed tropical plants in big white pots, setting the living room coastal decor look off to its best advantage. In the forefront is a fern in a pot softening the look and welcoming visitors to the coastal living room.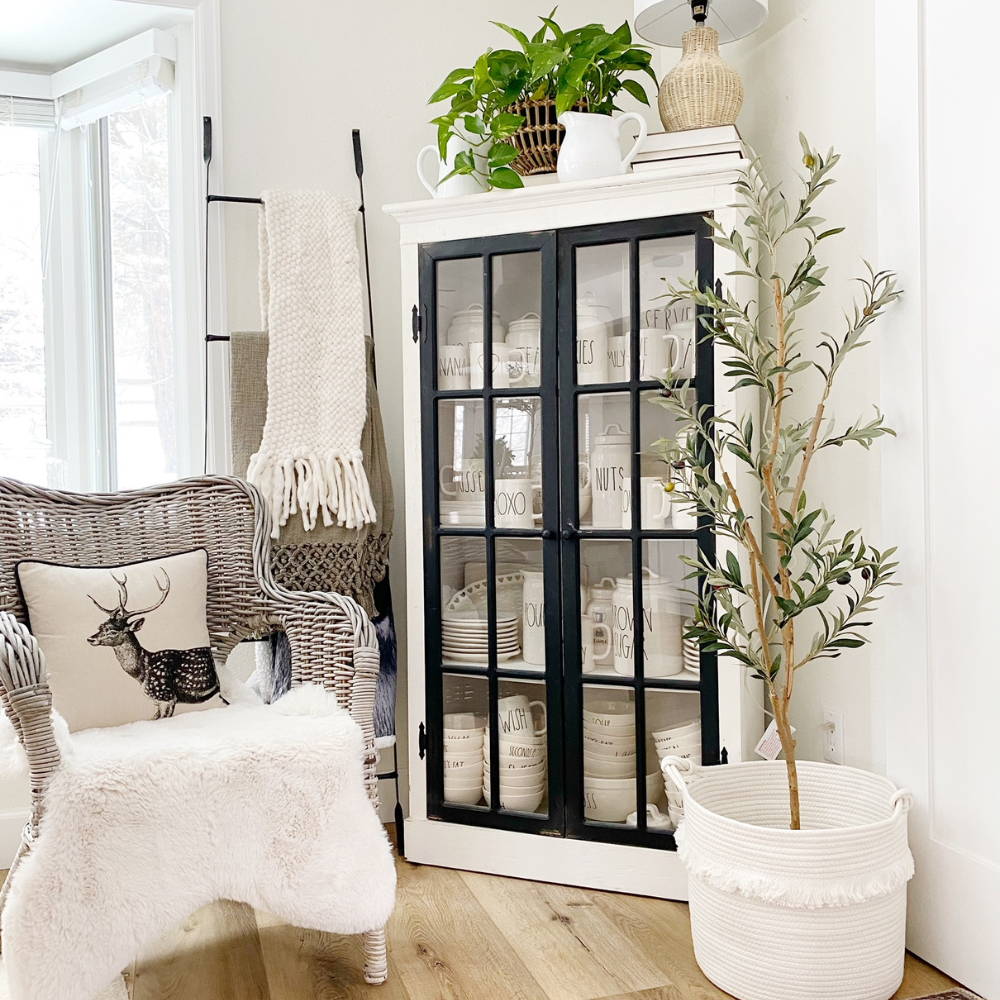 Lovely white room with vintage cane chair. A glass-paneled black and white cabinet contains a collection of china and on top of the cabinet sits an amazing faux green philodendron and a rattan lamp. A wall ladder has a cozy woolen throw or rug and a large faux olive in a white pot.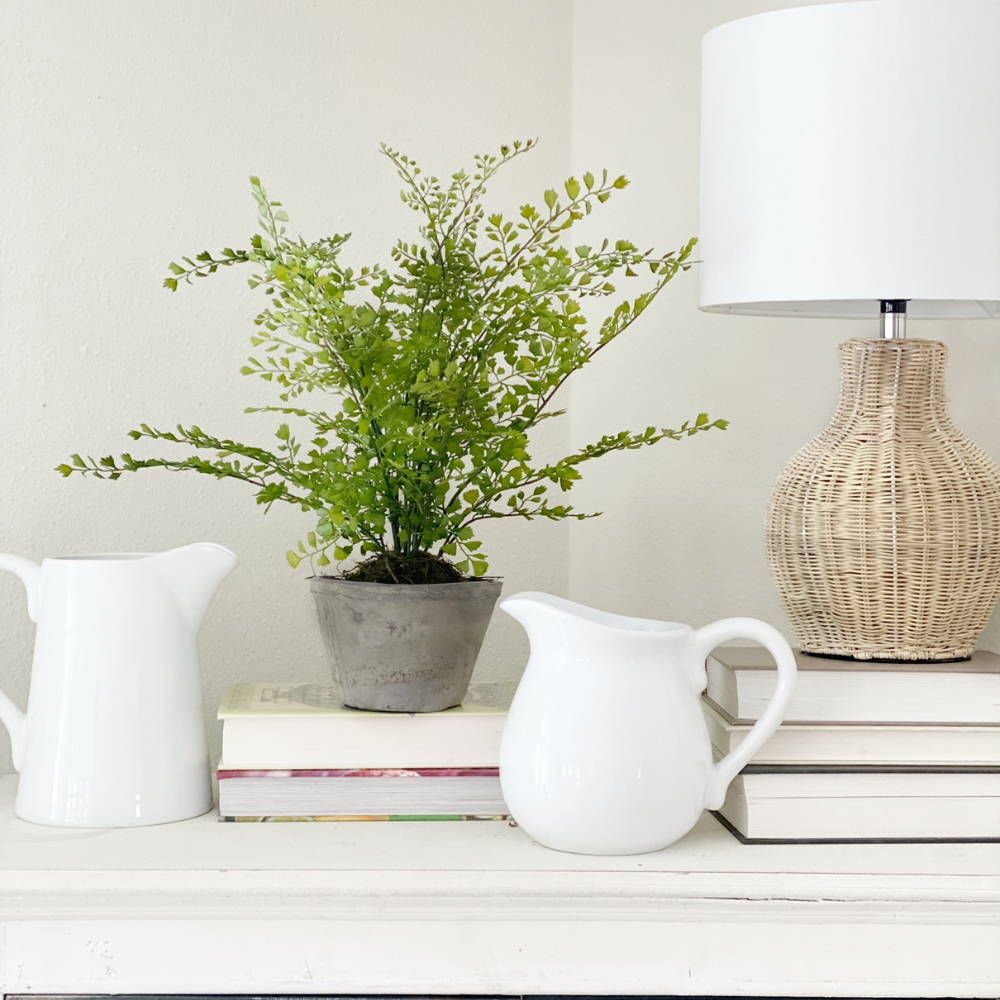 Lovely faux small leaf green plant in a stone pot. Beside it are books, a Rattan lamp, and two old white china water jugs. The look is simple and peaceful.
7. Living Room Coastal Decor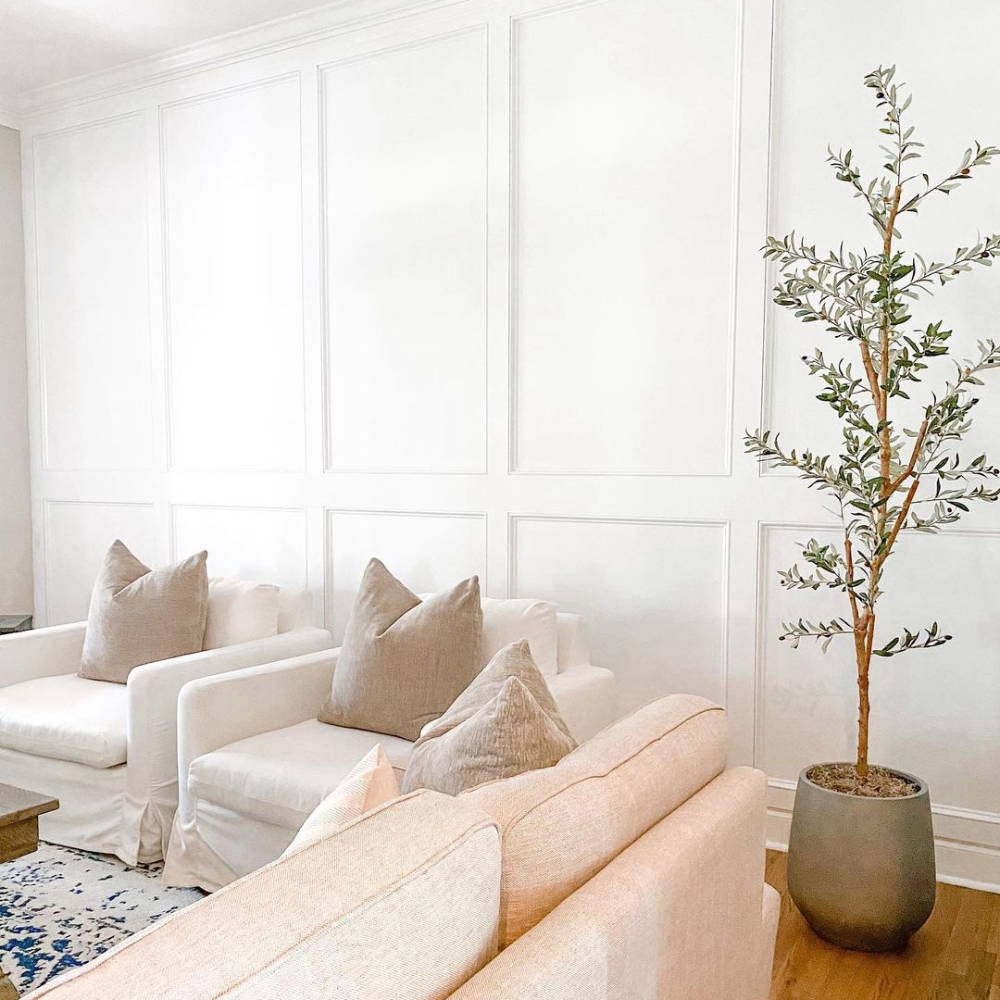 A plain white paneled wall, white chairs, and sand-colored cushions keep the coastal theme alive. A faux olive in a lovely stoneware pot adds a spot of color to the light, white and bright space.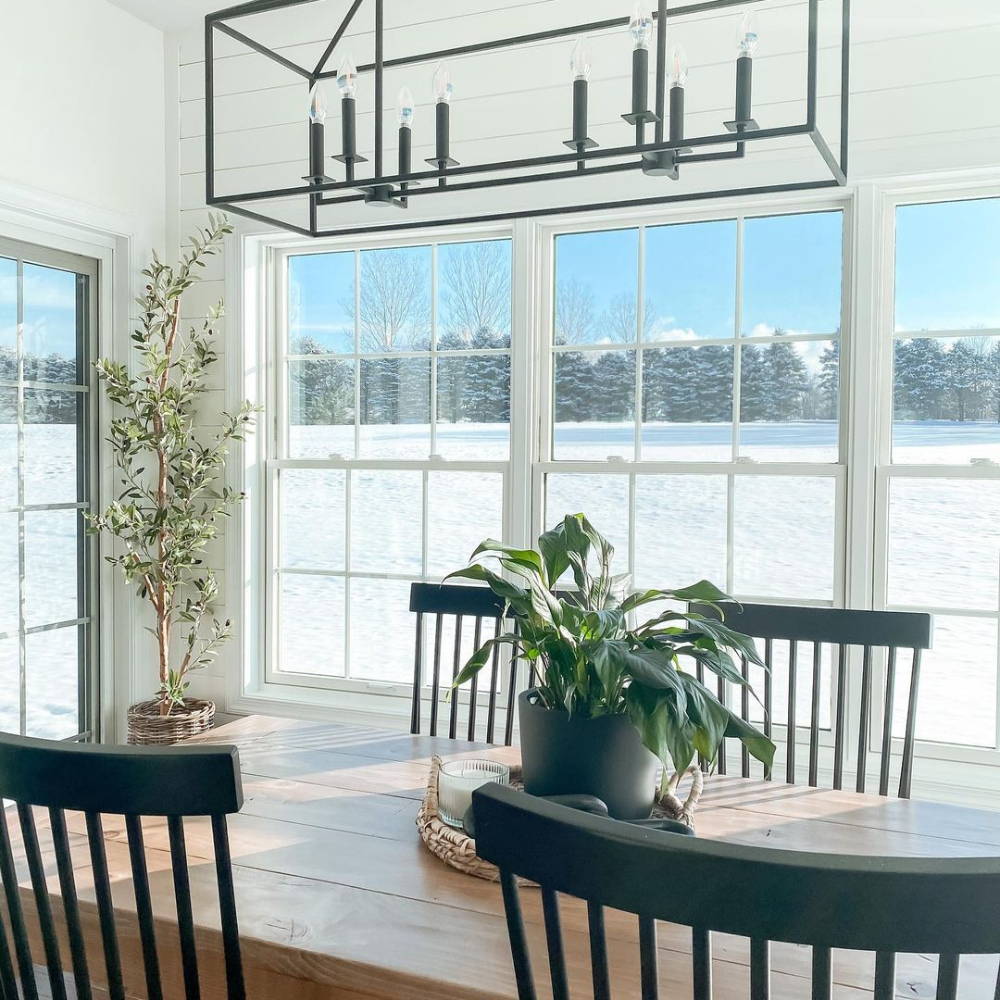 The views from the window are perfect all year round. However, trying to compete with the coastal scenery will take some skill. The elegant table and chairs are placed strategically in front of the window and a large faux Lily in a ceramic pot on the table. In the corner between windows sits a rattan basket with a large green olive tree occupying a bare spot. Above the table is an elaborate candelabra-style lighting fixture with eight separate globes to shed light on the table.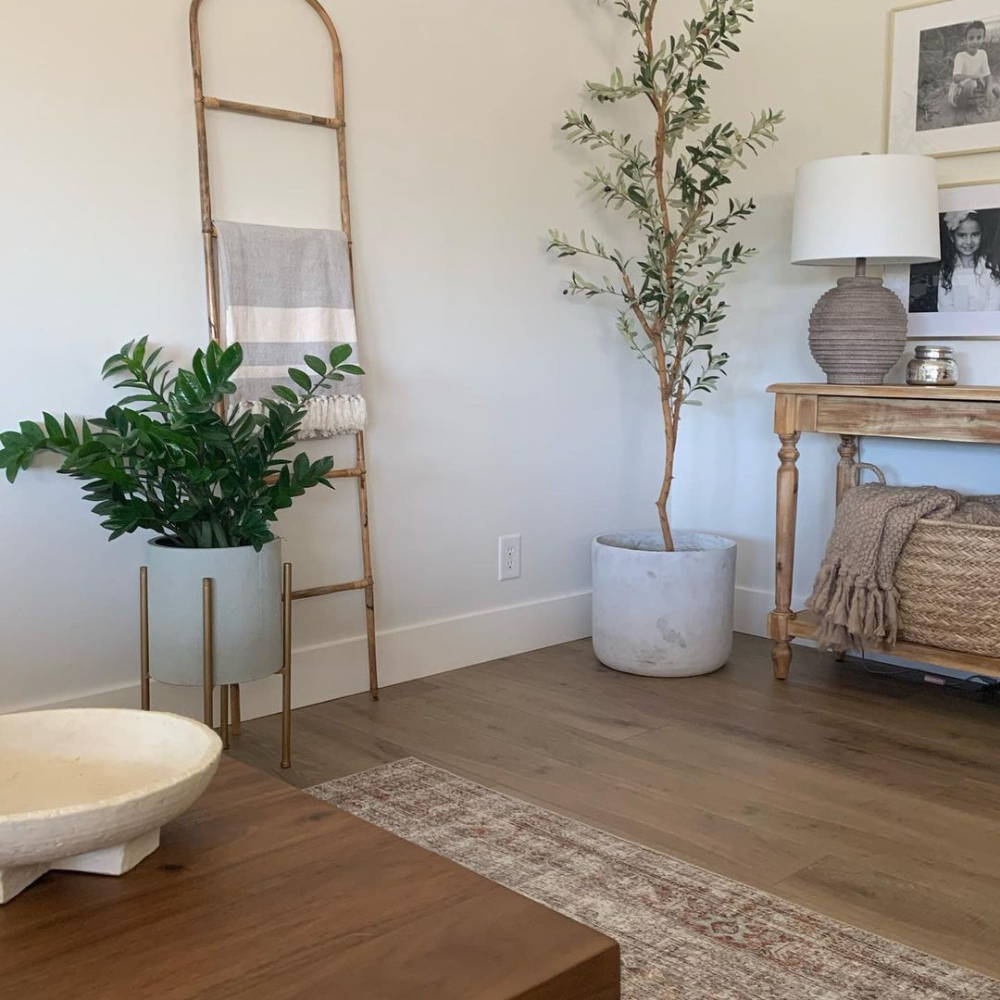 Family photos line one wall in a white room with a side table and lamp. A potted faux fern in deep green takes pride of place. A brass ladder stands against the wall holding a rug, and on the other side of the room is a sideboard. An antique runner covers part of the floor.
10. The Relaxing Formal Room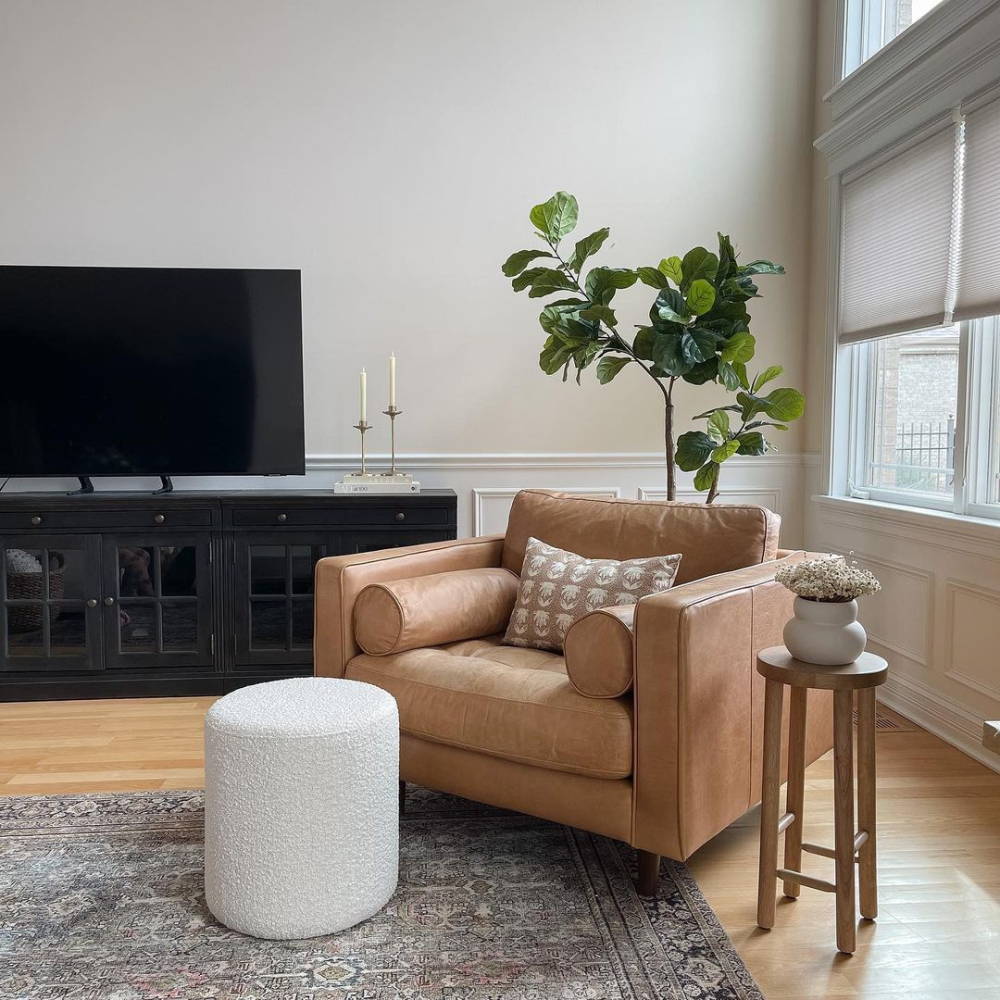 This is an old-fashioned room with an oversized brown leather chair and footstool. Two big faux Fiddle Leaf figs are standing near the window. Standing alone is what looks like a redundant piano stool used to perfection with a faux green plant in a pot on top of it. There is an old TV in the room and a candle. The floor is enhanced with a lovely Persian rug. It is interesting how all these rooms have been made to appear better and brighter with realistic-looking artificial plants in pots. The style adopted for the home depends on the occupant and looking at living room coastal decor, there are so many ideas to be adopted for the look.
Restrained blues and neutrals are synonymous with Hampton style; this year, white is fashionable in creating coastal decor.
To create that holiday feel, collect some smooth driftwood and some large shells; the driftwood can be mounted on the wall.
Give your kitchen a makeover with some blue and white plastic rattan chairs that are easy to wipe down and a classic beach look; purchase a painted ceramic kitchen set in blue and white ( a nice change from the willow pattern). A couple of floral blues and white ginger jars for the kitchen bench complete the look of a coastal decor kitchen.
Eat outside on the deck all summer. Keep the look accessible with a teak table and chairs that can be left out until winter. Stain the teak annually before summer to make it look fresh and new. Keep the colors neutral outdoors as the artificial plants will be the show's stars. For warmer days, keep the tropical beach umbrellas handy to provide shade; they can easily be ordered online when more is required. Don't neglect the lighting at night, have your lighting expert highlight the better features of your garden to make the most of the outdoors in the evening. Finally, line your deck with artificial plants like Fiddle Leaf figs and ferns that look real.
To add privacy fast, erect a green wall, order a kit and some faux hanging plants and get a handyperson to pitch it exactly where it is needed. Once completed, you will have privacy at night, and visitors will think that it has grown since last summer. Then, place the faux hanging plants across the top of the deck to add greenery to your coastal home.