It's the most wonderful time of the year. And that means heartfelt decorating with the family, a process for all to enjoy during the holidays. We know that one of the most vibrant spaces is the front porch because it's the first room in the house that the guests will see. This is why we recommend creating a space to love with a few easy hacks that you can easily recreate at home. Our interior designers have scores of experience and are ready to share tips and tricks to make your house a home. With all of the festivities during the last months of the year, you're probably overwhelmed and need some inspiration to transform your home into a wonderland. See below for inspo on how to add a garland to your front door. We love these looks and we hope you do too. Get inspired by our leading influencers today and get their look on a budget.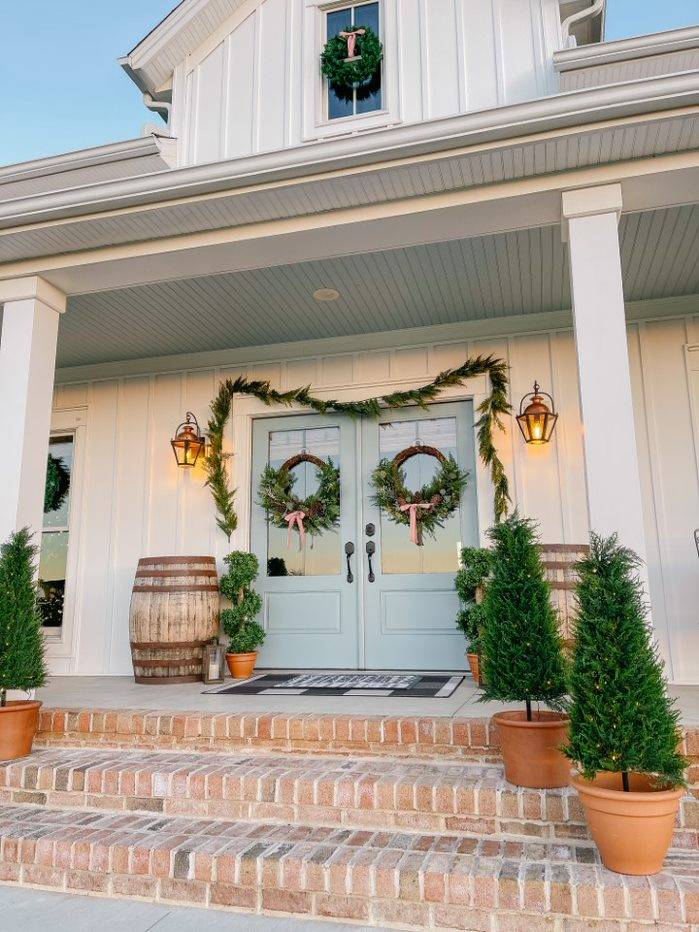 There's something so cozy and warm with farmhouse-inspired décor during the holidays with friends and family. Our friend @greenvalleygable is the queen of eye-catching farmhouse décor staying true to her country living roots. Especially when you have an interesting door color, we love how she uses faux greenery during the winter to create an inspiring welcome that doesn't feel boring. She elevates the design by adding ribbon to the Christmas wreaths diy without making it seem like too much. For an added touch, feel free to add some ribbon to the garland to match the wreaths, this makes for more cohesion.
---
---
---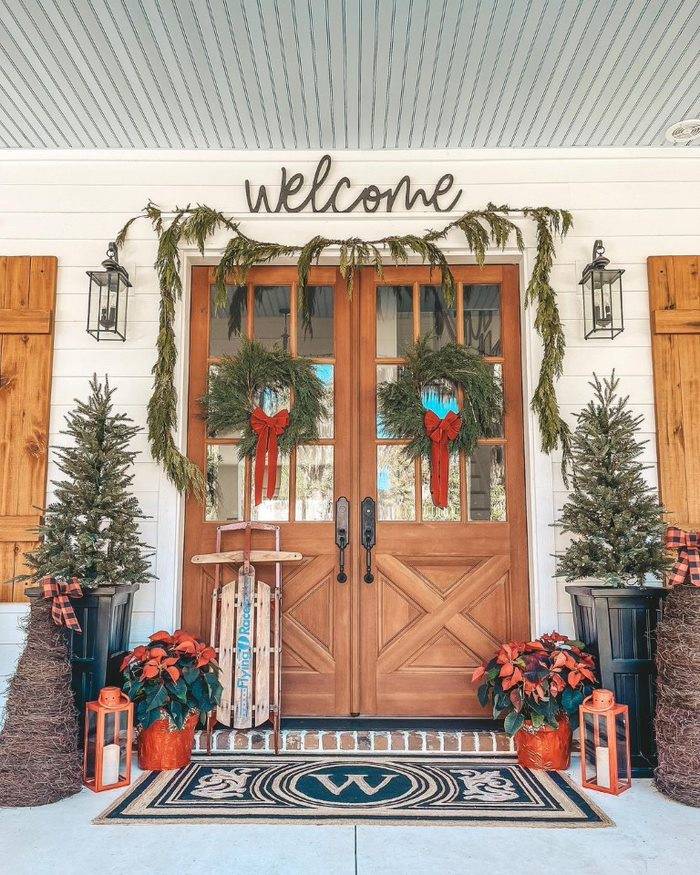 No matter where you live, you can create a front porch to love with only a few items. Modern farmhouse continues to dominate and cement itself as one of the most popular home décor styles out there because of its comforting and warm elements. Wooden doors provide a great backdoor for green faux greenery, as it makes the room look natural, bringing warmth and contrast. Wreaths and having two faux trees door side make for a cozy view. To keep consistency look for garlands of the same texture and color as the surrounding items, this will make it interesting and not dull.
---
---
---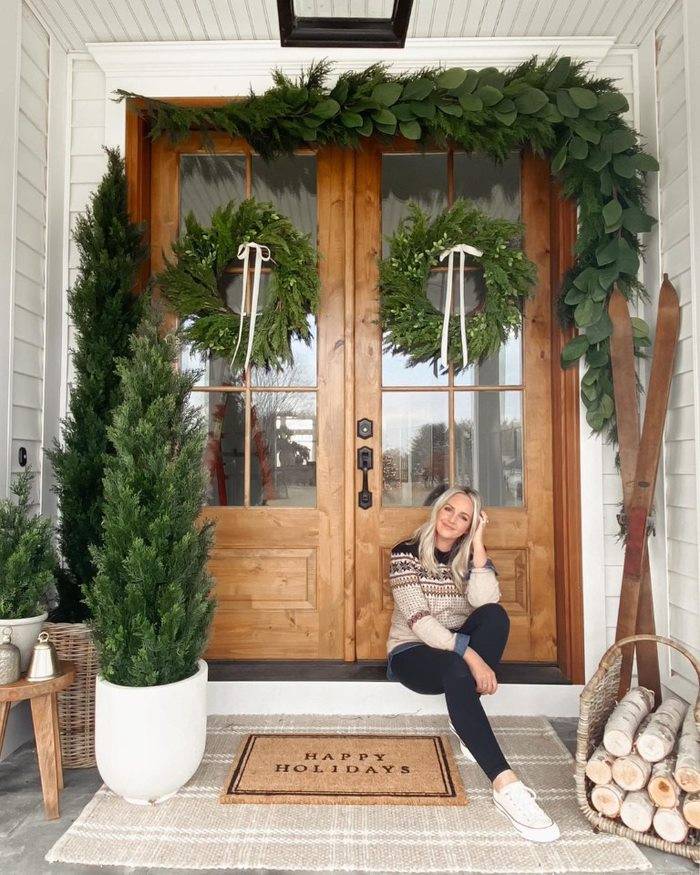 Who doesn't love a good traditional holiday? Remember Home Alone? Sometimes there's something so soothing about reminiscing the holidays just as you did when you were younger. But traditional décor doesn't have to be outdated, you can make it modern by adding your own personal touches. @redwhitedenim, an influencer from Connecticut, shows how you can maintain the integrity of a home while modernizing the décor. And for those of you with double doors, it's totally okay to only cover one part of the doors. If you only have one garland, not a problem, make it look stylish by recreating this look.
---
---
---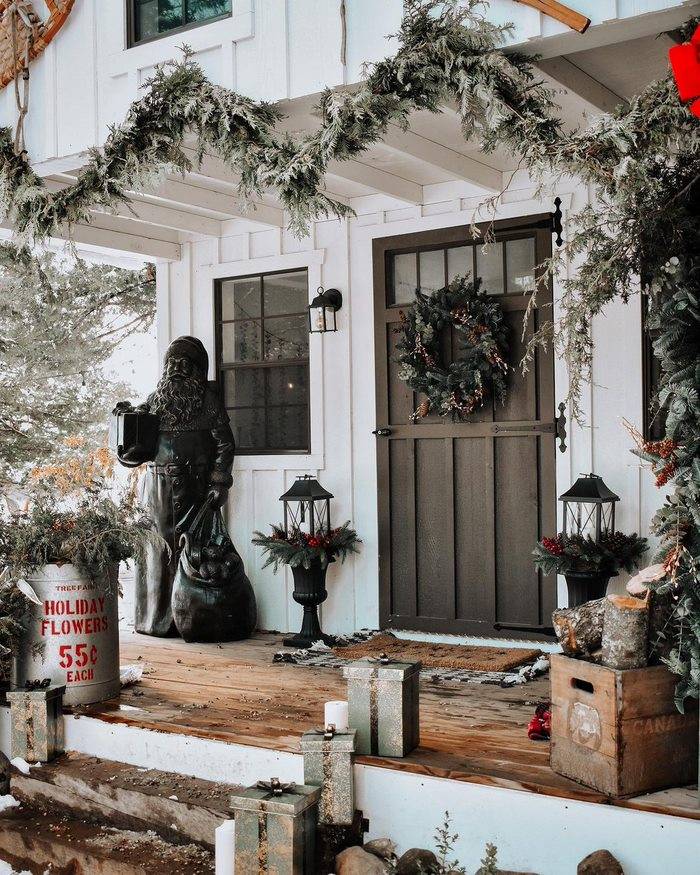 How many of you dream of a white Christmas? We know that we do! But the chances of this happening are slim. The good news? With flocked Christmas decorations, you can get the best of both worlds. This easy and stylish look shows how you can add the garland to second floor of your home, this works incredibly well in a vacation home or in-law quarter where you lack space. Just because your space is compact, doesn't mean the Christmas decorations DIY have to stop. Look to adding smaller items that look proportional in the area such as these mini lanterns and wreath.
---
---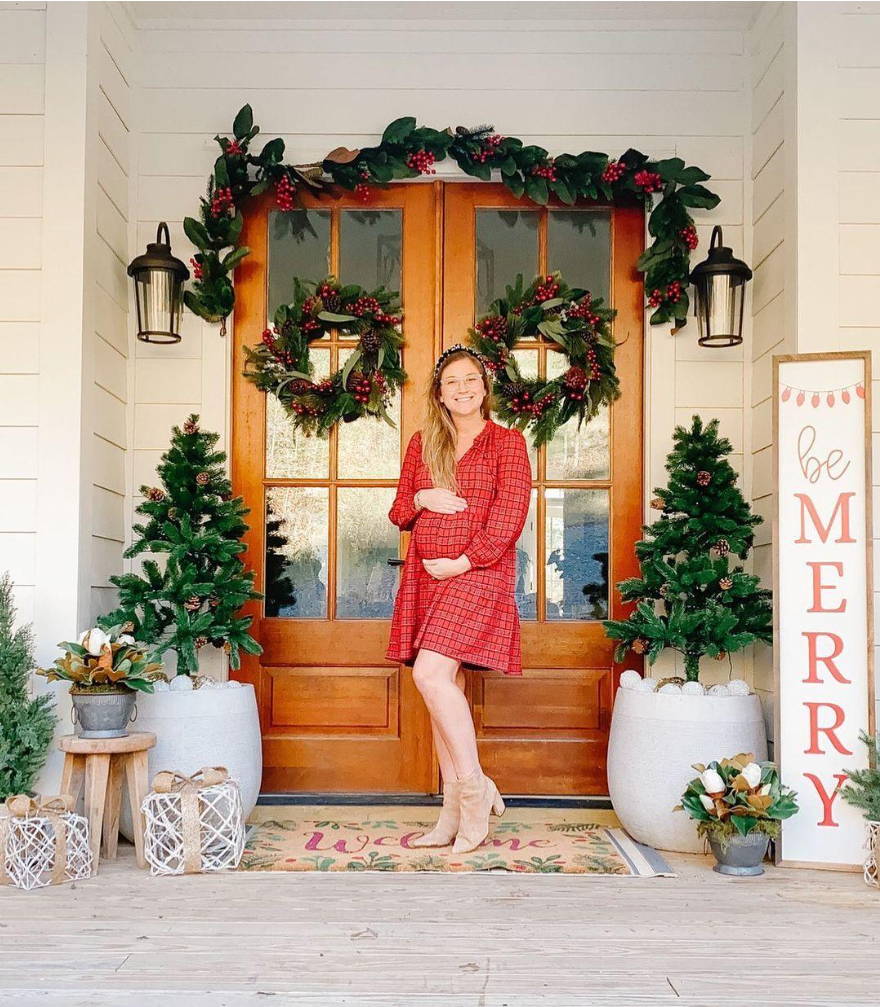 Magnolias are some of the most recognizable flowers during the holiday season. People flock to them for their color. And if you want them in your outdoor design, now you can, with our collection of faux magnolias perfect for the winter season. We love how this porch combines different types of flora for a look that works. Pinecones, berries and flowers make for a classic yet rustic touch to this well-maintained porch. The tall planters bring visual interest and depth to soften the look but in a stylish way. Designer tip: use planters as architectural or design elements when you want to add height to faux plants and trees.
---
---
---