Front porch Christmas decorating ideas
As the temperature dips, the aroma of cinnamon and eggnog fills the senses, and the holiday cheer is in full swing. Greet your friends, family, and those who wander by with a festive Christmas front porch. There's nothing more refreshing than seeing greenery against a backdrop of snow and chilling on the porch next to a cup of hot tea near the fireplace. But, we know that foliage during winter can be difficult and time-consuming to maintain and often not possible in some climates. Luckily with artificial faux plants, you can still get the look – without the hassle – while saving time, energy, and money. The best part is that some artificial plants can be used yearly. Crafted from high-quality materials by horticulturists with 75+ years of experience, we feel confident in our artistic renditions of nature, especially artificial Christmas trees. Explore our top Christmas-inspired porch ideas.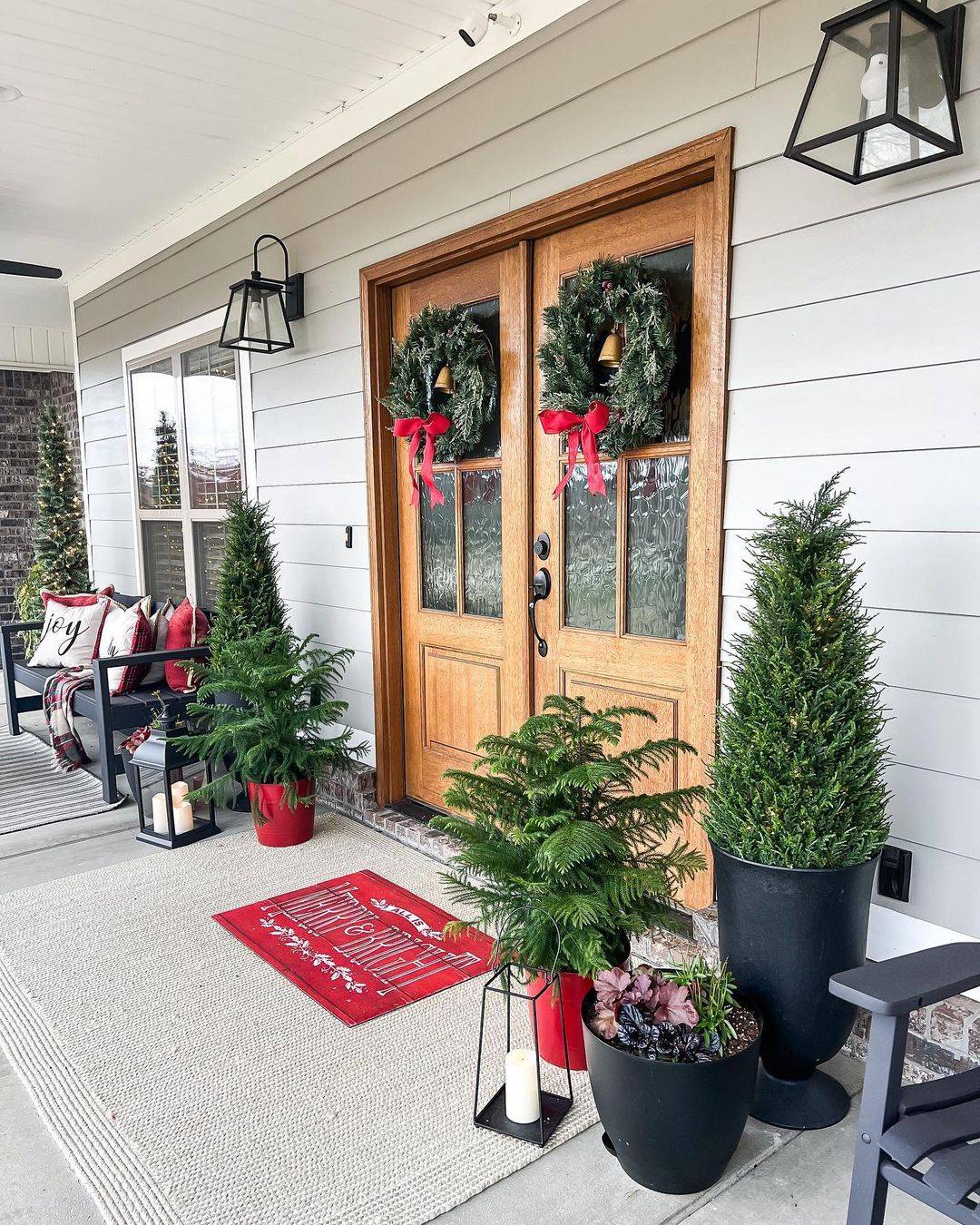 Measure your door -

Nothing looks more polished and put together than a combination of wreaths and garlands on the front door. But, before you buy your dream accessories, consider measuring your space and subtracting a few inches from the width to ensure your new wreath looks centered.

Order 2+ garlands -

A front porch Christmas decorating idea is adding garlands around the front of the door. To do this, add removable adhesive hooks around the frame.

Accent with faux flowers for color -

Make your space pop by introducing hints of the season in your garland. For example, fake seasonal flowers like poinsettias and holly add a festive touch and signal the start of something new.

Think about textures -

One of the best-kept secrets of interior designers is the manipulation of textures to trick the eye and create drama. Look for different shapes and finishes to get started. For example, think about

Christmas trees

can be mixed with other flowers and trees and how it elevates the look when one is more minimalist than the other.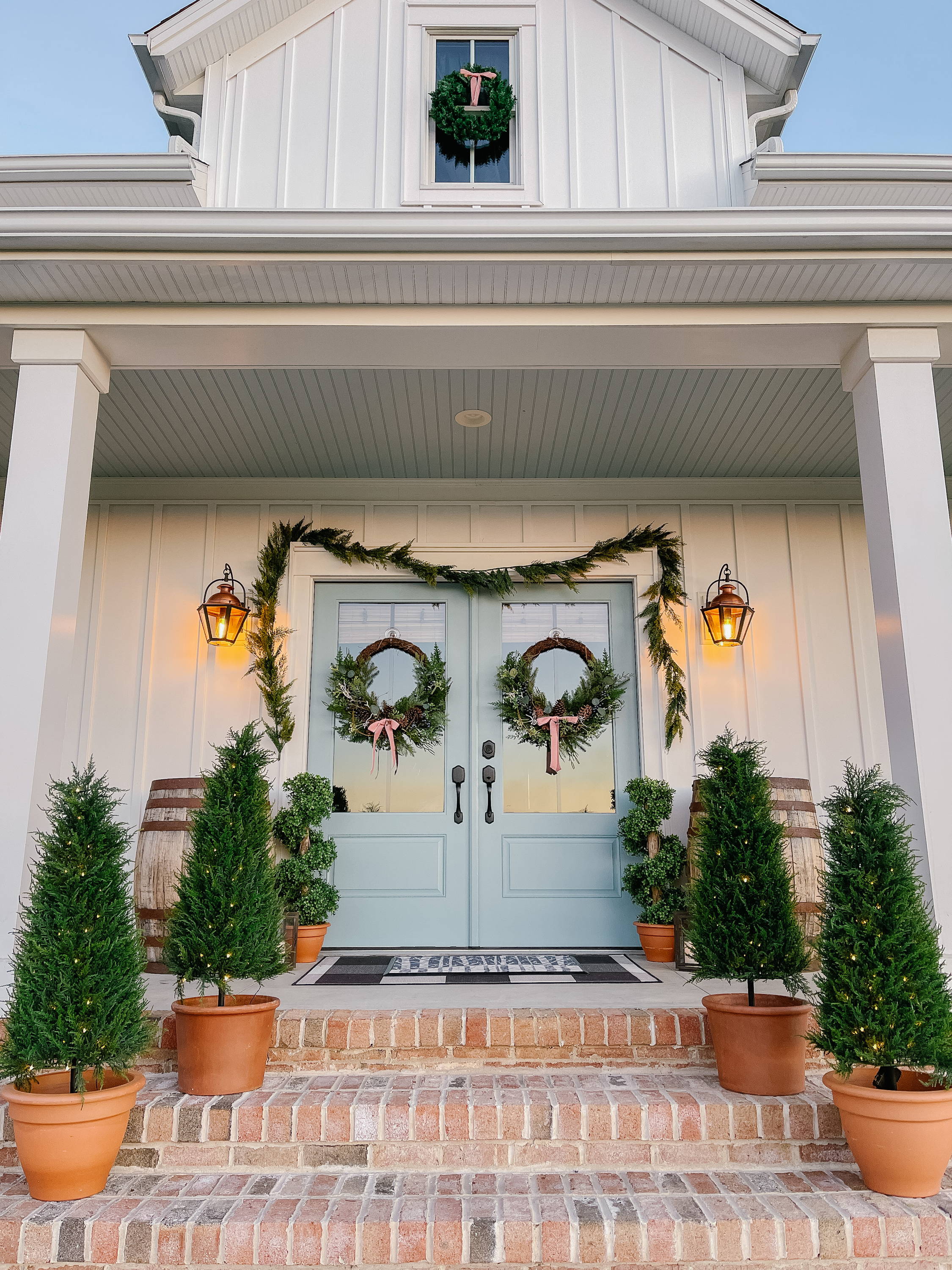 Sometimes it's true what they say; going back in time can help us evoke those cherished memories. For an easy and affordable way to get that vintage look, think about classical seasonal touches – poinsettias, holly, and ribbon. When shopping around for Christmas accessories, look for those with a distressed finish and other signs of aging. For example, you might opt for a faux outdoor-safe cedar as an outdoor Christmas decorating ideas front porch and display it in a vintage base.
If you live in a larger home, consider hanging multiple wreaths throughout the exterior of your front porch. Also, especially if you have large doors, consider turning two different wreaths on each side of the door. This helps keep a timeless yet modern look without it being too overbearing.
You can't go wrong with small faux trees if you're looking for small front porch Christmas decorating ideas. No matter the size of your patio, you deserve to still enjoy the season in style, which is even more critical when working with a smaller space. One of our best tips when decorating in a tight area is mixing and matching different types of textures and finishes. Also, consider adding outdoor hanging plants to save some valuable real estate. Not only are hanging plants a great alternative to those size constraints, but they can also enhance the look by adding a pop of color.
Even if you already have plants throughout the patio, consider incorporating a festive touch by adding some ornaments or other faux flowers to complement the look.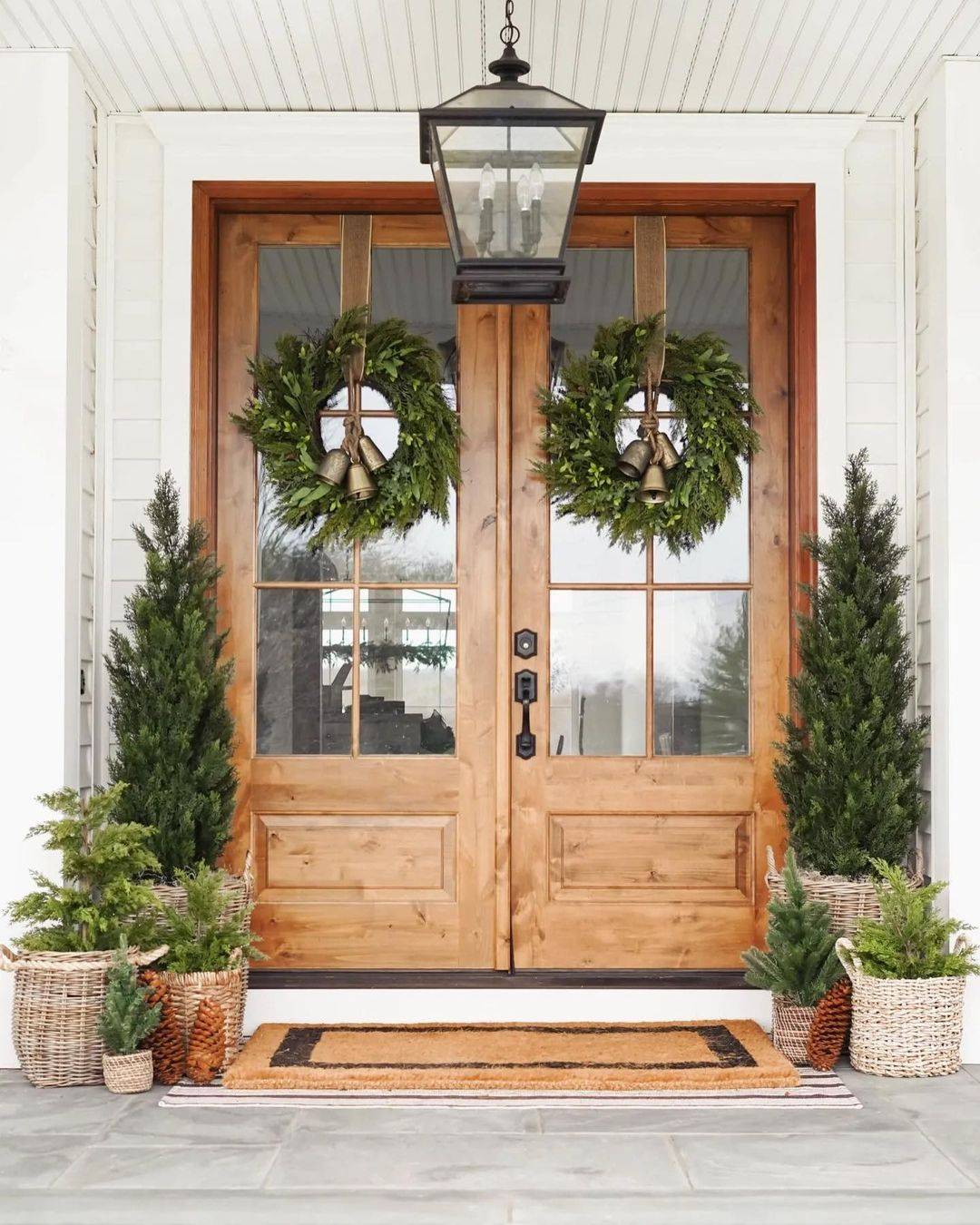 After a busy day out, doormats are a life savior. Although it's essential to keep the house clean because of lifestyles, you don't want to keep cleaning messes after every outing. But, doormats can also be festive and fun. We might not think of them as a must-have accessory during the holidays, but they can inspire us to live a better-balanced life while enhancing our holiday décor. Think about adding a doormat with some inspirational quotes or a festive motif. When choosing a doormat, think about making the space look cohesive and well-thought-of by sticking to the same colors and patterns you've chosen throughout your area.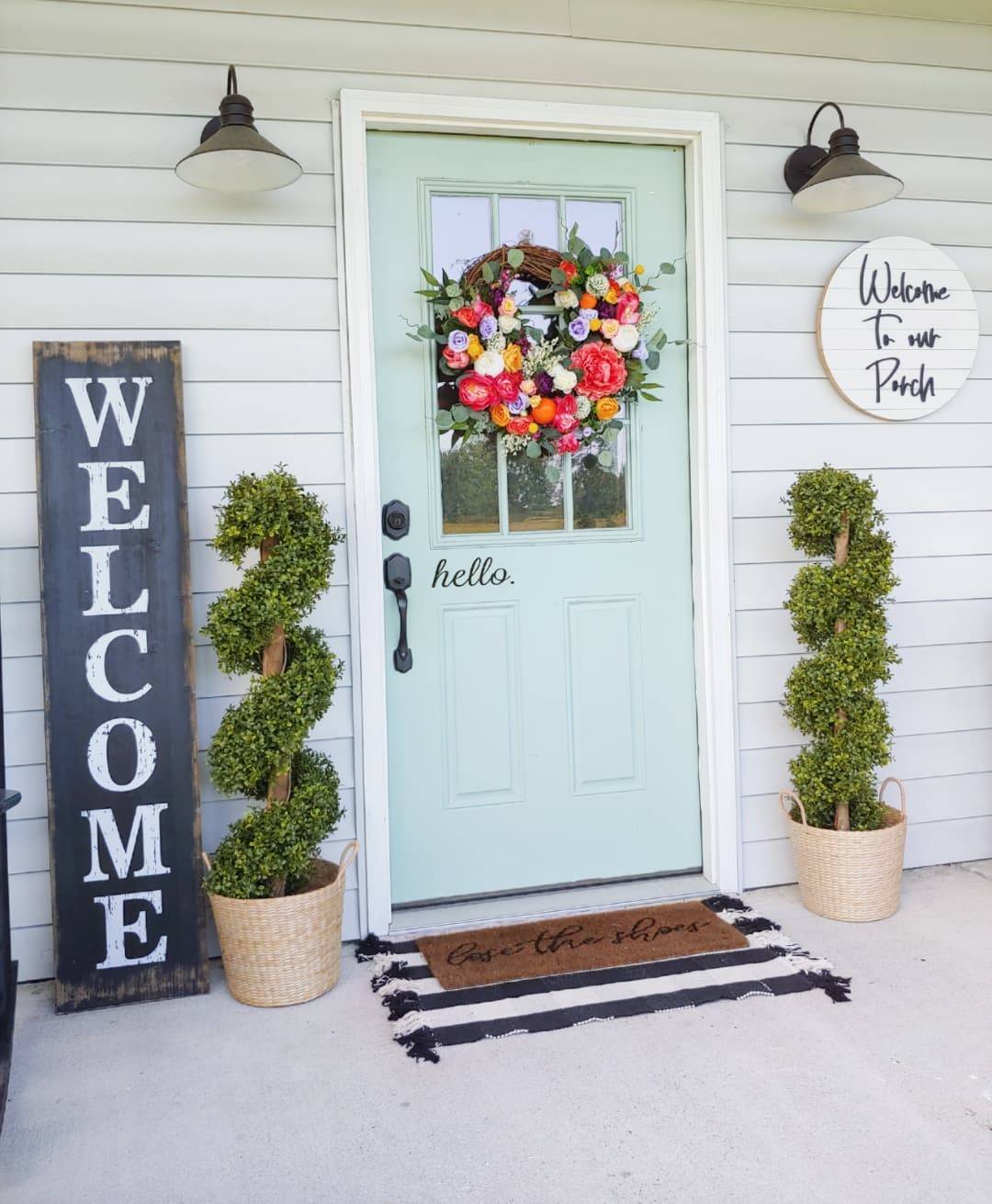 Most of us don't have the fortune of living in warmer places during the holidays, but if you want to bring the beach weather to you – consider including elements of the tropics in your décor. One of the best ways to transform your space into a tropical paradise is by adding Christmas-inspired faux palm trees that already come pre-lit. This invokes those feelings of the Caribbean; you can even add coastal-inspired ornaments for an even beachier look. We recommend a Santa Claus with festive, vacation state-of-mind clothes for a truly unique setting.