Spring has sprung! The most inspiring season of the year is finally here; the weather is starting to rise, the days are longer, and the hope for a better season is still alive. You might be ready to welcome guests back into the home soon, after almost a year of not being able to see loved ones. Why not welcome them back with open arms and show off your epic new patio? You might be thinking about porch décor ideas and porch designs. Show off your personality to the neighbors and wondering eyes. Maybe do a best patio contest? We guarantee our front porch décor ideas will make everyone look twice. The beauty of spring is that you can DIY your home entrance no matter if you have a small porch or house porch. We will give you some tips for front porch decorating ideas for spring that can you recreate by using artificial outdoor plants and trees.
Top 6 Porch Design Trends

We know many of you love modern farmhouses, and for a good reason. We all love the cozy, homey vibes the wood accents bring. There's just something so familiar with this style trend. One of our favorite tips for enhancing the beauty of this rustic-inspired home entrance space is to add olive trees on the side of the front door. Not only are the olive trees trendy right now, but they bring an aura of the Mediterranean that can't be replicated in many climates. It is challenging to grow an olive tree and have olives sprouting. Luckily, our outdoor, safe olive trees have faux olives that look so real you'll want to pick at them.
If your design aesthetic is more mid-century modern, then an open porch might be the better option. When thinking about front porch furniture ideas, add furniture with natural materials and a clean color palette that looks simple. Perhaps the most distinct feature of mid-century modern design is nature. If your patio has natural elements such as trees or plants, this will help keep the aesthetic. Consider using planters that can juxtapose natural materials such as textured or tripod planters. Even if you crave some flowers, try adding faux flowers in a modern planter; this way, you can keep the same look even for summer. Enthusiast of this home décor style are fans of snake, shrubs, olive, and perennials. Consider using articial plants to ensure they look perfect year-round without maintenance.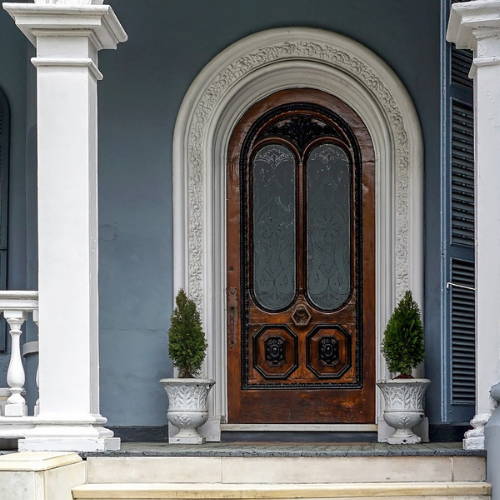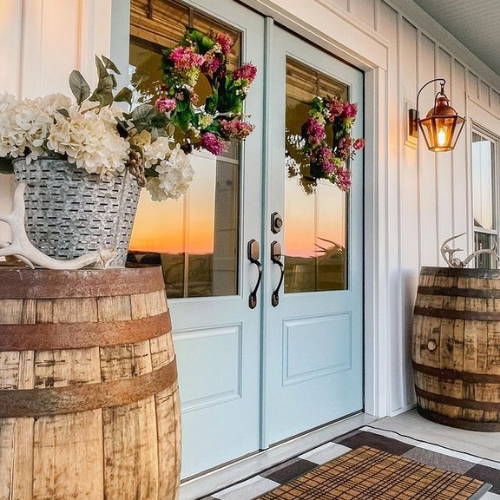 There's no place like home. And rustic home décor living will have you feeling homey all the time. If you have a small space, you might be looking for some small porch ideas; need not worry, you can still achieve your dream look even with a reduced area. Florals for spring make rustic-inspired homes ready for spring. Add florals or plants such as shrubs to a wooden planter that adds a cozy, warm touch. Don't forget about the wreath! Add one that can bring color, welcoming all guests with a friendly greeting. We recommend going for warm, subtle colors like brown, grey or black with some neutral colored seat cushions for outdoor furniture. Set the scene, bring the intimate feeling of a café with these distressed lanterns that can house a candle.
You might not be in the "trendy" style decors of today. Your personality has a classic vibe, and you'd like to reflect that in your outdoor patio. For spring, there's nothing more traditional than florals. Add a floral spring-inspired wreath to the front door and welcome all guests with a warm greeting. To enhance your entrance's beauty, we recommend using some topiaries that deliver a fresh, polished look. Get some patio chairs and place two at each side for a cohesive look and feel. For a bit of pop of color, curate with some flowers in a pot. These timeless ideas will brighten your home during the new season.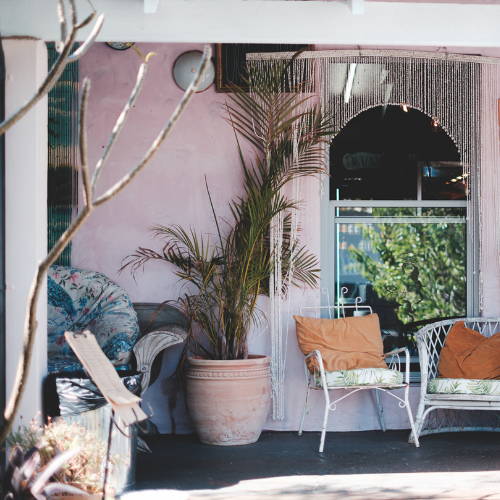 When you think of vintage, renaissance and not trendy pops into mind, but vintage can be just as cool as any modern style. Especially with the rising popularity of grand millennial décor style, many look for that homey feel that is familiar and reflects your style décor. Opt for an eclectic style with your vintage aesthetic, but don't mistake it for looking messy by using too much color. Think of it as a refined boho style with a bit of pop of color. For example, you can look into adding colorful seats from an antique shop or flea market and then pair them with a woven rug rich in color and texture. For the seat cushions, look for some floral patterns, don't be scared of color, stick to a color scheme; it makes things a lot easier. Once you have the main ticket items, fill in those bare corners of the home with oversized pots and colorful blooms with vines spilling over the large planters. This creates an eye-pleasing porch rich in hues and textures.
One of the fastest-growing style trends and for a good reason. Forget about the hippie days! We're talking more Tulum vacation vibes. Look for outdoor safe jute rugs and woven accents. For a little more color, pair with textiles rich in texture and hues. Look into hanging plants to add on top of furniture and transport yourself to the jungle effortlessly. Recreate the rainforest look with some green, always perfect outdoor faux plants. You might be thinking that succulents are the only types of plants for boho styles but there many others that complement this trend. For example, you can try displaying traveler's palm, olive tree, Dracaena, or snake plants for a fun look. Don't be scared that these faux plants look fake; you can make fake plants look more real.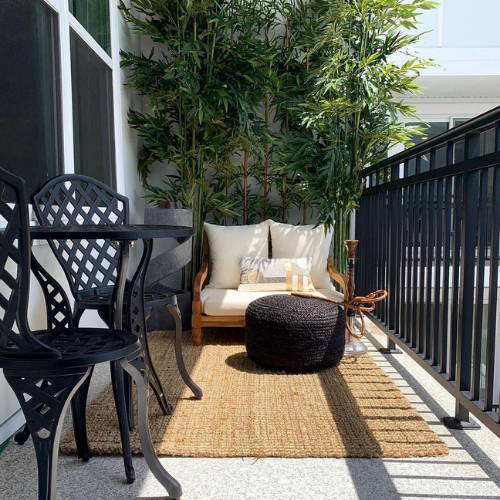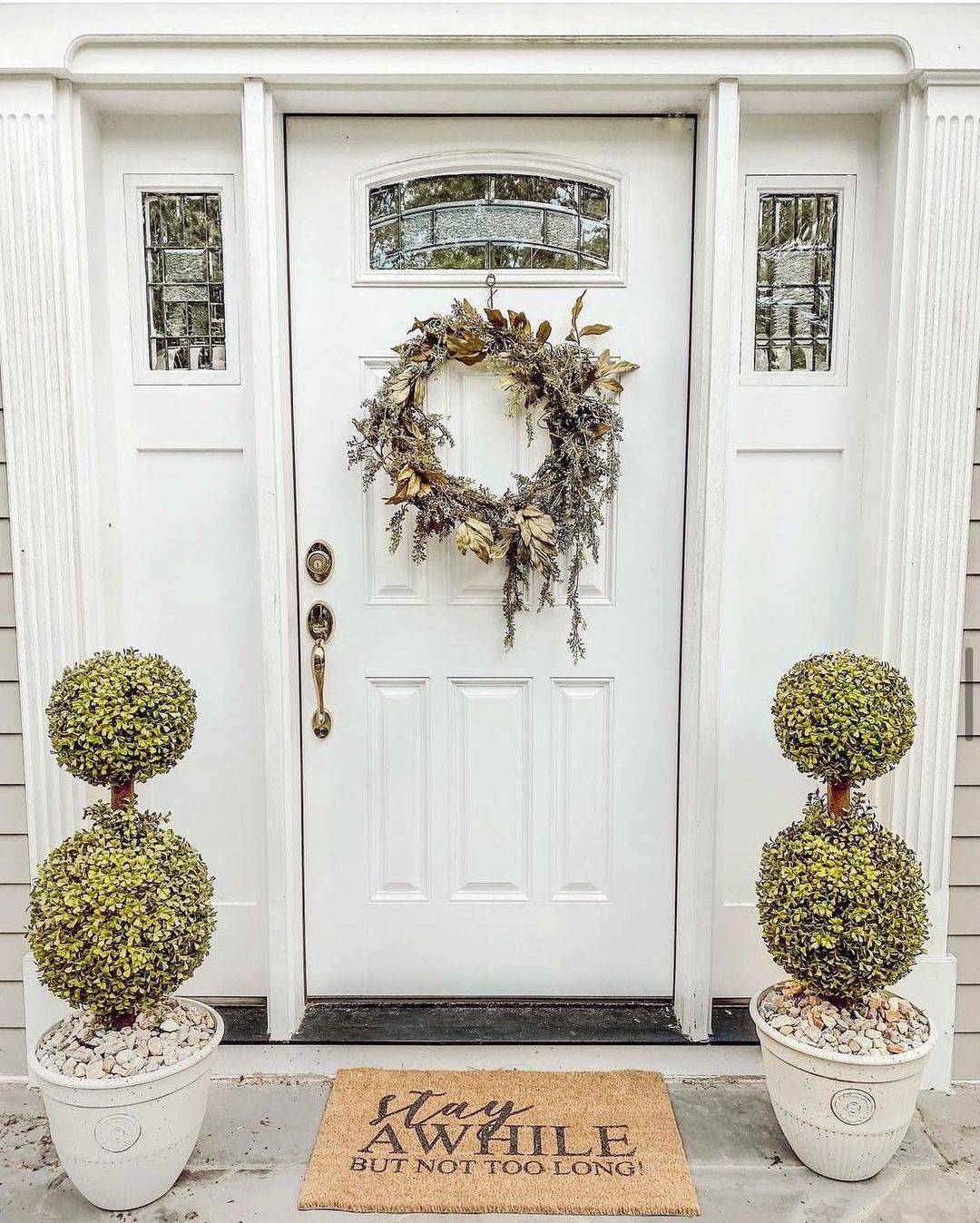 Tips To Make Your Front Porch Decor Summer Ready

Spring into the new season by making your porch spring ready. Say hello to the most inspiring season of all. Now that you have your style aesthetic checked, you can use any of these tips to achieve your dream look, no matter your preferred style. Display your personality to all and see how you can easily transition into spring. Make your patio a place of relaxation where you can enjoy being outdoors. Don't stress if you have a small front porch or looking for front porch ideas; there's a solution to all your design problems. This is why we recommend decorating with hanging plants; they are easy to decorate with, require zero maintenance and work well in any space. Elevate your outdoor area with these tips.
1. Invest in artificial hanging plants

You might think all hanging plants were made equal but think again. Imagine hanging real plants, the hassle of maintenance, watering, and nurturing them all from atop. Especially if you have children, noisy pets, or wandering animals, things can get complicated, but it doesn't have to be with fake outdoor hanging plants solving all these issues. The beauty of adding hanging plants to your front porch décor is that they work in any space, no matter the size. Avoid the headache of having to maintain plants when you can have picture-perfect artificial plants on your house porch every day.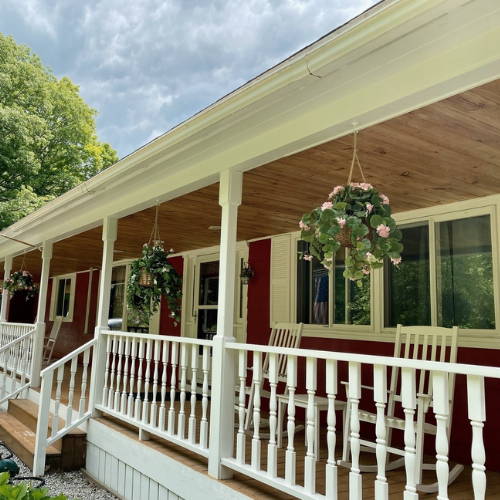 2. Look for high-quality faux plants

You're probably tempted to buy the first flowers you see in a local crafts store. But did you know? The quality of artificial hanging plants vastly differs depending on price point? Think about it – like anything in life, you get what you pay for, and with faux greenery, it's no different. From a financial point of view, if spending a bit more on artificial hanging plants means that you can reuse them year after year, it's a cost-effective method and reduces waste.
Instead of going to the store every year to buy florals to throw away then, you can safely rest knowing Nearly Natural's faux hanging plants last a long time. Another concern among faux plant enthusiasts is that they look fake. But did you know that mixing fake plants with real plants is one of the best ways to disguise faux plants? Check out our top 5 most realistic outdoor plants that camouflage your brown thumb and trick everyone into thinking you have a green thumb.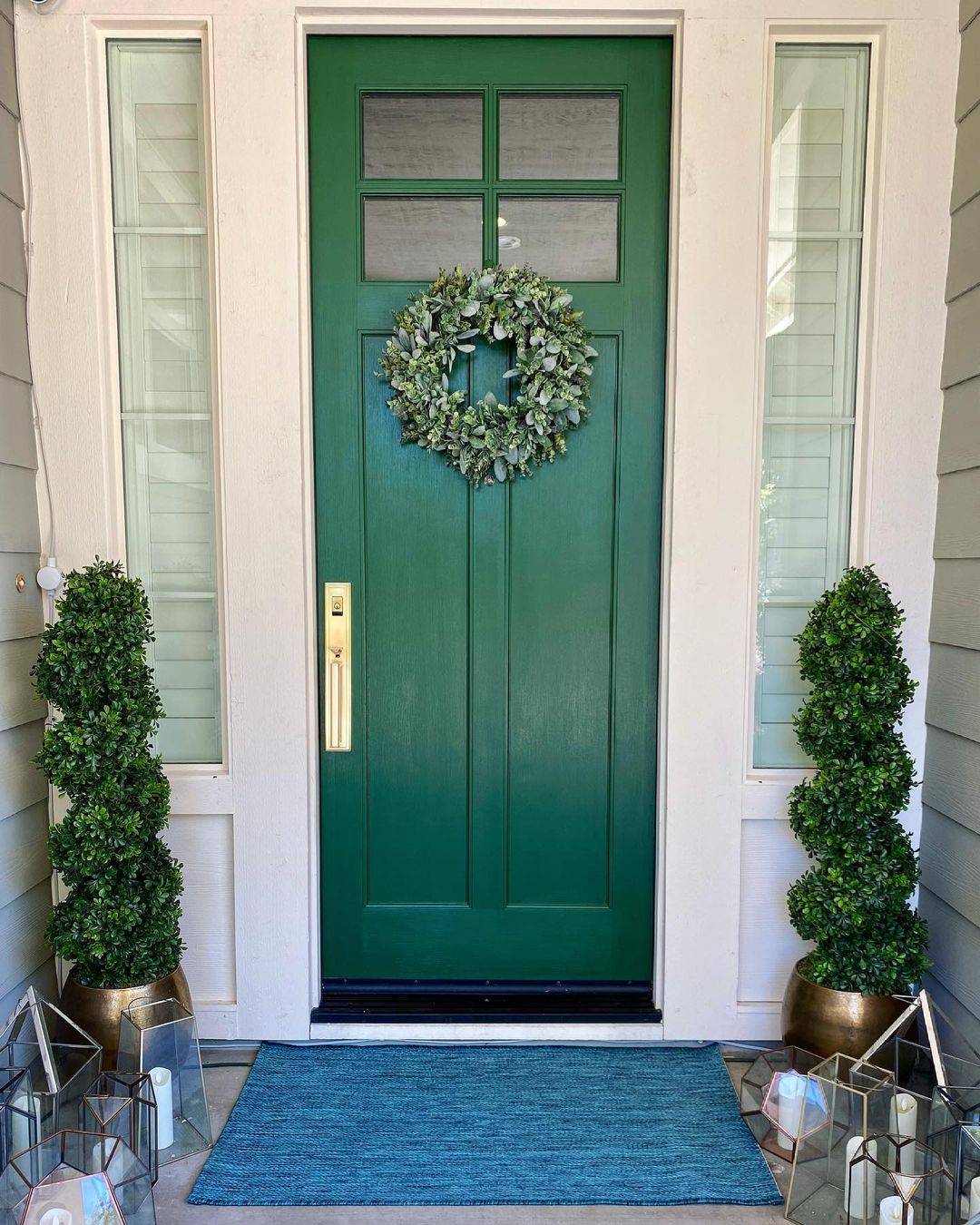 3. Remember to clean your plants

Yes, we know artificial hangings are fake…. But you still need to maintain them, especially during those hot spring months. To increase the longevity of all your outdoor furniture, we recommend covering when there's a storm approaching or bringing the outdoor hanging plants inside for a bit. While we designed our outdoor collection to withstand weather conditions, always take precautions and ensure your plants look beautiful for years to come. Feature dust the faux plants about once a month or more to be on the safe side. Follow this step, and you're on the way to becoming the best parent out there, no green thumb required.
4. Have fun with textures

This one is fun. You might be scared of trying this at home because you might mess up your décor, but we promise it is one of the most satisfying things you can do with hanging plants. If you've ever dreamed of the jungle look or the designer look on a budget, have fun mixing with textures, the secret is to look at the plants' planter and surface. If you have a modern hanging planter with clean lines, you might want to add some thorny or long string of pearl to juxtapose each other. It makes sense; the long sleek, clean lines accent an elegant planter. You can also stick to one style of planter for distinct hanging plants or flowers. For example, you can mix different succulents, one textured, one accented with flowers, and one that's more subtle in the same type of planter. This creates cohesion and good use of all the elements. By applying these tips, you can elevate your front porch design ideas and make all your spring patio dreams come true.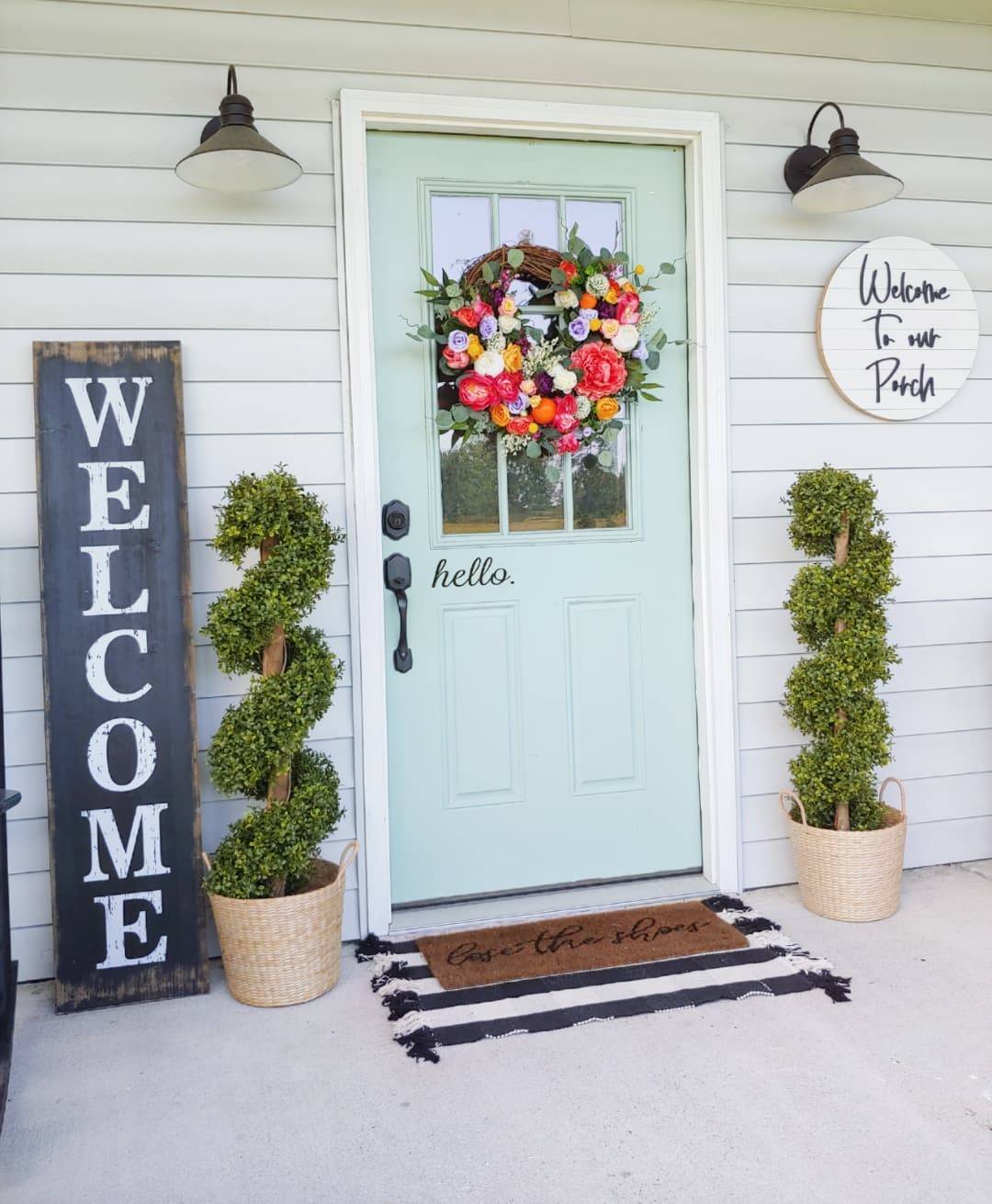 While this one might be obvious, we want you to feel confident when picking the correct size for your space. To avoid the hassle of later discovering your hanging plant looks too big or small, we recommend shopping for a specific size in mind. While we do offer free shipping & returns, why wait and go through the hassle of returning. The good news is that measuring your space is very easy! All you need is a measuring tape to see the length from top to ceiling and the width; by knowing these numbers, you can look for hanging plants that have a size less than your porch's dimension. Especially if you're considering adding multiples, this is very important, you might not be taking up physical space, but you also don't want a messy look.
6. Consider decorating in pairs

No matter which type of hanging plant you decide to add to your spring front porch décor, we highly recommend displaying a couple or more plants to have a cohesive look and feel. They can even be different types; for example, mix a Boston Fern that's more textured with a Bougainvillea that's more colorful. It's encouraged to play with different colors and textures, this creates a well-curated space, similar to the designer look many seek. Some artificial hanging plants even come in pairs at a great budget price; you can get 2 fern hanging baskets for the price of 1. This is the perfect solution for you if you're a bit scared playing with texture and colors—the ideal pack for beginners looking to learn more about hanging plants.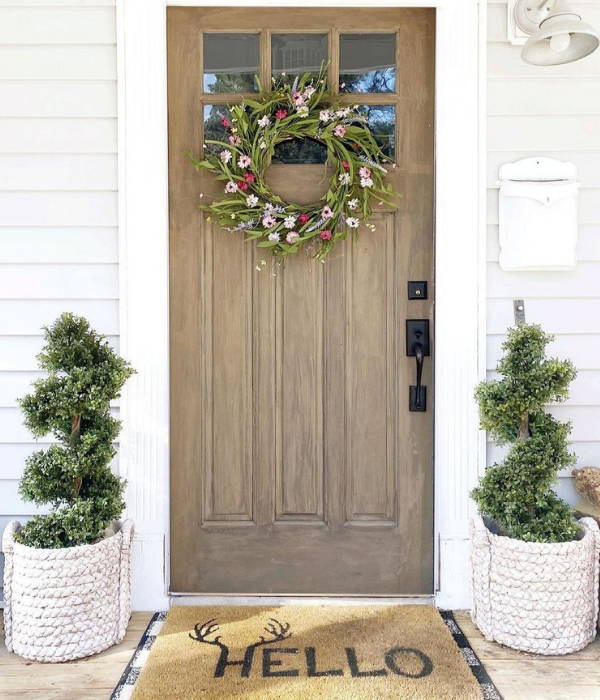 We know we've shared a lot with you, we don't want to overwhelm you, but we hope you remember that your style is yours. Trends come and go, but your taste can evolve as you learn more in your home decorating journey. Love mid-century modern and modern farmhouse? Marry the two by taking elements from both design houses to create a unique style that reflects you. It's the season for inspiration, reflection, and a sense of normalcy, and your porch is the first thing guests notice about your home; spring provides the perfect opportunity to tackle those DIY home projects finally. Don't feel shy if you have a small porch! More power to you! You have the chance to be more creative and budget savvy. Don't be intimated. Always remember to have fun and keep spreading those springtime vibes with everyone around you.