Guide: How to Decorate Your Artificial Christmas Tree in 6 Steps
New to putting up a Christmas tree this year? Sick of your old Christmas tree decorations and want to revamp how you decorate your tree this year? Then this post is for you. It's full of ideas, inspiration and recommended products so that you can have the most beautifully decorated tree that you've ever had.
When it comes to Christmas trees, your decorated tree becomes the focal point of your home during the Christmas season. This makes the way in which you decorate your tree extremely important.

Keep reading so that you can plan accordingly for your phenomenal Christmas tree this holiday season. And don't forget to visit our new Christmas category page if you need help with shopping.
Decorate Your Artificial Christmas Tree in 6 Easy Steps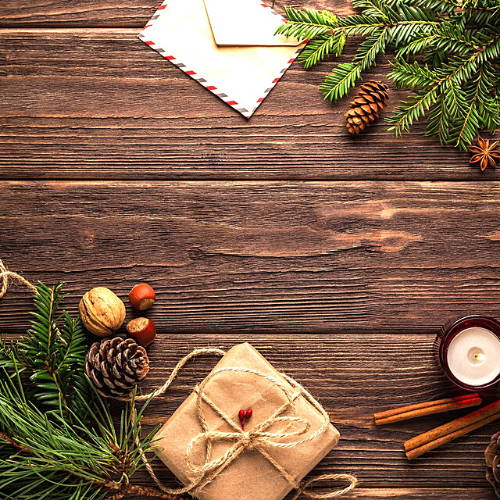 You might already be browsing through Pinterest and Instagram for ideas on how to decorate your Christmas tree, but if you haven't, remember, this is a crucial step – that can save you time and money. Choose a Christmas theme that represents your personality and values; since we're spending more time at home, you can express yourself through your holiday decorations. There's no right answer to this question; any theme that makes you and your family feel good is the perfect one. May we suggest some? Traditional Christmas, Boho paradise, Disney, snowman, desert, princess, rustic, or pineapple. You can also create your theme!
Tip for decorating a traditional Christmas tree:
Christmas is all about traditions. So, it makes sense that you may want to decorate a traditional Christmas tree. There are plenty of ways to decorate your tree in a traditional manner and make it look gorgeous. Here are some ideas, and if you like the ideas, we're providing the links to the products we recommend to make it easier for you to order them: Gold and silver ball ornaments, Ribbons, Tasteful ornaments, and Snowflakes
Look for a realistic-looking artificial Christmas tree

Artificial Christmas trees have been gaining popularity for their affordability, versatility, and ease of use. While it may seem like a steep investment at first, remember that these artificial Christmas trees can last years with the proper maintenance and care. When choosing a Christmas tree, look for one that is pre-lit so that you can save time purchasing lights. While colored trees are trendy, opt for one you can envision in the home for many years. Many people are using their Christmas tree year-round for different holidays such as Halloween, Valentine's Day, Easter, Fall, and Halloween. Artificial Christmas trees are no longer for only Christmas!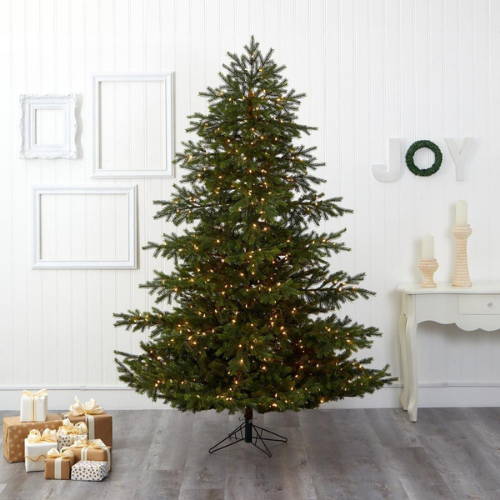 Tip for choosing Christmas tree lights:
The most important aspect to your artificial Christmas tree is how you choose to light it. Think of those cold winter nights when you plug in your Christmas tree and enjoy how beautiful it looks all lit up. More artificial Christmas trees than not come pre-lit so if you opt for an artificial Christmas tree, consider a pre-lit one like this beautiful option. If you don't purchase or have a pre-lit tree there are a few options when it comes to lights. If you are going with traditional Christmas tree décor, white lights are definitely your best option. If you are decorating your tree in a unique manner, consider multi-color lights to add some color. Red and pink trees look best with white lights. When it comes to white trees, white matches everything so you can get any color lights that you like.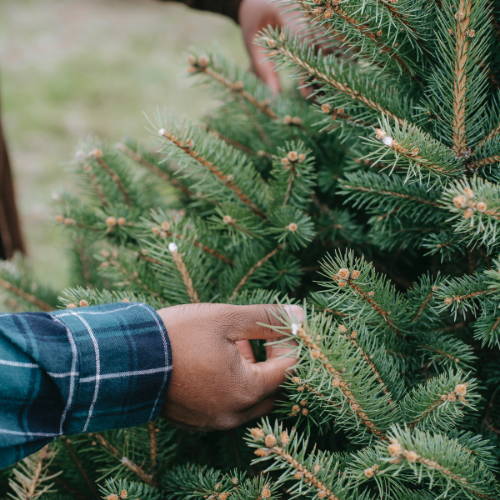 You see the images in the product descriptions or social media, but remember the tree does not look like that when it arrives. Nearly Natural's artificial Christmas trees come with an accompanying box that serves as storage when you're not using the tree. It might take time to fluff your tree, but you can do this easily with the bendable branches. Shape your Christmas tree by bending the branches in an upward/downward direction. Look for consistency when shaping; make sure the sides are even. While this process looks scary, it's not. Many people find this process relaxing as it brings them closer to nature.
Design with Christmas Accents

This is where the fun begins, and your imagination can run wild. Once you fluff your tree, you can start adding the Christmas accents! The moment you've been waiting for. Depending on your Christmas tree's size, you can opt for different lengths of ornaments; for example, if you have a mini tree, try looking for little ornaments. We recommend about 12-20 ornaments per foot. Space them evenly apart if you're looking for a minimalist theme, or add them closer together for a WOW factor. Don't forget the ribbons and garlands. For this, try to aim for 9 feet of garland per foot of tree.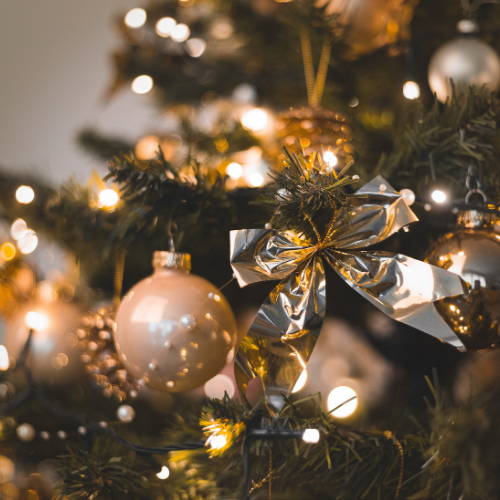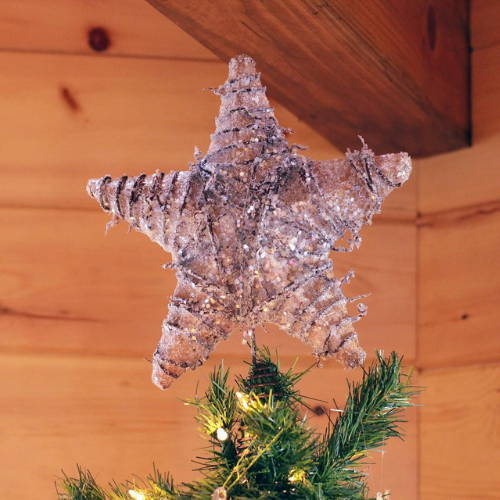 Remember that the tree topper is not required but is the cherry on top. Depending on how high your ceilings are, choosing a topper that won't hit the roof is essential. We recommend measuring the inches between the top of the tree and the ceilings. At Nearly Natural, we always measure our artificial Christmas trees to the nearest inch; you can try subtracting that from the height of your ceilings.
Tip for choosing a tree topper:
No matter what color tree you choose or how you decide to decorate it, Christmas trees are not complete without a tree topper. Here are a few of our favorites with links to purchase to make your artificial Christmas tree decorating as easy as possible. The silver snowflake Christmas tree topper is beautiful and would look great on top of the colored artificial Christmas trees. Want something truly unique? Then go with this peacock holiday star tree topper. If you're going with a classic look for your tree, then this metal glittered star topper will look perfect with your décor style
Decorations for Under Your Tree

Many people don't stop with a Christmas tree, they also add finishing touches and decorations under their trees. Here are a few options to consider: A Christmas tree skirt, a tiny Christmas village, a train set, poinsettias, and wrapped presents (if you set your tree up before you do your, Christmas present you can wrap empty boxes)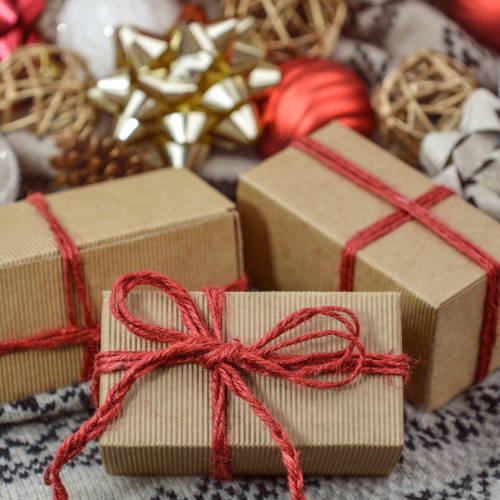 Decorations for Different Colored Trees

Traditional green artificial trees aren't your only option this Christmas season. There are red trees, pink trees and white trees. These exotically colored trees can add some vibrancy to your Christmas décor and with their unique nature, they're entertaining to decorate. Let's take a look at how to decorate these untraditional Christmas trees.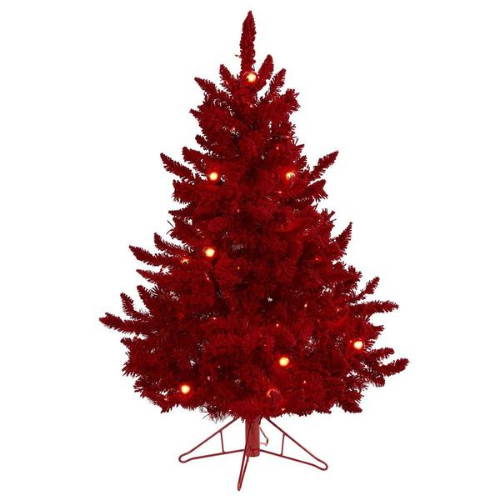 Red trees are a Christmas color, so even though they're not the traditional green, they still have a very Christmas feel. When it comes to decorating red trees, you want to opt for as many white, silver, gold and natural decorations as possible to not clash with your red tree.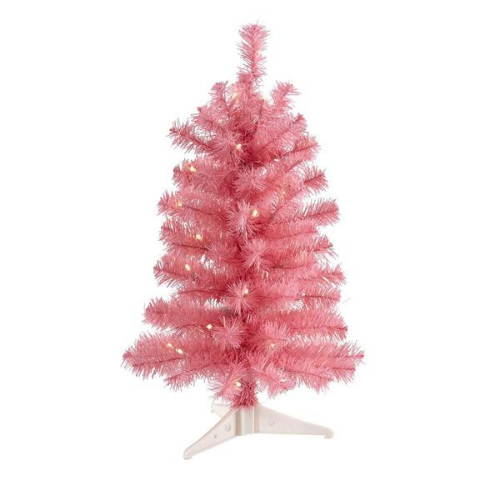 Want a feminine touch when it comes to your Christmas tree? Then a pink tree is for you. These beautiful trees are fun to decorate and look good with any color Christmas balls, white ribbons and even flowers.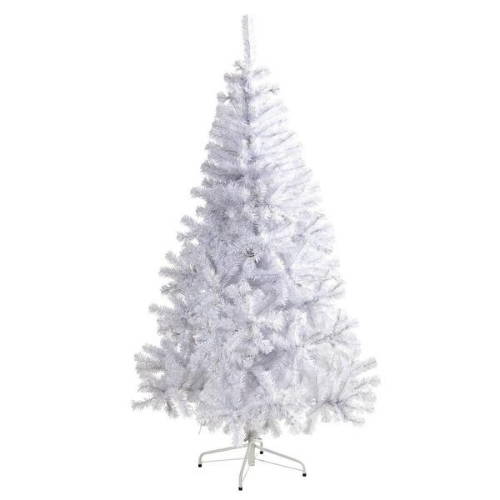 White trees are still unique yet have a classic vibe. Since they're white they match literally any décor that you decide to decorate them with. It's a good idea to opt for colorful Christmas balls and/or ornaments to add some color.
Top 5 Artificial Christmas Trees to Decorate

Here at Nearly Natural, we have a giant variety of artificial Christmas trees so let's explore a few of them so that you can buy a Christmas tree to decorate with the tactics we listed above.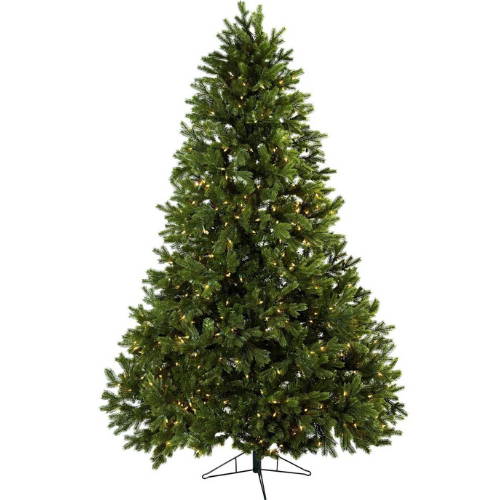 This tree stands at 7.5 feet high and comes pre-lit. It's a gorgeous option for anyone with high ceilings. It has 1,481 tips that are ready for your Christmas decorations.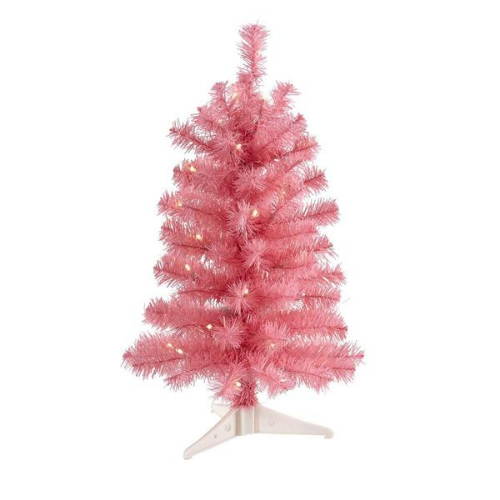 This tree is a great option if you have a small space and want to put it on a table top. The pink tree is unique and comes pre-lit. It has bendable branches so that you can put it in any space.
This tree is very festive and comes with berries on the branches giving it a beautiful and unique touch. The tree comes in a burlap bag stand adding a layer of gorgeousness to this tree.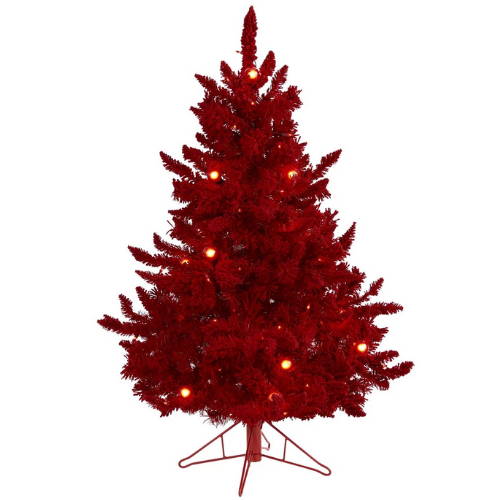 This tree is one of the more festive options. It stands at 7 feet high so is perfect for a large space with high ceilings. It comes with 500 lights and 1,039 bendable branches so once you set it up, it will be ready for your decorations.
What's beautiful about this tree is that it comes with "snow" covered branches giving it a natural look and feels like you're bringing the outdoors indoors. It comes pre-lit with LED lights and if one bulb burns out, it doesn't ruin the other bulbs as is the case with traditional strands of Christmas lights.
Frequently Asked Questions About Christmas Decor:

How to decorate a Christmas tree with ribbon?

Ribbons are a Christmas classic that will have you reminiscing about those childhood years. Adorning your tree with a ribbon can add that special touch with not too much effort on your end and is an affordable way to spruce up your space. First, finish adding your Christmas lights and ornaments; this makes it easier to keep everything at bay. You can even DIY a simple ribbon that fits your needs and space. We recommend starting at the top and securing the ribbon with the tree tips. To maintain a cohesive look, try using ribbons that match your overall decorations; this will ensure consistency throughout the whole season.
How to decorate a white Christmas tree?

One of the trendiest trees this year is the white artificial Christmas tree. While these trees provide a blank canvas, it's still essential to decide on a theme and stick to it. One idea for white trees is using red colors and accents. For example, you can use red ornaments, red & white ribbons, and red lights. You can try doing this for any color you like. The Pantone Color is blue, and for an underwater and beach look, you can use blue colored decorations. For tree toppers, try aiming for a star, angel, or snowman for the cherry on top.
How to decorate under Christmas tree?

You slay (sleigh) the Christmas tree decoration process and transformed your space into a winter wonderland or Christmas palace, but you might be stuck in what to do with the bottom portion. We understand that this portion of the tree might be overlooked, but we believe that it can take your décor to the next level with the right decorations. Of course, the presents are the centerpiece, but you can also add a Christmas tree skirt in a color that matches your theme. If you want to take your décor to the next level, you can even recreate a cloud with a white fluffy Christmas tree skirt.
There are so many artificial Christmas tree décor styles and items you can buy that align with your taste.
Nearly Natural has been in the artificial Christmas tree business for over 20 years. What makes Nearly Natural so cool is that it was founded by a horticulturalist who had an immaculate eye for detail when it came to the trees, plants and flowers that he created. This knowledge has been passed down and shows in all of the products we sell.
Nearly Natural's variety of Christmas tree is vast. We highlighted our favorites in this post, but, you can check out this page if you want to see the hundreds of Christmas trees that we offer so you can find the perfect one that is right for you.