How Our Artificial Christmas Trees Are Made
You see that package arriving, run to the door, and there it is. It's the most Pun-derful time of the year. It's Christmas Thyme. Maybe you remember decorating with the Christmas ornaments grandma gifted you when you turned of age. Perhaps, you remember cookies and milk left out for Santa. There's nothing quite like the Christmas tree to spread holiday cheer, bringing a family together. What better way to keep up with tradition than artificial Christmas trees? Here, at Nearly Natural, we know family is important. That's why we design Christmas trees with family in mind.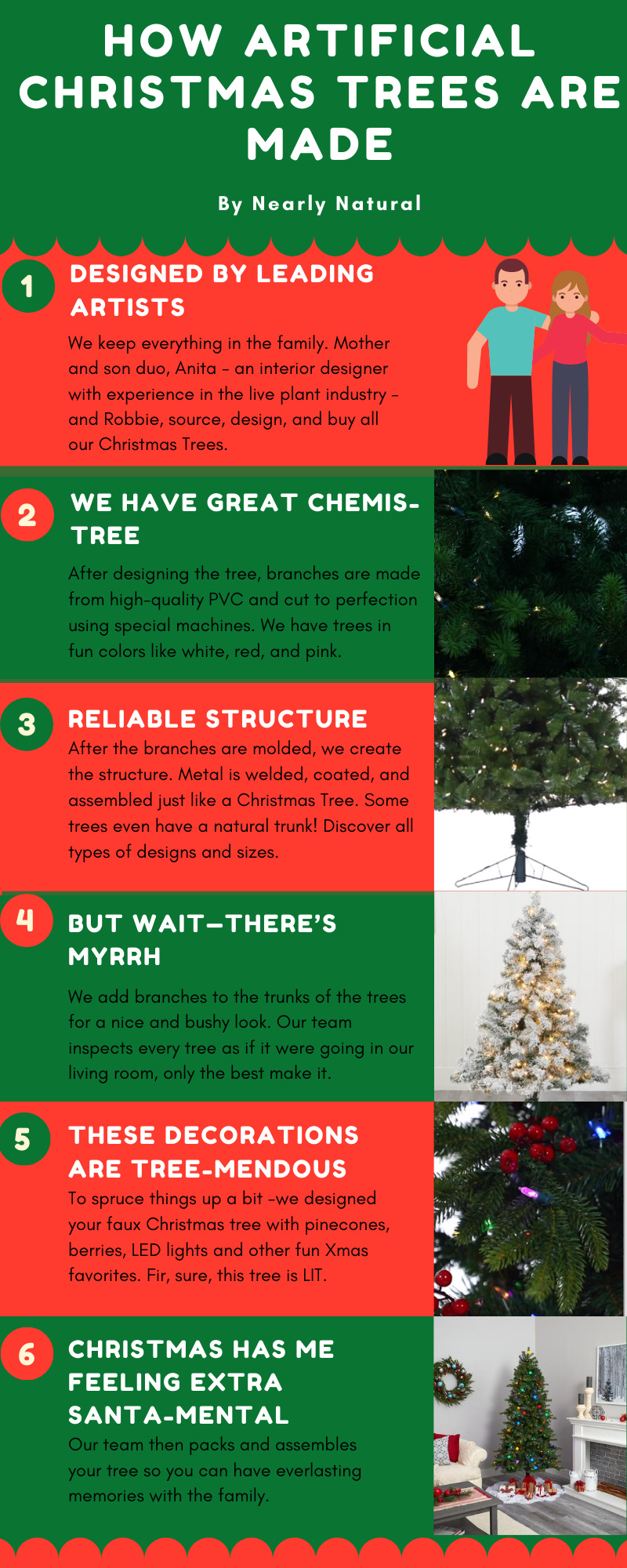 For the past 75 years, we have kept things intimate. Grandpa Nearly Natural - a renowned horticulturist with species of plants named after him – cultivated his love of nature onto his children. Today, his daughter, Anita, and her son, Robbie, lead Nearly Natural. Anita - a leading interior decorator sources, designs, and buys all our Christmas Trees. With her nurturing and roots as a designer, she is passionate about creating the ultimate centerpiece with realistic looking trees. But the most essential element is planting that family touch.
How Our Artificial Christmas Trees Are Made?
Great Chemis-Tree! After Anita meets with our partners and approves designs, we mold branches from PVC material using special machines. These branches are bendable, giving you the flexibility to shape specific to your space. If you're looking to spruce things up a bit, we also carry fun colors like white, red, and pink. Once the branches are ready, we create the structure with metal. After the base is complete, we adorn the structure with branches all throughout. Some of our trees even have natural trunks for an organic touch.
Once your high-quality tree is ready and approved, only the best of the best make it, we add decorations. Yes, all your Christmas favorites like faux pinecones, berries, LED lights, and globes. Fir, sure, your tree is LIT with us. While some of our trees bring accents, you can still get creative with themes. Sleigh what?!
Christmas has me feeling extra Santa-mental

After our team ships your tree, it's time for fun. It's time to get jiggly. From our family to yours, we wish you a merry Christmas.
Welcome to our family. We hope you learned more about our process, traditions and history.