How to Celebrate Thanksgiving Outdoors - Decor Guide for Thanksgiving
Thanksgiving is approaching; luckily, you still have time to create the dreamy tablescape of your dreams.
Pin-worthy and effortlessly stylish, decorating for Thanksgiving is a must no matter where the celebrations take you. Vibrant colored hues are the season's trademark; invite these hallmark colors home for an exceptional setting. With many people slowly returning to the festivities, it's a good idea to consider celebrating outdoors if the weather permits you to enjoy the crisp, breezy fall air. Think about it, hosting an alfresco dinner might be a better alternative because it's less cleaning, the weather is excellent, and you can all be safer. Even if you're taking the celebrations outdoors, deck your space to the nines with some fun Thanksgiving decorations for every room, style, and budget. Even if you're into boho, traditional, or farmhouse décor, the power is in your hands; you can be either more maxi or minimalist if you'd like.
To make the big day as seamless as possible, it's essential to have a plan and stick to it to avoid headaches before the feast. Ensure your outdoor area can accommodate additional guests; you might need more chairs or tables for all the people if it's a larger party. While we can control most of the decorating and planning, Mother Nature might have other ideas. Remember to check the weather the day before Thanksgiving, just if rain or snow is in the forecast. If it is, take the food inside and use the same decorations. The beauty of outdoor thanksgiving table décor is its versatility; you can reuse it in any setting.
How to decorate your table - best thanksgiving decor ideas

We've all been there before. You are logging into Pinterest or scrolling through an influencer's perfectly curated feed for inspiration. It's ok, but here's a space-saving hack to help refine your search, pick a theme first. Then, after deciding on a theme, you'll receive better results and closer to the best inspiration for you. So here's our favorite themes for Thanksgiving.
Rustic – When Thanksgiving comes to mind, we like to think of cozy, rustic campaigns with inviting fall hues. While we all want to be surrounded by the ones we love, the decorations affect our moods; why settle for less? The holidays might be the only time the whole family gathers together, making it extra important for the decorations to match the festivities. Rustic décor evokes the feelings of coziness with the distressed and wooden accents.

Farmhouse – Many of you are fans of farmhouse décor; we are too. If you already have this décor style, consider using a few loose fall faux stems as thanksgiving outdoor table decorations. Even if the party is outdoors, not all of us are fortunate enough to live in a picturesque fall foliage haven. So add those loose fall stems in a farmhouse-inspired vase or planter for a touch of chic.

Modern – Who says you can't have a modern-inspired space during the holidays. Many of us might have a different idea of Thanksgiving with the traditional emblem décor that was more common yesteryear. Still, many people now crave to celebrate the big day in their unique way. As a result, modern décor has increased in popularity these past few years. Modern, clean lines and symmetry are characteristics of this décor style.

Pick the right centerpiece

Picking the fitting centerpiece depends on many factors that are unique to each space. Once you decide on a style, it's time to start measuring your space, specifically your table. Measure from end to end; if you have a circular table, get the circumference. Once you have the dimensions, think about if you want something on the smaller side or more extensive, be sure to choose a centerpiece that fits in your space.
What is the traditional Thanksgiving centerpiece?
When thinking of traditional Thanksgiving centerpieces, we refer to floral ones consisting of more fall hues with cornucopia fruit. Some examples of these types of centerpieces are the Pumpkin Arrangement and the Pumpkin Harvest Arrangement. Both of these arrangements are great options for spaces of all kinds and budgets.
When thinking about decorating a table for Thanksgiving for outdoors you can always make the season memorable with a bit of personal touch. DIY and make your arrangement with stems one to fit perfectly in your space. Then, mix and match contrasting textures for more depth.
Faux garlands are a must-have for any tablescape. You've seen them all over social media, the latest trend to take over influencers' feeds. Faux garlands elevate your table from dull to ordinary. Maintenance-free, use the dimensions of your table to upgrade the look; you can use a garland that's longer than the table or a shorter one for a more intimate look. In between the garland, add other little accents to create divisions between plates of foods in the middle. The beauty of using faux garlands is that you can reuse them year after year without fearing damage.
Other complimentary items you can consider are fall-inspired faux trees that match your theme. So for those of us who live in warmer weather, bring fall foliage home, get inspired by the wonders of the season. These long-lasting faux trees instill the spirit of the season, making you feel closer to nature no matter where the holidays take you.
Thanksgiving decor ideas & inspiration

Other complimentary items you can consider are fall-inspired faux trees that match your theme. So for those of us who live in warmer weather, bring fall foliage home, get inspired by the wonders of the season. These long-lasting faux trees instill the spirit of the season, making you feel closer to nature no matter where the holidays take you.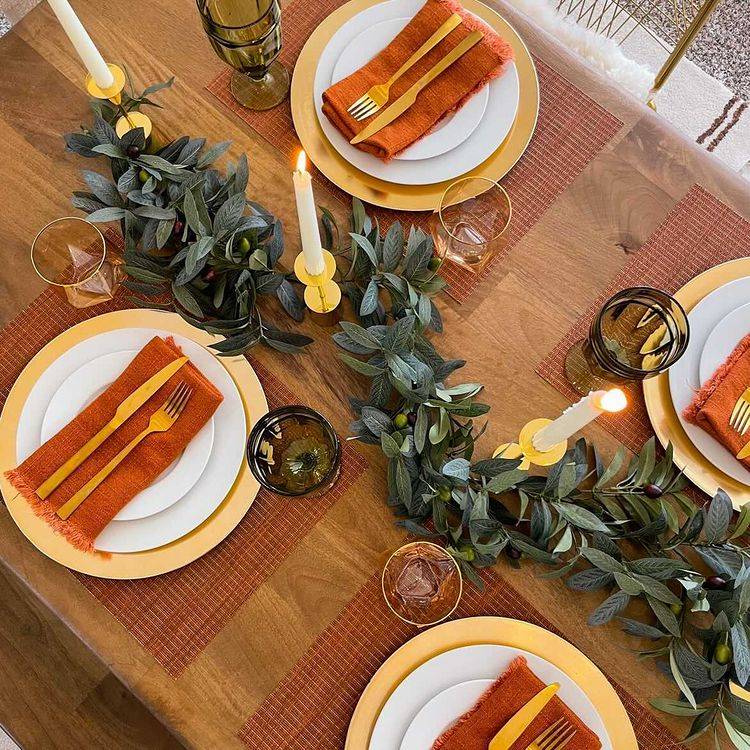 Olive-inspired Thanksgiving - We know many of you are fans of the world-famous faux olive tree, so why not create a dreamy olive-inspired tablescape? Even for outdoors, you can add our outdoor-safe olives trees.
Rustic - This is a perfect example of how our loose faux stems can be styled in different ways, no matter the size or shape of your table. Even circular tables that many people think are a bit harder to decorate can look beautiful with loose stems. Notice how the branches appear longer and create a focal point in the center.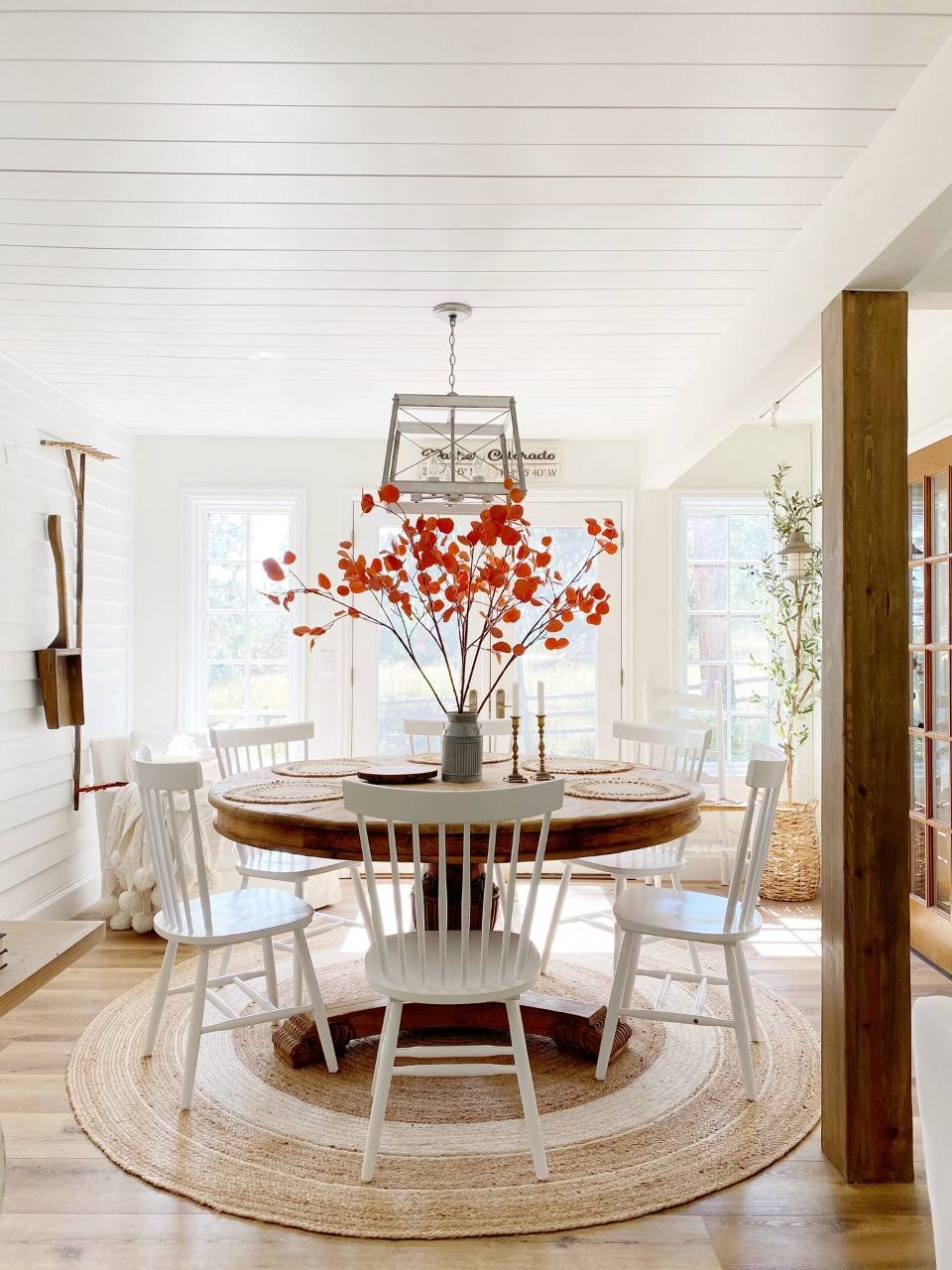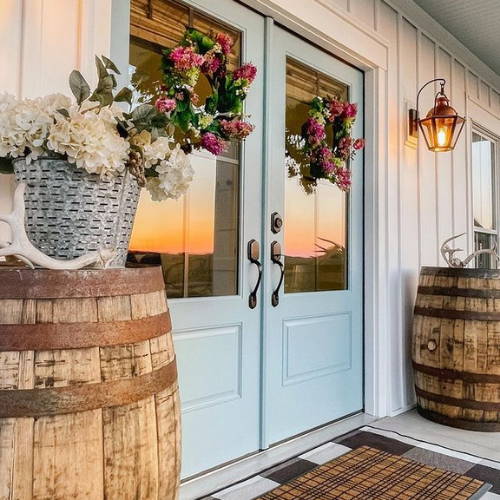 Dreamy front porch - Who doesn't love to greet guests with a welcoming greeting? Transform your porch into a dreamy escape by placing two faux fall trees door side, complement the look with a wreath and some pumpkins. As an option, a garland or a couple adds a finishing touch.
Grand Millennial Style - One of the most popular design trends is grand millennial. This new generation is growing up and yearning for those accents from grandmother's house. Let's face it; there's nothing better than spending time with some of the most respected members of the family. To get this look, our friend Stacey from @greenvalleygable shows you in this video. She shows us how easy it can be to transform any space into a dreamy tablescape using a faux garland and a faux magnolia.
Farmhouse - Recreate your farmhouse dreams. Get inspired by this vibrant fall porch, sure to make the guests looks twice. Because some of you might live in a place where maintaining real plants might be difficult, it's essential to decorate with faux greenery. For example, flowers cannot withstand a harsh winter; therefore, silk blooms are a better alternative for when you still want to get the look. We love that this porch provides the perfect backdrop for all those family photos, we guarantee social media likes.