How to Create Your Own Bouquet with Artificial Flowers (updated 2023)
Bouquets offer a great splash of color to your interior décor and can be customized according to your taste. They bring the outdoors indoors and flowers can accent even the smallest spaces.
DIY bouquets come with the added bonus of the zen craft time in order to create them. Whether it's for you to spend some quality artistic time alone or as a way to get the whole family involved in creating bouquets—DIY bunches of artificial flowers are just fun.
When it comes to creating silk flower bouquets, we get a few questions from our consumers. So, we've created this post to answer any questions you may have when it comes to creating your own bouquet with artificial flowers.
Why Should I Use Artificial Flowers?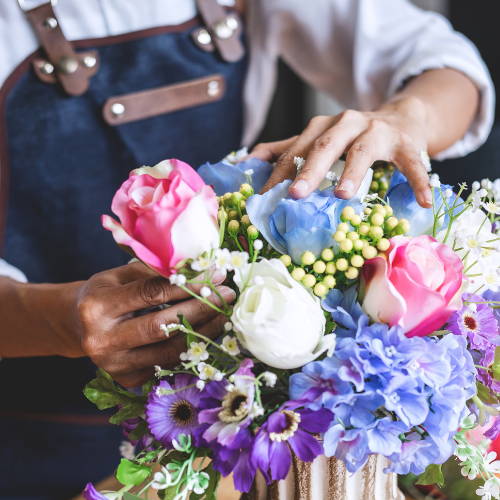 There are many reasons why artificial flowers are better than real flowers. If you choose the right artificial flowers, they will look exactly like the real thing and fool your house-guests into thinking you have the skills to care for real flowers.
Here at Nearly Natural, we're fans of artificial florals for many reasons and to name just a few of those reasons:
Artificial flowers last for years while real flowers have a short shelf life

Artificial flowers are easier to maintain

Artificial flowers don't require a green thumb

Artificial flowers don't need to be watered

Artificial flowers are non-toxic, so you don't have to worry about kids or pets eating them

Artificial flowers don't make a mess as they're not planted in dirt or sitting in water

Artificial flowers are more cost effective as they don't need to be replaced every week or two

Artificial flowers are perfect for people who have allergies to real flowers
What Supplies Do I Need for My Bouquet?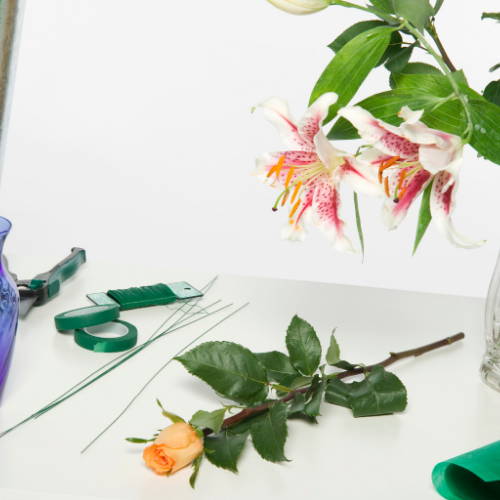 If we've convinced you that artificial flowers are the right fit for your home décor, it's time to get started on creating your own bouquet of silk flowers. Of course, you can buy a bouquet that is already assembled, but, creating your own allows you to customize it according to your taste. Not to mention the sense of accomplishment every time you look at it because you used your craft talent.
Bouquets are easy to make and don't require a lot of time so creating a DIY bouquet is the perfect craft to fit into any busy schedule. Before you start creating your bouquet, make sure you have all of the supplies that you need to put together a gorgeous bouquet. Here is what you need:
Artificial floral stems

Artificial leaves

Vases for each set of bouquets you plan to create

Ribbon

Scissors

A glass of wine
What are Some Rules of Thumb to Follow When Creating My Bouquet?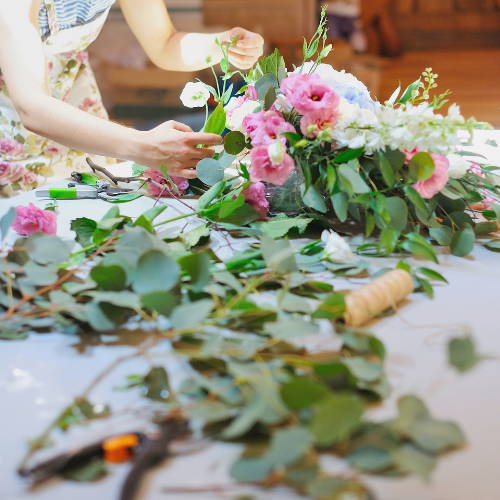 DIY bouquets are crazy simple and will turn out beautifully if you follow just a few simple tips. Since your bouquet will last for years, you are going to want to make sure it's created professionally so consider the following rules of thumb:
Cut leaves off of the stem on the lower 2/3 of the stems leaving leaves near the blooms

Use 3 stems of flowers as your "base" and add stems to this focal point

Use your ribbon to secure your bouquet

Once you've created a bunch of flowers, use some greenery and/or leaves to fill out your bouquet

Once your bouquet is secured, cut the stems so that their length fits your vase

Use a variety of textures to make your bouquet visually appealing

Cut your stems so that your bouquet features a variety of heights to keep the eyes moving around the arrangement

Mix up complimentary colors and avoid colors that clash

Pick colors that go with the color scheme of your home

Keep seasonality in mind

Practice making your bouquet before tying it with ribbon
How To Make An Artificial Bridal Flower Bouquet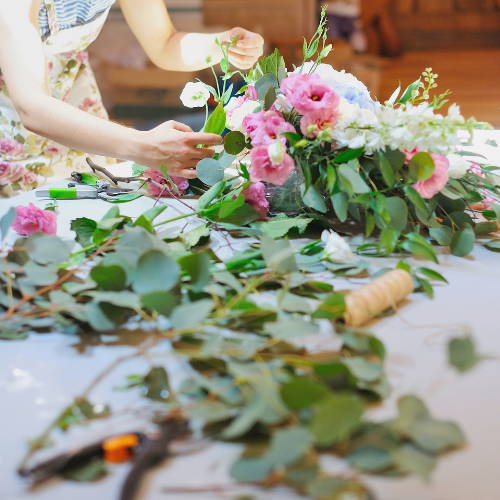 Brides carrying a bouquet through their wedding ceremonies has been a tradition that has persisted even up to this day. In ancient times, bridal bouquets were composed of twigs, herbs, flowers, and other plants that were arranged together to create a piece that complements the beauty of the bride. A bouquet is the most symbolic item that any bride can adorn on her wedding day and choosing an artificial bridal flower for your bouquet will allow you to better reminisce about the most special event in your life. In this light, let's learn how to make an artificial bridal flower bouquet that will last a lifetime.
Step 1 - Gather all the supplies needed for the project. The needed supplies include a glue gun, glue sticks, flower wire, wire cutter, tape, twine, birch bark, and faux flowers of your choice.
Step 2 - If your artificial flowers are tied together, cut the stems of each flower using your wire cutter in order to have a bunch of single flowers that you can easily arrange later on.
Step 3 - To start, pick 2 to 4 flowers that will serve as a base then trim off the extra leaves of each flower. From there, carefully add more flowers on top of your base and let your creativity run wild.
Step 4 - Once you have arranged the different layers of your flowers, you can then secure them using the floral tape from top to bottom. After that, cut all the excess stems and leaves to create a clean display.
Step 5 - To complete the bouquet, cut your birch bark in the size of your palm as it will serve as the handle for the bridal bouquet. After cutting the birch bark, you can then attach it to the stem of your bouquet. Using the glue gun, apply the glue stick to the stems in order to fasten and secure the bark.
Step 6 - For your final touch, wrap each edge of the bark with twine but make sure to use glue on them to ensure that they will remain in place.
What are The Most Popular Stems According to Your Consumers?

One of the great things about ordering your artificial flowers from a company like Nearly Natural is that you can rely on fellow consumer reviews and purchasing behavior to make your own purchase decision. Based on our own consumer favorites, here are the top 10 artificial flowers to consider putting in your own bouquet:
Where Should I Put My Bouquet?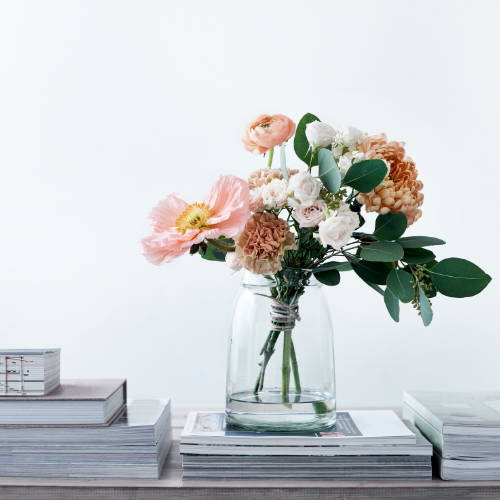 Before you order the supplies to create your silk flower bouquet, you should first decide where to display it. This will dictate the colors you choose to incorporate in your bouquet. Take into consideration the color of the walls, curtains, floor and other décor in the room to help make your decision.
If you need help choosing where to put your bouquet, consider the following spaces:
Nightstand

Kitchen counter

Dining room table

Bathroom surfaces

Coffee table

Patio tabletop
How Can I Keep My Bouquet Looking Fresh?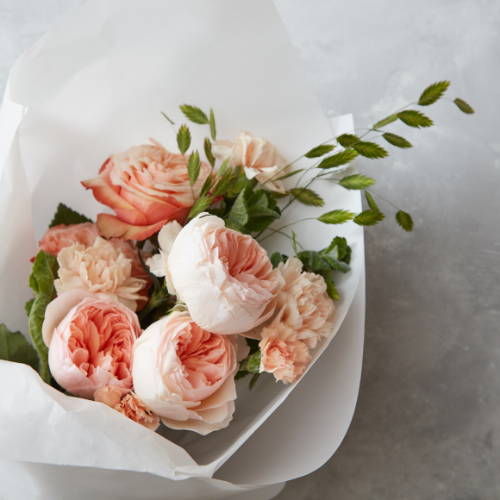 Obviously, you don't have to water your bouquet of artificial flowers to keep it looking fresh but there is minimal upkeep required to keep it intact.
Whenever you are dusting your furniture, dust off your bouquet. This will take you 10 seconds at most!
Then, twice per year, use a bowl of soapy water and a toothbrush to clean the crevices of your artificial flowers and leaves. This will keep your bouquet looking vibrant and will continue to fool houseguests into thinking your bouquet is made up of real flowers for years to come!
Why Should I Opt For Nearly Natural?

When it comes to artificial flowers, Nearly Natural supersedes the other options you have.
Nearly Natural was actually founded by a horticulturalist who had a fine attention to detail. His knowledge of all things flora translated into beautiful and realistic artificial flowers. This talent shows in all of the products we create today—see for yourself by ordering Nearly Natural products for your bouquet!
We stand behind our products so much that we offer free shipping and hassle-free returns so that you are sure to get the flowers that you love.
Do you have any tips for creating a DIY bouquet? We'd love to hear your advice in the comments below!