4th of July Decoration Ideas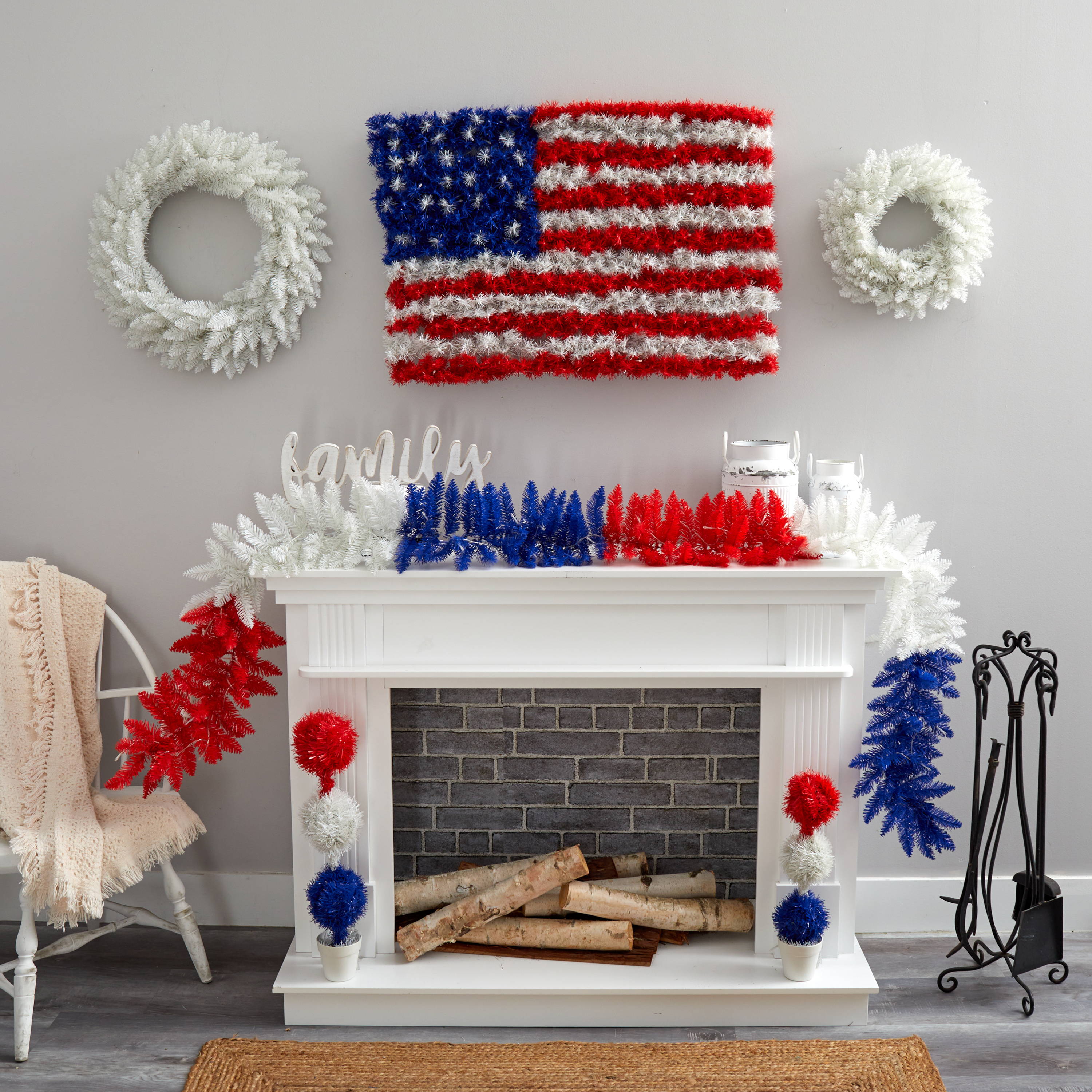 It's summertime! Kickoff off the season by showing your unwavering love for your country. Party like its 1776.
If you're looking to spend the 4th of July in the pool, BBQing with friends, and watching the fireworks, nothing is more important than displaying your love for the red, white, and blue. While having fun is essential, remember the real reason we celebrate this special day. What better way to enjoy yourself than by throwing the best party using 4th of July decorations and some artificial plants? Put your patriotism on display, show off your colors while having fun with those closest to you, outdoors, of course. If you're a bit stressed about how to decorate for this holiday, keep reading, we're going to share our top design tips from our leading interior decorators to make sure you have a memorable celebration.
This is year is vital for celebrating our wonderful country. You might finally be welcoming back your guests after being apart. Greet them with new decorations.  
You're not going to want to miss our hottest tips of the season. Learn how to recreate an influencer and interior designer approved space at a budget-friendly economical price. The best part? You can reuse these holiday decorations for years to come. All our items are crafted using high-quality materials and packaged in the USA* to ensure they last years and save you time and money. We ship our items from our faux garden in Miami, Fl, home of tropical flora.
4th of July-inspired artificial arrangements

Discover DIYs just as colorful as the holiday. Here's our top tips for how to create a DIY 4th of July-inspired arrangement. The best part about using silk flowers is reusing them for other holidays and year-round display. A great budget-friendly option for any party. Don't be scared to try this red, white and blue DIY decoration idea; it's easy and requires minimal effort. Greet guests with July 4th decorations they won't forget.
Choose red, white, and blue flowers
Have fun creating the centerpiece during the BBQ cookout with a patriotic artificial arrangement that is sure to captivate the audience. We recommend these silk flowers for your table décor: hydrangeas and roses
Pick a vase
Once you decide on the silk flowers, look for a vase to house your new faux arrangement. We understand that it's the 4th of July, but we recommend adding a vase that can blend with existing décor for everyday use. This way, you can continue using the vase even after the holiday, making it more economical in the long run.
Start your DIY
Our in-house florists advise using a bag to hold the stems and then secure them using a rubber band. Once you have them arranged as you like, add them to the vase and sit back.
Pick where you want to display
The beauty of decorating with silk flowers is that you can add them to any setting. Versatile and easy to care for, feel free to add them to a table, countertop, or kitchen.
Decorate your door using an artificial wreath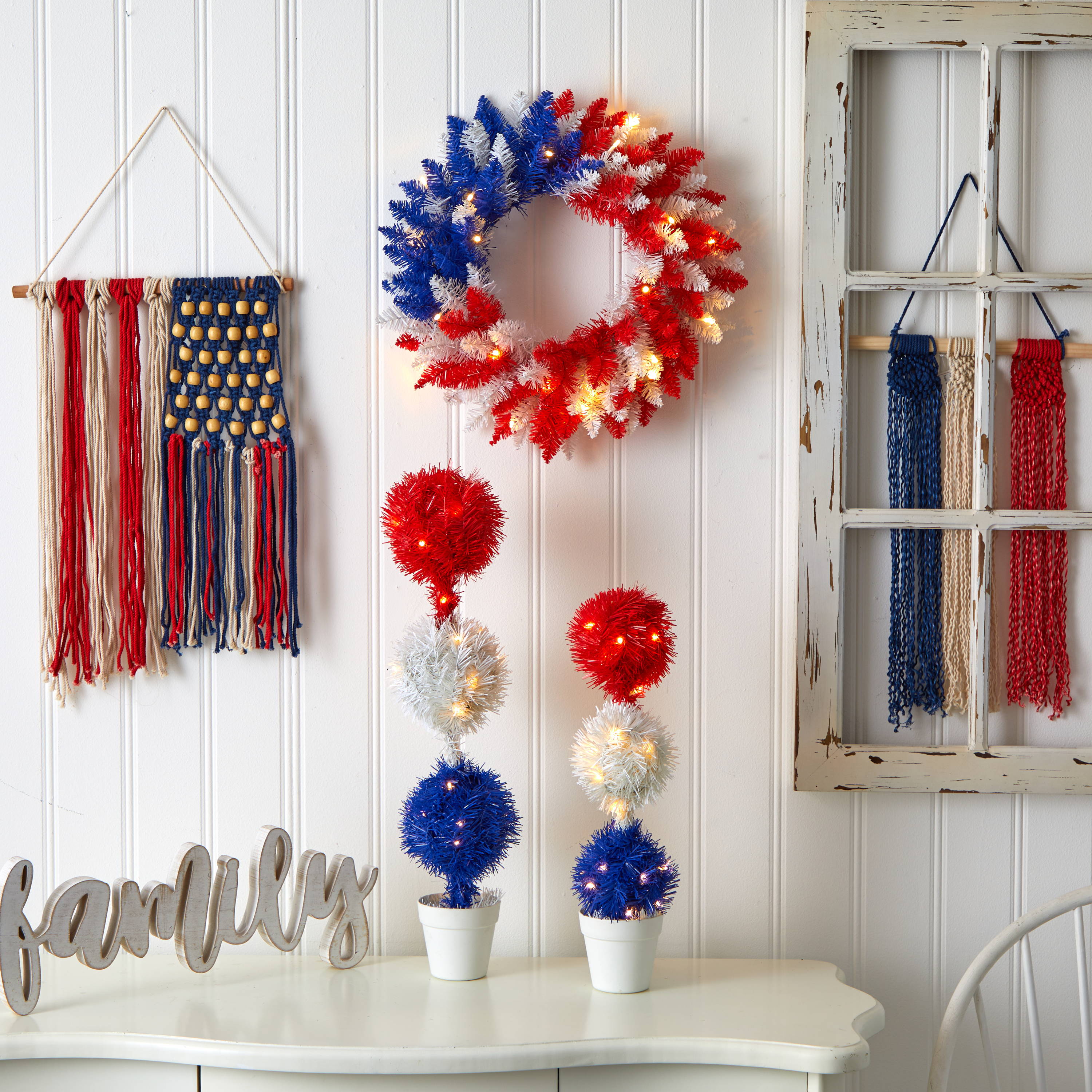 Artificial wreaths are the perfect accent for spreading holiday cheer effortlessly. Even before the guests arrive, show your patriotism to all that pass by. A benefit of decorating with a 4th of July wreath is its versatility of use for Memorial Day, Veterans Day, and Labor Day. If you prefer, leave the wreaths year-round as a special tribute to your country. Many customers enjoy gifting these wreaths to members of the armed forces, as well.
Why stop at wreaths? Make your space pop even more with an Americana-inspired garland. Learn how to decorate with these two front door decors.
Top 4th of July-inspired décor  
Inspired by nature and crafted by our leading florists, this wreath features clusters of delicate silk hydrangeas blossoms in a palette of red, white, and blue colors, complemented by the dark foliage peeking from underneath. No matter the size of your door, this silk wreath is sure to complement any bare space.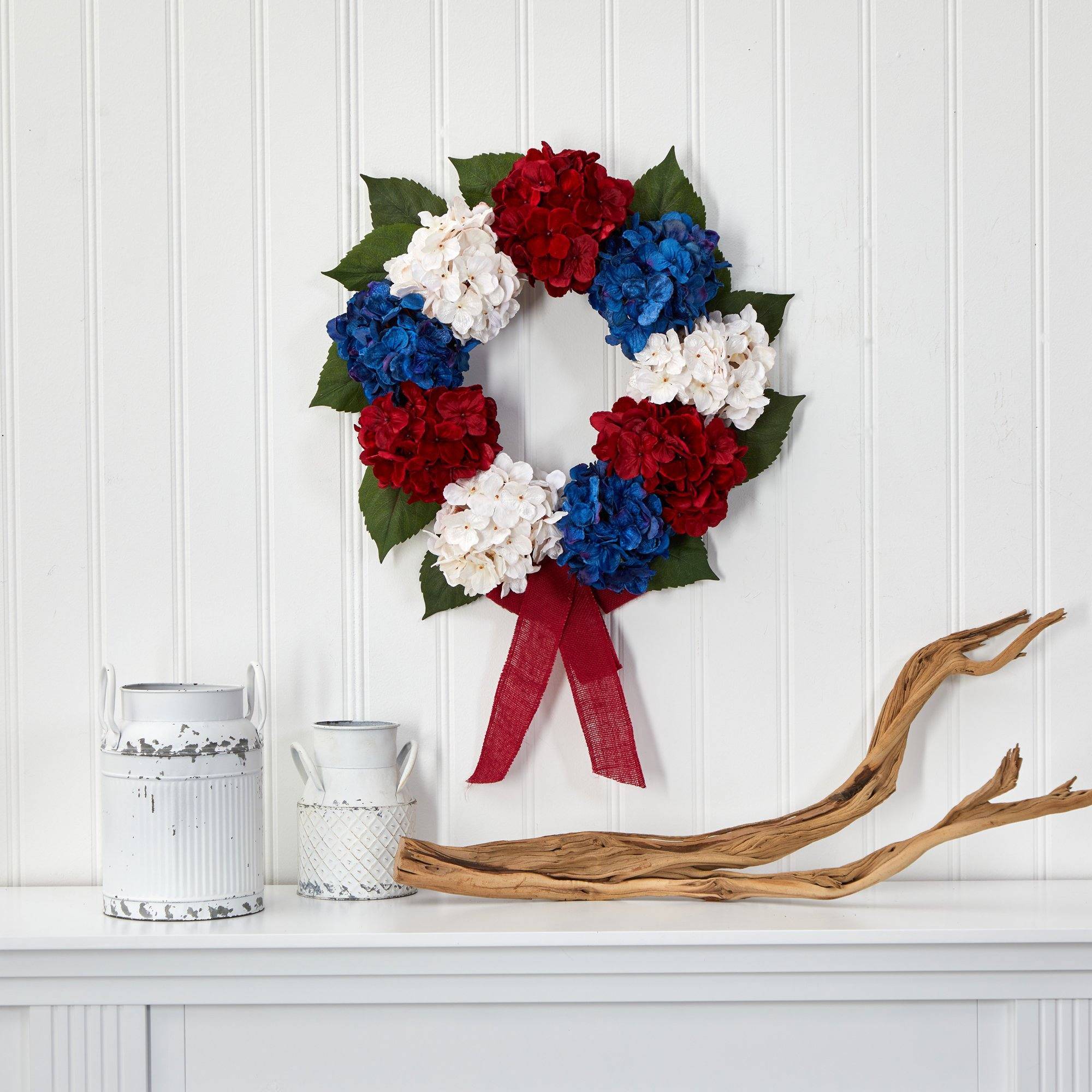 Spark like it's the 4th of July. Showcase your true colors by adding to any holiday party and watch as the 50 warm LED lights illuminate any space. With a length of 9', feel free to get creative when decorating. Interior decorator tip: add two on each side of a door and top off with a wreath at the center for a very patriotic look. Battery operated.
Want a simple yet colorful display for your party? This artificial wreath is sure to make your space pop. Nestled in between the bendable branches are the 20 warm LED lights for a cozy look. Illuminate any area, such as doors, windows, or bare walls. Shop with confidence; we offer this wreath in 18' and 24' diameters.
This wall panel has 13 stripes, tiny white stars, and nestled between are 100 warm LED lights, while the bendable branches allow you to shape in your space. Bring to life the red, white, and blue during your next summer get-together. No matter your decor taste, the American flag is always in style. With measurements of 3' X 2', this is the perfect centerpiece for an outdoor summer party, Veterans Day, or Memorial Day. Battery Operated and safe for outdoor use.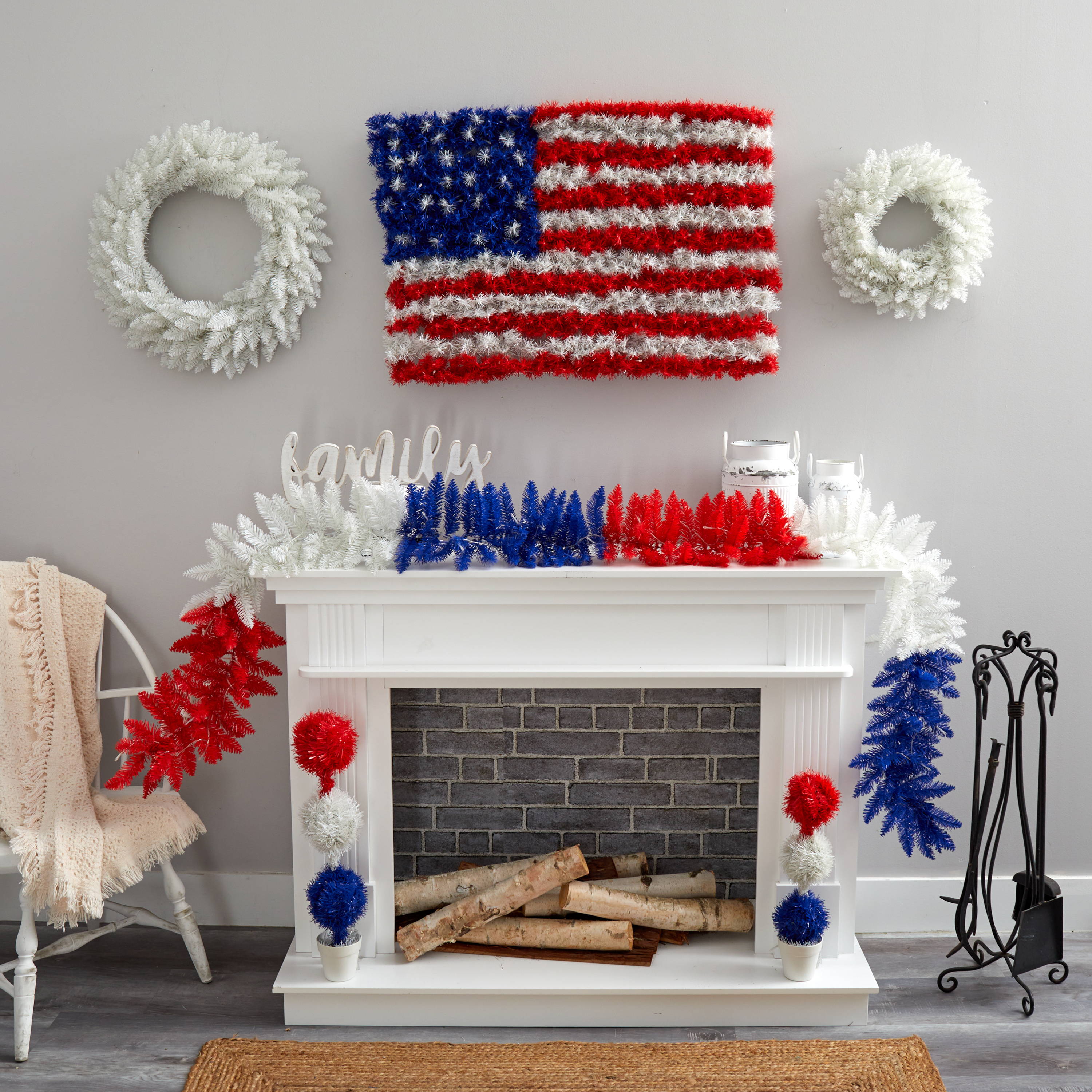 Hanging plants are the perfect accessory for when you lack space or are craving something fresh and different. Especially for 4th of July parties, you can't go wrong with this choice because they're easier to care for, and guests won't try touching them. We have many options for different styles and home sizes. We're sure there's something for your specific needs.
Top hanging plants
Hanging at a length of 26", this realistic-looking geranium teardrop sports a combination of striking white and blue blooms accented by blueberries. Place this lush hanging teardrop in a basket and elegantly drape behind a bench or table. Or hang in the front door and welcome guests during the party with some 4th of July home décor.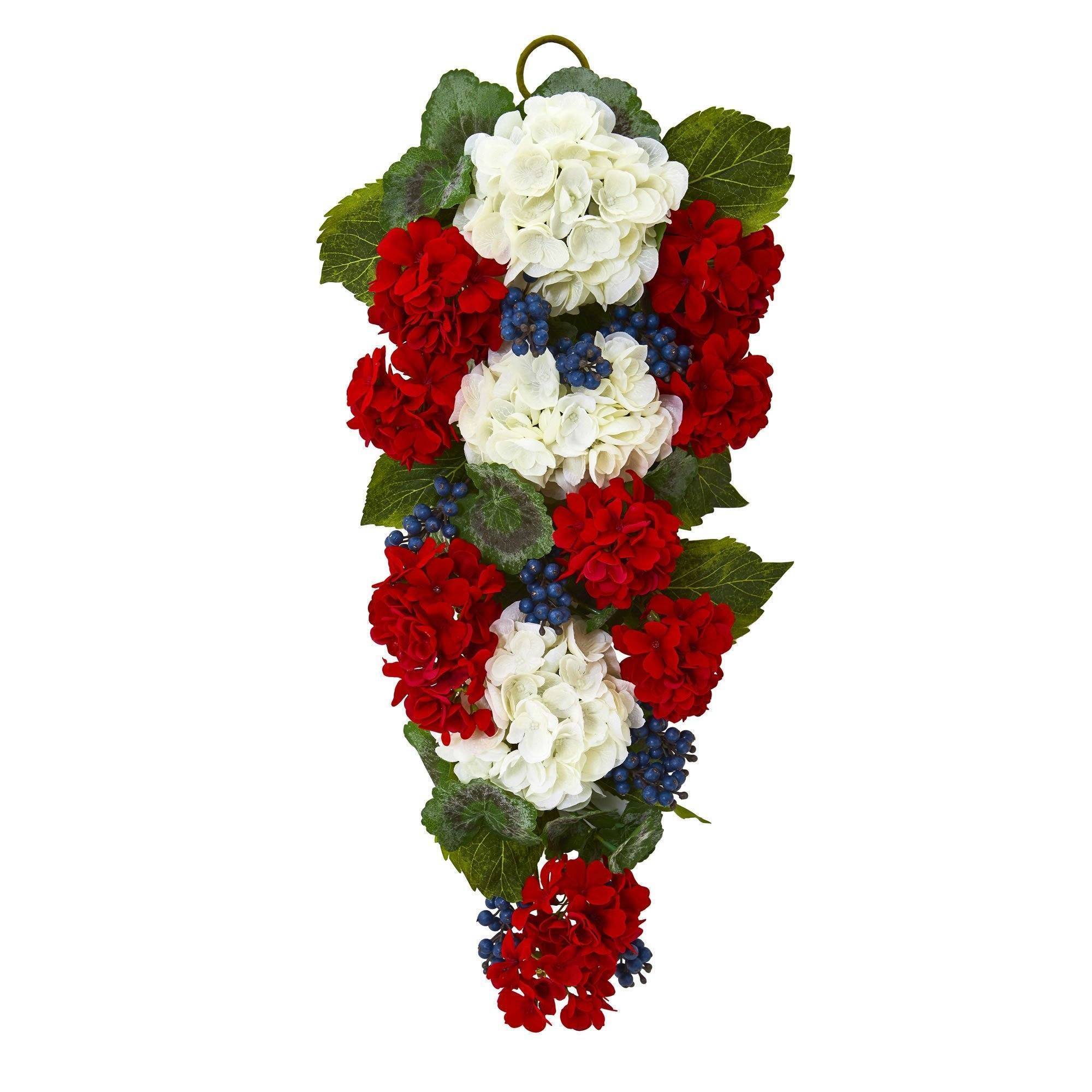 If you already have your arrangement but looking for a hanging planter to house them in, this rustic-inspired accent will complement your home décor. Made from ceramic by leading interior designers, add this floral planter to any farmhouse, rustic, transitional, or traditional styles. We recommend adding a few for a cohesive look and feel.
Artificial Trees for the 4th of July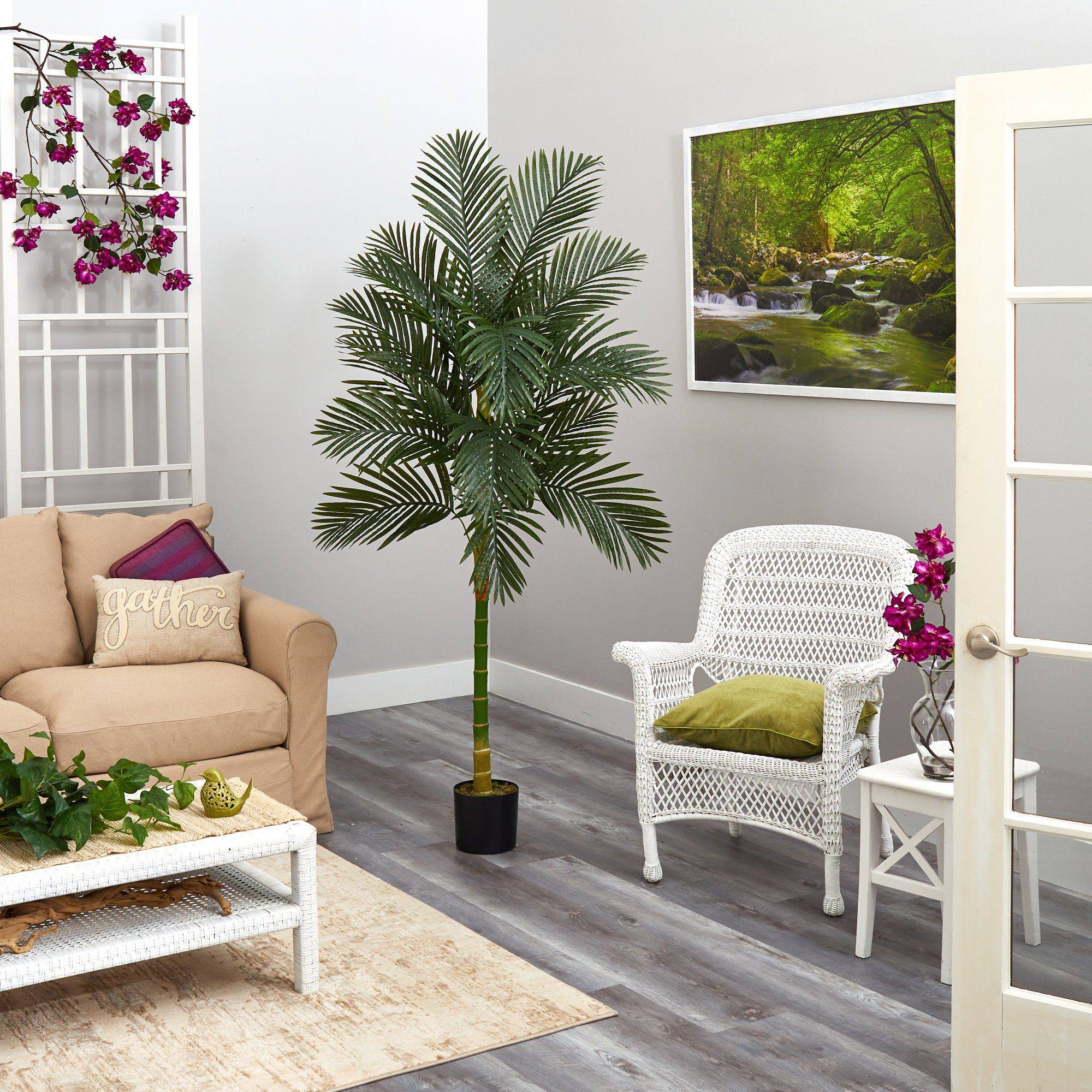 Transform your trees into a colorful affair filled with texture and vivid blooms. Have some fun adding silk flowers to your outdoor safe faux trees and watch them come to life. No matter if you have a topiary, palm, or olive tree, you can make them more "patriotic." This is perfect for when you want to DIY an arrangement and have some extra blooms on hand. Don't let those stems go to waste! DIY by marrying them to your faux-rite artificial tree.
Best outdoor tree for spreading seasonal cheer: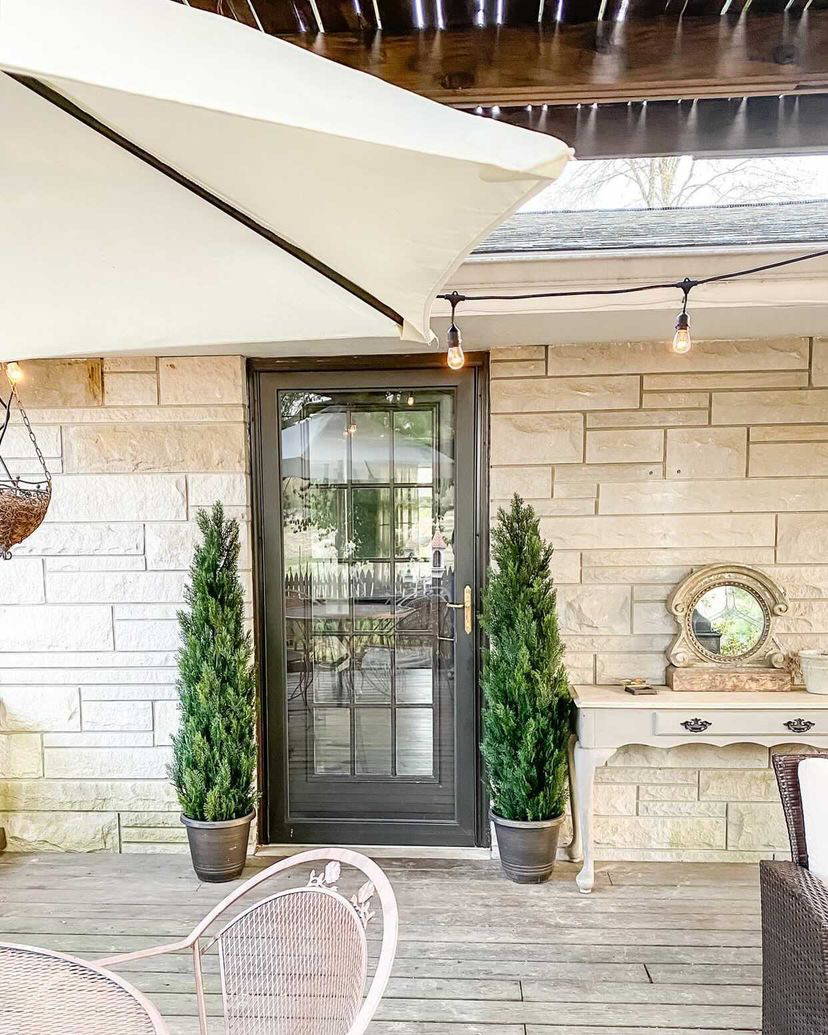 Designed by horticulturists and approved by influencers and leading interior decorators, the mini cedar is a best-selling faux tree. Many customers love that it's a great transitional piece that takes you from summer to winter instantly. This is one of those fake trees that looks great in a tall planter on the side of the front door. To inject those patriotic colors into your tree, our designers recommend adding a faux flower arrangement to a jute planter and placing it in front of the tree. You've probably seen this look on social media with top influencers. If you have a staircase on your patio, adorn it with flowers.
Best indoor tree for spreading seasonal cheer:
7' Single Stalk Golden Cane Artificial Palm Tree
Inspired by the Floridian summer, gorgeous golden palm fronds stem from a bamboo-like trunk with yellow hues. If you're like us, we can't wait to chill on a hammock next to a palm tree. Unfortunately, palm trees are challenging to grow in most non-tropical climates. This faux palm tree moves the wind allowing you to get the "tropical look" no matter where you live. Feel free to add vivid hued flowers for a colorful affair.
4th Of July-inspired topiaries