How to Decorate Your Home for Fall with Artificial Greenery
Are you ready for fall 2021? The days are getting shorter, the air's getting crisper, kids are going back to school, and it's time to start thinking about how to decorate your home for the beautiful Fall season. Autumn boasts vibrant yellows, oranges, reds and even a little purple. So, keep these hues in mind when you're planning your Fall décor ideas for your home.
To balance out the brisk weather that comes with Fall, warm colors and decorations are the best way to celebrate the season change. Well, besides pumpkin spice lattes of course, explore our selection of artificial fall flowers, plants and more.
To get your creative interior decorating juices flowing, we interviewed social media influencers and interior designers to inspire you with the perfect products for your home this season.
When to start decorating for fall?

There's no perfect time:
Typically many people start decorating for fall after the kids head back to school, usually after Labor Day weekend. But, this is your home! You have complete control over the festivities and can choose when to begin decorating for fall. As a rule of thumb, when shopping online, remember to order ahead of time to ensure your items arrive promptly before any gathering
Fall home decor haul from interior design expert Wendy Bentley:
There are so many reasons to love artificial plants, trees and flowers. And if you go with the right artificial greenery, it will look just like the real thing, minus the maintenance. All of your houseguests will be fooled into thinking you have the green thumb to keep artificial plants alive while welcoming magnificent colors into your home.
Here at Nearly Natural, we pride ourselves in being the #1 choice for artificial greenery. Our company was actually founded by a horticulturalist who had an immaculate attention for detail and used his knowledge of plants, trees and flowers to create realistic artificial products. His skill has transcended time shows in all of the products we create today.
Some of the many benefits of fall artificial trees, flowers and plants include:
They require minimal maintenance compared to the real alternative

They are easy to transition out with the seasons

They are safe for pets who have a tendency to eat plants

They last for years

They don't require a green thumb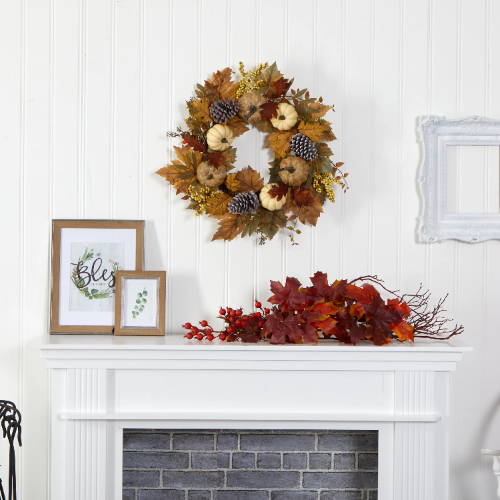 Wreaths make a first impression when people come to your home. They are festive and welcoming and can spruce up the front of your home.
When it comes to decorating for Fall, there are so many beautiful wreaths to choose from. Some have pumpkins while others have leaves and flowers. You have room to be picky because we have many of them.
Our interior decorators recommend changing wreaths as the seasons pass by so you always have something to look forward to at the start of the new period. Look for wreaths that blend with existing décor to create harmony throughout your space. Remember to look for a matching garland and consider adding the garland to the staircase or the mantel for a matching look. Even if you don't have much space, wreaths offer the perfect opportunity for adding some seasonal cheer, even in the smallest of spaces. We recommend hanging the wreath in a nail to secure the wreath won't fall.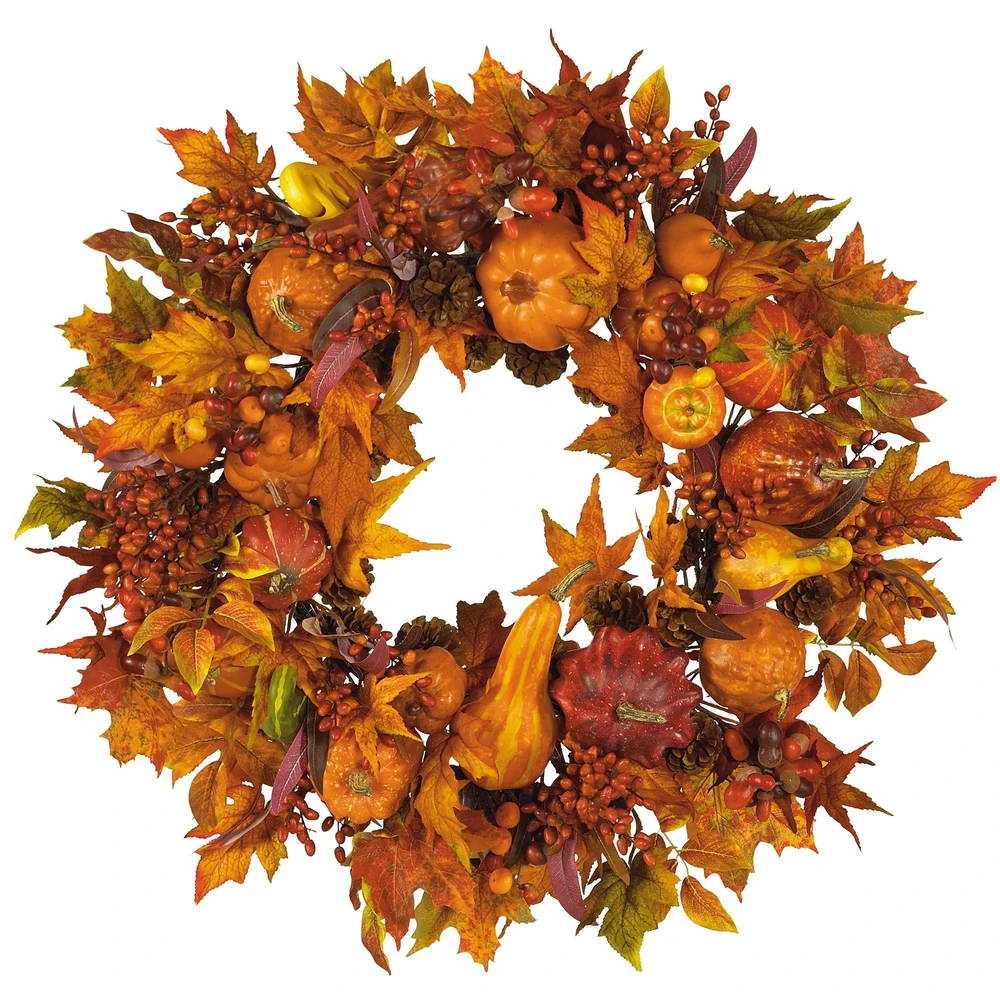 This wreath features orange and gold leaves with a few pumpkins and gourds sprinkled look for a great piece of your Autumn themed décor.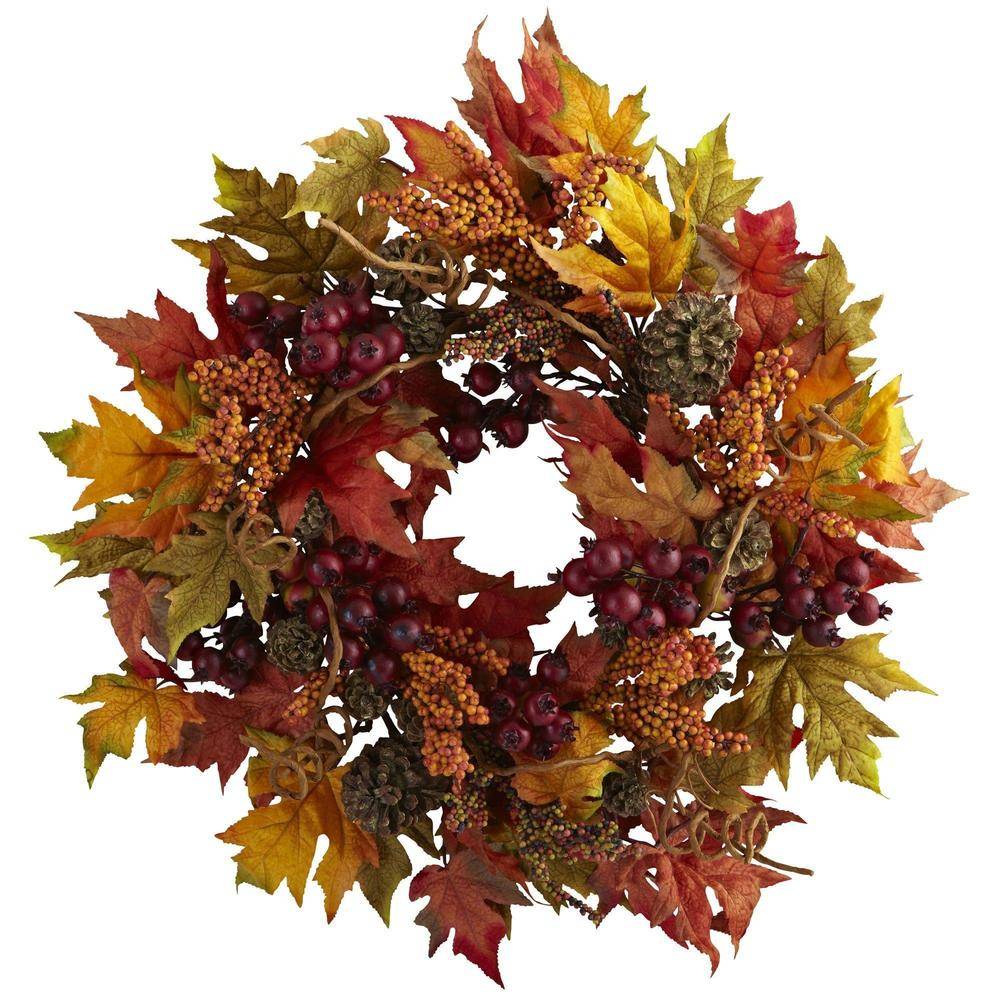 This beautiful wreath is covered in maple leaves with a touch of pinecones and berries for a really festive look.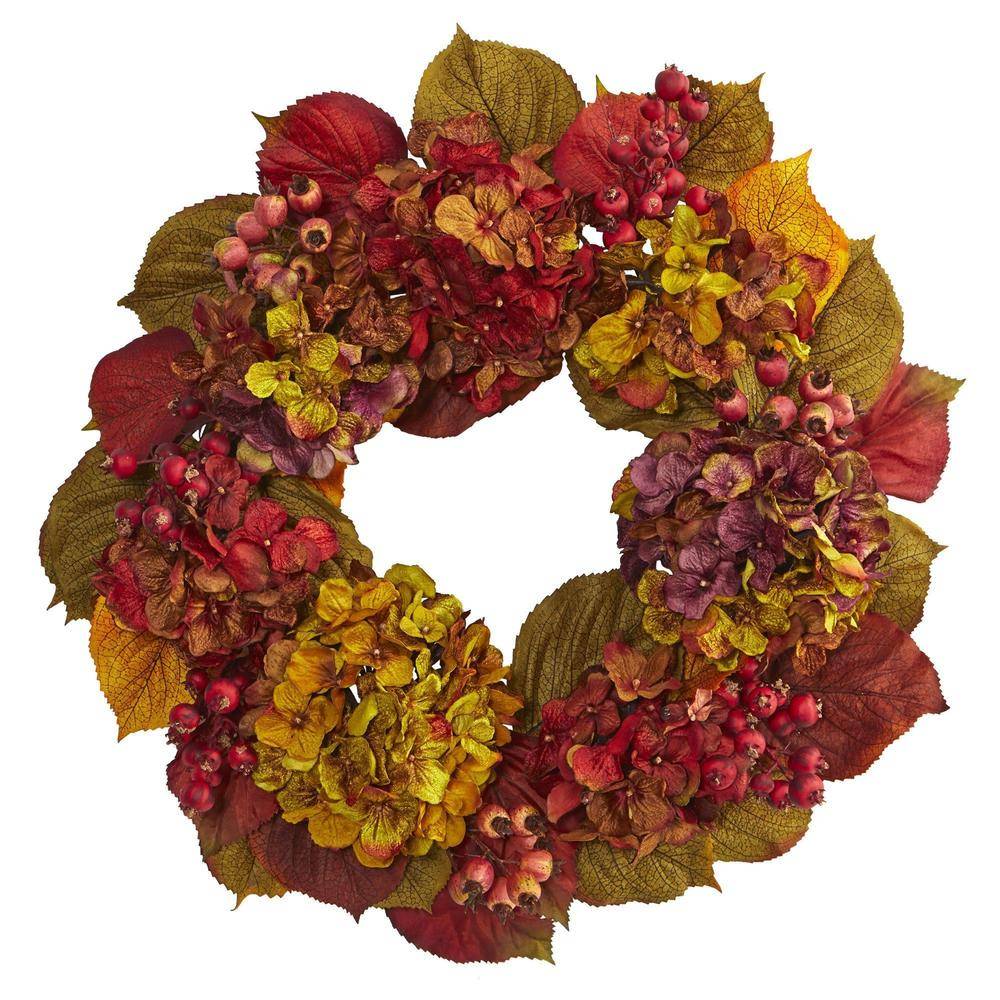 This wreath is a great option if you want something a little more floral. The dense autumn colored hydrangeas are complete with multi-colored leaves and will look great on your front door.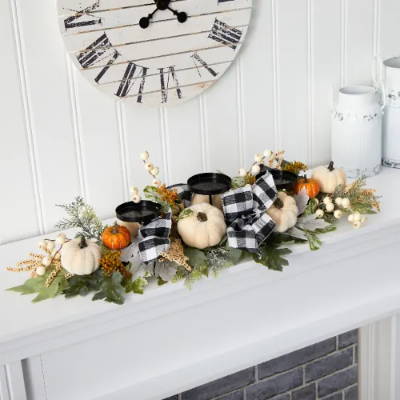 Centerpieces tie a dining room or kitchen together. They are a great way to add Fall into your interior décor while contributing a gorgeous flair to your living space.
There's nothing better than coming home to a nice, well-curated dining table for a nice warm dinner with the weather dropping. Especially if you love flowers, but lack, the time to care for one, high-quality silk flowers are a great option. First, decide on the size of your space and what would look best; choose if you want loose stems or silk flowers. Loose stems have become the latest trends taking the home décor world by storm. Whereas the silk flowers are more classical and traditional, you can choose whichever look is better suited for your space.

Here at Nearly Natural, our centerpieces are very popular because we have a huge variety and the flowers that makeup our centerpieces look completely real. The best part is that you can switch out your centerpiece every season and store them away for next year.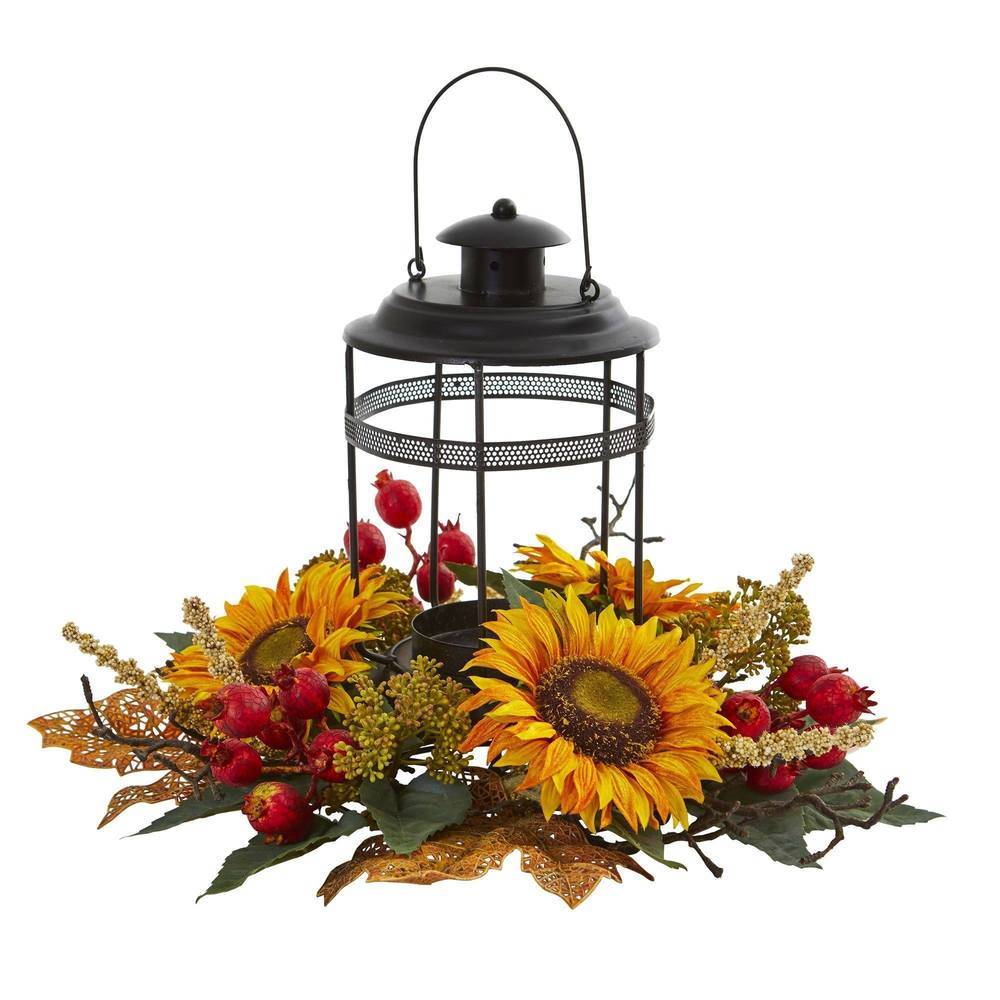 This gorgeous centerpiece screams Fall and is arranged with sunflowers and berries with a candle holder in the middle perfect for candlelight dinners.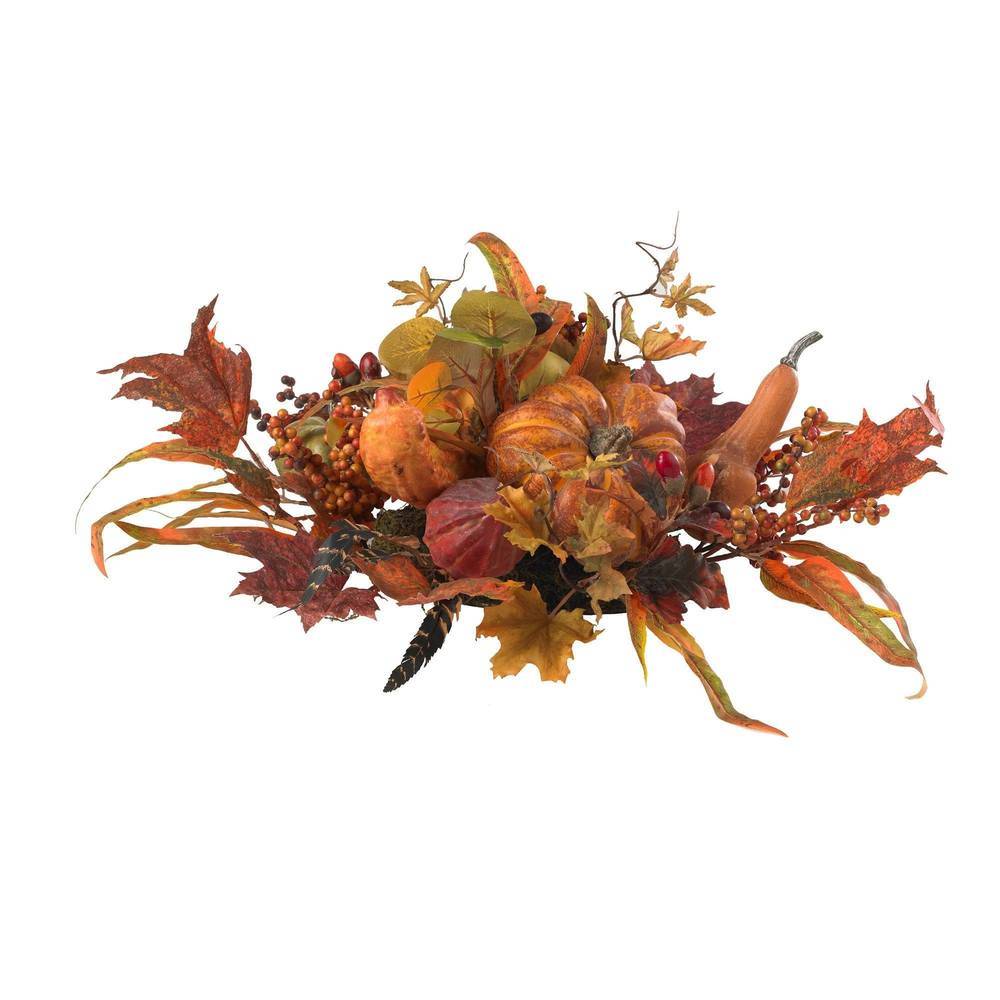 This festive centerpiece features Autumn leaves, pumpkins, gourds and berries. It's a sure way to instantly add an element of Fall to your home.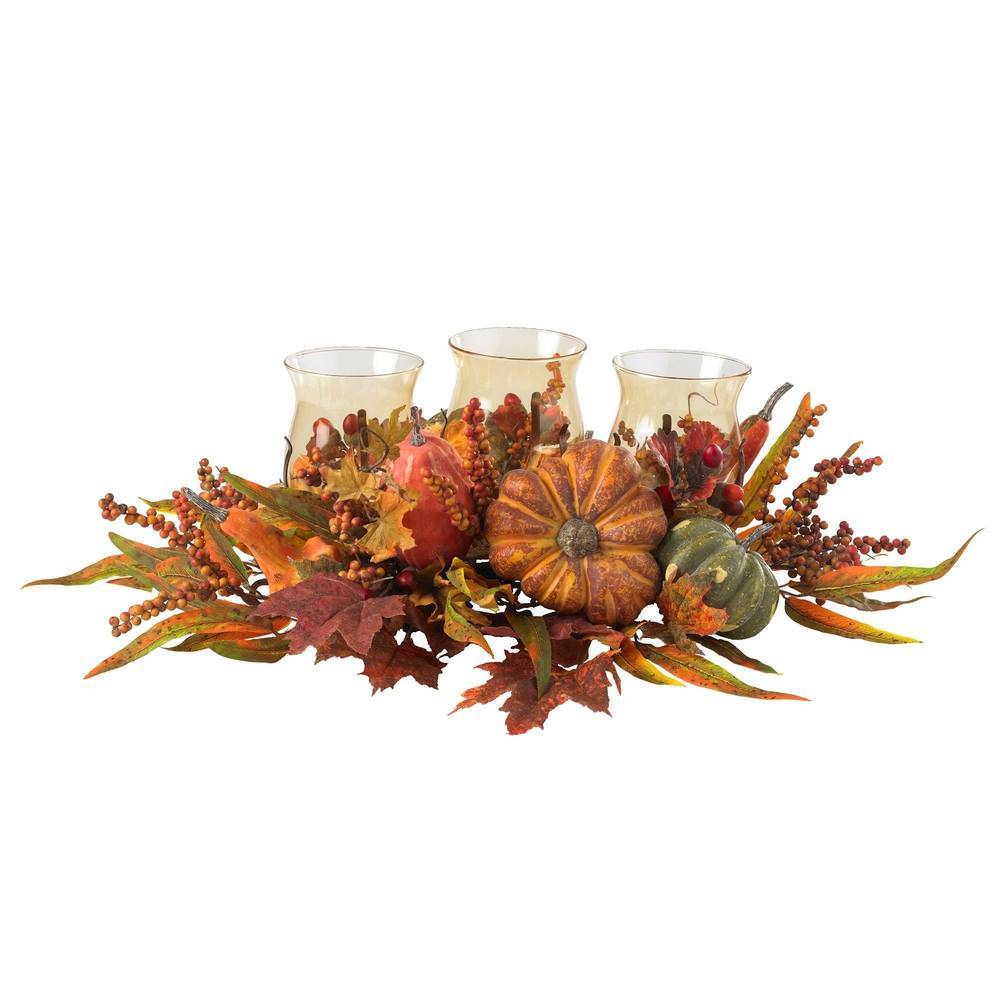 This centerpiece is breath taking. It contains 3 candleholders nestled in leaves, pumpkins and berries.It will be adored by all of your dinner guests and add an Autumn vibe to your kitchen or dining room.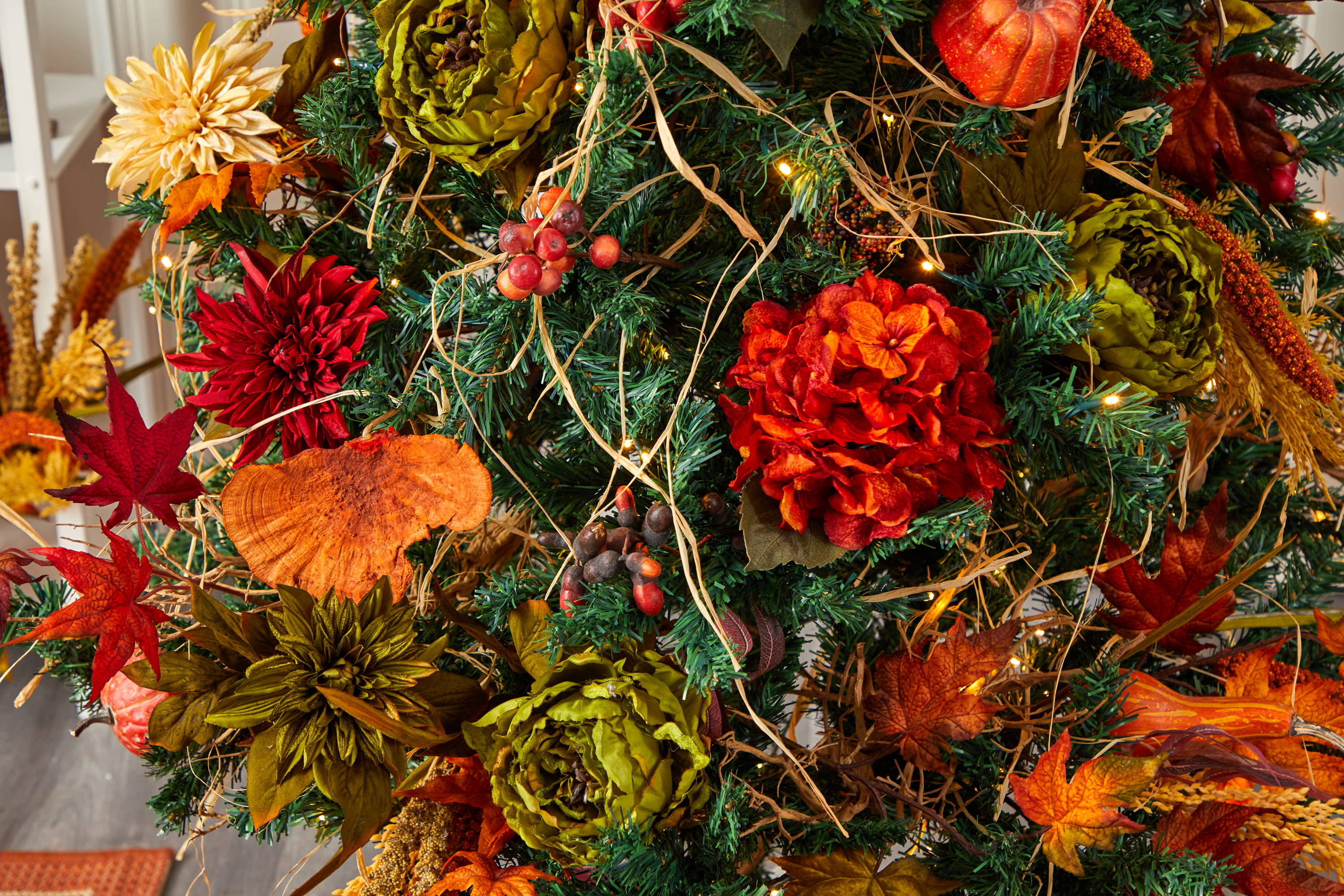 The right artificial flowers add an Autumn sense of vibrancy wherever you choose to put them in your home. You can opt for stems and make your own arrangements or go with already made arrangements.
Inspired by nature, our silk flowers mimic nature's beauty and look incredibly lifelike; no maintenance is needed. Think about creative ways to add silk flowers throughout your home. One idea is to add silk flowers to your Christmas tree for a fall-inspired tree. Who says Christmas is only for winter? You can put your tree up earlier and get the festivities started. Another idea is to DIY an artificial arrangement by using silk flowers. This allows you to create your dream set up effortlessly and quickly without the hassle of caring for real flowers. You can even choose your vase.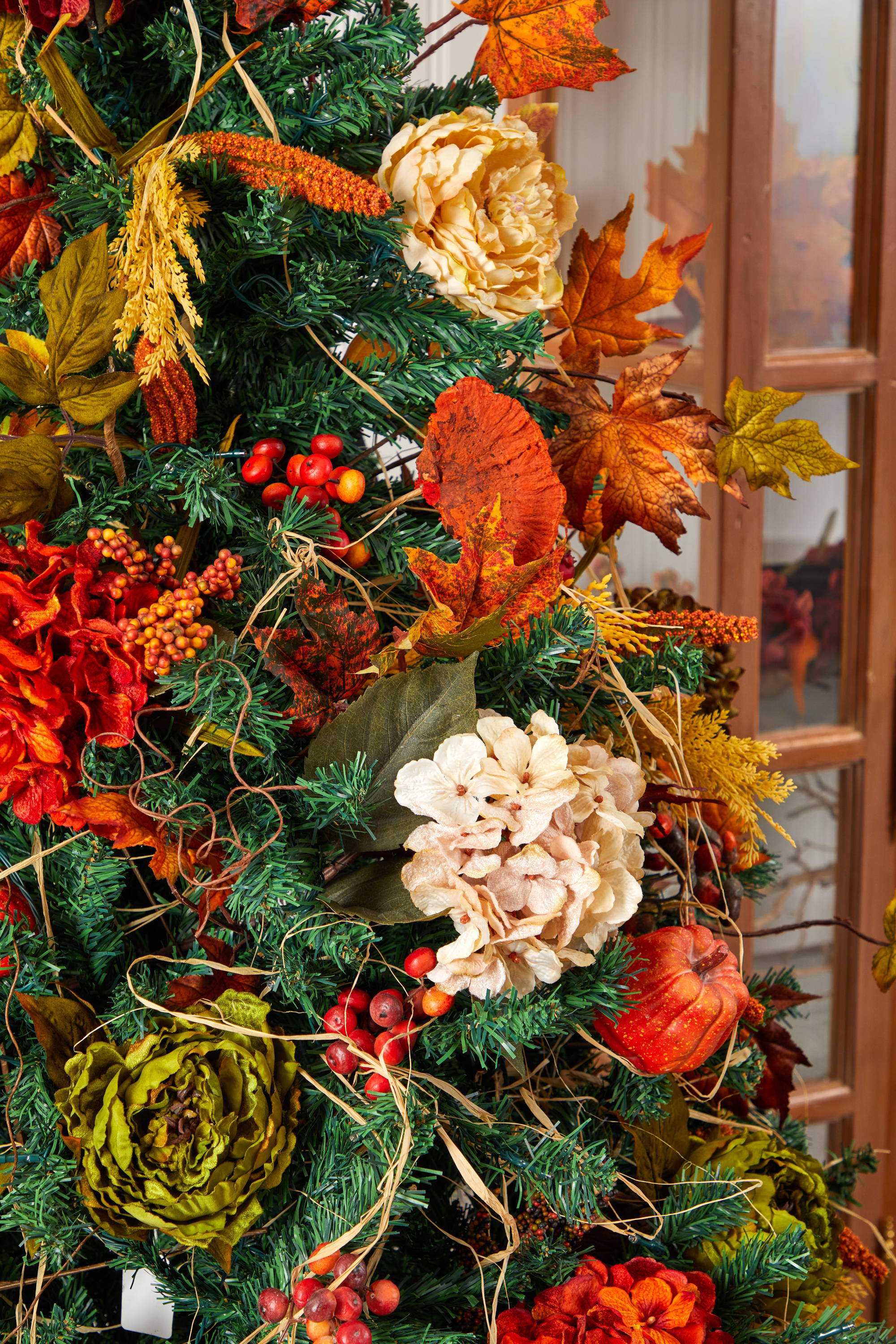 As we mentioned before, artificial flowers last for years so you will be able to feature them during all of Fall without having to replace them like you would with real flowers.
Flowers are great for living room coffee tables, bedroom nightstands, kitchen counters, bathroom counters, and more.
We are known for our high-quality artificial flowers and here are some options to consider:
Our top Fall-inspired arrangements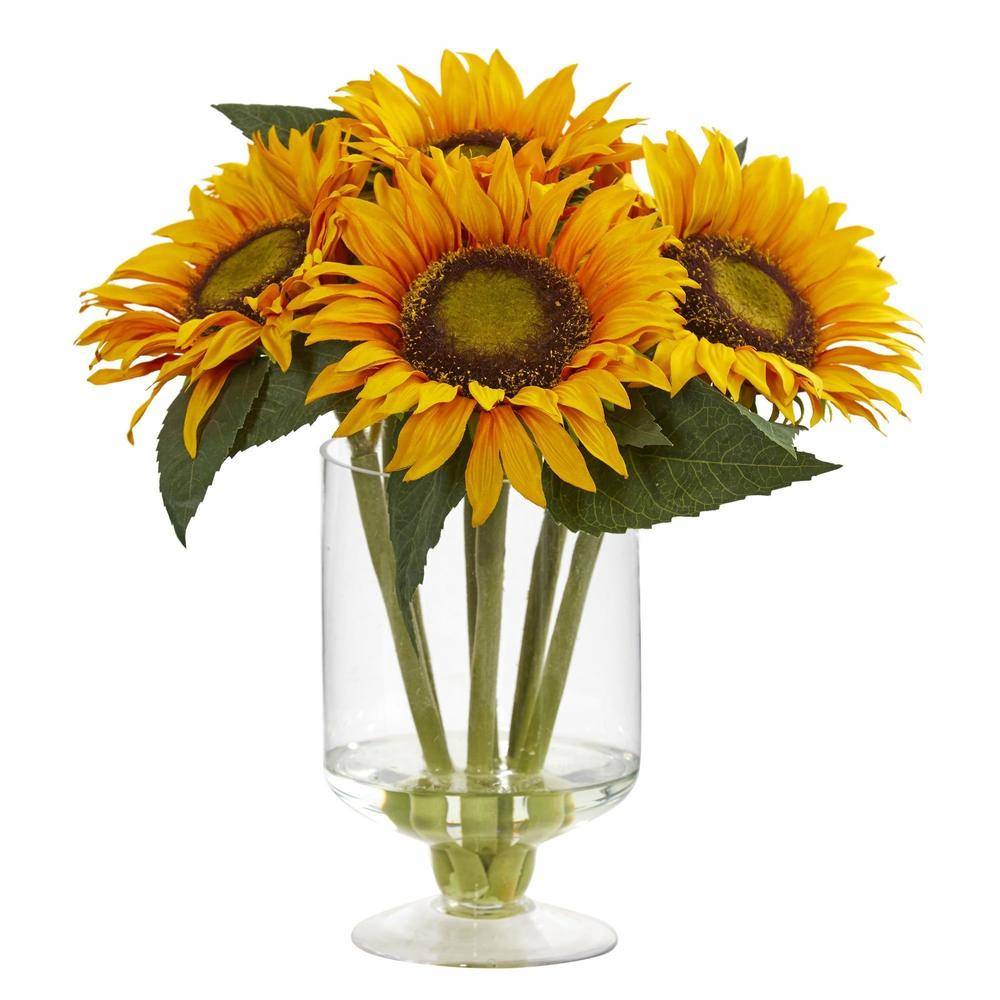 Sunflowers are an Autumn staple. This particular arrangement comes in a vase with faux water which adds to the natural look of the arrangement.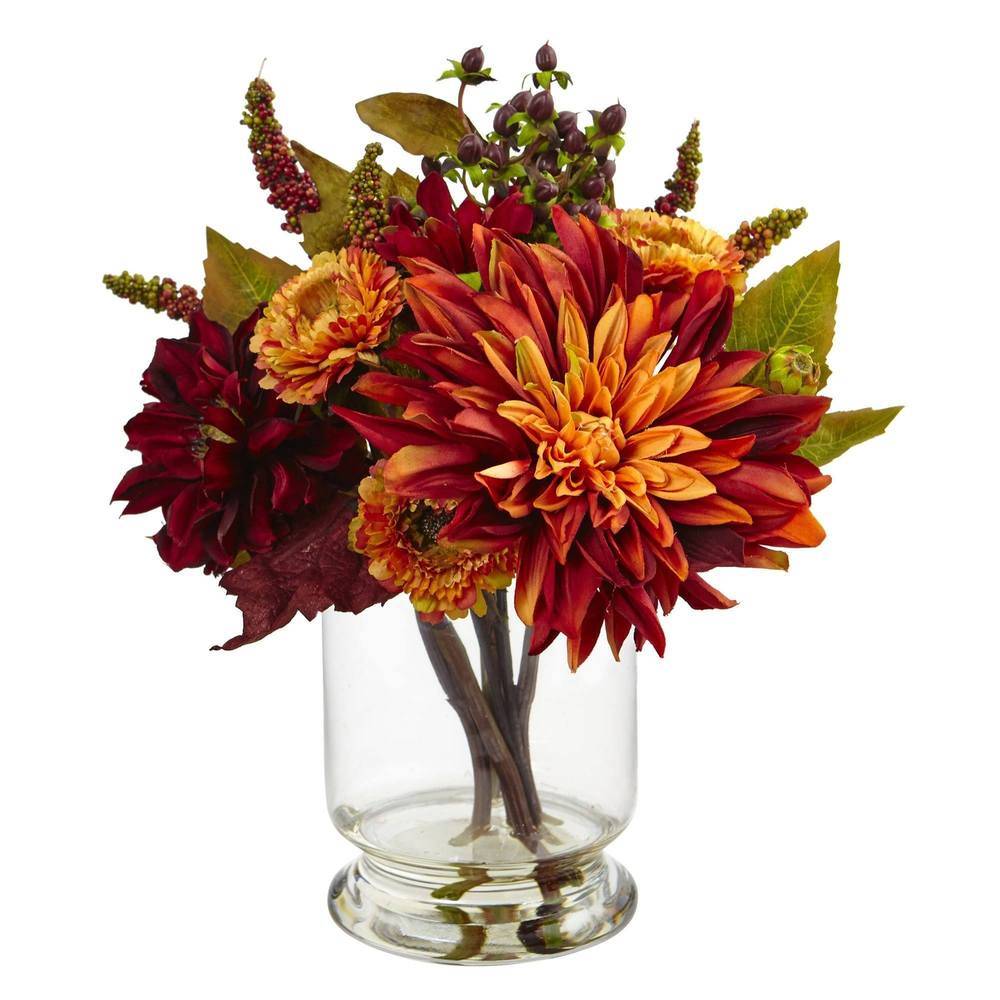 This small but beautiful floral arrangement contains dahlias and mums that make a Fall statement. It will spruce up any area of your home and instantly add the feeling of Autumn into your home. This arrangement comes with a vase with faux water which will make everyone who comes into your home think they're real flowers.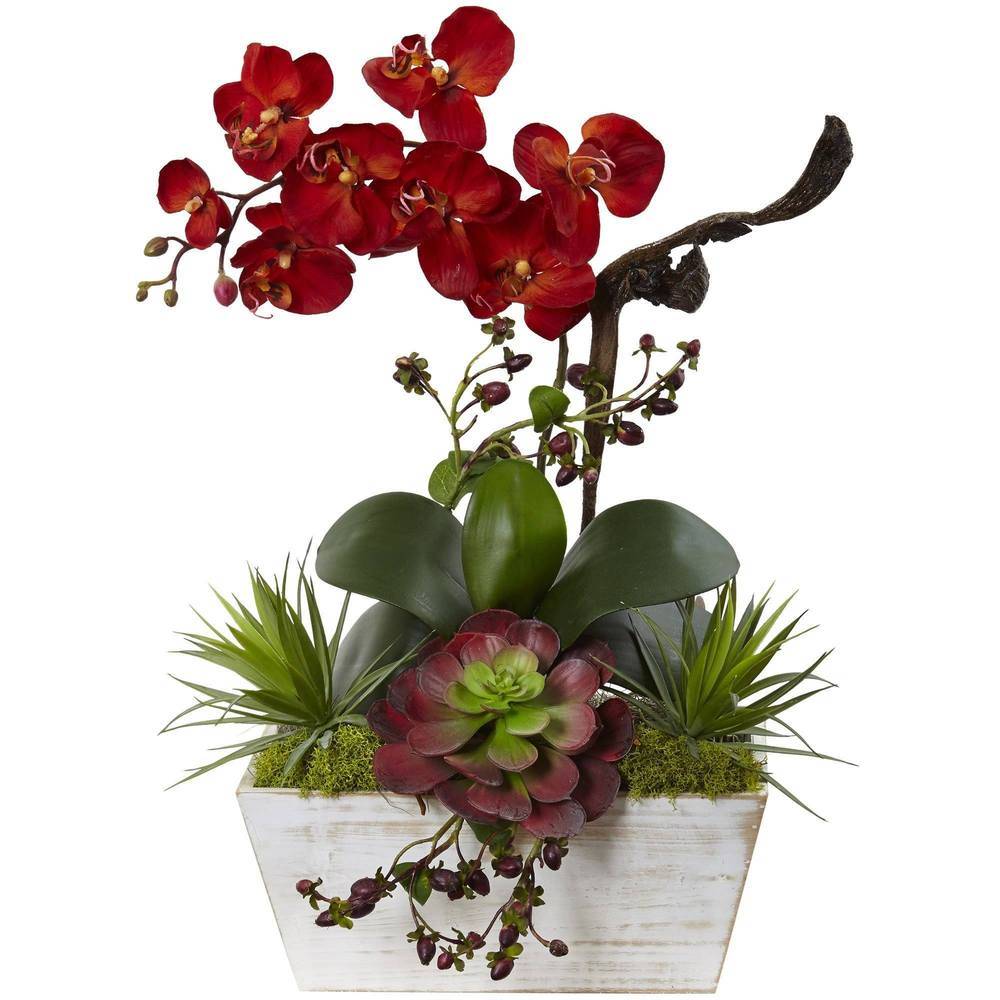 This option is unique if you're feeling like being a little different this year. It features an exotic red orchid that bends over a bed of succulents. This arrangement comes complete in a simple planter which rounds out the look.
Have you see our NEW collection of artificial fall trees inspired by nature? From birch, maple and eucalyptus, our NEW faux trees are finished in a beautiful array of spectacular colors that'll have you feeling like you're in a crisp morning walk. If you're hosting during the holidays, surprise guests with a fall wonderland of hues and texture.
Faux trees are one of the best options to consider when changing your décor without making too many updates. Because fall is seasonal, it's essential to maintain the same design aesthetic throughout the home. This fall, one of our favorite trees is the fall faux Eucalyptus that has been making waves throughout social media. This trendy fake tree makes a great first impression on all the guests and can be used year after year. Crafted from high-quality materials, quickly add to any space in need of some festive cheer; we love how it looks on the foyer and entryway with some pumpkins.
If you're looking for a more economical option in fall decor, we suggest investing an evergreen tree that can transition from season to season.
When it comes to great trees to decorate for Fall, here are some great choices: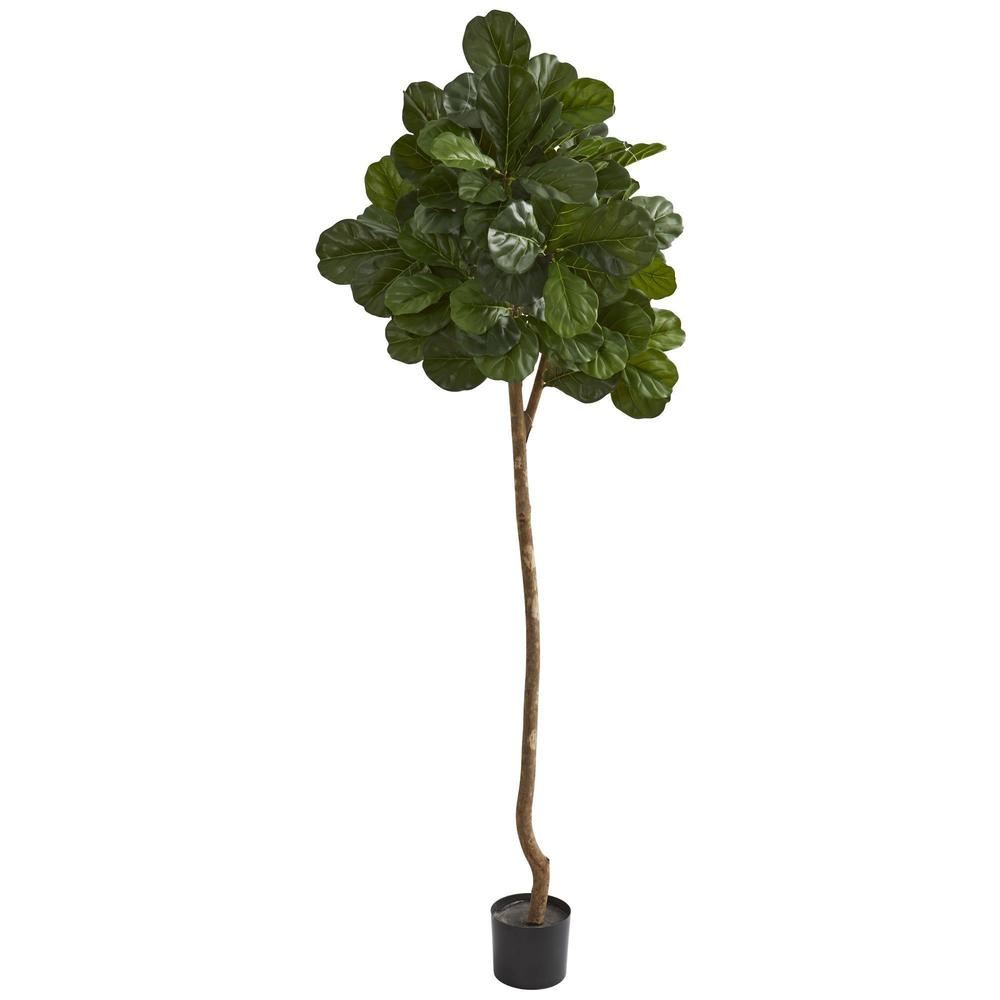 This is one of our more popular trees and it's easy to see why. It sprouts dark green leaves and is one of the more slender trees so it fits well in any space. Since fiddle leaf fig trees are extremely hard to take care of, an artificial version of this tree is a great alternative to the real thing.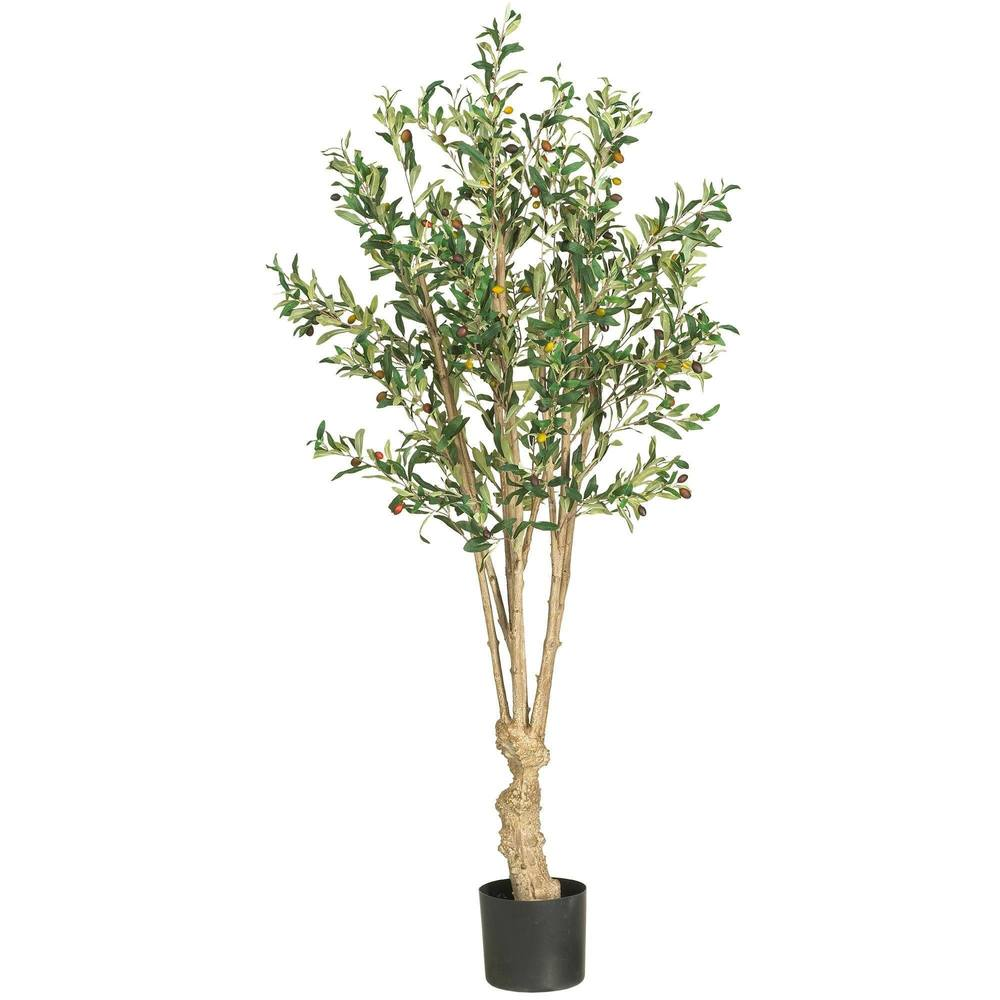 This Mediterranean tree features a gnarled trunk and natural leaf placement. Our olive trees look just like the real thing without ever requiring even a drop of water.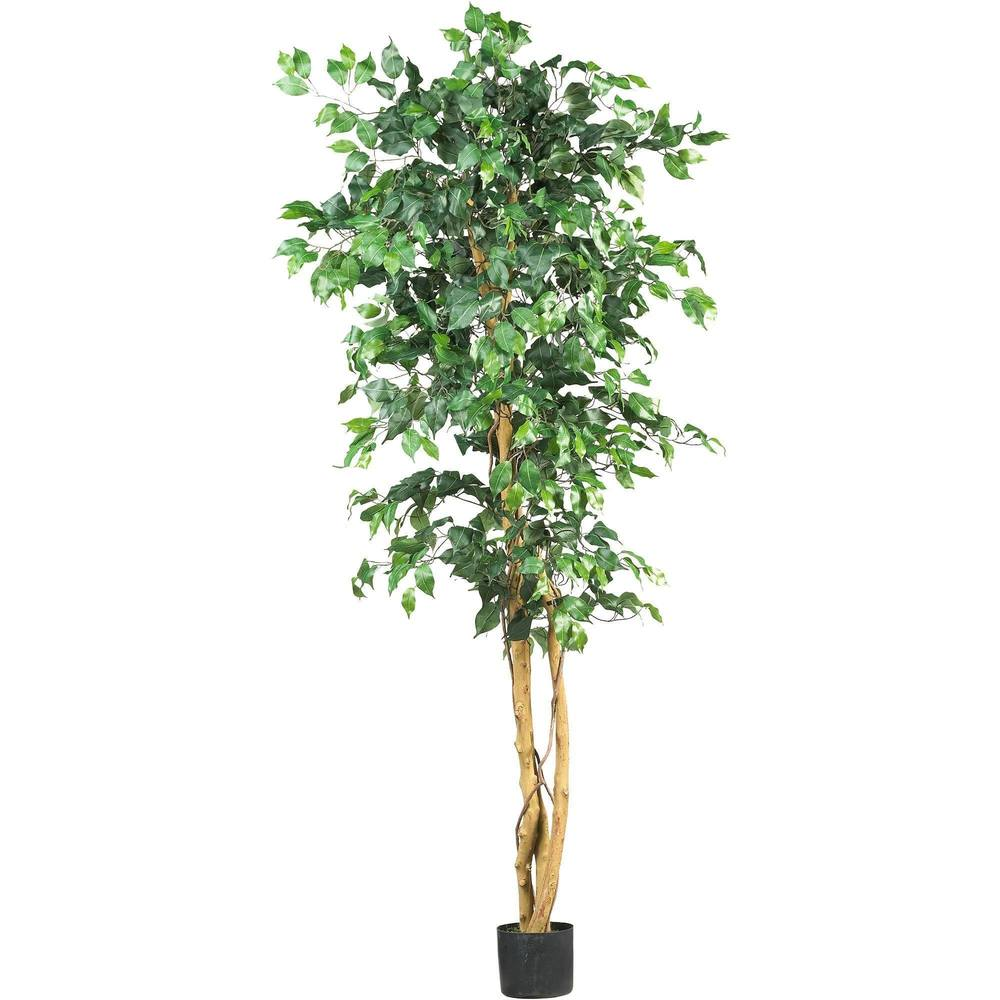 Ranging from size and leaf density, our ficus trees are sure to add a burst of beauty wherever you decide to place it. The lush leaves make it fun to decorate and they're UV resistant which means you can place your ficus tree indoors or on your patio without fading from the sun.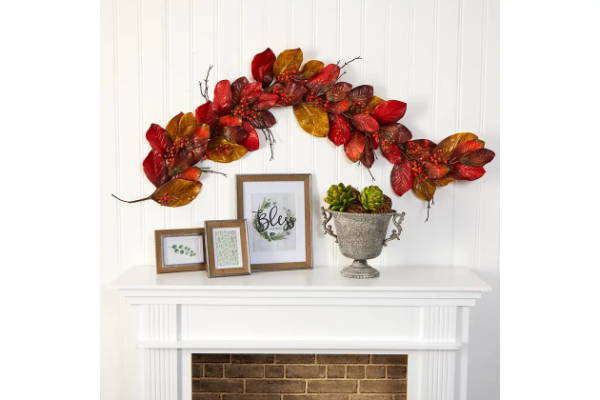 We've covered how to decorate your front door, your dining room or kitchen and the floorspace in your home, but, what about the walls?
We have some beautiful fall wall décor items to choose from which when combined with the other suggestions we offered, will fill your home with feelings of Fall.
If you lack space or want to add more color to your home, you can't go wrong with fall wall décor. And let's face it, who doesn't love a fall wreath bringing coziness and warmth throughout the season. Crafted from high-quality materials and for a great price, our fall wreaths make for a great backdrop in any space. Also, check out our newest category of home wall décor that is perfect for enhancing those little nooks in your room. Customers love the wall décor items because it frees up space and gives visual interest to areas that lack character.
Check out some of your Autumn wall décor options: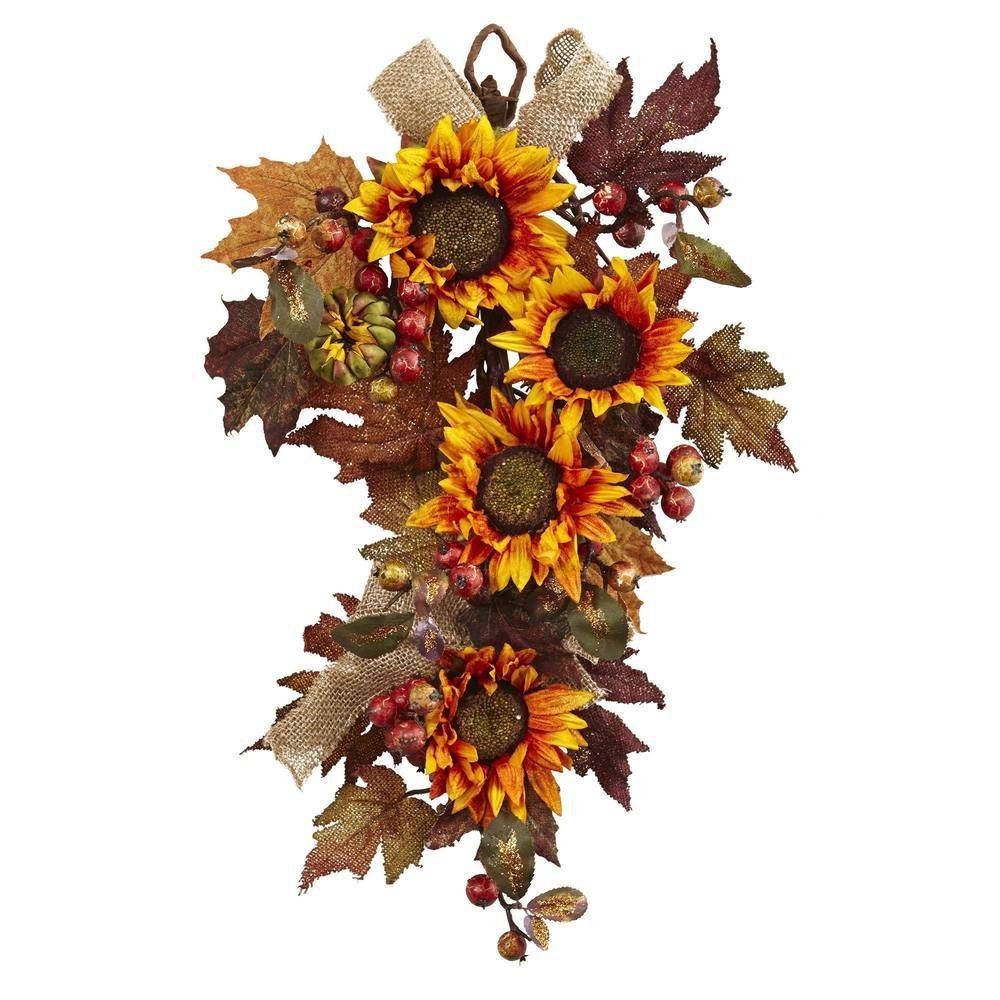 Featuring vibrant sunflowers, berries and leaves, this wall hanging will be a beautiful addition to any wall space in your home.
This festive piece of garland spills over with leaves, pumpkins and pinecones all in Autumn hues. Hang it on your wall to bring feelings of Fall indoors.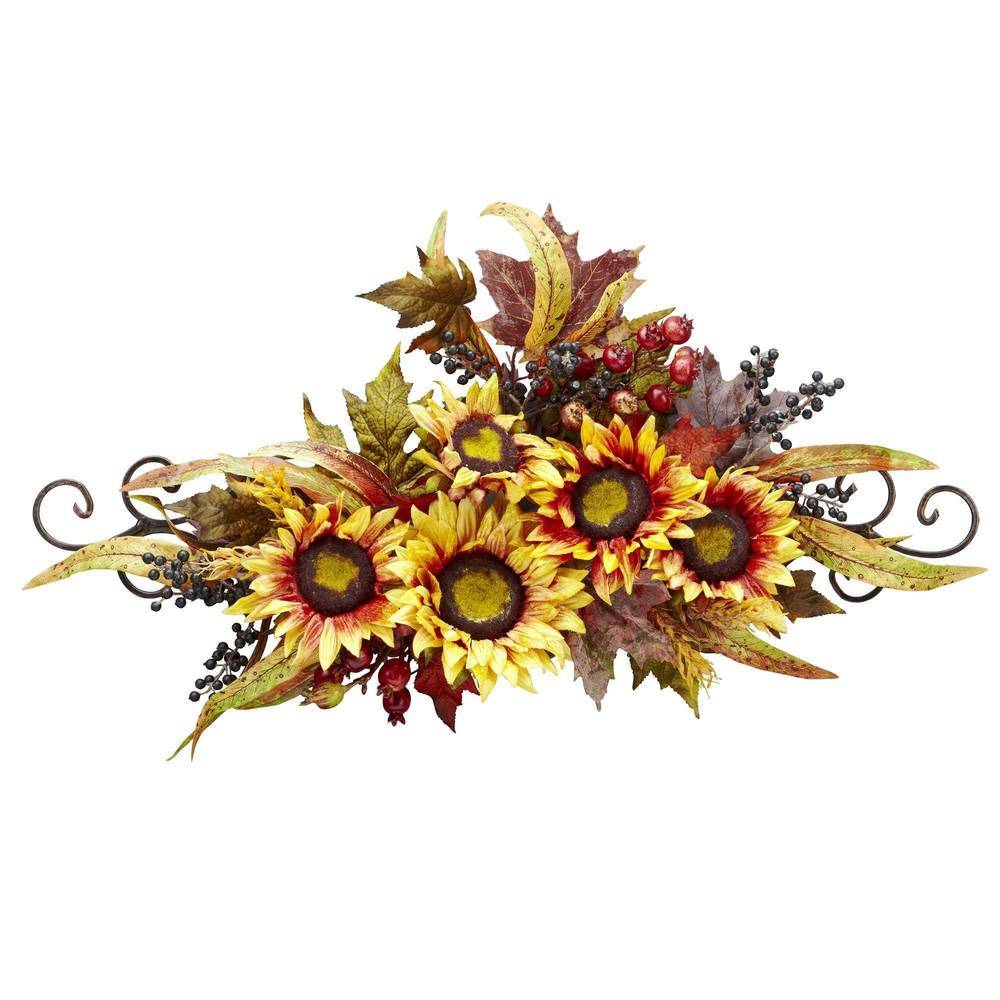 This beautiful wall hanging contains yellow sunflowers for a sunny look as well as Fall colored leaves. It comes on a metal frame for an added sense of elegance and is ready to hang on your wall.
Do you have a favorite product that you use when decorating your home for Fall?
We'd love to hear all about it in the comments below!