How to Decorate Your Home for Fall With Reusable Items
Do you feel a touch of Fall in the air? We sure do, so we went ahead and created this post full of innovative ideas on how you can decorate your home for Fall. From your porch to your living room, allow yourself to really get into Fall this year with a bunch of reusable decorations that you can use over and over again for years! Artificial fall flowers, plants and more are the perfect accent for any space.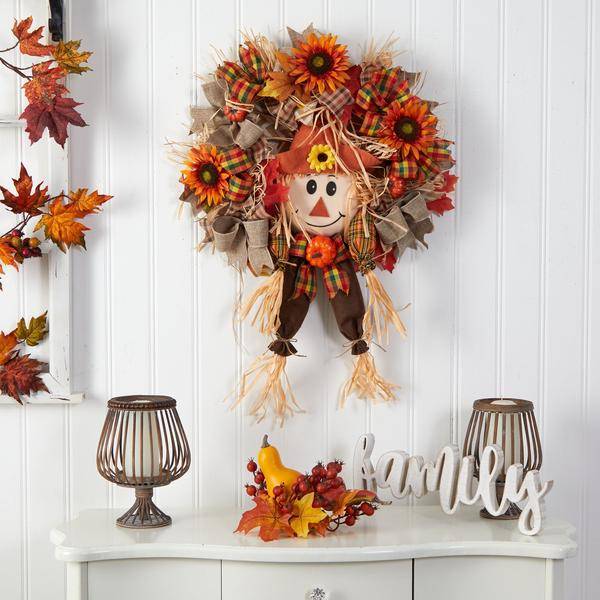 Wreaths
We love wreaths because they make a great first impression when guests come to your home. Embracing autumn hues with the right wreath is a great way to start your Fall décor project, and can also hang on interior doors, gates and sheds.
Tips for Fall wreaths:
Choose the correct size - It's important to measure your space before deciding on a wreath, measure the length of your door then pick a wreath that is smaller.

Stick to a theme - Make sure your wreath represents your personal style. You might opt for a more classic look or something a bit more traditional.

Clean about once a month - To ensure your new wreath lasts a while, clean it about once a month with a feather duster.

Consider adding a matching garland - Many people enjoy DIY projects and enhancing their area by adding a garland around the door.

Have fun - The door is the first place that comes to mind when thinking about where to place wreaths. But you can get creative and hang them in unexpected places such as living rooms, on top of fireplaces, kids' rooms and more.
Accent Rugs
In addition to a wreath, Fall accent rugs for indoors and outdoors add a great seasonal touch when guests come to your door. Choose one that is consistent with your decor and can easily blend with existing furniture.
Garlands
Garlands are a really fun way to decorate your home. They're super easy to drape on bannisters or mantles, or weave into curtain rods to accent any room. You can also tack them up in any doorway. Have fun with it!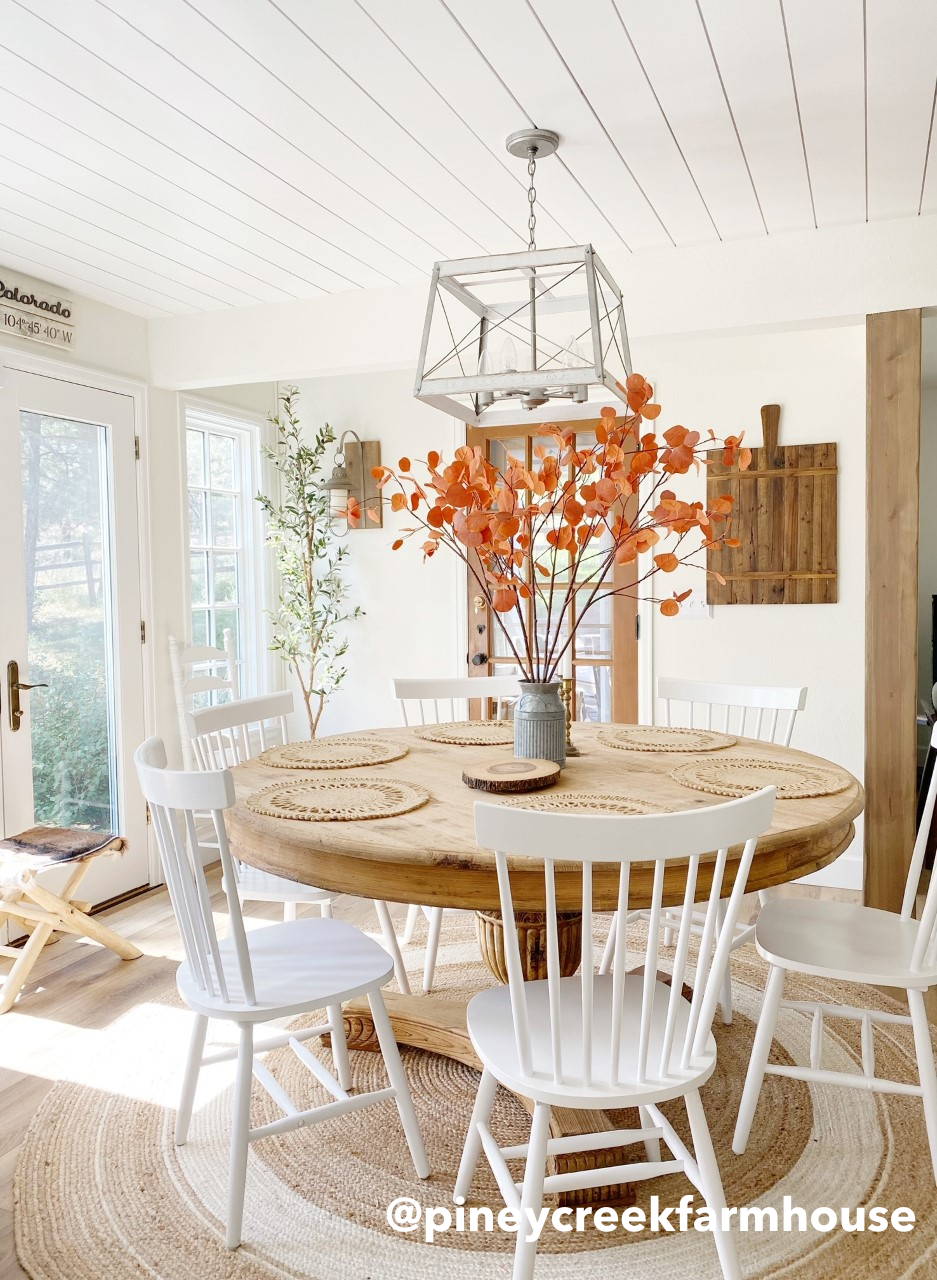 Centerpieces
Nothing says togetherness like family and friends gathering around the dinner table. They say visual appeal is the first way to enjoy a meal, so create a Fall feast for the eyes by decorating with the perfect centerpiece for all your gatherings with some fall table decor . Many come as a candelabrum, and flickering candle light showcases these gorgeous warm colors perfectly. Consider decorations for dining table to help.
Tips for centerpieces
DIY - If you still can't find that special arrangement for your centerpiece, consider DIYing your own with some loose stems and silk flowers.

Complementary hues - Stick to hues that easily blend with existing décor. No matter your palette, you can't go wrong with neutral colored silk flowers.

Create a tablescape - Why only have one centerpiece, when the whole table can be a DIY project? Use garlands, silk flowers and more for an updated look. Lay a garland in the center of the table.

Candelabrum - For when you want a warm glow, a candelabrum makes for a great choice. If you're a fan of the woodsy smell of the season, consider a candelabrum for your candle that also delivers a warm glow.

Mix and match - For an edgy, chic look, consider faux stems with different textures and sizes. This creates drama and visual interest.
Porch Décor
Trick-or-treaters are right around the corner! Show off for the neighbors and decorate your porch with Fall plants, door mats, garlands and wreaths. You can decorate a regular bench with skeletons, pumpkins and other spooky items for maximum effect.
Tips for porch decor
1. Add faux pumpkins - Nothing is more quintessential than the trademark of fall, pumpkins and for a good reason. You can stack them alongside the table for a seasonal look.
2. Consider wooden elements - To get the warmth and coziness, consider elements that have wooden finishes and details.
3. Take extra precaution for outdoor furniture - As far as outdoor living goes, remember to cover outdoor furniture after every use to avoid damage.
4. Choose a wreath - Welcome all guests with a welcoming warm greeting as soon as they pass by your door.
5. Add a seasonal doormat - Bring your design together by adding a doormat that complements all the other elements in your porch. For example, you see that the brown doormat in the image matches the warm colors of the other accents. The lettering matches the lanterns.
Cozy blankets
Prepare your living room with cozy blankets and embrace the cool Fall weather. Warm colors like dark red, orange, burnt yellow and purple are great options and will add a cozy and colorful flair to your home. Pier1 has some beautiful yet affordable blankets that would be perfect for your home, and can accent furniture or live in a basket for chilly nights outdoors.
Coffee Table
Accents always pop on coffee table or side tables, and arrangements of autumn colored flowers can spruce up any room. Silk sunflowers or peonies in oranges, reds, yellows and purples look like real flowers…but won't wither and die and can be reused every Fall!
Pumpkins
Whether you use real or plastic pumpkins (or both!), you can add some flair by glitzing up your pumpkins. Check out this DIY post from HGTV for a dazzling pumpkin project. There's lots of other artificial dried fruit and vegetable arrangements available, and you can augment these with real squash, gourds and colorful leaves to create an amazing autumn display.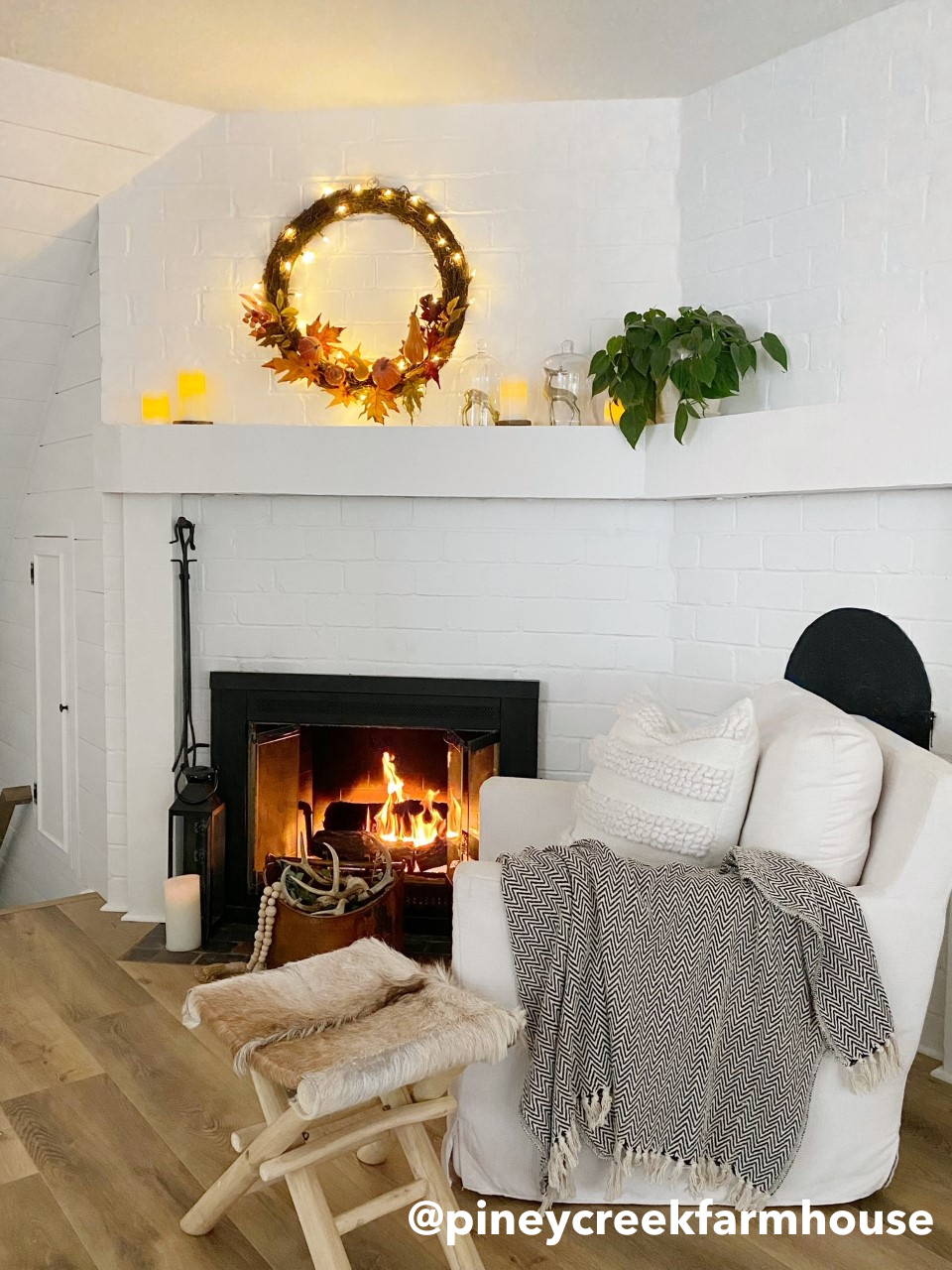 Fireplace
The mantle of your fireplace is a classic spot for you to add some Fall fireplace décor. Whether it's Fall colored picture frames or a vase of artificial mums, you can spruce up your living room for Fall with fall fireplace mantel décor that you can pull out every year!
Tips for the fireplace
Hang a wreath above - Especially if you don't have a mantel, it's important to add a seasonal touch by adding a wreath above the fireplace.

Decorate the mantel - If you do have a mantel, consider decorating with faux loose stems on top and accent with cozy candles.

Consider a garland - Nothing is more popular during the holidays than a garland accenting the fireplace. Imagine the trendy images you could take for social media. Add one around the fireplace but careful not to burn the house down.

Choose a centerpiece - Now that you have the garland and the wreath, why not add a centerpiece to your space? This will create a focal point.

Accent the Floor - On the floor next to the fireplace, consider adding faux arrangements and pumpkins to complete the look.
We would love to see how you decorate your home for Fall so be sure to share your photos with us on Instagram @NearlyNaturalFloral