How to Decorate Your Office Space with Artificial Plants, Trees & Flowers
Are you looking for plants for office with no windows? Let's face it, you spend a ton of time at your desk. Whether it's in an office or at home, your desk should reflect your personality and inspire you while you work.
There are a ton of options when it comes to decorating your workstation. Don't worry if your work area is small, there is still the opportunity to deck out your walls, desk and floor that make up your office.
After hours of work, the way you decorate your office can actually keep you inspired and productive.
If you meet with clients or coworkers, you want to have a nice space to bring them to and have some faux office desk plants.
On a budget? You can make a few fake office plants go a long way.
One common design element that many office spaces incorporate is artificial plants. A good artificial plant should look exactly like a real plant but doesn't require the hassle and green thumb required to keep them alive like real plants do.
If you don't know where to start when it comes to decorating your desk, no worries! In this post we will give you ideas for themes and products so that you can decorate your workstation and make it a space that you love. So, let's dive in!
How to decorate office with plants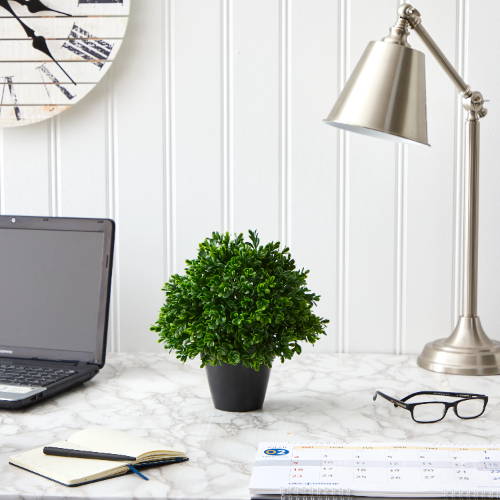 Colorful Faux Indoor Office Plants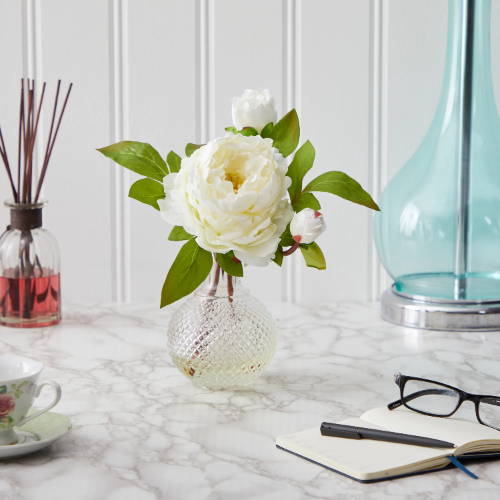 A colorful workstation can help keep you energized and inspired. For a space big or small, there is a plethora of accessories that add a splash of color to a drab workspace.
Artificial plants are a great way to add color to your desk such as this bromeliad planter which is beautiful and a breeze to maintain.
If you really want to spruce up your workstation with color, you may want to add a colorful rug like this Arlo rug from Wayfair.
Boho Chic Artificial Office Plants
Boho chic is all the rage so why not make your workstation reflect this beautiful theme? Boho chic décor is characterized with a sense of culture and exotic flair. This theme is full of artistic touches and is rooted in a natural look.
Succulents are key to a boho chic décor. If you want your plant to hang from the wall, check out this option. If you want a succulent on the top of your desk, consider this planter.
To top off the look, check out this dreamcatcher wall hanging if you have the wall space as it's whimsical and absolutely gorgeous.
Fake Office Plants Inspired by Nature
Want to bring the outdoors indoors? Are you a nature lover? Then your workstation should reflect nature's touch.
To pull off a nature inspired workstation, consider multiple artificial plants and an artificial tree so that you're surrounded by nature. Artificial plants and trees mean that you don't have to deal with the hassle that comes with real plants and trees. They don't require water or upkeep—just a simple dusting every few months.
To maximize the incorporation of nature into your workspace, consider getting multiple plants like this set of 3 ferns to stagger on your desk and/or bookshelves. If you have the floorspace, then an artificial tree will instantly add a sense of nature. Check out this ficus tree.
A natural look is completed with items made from raw materials. If you have the wall space, check out this wall hanging that will pull your workstation décor together.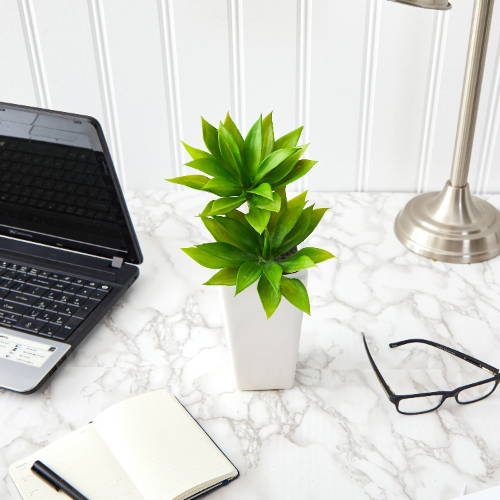 Seasonal Fake Office Plants
Does your mood change with the season? Then maybe you should change your workstation décor every season.
The easiest way to make your décor seasonal is with artificial plants and artificial trees. The beauty of opting for artificial is that they can be easily stored allowing you to change your greenery every season.
Long a favorite for their interesting look, the succulent plant is a wonderful array of color and texture. We've taken that look and placed them side by side in this wonderful looking concrete planter. it's the ideal piece of décor for a sunroom, covered patio, or anywhere else you want a touch of "rugged softness". best of all, it'll stay looking great with nary a drop of water. Makes a fun gift too.
Enhance even the smallest of spaces with this preserved plant showcasing a single ball, perfectly manicured and designed with realistic boxwood foliage in bright, vivid hues. Sprouting 15" high from an accompanying planter, this preserved plant can easily spruce up a home or office entrance.
Bring a unique and bright look to your home with this artificial sansevieria plant. The flat green leaves are striped and have a ring of yellow lining the outside, making this a great statement piece. Standing at just 26", it's the perfect size to accent nearly any space! Place it on your kitchen island next to your favorite bowl of faux or real fruit and a few of your favorite small faux succulents for a fun and fresh finish.