Trunk or Tree? Give us something blooming to see
We have more time at home… maybe a bit more than we'd like. That's why it's the perfect time to change our scenery with some artificial fall-inspired greenery. If you're upset about missing the fall foliage, don't be! Bring the fall foliage to your home and transform your space.
It's beginning to look a lot like Halloween. While it seems like the Grinch stole Christmas morphed into the Nightmare Before Christmas, we have some good news. It's never too early to start decorating for the holidays. This includes Christmas, Halloween, Día de Los Muertos, and everything in between! Christmas trees are no longer for only Xmas. You can use them year-round for years to come. Halloween trees can be just as magical as Christmas ones with the right decorations. Sure, they might not have presents underneath, but you can add candies and other goodies.
Spooky, Scary, or Boo? What's your Halloween style? Whatever it is, you can decorate your artificial Christmas tree to represent that taste. Instead of putting away the tree and then setting it back up every December, why not opt to use it for all holidays? At a minimum, you can start with Halloween and leave it through the first week of January. This way, you can have more DIY sessions with the family and get a better bang for your buck. With online schooling, stay-at-home orders, and work from home, families have more time for DIY projects that enhance the holidays' beauty. Get those Halloween decorations and bring your Halloween tree ideas because it's about to get spooky.
Here Are Some of Our Favorite Ideas For a Fall and Halloween Christmas Tree:

Ghost Artificial Halloween Tree

This ghost inspired tree is scary…. But very easy to recreate with some DIY. Start with a white artificial Halloween tree that can be pre-lit or unlit, faux eyeballs, and construction paper. Start by plugging in your tree or adding some Christmas lights. After, you can use the construction paper to create the eyes and mouth. If you want a glamorous ghost, you can also add flowers on top and other accents that sparkle. You can have one large tree with smaller Halloween Christmas trees on the side for a ghost family. This gives each person in the family the chance to customize their ghost.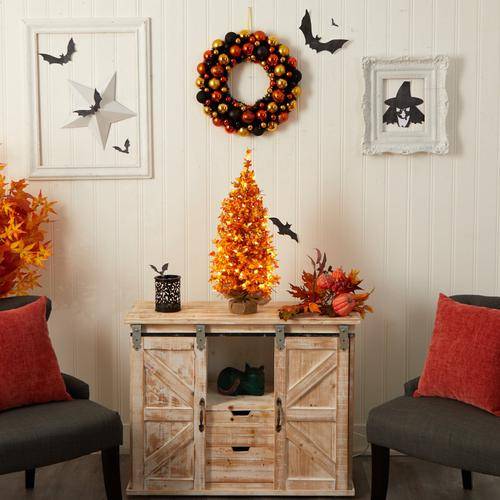 2' Harvest Halloween Artificial Christmas
Love Christmas and Halloween? Combine your love for both with this Artificial Christmas Tree. Inspired by the fall foliage, display your festive cheer a little early this year and add decorations on any of the 1298 bendable branches. Pre-strung with 50 LED lights, set your home aglow after a chilly day. Standing 2' from a burlap base (included in height) add to any tight area. Perfect for an office, living room or desktop.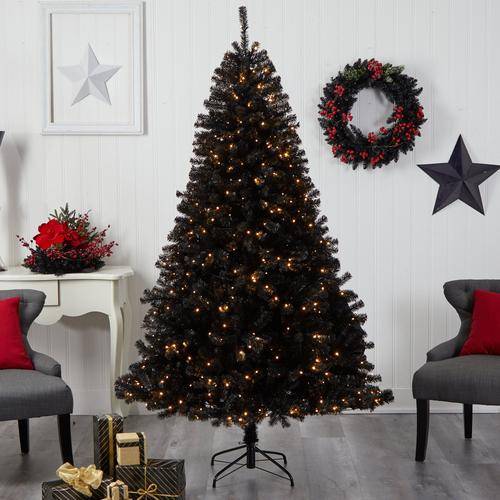 Go all out for Christmas, Halloween and everything in between with this Black Christmas Tree. Dress it up or down and get inspired. Especially if you love DIY projects, let this black Christmas tree challenge your creativity. Be as bold as you want and let this tree serve as a canvas of inspiration.
Before you start decorating:
You might have noticed that we used a variety of complimentary decorations such as the bat stickers on the walls, and the Halloween props on the table. Our source of inspiration is the world wide web - from color palettes to in-depth scenery guides. For example, check out this DIY ghost guide from Simple Nature Decor Blog. See pictures below!
Steps to DIY Ghost Halloween tree: Boo it Yourself

Supplies: White Artificial Christmas Tree, Black Metal Planter, Black Construction Paper, Pumpkins, and Candelabrum (more Christmas tree options)
Buy an artificial white Christmas tree - C

hristmas trees deserve costumes too! The whole family can dress as ghosts and have the spookiest costumes on the block. They'll make for some epic Insta-worthy posts. BOOOO! We do not recommend spray painting, so to be on the safe side, opt for a white tree.

Create the eyes, mouth -

get creative. Put your thinking hats on and start getting those scissors ready. For the eyes, use some black construction, or you can buy some eyes already made at your local supplies store.

Add other fun accessories -

because your tree needs more than the bare minimum, DIY and make it scary, spooky, or cute. Our tree has a bow on top, but you can add a hat, hair, or spiderwebs. Add pumpkin lights, bats, and other fun favorites.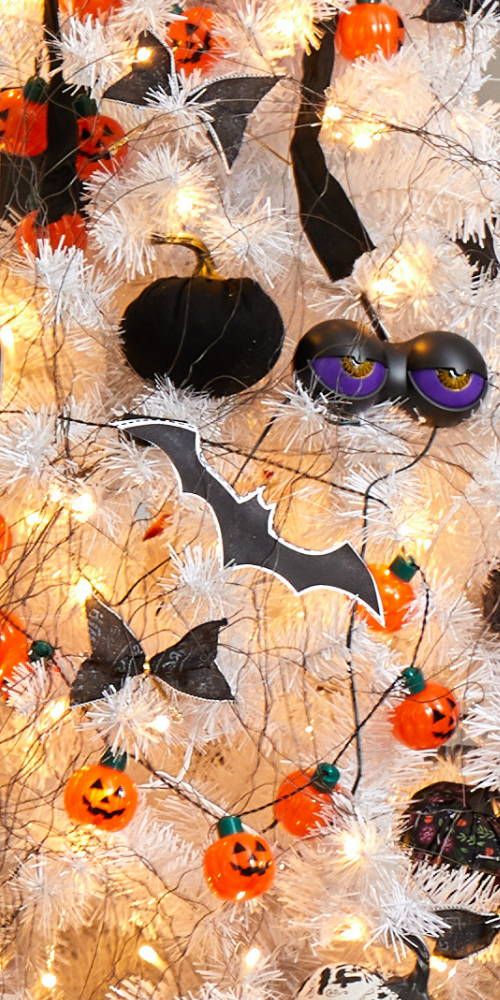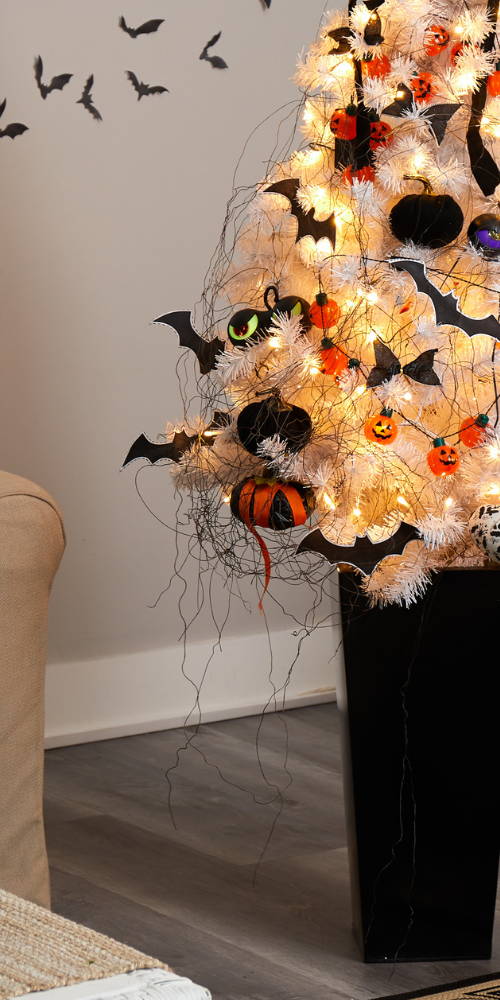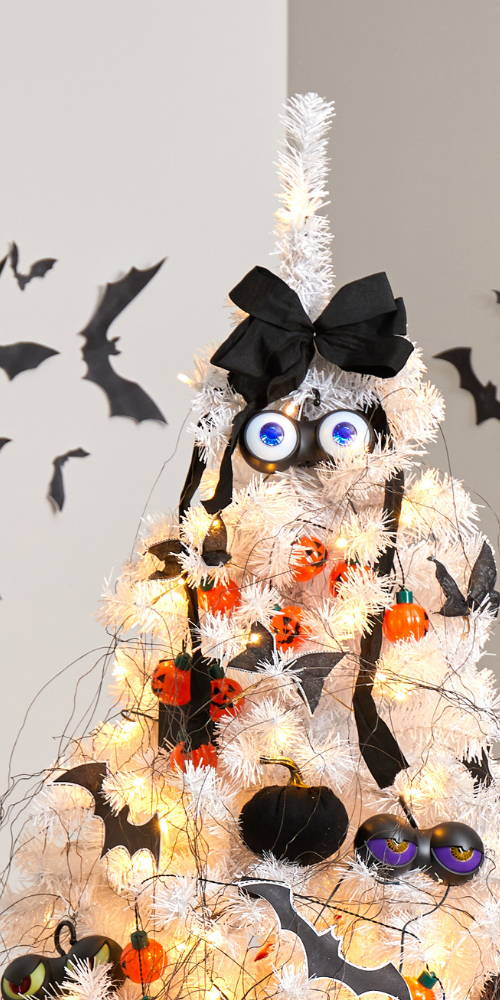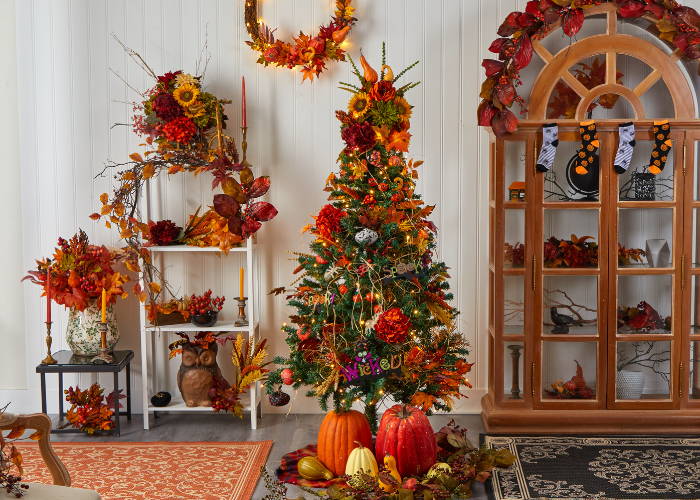 Harvest Flowers - Autumn Inspired Tree

If you're a bit on the conservative side, a non-traditional colored tree might be too much for you, but the good news is that you can still have some Halloween fun. Even if you opt for an evergreen tree, remember, you can always DIY for other holidays. You can use an artificial evergreen tree, some autumn flowers, Halloween inspired lights, and fall decorations for a DIY harvest look.
Fancy a feminine floral autumn tree? Or a harvest, rustic look? The choice is yours. We leaf the power in your hands. Accent your tree with flowers, garlands, and wreaths throughout for an elegant fall-inspired look. Contrast these brightly-hued flowers in bloom with some wheat spray. Adding these accents is easy, effortless, and timeless. They will command the attention of all. Especially the sunflowers!
Steps to DIY this fall tree:

Supplies: Artificial Halloween Christmas Tree (Apartment? Dorm? WFH office? Beach House? We carry artificial Christmas trees in all sizes! Over 400 styles, to be exact. There's something for everyone), autumn inspired flowers; Wreath, Swag, Garland, Twig Garland, Arrangement, Candelabrum, Deadwood Stem, Hydrangea Arrangement, Sunflower, Christmas Lights
Optional items: Pumpkins, Pumpkin lights, Banners, Tree Topper, Harvest grains
Start adding the flowers - Turn on the lights and start adding the fall flowers evenly across the tree. If you're using the Hydrangea arrangement, remove the autumn flowers individually from the bunch by pulling at the bottom. When you're adding them to the tree, make sure the flowers are sturdy between the Xmas tree's back branches. You can add as many or as few as you want! The choice is yours. Both designs look great.

Add other decorations

(reference gallery below)

- This is where you can truly let your imagination run free. Add any spooky or fun Halloween / Fall decorations. You can try adding fall foliage leaves, fake eyeballs, pumpkins, candy, skeletons, and anything! In our lifestyle inspired image, we added wreaths, garlands, and arrangements. Can you tell we "DIY" this look? That's the beauty of the holidays; you can spend hours and create a masterpiece.
With a cherry, we mean pumpkin, on top - Complete the look with a pumpkin topper that you can DIY. Halloween / Fall topper ideas: bat, ghost, pumpkin, candy, skeleton, and ghost.


Share with us on social media - You deserve the bragging rights! Create a Pin or Insta worthy post and tag us! We want to feature your DIY masterpiece across our DIY channels.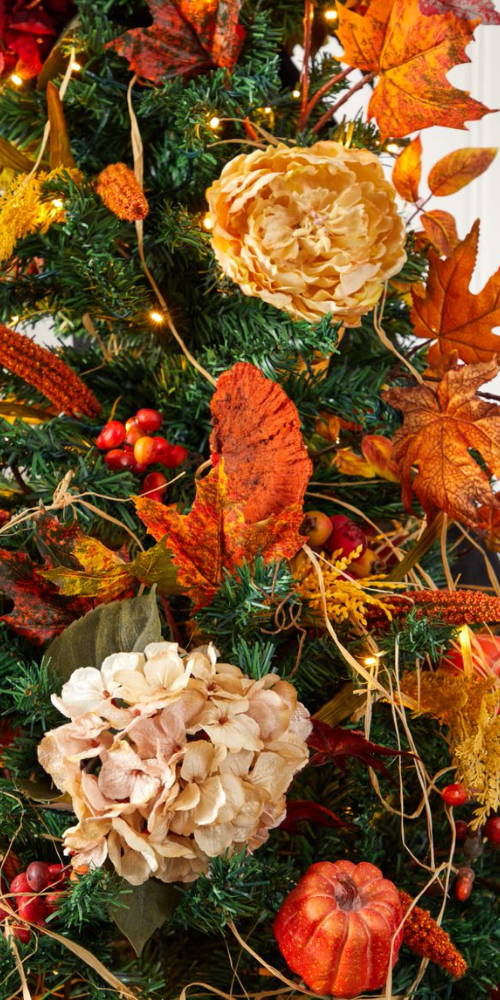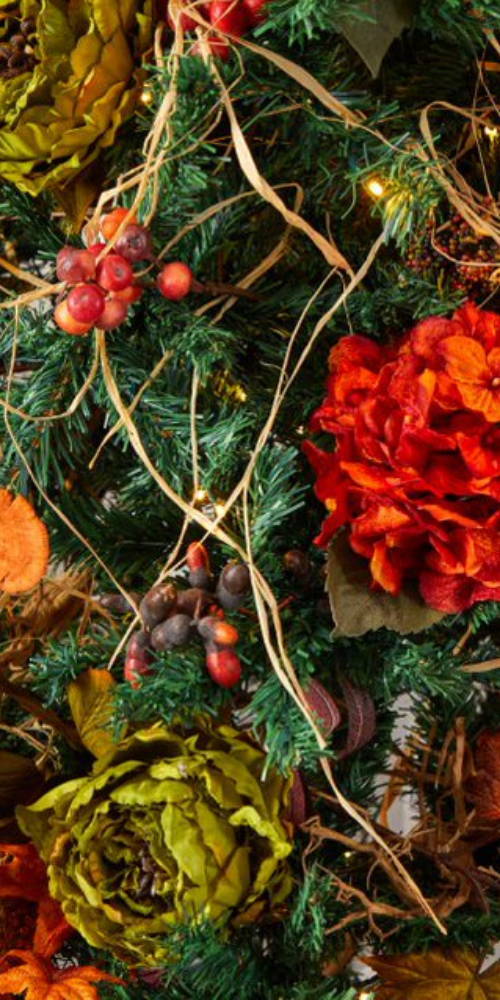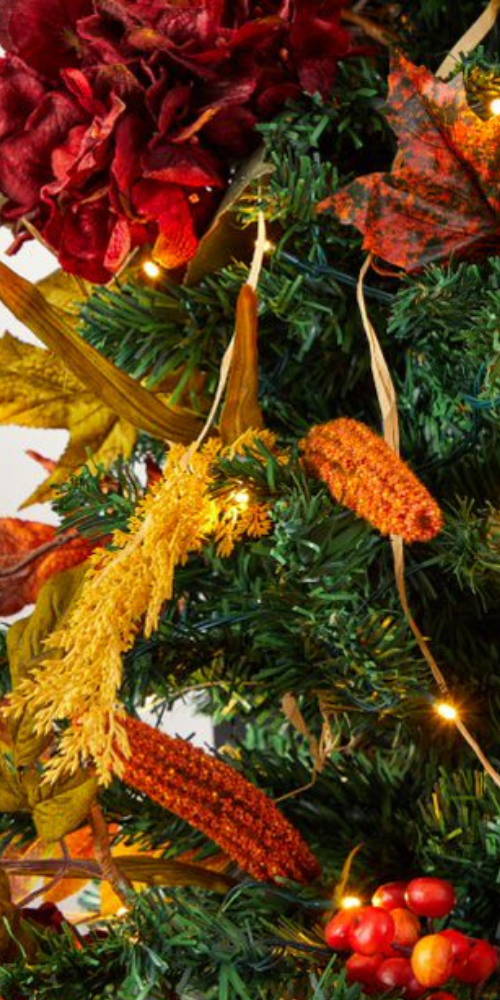 Wreaths, garlands, arrangements, and all sorts of Autumn inspired assortments!
Opt for convenience this year. We're spending more time at home with our families and have the chance to create magical memories together. Instead of using the Christmas tree for only one holiday, why not use it year-round? And seize the opportunity to keep the kids entertained, letting their creative juices flow freely. Who knows? This might become the next family tradition like Thanksgiving and trick-o-tree.
These are some fun Halloween Christmas tree ideas – but there are so many – that you and your family can explore. We would love to see your Christmas Halloween tree ideas come to life. With the help of our artificial Christmas trees and silk flowers, your dreams can come true…. The Grinch and Jack Skellington will not steal Halloween or Christmas this year. Let your imagination run wild.
If you love both Christmas and Halloween, you'll faux for this Black Artificial Wreath. Crafted from high-quality materials, black needles display a vivid, dazzling color that makes for an elegant affair or a fun holiday party. Display your personality during the holidays easily and effortlessly; you can leave this wreath up the whole season. Pre-strung with 20 warm white LED lights; the white lights make for an enchanting look. With a diameter of 18" house in any bare wall or door. Perfect to complement a Halloween Christmas tree or a diy Halloween tree.
Do you want to scare your guests? Decorate with this Skull and Bones Halloween Wreath for a fun and festive look. A mean skeleton with a body made of maple leaves will protect your house while showing where the cool kids live with a diameter of 24" house in any bare wall or door. Complete the look by pairing with a well-decorated spooky Christmas tree, you can even use it as Halloween Christmas tree decorations.
Create a Christmas Halloween scene in your home or office with the help of this easy and effortless artificial Christmas tree! Completely maintenance-free, this realistic looking fake Christmas tree boasts a thick collection of evergreen foliage made up of 1580 bendable branches, perfect for showcasing your favorite ornaments. Arriving pre-strung with 500 clear LED lights to eliminate tangles and carefully stabilized on a metal stand, this impressive 7.5' tall artificial Christmas tree will not only make decorating a breeze but ensure your home is always seasonally attired for years to come.
Are you dreaming of a white Christmas Halloween? Fulfill all your dreams with this white artificial Christmas tree. Inspired by nature, this tree has a slim silhouette that mimics its real counterparts' natural foliage and texture. With 1860 bendable branches, you can easily display all your favorite ornaments. Save time and money with the pre-strung 600 lights. Standing 9' from a metal stand, curate in any area. Perfect for a family room, living room, or home office. As a Halloween tree idea, consider adding some eyes for a scary Halloween tree look.
Get your home into the Christmas spirit this season with the help of this artificial Christmas tree. Easy to set-up and entirely maintenance-free, this realistic looking artificial Christmas tree boasts a traditional silhouette of evergreen foliage, made up of 1074 bendable branch tips, perfect for accenting with your own personalized ornaments. Arriving pre-strung with 500 clear LED lights to eliminate tangles and carefully stabilized on a metal stand, this full-figured 6.5' tall artificial Christmas tree will create a very merry setting all throughout the holidays. Add some Halloween tree ornaments for a super scary look then you can start decorating for fall.