January's Birth Flowers - carnations and snowdrops
While flowers are often a substitute for words, they're also used as symbols to convey special feelings or a message; when gifted, every flower has its own meaning and can express those emotions and thoughts to the receiver. That being said, did you know that every month has its own birth flowers? Today we're shedding a little light on January's: the Carnation and the Snowdrop.
Perfect to brighten the cold of January's winter chill, the carnation is one of the most cheerful flowers; with fluffy florals available in a wide range of colorful hues, they're also considered one of the longer-lasting flowers.
Carnations are probably native to the Mediterranean region, but they are not confirmed as they are popular flowers cultivated repeatedly. They were once the flowers used in the Greek and Roman crowns during the height of those empires. When translated, the name means "flower of the Gods," a nod to its rich history. Back in the day, carnations were used for medicinal purposes, such as treating upset stomachs. At the same time, the fragrance is utilized in various spirits, sauces, and salads. Today carnations are commonly grown in the Mediterranean countries of Spain, Italy, Greece and Albania.
Carnation cultivars are mainly of three types:
Large flowered carnations - one stem + large bloom, and can grow to be 18" - 24" inches tall
Spray carnations - multiple blooms per stem, medium stems, and reaches a height of 9" - 12" inches.
Dwarf flowered Carnations - multiple blooms per stem, smaller stems, and reaches a height of 6" - 12" inches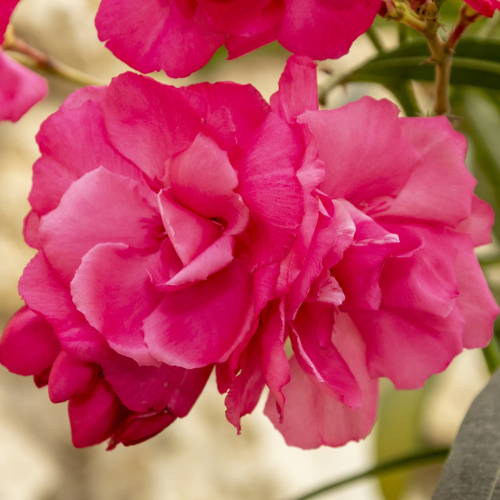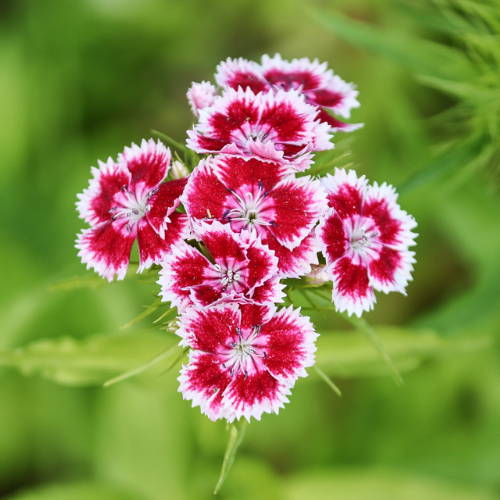 Dianthus Chinensis (Chinese Pinks)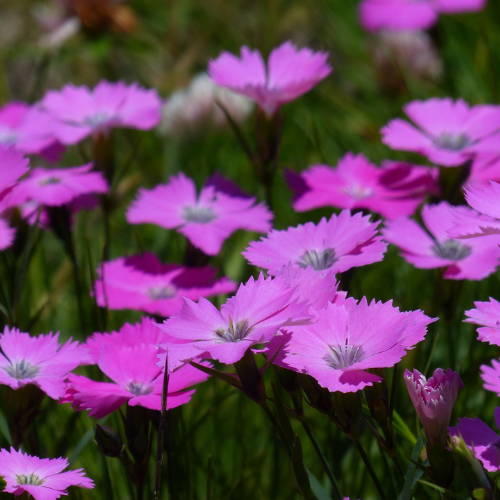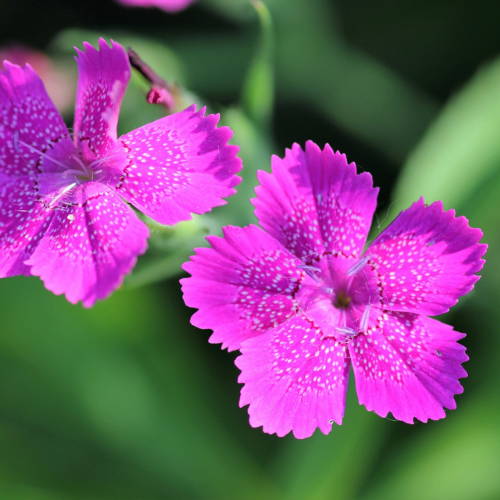 Dianthus Armeria (Deptford Pink)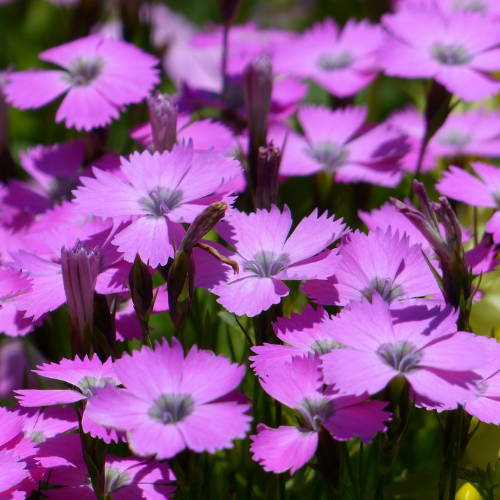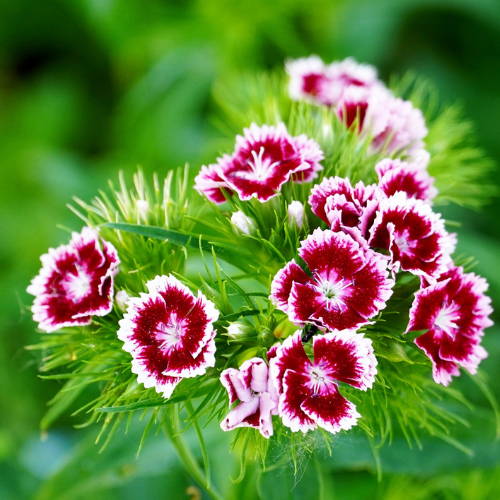 Dianthus Barbatus - Sweet William
Dianthus 'common pink' Plumarius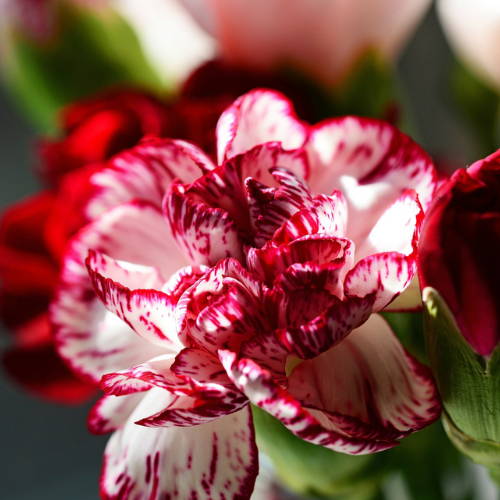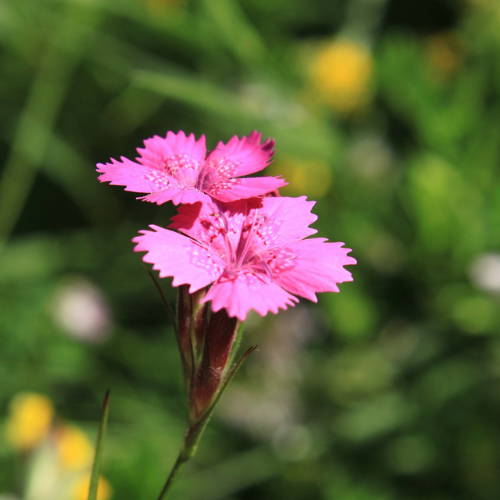 Dianthus Deltoides Maiden Pink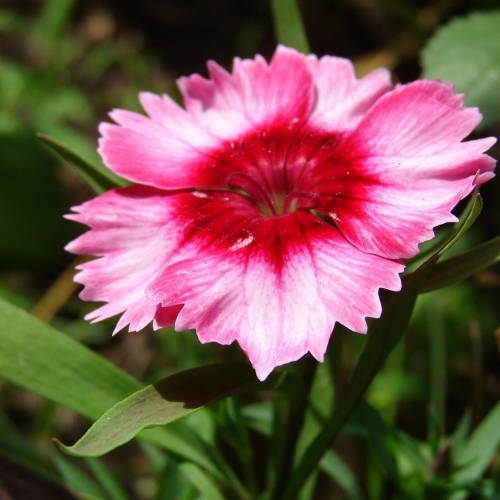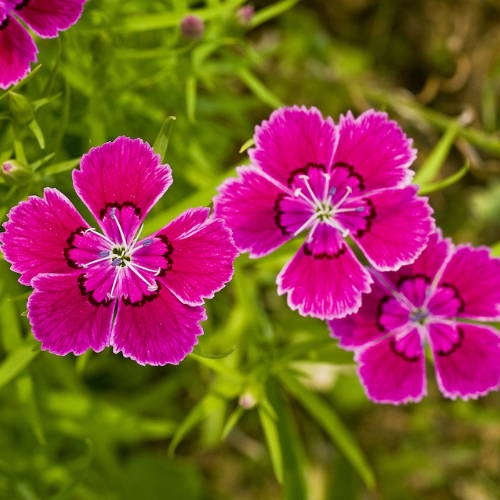 Dianthus Grataniapolitensis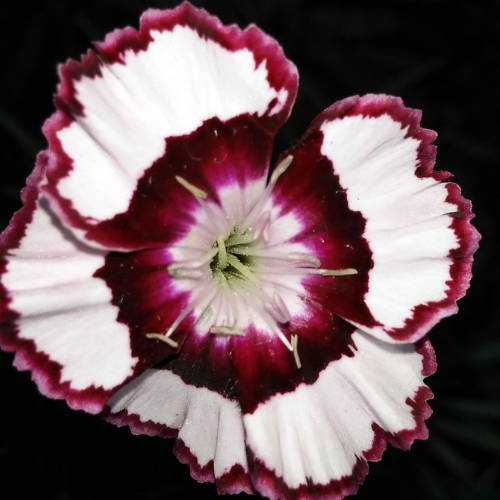 Dianthus Chinensis Heddewigii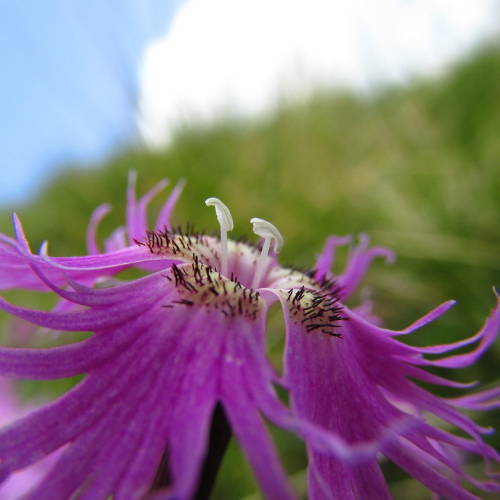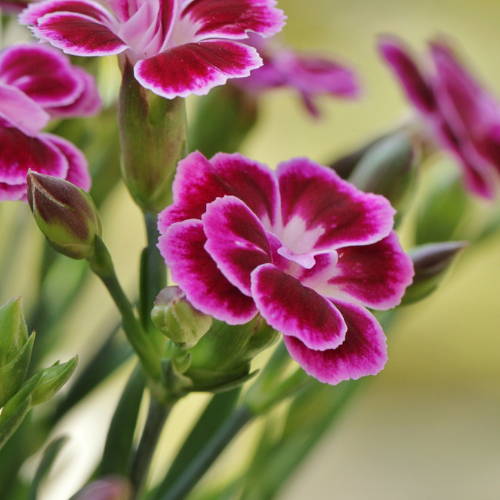 Dianthus 'Everlast Lavender Lace'
What do Carnations Symbolize?

Carnation flowers have different meanings depending on the color. For example, the white ones, as is the case for most flowers, symbolize purity and luck. Dark red symbolizes deep love and affection; they make for a great present to a partner. Pink symbolizes gratitude, perfect for a gift to a teacher, doctor or friend. Light red symbolizes admiration, perfect for a parent or a grandparent. Purple lavender carnations symbolize spontaneous, what better way to tell someone, "I'm thinking of you?" If you're looking for a just because gift, the purple one is sure to make someone know they're on your mind.
Are carnations the flower of death?
Not all carnations are a symbol of death. It depends on the color; the pink carnation is commonly used in funerals. Carnations symbolize purity, rebirth, and gratitude, all sentiments that are associated with honoring a deceased.
The carnation is the January birth flower representing the zodiac signs of Capricorns and Aquarius. If you are born between January 1st – 19th, then you're a Capricorn. Capricorns are known for being in self-control by exercising a great deal of discipline; many become leaders in business and politics because of this strong quality. Aquarius are born between January 20th – January 31st. Aquarius is independent and intelligent, incredible at problem-solving and adapting to any situation. They can be a bit shy, which many might find offensive, but you'll see their true colors reflected once they built trust.
DID YOU KNOW? Fun Facts About Carnations

The use of carnations date back to Ancient Rome when they were featured in classic art and décor

The carnations scientific name is "Dianthus Caryophyllus" which translate to "flowers of the Gods" in Greek

It's thought that the common name of January's birth flower derives from the English work "coronation."

Carnations are symbols of purity and are used in religious depiction; it was once believed that the first carnation bloomed when Mary's tears dropped to the earth as she cried over her son Jesus carrying his cross. An iconic painting by Leonardo da Vinci "The Madonna of the Carnation" depicts the Virgin holding a pink carnation as she loves her son. It's no wonder that the flower evolved into a symbol of motherly love, and since the 20th century has become a Mother's Day favorite

Carnations come in a variety of different colors; each signifies something different

Did you know Romans and Greeks used carnations during the crowning of leaders

Brides love using carnations in their wedding bouquets

Prince Bernhard of the Netherlands was a fan of carnations

Snowdrops are tiny plants that look a little sad because they're facing upside down. The small white flower has often been linked to death as they are popular in funerals because of their floppy silhouette. They even enjoy colder weather and dislike warm, tropical climates. Don't worry! They've grown from those days and are now known as the snowdrop January birth flower. These flowers might not be as famous as the carnations, but they are a symbol of hope and rebirth. Like other white flowers, they're a symbol of purity. They also signal the start of spring as they're one of the first flowers to grow during the seasons' transitioning. Some can even grow in the snow, did you know?
Snowdrops reach 3" - 6" inches height after blooming.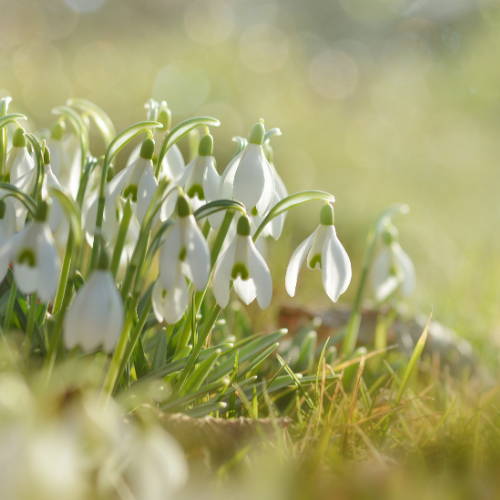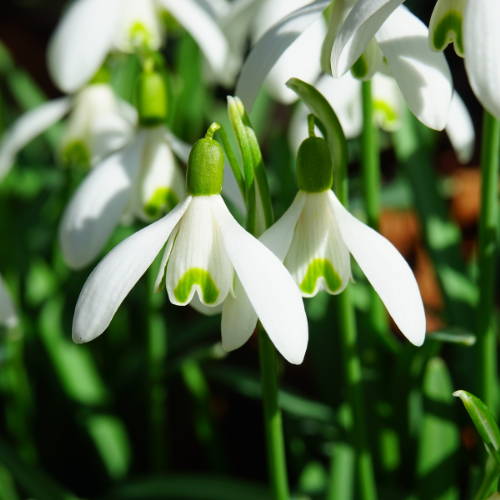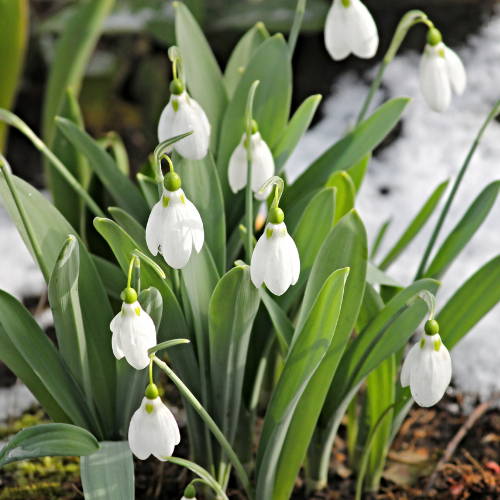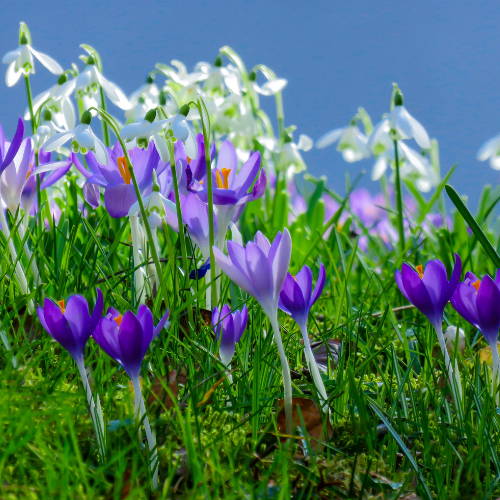 What do Snowdrops Symbolize?

Snowdrops have changed their dark stigma of being associated with only death and funerals, having emerged as a flower of purity and rebirth. They no longer represent death and are the perfect gift for mom, grandma, friend, or daughter.
Even though snowdrops have many meanings and symbols, such as purity, sympathy, and innocence, they are most commonly known as the symbol of hope, because snowdrops is the first flower to bloom at the end of winter and at the beginning of spring.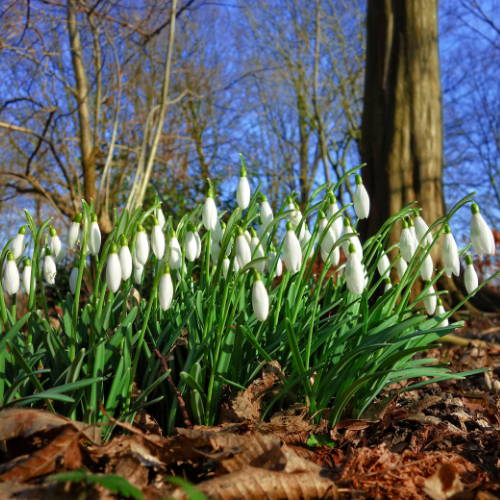 DID YOU KNOW? Fun Facts About Snowdrops

Snowdrops symbolize the start of spring

Snowdrops can bloom when there is still snow on the ground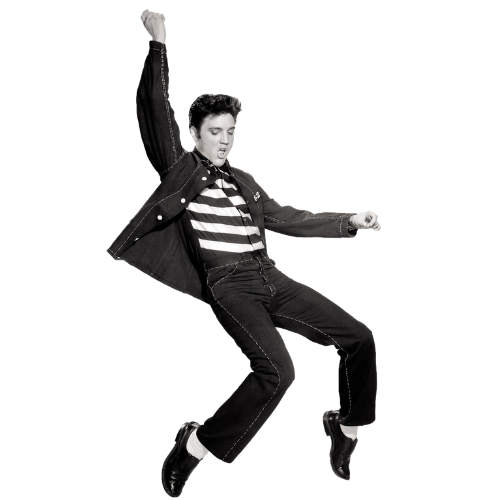 Elvis Presley - Jan. 8th, 1935
Known as "The King of Rock n' Roll", Elvis became a legendary presence in cultural history and in the history of pop. Full bio.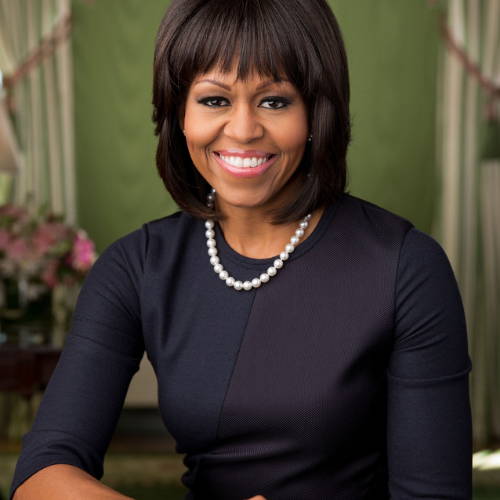 Michelle Obama - Jan. 17th, 1964
American attorney and best selling author who was the First Lady of the United States from 2009 to 2017. Full bio.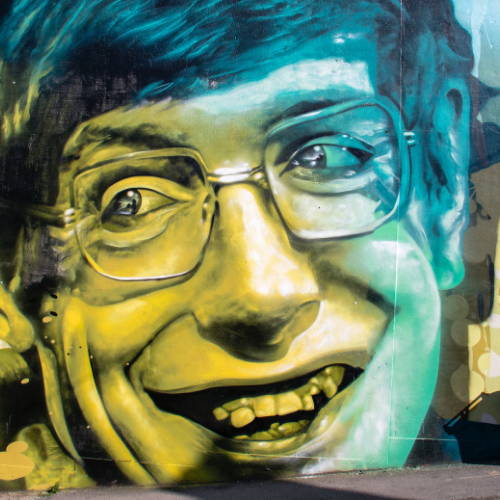 Stephen Hawking - Jan. 8th, 1942
English World-renowned theoretical physicist, cosmologist, and author who was director of research at the Centre for Theoretical Cosmology at the University of Cambridge. Full bio.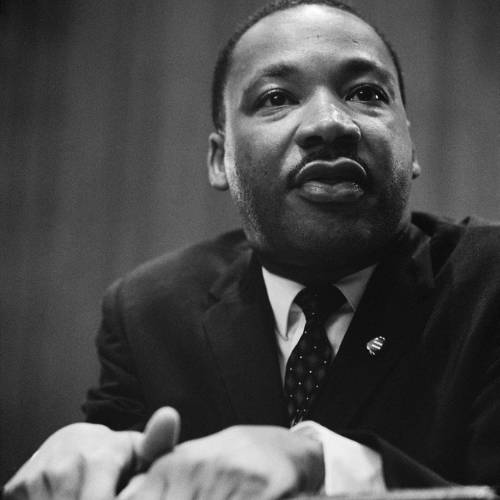 Martin L. King Jr. - Jan. 15th, 1929
Was an American activist who became the most visible spokesperson and leader in the civil rights movement between 50 - 60's. Full bio.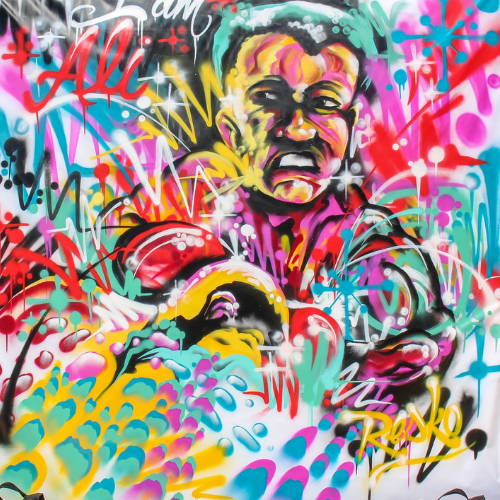 Muhammad Ali - Jan. 17th, 1942
Was an American professional boxer, activist, entertainer and philanthropist. Full bio.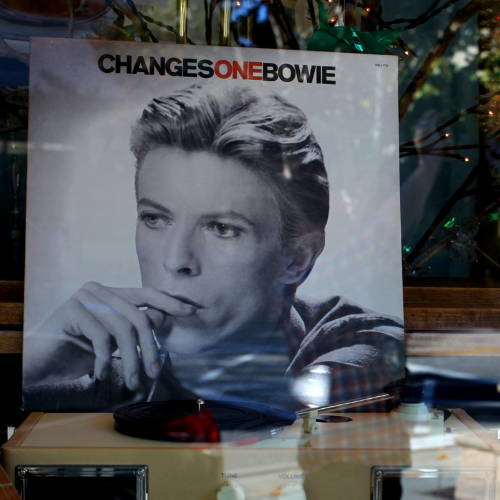 David Bowie - Jan. 8th, 1947
English singer-songwriter and actor. Full bio.