Trendy yet practical. Boho-inspired but perfect for all styles. It's no secret that plants have risen in popularity the past year just as boho décor has too. So why not marry the two and create the ultimate trendy influencer-approved space in your home this 2021? For non-bohemian lovers, don't worry; we will share tips on how to introduce this accent into your home subtly but not overdoing it. Some people believe that macrame hanging planters are cheap and unstable to hold a plant, but did you know? The best part of macrame is the rigid materials they're crafted from. Macrame is for displaying your plants because of their high-quality, handmade engineering. Unlike traditional planters, macrame is easier to clean and move around in any little nook in your home. They even make a great accent piece by themselves.
It's the minor changes that can make a massive difference in the aesthetic of your home. Sometimes you don't need to break the bank to transform your space, or maybe you're just a bit bored and need a slight change of scenery. We understand this! That's why with a faux plant and a macrame, you can take your space to the next level easily, effortlessly, and economically.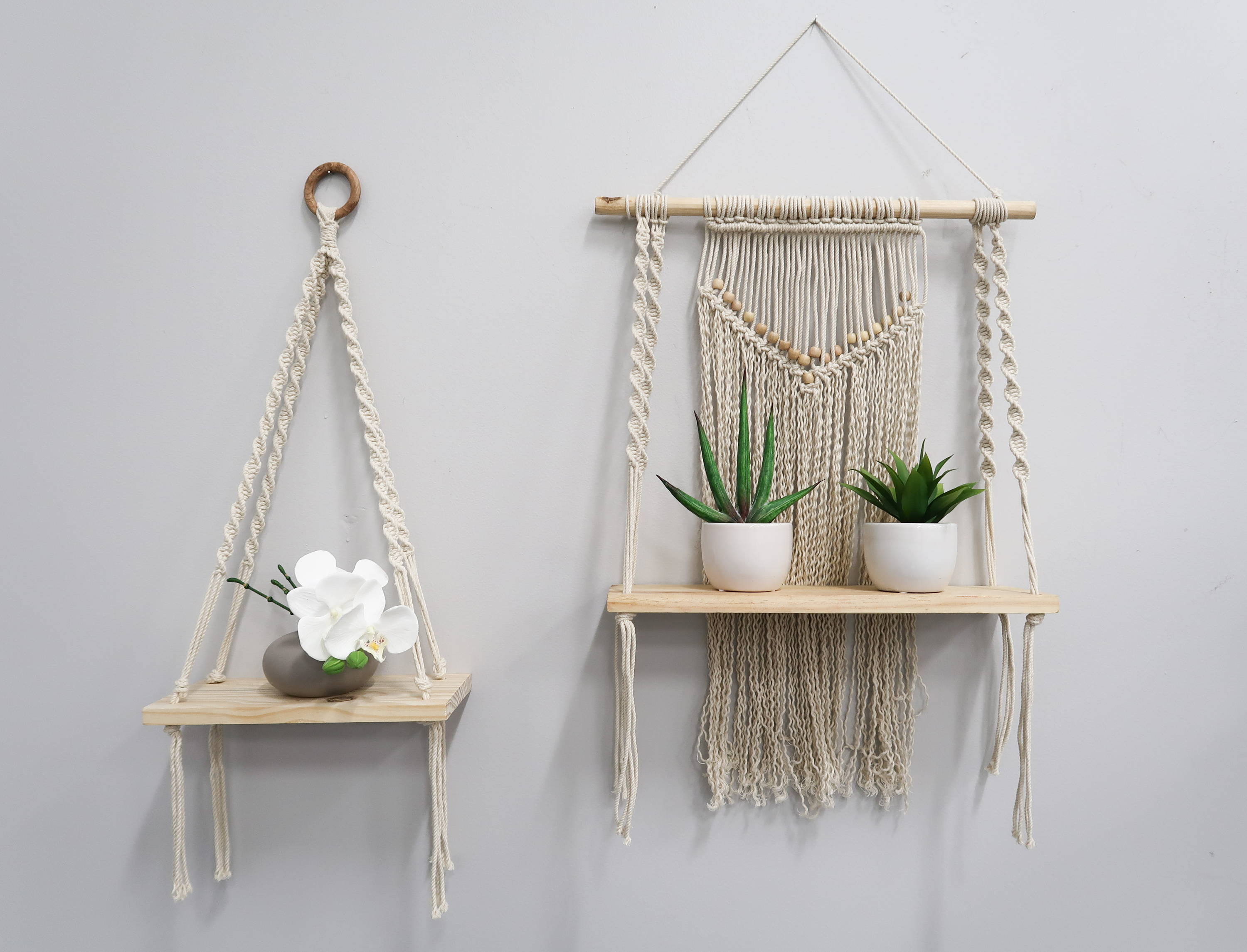 What is macrame and why use them in your decor?
You've probably heard of macrame before, but you might still be a bit confused about them. You probably know them from kid's bedrooms or other fun areas of the home. Macrame is a style of knotting using textiles to produce knots from a rope of all lengths and shapes. Macrame refers to the type of texture because many different items are made by using this technique. For example, some popular styles of macrame include macrame plant hanger, macrame wall, macramé pillow, or clothing. Many people enjoy using them in their décor because of their high-quality materials and unique looks. Anita, our co-founder and interior decorator, recommends using them for those hard-to-reach nooks or when you lack space and need a little refresh. That's the beauty of using macrame plant hangers; you can move them from nook to nook even when you have a small space and need a little more color. Renters rejoice, macrame doesn't ruin your existing paint or ceilings because you can use a small nook or nail safe for walls. Adding your faux plant is easy; mix and match all you want by swapping mini fake plants. You can even add other little items such as small knickknacks.
What is macrame made out of?

While macrame might scare you a bit because it's made from different materials, don't worry about adding some heavy plants. They're crafted to support the higher weight with their durable materials. While you can easily add most small plants, we recommend only using up to 15 pounds of weight to be on the safe side. Given the size of our macrame, this shouldn't be a problem at all. Most of our mini faux plants are smaller than this and weigh much less. So feel free to have fun and DIY knowing that this macrame can safely store your items.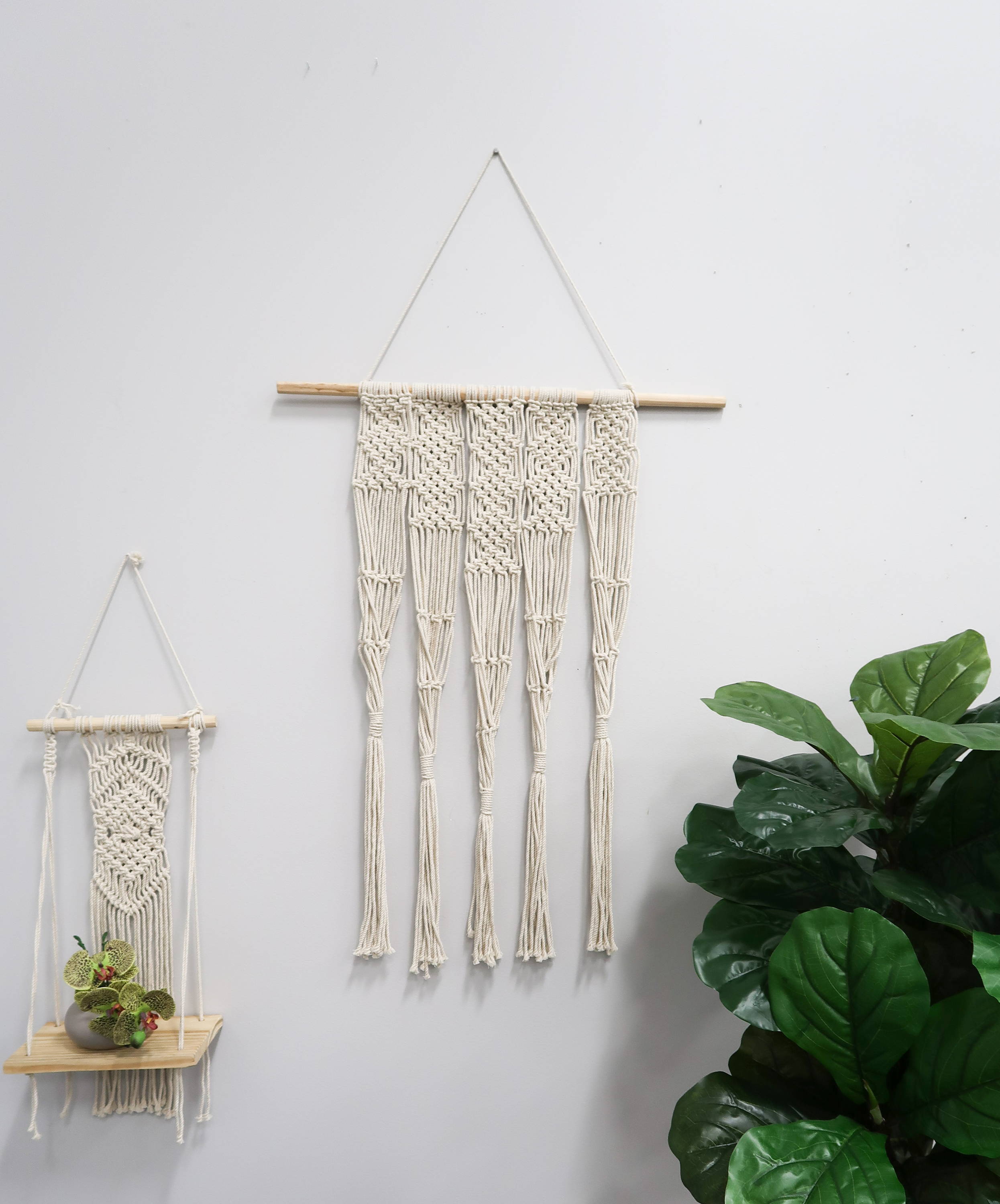 Top Decor Trends + Macrame

It's no surprise that boho comes to mind when discussing macrame, but as we've seen the trends evolve, many are starting to add macrame in all design styles. Their ease of care, vivid colors, and texture make them the ideal piece for almost any space in need of some life. Read along to see our top 4 styles perfect for macrame.
1. Contemporary
You might think that contemporary yields on the clean texture, white, clean aesthetic, but more and more aficionados are starting to add macrame. Quickly add the macrame to a room with an empty wall, when you're not sure what to place on it. Especially if you have brass or black finishes for hardware, watch as the macrame helps any space.
2. Modern Farmhouse
The style that's taken the home décor world by storm, modern farmhouse is one of the most popular and for a good reason. While farmhouse and boho might sound a bit off on the design spectrum, you can incorporate similar elements in both of them. For example, if you have a textured wall, feel free to place a macrame on it for a little more pop. This creates a clean and homey look. Even if your space has a bit more emphasis on the farmhouse part, try adding a macrame to a nook or behind the bed, especially one with a pattern.
3. Eclectic
Maybe you're an artist in the works and more secure in making big, bold moves when it comes to your space. We love eclectic décor, but this style requires more caution when decorating, so it doesn't look overdone. The fun part of eclectic is the creativity! Mixing and matching different color, patterns and texture to achieve your dream look. Macrame is the perfect accent piece as it blends with existing décor styles and comes in various shapes and colors.
4. Southwestern
Turn up the heat for this hot, mysterious, and relaxed décor style. When you think of southwestern, you might be envisioning a more rustic scene, but we're thinking more Palm Springs modern oasis. One of our best-selling bundles, the southwestern collection, is a medley of the best from the region. Thorny, long spiky leaves are perfect for any macrame in need of a bit of color. Add macrame shelves next to a bed or nook next to a home bar or kitchen for an elevated look.
Hanging Plant & Baskets that are PERFECT for Macrame

Social media's trendiest plant is here for you to enjoy, maintenance-free. This lifelike artificial ZZ plant removes the guesswork, allowing you to enjoy its' splendor without the upkeep. Thick, green leaves form feather-like foliage that brings depth and lines to spaces. Standing 22" from a white planter, this faux plant is the perfect accent.
Customer Favorite Macrame

Do you love your country? If yes, you will fall for this American flag wall hanging macramé art. Inspired by eclectic charm and rustic design, this rugged macramé displays patriotism with the red, white and blue colors and the stars. Showcase this festive macramé year-round or during the 4th of July,
At Nearly Natural, we have macrame for every style, budget, and use. As you can see, there are many different types of macrame out there, each with another purpose. So whether you're lacking space or looking for a fun way to spruce up your space without breaking the bank, macrame is the perfect way to achieve any look.