Our Top 10 Indoor Fall Decoration Products
As we get into the full swing of the season, you're probably starting to settle in and thinking about the get togethers with friends. What better way to welcome this change than with a little hosting party? Not sure where to begin looking for a great, budget-friendly fall décor? Our interior designers, curated this list for you. Say goodbye to boring indoor fall decorations and embrace faux-bulous fall décor. Capture the magic of the season with fall products.
Top 10 fall indoor decorations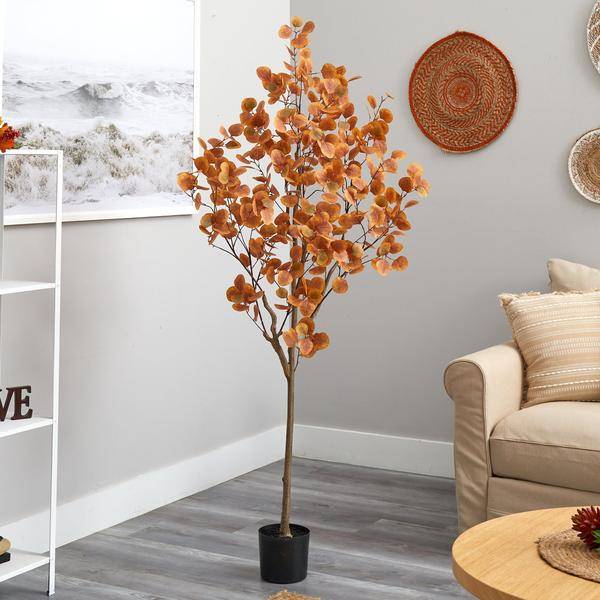 1. 6' Autumn Eucalyptus Artificial Tree

The latest faux tree to take social media by storm, our autumn-inspired Eucalyptus tree is perfect for those that want to bring the outdoors in – literally without the maintenance. A favorite among influencers, and it's easy to see why, they love the striking, soft colors of the leaves and the lifelike brown trunk. Easily add to your living room, kitchen or nook for a little fall refresh.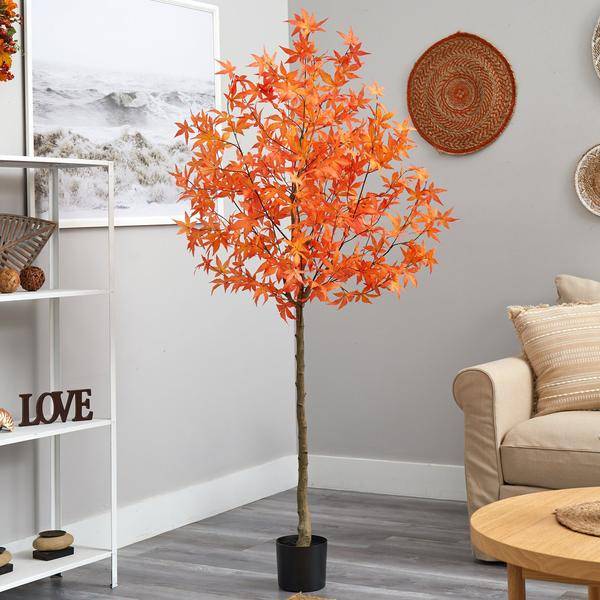 2. 6' Autumn Maple Artificial Tree

Remind yourself of the most spectacular foliage in the world with this Maple Artificial Tree. Inspired by the Northeast's landscape, bring the fall foliage home by injecting vivid colors in your space with these lifelike maple leaves assembled from high-quality materials. Perfect for a living room, bedroom or entryway.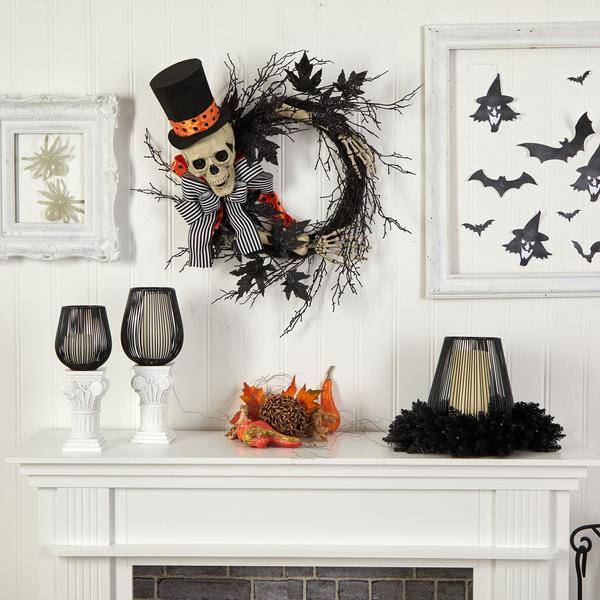 3. 26" Halloween Dapper Skeleton Wreath

Get spooky this Halloween with the Skeleton Wreath. Have some fun and display your playful personality during the season. Scare the goblins and ghosts with this fun wreath that will be a hit. With a diameter of 26" hang in any area that needs some festive cheer. Mr. Skelton will be waiting for you.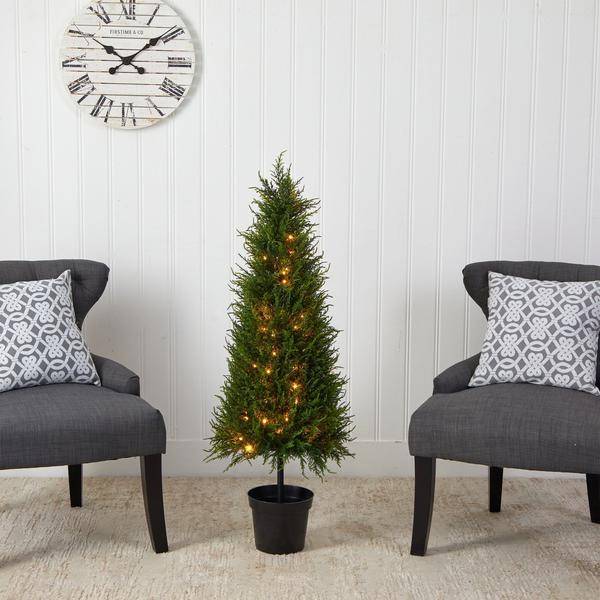 4. 3.5' Cypress Artificial Tree with 350 LED Lights UV Resistant (Indoor/Outdoor)

Transform your space into a cozy oasis with this Cypress Artificial Tree. Realistic, well-groomed fronds are shaped into an attractive elongated shape, nestled between 350 warm LED lights. Place in your entryway, outdoor patio, or next to your sofa.
5. 22" Rose Artificial Flower (Set of 6)

Create your own beautiful arrangement with this set of artificial rose flowers boasting gorgeous, intricate blossoms, frozen in mid-bloom. Handsomely complemented with realistic leaves and budding floral, this set of six, 22" stems will instantly create feminine elegance wherever displayed.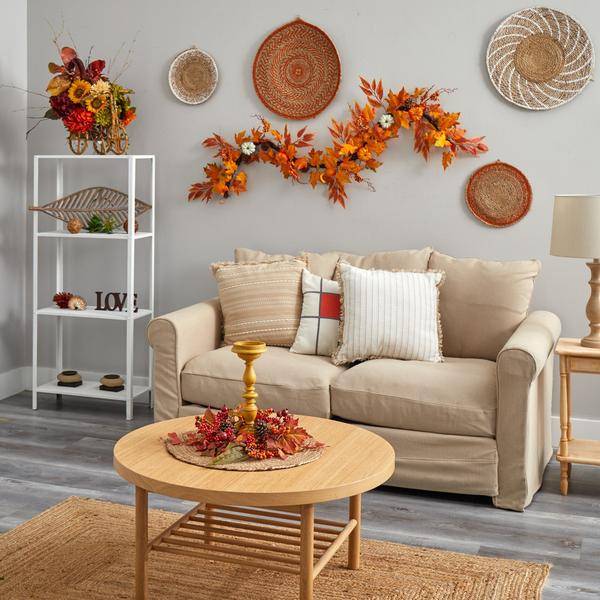 6. Assorted Autumn Maple Leaves, Pumpkins, Gourds, Berries and Pinecone Artificial Fall Garland

Set a scene at the table during Thanksgiving with this Maple Leave, Pumpkin, and Pinecone Artificial Garland. Inspired by nature, this high-quality accent has variegated fall leaves in different shades that transform your home into a fall foliage destination. It is versatile yet practical, pair with other fall accents such as candle holders, wreaths, or fall-inspired arrangements. With a length of 6', this is artificial garland is perfect for any space. Add to a dining table, living room, mantel or entry way.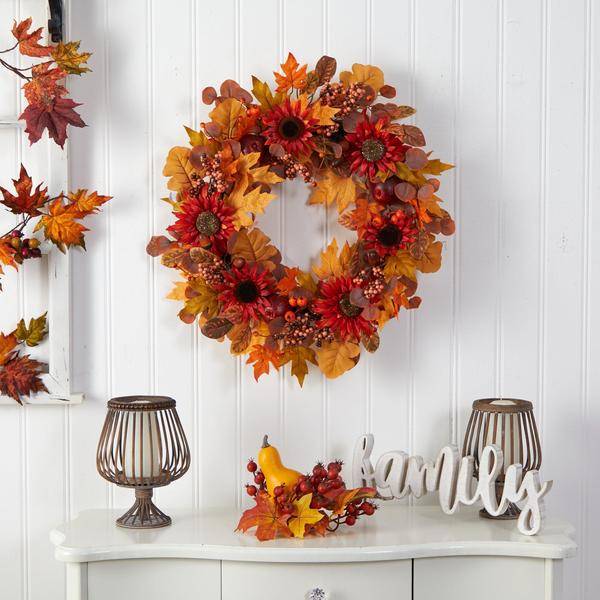 7. 30" Fall Acorn, Sunflower, Berries and Autumn Foliage Artificial Wreath

Welcome the beautiful colors of fall in your home with this Harvest, Acorn, Sunflower, and Berries artificial wreath. Assembled in the USA from high-quality materials, our intricate attention to detail is displayed with the vividly colored flowers accented by the light-hued berries and sunflowers' texture. With a diameter of 30", show your true colors in any setting. House in a bare wall, empty door or bathroom.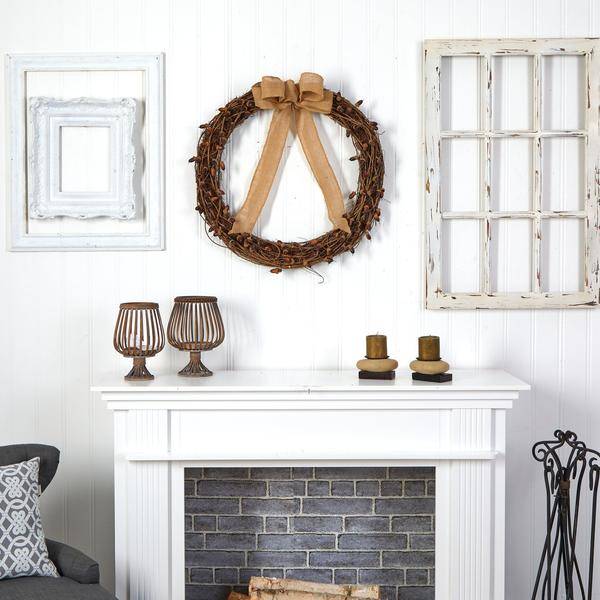 8. 30" Fall Acorn and Decorative Bow Autumn Wreath

Inject rustic charm into any bare space with this Acorn wreath with decorative bow. Feminine yet homey, celebrate the best of fall while still being farmhouse chic. With a dimension of 30", house in any space that needs festive cheer. We recommend feather dusting about once a month to ensure longevity of your fall decor.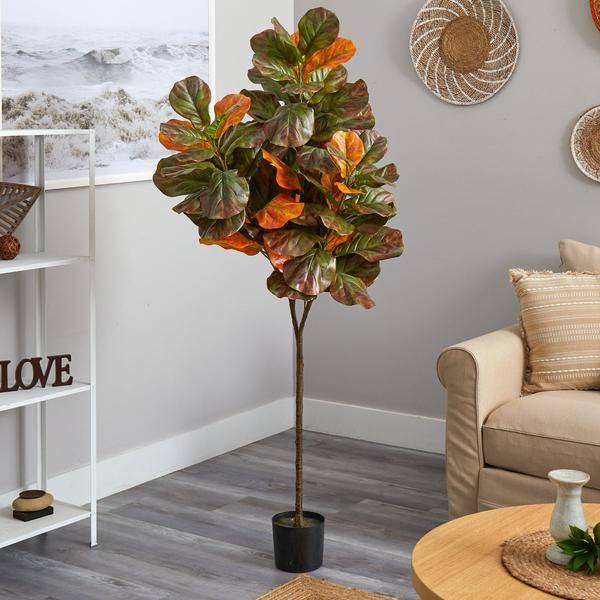 9. 6' Autumn Fiddle Leaf Artificial Tree

If you love the Fiddle Leaf Fig and Fall, fall in love with this Autumn-inspired Fiddle Leaf Fig artificial tree. Inspired by nature, large glossy fiddle leaf fig leaves, in a palette of fall foliage colors, bring leaf peeping to your home. Assembled from high-quality materials, inject magnificent colors into your space to signal the start of a new season. Standing 6' from a nursery planter, DIY and pair with your favorite planter. House in any area that needs a pop of color.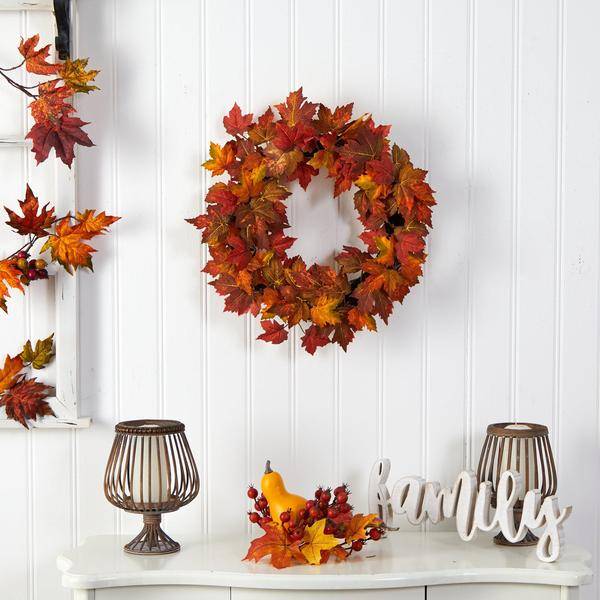 10. 22" Maple Leaf Artificial Wreath

Update your favorite home decor accents while adding a hint of natural beauty to your home or office entrance with this artificial wreath intricately designed with glossy, overlapping maple leaves in fall colors, highlighted throughout with different textures. A charming, festive accent that evokes Southern charm and elegance, this 22" in diameter decorative wreath would undoubtedly transform a bare wall or doorway with its forever lasting beauty. DIY fall decor by mixing and matching.
Fall Decorations for Indoors

Now that you have our top 10 picks for fall, decorating should be a breeze, but if you're still stuck on how to decorate, read our guide about indoor fall decorations. Learn the top secrets from social media influencers and leading interior decorators all for FREE. DIY fall decorations and start decorating! Have fun. We can't wait to see your creations and homes dressed to the nines in a palette of fall colors.