Our Top 10 Products for Minimal Decor + Natural Light
Are you eyeing a bedroom refresh? Just moved into a new home? If you're looking for room decor tips on how to style a bedroom, you're in the right place. With sunnier and brighter times ahead, summer is the perfect time to redecorate your bedroom at budget-friendly prices.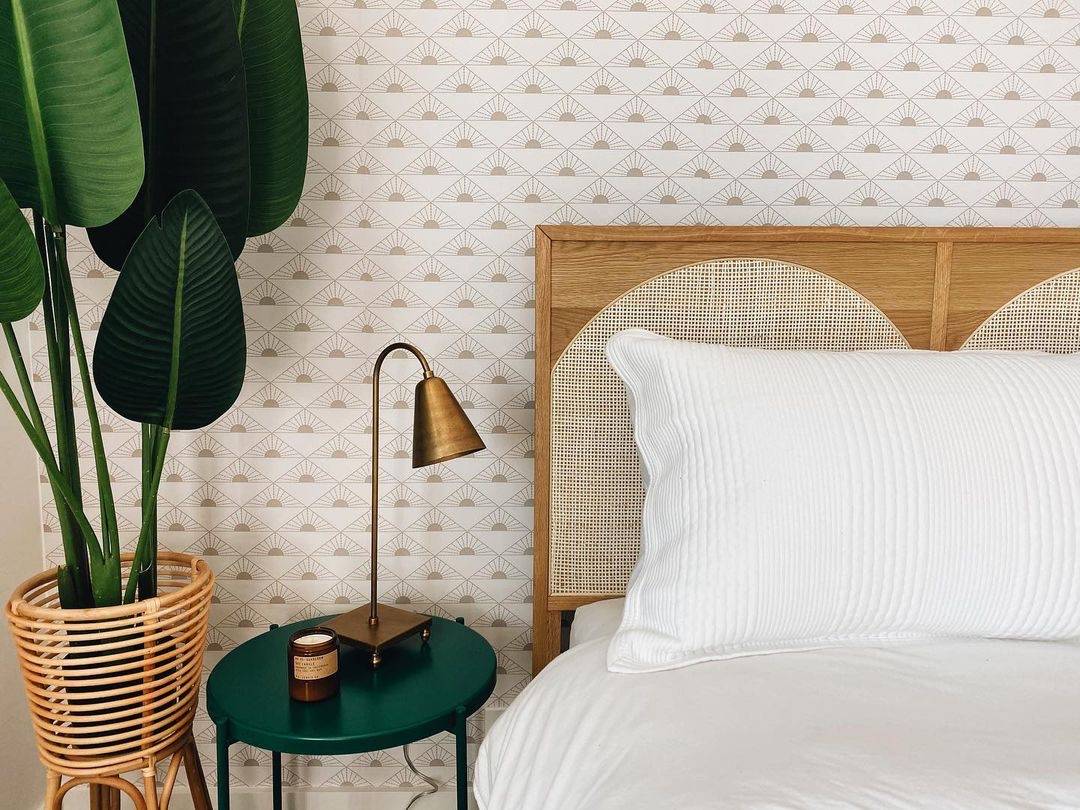 You might be stuck on where and how to start transforming your area into a modern, minimalist oasis. However, our team of interior decorators is here to help you craft the perfect minimalist-inspired space that still has that special touch. While minimalism is a vibe, we like to think of it as a way of living that helps declutter our minds from the stresses of everyday life.
Even if you have an affinity for boho, industrial, or another style décor, you can incorporate the essence of minimalism in any room.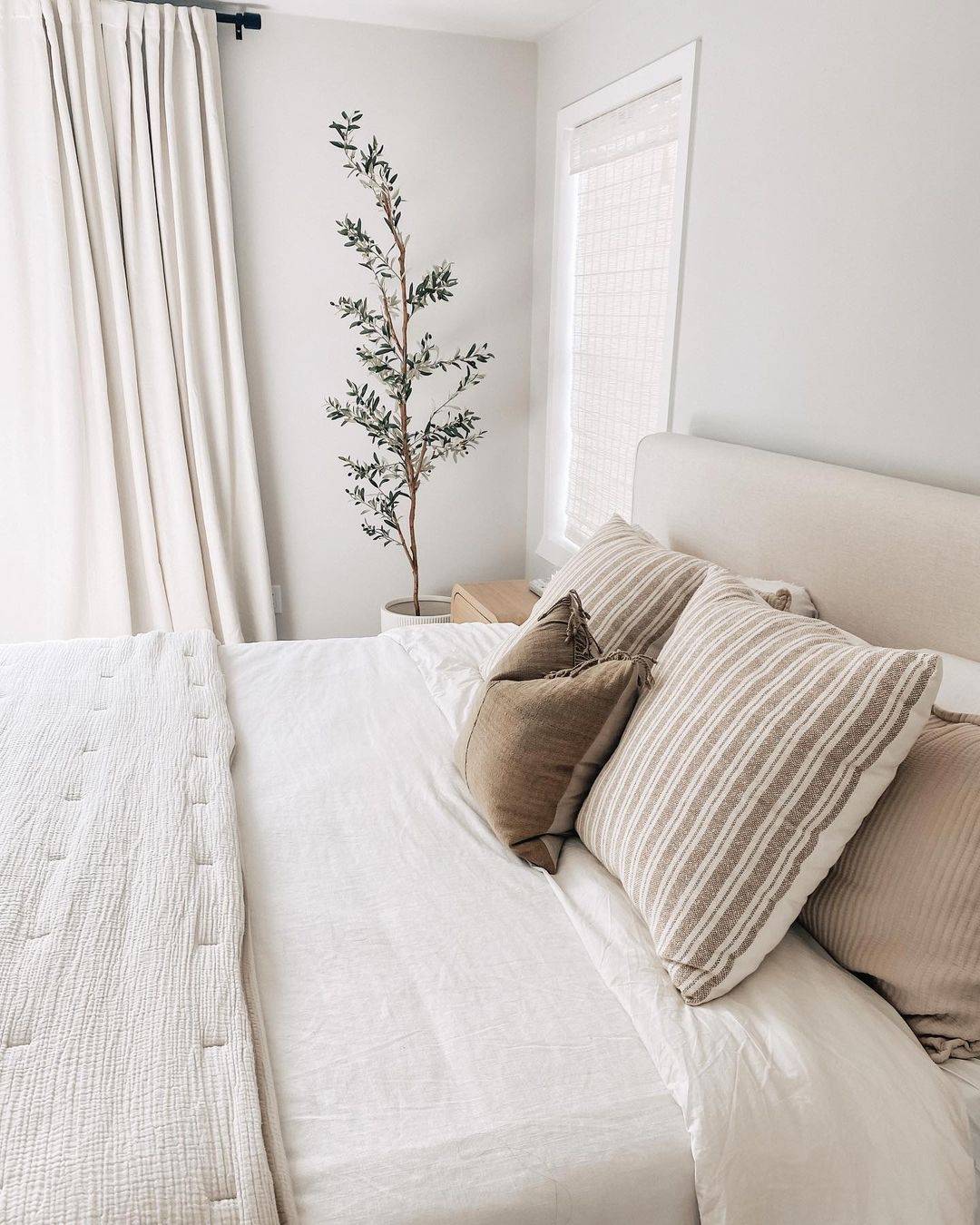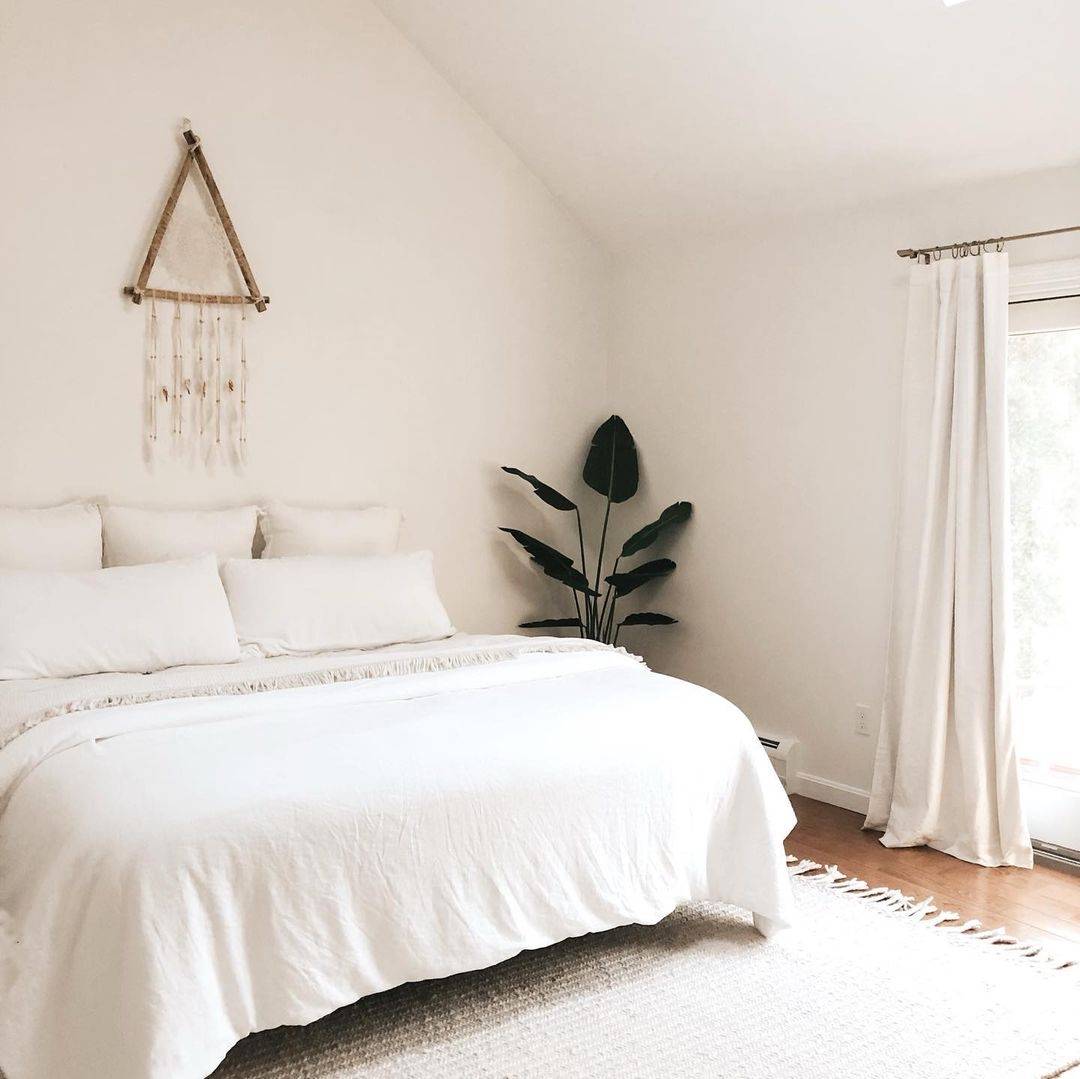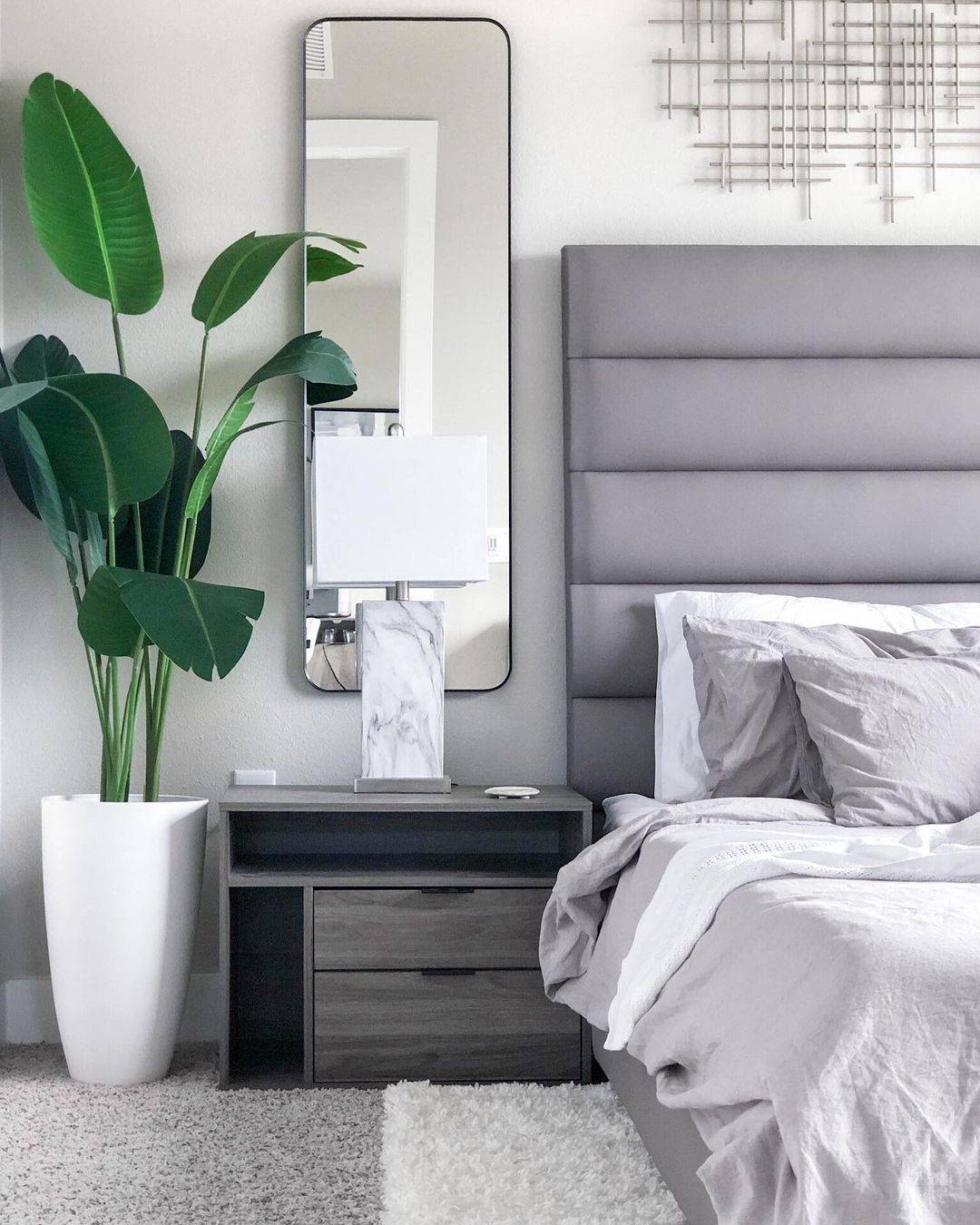 Minimalism & Natural Light

Allow the sun in. Let your living area blossom. Natural lighting elevates your room, taking it to the next level, but, if you lack sunlight, you can still achieve your dream decorating style by adding lamps, chandeliers and faux plants. Need not worry! If you're into trendy styles, the minimalist look is getting more and more popular every day on social media through influencers who have this look. The good news is that you can recreate this vibe effortlessly and on a budget, no matter the size of your space or aesthetic preference. A popular style for summer is boho-inspired spaces that look so dreamy for those afternoon siestas after a nice brunch outside.
Another design style gaining traction among leading interior design magazines and Pinterest is the Japandi style, a marriage between Scandinavian and Japanese minimalism for a cohesive, refined, yet subtle palette. This is the best part about minimalism; you can combine different designs to craft your own.
Add hanging art - You might have a neutral palette, and that's ok! Try adding some color that is still subtle enough, without it being too much, with some green wall décor that serves as art. If you want to bring more depth into space, we recommend hanging mirrors in the wall behind the bed frame; this creates the illusion of a larger area, great if you have a compact room. Look for hardware in a black finish for a Japandi look or wooden features for a more boho style.
Add some greenery - One of the biggest headaches for interior decorators is adding refined color to a space without it appearing overdone. As the saying goes, "less is more," there is no room for error in minimalist-inspired bedrooms. This is why many leading designers prefer faux plants in these spaces; because of their ease of care and consistent design, they are perfect for minimalist rooms.
Stop buying everything - We know this isn't a design tip, but one of the most important principles of minimalism is decluttering and letting go of unnecessary items. Like the queen of decluttering, Marie Kondo said, "discard items that no longer spark joy." This is an essential vehicle in your quest to achieving a comfortable bedroom. We recommend starting by organizing clothes and gifting the items that you no longer wear. If you need evidence as to why decluttering is good, according to the University of Southern California, cluttered and messy homes are linked to higher stress levels.
Use neutral hues - Easy on the eyes, cozy, neural hues serve as the best backdrop for a relaxed space where you can escape and relax after a long day. Look for furniture made from long-lasting materials such as wood, rattan, and metal. By investing in high-quality materials and finishes, you can ensure longevity and less stress if slip-ups and falls occur. Many furniture companies allow you to sample the fabric and materials before buying to ensure the color is your preferred one. Some of our favorite colors for minimalist-inspired spaces are stone, grey, black and light brown.
Clean lines - While it's always fun to mix and match patterns, shapes, and lines, simplicity is vital. If you want to experiment with geometrical shapes, stick to squares and other items with clean lines versus more risky pieces. For example, a simple bed with a lovely bedframe versus a traditional canopy or Victorian-era-inspired bed is preferred. By having clean lines, you are creating symmetry among the whole room that subconsciously relaxes the mind.
Tell a story - It's a lot to absorb, but we encourage you to leap into this new design palette with an open mind. Minimalism may sound boring, but incorporating sprinkles of your own, will be a lot of fun. While minimalism tends to lean on the simpler side, add color if you want to brighten any area. Use flowers in your nightstand and pillows to inject subtle hues and display your personality.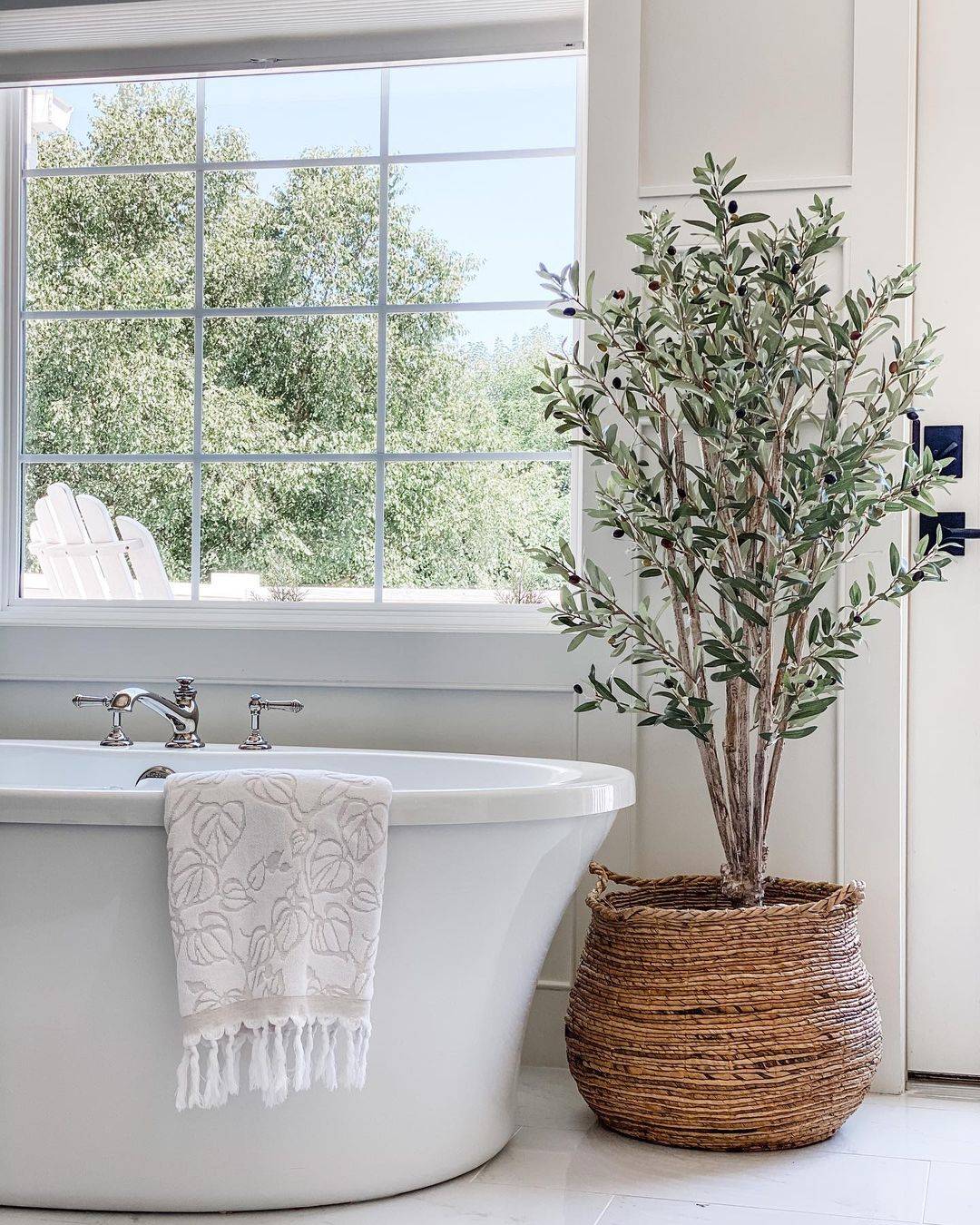 Create a Neutral Base


Complement the vibrancy of the faux plants by adding a softer touch. Refined yet classic, neutral bases allow you to keep the aesthetic you wish to maintain without it being too much or overbearing. Consider soft colors such as beige, grey, whites, or light blues. You can add subtle texture easily through the base to contrast the faux-liage.

Choose Quality Over Quantity

When it comes to décor, we're in the school of thought that less is more. Therefore, it's better to splurge on an item that will last years versus one of lesser quality and will only last months. This rings true with artificial greenery, one aspect of décor where it's worth it to splurge because the cheaper it is, the more your trees will look fake. If you use a couch or sofa for ten years and it's a bit on the pricier side, consider the number of times you'll use the piece; the higher price tag isn't as scary anymore.

Use Different Textures in Similar Tones

Some faux plants are easier to mix and match with different textures. For example, succulents are highly textured and can deliver a trendy yet exciting look when combined with other plants. Also, because plants are green, you'll make the foliage stand out easily.

Prioritize Functionality and Style

Often, we get stuck in the trends and go for today's looks instead of a functional yet stylish pick. Think about it, those beautiful chairs might not be the most comfortable for your guests, but they look great on social media. Put functionality above what's popular for a cohesive, timeless look.

Incorporate Natural Elements

Biophilia is what we all aspire to achieve through our home décor. Humans yearn towards the natural elements to feel closer to the outdoors and nourish our minds. So attract nature subtly by adding faux plants, rocks and letting the sun in. It can be as easy as this, and you'll notice the difference.
Resident Mag - Featuring a minimalist design with a Scandinavian touch, this is an excellent account to get ideas for architecture and top interior design tips.
Cereal Mag - Clean lines and a neutral palette encompass the essence of this magazine. With over 1 million followers, discover rustic-inspired yet minimalist spaces that you can DIY. 
MyDomaine - One of the top home design digital magazines, MyDomaine is a favorite for consumer and home décor brands looking for trendy inspiration. The good thing about MyDomaine is that they feature various styles that conform to almost every budget. 
Architectural Digest  - The pinnacle in the design world, Arch Digest, is known worldwide as the avant-garde, trailblazers in covering the most magnificent homes in the world. From celebrity homes to works by the top interior decorators, feel inspired to recreate these looks.  
Minimalism & Natural Light

If you're looking for the most realistic-looking plants out there, the real-to-touch feature is sure to trick you. Made from special materials, this Dracaena feels and looks real, seriously. We recommend adding it close to windows for rooms with lots of natural sunlight to see the vivid hued leaves. Wake up in a tropical oasis that'll always remind you of summer.
Designer Tip - We love the faux Dracaena because its versatile and makes a great addition in any space that needs a little more color. We recommend adding it to a living room, office or bedroom for a little jungle vibes.
For those looking for a Dracaena that comes ready to place, this faux tree has a modern vase with river rocks for an elevated look. Curate in any bare space or perhaps the bedroom bathroom for a little more color, texture, and depth.
Designer Tip - If you're looking for a one and done approach this faux tree is perfect. Place in a minimalist room and watch as the focus turns to this lifelike faux tree. It packs in a ton of color and texture.
The Areca palm tree has summer written all over it. For those that more into boho style, this faux plant will blend with your existing décor. Add some hanging plants near for a tropical, coastal look. House in jute, rattan, or neutral colored basket can also serve as storage for your room. Accent the look with a wooden bed frame or nightstand.
Designer Tip - If you want a well-thought of and cohesive design, you can't go wrong with this faux outdoor safe Areca palm. Perfect for a patio or backyard that has minimalist decor and is in need of a little more life.
Featuring a massive height of 82 inches, this olive artificial tree is a perfect vertical accent for your home. It has thin brown stems that branch out with fine and delicate bright green leaves on them. You've probably seen this customer-favorite tree on social media in any home décor influencer's page. Especially if the influencers is into minimalist decor, this will be a hit in your space.
Designer Tip - This trendy faux tree will continue to be more and more popular.
Simple, elegant and refined, this 4' tall grass and bamboo plant will invoke images of the Far East. With slender and green stalks that reach towards the sky, this is one selection that will bring the "zen of nature" into any living environment or place of business. Housed in a simple black planter, this will be a cherished addition for years to come, and also makes a wonderful gift.
Designer Tip - The long, vertical lines are perfect for inserting texture and color into any area. Add to a lonely corner by a sofa for added flair.
Known for their distinct, swordlike appearance, the snake plant is a favorite among every style décor aficionado. It works well in practically any space and blends with existing décor. Especially for minimalist-inspired spaces, inject symmetrical lines and color into any area in need of some life.  
Designer Tip - The long and vertical leaves are ideal for a tight space or corner. Consider adding in a room that has a lot of natural lighting to watch the leaves' pattern.
Get in a summer state of mind year-round with the help of this faux travelers palm. The large, elegant leaves deliver a subtle yet, striking composition of colors and texture. Especially if you're looking for some clean lines and vivid hues, you can't go wrong with this piece. The perfect accent for summer. 
Designer Tip- Consider pairing it outdoors with an egg chair or next to patio furniture. Add in a planter for an elevated look and feel, especially if you have a minimalist design.
This faux tree is one of the most striking Fiddle Leaf trees in our catalog, known for its distinct branches and large, glossy leaves. Add to a bare corner in the bedroom, perhaps next to the nightstand or by the closet. House it in your favorite planter.  
Designer Tip - One of most lifelike faux Fiddle Leaf Figs, consider placing it under a pergola or line up multiple along the patio furniture. Makes a great front porch accent as well.
The tree all our customers rave about! Perfect for a breezy, simple room palette, watch as this piece blends with your existing décor. The tripod planter adds a natural touch with the wooden legs, while the gray finish adds a little mystery and depth. Did you know? This faux olive tree has faux olives you'll want to pick at.
Designer Tip - The mid-century modern inspired planter delivers an airy, yet modern vibe. Add to a bedroom next to a side table.
Clean lines and variegated palm fronds are the perfect touch of green for a room in need of more color. Add in your favorite planter for a little DIY action, and watch as this faux palm tree brightens any corner of your home quickly and effortlessly, just in time for summer. Bring a little coastal charm to your bedroom.
Designer Tip - This compact sized faux palm tree delivers a tropical vibe and we recommend for outdoors areas where palm trees can't grow. Line up multiple along the entryway to transform your space into an oasis.