Top 5 Wreaths for Easter - Spring Home Decor Trends
One of the most lovely ways to decorate for Easter is by staying true to nature and honoring tradition with one of our Easter door wreaths. Conventional floral wreaths quickly lose their bright colors and leave you with something to sweep up. This year we invite you to try our maintenance free, cost effective and everlasting alternative to festive adornment. Our artificial Easter products offer a bountiful collection of every kind of artificial wreaths for Easter. These imitations of outdoor beauty are so realistic you won't have to sacrifice any of nature's inherent wonder.
How To Choose a Wreath for Your Front Door

As Easter draws near, the time to decorate is here. Pick any theme you like and our extensive variety of artificial door wreaths are sure to suit your fancy. Our simple and elegant olive wreath is slightly smaller than most other wreaths. This, in addition to its healthy mix of dark and light green colors, makes an effortless and agreeable addition to most design themes and door colors. For floral artificial door wreaths we recommend choosing a color that will contrast with the color of your door. This will make the wreath really "pop" and stand out for a visual delight. Now let's make Easter wreath DIY decoration easier than ever with step-by-step guidance and extra Easter wreath ideas.
How to Install an Artificial Wreath on Your Door

First, let's prepare by taking a look at the surface and color of your door. If your door is bumpy or fibrous due to an intricate design or wood grain, then a nail and a hammer will be the best way to secure your wreath. If your door has a smooth flat surface, then adhesive hooks and string can be used instead.
Prepare your wreath by molding and bending it to your desired shape. Our artificial plants are made from flexible materials that benefit from some fluffing up after shipping.
Attach your preferred mounting equipment to the door and prepare a length of string for added security. Choose a color for the string that will compliment the piece. Now it's time to finish your work and admire this beautiful arrangement.
Hydrangeas not only make great centerpieces and show plants – they also make some of the finest wreaths around, as evidenced by this 20" beauty. As we reminisce of Christmas cheer and pine wreaths, Easter grants us a new opportunity to decorate with our well loved blue hydrangea wreath. Blue and green make a magnificent adornment to any white or light toned front door. Welcome your guests with a taste of fine beauty right from the start of their visit.
Frame the entryway with summertime florals that never wilt. This faux floral wreath is bursting with color as garden flowers are handcrafted, meticulously placed for a lifelike appearance. This 22" wreath greets guests with pops of bright color. Hanging friendly.
Treat yourself to a glimpse of all that spring has to offer with this color loaded bouquet. Its extensive pallet allows pop out on just about any door. Never worry about wilting this year as you bring out the essence of spring as early as you desire with ever fresh faux flowers.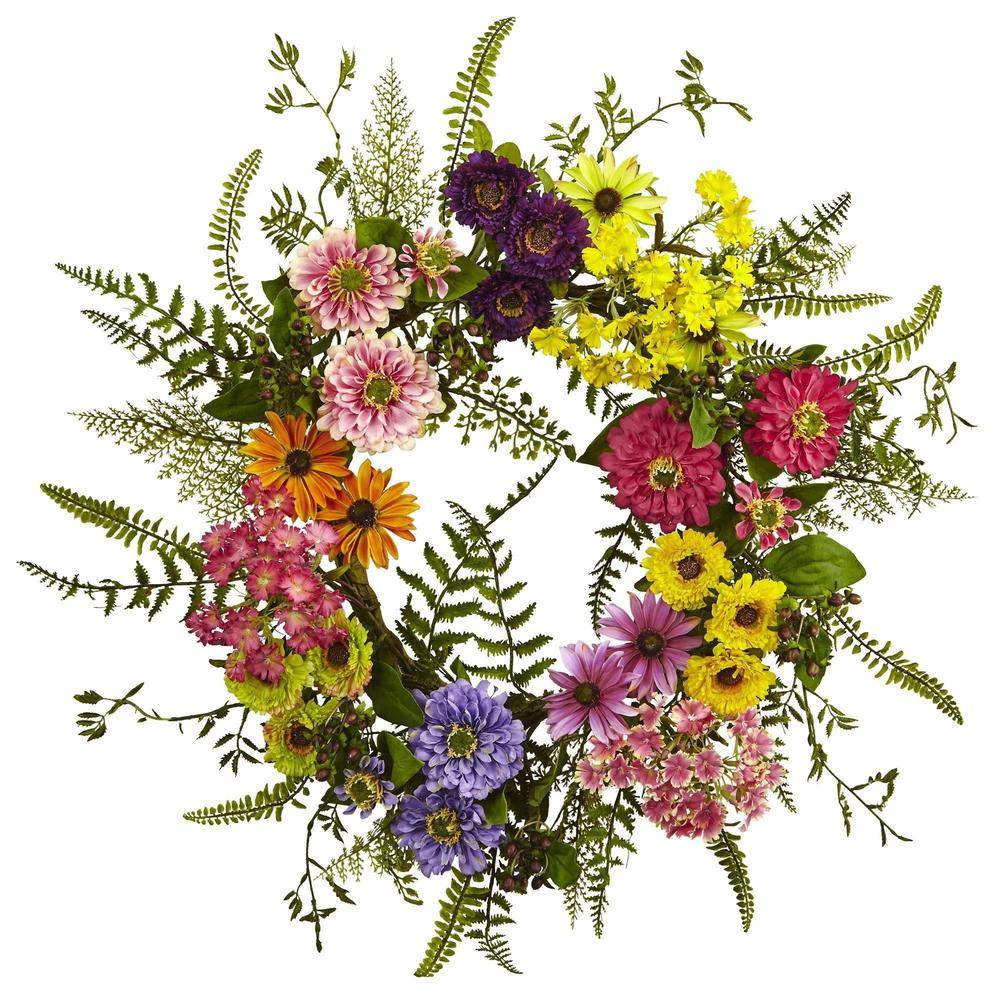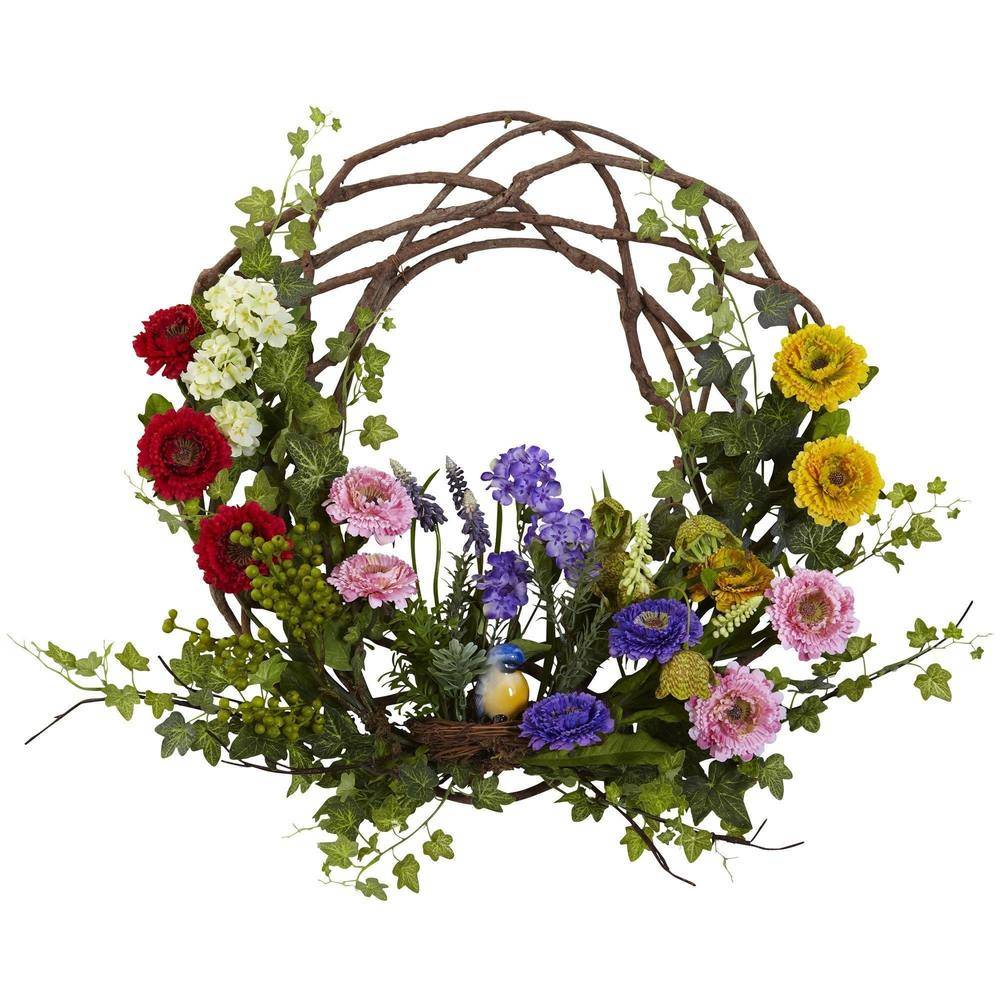 Make any door or entryway into a thing of beauty with this Spring Floral Wreath. A perfect way to set the stage for Spring's beautiful symphony of color, this lovely set piece will make your guests take notice of the season. A broad spectrum of splashy colors frames the delicate circle of branches, making this wreath a joy to truly behold.
There is no better way to welcome Easter, the holiday of rebirth, than with a wreath that shows the plants and birds coming back to life from the depths of winter. As young floral vines make their way up the branches, a bluebird begins the year below their embrace. This wreath will make a great decoration wherever you need a reminder of the spring to come.
24" Artificial Hydrangea & Berry Wreath

Adding color to any room or doorway it hangs on, this hydrangea berry wreath brings a dash of springtime whimsy to any occasion. Bright white flowers complement smaller selections of purple floral accents in a piece that is sure to bring joy for years to come. Three bright white hydrangeas will liven up your front door along with clusters of purple neatly arranged in this symmetrical masterpiece. Adorable tendrils of soft fern and bundles of budding berries foreshadow the bounties this spring has to offer. Bring this into your home to polish your Easter themed decor.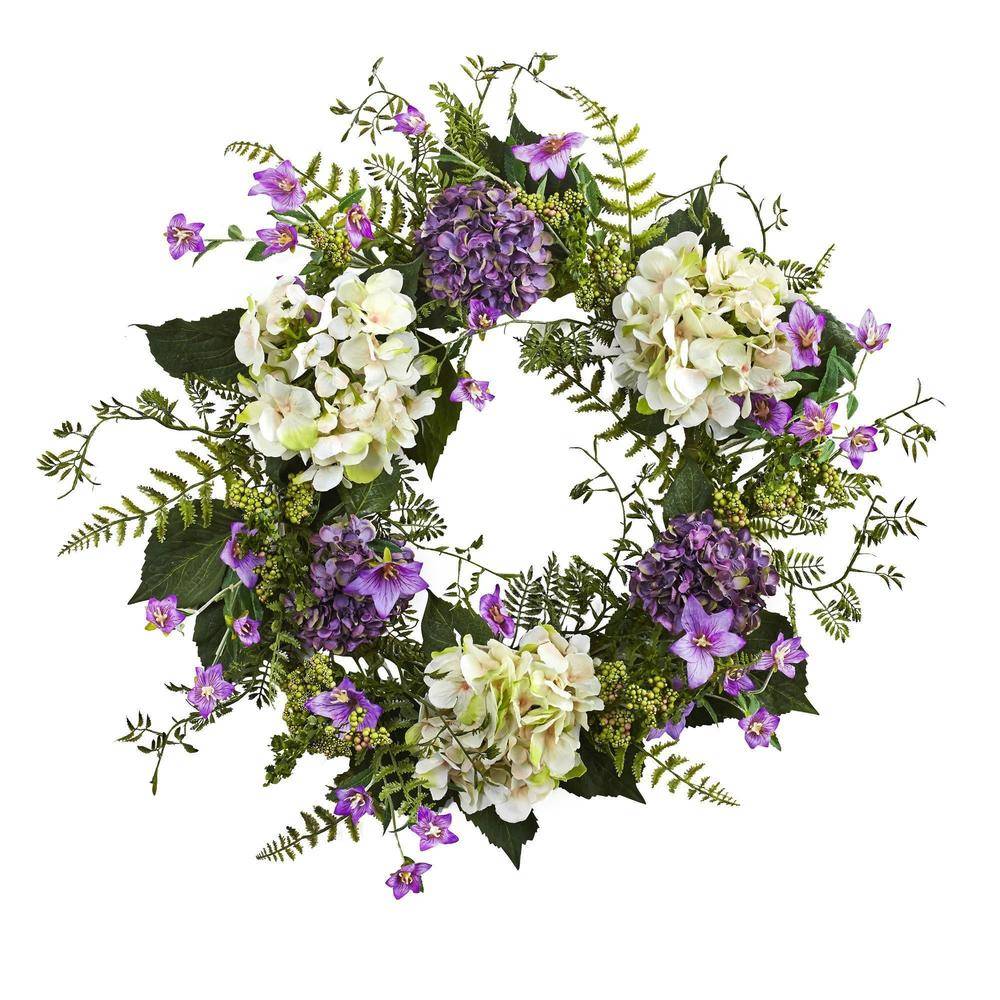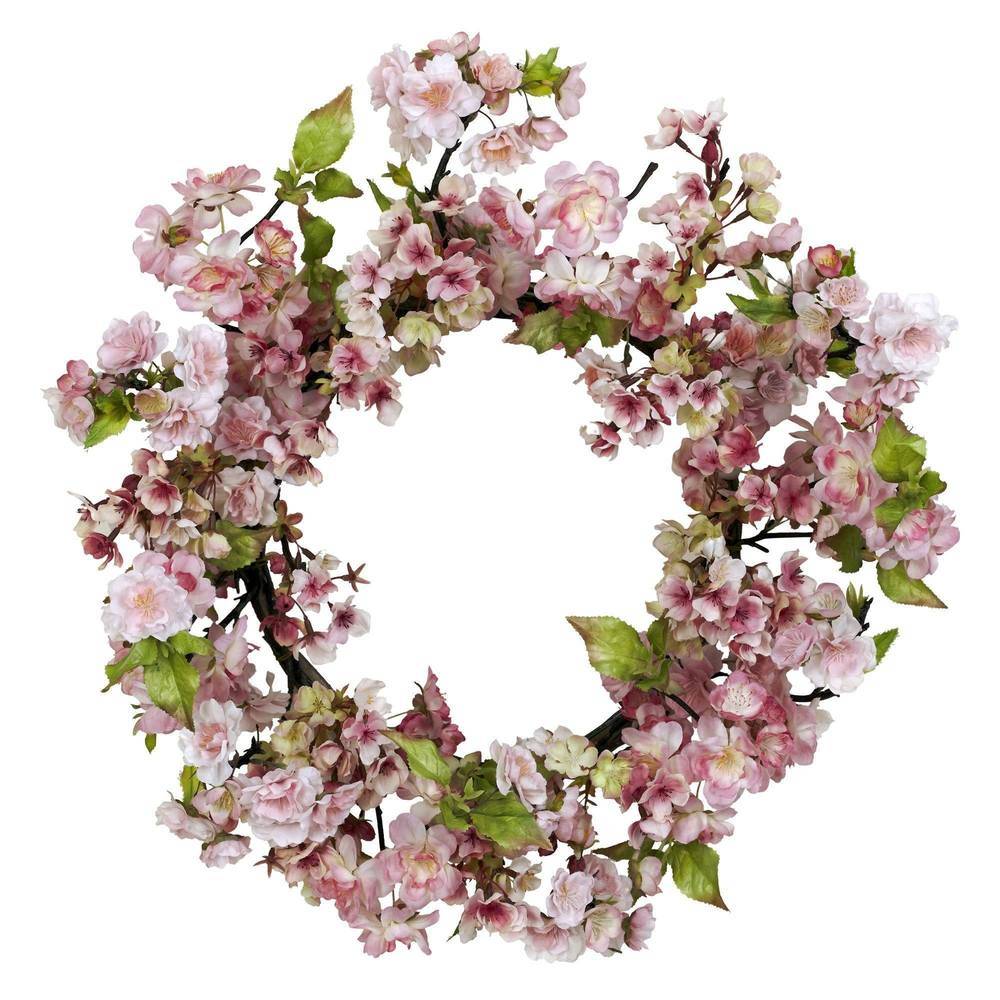 24" Cherry Blossom Wreath

Is it springtime yet? Have the Cherry Blossoms bloomed? That's the feeling this stunning 24" Cherry Blossom Wreath will bring forth, no matter what time of year it is. Cherry blossoms are a brief moment of beauty in the passing of seasons, but this wreath will let you bask in their beauty all year long. Light pink and white will truly strike the eye on a darker background. Add this wreath to your favorite wooden door to remind you of the birth of spring.