Stunning Spring Door Decorations 2022
Spring is a time for new beginnings, which manifests in how we decorate our doors. The coming season will be full of fresh, modern interpretations of door decorations that are budget-friendly and stylish. Here are some ideas to jazz up your entrance with these excellent Spring Door Decorations 2022 and spring décor items!
1. Simple Hanging Spring Wreath

What you'll need:
You'll need a Styrofoam wreath form, wire cutters, and colorful silk flowers. You can either buy these flowers at a store or pick them up yourself in your yard.
First, put the flowers in the wreath form to have an even amount on both sides. Then take your wire cutters, cut some long pieces of wire, and tie the ends together until you have two long ones (remember to make sure they are even). Next, run those pieces of wire through holes in the Styrofoam and then poke them through the foam away from each other; this is where you hang your door decoration. Some of our favorite silk flowers for your space are geraniums.
2. Easy Painted Door Wreath

What you'll need:
You can find this at your local craft store! It's simple to make, and you can use whatever yarn and flowers you wish! I used an adorable bunny rabbit pattern for mine, but it looks just as good with any pattern or color. So go out and get some yarn of your own because it's fun to experiment.
First, take your yarn, twist it to wound on itself, and lay it flat. Next, place your wreath form over the top of the thread, ensuring you have a few inches extra on either side. Then pull the extra up around the piece and pin it down to hold it all in place.
To start decorating, take one of your flowers and carefully twist a piece of wire on one end all the way around to form a loop. Next, turn the part you want on top of the wreath next to the flower, then wrap that around the wreath twice more. The two ends should meet in front of the flower and then tie them off together into a bow shape. Do this to all of your flowers
3. Fresh Spring Door Decorations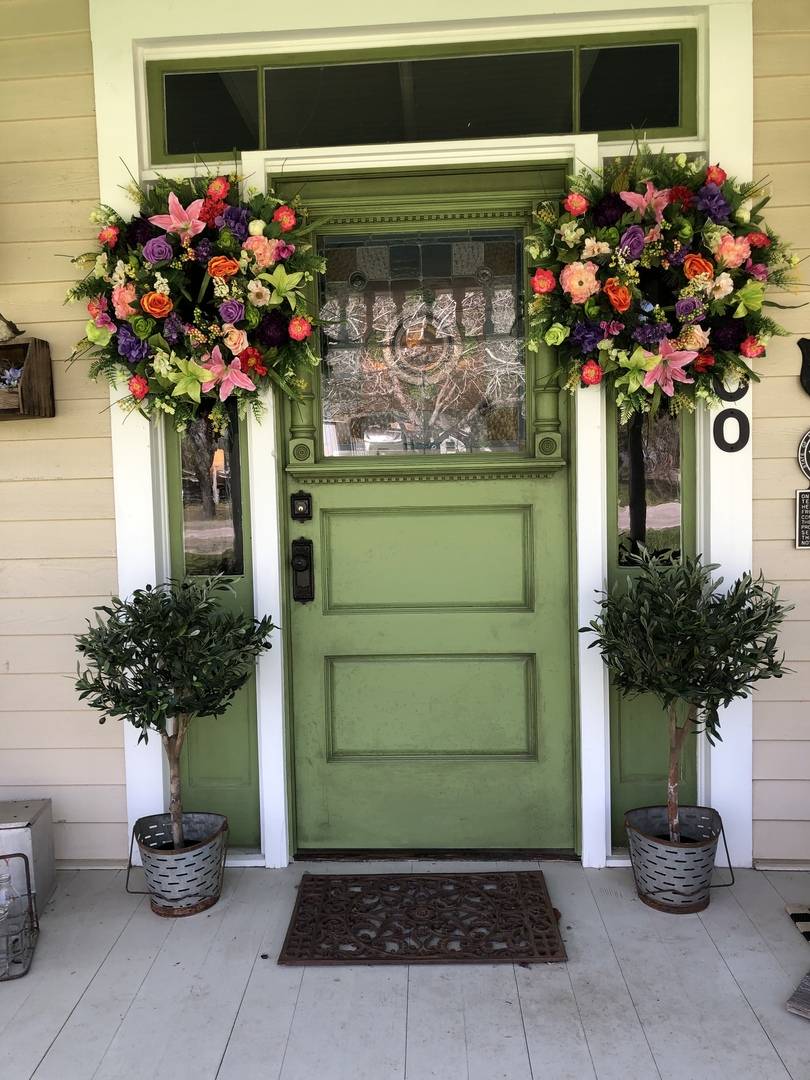 What you'll need:
You'll need some artificial flowers or plants, maybe a little paint or a marker pen...
We recommend these:
Just take any of your flowers and make sure they are fresh! Then, you can spray them with water to get them nice and wet. Or, if you don't have any fresh ones, a flower pot will work just as well.
After picking what you will use to decorate your door, take some wire and cut off a long enough piece to go all the way around the flower (or flowerpot), but keep a little extra on either side, so it has something to hold on to. Next, place the flowers in their holes, and using your wire, twist each end around a little until the whole thing is closed. The little bit that's left sticking out can be bent in half and wrapped around itself.
What you'll need:
Wire cutters, scissors, and some pretty flowers.
Take a large wire wreath form and cut the top of it off with wire cutters. Then carefully snip through each hole of the wire form. This will create a flat piece of wire that will look nice hanging off the front door. Then twist your wire into a figure 8 shape and attach it to your door with long pieces of floral tape. Wrap it around so that it looks nice and even on both sides. Use floral tape on the inside to attach it to the wall. Add flowers into each hole of the wire form.
What you'll need:
Paints or markers, wreath form, wire or metal coiling tool, drill with a 1/4 inch drill bit (optional), wires for hanging (optional).
First, use some paints or markers and decorate a paper plate that is then placed over your wreath form. Then use the wire coiling tool to wrap your wires around the container to be friendly and tight. You can either drill holes in the plate if you wish or just use wires to hang it up.
6. Spring Door Decorations - DIY wreath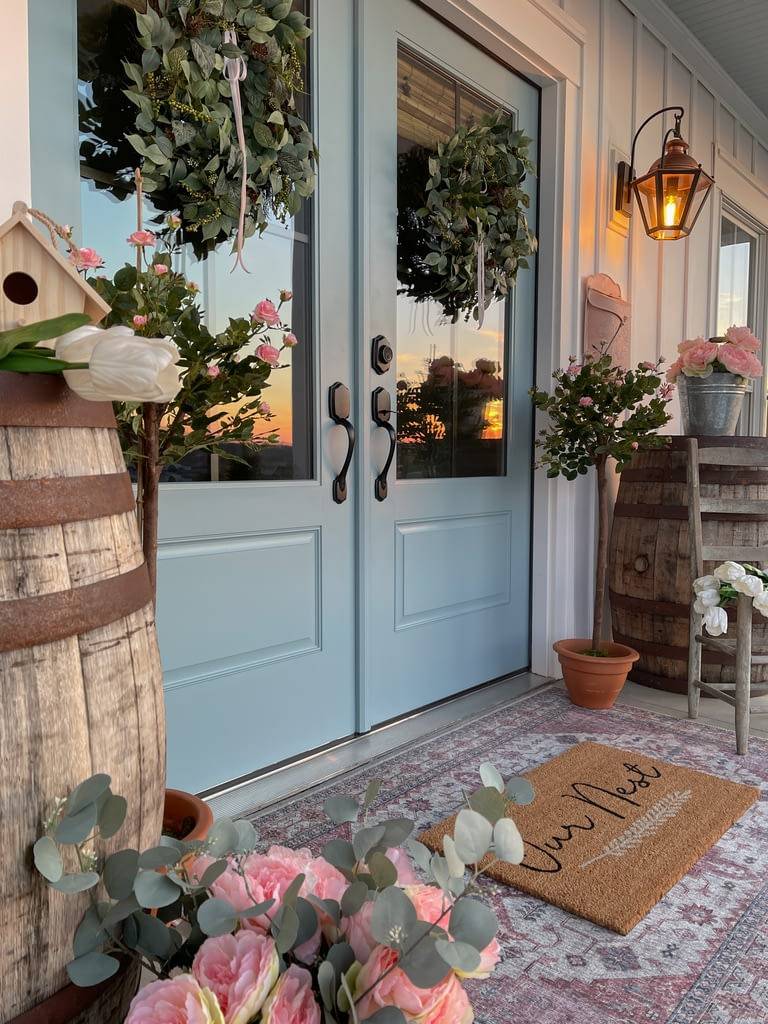 What you'll need:
You'll need some paint, a paper plate, scissors, and yarn!
To make this, let's start with some paint! I chose the colors of green, pink, yellow, and red because that is the colors that spring flowers are dyed in. You can use whatever colors you'd like for this wreath, but I wanted flowers that were bright but not too bright for this tutorial, so I used a color called "Sassafras".
You can use any yarn as long as it is soft, and let's start working with the green! Paint a paper plate and roll out the rope. I rolled out about 60 feet of orange rope, but that is whatever you would like. You'll need about 6 inches for each flower, so your wreath should be about 18 inches high.
Once your yarn is dry, you can start cutting the flowers from the green paint. Cut them into nice petals and leave 4 inches on either side (the difference in length between 5 - 6 inch petals). The longer they are, the taller they'll be.
After this, you can start gluing the petals between each of the flowers and have a big bush. I wanted mine to be complete, so I used about 200 flowers for this wreath. This would also look pretty if you use three colors instead of just one! It turned out very cute, and a little girl that came to my house said it was the "prettiest flower ever."
What you'll need:
A paper plate, scissors, wire, paint, and yarn.
Just take some paint and paint your paper plate with any colors you like. You can also make whatever patterns. Now start snipping pieces of wire until you have about 10 inches of each color. Take your wire and put one end through a hole in the center of your plate, then take the other end to the next spot and pull it through. Repeat this process until you have a big spring. Then cut all your yarn into 6-inch pieces and wrap them around the springs. Then tie off what's left with a small tight knot, and you're done!
8. Easy Spring Door Decorations - Wreath

What you'll need:
Wreath form, Cardboard, Plastic Wrap, string (to hang), artificial flowers, hot glue gun, floral tape (if needed).
First get your wreath form and paste some plastic wrap over it. Then cut out a small circle of cardboard about 3 or 4 inches in diameter for your wreath base. Place the cardboard face down on one side of your wreath and tape it in place with floral tape so that you don't have to worry about it falling off. Then cut a hole in the middle of the cardboard (about 4 inches) to put your flowers through.
Next, put some paper flowers or artificial flowers on the plastic wrap while it's still dry. Flip them over so that they are facing up. Then flip the wreath over and tape the cardboard down. Now your wreath is ready to use!