The #1 Buying Guide for Large artificial plants by Nearly Natural
You might be looking to spruce up your space. One of the easiest ways to transform your home into an exotic oasis is by designing with large artificial plants. Perhaps you miss the tropical rainforest? Fancy a trip to see the pretty cherry blossom? Want to walk through the pristine meadows? No matter where your wanderlust takes you, you can relive those memories effortlessly with zero maintenance.
Real plants can be challenging to maintain; from their seasonal availability to their constant need for upkeep, large artificial plants provide the benefit sans the care. If you travel, have pets, children, or a busy travel schedule, fake plants offer peace of mind and keep the little ones safe. Noisy pets can cause quite a bit of trouble as some plants are poisonous, but you never have to worry about this again with artificial. Accidently overwater? Temperature changed? Are you traveling on a long work trip? We got you! We have a plant for every style and budget.
What to Consider When Choosing a Large Artificial Plant?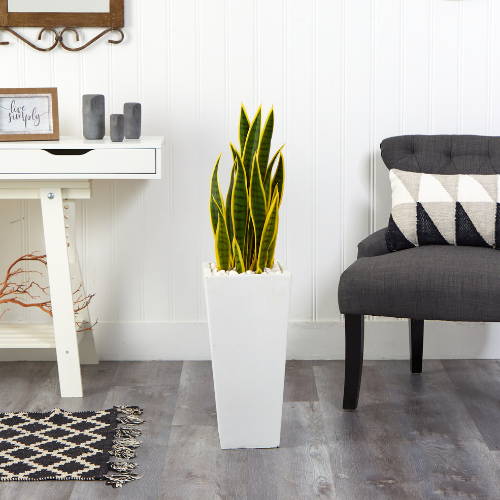 While you might love that Fiddle Leaf Fig, make sure it is safe for outdoor use. Some large indoor artificial plants may not be suitable for the outdoors and can lose their color from the natural elements. This is why it's essential to look out for plants that say UV resistant or indoor/outdoor on the title. Artificial outdoor landscape plants can prove to be more economical in the long run as you'll save from gardening costs. Maybe you wish to transform your garden but lack the time; large fake outdoor plants can make your dream garden a reality. Outdoor plants are safe for indoor use.
This depends on the price, style, and taste. Most artificial plants are made from plastic, polyester, and other high-quality materials like silk. Silk and plastic are the industry's standard because, they offer a realistic appearance, and both materials are flexible enough to bend and shape in various postures to offer that same realistic curvature found in natural plants - when shopping for artificial plants (or anything artificial), your goal is to find products that mimic nature as closely as possible. If you're strict on budget, then polyester and plastic is your best bet. If you're looking for high quality artificial plants, then any combination of fibers like rayon, silk, and cotton will do the trick.
Did you know?
Through innovation in manufacturing and technology, Nearly Natural have been able to offer the best materials that are long-lasting. These materials are industry standards that are used by all the major retailers in the world.
This depends on how large you want your indoor/outdoor artificial plant. As a rule of thumb, we recommend you measure your space and add a little more just if you decide to change the planter. For example, you might be looking to add a large artificial plant in pots to your living room; if your ceiling is 8' as most traditional homes are, we recommend going with a 7.5' maximum. This allows you more leeway if you wish to change the planter one day. We recommend using a measuring tape when calculating the size. Nearly Natural measures products from the widest or tallest reference point. We start at the bottom, then measure to the highest leaf, flower, or branch.
Like mother nature, we design our plants and trees with a natural element. We give you the freedom to choose how you want to shape your item, DIY, and have some fun.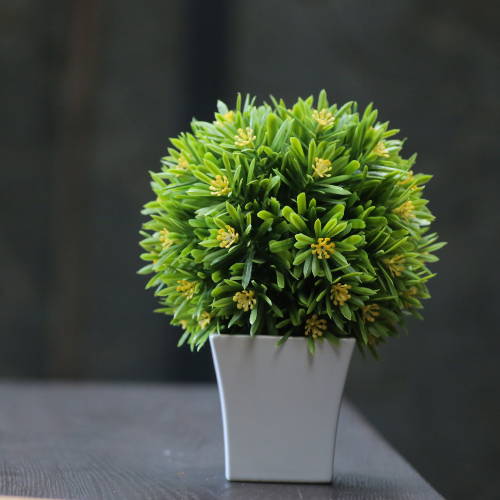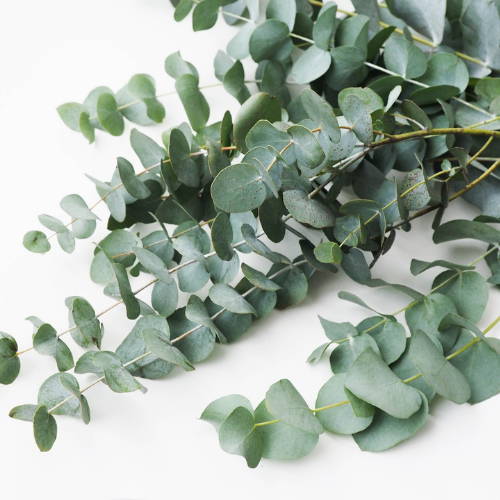 We aim to deliver the most natural products, closest to their natural counterparts. If you're craving that sense of real texture, we recommend investing in a real touch artificial plant that mimics flora's natural texture. They feel so real; you can't tell they're fake. If you want the closest thing to real, look for a real touch plant with a natural trunk. It doesn't get much better than that.
Maybe you love DIY. We sure do. When thinking about supplements, remember the planters. There's many you can choose from and even change as your style grows and evolves.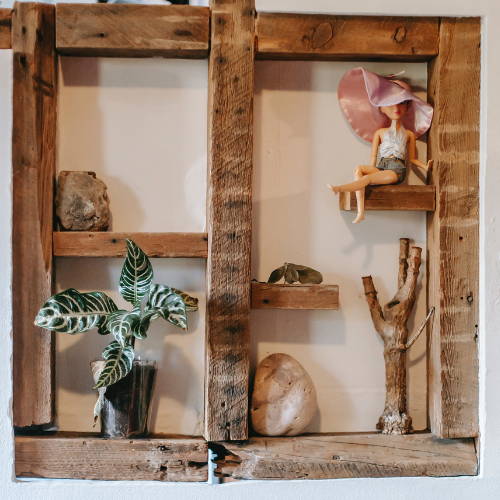 Where you should place tall artificial indoor plants is up to you. Decide where you have some extra space to house a fake floor plant. As a general rule, look for areas that need extra love. Some examples include a bathroom, awkward corner, foyer, window, bedroom, or kitchen. If you have a compact space, you might feel better with a hanging plant.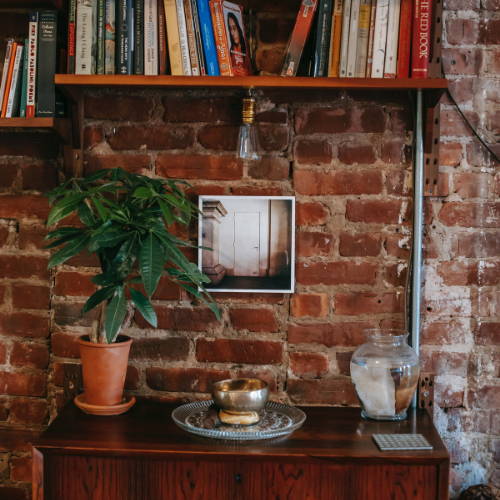 As people evolve, so do the trends. One day a new style trend emerges; the next day, another one is born. Having your personal taste is essential when picking plants. Your décor aesthetic helps create the synergy that makes a room feel like a home. It might be tempting to click and buy from all the trendy décor we see on social media, but remember, your style is what makes you unique. From bohemian, minimalist, eclectic to rustic, the choice is yours to make. You can even mix and match from different design schools. That large artificial snake plant might not be so trendy in 5 years. Check out our social media channels for some design ideas, or this blog for our top 10 artificial plant picks for home décor.
Real plants require more maintenance, but we recommend some products to help maintain your artificial plants' appearance. Some products that help are feather dusters and cloths. Try feature dusting about once a month to ensure your new product last awhile
One of the best ways to truly DIY is by fluffing your tree. When the tree arrives, it is compressed because of the shipping, allowing you the freedom to style to fit in your space. When it first comes, it won't look like the one in the marketing photo. The beauty of the product is that you can bend the branches without fear of them breaking. Put your creative thinking hats on and DIY.
Do you love your new tree but not the pot? Feel free to swap the planter with one that reflects your design aesthetic. You can change the planter of any large artificial plant for one that you love. DIY project?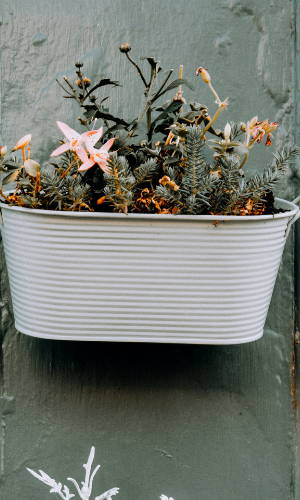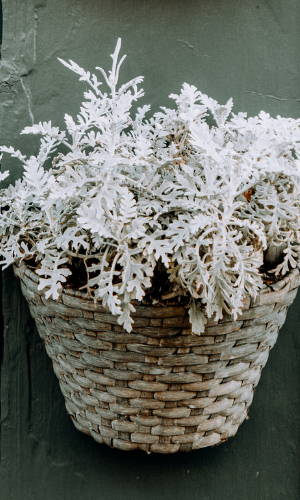 Our Top 10 Best Large Artificial Plant Picks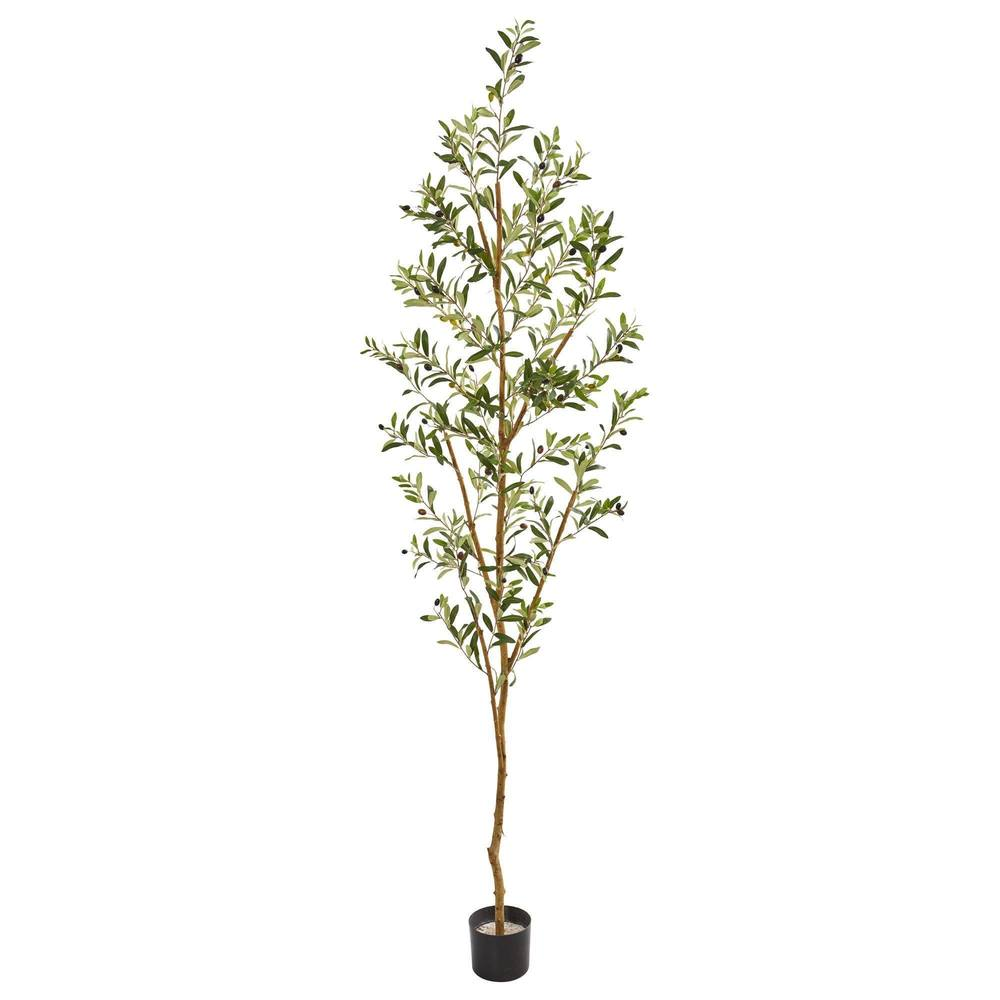 82" Olive Artificial Tree

Miss the Italian countryside? Get ready for a siesta with this Olive artificial tree that is perfect for indoor use. Featuring a massive height of 82 inches, this tall artificial indoor tree is an excellent vertical accent for your home.
40" Pothos Hanging Bush (Set of 3)

Light green with yellow variegated heart-shaped leaves flow freely from it's hanging position. Pothos Hanging Bush is a luscious 40 inch waterfall of leaves. Place the climbing plant up on a high window sill, a vintage wardrobe, or above a kitchen cabinet.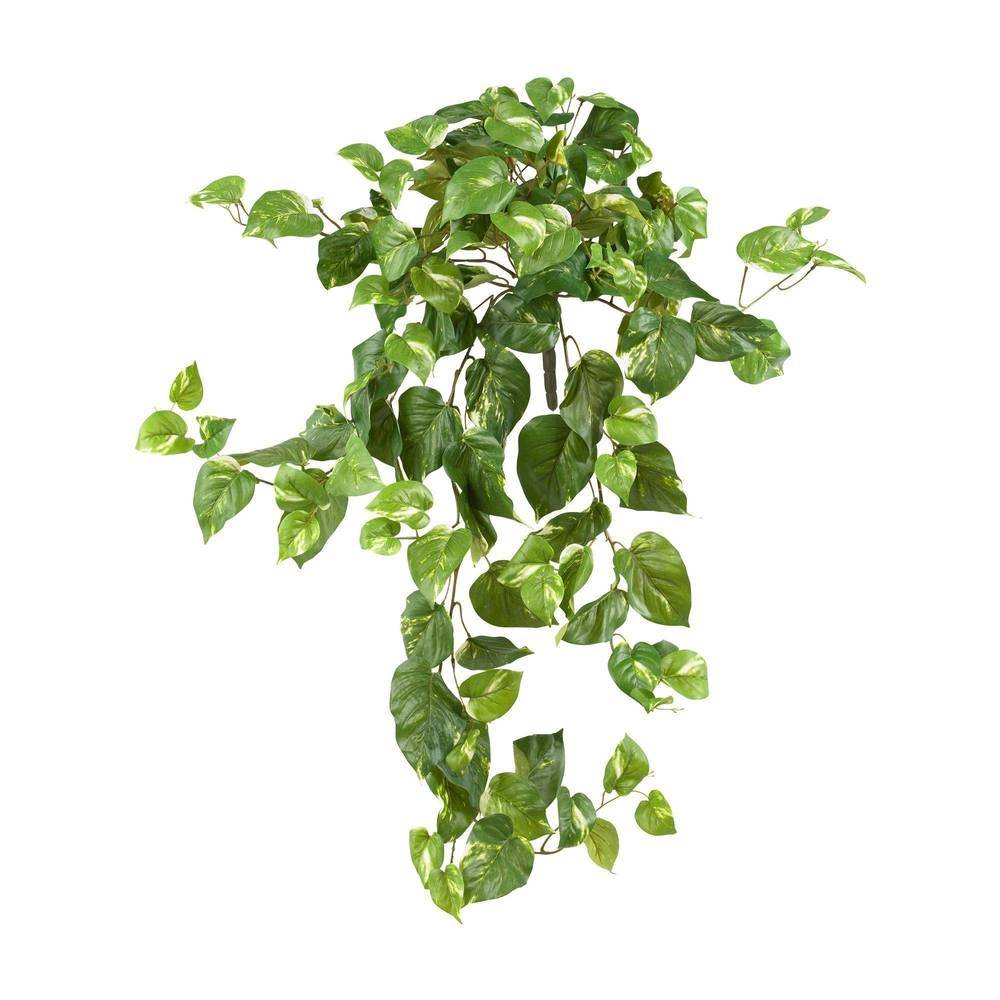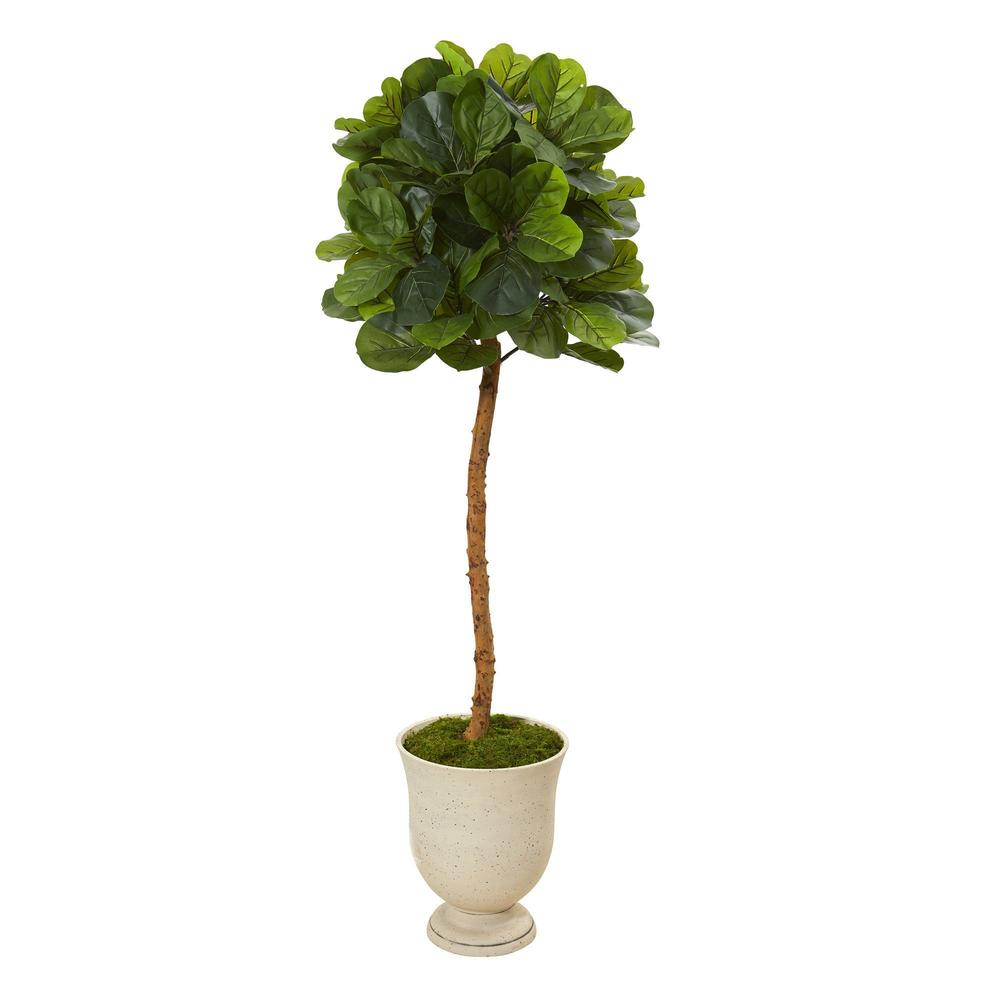 65" Fiddle Leaf Artificial Tree in Decorative Urn (Real Touch)

You see them everywhere. From Instagram ads to trendy influencer photos, this is a showstopper that is infamous for being overly picky and challenging. But with this artificial indoor floor plant, you can enjoy the large, glossy leaves without the maintenance. It even feels real to touch!
7' Bamboo Artificial Tree with Black Trunks UV Resistant (Indoor/Outdoor)

Bring Asian zen into your home with this Bamboo artificial tree. Graceful as it is detailed, this symbol of strength can replace rigid corners with warmth just as well as it can redefine outdoor living spaces, all with no maintenance required.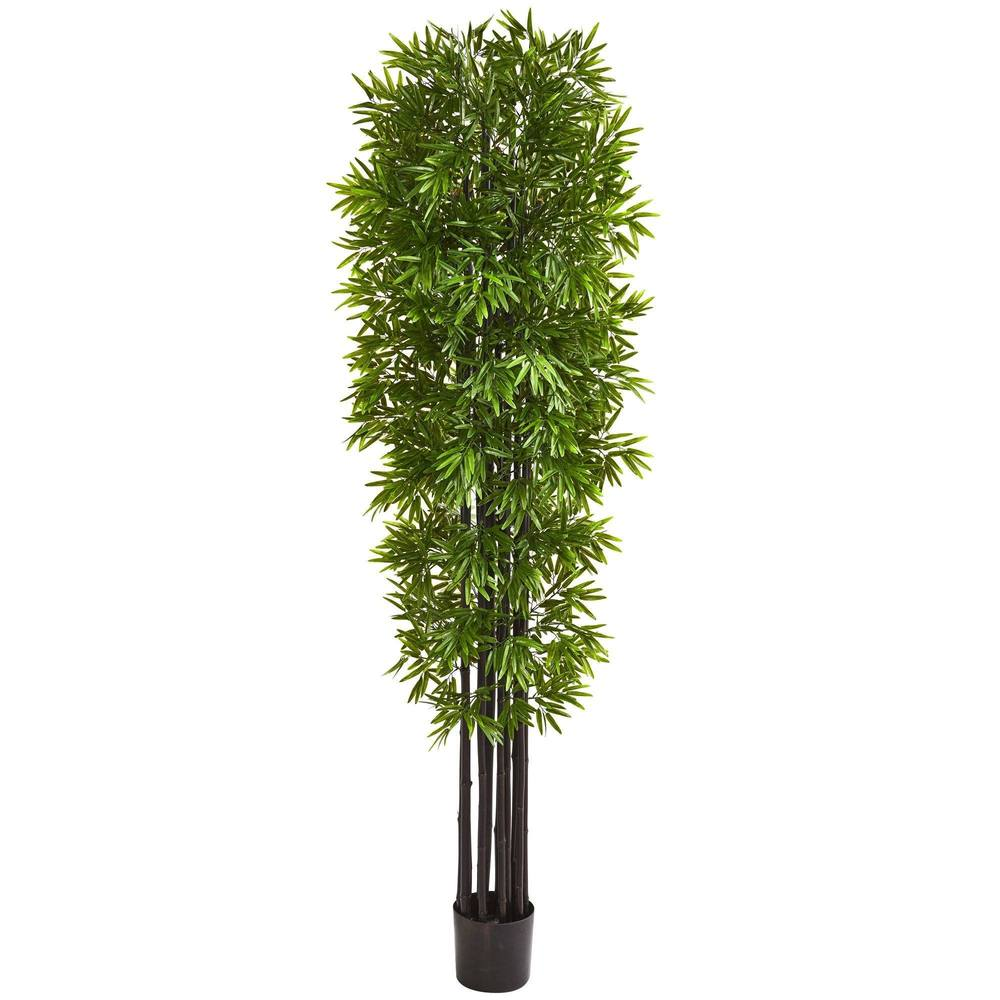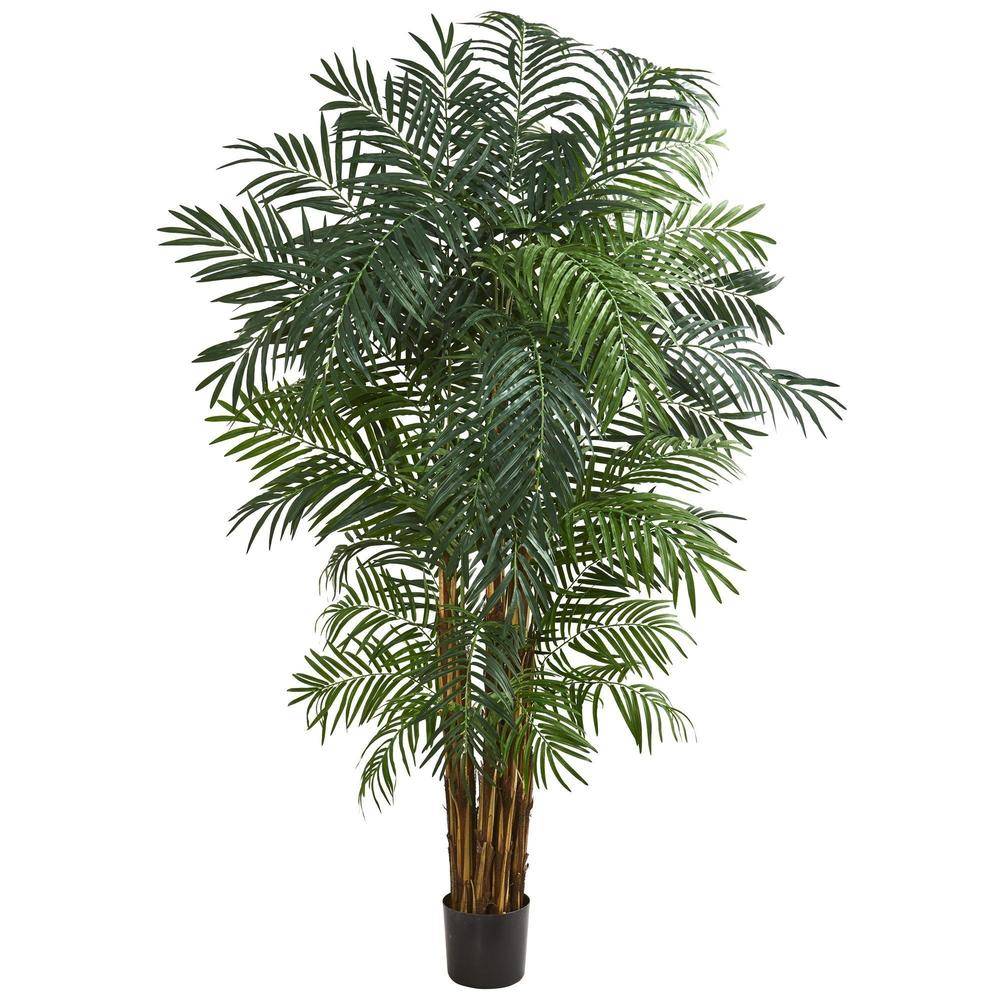 7' Areca Palm Artificial Tree

This seven-foot artificial areca palm will not only add dimension to the corners of your room but provide you with a warm and inviting subtropical feel that will match a wide variety of natural woods already in your home. This large artificial floor plant is sure to be a staple in your home.
7.5' Double Pond Cypress Spiral Topiary Artificial Tree UV Resistant (Indoor/Outdoor)

With a beautiful helix of dense green foliage wrapping around a matching twisted stem, you can intertwine your exquisite designs with this spiraling artificial double pond cypress topiary tree. Safe for outdoor use, style in a doorway or patio area for a posh look. This large fake outdoor plant is ideal for all locations.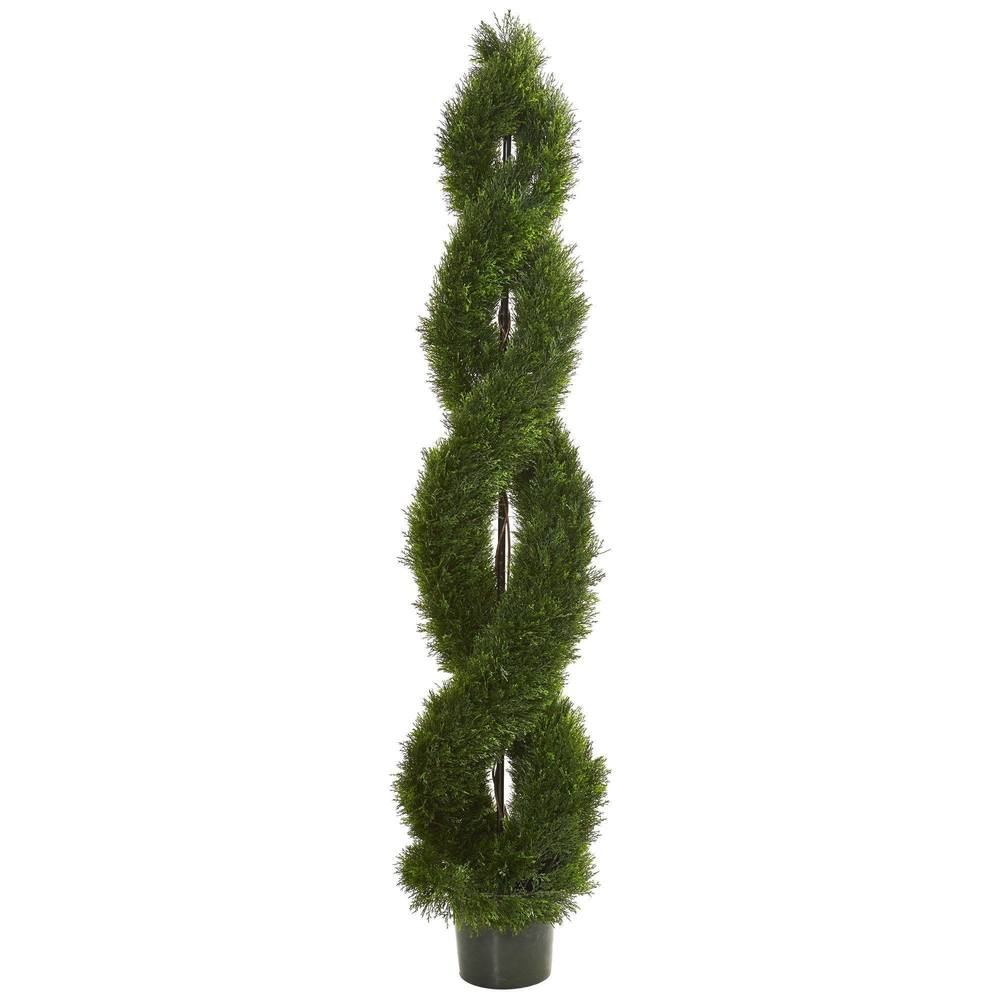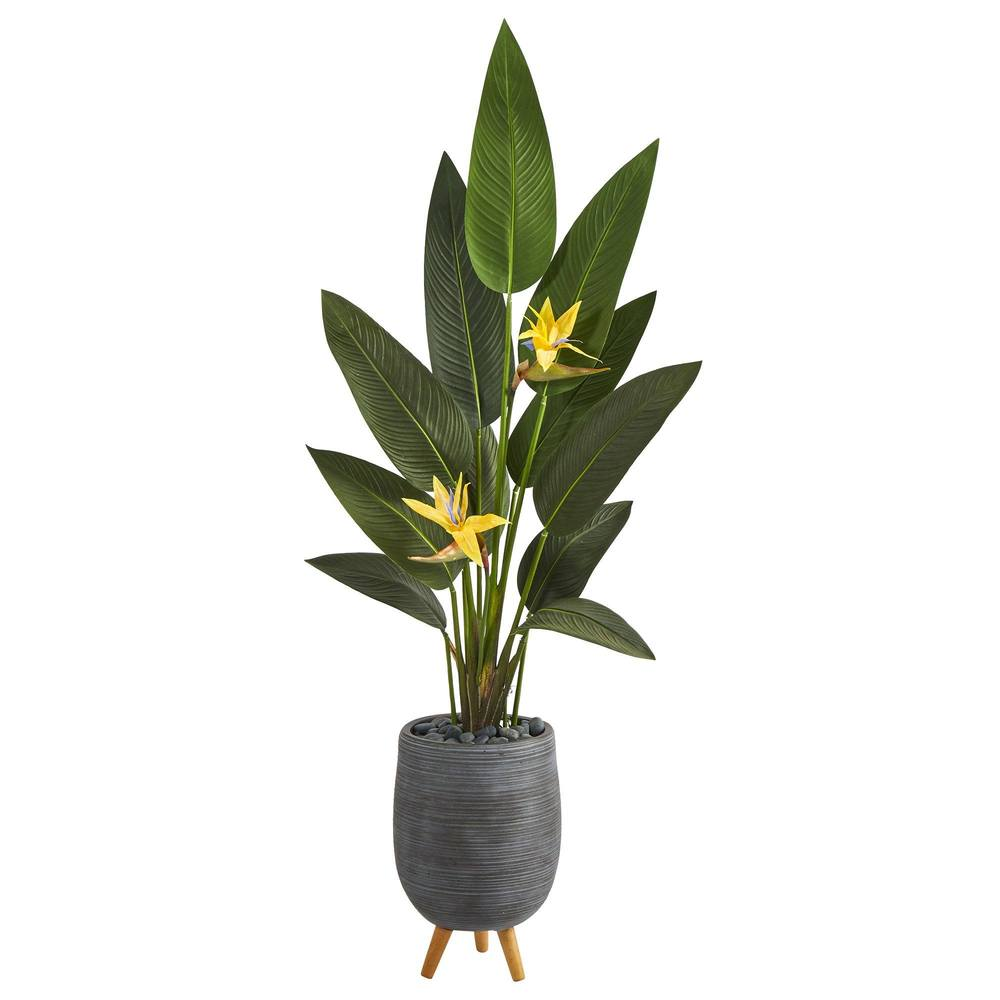 50" Bird of Paradise Artificial Plant in Gray Planter with Stand (Real Touch)

Introduce hints of natural color throughout your home or office with the help of this artificial plant showcasing oversized bird of paradise leaves that fan out with a lifelike quality in bright, rich hues, handsomely accented with silk blossoms captured in mid-bloom - all of which feels real to the touch.
6.5' Cactus Artificial Plant

Get your desert on with this cactus artificial plant. Turn up the heat in your home with the thick green stems with spines. This artificial indoor plant is perfect for bathrooms, living rooms, or bedrooms.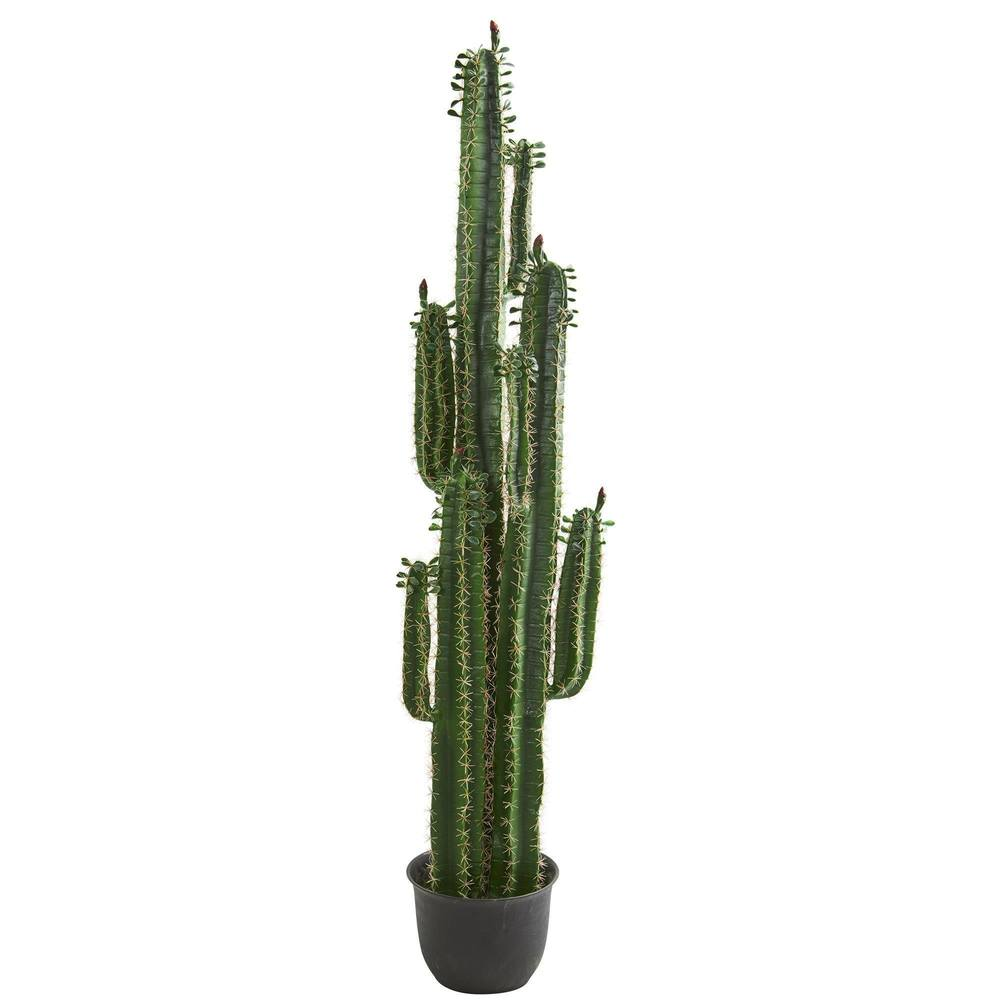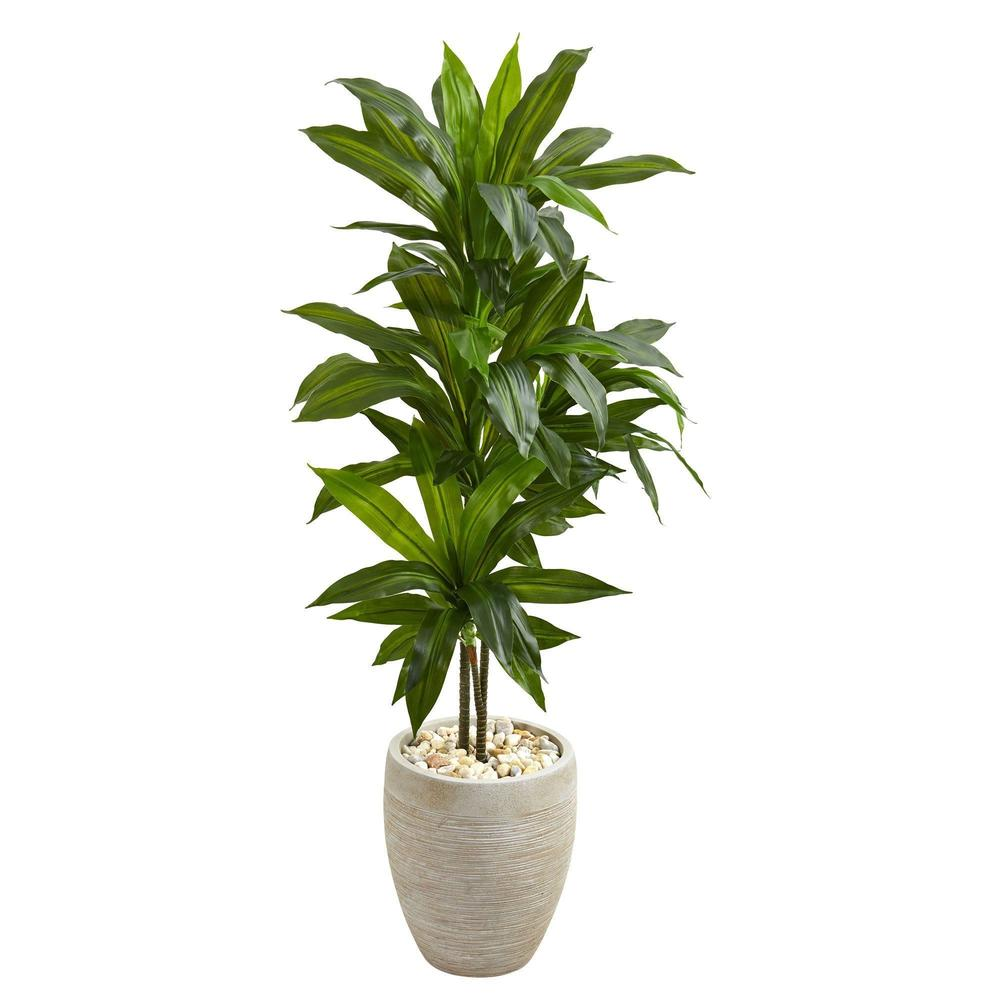 4' Dracaena Artificial Plant in Sand Colored Planter (Real Touch)

Dramatic foliage defines the dracaena. This realistic succulent has spears of dark green leaves exploding from delicate brown stems. The artificial indoor floor plant looks so real; it's Nearly Natural.
Sansevieria w/Black Planter

Some plants exude class, and that's precisely the case with this beautiful Sansevieria plant. This large artificial snake plant has lush green leaves point skyward, while the included decorative black planter gives it a sturdy base.