The Dreamiest Outdoor Spring Decorations You Have to Try This Season
It's finally spring; the long-awaited season is here. You'll probably be spending more time outdoors immersing yourself in nature for your enjoyment. And for a good reason. What better way to unwind and relax than with a new season to celebrate with family? While we all know the classic and beloved pastel colors, blooming flowers, and bunnies, why not be a bit different or traditional in your décor this year? The choice is up to you. Our interior decorators at Nearly Natural design lifelike, nature-inspired faux trees, perfect for year-round use. Refresh your spirit, indoor and outdoor areas this time of year.
One of the most popular areas to decorate is the front porch. We love this area because it's the first thing guests see when they pass by the house. We have many front porch décor ideas for spring we can't wait to share with you. So get a chair, grab a drink and get ready to transform your space with outdoor artificial plants and indoor artificial plants.
What to Consider for Spring Decor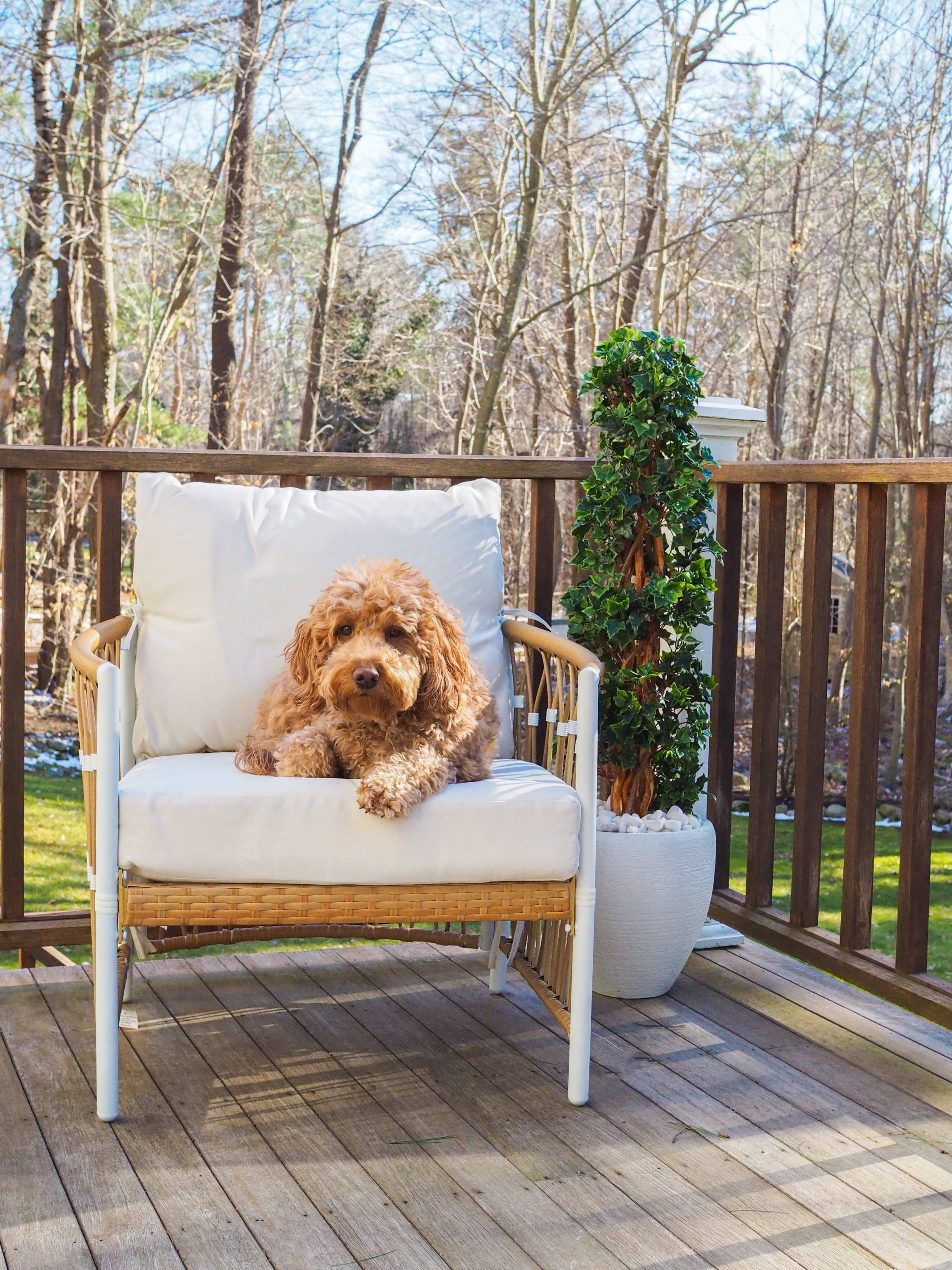 Before you start decorating, there are a few matters to keep in mind, mainly to ensure you're maximizing your space to reach its full potential. With help from leading interior decorators and social media influencers, our team created a list to help guide you in your porch spring essentials and greenery.
Measure your space -

Not the most fun part of your decorating journey, but it's essential. Because no one likes messy returns, it's better to get this part done right the first time. Start by getting the measuring tape and jotting down the measurement of your front door, including length and width. After, look for wreaths with a circumference that's less than the door. You wouldn't want one too big and looks out of place.

Choose a style -

And there are so many to choose from. You can even make your own by mixing elements from different ones. Our favorites for spring include a traditional, modern farmhouse, rustic, and boho.

Set a Budget -

We know pastels and blooms are synonymous with the season, but if you're tighter on the budget, consider choosing faux outdoor trees that are perfect for year-round display. Also be on the lookout for promotions and other deals to offset the costs.
We love the olive cone topiary. So do influencers and customers. Inspired by nature and accented by faux olives so lifelike you'll want to pick at them, add this cute, high-quality piece in any home. Here's our top tips on how to style it.
Add two-door side -

For cohesion and an elevated look, add door side to the front door alongside a wreath.

For a touch of color, consider styling with flowers -

This is a great way to blend those seasonal hues. A good rule of thumb is to change for every time of year.

Curate with other olives -

Olives are in. Think about other olives that can enhance the look.

Change the planter from time to time -

The best way to give your space a refresh is by changing the planter now and then.

Shape -

Make the tree look lifelike by shaping and using the picture as a guide.
---
We love the olive cone topiary. So do influencers and customers. Inspired by nature and accented by faux olives so lifelike you'll want to pick at them, add this cute, high-quality piece in any home. Here's our top tips on how to style it.
Add other tropical plants - Who says it can't be green faux-ever? Adding other tropical plants such as fiddles, dracaenas, and ferns can be spring all year-round.

Add multiples in a pergola - What better way to feel the tropics than sipping a beverage under a palm tree? Make the pergola feel lusher with the help of palm trees.

Sit back and watch swaying palms - This isn't a décor tip, but it's the purpose of good design.

Add some green hanging plants - To add some more green, hanging plants are a great choice, especially in a compact area.

Mix with different finishes - Since the planter is black, consider some brass ones for juxtaposition.
---
Topiaries are incredible for spring and add a sense of posh to any space; this is why we love them in outdoor areas for spring.
Add some door side -

One on each side of the door, an elevated and traditional look.

Perfect for many design styles -

You might think silk topiaries are more traditional, but they can complement many design styles, including modern farmhouses.

Add some flowers -

This is a great way to add some dimension and color! Especially for spring, consider some peonies or tulips.

Add faux moss -

Faux moss moss can change the whole look for a little change.

Complement with more miniature silk topiaries along the front porch -

Consider displaying a few smaller silk topiaries in a line alongside the front porch to elevate the look.
---
Perfect for a tropical-inspired space -

The lush, green leaves create a sense of the tropics and transform any space into an oasis.

Rustic planter -

The base creates a great accent for any modern farmhouse or rustic-inspired outdoor space

Complement with other

outdoor trees

-

Especially some faux outdoor trees that are a bit on the taller side.

Consider styling with a faux eucalyptus -

Like the boxwood bush, the faux outdoor eucalyptus adds more green.

Create depth -

Consider designing with mixed finishes such as brass for a more elevated look.
---
Complement with a wreath -

When adding this sleek olive topiary to a front porch, coordinate the look with a faux wreath.

Add sleek finishes -

For a black pergola or a swing, place it nearby for a high-end, luxe look.

Decorate with other olive trees -

Maintain consistency this season by adding other faux olive trees to blend.

Place it on an outdoor table during Easter -

Create a centerpiece to love by adding this piece as the centerpiece during Easter brunch.

Shape like a pro -

Maintain the look by feather dusting about once a month and shape by using the image as a guide.
---