Tips for Decorating Your Home With Fake Pothos Plants
When your home needs a touch of natural freshness, here are a few things that can give a room a burst of fresh color and natural beauty.
One of the most versatile artificial plants is the leafy Pothos plant. Also nicknamed the Money Plant, it is a popular choice for those selecting a silk plant. With a burst of heart-shaped leaves and with accents in several colors, these silk plants can be styled in numerous ways and are suitable for adorning any home or office.
Here are some tips for decorating with faux Pothos plants:
1. Set Them Against Neutral Colors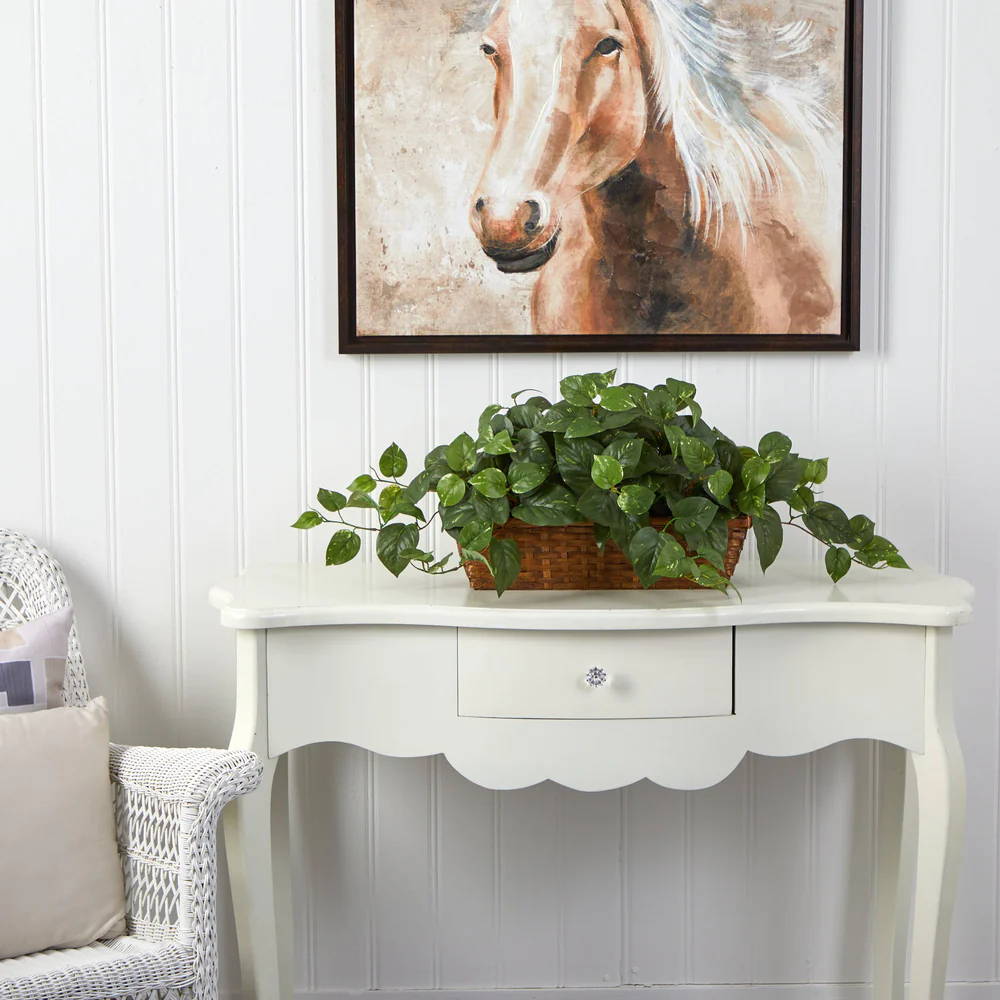 The bright green leaves of Pothos plants make a noticeable impact against a white or ecru wall accents that make them perfect for many decorative color schemes.
Bright green silk leaves make a sunny color look even more attractive. As the sun's rays impact the Pothos leaves, you'll feel enlightened by their natural beauty.
Once again, the variety of color accents you can find on fake Pothos makes it easy to adorn them with artificial flowers. For example, pairing silk Golden Pothos with some yellow geraniums makes a wonderful arrangement.
Taking several strands of faux Pothos and threading them in and out of the openings of a wooden trellis structure will make a beautiful impact inside a large inside room, or on a backyard fence.
Placing your fake Pothos plant inside an old copper kettle makes a unique decoration. Silk Golden Pothos leaves are best at reflecting the metallic notes of copper, but any accent color against the dark green makes a bright and attractive addition to any room.
Choosing a few triangular vases, placing them on a wall and filling them with silk Pothos plants will produce an unexpected and artistic effect. Using three of the triangular vases will reinforce the triangular theme.
If there is a corner of a room with a cozy chair, make it feel even more comfortable by positioning an artificial Pothos plant in a tall planter, next to the chair.
Place a backless shelf against a wall, and fill it with several identical planters full of leafy silk Pothos plants. Make sure the shelves are tall enough to accommodate the height of all the Pothos leaves.
9. Pair it With a Painting

A hanging fake Pothos plant, adjacent to a vibrant painting is a great way to decorate a wall. Choose an abstract painting with bright green colors; or, find a painting that highlights the colors you will find in the accents of your silk Pothos plant.
10. Put the Plant in Motion

If you really love a plant, why not make it easy for that plant to be transported from one room to another? Place your artificial Pothos into a planter, and park that planter on a wheeled platform. That way, it can be pushed into any room; at any time of day.
---
The bright green silk leaves of this hanging plant make this the ideal plant for any setting. Pothos spread their leaves without rhyme or reason; extending their exuberant joy and initiating smiles wherever they hang. This selection gains you three sets of hanging bushes.
---
Artificial Pothos plants make an irresistible sight on their own. As the fake leaves of this selection cascade over the rim of the planter, they provide an oasis for your thoughts and emotions. Wherever your heart longs to go; that's where this faux Pothos can bring you.
---
If a Pothos could masquerade as a Christmas tree, this would be the one that would be best suited to that task.
---
Of these choices, the personal favorite of many customers is the hanging basket. This selection allows you to enjoy the exuberance of the silk leaves as they spill over the basket.
Silk Pothos plants are a popular choice for many reasons. Its versatility, ease of styling and its bright prolific leaves makes them your best choice.