Top 10 faux snake plants you're going to absolutely love
You might recognize the sansevieria plant by another name, cue, mother-in-law's tongue, the snake plant, or the devil's tongue. While these names might sound familiar and funny, they are the best way to describe this funky and eclectic plant. Because of its spiky, long leaves creating attractive foliage, people flock to them for spaces of all kinds. Native to the tropical regions of Africa, exclusively in Madagascar and other steamy parts of Asia, enthusiasts of this plant enjoy its verdant look full of life. Even those less fortunate who lack a green thumb might have difficulty enjoying its splendors but need not worry. With no maintenance required, you can still jump on the trend and "get the look" with lifelike artificial plants. Inspired by nature, our realistic-looking artificial plant décor is perfect for everyone, no matter their lifestyle. Up your home décor today by adding a nature-inspired faux snake plant. Learn why interior designers are calling this the "it plant."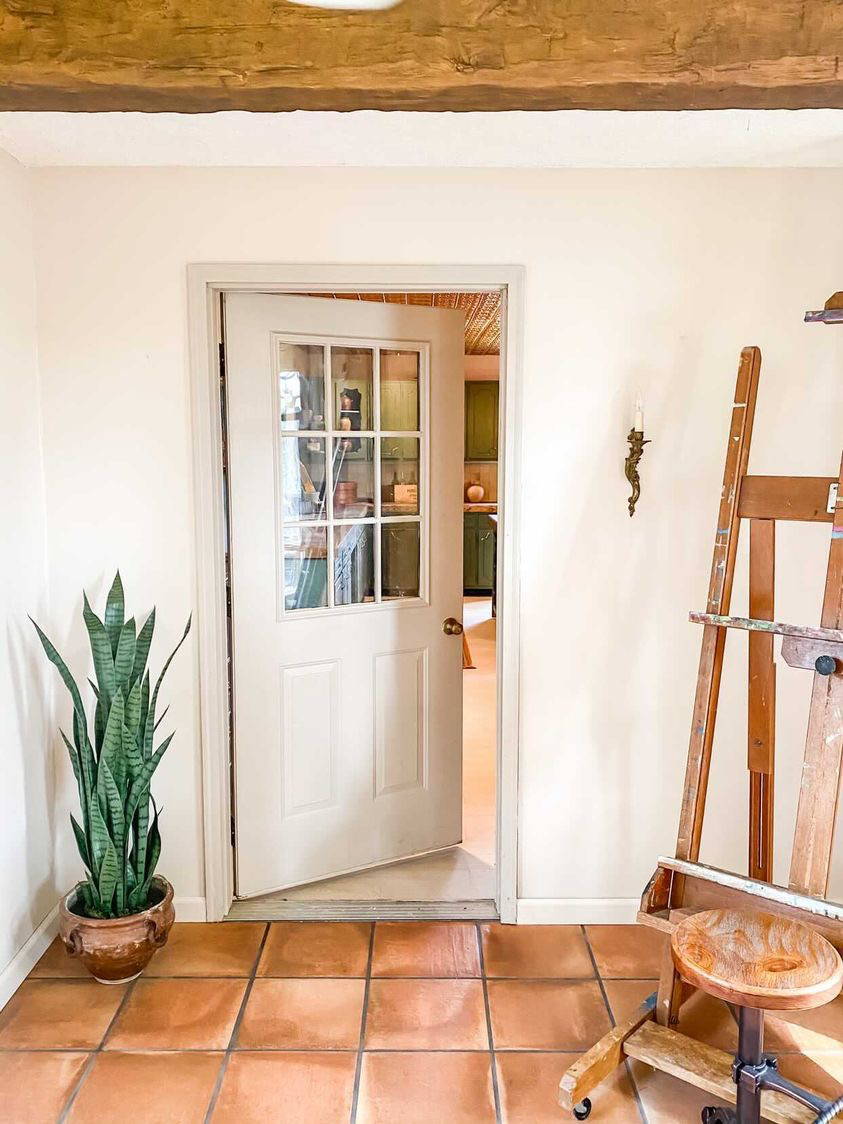 Why Are Sansevieria Plants Awesome?

Snake plants are fantastic, well, because they look cool. Horticulturists love their slender, long, wavy leaves with a variegated pattern, making it indeed a unique plant. Although, in contrast, all plants have their charm and charisma, the Sansevieria stands out because of its leaves. The vertical foliage differentiates itself from the garden, and non-plant parents always ask, what plant is this? They're relatively easy to grow, but if you have a puppy, cat, or a baby, it can become a hazard; fur babies and real babies tend to be curious. But luckily, you can still join team faux with a faux snake plant. Some of our artificial snake plants are "real to touch," meaning they're manufactured using a unique process to make them indistinguishable from the real thing. Or, to be more dramatic, our team always asks, is it real or Nearly Natural? Of course, you can't go wrong with a maintenance-free, faux snake plant.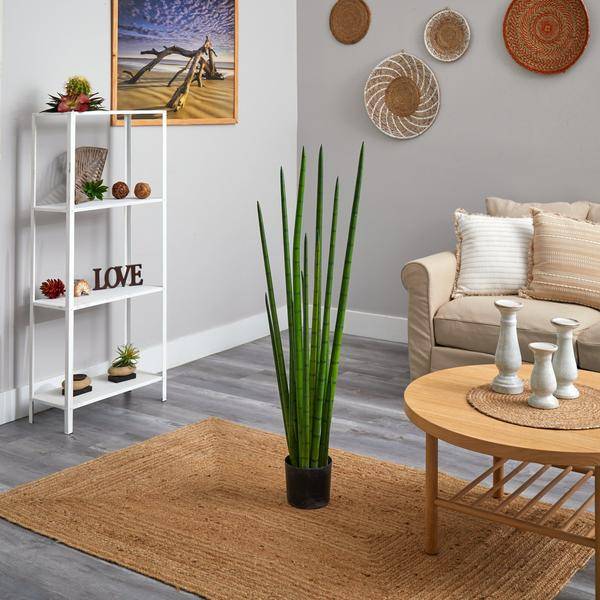 How to decorate with fake snake plants?

Our interior designer has entered the chat. Did you know? Interior decorators and horticulturists design all our plants. Feel confident knowing you're receiving a high-quality faux tree at a great price, back to how to decorate with fake snake plants. We recommend using an artificial snake plant to fill a bare corner in your house. For example, many people enjoy adding it to baskets to elevate the look and add more height. When adding it to a basket, stuff the basket with newspaper to boost it, then you can cover it with moss or faux rocks. Think about which variegated pattern you like best; there are two types of artificial snake plants to choose from; one has yellow edges around the leaves, the other is more green.
Decide which one you like better; there's no wrong answer. If your space is more neutral and has soft colors, you might be turned off by the yellow, but we recommend going with a pick that you like. Once you decide on color, consider which size plant you want. Ranging in size from 12" to 74", you have the chance to decorate in any space you wish. Think about measuring your area to ensure you buy the right size for you to avoid returns.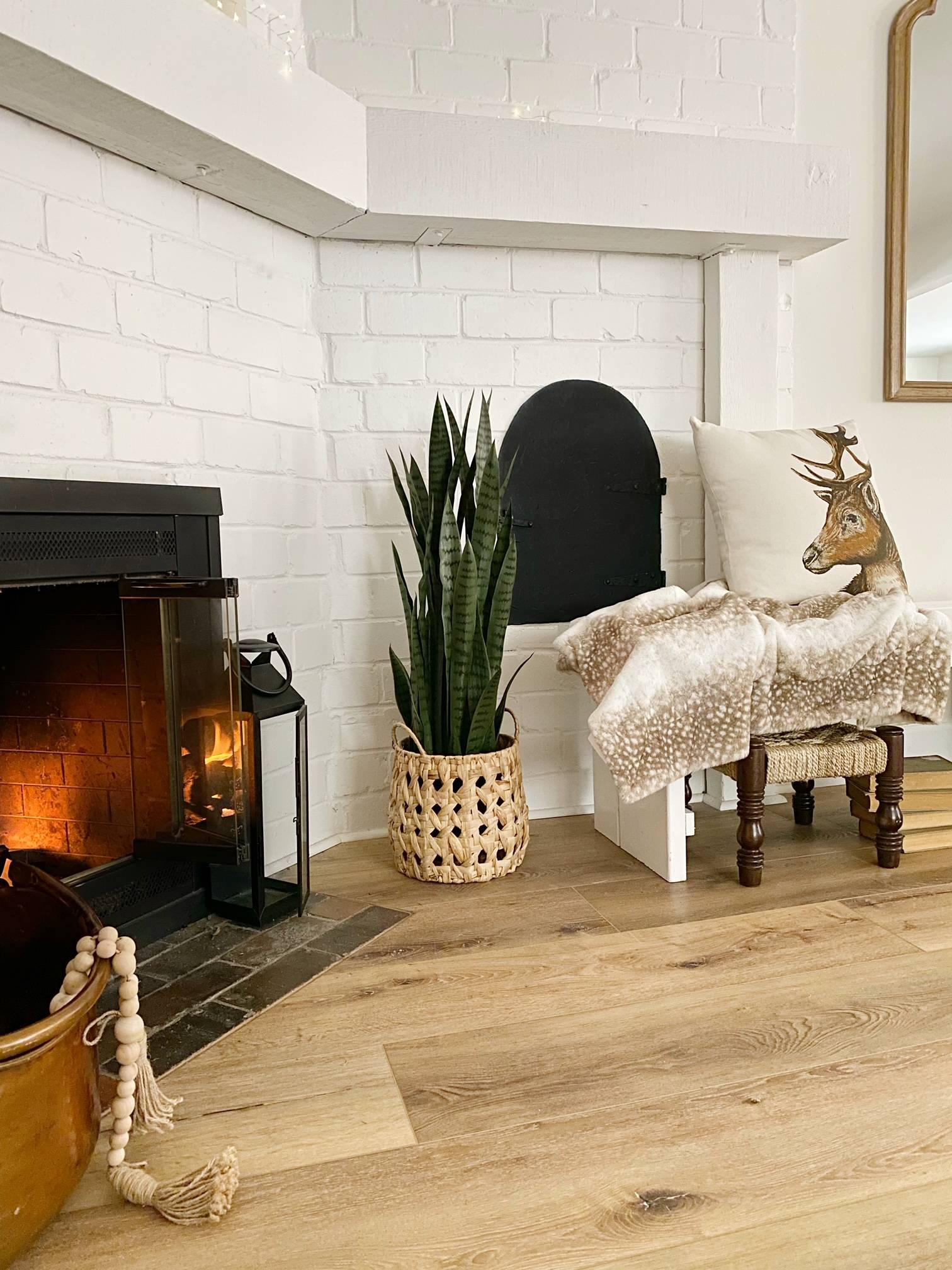 Hiss… Don't be intimidated by this artificial snake plant. Filled with intricate detailing on the sword-like, thick leaves, this realistic faux Sansevieria plant brings vertical appeal to any space with the yellowish-hued tips around the edges. While eliminating the fear of overwatering, this fake plant looks fresh year-round without zero maintenance. Standing 31", from a black metal planter (included in height) nestled with faux moss, curate in compact spaces. Perfect for a bathroom, lonely corner, or apartment.
---
Brighten your home with the help of tropical colors in this artificial sansevieria plant boasting brightly colored snake-like leaves that naturally point upwards. This 33" tall silk plant comes in a vintage metal planter for effortless display. Standing 33" from a vintage planter (included in height), house in any area that needs a tiny focal point. Perfect for rustic, industrial, modern farmhouse, and many other style decors. Watch as it makes any room pop with life.
---
The sansevieria artificial plant sometimes referred to as snake tongue, is a fun gathering of straight-edged leaves that appear to be growing right out of the dirt. With dark green stripes accenting each leaf, this is a unique and eye-catching piece. Place one on either side of your white entertainment center for a fun and natural-looking contrast. Standing 58" from a planter (included in height), DIY, and feel free to add in any planter you like
---
Because of its straight-edged green leaves outlined with yellow and dark green stripes, this sansevieria artificial plant is sometimes referred to as snake tongue. Nestled in a gray planter with a bed of natural river rocks, it will bring a southern western touch to any closed-off rooms in your home. You can position it at the edge of your sideboard table, and it'll complement any white or clear decorative vases and storage containers placed on the surface.
---
The white planter that comes included with this 3.5-foot sansevieria artificial plant noticeable contrasts the faux plant's dark, sharp green leaves. If you want to add another piece to your arrangement, but don't want it to stick out as a focal point, then this subdued, calm piece is the perfect choice for you. You can set it on either side of your entertainment system to add something new and exciting to the setup. The planter is included in height.
---
Create your tropical vibe with this set of three artificial sansevieria plants boasting realistically pointed leaves fanning from a single stem. Standing 22" high, they're great for sprucing up tight spaces. Nature-inspired and crafted from high-quality materials by horticulturists, this artistic rendition of the faux snake plant is one not to be missed. So DIY and have some fun, add to your favorite planter, and create your dream set up quickly and effortlessly.
---
Thick, dark green leaves that stand at different heights create a realistic look on this 39" sansevieria artificial plant. Coming in a round green metal planter, this 39-inch ornament will make a grand statement in your home or office. With its simple and minimal look, it'll blend well in a mid-century-inspired living room. Place it near your simple wood tables or clean-lined furnishings for a complete look. The rustic-looking planter adds a great pop of color as well.
---
Create a sense of nature indoors with this artificial sansevieria plant. Designed from the finest quality of materials, it showcases lifelike leaves with naturalistic detailing. Varied in colors to create a realistic illusion, this 4.5' tall plant is contained in a sophisticated black planter and accented with river rocks. Our interior decorators love this plant for a living room that needs a little more color and depth. Consider adding multiple for a cohesive look and feel.
---
The green leaves of the artificial sansevieria plant are extending upward at different heights from within the included classic urn and a bed of natural moss. Outlined with yellow and dark green stripes, this faux plant looks realistic and is sure to catch your eye. The simplistic design of this 3-foot ornament will blend in with any decor. Settle this in your kitchen and place it next to a wine rack for a natural arrangement.
---
The artificial sansevieria plant contains many variegated leaves that stand at different heights, surrounded by white rocks. The orange planter that comes included with the artificial plant is bright and bold. For an accent piece that'll stand out in your retro-inspired bedroom, place this plant on a small table between two blue couches to create stunning contrast. Especially if you love the Southwestern vibes or Palm Springs look, you can't go wrong with this chic faux plant.
---
Pros and Cons of Snake Plants
Pros:

Faux Snake Plants are a great choice for that have a hard time taking care of a live plant.


Snake Plants save space. Their vertical foliage are perfect for tight areas and for those smaller living areas.

The pattern on the sword like leaves are truly one-of-a-kind, making it stand out from the bunch.

Some of our snake plants come in pots already, saving you the hassle of procuring a new one.

No maintenance is needed. Even if you have a hard time caring for real plants, this faux alternative is a great choice for you.
Cons
Real snake plants might be harmful to young children and pets, because of this, many people flock to tall snake plants.

With faux you might be limited on the specific style and pattern you're aiming for.

Some faux snake plants can't be places outdoor due to the weather and challenges the outdoors pose to the materials.

While faux snake plants are incredibly lifelike, they do require some maintenance such as feather dusting about once a month to ensure longevity.

Both real and faux have their challenges and its up to each individual to decide which one is best for their family and lifestyle
Color pours forth from this artificial sansevieria plant boasting lifelike qualities - from its brightly pointed leaves to naturally bold coloration. Contained in a metal planter with copper trimming accented with natural moss, this 64" tall plant provides year round greenery.
---
With multiple variegated leaves that stand closely together, this sansevieria artificial plant will surely draw your family and guests' attention no matter where it is placed in a room. It'll look lovely, however, when tucked next to your vanity or dresser in your bedroom. Pair it with faux greenery that will complement and not distract attention away from the vivid variegated leaves.
---
Dense leaves grow tall in this artificial replica of the Sansevieria plant. Standing 51" high, this dignified succulent shows off amazing lifelike qualities; from authentic coloration to dark, pointed leaves. Nestled among natural-toned rocks in a white textured planter, it adds an instant touch of nature's beauty within the home.
---
Spruce up your surroundings with this sansevieria plant consisting of realistic pointed leaves that naturally fan upwards. Finished with natural moss in a decorative planter, this 24" tall plant can provide year-round greenery to a home or office.
---
Bring a simple yet elegant vibe to your interior space with this sansevieria pick artificial plant. Its brilliant yellow-edged green leaves are artfully arranged in layers, giving it a more natural, fuller look. You can use this set of two as vibrant decor for your kitchen and bathroom countertops. Position these pieces near your kitchen or bathroom essentials for a lovely arrangement.
---