Which Planter Should I Get for my Fake Pothos Plants?
If you've decided to buy an artificial Pothos plant, you've made a great decision! It's versatile and easy to style, creating a natural statement no matter where or how you display it.
But the versatility of the Pothos plant makes it somewhat more difficult to declare the "perfect" choice for a planter. After all, its climbing green leaves make it an ideal choice for displaying traditionally in a planter, hanging from a basket or unfurled into a garland or a living wall.
Here are some tips for choosing the ideal planter for your artificial Pothos :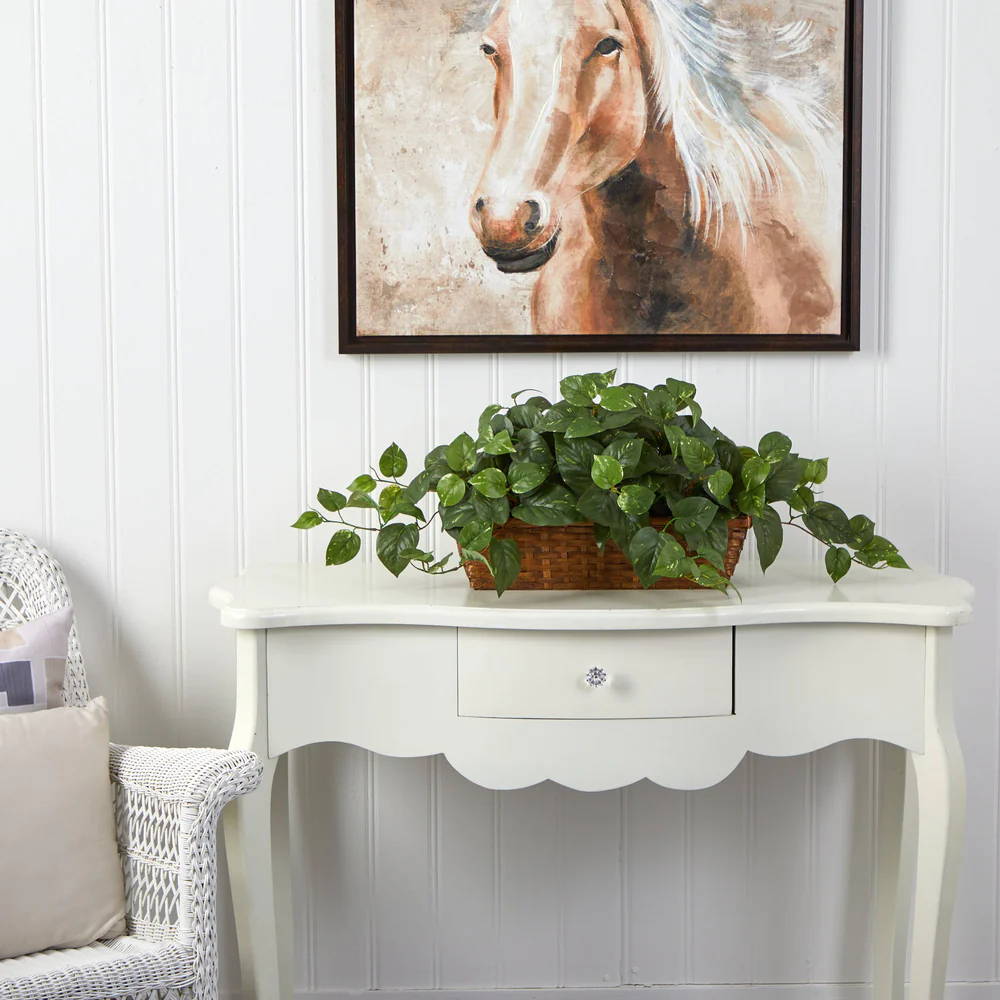 How big is your fake Pothos plant? How many do you want to display in one planter? Is the plant intended for climbing, or are the leaves meant to trickle over the side of the planter? Be sure the opening of the planter is wide enough for the leaves to spread out fully.
There are many available types of planter material. Your choice of material could be based on personal preference, or it may be chosen because it matches the type of material used for the other planters in your home.
The versatility of fake Pothos plants means they can look good in any planter. People who display natural Pothos plants often choose ceramic or terra cotta planters because natural Pothos plants flourish best in lots of water. So, choose one of these types of planters to preserve the authenticity of your silk Pothos plant. But Pothos can also look in wooden, metallic, or plastic planters. They also look great in natural fiber planters, such as jute or cotton.
Like any other home furnishings, your fake plants and their planters should ideally match the decor of the room where you place them. For example, a formal dining room would not be ideal for a pothos in a jute or cotton basket. On the other hand, a sleek, opaque glass or burnished bronze planter would look equally out of place in Boho surroundings.
Another consideration is the color of the room. You will want to complement a pastel motif with a white or off-white planter, while a copper planter would look amazing in a dark olive wallpaper room. With faux Pothos plants, you should also look at the color of its leaf accents because that color will also figure into your best choice for a planter.
If you're planning to display your faux Pothos outdoors, be sure the label of your chosen planter says it is UV-resistant or outdoor-safe. UV resistance will ensure your planter can stand up to any weather condition.
---
Here are three types of planters that may suit you for showing off your silk Pothos plants:
This pair of basic "wood"-finish planters is great for a wide range of faux plants or flower arrangements. It is an excellent choice for fake Pothos plants because of its wide top opening and unobtrusive "wooden" finish. The smaller of these planters is 5.5" x 7", while the larger planter is 7 x 20". The pair can be used in the same room or displayed separately.
---
This set of decorative planters takes "neutral" up a notch. This item comes with four planters: each in descending order of size. The finish looks like wood at first glance, but the finish is a subtle burgundy, and the patina of the pressed floral decoration subtly but emphatically gives these planters the appearance of class.
You can use this set of four together and retain their "Russian doll" look (with descending sizes of fake Pothos plants) or place them in four different rooms. The rims of the planters resemble a bamboo finish.
---
This planter would look perfect in a Boho or retro setting, and the leaves of your fake Pothos plant would adorably spill over its wide jute rim. It's lightweight and trendy, and if it's right for you, you won't be able to resist it.
---
Of these choices, we prefer the set of four planters. The options that could be made by choosing four planters would allow me to change them up every few months and enjoy fake Pothos plants in many locations.
Your choices are limitless with fake Pothos plants, but using these tips will help you narrow down your choice of planter.