Here at Nearly Natural, our best-selling trees are artificial fiddle leaf fig trees. And judging by our consumer reviews, our customers absolutely love our trees!
These trees range from size but are usually large with gorgeous waxy green leaves. They are fairly slender so they can fit in and spruce up any place in your home. They have long beautiful trunks and come in stylish planters.
Real fiddle leaf fig trees are notoriously hard to keep alive in a home. So, the artificial trees are your best option if you are a fan of these types of trees. The main thing to keep in mind is that you shouldn't settle and you should find an artificial tree that looks like the real thing and will fool all of your house guests into thinking that you have the green thumb to keep trees alive.
Benefits of Artificial Trees

Artificial trees have many benefits compared to real trees. The trick is shop around until you find a fake tree that looks exactly like a real tree. And producing trees, plants and flowers that look real is what we take pride in here at Nearly Natural.
If you're in the market for a fiddle leaf fig tree, look no further than Nearly Natural and consider these benefits of artificial trees:
They don't need to be watered

You don't need a green thumb to keep them alive

They don't shed leaves

If you have pets, you don't have to worry about them getting into the tree and make a mess

They're easy to maintain

The don't need sunlight
As we mentioned, fiddle leaf fig trees tend to be slender trees. So, you can put them virtually anywhere in your home. They bring the outdoors indoors and can immediately brighten up a room. Here are some ideas where to put your tree, consider these options:
The corner in the living room

Next to a bed in the bedroom

In an office

A patio
Our Top 5 Fiddle Leaf Fig Trees

This tall option features multiple trunks that are intertwined. The top of this fiddle leaf fig tree explodes with 270 leaves and features a black decorative planter.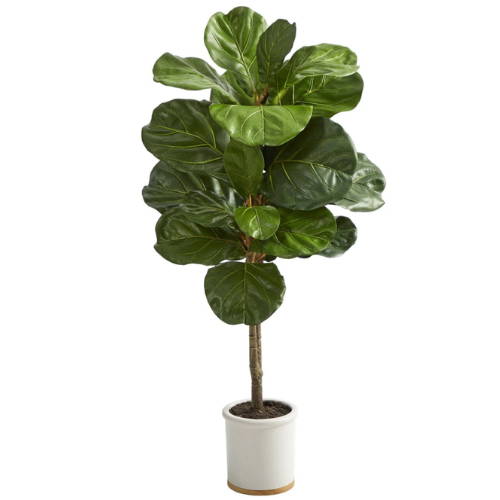 If you want a smaller option, this three and a half feet tree is for you. Since it's smaller it can fit anywhere that you need to bring a touch of outdoors indoors. It comes in a white ceramic planter which makes the whole aesthetic of the tree look neutral, so it matches any décor.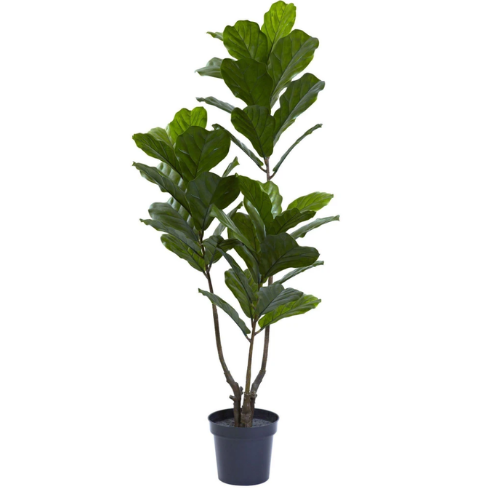 This tree stands at a little more than 5 feet and features 3 trunks and 42 lush leaves. Since it's UV resistant, this tree is a great option if you want to put it on your front porch or back yard patio.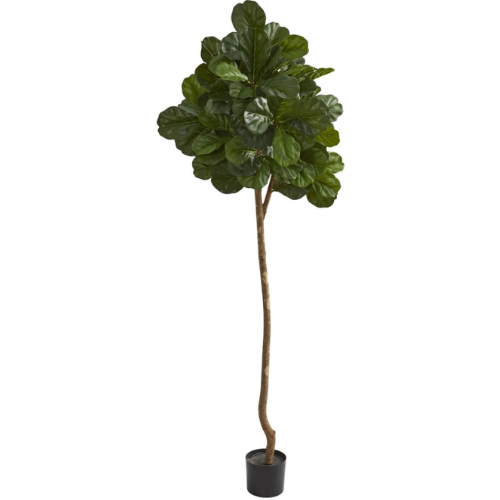 If you have high ceilings, then this tree is for you. Featuring a bunch of billowy leaves at the top of a single stem trunk, this fiddle leaf fig tree is sure to make a bold statement wherever you decide to put it.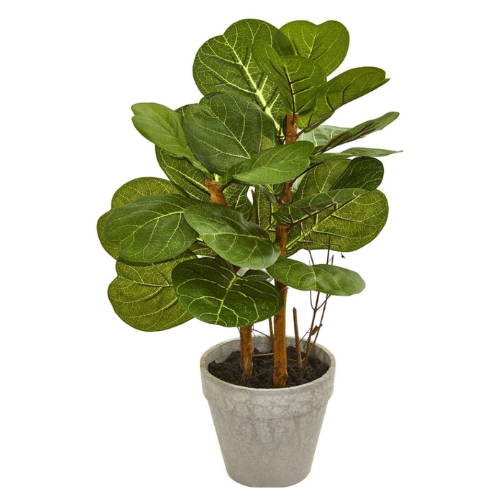 If you have limited options on where to put a fiddle leaf fig tree, consider one that is small enough to fit on a tabletop. This plant features a plethora of green leaves on multiple trunks. It injects a sense of nature in your home wherever you decide to put it.
How to Maintain Your Fiddle Leaf Fig Tree

Maintaining your artificial fiddle leaf fig tree is a breeze. Simply dust it off when you are dusting your furniture. Then, twice a year, use a toothbrush or a paintbrush and dip it in soapy water to clean the crevices of your tree. These steps will keep your tree looking real and new for years to come.
The Nearly Natural Promise

When it comes to artificial trees, plants and flowers, Nearly Natural is the premium place to purchase these products.
Nearly Natural was actually started by a horticulturalist who had a fine attention to detail and he used his knowledge of trees, plants and flowers to create products that looked completely life-like. His talent and philosophy shows up in all of the products we make and sell today. So, you can rest assured that your Nearly Natural purchases will look just like the real thing and your house guests will think you have real trees, plants and flowers.
We also offer free shipping and hassle-free returns so that you can find the perfect fit for your home.
Are you a lover of artificial fig trees? Do you have one in your home? We'd love to hear all about it in the comments below!