For most people, bathrooms aren't the most favorited parts in the house, especially when it comes to decorating. When inspecting our own bathrooms, we usually ensure that we have our essentials, but rarely do we think about how we can easily transform this space in the home into a place where we'd want to spend more time in. There are in fact, several reasons why fake plants are perfect for the bathroom and why you'd want to create your own inner sanctuary with the help of bright, verdant tones that will ease you in a spa-state of mind.
Natural Key Moments Are Spent in the Bathroom

While we don't realize how much time we spend in the bathroom, rarely do we take into consideration how the time spent in the bathroom is beneficial for the well-being. Imagine, we spend several moments every day reflecting: in the mirror to ensure we're made-up and even in the bathtub soaking away the stress of our daily routines. And while these moments might be short - wouldn't it be lovelier to start the morning brushing your teeth with something pretty to look at. While we've mentioned in previous posts how plants can help improve your mental health, there's no reason why an artificial replica wouldn't help in the same way. And while the moments spent in the bathroom aren't as long as those spent in the bedroom or kitchen - they are in fact key moments as the bathroom is technically where most of us start and end our day.  
Artificial succulents are a great addition to a bathroom. While we offer a wide range of fake succulents that can easily fill small spaces on the counter, don't forget about an optional hanging version that can easily enhance vertical spaces. If you have the space for it, opt for an alluring artificial arrangement that can add a hint of elegance wherever displayed.
If you're a person who enjoys a long steam, relaxing amidst warm water and bubbles, then why not complement your leisurely baths with a few handsome (faux) plants. Scientific studies have shown how plants can easily shift one's negative mental state into a positive one, so think, with every evergreen leaf and every blooming flower you're actually eliminating and shaking off those long and laborious details of the day.    
Artificial floral arrangements are a great way of enhancing that positive-state-of-mind. While a bright, vivid arrangement can start your day with a smile, it also adds a splash of color to the environment. If you lack surface spaces or have limited space, try hanging an artificial plant in the corner of the room or even an artificial wreath on the back of the bathroom door or over the toilet.  
For most people, bathrooms don't usually contain windows, decreasing the amount of natural light that is required for living plants to flourish. Additionally, real plants don't often hold up well to the chemicals often found in hair sprays, aerosol deodorants, perfumes and colognes. With artificial plants - worry not! As fake plants won't be harmed by these chemicals nor require natural light, their lifelike beauty can be easily maintained with just the occasional cleansing.  
While a fake potted plant can provide a pop of color, an overgrowth of (fake) fern greenery can easily breathe life into the room. And while a hanging version can help you eliminate valuable counter space(s), a horizontal assortment of greenery can easily be showcased on the side of the tub or a window ledge.  
For more inspiration on how to style artificial plants in your bathroom, head over to our Pinterest Board dedicate to Bathroom Greenery.
Top 6 Décor Trends for Bathroom

1. Bathroom Hanging Plants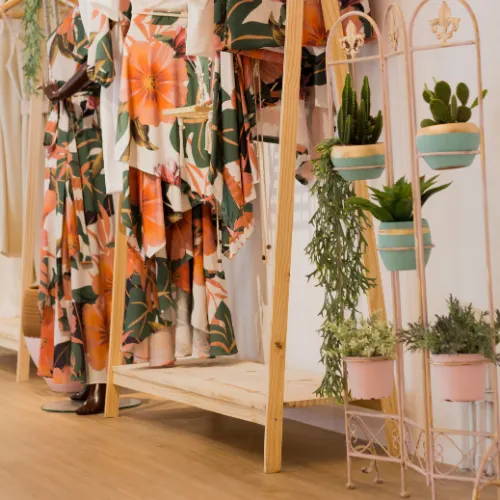 Showering al-fresco. One of the most natural activities we can do. Recreate an outdoor jungle shower by hanging bathroom plants above the tub. We recommend using artificial plants that say indoor/outdoor in the title; if they get wet, these plants are resistant to the moisture caused by hot showers. And how can you recreate the jungle look in your bathroom? Easy! You can start by adding some String of Pearl or some Ferns. Since they already come in a basket, all you have to do is add them above the tub. About once a month, wipe with a feather duster to remove dust.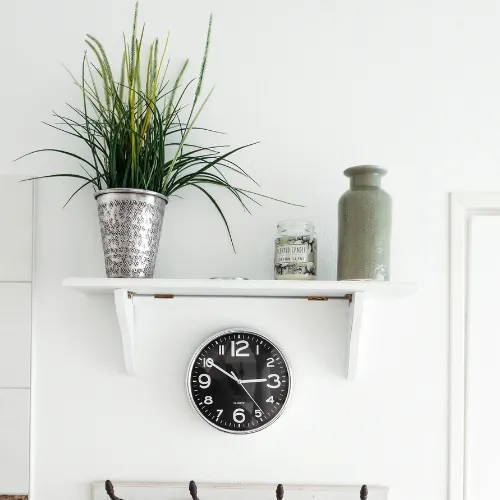 You might have a bathroom cabinet, but the newest trend is decorating with shelves with brass accents. Cabinets are a thing of the past. Using shelves, you can easily clean and house all your skincare products and bathroom items in one place. Shelves are also more economical than updated shelves, which can get pricey depending on the materials. It's also their ease of convenience; who remembers looking through shelves for a roll of toilet paper?
While adding bathroom hanging plants is a good start, to embrace the jungle look, decorate other areas with house plants for the bathroom. Even if you have a small space, you can add small plants for the bathroom by decorating with succulents in the sink area and adding plants close to the bathroom window. Succulents bring a Southwestern exoticness to any space they are housed.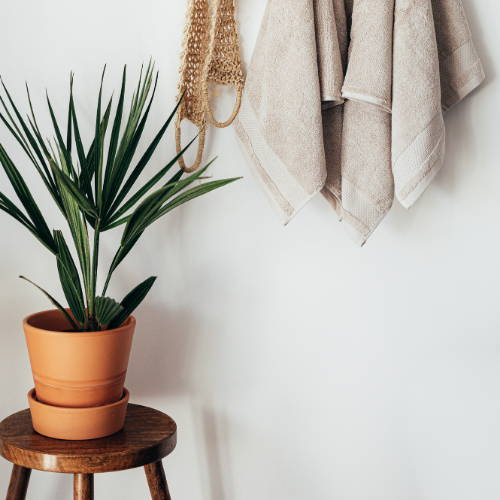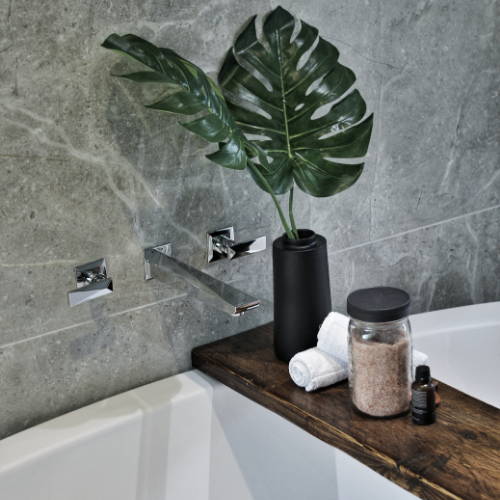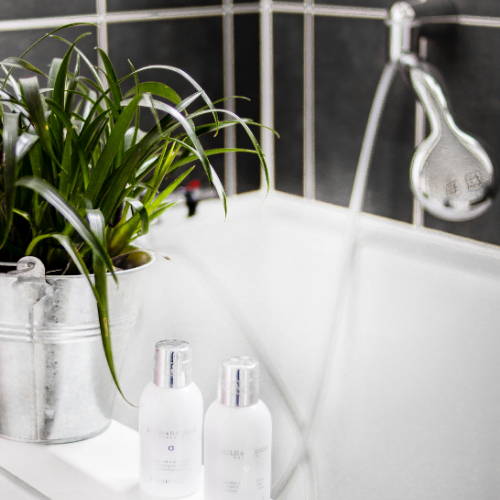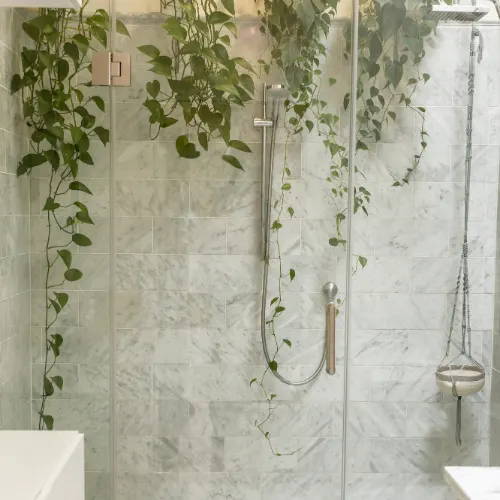 You've probably already seen this one at your favorite bar, café, or restaurant. This green living wall is often accented with neon lights, or you've probably seen it all over Instagram or Pinterest. It's where you use to adorn a wall with green foliage mats instead of paint. We've seen it on the walls behind the sink, and the finished looked takes the bathroom to another level. To achieve this green living wall mat look, try using this wall mat in your bathroom. To be on the safe side, look for wall mats that say outdoor/indoor or UV resistant in the title; this will ensure the living wall is suitable for environments that can get wet and moisture. Easily hang these, and that's it. This new green foliage never needs any maintenance, just an occasional cleaning with a feather duster.
We've embraced the jungle look, but did you know that adding fake bathroom flowers is another great way to spruce up your space. Bathroom floral arrangements bring an aura of freshness and instill a sense of the outdoors. While the bathroom is the perfect environment for roses to grow, you only need to feather dust once a month with artificial flower arrangements and they'll last faux-ever. Some fake bathroom flowers we recommend are roses, peonies, and orchids. Place these flowers on a counter or next to the sink and see them bring ambiance to your space. If you decide to complement the fake flowers with some plants, they'll balance each other, with the flowers softening the look by bringing mixed textures and colors.
6. Mixed Greenery and Foliage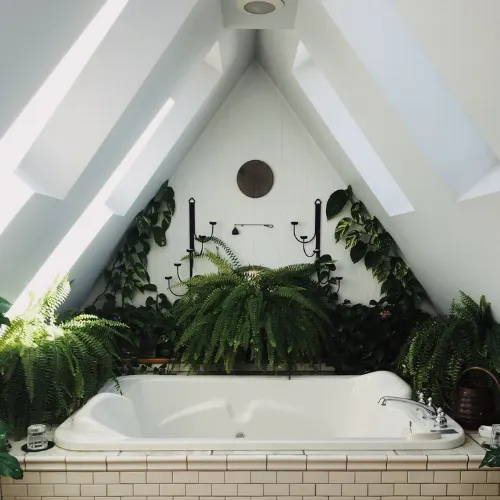 Mixing different Greenery is a great way to achieve that designer look quickly. You might wonder why individual rooms pop out while others look dull? Designers combine different textures to achieve depth and manipulate the eye with these distinct focal points. Bathroom plants are a great way to draw attention to certain areas of the bathroom. For example, if you have a dark-colored wall color, you can soften the look by adding some lighter hued peonies. This is just one bathroom décor idea, but there are many other ways that you can use color to your advantage. Get creative, DIY, and have some fun with artificial bathroom plants that are the perfect way to achieve your dream bathroom look.
Fake vines have become more and more popular on social media. So if you're looking to get the "look", nothing is better than adding some maintenance-free fake vines to enhance the beauty of your bathroom. Here's our top 3 products with vines perfect for a bathroom.
Create a dramatic focal point in your home with this artificial plant boasting a lifelike overgrowth of realistic silk ferns, carefully nestled with a mix of year-round greenery. Set on a base of artificial dirt, roots and vines this piece is unbelievably realistic. Designed to be displayed from its accompanying hanger, this oversized 39" tall plant will definitely attract the attention of passersby.
---
Add some freshening greenery to all parts of your home with this artificial garland showcasing a mix of air plants, moss and vines in bright vivid hues. Great for displaying over a mantle or across a bare counter, this 48" long hang plant or garland can help spruce up vertical or horizontal spaces without the need for maintenance.
---
If you miss the lush greenery of the jungle, bring the tropical forest to your space with this Eucalyptus Artificial Hanging Plant. Vine-like leaves hang from a basket, resembling a bushy, full head of hair, literally. This faux plant the perfect alternative for when you lack space or want to add vertical focal points that transport you to your favorite sultry paradise. If you're craving the spa look, place a family of hanging trees above the tub and indulge in some self-care. This fake plant hangs 3' from top to bottom and can easily be hung!
---
If you're looking to add some bathroom plant décor, here's our best selling fake plants.
Explore Our Top 5 Plants for Bathroom Décor

This artificial living wall's rich foliage is UV-resistant and can be used for outdoor and indoor décor. It can be used to redecorate old structures, like a dull wall. Or, if you want to bring a bit of Greenery indoors, then you can use several panels to cover a bland interior wall to make a bold statement in your bathroom. This living wall mat makes a great addition when used in multiples to cover a whole wall or as a standalone item in the wall's center. Mix and match with wall mats that have distinct foliage to create a realistic-looking jungle wall.
---
Standing over four feet tall, this spiked agave in a planter will make a dramatic statement in any room. It comes in a sleek black squared planter complete with white river rocks. And because it's faux, this is much safer than the real thing. This artificial plant is perfect for bathrooms that need a Southwestern touch. Succulents in the bathroom add an exotic touch by bringing their long spiky leaves that add texture to any space. Soften the look by adding some vivid flowers like sunflowers, roses, or hydrangeas to take your look to the next level. You can add these above the river rocks or in a bathroom sink for maximum visibility.
---
The Boston Fern is one of nature's best-loved ferns. The reasons are obvious - it's big, billowy, has pretty stems and leaves reach out and dip downward in a pleasing effect... no wonder they are used to decorate worldwide. This large Boston Fern hanging basket perfectly personifies everything we love about this plant, with the bonus of never needing water or sun. Makes a great gift as well. To truly transform your bathroom into a jungle, you can't go wrong with some hanging ferns. Known for their rich, green foliage, they truly bring a room together when placed on top of any bathtub. Known as shower plants, you don't have to worry about watering them during showers, nor will they get damaged due to the moisture; these artificial hanging ferns are safe for bathrooms. Add multiple horizontally for the ultimate self-care indulgence. You deserve a break! A relaxing bath delivers just that.
---
This 27-inch boxwood artificial plant's green leaves are trimmed to perfection—giving this piece's foliage a soft feather-like quality to them. Sporting an elegant look, you can set this ornament next to a sofa or on an end table in your living room or bedroom. Add a decorative lamp, books, or black vase next to it to complete the setup. If you crave a VIP spa experience, topiaries bring that polished, refined look. You can pair multiple topiaries of different heights with a bathroom that has brass accents. You might not think of adding topiaries to the bathroom, but they are great bathroom plants when you want to instantly update your space. Try adding two on each side of the sink mirror.
---
Incorporate serious coloring throughout everyday spaces with this artificial geranium plant flaunting a collection of intricate silk flowers nestled atop vibrant green leaves peeping out from underneath - all of which is UV resistant, making it a great accent for both indoor and outdoor space without fearing damage from the natural elements. Contained in a glass planter, this 13" tall fake outdoor plant will make a pretty addition to home accents. Bring a pop of color to the bathroom by decorating with this colorful flower arrangement.
---
Please note some imagery featured is purely inspiration and not a product of Nearly Natural.