5 Tips To Have the Best Virtual Christmas Party
The holidays will be different. The good news? Christmas isn't canceled this year. The Grinch didn't steal Xmas after all…. You can still dress your home up and down and channel your holiday spirit with the merriest Christmas decorations. You probably miss the annual company Christmas party, white elephant, and ugly xmas sweater party. With gatherings restricted to a few people – and with no end in sight even past Christmas – could visiting older family members be out this year? If you still want to experience these traditions, why not opt for a virtual celebration? Stay safe and host a virtual Christmas party with your loved ones. Gather your coworkers and get together for a Christmas party decorating session. Deck the halls, go all out, and earn those bragging rights. Get ready …your workstation is about to get lit. Christmas came early this year. In this Santa's list, we will cover: Christmas tree decoration ideas, Christmas tree decorations, Christmas Decor, Christmas decorations, and Christmas & holiday decorations.
5 Tips for Having The Best Christmas Backdrop

1. Pick a Theme and Budget

This process might not be the most exciting part. But, trust us, you'll be happy you did. While some of us are working remotely and saving money by staying at home, it's still essential to set a budget and stick to it. Once you have a number in mind, start browsing for Christmas décor. There are so many different palettes to choose from. Depending on your style, size, and budget, determine what Xmas decorations fit in your space. Before you start pinning, check out our Pinterest page for some design inspo. If you are a team manager or usually plan the family Christmas festivities, why not gift a tabletop tree to every family member? This way, everybody will have the same item.
Why limit yourself to only one Christmas tree? We think one is not enough. With different trees, dress your space in multiples with various colors, sizes, and styles. Bring distinct foliage and re-create a mini Xmas tree farm – that resembles the picturesque rustic conifer forest.
This is easier than ever before. With our new line of tabletop trees, you can choose a "mini-me" version of your tree and adorn it in ornaments, or you can mix-match for a DIY look. For example, our alpine trees have a rustic, natural look to them and come in different sizes. You can place smaller trees on the side of the main tree for a trio.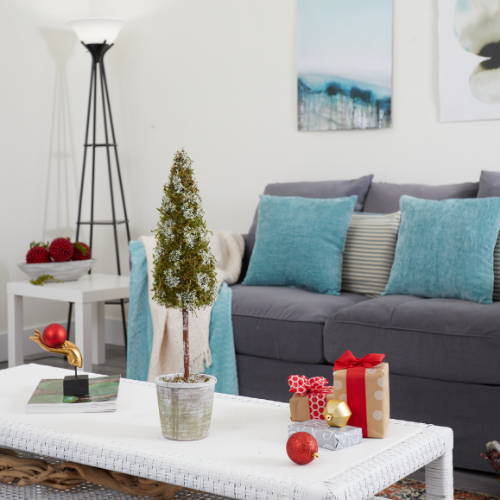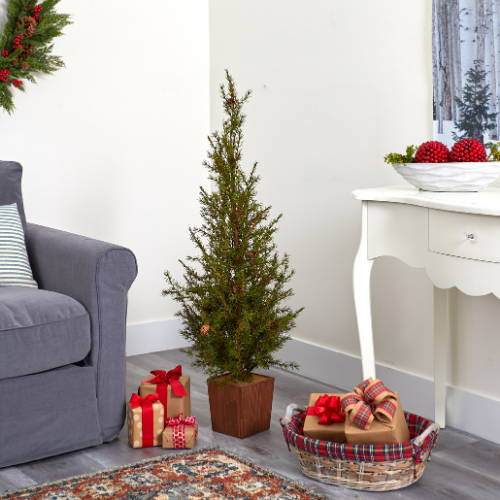 3. Don't Forget About The Wreaths

Bring a room together with a classic Christmas staple – wreaths. A great option to spread holiday cheer even if you have a limited space. Who says wreaths are only for doors? Nowadays, it's trendy to place double wreaths in any bare wall or window. Make a grand entry, express your personality and place wreaths in every door in the home. Every family member can now create an inviting, warm entrance that matches their décor style. If you really want to make Santa jealous, how about a DIY Christmas wreath? With more time at home, let your creativity run wild and welcome all. We have evergreen wreaths that can easily be customized.
Give those ceilings some love. They get lonely during the holidays. Even during your epic virtual fiesta, you can still show off and create talking points by decorating the ceilings with holiday inspired accents. One way is by hanging a wreath similar to a chandelier above the dinning table or your inhome office.
Turn this into a fun DIY session and enhance your space. You can also use a cascading teardrop arragement on the ceilings. Pair them in multiples for a unified look and create a focal point. Get creative, the sky is the limit. If you live in an apartment, small space or condo, use a sticky putty or j-hook. Make sure the weight is not too much to avoid having your DIY masterpiece fall.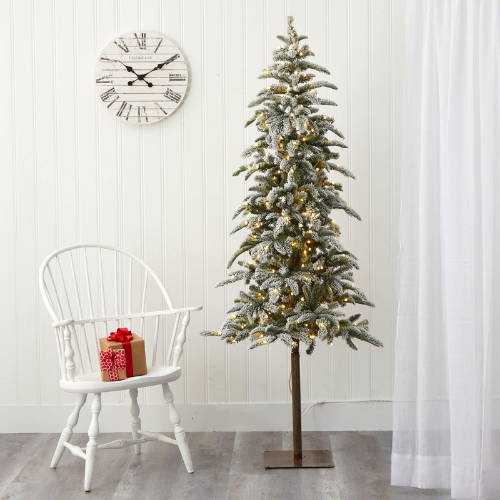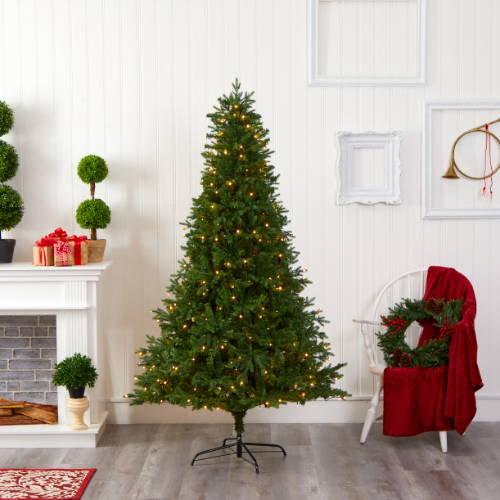 5. Set Up The Entertainment Ahead of Time

Improptu celebrations are always fun, but with technology you never know. Just like a regular party, send everyone an evite and link to attend. No matter which platform you decide to use, remember there might be technical issues. To account for those issues, have an agenda of activities to do. For example, unlike an in-person celebration, it might be hard to listen to one another if there is loud music playing in the background. Because of this, maybe schedule light music. Also, have an order of how everyone will present their cool xmas inspired homes. Decide how you will choose the winner. We recommend maybe pooling money for the best home. Even if you decide not to host a Christmas inspired decoration competition, you can have a pijama party and play your favorite movies.
We may be socially distant this holiday season, but that doesn't mean it will be a lonely time

Luckily with technology – we have the power to stay connected and still experience the beauty of the holidays. With innovations and decorations, we guarantee you'll have a holly jolly time with your loved ones. Changing your scenery is scientifically proven to help you feel better and increase productivity. Deck the halls from floor to ceiling in some artificial greenery that can transport you to the Christmas paradise of your dreams. With more time at home, DIY has become a great way to bring your Christmas decor dreams to reality and become an interior designer.
The holidays evoke nostalgia. Even as adults, nostalgia brings the inner child within us, outside. We may remember how we celebrated with our parents and the ways we can pass that onto the newer generation. While this year will be different, we can still pass on those traditions that spread the holiday cheer that so many need right now. We wish you luck during your virtual conference celebration and hope these tips can help you achieve your dream look. Our team is excited to see your masterpiece, be sure to tag us on social media. Be sure to have the best lighting, natural lighting is the best.