How to Create the Coziest Farmhouse-Inspired Living Room Without Breaking the Bank
We continue our series on creating a farmhouse-inspired inviting space without breaking the bank. As far as home trends go, some are on their way, while others become a staple in many homes, but farmhouse is here to stay. Farmhouse décor is all about integrating those cozy, wooden vibes alongside those natural ones, essential in bringing the outdoors in. So while the furniture and other décor accents are critical, nature often brings the room together. And for a good reason? Think about it; you want the home to feel energized and refreshed in the best way possible. And we understand that not everyone has the lifestyle to maintain live plants; that's where silk plants come in.
But many people are scared of transitioning to team faux. So Nearly Natural was founded by a horticulturist with over 75 years of experience – we even have plants named after us – to tackle the issue of cheap, looking fake trees. Feel confident that our high-quality, nature-inspired artificial greenery is as lifelike as can be, with particular attention paid to all details found in nature. Our items have graced the covers of design magazines, social media influencers' homes, and trendy cafes. Read along to learn more about how you can achieve a cozy, farmhouse living room with tips straight from interior designers' homes.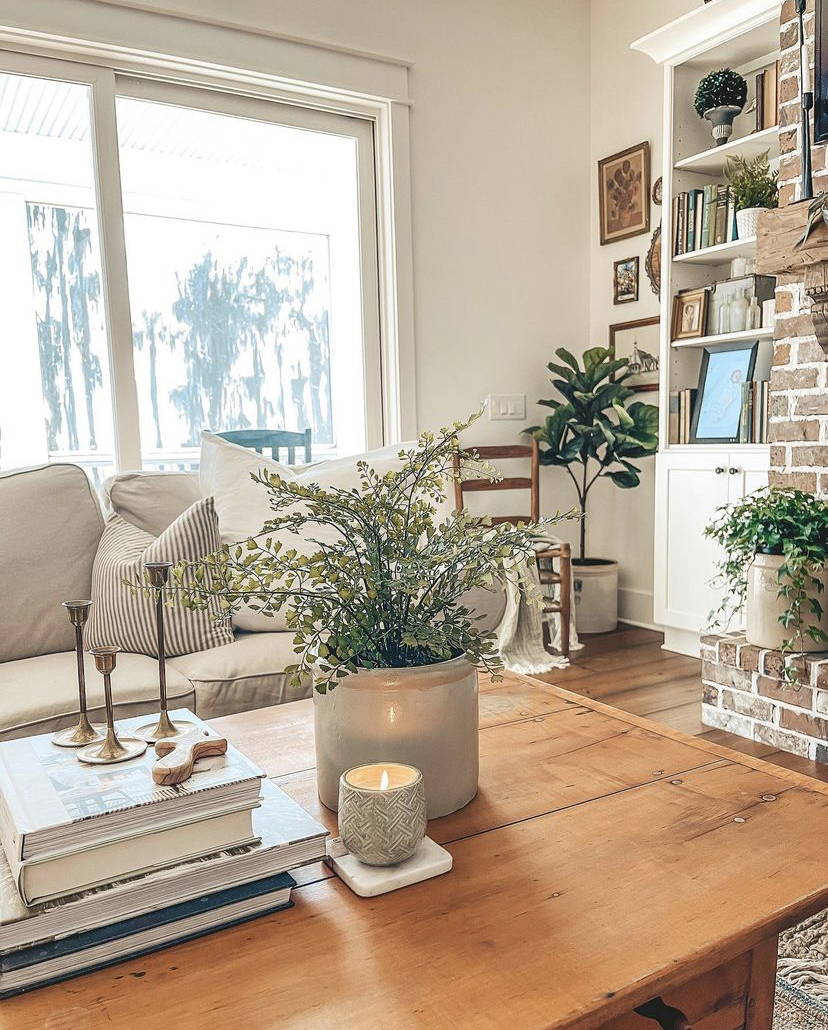 Sometimes we forget the simplest of changes can make all the difference in creating a well-balanced space. This is why farmhouse-inspired planters can quickly and effortlessly up your décor by elevating any greenery and adding a touch to your style. Some rustic-inspired pots we're loving include those with warm tones, distressed accents, and crafted from wooden materials. Next, consider making your faux tree look more natural with some faux moss or river rocks for a fun DIY project. To do this, create a cardboard cut-off to fit the top of the base; this will serve as a bed to add your faux moss or river rocks. Then fill the portion above the cardboard with the accent accessory until it is sealed all the way.
What's more farm to table than a DIY floral arrangement to brighten any corner of your living room. It's the perfect accent piece for your coffee table, side table, or shelves in need of a bit more hues. Consider adding some blooms to farmhouse living room décor as a way to soften any corner in need of more depth and balance. Especially in farmhouse décor, it's essential to balance the darker, more wooden severe colors by introducing the finer natural detailing that can bring the room together. Especially the arches and curves of nature, silk flowers are essential to any living room. Faux blooms are better for creating that sense of cohesion and are an excellent low-cost investment.
During those cold months, nothing is better than chilling next to the fireplace or gathering around the TV with a hot cup of tea. But, don't overlook the mantle! It's a great area to spruce up and energize with a lovely farmhouse garland for the mantle. And who says garlands are only for the holidays? A great way to keep the house fresh is by making small, subtle changes throughout the seasons. For example, consider adding a more floral and spring-inspired garland; this will keep the winter blues away. Then for fall, a more autumn-hued one serves as a backdrop for Thanksgiving dinner. Go from season to season and keep your home looking energized the whole year.
Consider a shiplap accent wall

We love the new trending look of shiplap accent walls. They instill a sense of coziness wherever added. But how to choose which wall to add shiplap to? Consider a wall that accents the room; make sure to pick the one you want to highlight and draw attention to. For example, many people with larger living rooms choose to accent the wall behind the sofa or the TV close to the mantle. While you can pick from different hues when creating an accent wall, remember that you can't go wrong with white; if you change your mind, you can always go back and paint it another color. Finally, consider accenting the look with farmhouse wall décor for an updated style. Check out our wall décor guide. 
Last but not least, the darling as far as home décor accents go, you can't go wrong with a faux olive tree. For that empty corner or nook, consider our best-selling artificial indoor olive tree as a way to liven any bare space. Crafted from natural trunk, you can evoke feelings from the charming Italian countryside in your area. Get inspired that some of the top farmhouse influencers have this décor piece as a staple in their homes; a couple even have multiples throughout the living room for cohesion and balance. DIY and feel free to add in a planter of your choice for an elevated look and feel.