How to Pick The Best Farmhouse Front Door Wreath
Artificial wreaths are great decor pieces to add to the door if one looks for a farmhouse decor look. The wreath comes in different colors, sizes, and shapes such that; if one is looking for a more green, mixed, or even floral wreath, they can find all these styles in the market. Sometimes having various items to choose from can be overwhelming, mainly if it is the first time one is buying the item. But, to make the buying process easier, here are six tips for choosing the best wreath for the front door and five top wreath designs one may need to look at.
Tips For Buying Farmhouse Door Wreaths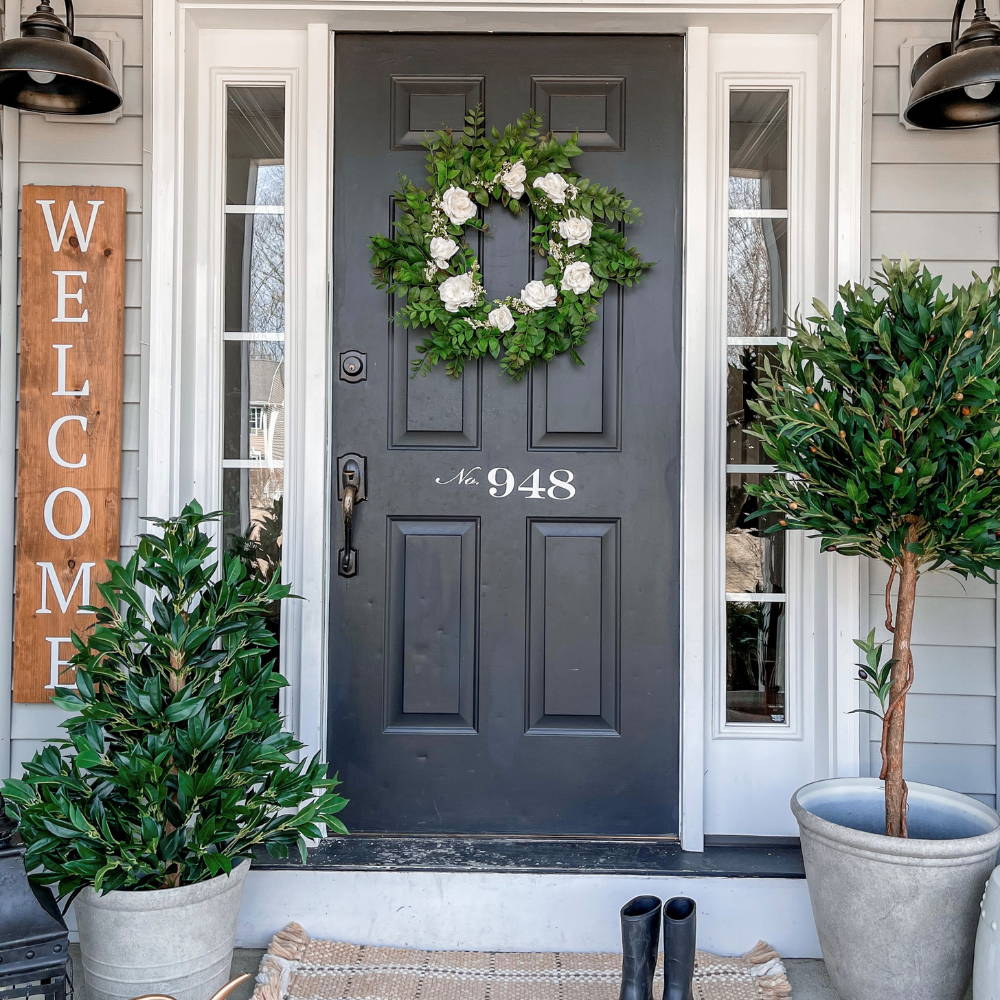 1. It should fit nicely on the door

The last thing one needs to do is buy a wreath too large for the front door to cover the better part of the door. Also, a wreath that is too small may not affect the door, and people may not even notice it. The primary purpose of the wreath is to add beauty to the door and maybe create a focal point at the entrance areas. Wreaths are made in different sizes, so one should use the measurements of the door to find the right size.
2. What colors and designs are you looking for?

In such a case, one should consider the door's color or the house's front areas. If the door or the rooms have bright colors, choosing a wreath with more toned colors will complement the entire decor. For example, select greenery wreaths such as eucalyptus or olive for bright front areas. If still, one prefers a wreath with flowers, choose one with more greenery and neutral flower color like white or purple. For dull doors or frontal areas, go for bright wreaths like sunflower or spring-summer artificial flowers.
3. The Style Should match with other house decors

No matter how wondrous a wreath looks in the market, one should not overlook their home style when shopping; in this case, a farmhouse decor wreath. The wreath complements the farmhouse style one is creating in their home. Thus the design should portray the same type. People see this first thing or decor piece before getting inside the house. So, it should communicate what people should expect the rest of the house to look like. Sometimes mixing more than one style is good, and it's a good choice for farmhouse styles.
4. Should have protective coating from outdoor elements

Considering that the wreath will be exposed to outdoor elements like extreme UV rays, it is only fair to buy a farmhouse wreath for the front door made with materials resistant to damage from these elements. The wreath should have UV-treated materials such that the colors will stay intact even after prolonged exposure to the sunlight. In addition, the materials should be safe from rainwater and take a little time to dry in case they get wet.
5. An arrangement style matters a lot

People have different style needs, and thus, the wreaths are arranged in different styles for customers to get what they are looking for. Unlike the traditional round arrangements people are used to seeing or buying, now you can get your wreath in different formats. The wreath is arranged in styles like potted, meant to be hung on the door, funnel wreath, buckets wreath, and garland wreath. Considering the door's shape is good as one buys the type of arrangement to ensure it complements the door.
6. Don't overlook durability

This decor piece will be outdoors for many days or even years. Hence, with the exposure to outdoor elements with no maintenance, it is good to make sure that one buys a quality wreath that will last long. Regardless of the materials it is made of, ensure it is protected from outdoor weather climates. Please don't go for the cheap models; consider how they are made and the materials.
The Five Best Front Door Wreaths On The Market

If one is looking for a colorful wreath that brings that vibrant spring look to the door area, this is the perfect wreath. This wreath has white and a touch of purple flowers that blend well and fit in all seasons. In addition, the greenery leaves give it a natural wreath design.
---
The door wreath does not have to be boring, as this wreath is what you need to spice up your door decor. The wreath is made on an 18-inch straw hat with a ribbon draping downwards. The flowers are mixed floral faux in different colors and a few greenery leaves.
---
This wreath is perfect for people looking for full greenery or a toned-down garland for their door area. It is made with classic and gorgeous lush green leaves wrapped circularly for easy hanging on the door.
---
This wreath gives warmth, and a beautiful spring feels throughout the year thanks to the kind of flowers used. It is made of blossoming cherry flowers all around, and the purple color stands out regardless of the color of your door. This wreath measures 24 inches, making it an excellent choice for large doors.
---
This garland is an excellent choice for you for people who may not want a large or round-shaped wreath for their door. It has beautiful colorful artificial flowers and bright berry accentuated with greenery for an attractive complete plant look. Also, a garland is flexible to fit different styles on the door.
---
Farmhouse front door wreath comes in different styles, colors, and arrangements. However, before choosing a wreathe for the door, it is good to consider what one is looking for, the door color, and size. Hence, check out the above tips to help buy the proper wreath for your frontal door and the five best models to checkout.