Outdoor Coastal Decor Ideas for The Summer
Now that summer is halfway over, it's time to start thinking about Back-To-School Basics - including Dorm Room Essentials! With limited space available in customary dormitories and apartments, the need to create your own sanctuary and some privacy is crucial; so why not spruce things up with some evergreen features that will breathe life into your new home for the next few months of your adult life.  With fake greenery, not only will you eliminate weekly chores (watering, weeding, etc) and void any expenses on upkeep and replacement, but you'll be able to welcome in year-round coziness without the hassle. Today we're sharing five tips on how to transform your basic tile-floored dorm room into a haven from the storm they call college with the help of fake and artificial plants and flowers. 
Door Wreath And Welcome Sign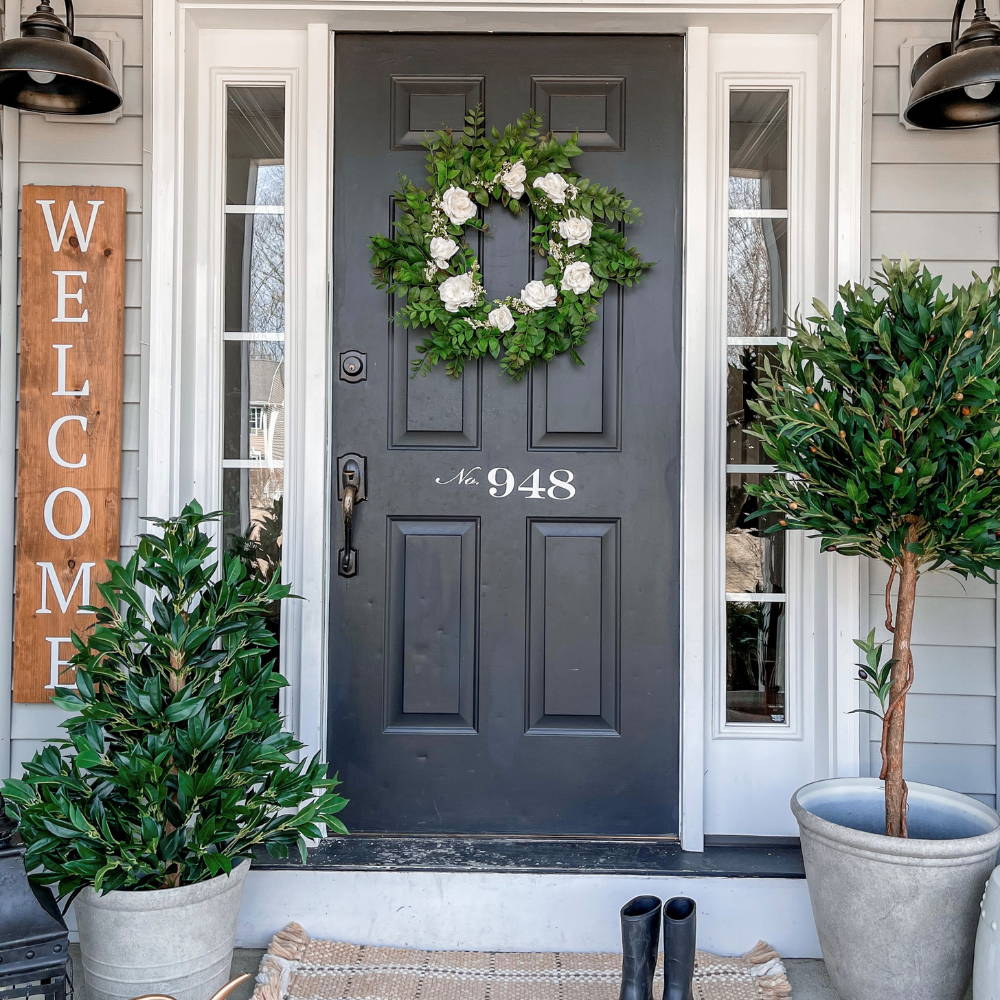 The door wreath is now in fashion all year round, and there are several lovely green ones to choose from. Place one of the wooden welcome signs beside the front door; on either side, place potted faux citrus plants, the ultimate in low maintenance. This is a gorgeous simple look to lift the front of a home.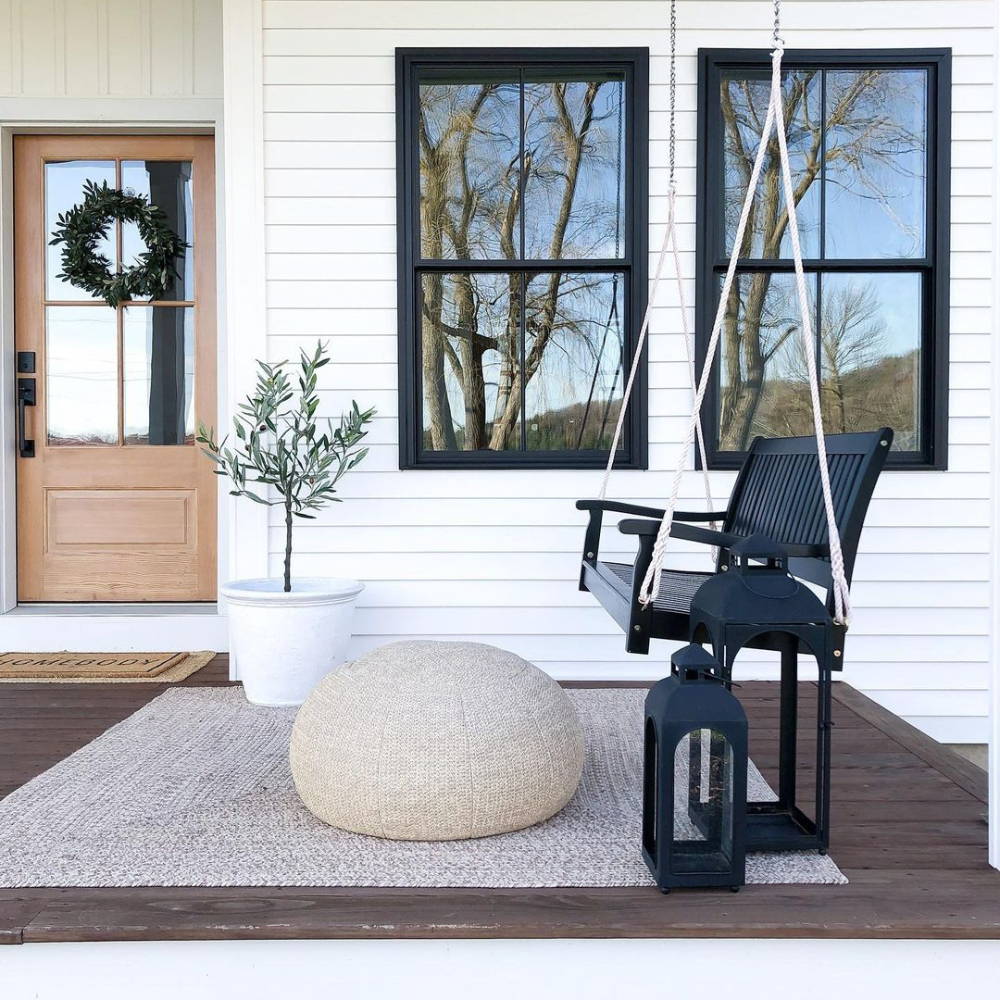 The front porch is an inviting place to relax at the end of the day, and an egg chair or a swing chair is an ideal place to sit and watch the world go by. Feeling at home is very much a part of the look. Place a faux olive in a pot beside the chair to add instant greenery.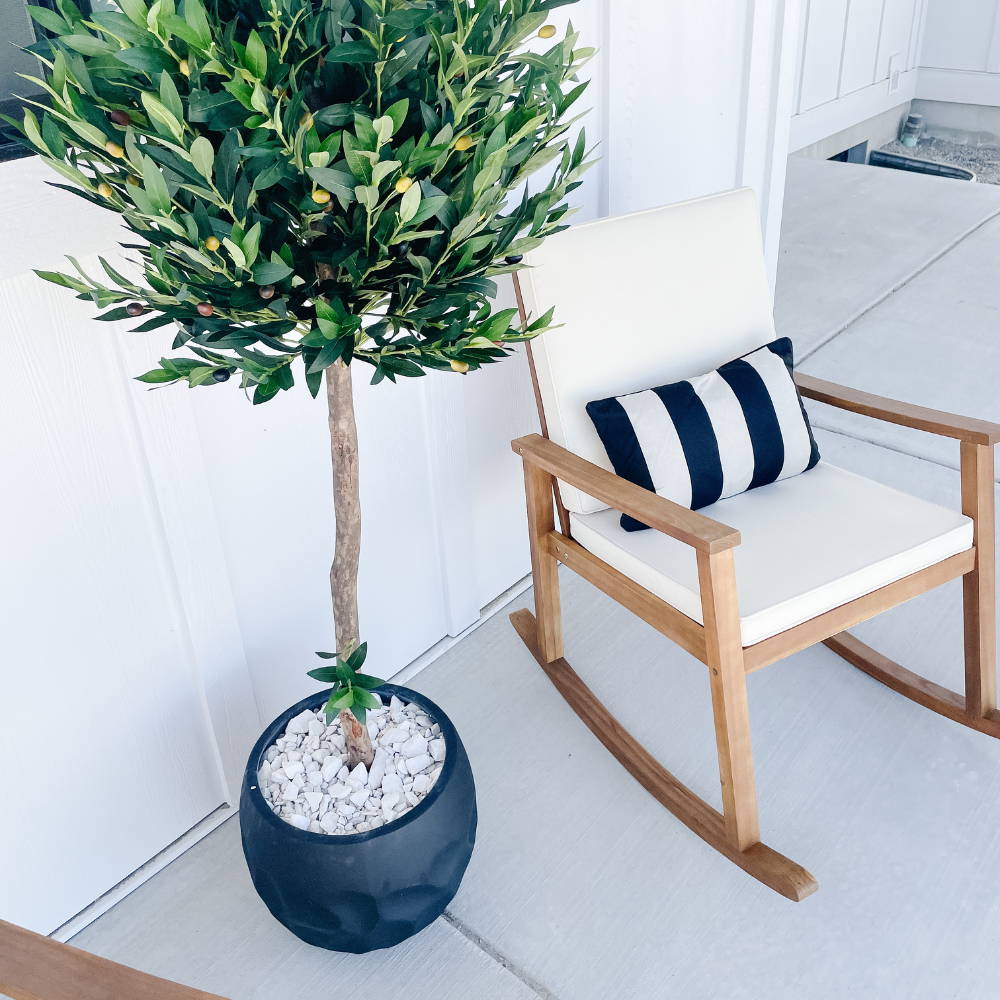 Remember when everyone had a rocking chair on the porch? Add a canvas rocker or two to the patio to recreate the mood of a more relaxed era. Set the look off with some black striped cushions, and evoke the Mediterranean with a Cumquat or Citrus in a black pot to recreate the mood.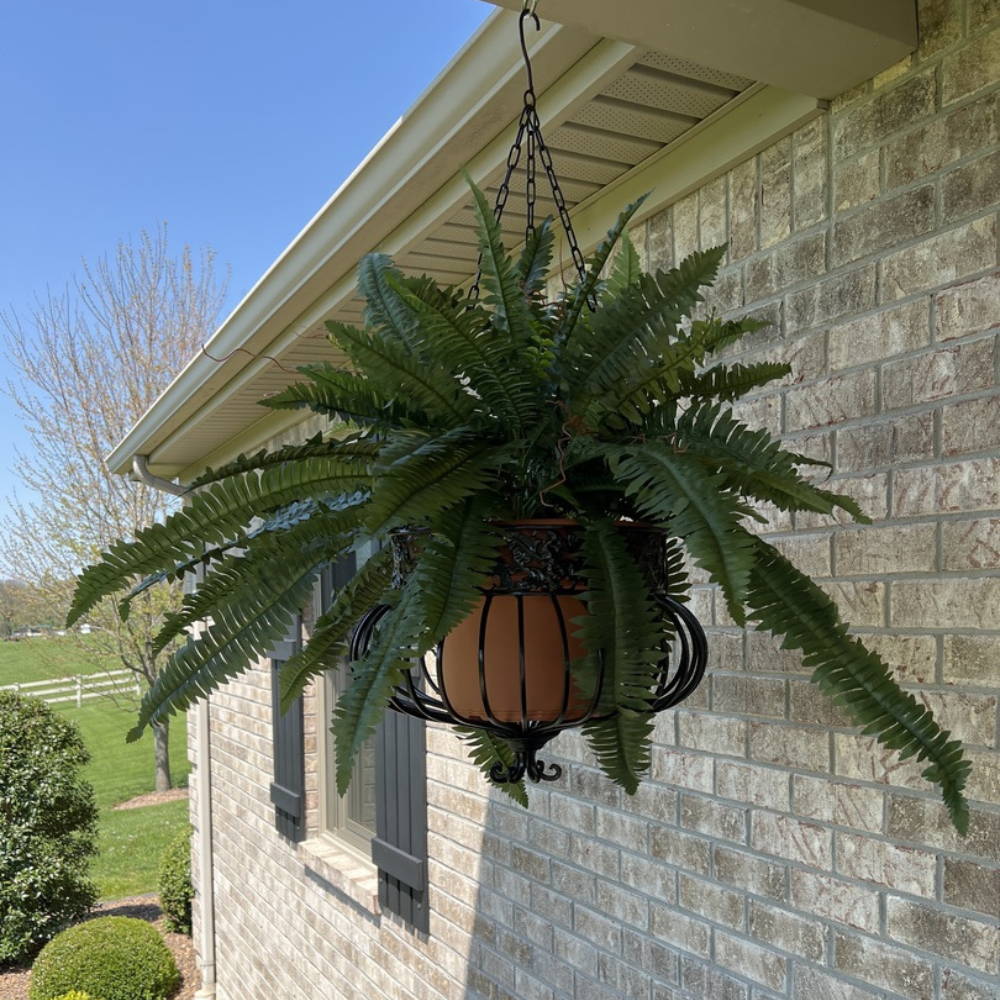 When the porch needs a seasonal lift, add the fantastic faux fishbone ferns in perfect hanging baskets. Then, for the full effect, order six fake hanging plants, and below them, add a colorful faux geranium in pink or red to add some color to the porch.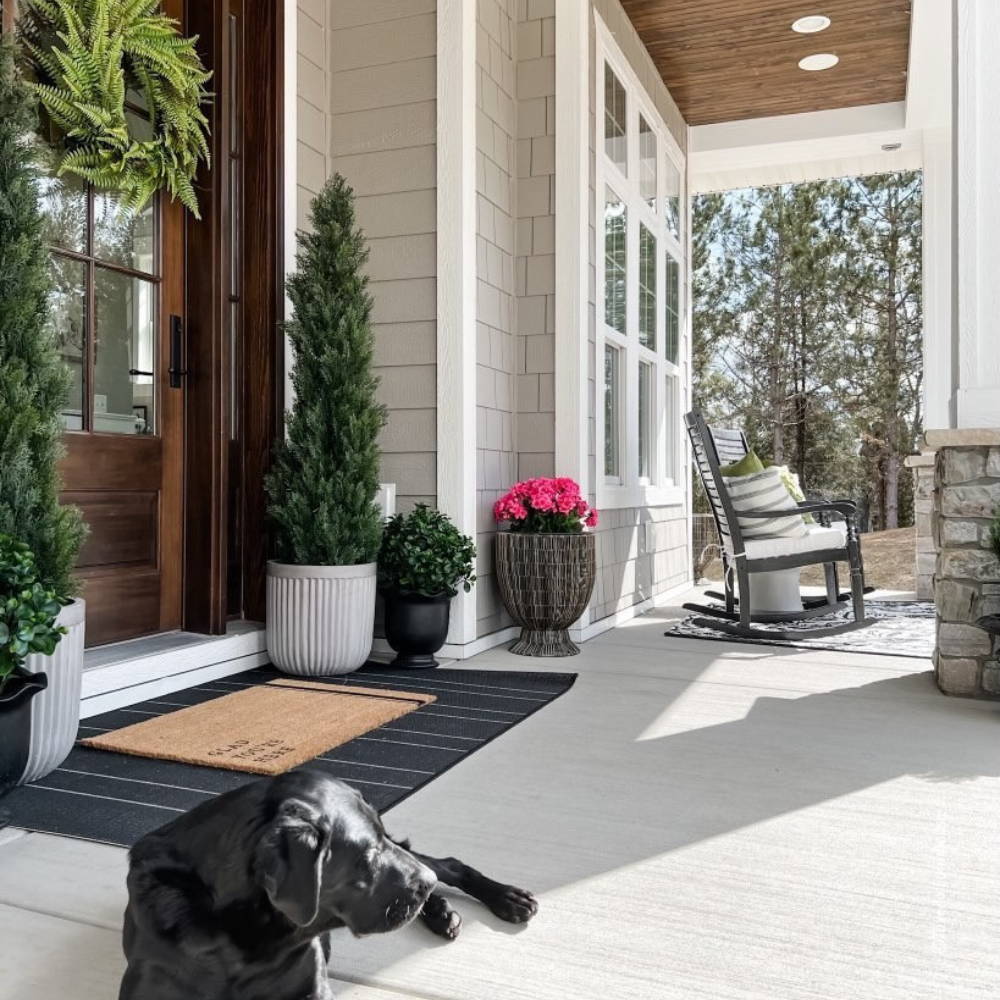 In the South of France, it is usual to see a potted pencil pine on either side of the door. They are perfect and symmetrical, easily used in a narrow space on either side of the entrance. They will look fresh and clean in white pots near the canvas rocker that completes the porch makeover giving it a more sophisticated look for summer.
Double doors require a different approach, and it is usual to have a wreath on either side. For summer, choose wreaths with flowers. Hellebores are a great choice and will lift the look of the entrance. Purchase two faux olives in pots; the topiary olives are symmetrical and look great in black pots on either side of the door, welcoming visitors to the home.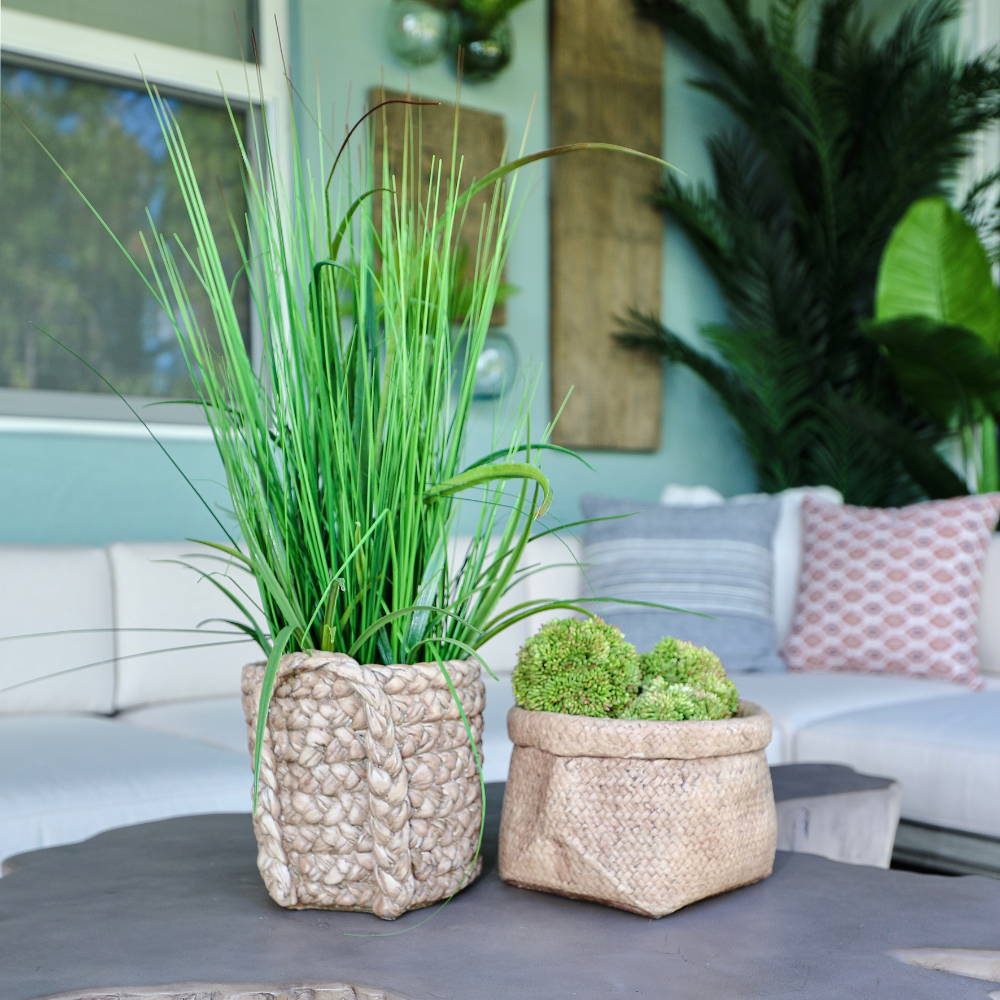 The table on the porch tends to be neglected, so give it a makeover with a selection of faux herbs and grasses. Chives in a rattan pot look fabulous, and the touch of greenery will brighten a tired look instantly and have visitors touch it to see if the display is real or faux.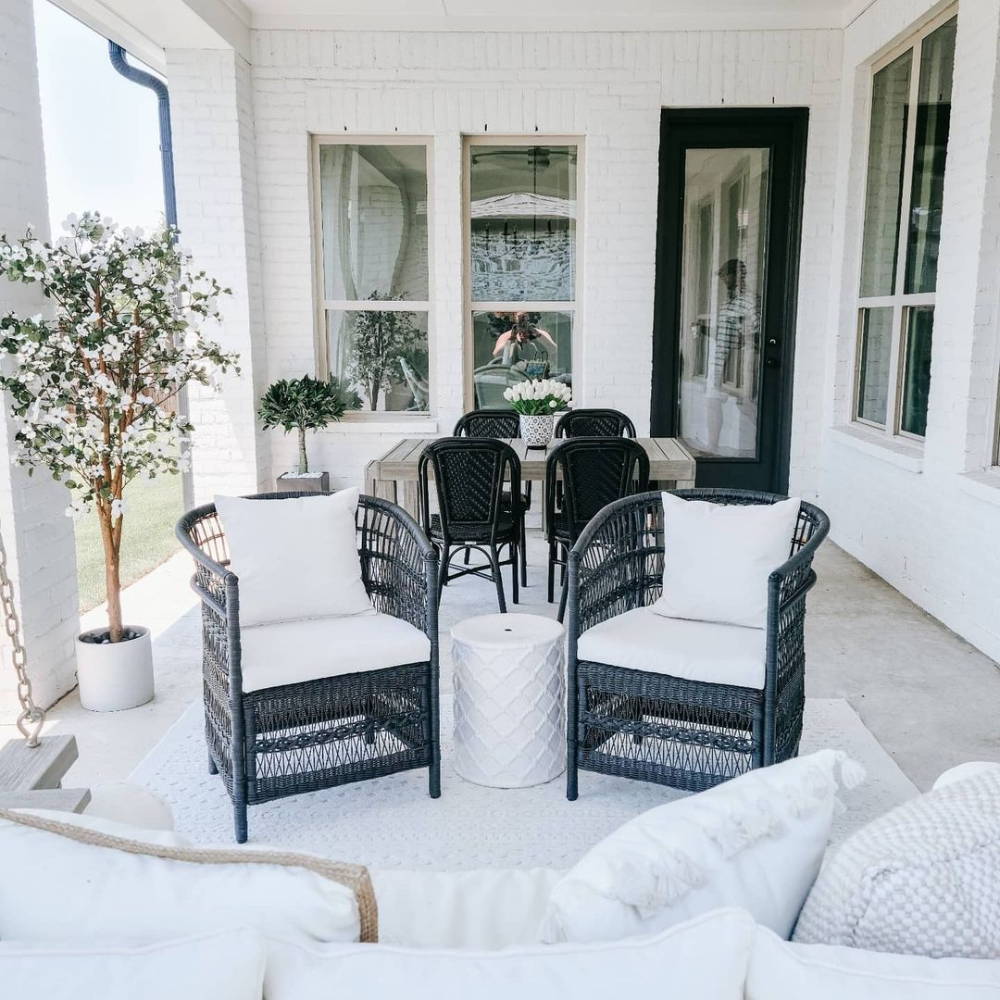 The living room needs a makeover, and the look is light, bright, and white this year. The timeless beauty of white fails to disappoint, and a long-standing favorite is American Antique White paint. A new white couch will set the room off to perfection, and a white vase with masses of Nearly Natural white blossom.
Turn the terrace into a tropical oasis with lots of big leaf tropical plants in pots framing the area. Purchase a water feature, a reticulated urn is excellent as the water is returned and reused, and the birds love it. Add some wooden welcome signs, and try to spend more time outdoors; add several canvas rockers and a tropical sun umbrella to sit under all summer.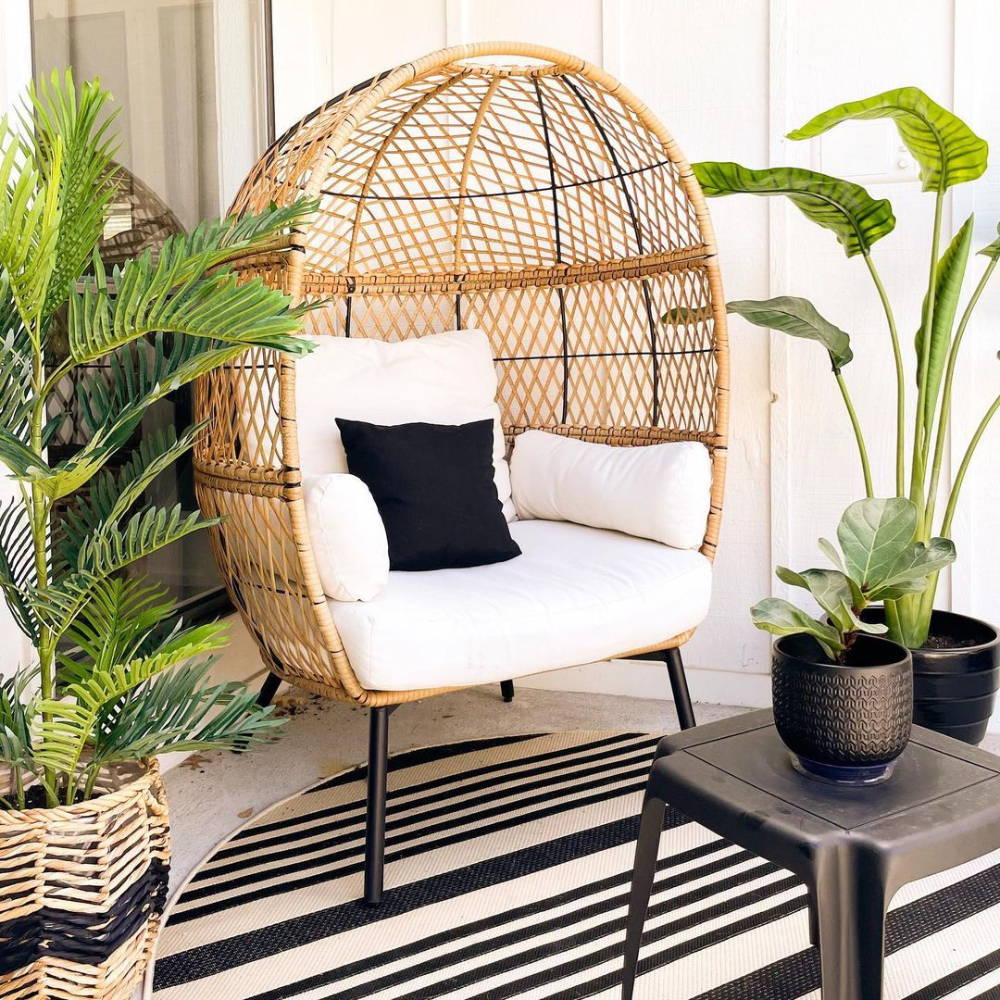 Add a hanging rattan porch seat with comfortable black and white cushions and a black and white striped rug for total relaxation. Keep the tropical theme going with some faux tropical plants to complete the coastal decor outdoor look.
More Coastal Ideas for Summer

The Succulent Garden -

Nothing is cuter than the succulent garden, and fortunately, it can be purchased online, although faux looks natural. Place it inside the front door on the hall table where it seems so natural that the visitors will assume it is an excellent choice of low light planting to brighten a dark space.

The Privacy Screen -

Now that the Tropical Oasis is complete, a privacy screen is required to keep prying neighbors from invading the space.

It is easy to get inspiration for faux greenery, and many garden displays now have faux green walls. This is handy as one can view what is available before choosing what best suits the coastal decoration decor ideas. Now a kit of faux greenery is known to be erect with a minimal degree of difficulty involved. Once winter ends, most people are ready for change.So it is time to break out and create a new garden.

The Fiddle Leaf Fig For The Garden At Night -

This is an all-time favorite faux plant as it looks so real with its large, lush green leaves, and for the next project, order six in pots for an elevated look.

The figs will be placed around the fire pit to continue the tropical theme and give the garden plenty of use at night.

Creating A Holiday Feel -

Coastal decor outdoor themes bring a holiday feel to the home year-round. Eating outdoors is one of the joys of summer nights, and consider carrying this feeling through into autumn by building a fire pit. Purchase either a round stone fire pit or a steel pit with a spark screen to keep visitors safe. If possible, erect the fire pit as a permanent structure, then landscape around it with some Nearly Natural plants to give the effect of a tropical garden with some more big leaf plants. It will be possible to sit outside long into the night once some bench seating is erected around the fire, just like a holiday at home.