As far as summer goes, things are slowly but surely starting to look sunnier after a brutal first few months of the year. The time to welcome friends to an alfresco dinner is now! If your outdoor area needs a little TLC, keep reading! We gathered some of our top influencer décor trends for summer 2022; from farmhouse to minimal design styles, there is something for any palette. Especially if you're busy, this mini-guide is a great, easy look book of ideas to recreate quickly and on a budget. The beauty of adding faux trees and plants to your home is that they're maintenance-free and can transform your space into an exotic oasis.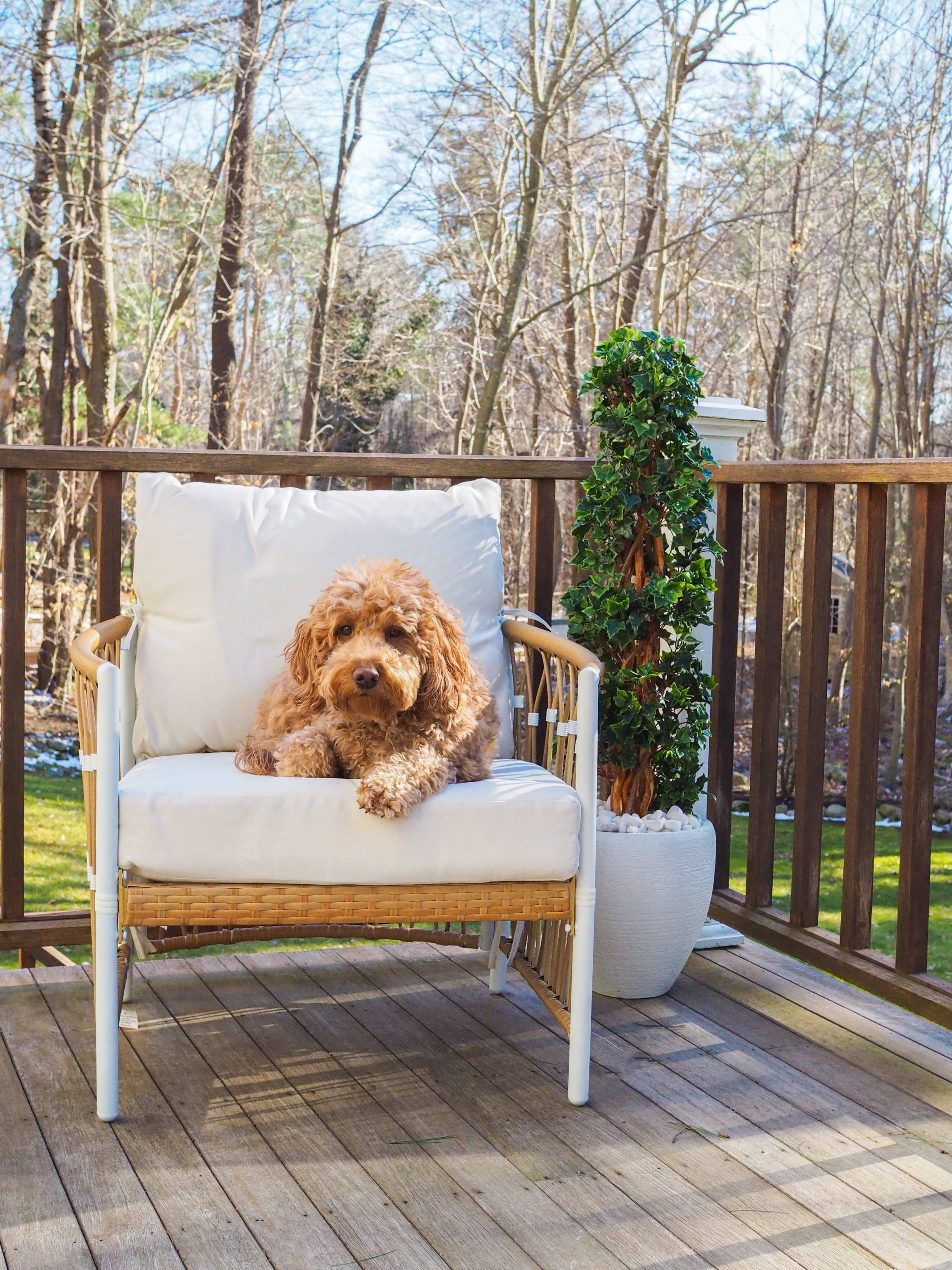 Because of the many benefits artificial outdoor trees provide, some top social media influencers flock to Nearly Natural's products. It's time to transform your outdoor area into a retreat that represents your aesthetic no matter your preference, from outdoor farmhouse décor to traditional and every style in between. Curate pieces for the patio, deck, or porch; we guarantee our outdoor collection has something to satisfy your dream look. If you're still unsure what the most idyllic style for you is, use our DIY tutorial below and recreate the look effortlessly and quickly today. Take a cue from some of the influencers below. Best of all? Our budget-friendly outdoor artificial plants require zero maintenance.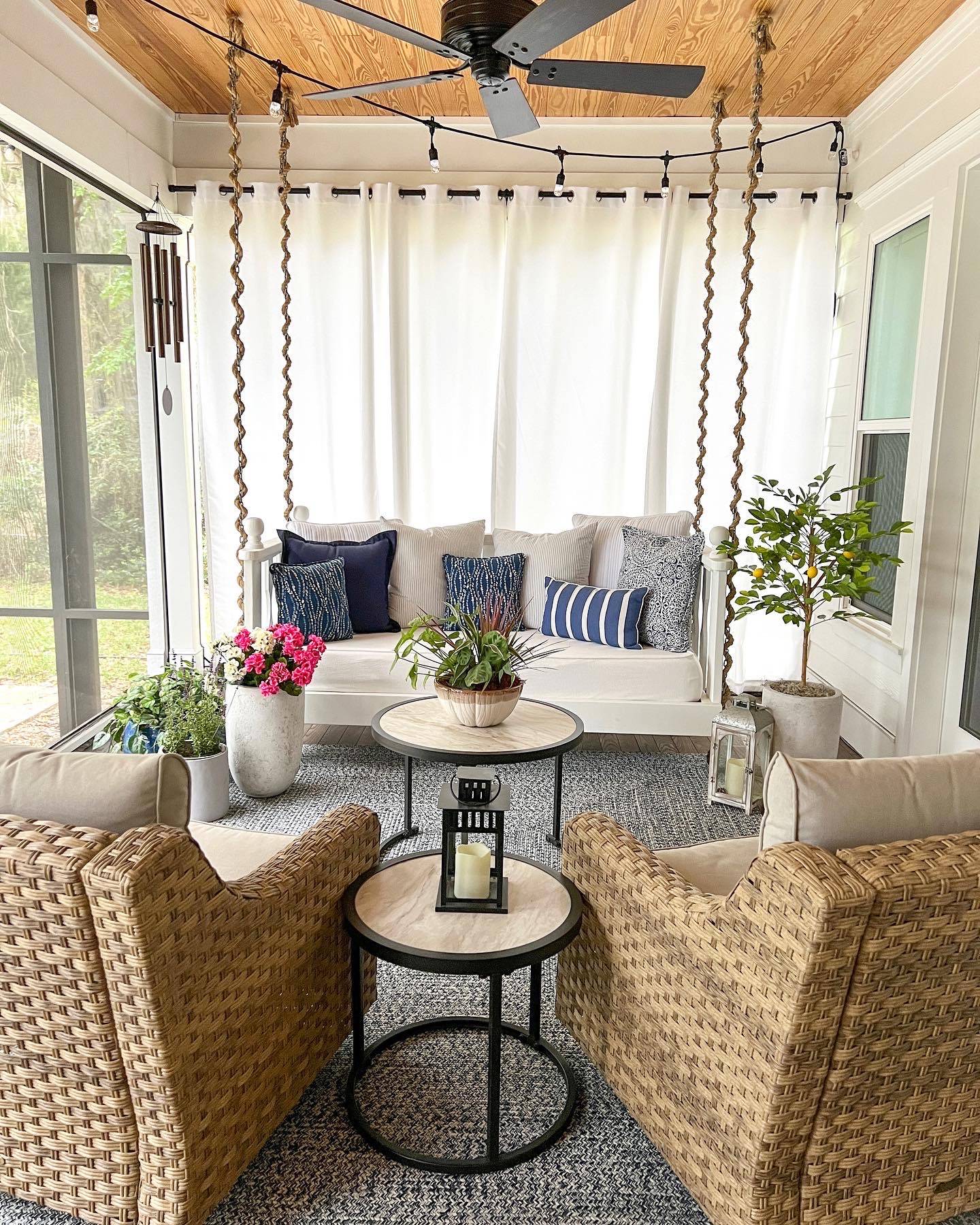 Front Door Decor Using Boxwood Spiral Topiary w/ Planter

Greet all your guests with a warm hello. Let your personality shine from the moment your guests arrive at your front entrance. Add a little greenery to make your home more inviting by adding this mini boxwood spiral topiary that is subtle enough to transform your space without it being too much. If you're looking for a one-and-done approach to sprucing up your front patio, this is the item for you. Place one on each side of the front door for an elevated and symmetrical look. For a little more color, feel free to add any wreath.
---
Patio Decor Using Faux Fiddle Leaf Fig

Growing a Fiddle can be difficult, especially in North America with the four seasons. Luckily, this high-quality Fiddle is perfect for any style aesthetic, especially if you want to show off to your friends that you can grow a healthy tree. Styled by talented interior designer @nebdesigninteriors, you can see how the vivid leaves stand out to command the attention of all. This clean, timeless look is easy to DIY. All you need is an egg chair in a brown finish, a natural colored planter, and a striped rug. Create this interior designer look quickly and effortlessly on a budget.
---
Patio Decor Using Travelers Palm Tree

The Travelers palm is a customer favorite and for a good reason. Inspired by nature, the large variegated palm fronds contrast each other for a splash of vivid greenery. As an inspiration for a boho, refined outdoor area, is @deevine_imaginations who paired the travelers with an egg chair in a black finish. To recreate this cozy, warm look, you will need an outdoor rug, two egg chairs, a rattan planter, a wooden table, and mini pillows. The beauty of decorating with faux plants is that you can mix with natural greenery to make the fake ones look more real, just like Deeanna did in her area.
---
Deck Decor Using Artificial Geranium Hanging Basket UV

An Artificial Geranium is an excellent option for compact spaces and entryways in need of a little more color. Maintenance-free and budget-friendly, this hanging plant helps create a lounge look and feel. To get a similar style, add a cozy sectional in a neutral color and layer with a matching colored throw blanket for a relaxed, put-together look. Brighten your area with some string lights and a few pillows. Perfect for a summer BBQ or as an escape to fall asleep while you watch the stars or fireworks during the 4th of July weekend.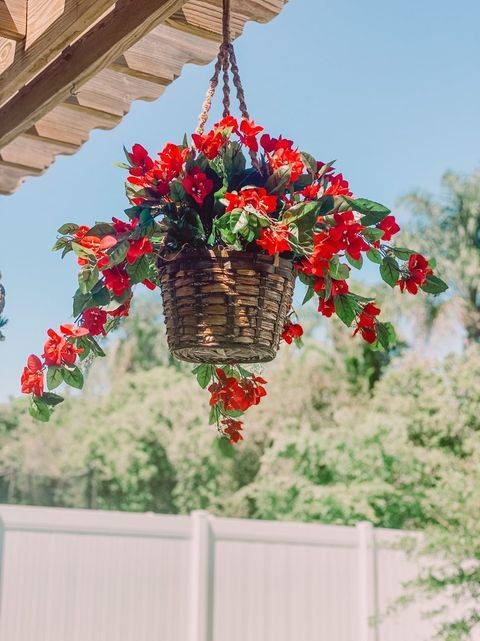 ---
Backyard Decor Using Olive Topiary

Our world-famous olive tree is all over the internet. Seriously, if you're looking to recreate the influencer look that's taken social media by storm, the faux olive tree is perfect for you. Accented by fake olives so lifelike, you'll feel like you're strolling through the Mediterranean. Diane from @Pineycreekfarmhouse is a fan of our olive trees and added a couple to her dreamy backyard space. Because she lives in non-olive tree weather, you can see how the olives blend with the natural greenery in her ample space. You can't even tell the fruits are fake! By mixing faux with natural, you can also create a lush outdoor area where the two coexist.
---
Back Door Decor Using Mini Cedar Pine Tree

Let's face it, keeping up with the trends is not for everyone. Changing your décor every few months might not be ideal for you. The mini cedar pine tree is one of those pieces that are always en vogue, a great transitional item that takes you from winter to summer year after year. We love how Amy from @maisondemings added hers to the back door, inspired by the French country life. No matter your style décor, the cedar pairs with practically every aesthetic. From farmhouse, French countryside, transitional or traditional, feel free to have some fun. Add some ferns for an extra dose of green.
---