Top 4 Designs to Have in Your Current Outdoor Farmhouse Decor
How about escaping to the countryside?
You might be craving some time away to refresh and unwind after a long and tiring week. We're not talking about grandma's farm, but a refined retreat with modern, welcoming accents. Would you like to set free in a modern farmhouse where you can host the best outdoor parties in the presence of some plants, wooden accents, cozy throws, and good weather? And if relaxation is top of mind, you want a fresh, ready to enjoy accent. Luckily, you can DIY farmhouse décor with the most realistic artificial outdoor plants.
You deserve some picture-perfect trees that will swoon guests into thinking you have a green thumb while also serving as a cozy hub for all get-togethers. Farmhouse, rustic décor has gained popularity with social media influencers, and many people want to get the "look," while staying on budget. Get your design hats on! You're about to learn how you can recreate this style effortlessly and maintenance-free at a great price. Whether you have a large or small space, you can apply these tips to any setting.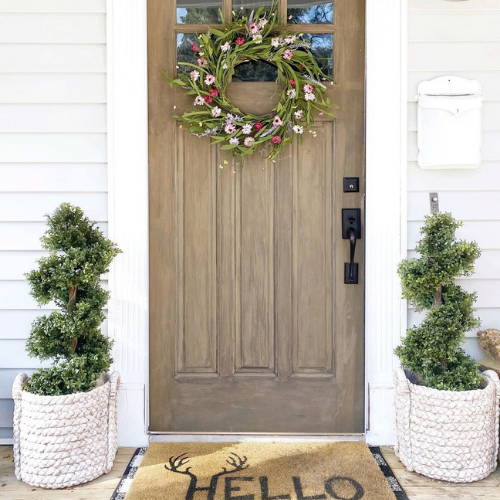 Wall décor double serves as decoration and as barriers to privacy if you live in an apartment with a balcony or near the neighbors.
Even if you rent, large wall décor may not cause an issue because you can easily remove the decorations. One common theme in the farmhouse and rustic-inspired spaces is the wood, double serving as a natural element that instills coziness and a barrier. Wood has different shades and undertones; this is why we recommend choosing a style before you start shopping around. Darker shades of wood are better for spaces that have sunlight, while lighter wood helps more light come in.
For example, if your outdoor space is a bit smaller, you can brighten your room using a wooden garden mirror that will make your space seem larger. This is because the reflection pays a trick on the eye, allowing more light to enter the space. While mirrors are one accent, others can help bring your farmhouse dreams come to life.
Farm to table wall décor - Ever wanted some farm-to-table love? Bring the look to your space with this wall décor that'll transport you to a local rustic farmers market. Feel as you're waking up to the fresh sight of strolling through countless organic vendors. The simple coloring and neutral appearance will blend with any rustic accents.
Strawberry Artificial Plant in Three-Tiered Wall Decor Planter - How does a strawberry field sound? Carefully designed to look natural—you might want to eat it! This three-tiered wall décor includes cascading strawberries peeking out from green leaves. Add to any outdoor wall that needs some brightening. The vivid colors can balance the wood by softening the look.
3' x 3' Greens & Fern Artificial Living Wall UV Resist (Indoor/Outdoor) - A little farmhouse always needs some green. This fake plant wall décor, features a mix of thick green foliage and small lifelike ferns. Safe for outdoor spaces, you can hang multiples for a jungle look. Or you can also create a bit of outdoor green space that is extra special.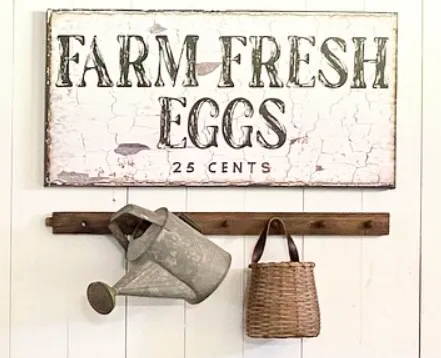 If you've taken up gardening recently, you know the struggle of having a blooming garden. But with faux trees, you can bring the look effortlessly and efficiently, saving you the time of caring for live plants.
The beauty of plants is that you can still have a garden, but you can enhance the look of your outdoor area by blending natural plants with fake ones. For example, topiaries are perfect for a farmhouse look but require landscaping that is expensive to maintain and time-consuming. Luckily with artificial plants, you can still achieve your dream farmhouse outdoor garden décor. One of the best ways to make fake plants look more real is by blending them with real plants; this creates an illusion as they camouflage with their natural counterparts.
Add some vintage planters - Planters can help make your plants appear higher. Especially in modern farmhouse décor, there is still an element of vintage that you can add by designing with vintage floral planters.
Geranium Artificial Bush UV Resistant - Now that you have your new vintage planter, how about some faux-bulous fresh from the farm flowers? Geraniums will brighten any outdoor space without ever needing maintenance, especially if you have an outdoor party; you can't go wrong with these flowers.
Lemon Artificial Tree - We all know how difficult it can be to see the fruits of your labor. Depending on where you live, growing produce is near impossible because of the climate. You can trick your friends into thinking you can grow a lemon tree; this artificial tree even has faux lemons on it.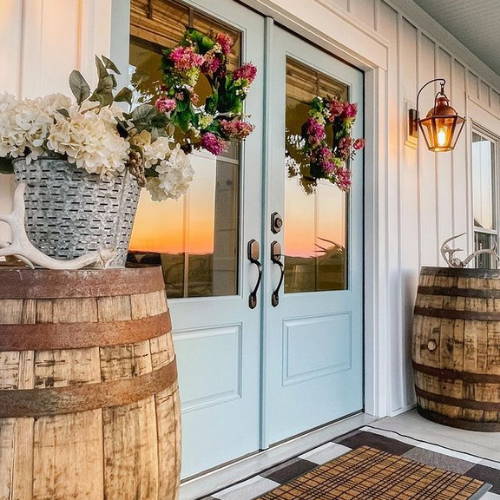 Geranium Artificial Bush UV Resistant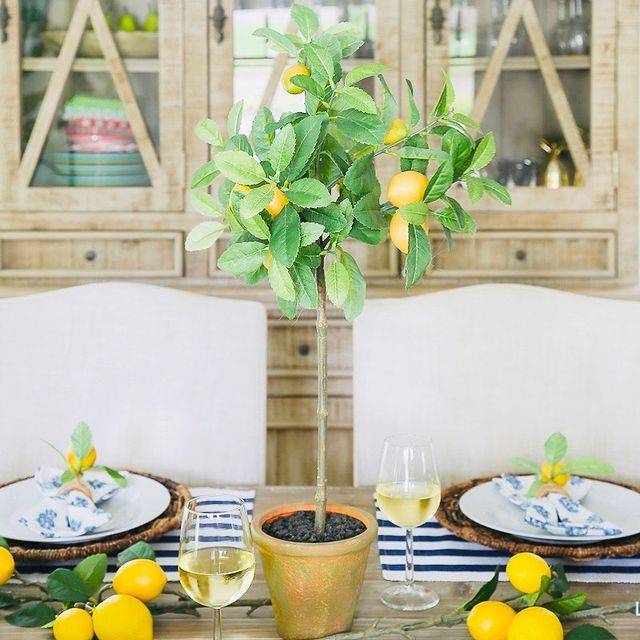 It's almost time for those outdoor parties, the kids out of school, and where summer Fridays seem like an elusive dream.
Be prepared to welcome back your friends with a bit of classic farmhouse patio décor. For when you feel like eating, decorate a beautiful farmhouse table décor-inspired space that will impress friends. It might be a wedding, birthday, or another special occasion; set the table and always be ready for those unexpected nights where you feel like having an alfresco dinner. Nothing is cozier than a little outdoor dinner during the summer in the company of friends. Explore our top patio décor ideas for the outdoor.
Add olive trees - You might have seen our famous olive tree on social media, but did you know? We offer over 40 olive trees, and some of them are outdoor-safe. Many influencers love the rustic topiary olive tree in a farmhouse planter, placing one on each side of the front door for an effortless rustic look.
Add a wreath - Since we're talking about olive trees, why not keep the Mediterranean look and feel by adding an olive wreath? Accented with faux olives so lifelike, this rustic wreath brings warmth and color while displaying your personality. Pair it with olive trees and you're on your way to making your farmhouse dreams come true.
Farmhouse table décor - For those cozy nights where you want to set the scene, decorate the most epic tablescape by adding little accents that go a long way. Try adding some faux limes to a clear vase with fake flowers for an instant source of freshness. Be careful! Warn the guests that they're faux-bulous.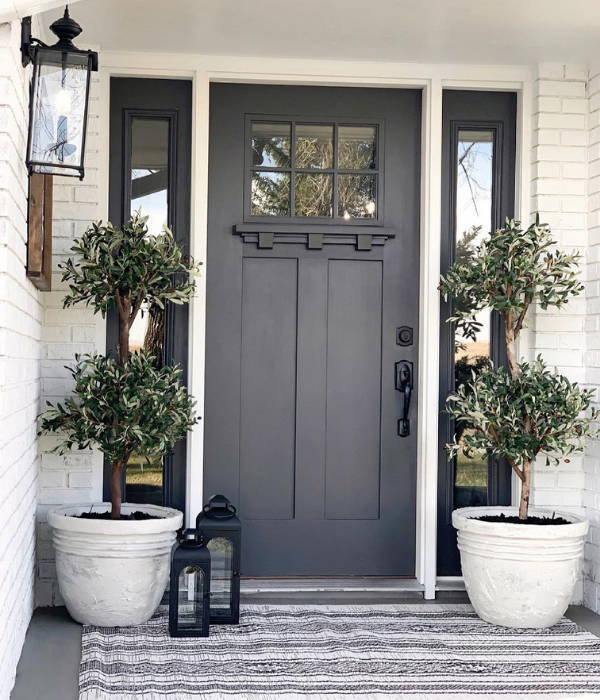 Olive trees in a farmhouse planter
Maybe you have a farm as a backyard; perhaps you wish you did. We're vicariously living through those cozy farms!
No matter your aesthetic, you can bring the essence of the farm to you; how about some farm-to-table décor? For example, adding neutral-colored furniture with black finishes on hardware can help transform your space; you can incorporate black finishes through lighting. To help liven your space, start by decorating with outdoor-safe plants such as cedar, pine, or boxwood. These textured plants create focal points that draw the eye to your area. See our customer favorite artificial trees for farmhouse spaces.
Cedar silk trees - The beauty of adding these cedar silk trees to your home décor is that they are great transitional pieces for every season. They make for a great Christmas accent but are also perfect for the spring and summer months. Feel free to add them to any outdoor area from the back yard to the front yard, to everywhere in between. We recommend shopping for these in pairs for a more cohesive style; many customers buy them in multiples.
Boxwood Spiral Topiary - Green and wood in one? We'll take two, please. We understand the struggle of having a bare corner or an area that looks awkward, but you can't exactly pinpoint what bothers you about it. This is where the boxwood spiral topiary comes in—whirl around this whimsical piece with a trunk-link silhouette for a little visual interest. Add to any space that needs a little fun.
Hanging plants - Caring for live plants is difficult. Imagine having to care for hanging plants; it's even more of a challenge. A staple of any country chic home is the hanging plants in eclectic planters ranging from vintage, floral, or rustic. One of our favorite rustic hanging planters is the Tuscan Hanging Ceramic Scroll Planter, both vintage and colorful.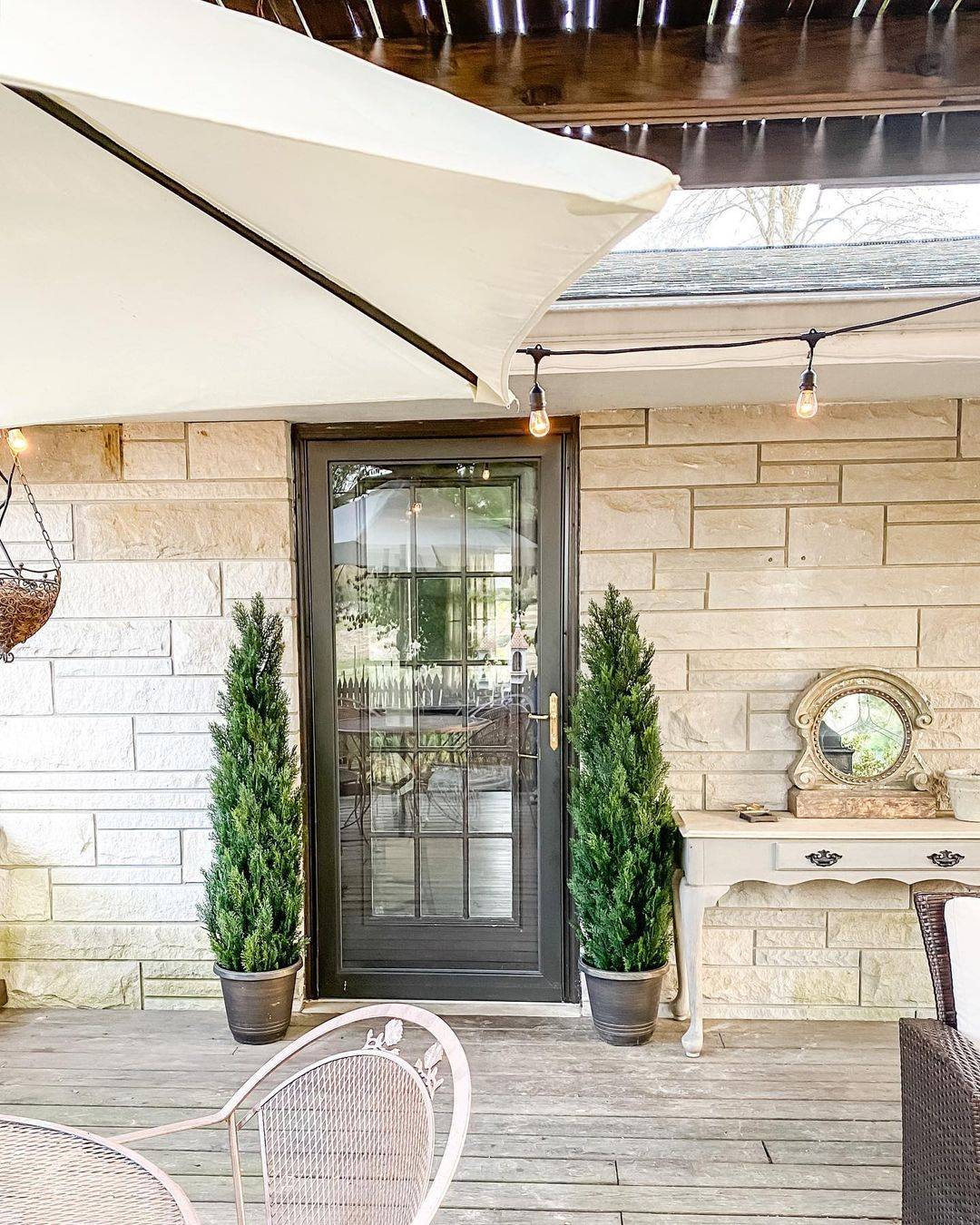 Hanging plants + the right basket = game changer
We hope you learned a little more about how to achieve your dream backyard. These tips are just a starting point, but you can go a step further in your design process. And if you have any more information on rustic outdoor areas, please let us know! We'd love to hear your tips and tricks and share them with our community of homedécor enthusiasts.
You're on your way to making your rustic dreams become a reality with these tips. We know you crave an oasis of relaxation after a long stressful day, a mini-vacay that feels like you're in another world. Luckily, with our suggestions, you can achieve this look effortlessly and on a budget.
Tag us in your new modern farmhouse-inspired spaces. We can't wait to see it.