Themed fall living room decor - guide + tips
The season of coziness is finally here! The time to bring the outdoors in literally using nature-inspired faux fall plants that mimic the season's beauty allows us a glimpse of the great outdoors. Especially if you crave that biophilic look but lack a green thumb, have a busy lifestyle, or have family needs, you can't go wrong with faux. Throughout every change, it's always important to refresh your space with natural elements from the outside. Since we spend so much time indoors, a little fall-inspired makeover can't hurt. This is why the living room is a great area to begin decorating for fall with fall living room décor. If you're looking for more help decorating your home for fall, check out our fall décor guide.
Getting started with fall living room décor

To help you narrow down what you need for a well-designed fall-inspired living room. Our team has created a checklist to cross off items you already have and decide which new ones you might need. Remember this is just a list of things we recommend; you can feel free to make the list that works with fall products for living rooms.
Candle -

Nothing sets the mood more than a cozy, well-light candle after the sun goes down. After a long day at work, relax and bring the smell of the season into your home. We recommend a warm, woodsy scent, or nothing beats the quintessential pumpkin spice lattes. If you want to stay in theme, we recommend housing your candle in vivid colored, expertly crafted faux candelabrum arrangements. Relax with the fresh scent of the season and watch the soft flicker of candles illuminate your surroundings.

Dimensions -

Before you run to the checkout counter, remember to measure your space and ensure you get the correct items that look proportional in your area. To do this, we recommend a tape measurer or a digital app that allows you to do this.

Inspiration -

We know the outdoors inspires us to live a well-balanced and curated life full of vibrant colors that mimic our surroundings, but it's essential to have an idea of the look you're going for when bringing the outdoors in. This is important, so you know strictly what to shop for and where.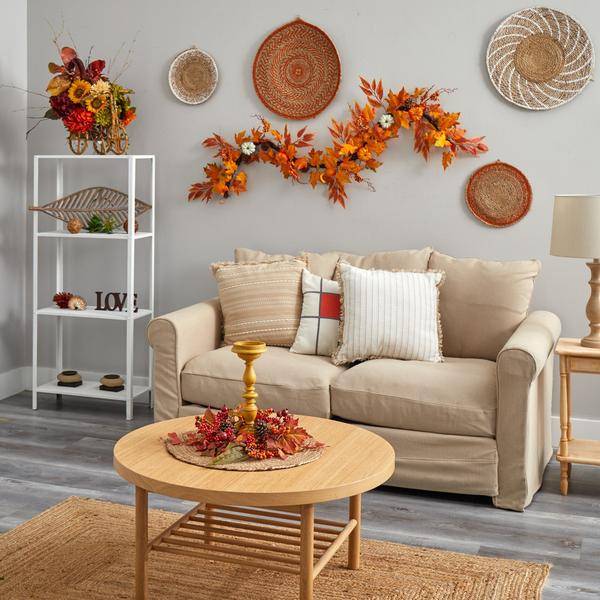 Get ready for cozy nights with this Fall-Inspired Artificial Wreath. Scores of bendable branches in a palette of fall foliage colors are accented by 100 micro dot LED lights that are more fuel-efficient and have smaller pixels for a cozy look. Inspired by nature, display during Thanksgiving dinner and show your festive side. With a width of 24" house in any bare wall or door. Perfect for the fall season.
Embrace the power of the Eucalyptus with this Eucalyptus Artificial Tree. Inspired by the magnificent fall foliage, set the scene during the season at your next dinner party. Assembled from high-quality materials, soft-textured leaves have naturally occurring details and variegated patterns throughout. Sparse by design, the thin trunk adds drama; feel free to shape the branches to fit in your space. Standing 6' from a nursery planter, DIY, and house in a planter of your choice. Perfect for a corner, dinning table or living room.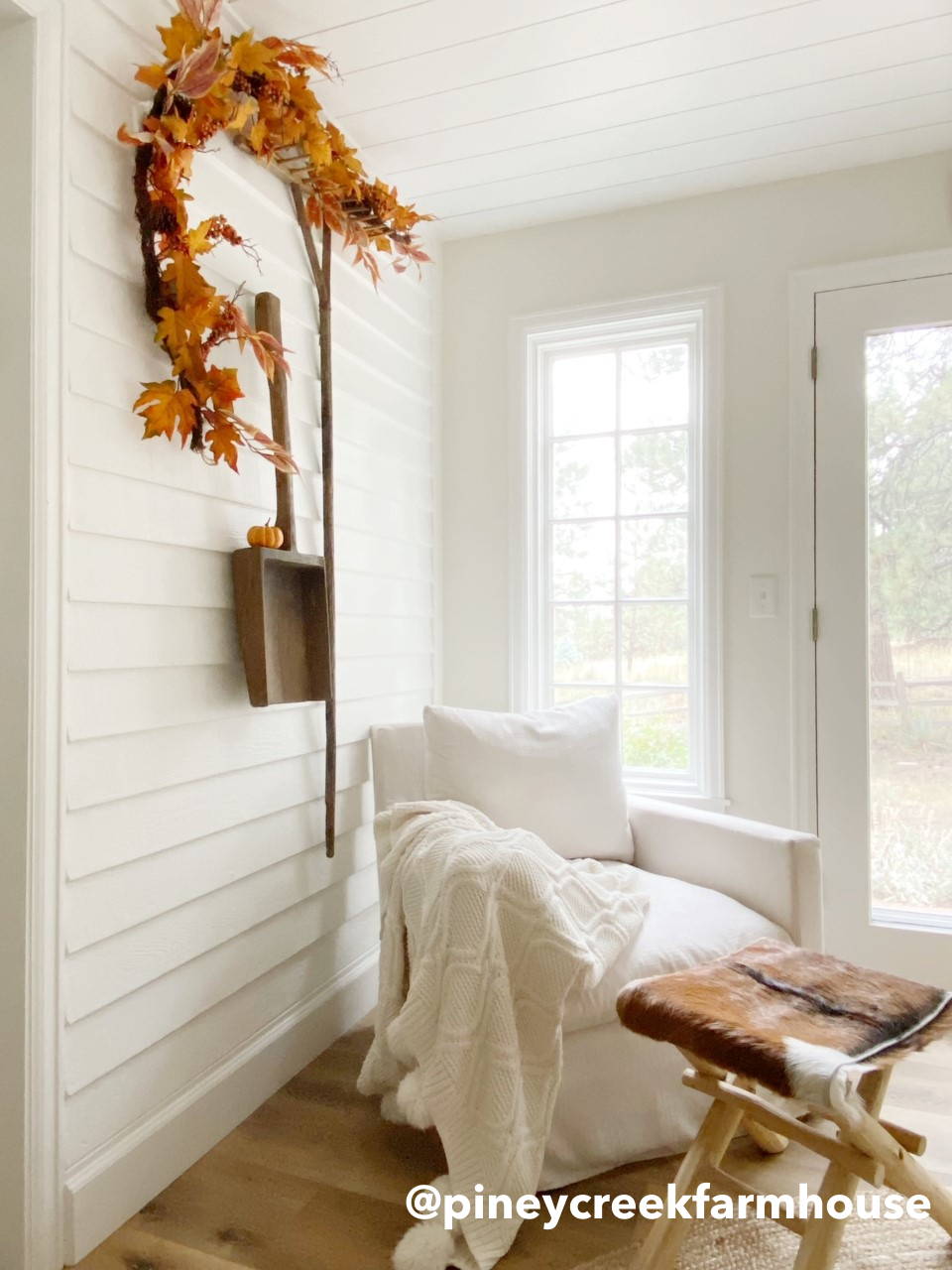 Rustic fall living room decor

Wood instills those cozy, warm hues that have become an emblem of the season. Especially distressed, finely aged wood adds a unique smell and texture to any space that needs freshness and maturity. As far as living rooms go, nothing makes a room feel homier than some rustic touches. Even if you lack wooden walls, slacks, or beams, you can still achieve the look by curating with finishes that have a wooden touch. In recent years, there has been a resurgence to a hybrid farmhouse look that encompasses modern finishes with rustic ones; blending the two designs is a great way to maintain cohesiveness throughout your space.
In fall-inspired spaces, look for color palettes with a warm, soft undertone. While many people think of the traditional fall colors of red, orange, and yellow, you can subtly insert these throughout your space or if you're looking for a challenge, try another color—test hues with a warm undertone and those that blend with your existing palette. The goal is to create balance and still make your space feel like it's yours but with a bit of refresh.
Rustic décor tips
Add Wreaths -

It might be a faux pas to place wreaths above the mantel and fireplace, but we love this idea. It creates a cozy look while adding visual interest.

Look for loose stems -

This is for those with a minimalist / clean design aesthetic that crave that cozy, fall feel. To maintain balance and stay true to clean design principles, consider adding some loose faux stems to any area in need of color. Perhaps as a centerpiece for the dining table or breakfast nook.

Add a fall-inspired faux tree -

Plants are in right now. The cornerstone of the fall season is the beautiful colors; those bright hues command that we bring the outdoors in. Luckily now you can by joining team faux. Consider some trendy, social media influencer-approved fall-inspired fake trees.
Farmhouse living room decor

Farmhouse has quickly catapulted into one of the most popular styles in recent years. And based on current search data, this style isn't losing steam anytime soon; in fact, it has been gaining momentum as of writing. The good news is that farmhouse has evolved into a more modern and clean style that can blend seamlessly through the seasons. This aesthetic has many of the elements of fall. Even if your aesthetic isn't farmhouse, you can incorporate some of its principles into your décor scheme. One of the best tips that won't compromise your décor is the use of classic silhouettes.
Open Shelving -

Transitioning into the new season can be difficult. You want to be in style while still maintaining that cohesive look that makes your space unique. Consider open shelving; this works even better in small areas that lack room for storage. This doesn't have to be a permanent change; you can easily swap it for another storage solution at any time. Think about adding seasonal fall living room décor, especially faux hanging plants, to your new open shelves. A fall-inspired candle won't hurt either.

DIY -

DIY Lovers rejoice! One of the quintessential hallmarks of farmhouse living is the use of antiques throughout. Did you know? Farmhouse style has been around since the 1700s. So it doesn't hurt to add a bit of DIY projects to restore those antique items without making them lose their charm. The good news is that antiques and DIY projects are a economical to spruce up your space without it being overwhelming.

Stick to a neutral palette -

Yes, this is still technically a fall living room décor guide, but to incorporate that warm, clean aesthetic, it's worth remembering that you can sprinkle fall hues without compromising on your style. One of the mistakes many consumers make is combining fall colors with shades that don't complement each other. This is why we recommend a neutral color palette that autumnal hues can accent. As the saying goes, less is more.
The Ficus, a customer loved and approved faux tree, gets an autumn makeover. Inspired by the wonderful palette of the Smoky Mountains, vibrant faux variegated leaves contrast each other for a medley of warmth. Crafted from high-quality materials, and a natural wooden trunk and bendable branches, display in any area in need of a harvest touch. Standing 6' from a nursery planter (included in height), add your own planter for a fun DIY project. Curate during Thanksgiving, Halloween or harvest nights.
Update your favorite home decor accents while adding a hint of natural beauty to your home or office entrance with this artificial wreath intricately designed with glossy, overlapping maple leaves in fall colors, highlighted throughout with different textures with pumpkins throughout. A charming, festive accent that evokes Southern charm and elegance, this 30" in diameter decorative wreath would undoubtedly transform a bare wall or doorway with its forever lasting beauty.
Spread character throughout your living rooms while subtly injecting color. This magnolia artificial tree is a mysterious yet dramatic tree with its palette of refined hues and intricate detailing. Feel free to bend the branches to fit your space. Standing 5' from a planter, house in any area during the fall season. Perfect for a home office, living room, or awkward corner.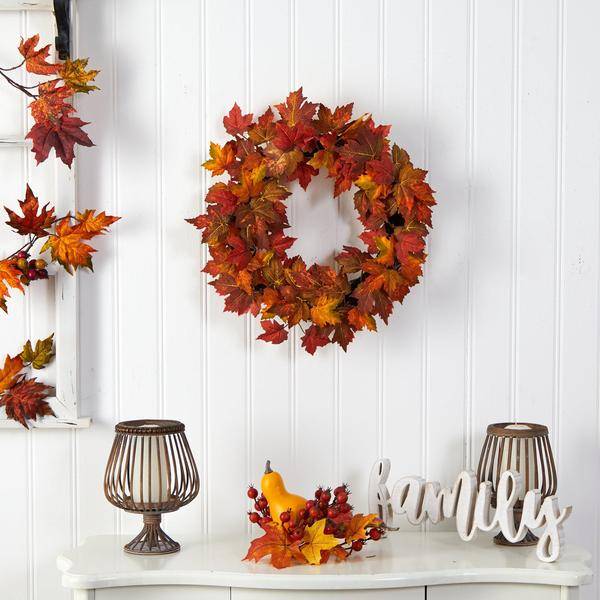 We know some of you might be feeling a bit overwhelmed by the amount of information we presented, but we want to empower you in your home decorating journey. As much as we all love rustic fall living room décor, it's even more important you're inspired by homes that unleash your creativity. After all, these are just tips; you're free to experiment with different styles and mix-and-match themes. DIY as much as you want and remember always to have fun with décor. There is no correct answer; every home is unique and represents your taste. Although fall is all about those cozy, homey feels, what better way to get ready for harvest than with a bit of refresh? We spend most of our time at home, especially during these colder months as the days get shorter and the weather starts to dip. This is why we love to showcase homes of all sizes, design aesthetics, and locations.
To help inspire you, we searched far and wide for a Pinterest page that has all the fall vibes you'll ever need. Because Pinterest dreams are made of fall, cozy hues, get inspired. Maybe recreate the look?
Check out - https://www.pinterest.com/farmhousehub/_created/
We love that this page has great content and tips on how to achieve the look. They even have a great blog page packed with house tours, Christmas guides, and style tips for farmhouse living that can be applied to other design preferences.