Top Benefits Of Artificial Plants
Greenery - fake or real - can add beauty to the home, making your living room, kitchen, and other spaces look stunning and lively. A house beautifully decorated with greenery creates a great impression in visitors' minds, making them feel welcomed. However, as you are eager to decorate your home, the difficulty in getting and maintaining real flowers could discourage you. Still, you don't have to be frustrated because artificial plants are here to make your décor dream come true without limitations. Yes, you aren't limited to a few scarce choices because there are several artificial plants you can use in decorating your home or office, all depending on the style and theme you want. When curating flowers in the home, some prefer housing them in a vase while others prefer closer to the wall. You can also hang artificial plants, and this is an excellent idea. One of the main reasons for using hanging plants is that they don't require much space, making them suitable for small spaces.
You can get creative by using artificial hanging basket plants, which makes it possible to hang your flowers and plants instead of just placing them on the floor near a wall or on the table. However, not all flowers are suitable for this, as there are specific hanging plants that would add more beauty to your home. In respect to this, one hanging plant we strongly recommend is the English Ivy Hanging basket, which is full of lovely ivy vines.
Benefits of Artificial Plants

You might be wondering, what are the benefits of using fake flowers? Why should you use them? We've outlined the main advantages of using artificial plants in your home décor. Some of them might surprise you….
Benefit 1: Artificial Plants Are Cost-Effective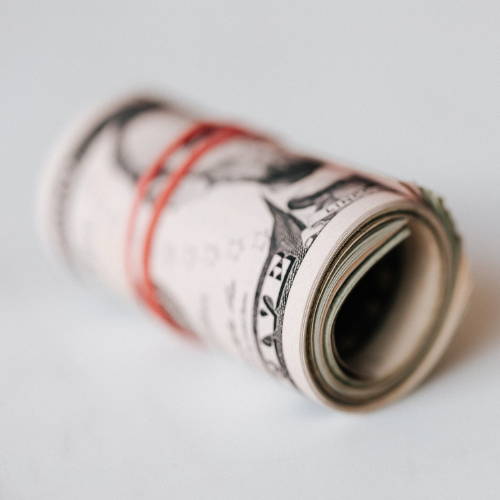 Have you ever taken care of a rose before? I mean, a real rose, not an artificial one. If you have ever taken care of real flowers before, you'll understand how difficult it is to maintain them. Keeping them blossoming isn't easy because you always have to prune them, weed them, and also water them when necessary. What about using the right manure, watering them properly with the right quantity and at the right time? The problem with real plants and flowers is that if you fail to follow the maintenance routine, the flower may begin to fade. However, this isn't the same thing with artificial flowers. To maintain them you only need dusting about once a month and that's it. Easy, perfect for people without a green thumb and those lacking time to care for one.
Apart from the stress you go through while maintaining real flowers, their price will scare you off. Yes, all greenery is expensive and faux plants might be even pricier than real ones. You might notice that faux plants are costlier than real ones. But this is because you have to consider the amount of time it takes to care for natural greenery. The price of real flowers tends to be on par with fake ones. Why spend so much on a flower that will wither in a few weeks when you can get an artificial version of the same plant that will live forever? If you begin calculating how much it would cost to maintain and even replace a real succulent plant in the space of one year, you'll come to realize how expensive real plants can be. When it comes to durability, artificial plants, especially those made from silk, will last for a very long time.
The materials used for making these flowers are robust and will last for a very long especially if you care for them. This evergreen quality of artificial plants has made it much popular, especially in this modern era. There are limited time and resources to spend on maintaining and replacing real flowers. Whether it is winter or summer, artificial flowers will remain the same, without flowers falling off or the stems growing out of shape. Additionally, the flowers maintain the same color all year round. This means that your home or office will keep the same theme you originally designed.
Benefit 2: Artificial Plants Are Versatile In Design & Décor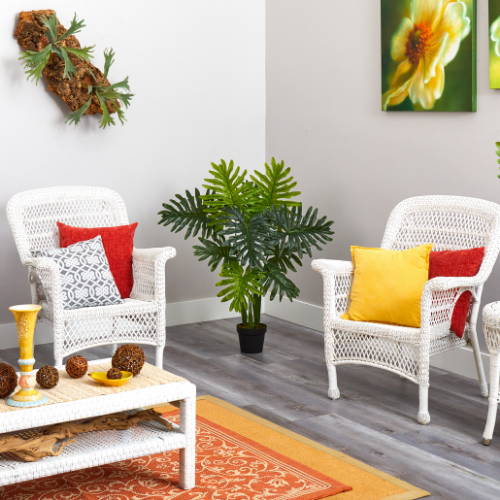 You won't run out of ideas and options when decorating with artificial plants. Is it the office you want to decorate? Is it your bedroom, living room, or kitchen? Whichever space you want to beautify with plants and flowers, there isn't a limitation when you use artificial plants.
Real plants have limitations, and one of them is that they can't be used in poorly lit rooms and mostly die during the winter. This isn't a problem with artificial plants, and just as stated in this guide, you can decorate your room with plants without worrying about sunlight reaching them. Similarly, artificial outdoor plants are designed with tougher materials that can withstand ultraviolet rays and harsh weather conditions. Do you want flowers that are small and portable? Do you prefer large artificial plants, especially for outdoor usage? Whatever type you want for your home and office décor, there are several artificial choices to choose.
When you decorate a space with real flowers and plants, it is impossible to bend or twist it to give you different shapes. In fact, if you try bending or tweaking a real plant, just say goodbye to that plant because it is going to suffer damages and might die. But with artificial plants, it's a different story. Artificial plants, especially the artificial snake plant and these special ones made from high-quality materials, are highly flexible. You can bend them and make necessary adjustments to meet the style, idea, shape and even the size you want!
Benefit 3: Fake Plants Are Non-Hypoallergenic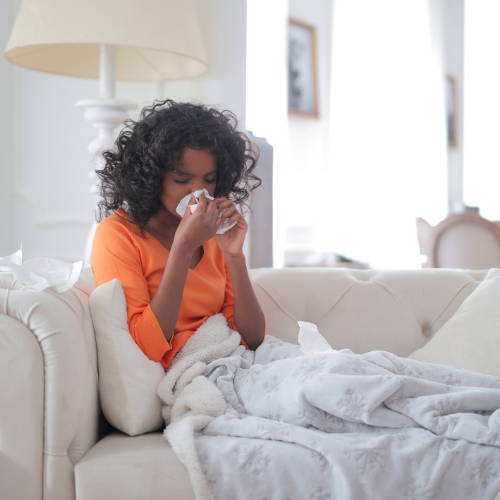 Just as Mayoclinic puts it, allergies are reactions by the immune system to substances the body isn't used to. Though these substances are usually not harmful, your immune system flags them off, thinking they will cause harm to you. This could trigger certain reactions like rashes, inflammation on the skin, and lots more.
Some people are allergic to pollen, a substance that comes from plants. Some people are allergic to pollen, a substance that comes from plants. This can be a problem when real plants are used in decorating the home, and there are several allergy inducing flowers, shrubs and plants in general that causes allergies. Therefore, using them in your yard or home for decoration can cause severe allergic reactions. Some of these flowers that could easily cause allergies include daisies, amaranth, and chamomile, to name a few.
Your lovely pets might also be allergic to some of these natural plants and flowers, something you should be worried about. It doesn't just stop at these allergies. These real flowers might bring germs and pests to your home through the soil used for them. However, there is good news! You don't have to worry about these allergies if you use artificial flowers and plants for decoration. These artificial flowers don't have pollens; therefore, you don't have to worry about allergies caused by plants. Additionally, the materials used in making these artificial plants are free from spray and preservatives, and they are created from high-quality silk materials.
Frequently Asked Questions About Fake Plants

1. How long do artificial plants last outside?

The longevity of artificial plants depends on care. Both outdoor and indoor plants can have longer lifespans if they're dusted once a month. We recommend looking at the title of the product you're interested in, and if it says the words "outdoor/indoor" or "UV resistant," we recommend placing the item outdoors. Otherwise, placing indoor only items outdoor will drastically shorten the lifespan of your product. We can't estimate how long these items will last as this depends on many circumstances. Typically our products are made to last years but it depends on care. For example, an outdoor tree in a blizzard will not last as long an outdoor palm under a patio with shade.
2. What are the best fake plants?

The best fake plants are those made of high-quality materials like silk. This is because silk appears so natural, that it would be hard to tell if it is fake. With respect to this, some of the best fake plants you can find in the market are from Nearly Natural. This is because we have experience in the real plant history and design; every product is crafted with attention to detail to ensure it is Nearly Natural. We get many experts in the real plant industry surprised that our products are faux.
3. Why are fake plants so expensive?

The material used in producing an artificial plant plays a major role in how costly it would be in the market. For instance, fake flowers made out of foam would be cheaper compared to those made from silk. Also, the more real a fake flower appears, the more expensive it becomes. This is because the producers of such realistic artificial flowers didn't just only use high-quality materials; they also invested more skill and talents in designing these plants. Another factor that makes fake flowers very expensive is their life span. When compared to real flowers, artificial flowers generally last longer, making it very expensive. However, in the long run, real flowers tend to cost more than artificial ones, especially when other maintenance factors are considered.