10 Trends in Nautical Decor & Our Favorite Decor and Styling Tips
Like the seven seas, our leading interior decorators are eager to sun-off their top nautical decor tips sure to make a splash.
As far as coastal décor goes, nothing is more classic than nautical décor, and for a good reason. Who doesn't love the regal blue and white stripes, crisp lines, and beach-inspired accessories? Nautical is always en vogue, so you need not worry about swapping furniture every few years with this consistent, classical look and feel. Now more than ever, nautical is trending among interior decorators and consumers because many people yearn for a stress-free vacation. Indulge in the light and airy feel of a coastal, charming seaside with the elements of nature. Don't be scared if you live far away from the ocean! You can quickly transform any space into a welcoming oasis of warmth and seaside chic with our tips curated just for you. Our interior designers have over 75 years of experience and are well versed in the latest trends of social media and leading magazines.
Traditional Coastal Classics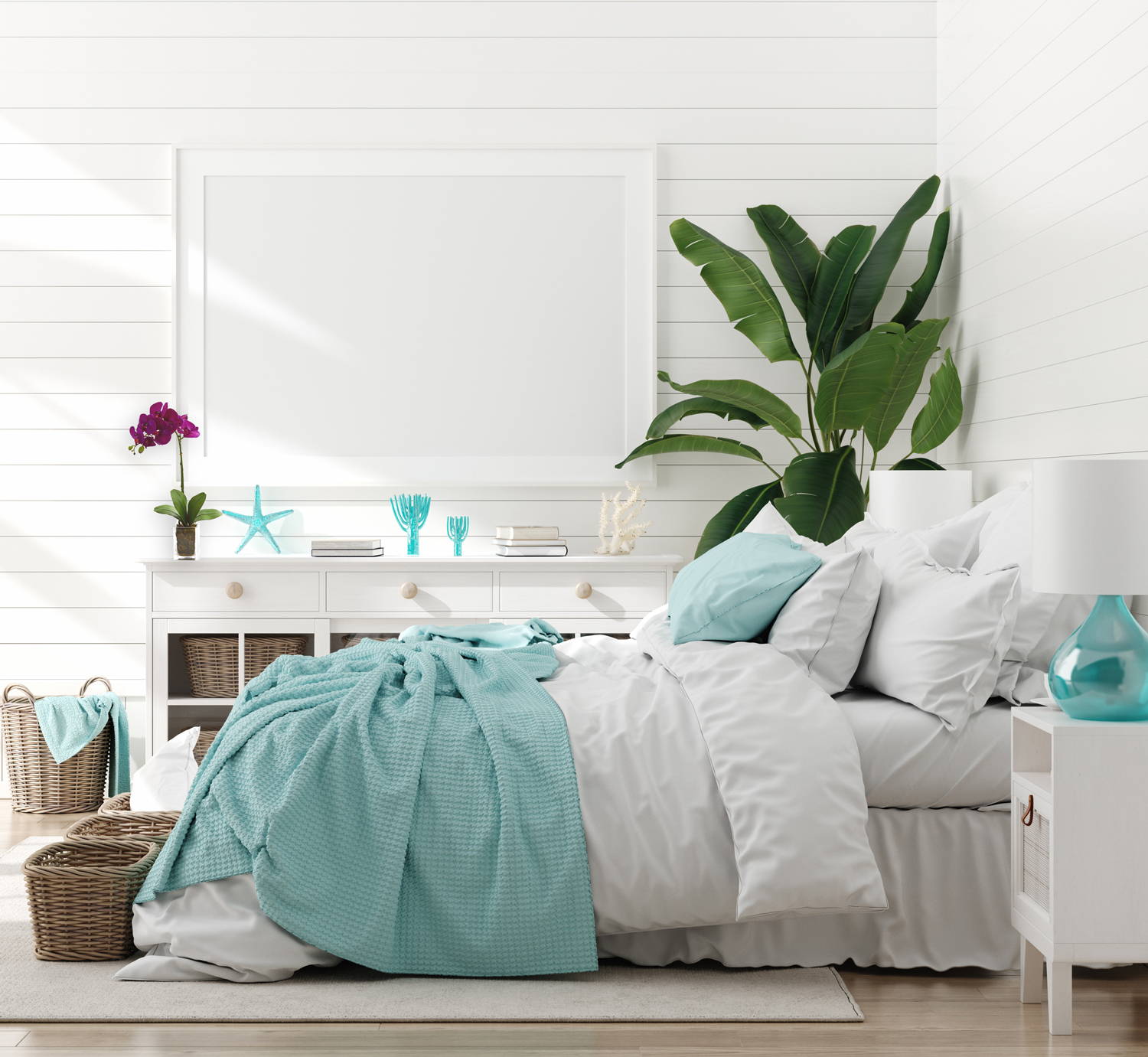 Do you know those traditional, grand coastal hotels along the coast? The ones with crisp, regal-like furniture that feel so homey? For summer 2021, consider incorporating some of those design principles into your living rooms and kitchens. Even if your furniture is not coastal, there are many elements you can bring into your space.
1. Colors rich in blue and white
When choosing colors, there are two people out there, the ones who love it and those that hate it. But then some are in the middle and want a bit of it without all the jazz. Luckily, you can still have a refined, clean palette with traditional nautical colors while adding little pops of color here and there. Just because you adhere to a nautical theme doesn't mean you can't have a little fun with color. For example, you can still have fun by adding silk flower arrangements rich in texture and hues. Try adding an arrangement to your kitchen island to bring the room together.
2, Warm wooden touches
The best thing about nautical-inspired décor is that you probably already own many of the necessary items needed to bring the look together. For example, as a centerpiece in the living room, add a wooden table with a glass top; the see-through top makes it look more light and airy because it allows for a better flow to the eye.
We all dream of eating shoreside, chilling with friends and being surrounded by lush, green fauna, but many of us don't have the luxury of living beachside. Luckily, you can make those beach dreams come true by adding outdoor artificial trees to your outdoor area. Wake up to the sight of vibrant faux palm trees that move with the wind and are safe for outdoor use. You can now bring the essence of the tropics with one of the most recognizable symbols of a beach, the palm tree, no matter where you live! Best of all? Maintenance-free. Explore our best-selling trees.
If you're a fan of the fishing aspect of nautical décor, we recommend looking for marine decorative items to sprinkle around. These can be marine animals such as seashells, vibrant colored schools of fish, seahorses, and sand accents. On the other hand, if you're a bit on the conservative side and prefer a more minimalist approach, look for these accents with a twist.
1. Modern accents of the classics
If you prefer less novelty but still want to decorate with these nautical-inspired items, our interior designers recommend adding more abstract representations for these items. For example, a lamp that has blue and white but with a more artistic taste. Also, consider a sand-like textured lamp with jute and soft brass-like finishes.
2. Anchor-inspired touches
Anchor away with marine decorative items that bring your living area together. Our interior decorators suggest curating small anchor-inspired towels in the kitchen and bathrooms. This way, if you want to change your space style, you can easily swap these accents for others that you prefer. That's the beauty about adding marine decorative items; you can always swap them for other ones easily without changing your big-ticketed purchases and more expensive pieces.
Boho décor is a perfect partner for nautical décor because they have similar elements that complement each other. This is very important for creating harmony between different styles, but aren't sure if they can be mixed. Both boho and coastal décor make great use of jute, rattan, and wooden touches for a homey, cozy feel. Still, with coastal-décor, you incorporate softer colored furniture and some traditional elements of the ocean. An excellent example of the marriage between boho and coastal is Tulum hotels. Inspired by the natural surroundings of the jungle, the bohemian hotels bridge the two perfectly; they still feel beachy but have that natural free-spirited element. Perfect for that relaxed, calm lifestyle while adhering to the latest trends in design. Learn how to add some more boho elements to your space.
1. Jute baskets for décor and storage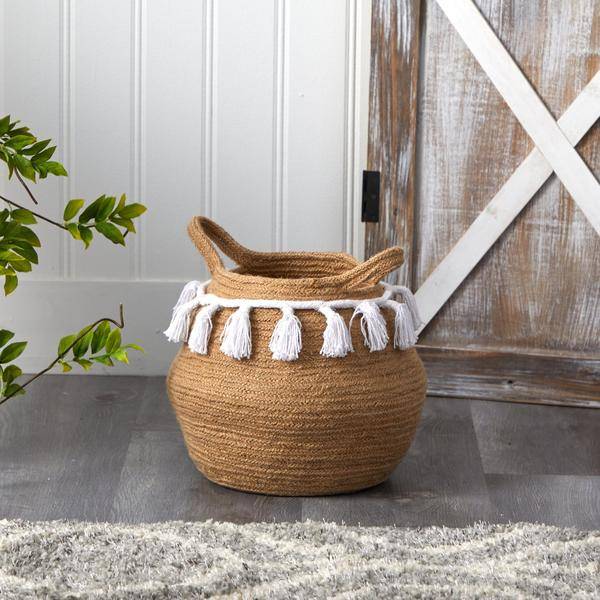 Our jute baskets are trendy, affordable, and handmade. Not only do they serve as excellent décor, but they can be used as storage to store little knickknacks. Especially in bathrooms, where space is lacking, baskets help you stay organized. The jute is also a great connector for those recessive blue and green tones. The brighter shades of blues blend naturally with this refined jute palette.
2. Add a textured wall
You've seen this look on social media and leading interior design magazines, but sometimes it's great to go vertical. For a little more cozy feel, add some shelves or texture to a wall in a vibrant green or blue color for a pop of color while leaving the other walls in a lighter color. If you rent, we suggest adding some wooden shelves to store and add a bright, airy feel.
Adding texture in spaces can be a bit more challenging because this depends on the size of the area and other elements. The easy part is that in nautical décor, you can insert texture by adding artificial hanging plants in macrame planters. Consider adding an anchor hook to maximize your space even in those hard-to-reach areas. Before you add these accents, access your space and purchase the big-ticket items first so you can measure how much empty you can play with and fill with artificial hanging plants.
Minimalism and Solid Colors

The super-trendy minimalist trend is another excellent style that blends perfectly with nautical décor. The clean lines and solid colors go hand in hand, creating synergy among the space. To combine the two, pick neutral-colored or white furniture, then paint in a lighter tone; for a little more pop, consider painting an accent wall in a vivid hue. For hardware, stick to one type of finish such as brass or black for a more minimalist and put-together look. Here are our tips for minimalist décor
1. Design with clean lines
We've all seen a clean design that looks very well put together. Next, curate a well-designed, new space by adding furniture that has sleek finishes. For example, consider a couch with legs for an airier look and feel. When deciding on storage, choose wooden storage solutions with modern finishes, then display ocean-inspired colors.
2. Look for artwork to blend
As a rule of thumb, when adding artwork for the living room, hang artwork about 60" above the floor for a cohesive well-balanced space. Look for some natural elements in your artwork, perhaps some abstract waves or greenery. Keep the colors neutral to maintain consistency. As a frame, stick to the color of the hardware found throughout.