Bring Your Outdoor Area to Life With Our Top 5 Most Realistic Outdoor Plants
You need an escape from everyday life stresses, and your home is a perfect place to retreat.
The great outdoors. A place to relax, social distance, and enjoy the benefits of nature. As you might know, maintaining plants can be thorny. Whether you live in a mountainous area and crave the tropical greenery of the Caribbean or want the California relaxed lifestyle, we understand the challenges in maintaining a beautiful outdoor patio and backyard. We all know the pain of sourcing that perfect topiary tree and palm tree, all for it to die during the winter. Don't worry; we support you in your plant journey and that's why we've made it easier for you to enjoy the perfect outdoor patio in the company of the most realistic artificial outdoor plants.

If you still want to achieve your dream outdoor patio on a budget, we have a solution for you no matter where you live. Have you ever considered artificial outdoor plants? We don't mean the ones from grandma's house that look tacky; long gone are the days of cheap looking artificial plants; say hello to the most realistic fake outdoor plants. Nearly Natural's fake plants are designed by horticulturists with over 75 years of experience, mimicking mother nature's beauty. Inspired by nature, our artificial plants have naturally occurring details throughout. With natural-looking outdoor artificial plants, you can bring the flora from any destination around the world to your space. Turn boring, dull outdoor areas into an enchanting, relaxing atmosphere with best fake plants for outdoors.

Crave a tropical vacation? You can now add some large fake palm trees to recreate your favorite island. Want to relive those afternoon walks through France? Adorn your home in some topiaries that'll feel like you're walking through Versailles. You can also bring the Far East's serenity with some bamboos and Asian artificial outdoor plants that are just the perfect escape. No matter what you're in the mood for, there's a fake outdoor plant for you.
We've asked thousands of customers what their favorite artificial outdoor plants are. Here are the top 5 artificial outdoor plants and trees.
Top 5 Most Realistic Artificial Outdoor Plants for your Outdoor Patio

With seven feet of small, leafy clusters resting atop dark umber stalks, you're able to bring the refined yet exotic mystique of the Far East into your home with this artificial bamboo tree. Graceful as it is detailed, this symbol of strength can replace rigid corners with warmth just as well as it can redefine outdoor living spaces, all with no maintenance required. Bring the serenity of the forest in China to your outdoor areas and retreat to an exotic oasis after a long day. This is one of the best artificial garden plants according to our customers, hint, they are in love with it. Designer tip: Even if you have a narrow outdoor balcony, you can use this large fake plant as a divider between your balcony and your neighbors. Style this faux plant in cohesion with a pair of artificial trees for a relaxed look. We recommend looking into our Buddha accents that bring the restaurant look to any space.
---
The bay leaf artificial cone topiary tree's green foliage is carefully placed to overlap one another, leaving no space between the leaves to be seen. With its height of 5-feet, this tree can be used to accentuate the furniture pieces in your living room. Place it beside your mantelpiece, entertainment system, or even between two chairs to give your arrangement a beautiful focal point. It's UV-resistant leaves ensure you can use it inside or outside. This realistic looking artificial outdoor tree will help save you time and money on expensive landscaping, as this tree requires no care.
Since it's housed in a nursery planter, we recommend pairing it with your planter for a DIY project. Also, to add curb appeal, dress multiples horizontally across the parking area or patio for a cohesive look. Especially if you're looking to sell your home, adding greenery can help increase your home's value and make a great first impression with buyers. This is an affordable way to add more value for all parties with the most realistic artificial plants for outdoors.
---
The perfect artificial outdoor plant for your home, office, or even your patio. Standing tall at more than 5 feet in height, it has 3 trunks and 42 billowing leaves. It's fully UV resistant, so you can comfortably place it indoors or out. It also never needs water, and will stay looking fresh and green for years to come. And if you have a nature lover on your gift list, well, here's your perfect present. Known as the mean girl in the jungle, this fake outdoor plant that looks real will transform your space from dull to fab and trendy. Fiddle Leaf Figs are everywhere, scroll throw any modern magazine, and you'll see them. Designer tip: Pair with other similar larger leaved trees such as a Monstera, both are rich in green foliage. You can also add in any bare space next to some flowers to bring different colors and textures with the exotic foliage.
---
This regal, stately Travelers Palm Tree is the perfect fake outdoor plant to bring some tropical goodness anywhere you wish (even to your patio in cold weather!) Fully UV resistant, this lush re-creation sports six stalks, ending in beautiful palm leaves, and is ideal for both indoor or outdoor decorating. Great for both home and office, it'll never need water and makes a fine gift as well.
We mentioned an escape earlier, and this palm tree brings just that to any outdoor space. This realistic looking artificial plant pairs well in many style decors especially modern or tropical. We all know palm trees are synonymous with the summer lifestyle, and with this outdoor tree, it's summer all year long. Pair next to the grill or alongside some patio furniture for a fun look that'll take you on a warm, vacation. To ensure it lasts longer, occasionally wipe it with a feather duster about once a month and put inside during extreme weather changes such as hurricanes, blizzards or snow storms.
---
Standing 4 feet tall, this faux Double Pond Cypress plant features two twisting stalks of greenery to form a spiral topiary arrangement. Adorned with 1,036 leaves, this floor plant is handcrafted in fine detail to mimic a real topiary. Place at the front entryway to greet guests or atop an entryway table for added height. Leaves are UV Resistant, suitable for indoor or outdoor use. If you're into the European garden look, look no further. This elegant high end artificial outdoor plant will make you feel as you're walking through a pristine, clean European garden. Never needing maintenance, you can save on pricey landscaping needs by opting for artificial greenery that is inspired by nature. Designer tip: Pair this topiary with topiaries of different shapes and sizes for a refined look. We recommend a ball-shaped topiary side by side for cohesion.
---
Best 3 fake outdoor bushes

Enhance your home or garden with this lush artificial peperomia plant featuring bright foliage with detailed little leaves. Boasting natural coloration and standing 32" tall, this UV resistant plant can even help bring color to an outside patio or balcony. Housed in a blue planter and the ability to fit in tight spaces makes it a great addition to both the home or garden.
---
Lush and robust, and standing at a proud 23" inches tall, this peperomia plant is a true gift for any room that it resides in. This beautiful and bulbous collection of greenery is UV resistant, protecting it from sunlight, and looks great whether it is found in an indoor or outdoor location. Makes a really thoughtful gift as well.
---
Simple, subtle, and so life like that you'll want to water it, this amazing Pothos hanging basket will look great in both your home, office, or even outdoor space for years to come. Featuring a beautiful Pothos in full splendor, this is a UV resistant offering as well, meaning it'll look great outside as well as indoors. Complete with hanging basket, this makes a great gift as well.
---
Outdoor Patio Inspo with the most realistic artificial outdoor plants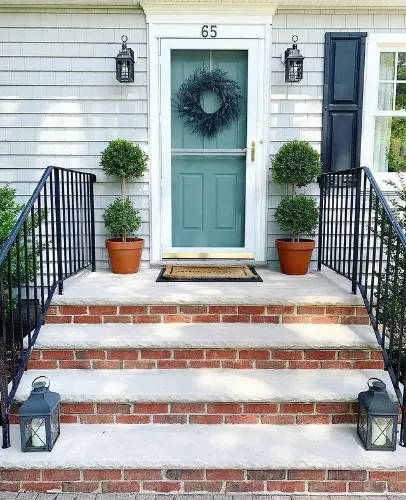 Boxwood Topiary Fake Outdoor Plant

Topiaries are the perfect accent to bring a touch of royalty and elegance to any space. Maintenance-free and crafted from high-quality materials, you can skip the landscaping by transitioning to team faux. Made to last, our faux boxwood topiaries are manufactured using a unique process to sustain the natural elements of the outdoors. Ranging in size, price, and style, we have something for every taste, home and budget. Nature-inspired, feel confident that these artificial boxwood trees are as realistic as they get and are designed by horticulturists with over 75 years of experience in the live plant industry to ensure we capture nature's beauty. You will see the fine detailing at every tip and stem; some of your guests will be thinking, is it real or Nearly Natural. As a style tip, we recommend adding multiples in the backyard or door side in the front door to give guests a welcoming hello.  
---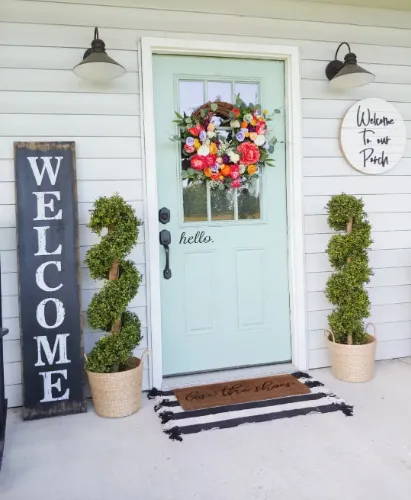 Boxwood Spiral Fake Plant for Outdoor

If you're looking for a more specific type of topiary, the boxwood spiral is a great choice. Inspired by the grand gardens in Europe, this elegant and classy type of tree can enhance any space that is rough around the edges. Many interior decorators rave about the ease of maintenance and the budget-friendly prices. They recommend adding them to the backyard near some patio furniture to instill a high-end and polished look. Crafted from high-quality materials, these lifelike spiral topiaries are indistinguishable from their natural counterparts. While many customers enjoy adding these artificial trees to their outdoor areas, you can also insert them indoors. Consider pairing them in the foyer or entryway to greet guests with a welcoming hello. The taller spiral topiaries work well in higher ceilings and add a regal element to spaces in need of life. So join team faux and live a stress-free life.
---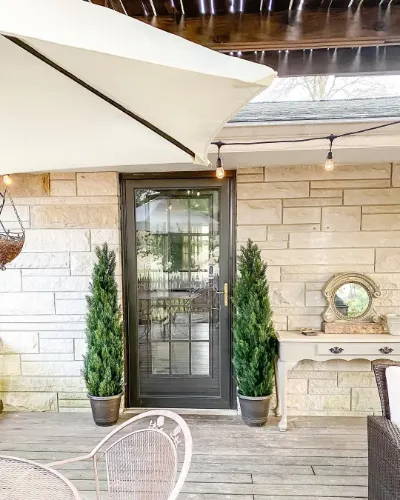 French Country Rustic Outdoor Faux Cedar

The faux cedar is a customer favorite, and it's easy to see why. Some people might think that the faux cedar is more appropriate for Christmas, but it can be used year-round as a great transitional piece. Inspired by nature, the outdoor faux cedar is best for outdoor use and indoors during the holidays. For outdoor use, interior decorators recommend curating it in pairs for a more cohesive look and feel. For example, placing two door side really adds visual interest in any space. Another option that many customers enjoy doing is planting them in the ground for a more "real" look. This look is popular for people who lack the time for landscaping but still want some greenery. This could be a great choice, especially for people who live in extreme weather such as warmer weather. Explore our selection, we have different price points and sizes for every room.
---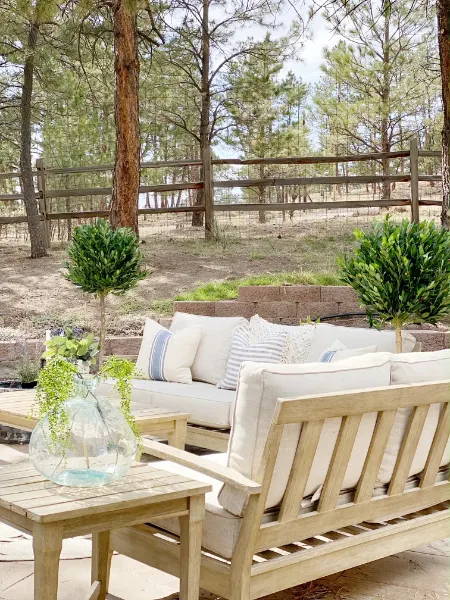 Outdoor Laidback Faux Olive Trees

One of the most popular types of trees right now is the olive tree; our bestselling tree is an olive. You've probably seen it all over social media, from leading influencers to everyday home décor lovers, our faux olive tree is one not to be missed. Especially if you're a fan of the 82" in artificial olive, you must explore our collection of outdoor-safe faux olives. Inspired by the Mediterranean, feel as you're on a dreamy summer escape to the beautiful landscape of Italy. Accented by fake olives that are so lifelike, you'll want to pick at them. From topiaries to lush heads full of leaves, transform your outdoor space into an oasis with nature-inspired faux olive trees: no matter where you live, the contrasting textures of the olive blend well in any area. To ensure longevity, make sure to feather dust about once a month and cover after every use.
---
If you want to transform your outdoor area, we hope these top sellers can help you in your home journey, no matter the size. Remember that with artificial you can pick and choose your desired tree in any size all without maintenance. Maybe you're tired of being limited by the location of your space, but you don't have to stress anymore. Achieve your dream garden from anywhere at any time. Even if you have a brown thumb! Explore the most realistic artificial outdoor plants.