2020 is nearly over. It's almost time to start saying goodbye to the most unpredictable year in modern times. With that comes, hope for a better future. If 2020 taught us anything, it's that the home is the best place to spend our time. The lines between home, work, school, and recreational activities have been blurred like never before. We predict this trend will hold steam for the future. You might begin your journey into investing in DIY projects; luckily, you can achieve your dream house on a budget with some planning and scrappiness. Say hello to the new modern way of life. One where you're in control of your space.
As the year progresses, home trends keep evolving.
Here's Our List of 2021 Home Décor Trends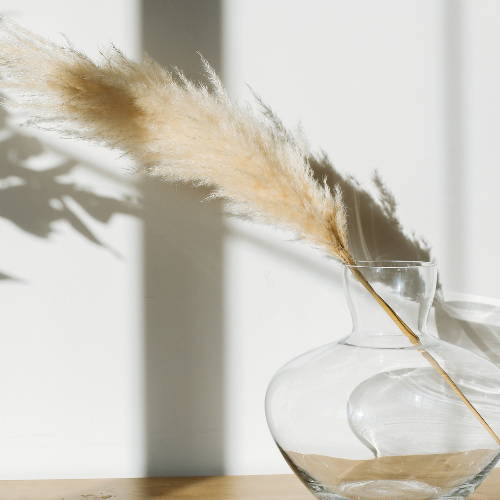 You see them all over social media, particularly among trendy millennials, into the chic look. Pampas grass and other dried grasses are the number one home décor trend because of their versatility; use them for most interior decorations. The fluffy texture adds dimension and depth to any space that needs a little oomph. Native to Argentina, don't you want to feel as you're walking through a meadow? Best of all, the dried pampas require zero maintenance. Just add the pampas or grain in a vase or pick and choose stems sporadically for a fun look. Wheat all about it here first.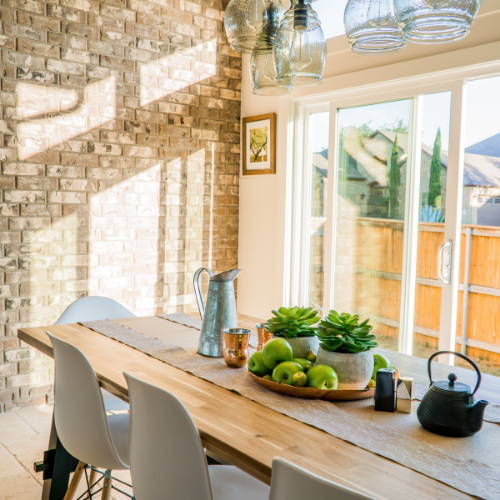 While neutral, cozy-chic colors are still going to play a dominant force in the style world, incorporating a little pop of color will see a rise. Like the fashion world, trends of ruffles, velvets, and colorful pieces in runways are a nod to the past. With the new way of life dawning upon us, we will crave that homey, cozy feeling by incorporating antiques known for being more colorful. Floral prints, Art Deco, and traditional styles will all see a comeback as more people are nostalgic for those moments from childhood. Another way to incorporate color subtly is through colorful planters for indoor plants or flowers that make a focal point.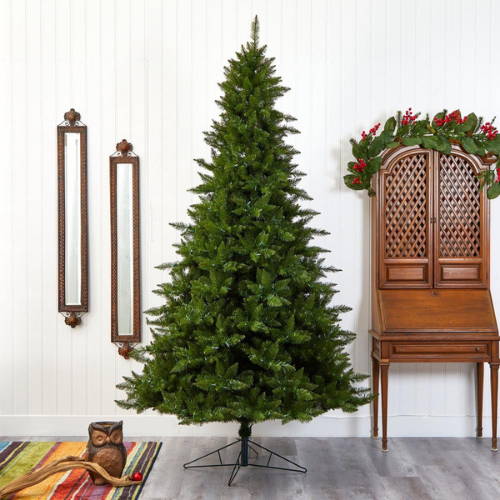 3. Transitional Décor. Grand Millennial

As we yearn for some remembrance of comfort from the days spent in grandma's house, why not incorporate sprinkles of traditional décor into everyday living spaces. Many young people have an affinity for following the trends and social media mainstream, which tend to showcase modern décor trends. But at the same time, social media has also catapulted some more classic aesthetic recently. With trends, it's important to remember that it's just that – a movement that may or may not be in style next season. Surprisingly, for all the hype modern design receives, traditional has survived the test of time. Add hints of traditional elements to your décor scheme by adding floral prints, china and drapery, sofa slipcovers, and fringe.
Looking for some Christmas decor inspiration?
Christmas is all about traditions, therefore, it makes sense that you may want to mix it up a bit to match your unique style, and interior designs. If you're feeling stuck with your current design, or simply looking for some inspiration, check out our top 6 favorite Christmas tree designs from a group of talented & creative bloggers.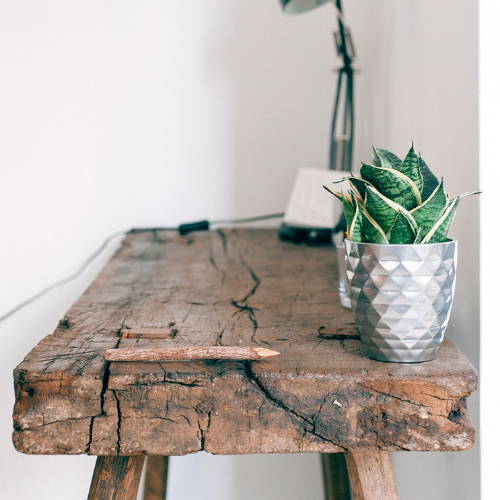 We've seen rustic farmhouse reach almost a peak plateau; let's face it; this style trend has been growing and keeps on gaining steam. While rustic, open-air, natural aesthetic are all characteristics of rustic homes, make it a bit more welcoming and warm by adding some chic, colorful accents that can make it feel more inviting. The essence is to blend these styles but with a touch of some familiarity. This can come through flowers, linens, or vertical accents. The key isn't to change your existing décor but to enhance it by adding a cozy touch.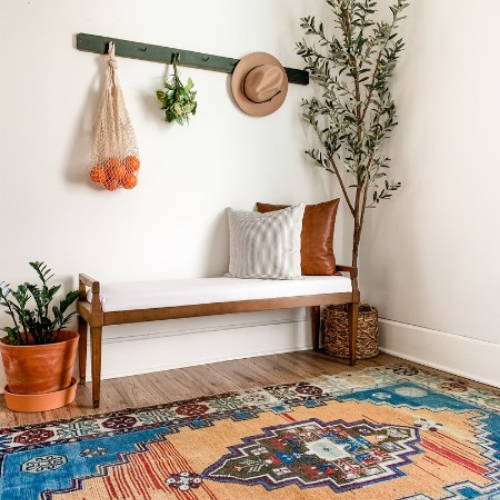 While growing an olive tree might seem like a scary task, you can rest assured knowing, Nearly Natural has an array of trees that look realistic. It's no surprise; olive trees are in. Chances are you own one or have seen ours when you search for the term artificial olive tree. We believe these trendy plants will become even more of a rage that's why we're launching a whole new collection of fake olives soon. Why are they so trendy? They're airy, thin, and delicate. And, let's be serious, who hasn't daydreamed of the Tuscan sunset recently? Until next time Italy, the closest we can get is by decorating with Italian staples.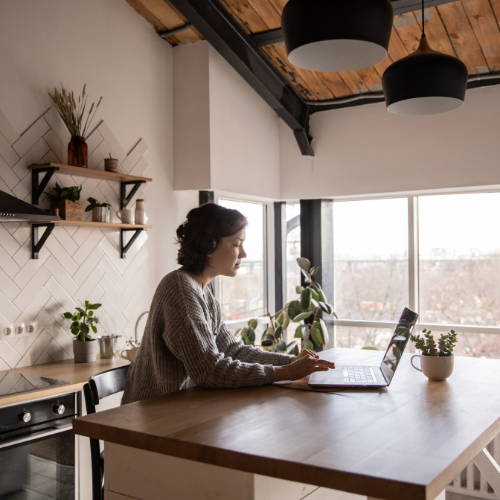 According to Pinterest, kitchen shelves will become a new focal point in 2021. An area that often gets overlooked is the kitchen shelves; it's also an area that seems like it doesn't need an update. Surprisingly, Pinterest has seen an increase in searches for floating shelves, plate racks in the kitchen, and copper cookware. By updating and decluttering the kitchen shelves, you can also save money as this is more economical than updating the kitchen cabinets that can run costs in the thousands. Some people are forgoing kitchen cabinets and opting for a more open plan with shelves that complement kitchen islands. The shelves' clean lines bring symmetry and can enhance a white kitchen by bringing a pop of color from a small plant.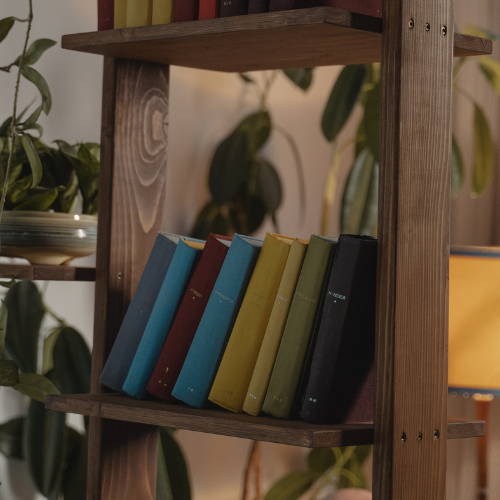 Working from home is here to stay. Adapting to this new way of life has created a need for updated workrooms that are versatile. The home library can serve as a work from home room with a functional aesthetic that can increase focus and creativity. The latest hot trend in home décor is a backdrop of books accented by trendy shelves and greenery. The question has shifted to "who has the nicest backdrop?" You heard it here first; the newest word to trend for 2021 is the cloffice – the new space that serves as a chic storage space. This new petite trend will become big and spread like wildfire on social.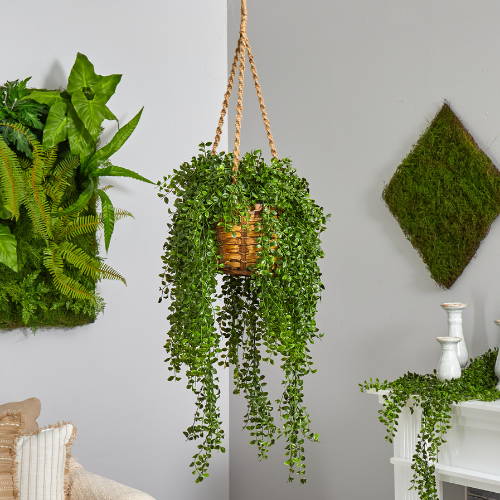 Even if you don't have a compact space, you can still enjoy some vertical appeal benefits. Why does the fun have to stop on the surface level? If you're really into the jungle, look, why not adorn your home from top to bottom with some artificial boxwood. Home décor of the future will incorporate all home areas that once were considered a bit taboo or non-conventional. Escape from the hustle and bustle of concrete jungles by transforming your home into an indoor jungle with artificial hanging plants. Step into your tropical getaway all from your home.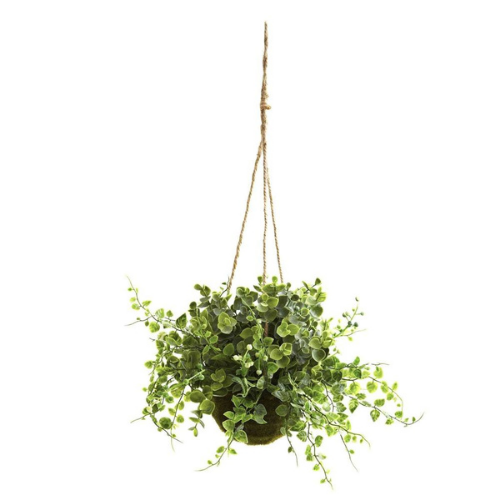 Even if you're not into Bohemian home décor, we can all appreciate a good macramé in any space. While we tend to associate this as a global style characterized as an aesthetic of exotic places like Tulum, macrame's now come in all shapes and styles that complement more modern design palettes. Designer Tip: Add a Monstera, Fiddle Leaf Fig, or another plant with large, glossy leaves for a lovely social media backdrop.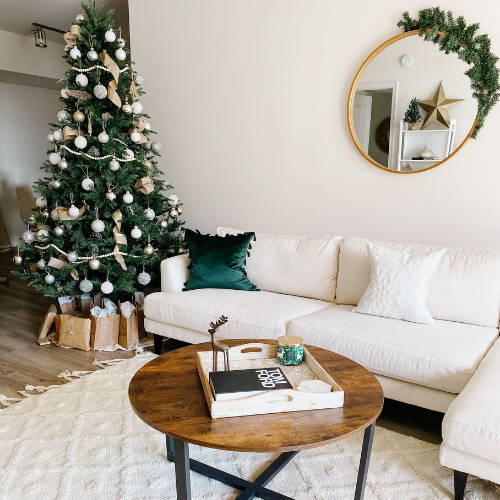 It feels as neutrals have been in style forever now. They will continue to gain popularity for their perceived benefits of instilling a state of calmness and relaxation. But when we say neutral, this year, there will be an increase in creating the warmth and cozy feel that neutral colors bring. Combine these colors with lighter shades of blue that can further enhance the eye. While neutrals will still have a place in the home, accent them with fun, fiery colors similar to chic hotels. The furniture will be neutral, while accents, flowers, and wall art bring vibrant colors.
Need help buying your next large artificial plant?
Buying large artificial plants can get complicated for those who are looking for the perfect fit. Things like making sure you're getting the right size plant, verifying the plant's asymmetry, and choosing the right planter, can get in the way of your next decor project. Luckily, we wrote an entire guide about buying large artificial plants here.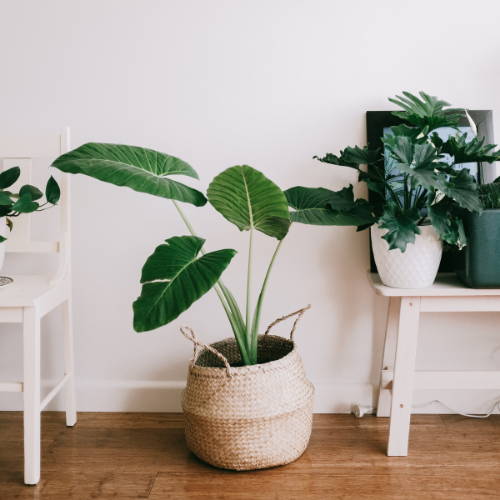 We've been staying at home most of the time. We yearn for the day when we can go outside safely; until then, we can bring natural lighting that has been proven to inject some vitamin D. Open windows often and opt for lighter curtains that allow for more natural light to come in. Having more natural elements will uplift your mood and enlighten you to perform daily tasks better by bringing you closer to nature. If you have a contemporary fireplace; you can open the windows and let the warmness of the fire calm you.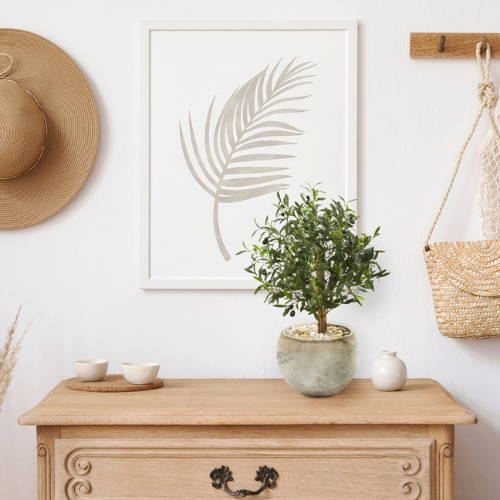 Softwoods and oaky accents will become the latest color trend. Brass and gold accents bring a warmth that feels familiar, antique but modern at the same time. Have a small space? Lighter hues can help make a small room feel larger. While minimalism has gained popularity as a lifestyle and a home décor trend, the hottest trend in home décor is Japandi. What is Japandi? A marriage of Scandinavian and minimalism characterized by clean lines, neutral, earthy palettes, and subtle silhouettes. Some artificial plants that pair well with this trendy décor style are pampas grass, orchids, Fiddle Leaf Figs, and twigs. The latest home décor trend is one of calming, crisp, cooling aesthetic that brings the outdoors' simplicity without complications. Think of it as a Zen-like aesthetic meets modern minimalism—less on trends and more on functionality and calmness.
Interested in decorating your bedroom with artificial plants, but don't know where to start?
One of the fastest ways to instantly beautify your space is by incorporating the right set of artificial plants. Check out our artificial plants bedroom decor guide here.
Spending more time at home has led to rethinking how we use some of the existing furniture we already have. And led to some significant investments in pieces that withstand the test of time. Instead of looking at trends that may evolve every day, having a few pieces that are sure to last will also be rising. For example, you can splurge on a sofa, but be a bit more conservative on the accents and accessories since these are more likely to change based on the season. It would be best if you always looked for high-quality artificial plants as they tend to be more realistic looking and are versatile in their use.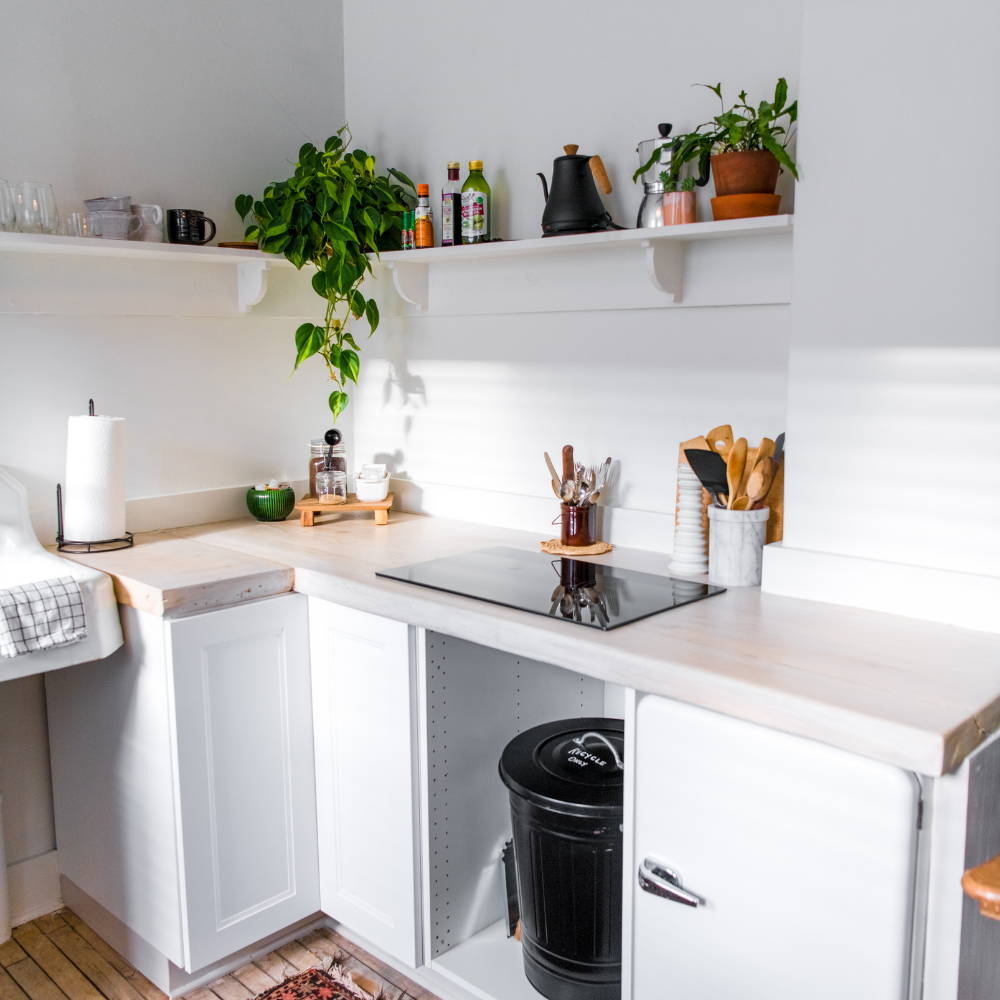 With the re-emergence of more traditional design styles, decorative cabinetry will continue making a comeback throughout our kitchens, storage, and decorative purposes. Shaker cabinets have become a staple in American homes, known for their clean yet straightforward design; we love them for their humble appearance. However, because kitchen cabinets are on the pricier side, we recommend looking for decorative cabinetry for other home areas with more sculptural prominence. For example, we love the trendy design of circular cabinets with dark finishes. These circular-inspired cabinets blend with mid-century, art deco, contemporary home design styles, or any other aesthetic needing a modern and trendy shape.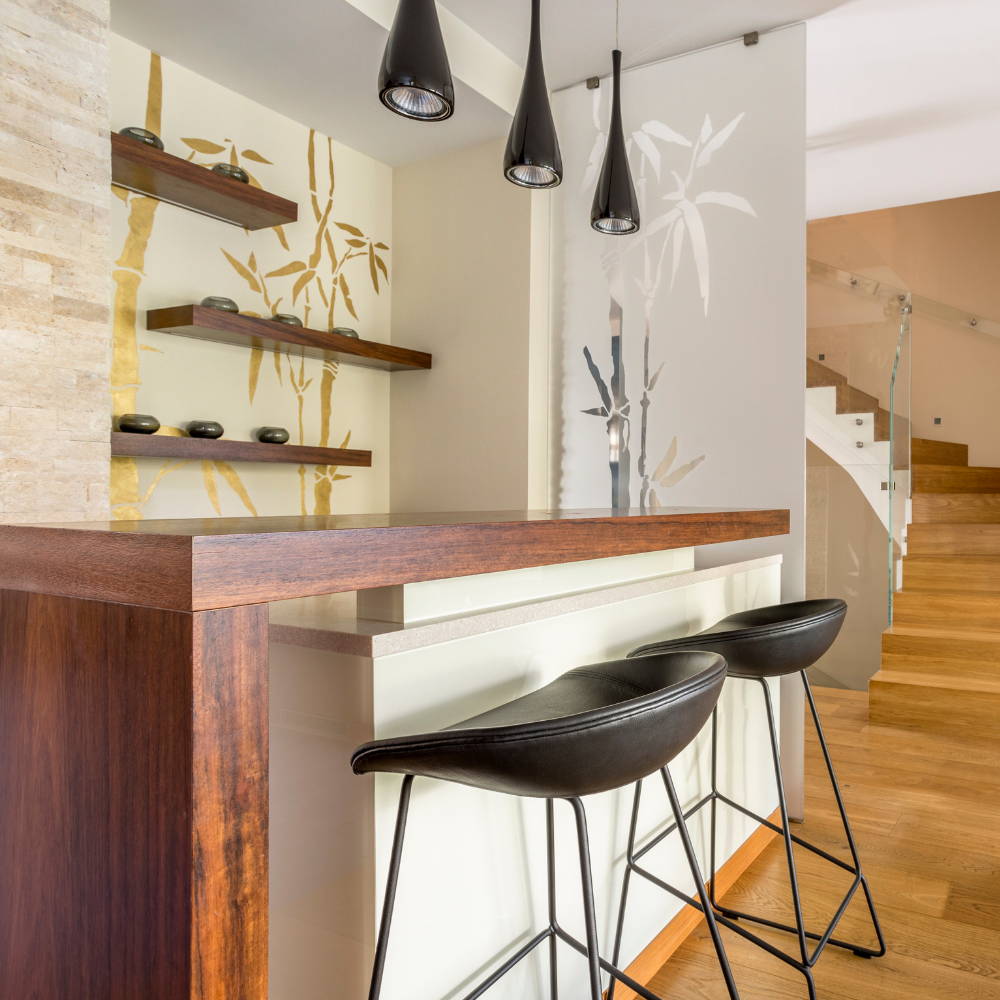 With more people staying at home and skipping work happy hours, home bars have become a necessity during this time. When creating your perfect space, consider the aesthetic you're going for. Are you more into a speakeasy vibe or a more contemporary, high-end-inspired cocktail lounge? No matter your style, consider if you want a stand-alone bar or something more permanent where you'll require cabinetry and countertops. For smaller homes, we recommend a stand-alone bar or pre-fab cabinets, versus for larger houses, opt for something more custom-made to elevate the look. Jet off to the Caribbean with some faux plants and trees sure to complement any style to top off the look.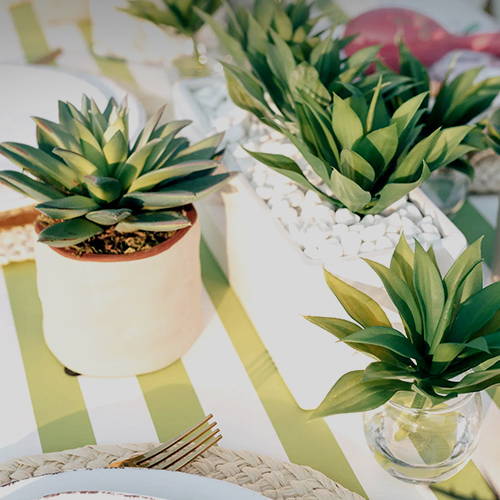 The biggest trend for this upcoming year is the use of nature-inspired hues. Even Benjamin Moore and Sherwin Williams selected colors with a green undertone as their yearly hue of the year. Because we've spent time indoors, many of us yearn for the outdoors and the connections we've made there. This is why green and biophilic design have taken the world by storm. But, of course, the best way to add character, charm, and color into a space is greenery. And since some of us lack a green thumb, faux plants and trees can help you enjoy the cognitive benefits of nature without the hassle or maintenance.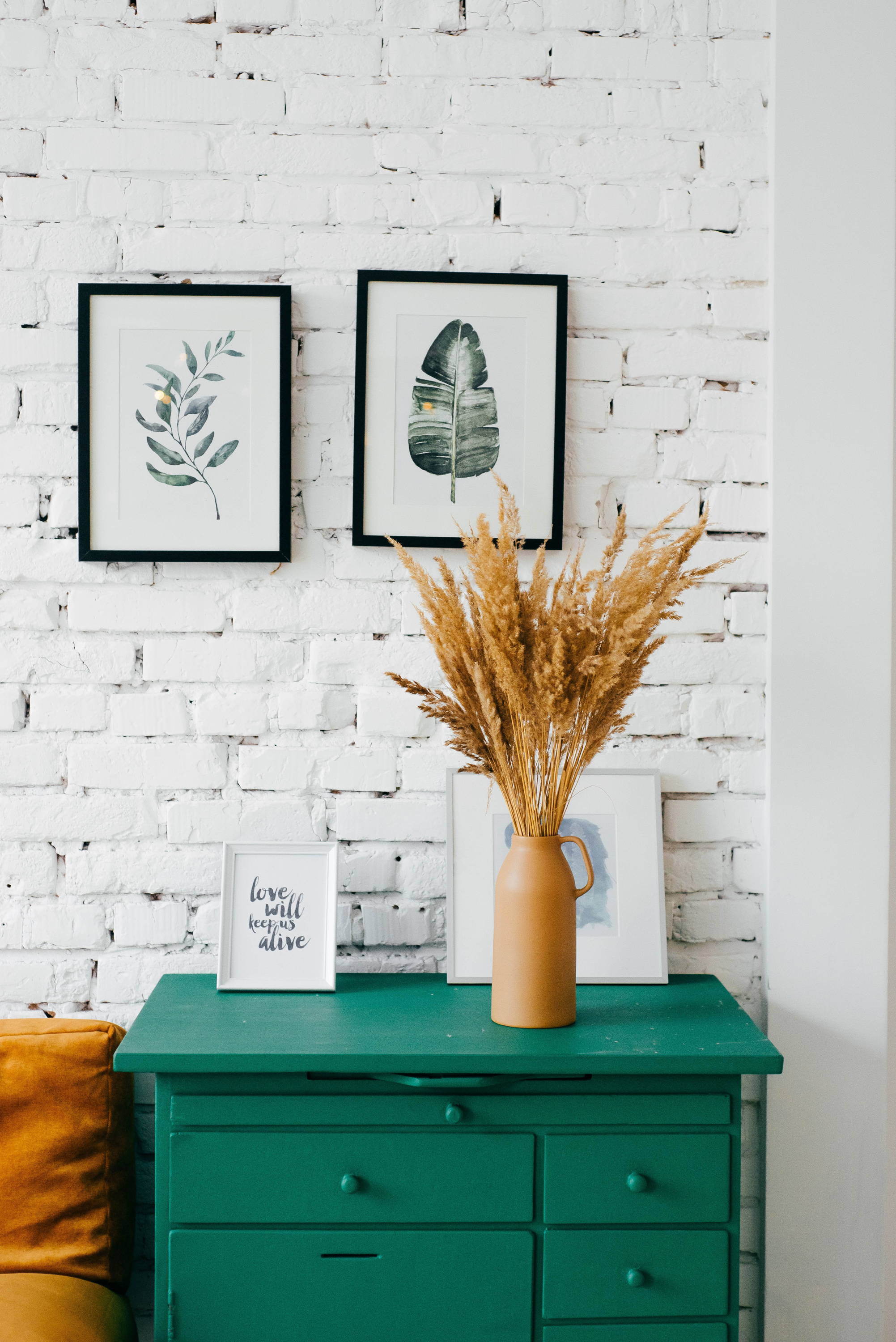 As we yearn for the familiar, many millennials are yearning for comfort and the styles from yesteryear. Because vintage allows for the use of color, don't think you have to be more maxi versus minimalist. Many different types incorporate vintage pieces for a well-balanced and cohesive look, including mid-century modern, eclectic, traditional, minimalist, and more. By combining vintage pieces, you're adding a timeless character that elevates your design and mood. A simple way to incorporate vintage and reclaimed elements are by adding faux plants in vintage-inspired planters and pots. The best part is that vintage is not a trend; you can rest knowing that these pieces are an investment and will last a lifetime.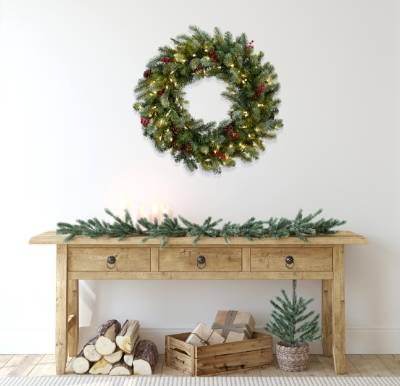 We love garlands. And you're probably going to see more of them in this new year's trend décor. Their ease of use and versatility make the perfect decorating piece to accentuate any space even beyond the holiday season. For example, as a trending bedroom décor, consider adding a cypress garland above the bedroom for a bit more color. Another area we love garlands is – the staircase because it adds visual interest and colorful hues. Finally, for an easy, maintenance-free option, consider adding a faux garland that's more economical and is always fresh.