Farmhouse Kitchen Sink Decor Tips & Essentials
Creating a farmhouse space to love centers in one main room – the kitchen. This is where you will spend most of your time, so why not go all out? Our team of interior decorators is here to help you design your dream kitchen with farmhouse kitchen décor ideas sure to please you. With over 75+ years of experience in the home décor world, we have a few tricks to share to get started on your journey today. There's a few things to consider before embarking on this new project, feel inspired by our top tips and learn the secrets of top interior designers before you begin designing your farmhouse dream kitchen.
Still Deciding Whether You Should Get a Farmhouse-inspired Sink? Here's What To Know Before Getting One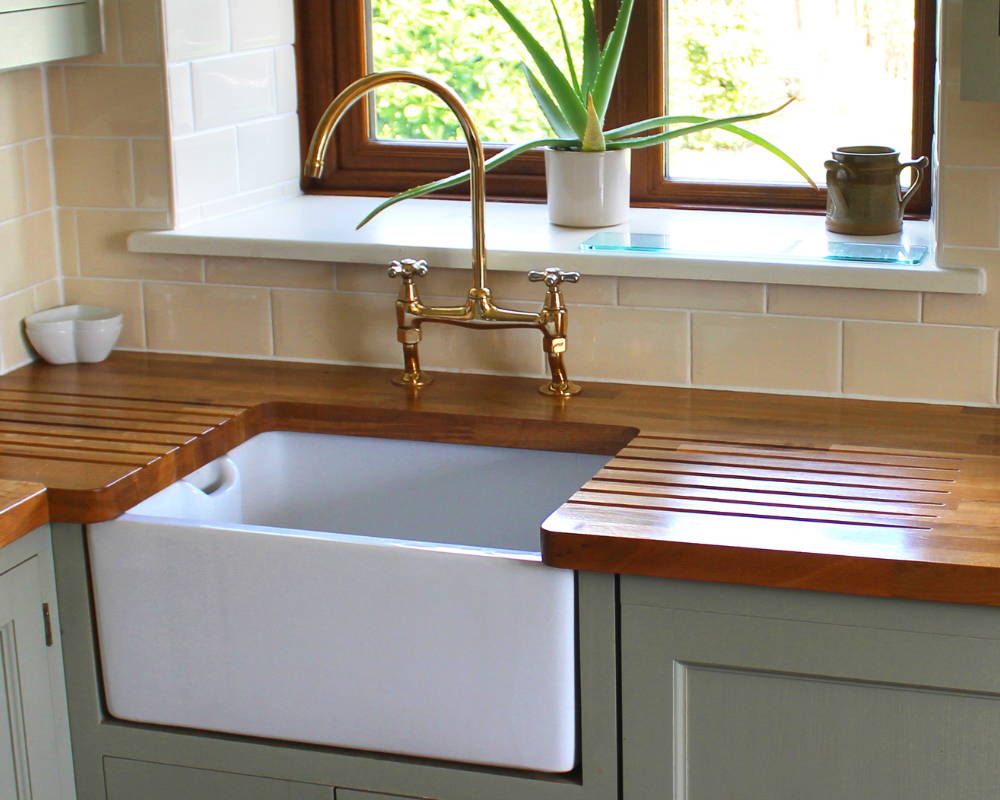 You will most likely have to adjust your countertop to fit the new sink

Any remodeling project requires a few compromises, and one of these is that you might have to adapt your countertops when installing a farmhouse sink. Our team recommends working with your contractor to see the best option for your space and the best way to diminish the risk of creating new problems.
Single or double basin - which one to choose?

Both single and double basins are an excellent option for your kitchen sink. However, the one that blends better in your space depends on your specific needs. For example, single basins are trendier because they are easier to maintain and allow you to have more room when washing the dishes.
Porcelain will get stained & chipped easily

While porcelain is durable, we love how it looks in the kitchen; we don't recommend it. Also, it can chip easily. Look for quartz, granite, or other stones that are better suited and less porous for more extended durability. You want to get the most for your money, and this is one of the best ways to ensure you have a long-lasting piece in your kitchen.
Farmhouse Kitchen Sink Decor Ideas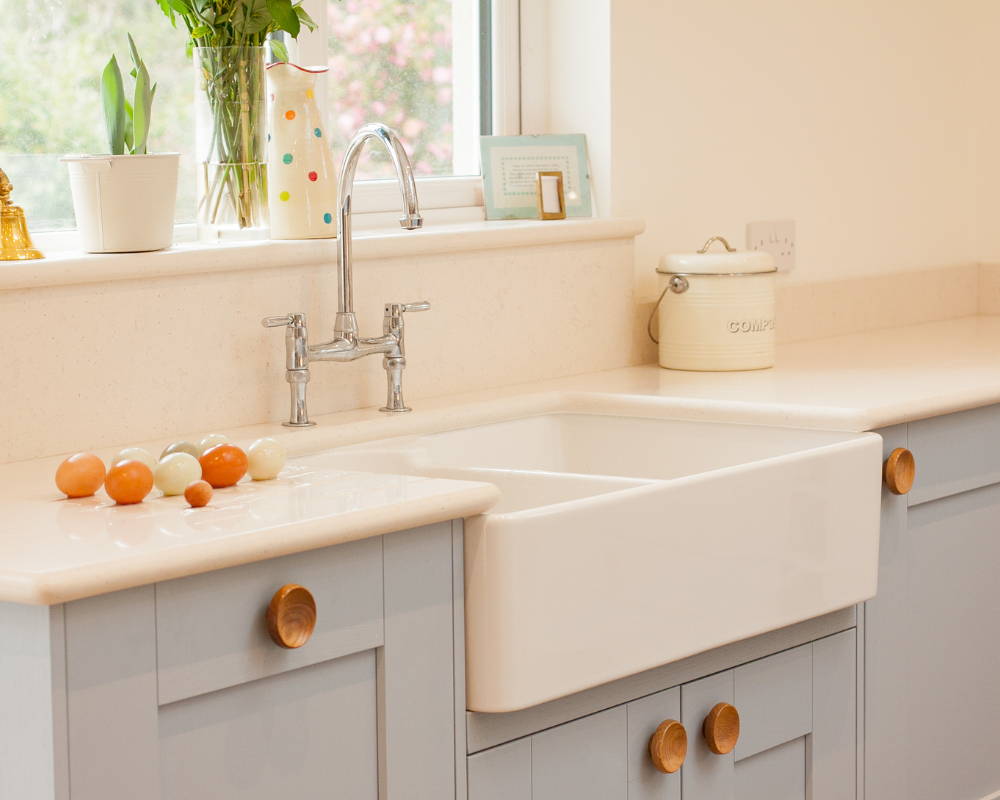 Farmhouse kitchen sink lighting

Look for pendants
When decorating your kitchen with lighting, consider adding three pendants above the kitchen island; remember that you should adhere to the rule of three when decorating. Odd numbers create harmony, making the space flow better and be more cohesive.
Use different finishes
Sometimes we want more brass finishes, whereas others lean more towards black ones. The answer lies somewhere in the middle; mixing with distinct finishes creates drama with the colors.
Add Edison lightbulbs
We love how the Edison bulbs add a touch of rustic to your space by bringing that cozy, open look.
Use artificial hanging plant

Perfect for small spaces
We know the challenge of decorating a small room. This is why artificial hanging plants allow you to bring the outdoors in without consuming much space. Consider hanging in macrame and other planters of your choice.
Hang in multiples
Create that jungle look in your space with verdant, green artificial hanging plants made for any area. Add a couple here and there to make your space pop with color.
Feather dust about once a month
One of the most pressing issues with faux plants is accumulating dust. Because of this, we recommend cleaning them about once a month; this also ensures your plants will last longer.
Use small artificial plants to decorate your kitchen window

Decorating the kitchen window is an excellent idea for adding that fresh from the farm style. Consider some succulents or silk stems in a vase to brighten your window area.
Add silk flowers
Straight from the outdoors to the indoors, you can't go wrong with a few silk flowers; some of our favorites are – peonies, tulips, and daisies.
Choose the right flowers
If you're confused about which flowers are suitable for your space, learn how to choose the best fake flowers for window boxes with tips from our interior decorators. What better way to smile than with a faux-bulous bouquet of silk flowers? The best part of joining team faux is that you can remove the hassle of caring for live plants while enjoying the same benefits.
Design a living wall
You've probably seen this trend around cafes, bars, and restaurants; why not bring the look into your home? Using artificial boxwood and other turfs, easily recreate this trendy style and watch as your space comes to life.
Add some rustic wall décor
Something so cozy about those rustic-warm finishes takes any space to the next level. You can even include wall décor with friendly messaging to encourage guests to feel comfortable.
Paint the walls
You can tackle this larger project or invite a professional to help, but it can be a good idea to paint the walls every year to keep them looking fresh.
Display an olive wreath
Hanging an artificial olive wreath is one of the best ways to create harmony in your space. Especially if you have a tall olive tree, this is a wondrous wreath to hang.
Measure your space
We know that this isn't an ideal step, but it is crucial to help ensure you avoid messy returns. Make sure the wreath's circumference is less than the length of the space where you want to display your wreath.
Change every season
Create a habit of sprucing up your space and maintaining consistency by changing your wreath every few months; this will ensure you can keep things fresh and new.