Farmhouse Kitchen Decor Ideas & Tips for Summer
Summer is nearly here, long, languid days and warm nights conjuring up time spent with family and friends in the kitchen. After winter, the kitchen looks drab and tired, and it is time to spruce up the kitchen spaces with some new artificial plants. Artificial greenery has taken a giant leap forward in the last three years, with many people cannot tell what is real and what isn't, explore the best artificial plants for the kitchen. The green plants look amazing in the kitchen and dining area and have become exceptionally popular in restaurants.
They are effortless to dust off and clean, as they can be taken outside and washed when they become dusty, leaving them sparkling and new.
Some look great in a vase, while others can be trailed around the room, and today we look at the different ways to use the greenery to the best effect. So consider sprucing up kitchen spaces with artificial plants for the kitchen.
Decorating a Dark or Light Wall

Bring a dark or light kitchen wall to light with hanging ivy. Nothing enlivens the wall faster than 12 feet of trailing ivy covering the dark, rough bricks. This is an instant transformation that will inspire the homeowner to do more.
Purchase a Fiddle leaf Fig; get a massive one, and when it is time to move it from the kitchen, it can go somewhere else in the house. Because it is not light sensitive like real greenery, it can pop up anywhere. The Fiddle Leaf Fig will look spectacular with its multi-toned leaves and is highly durable.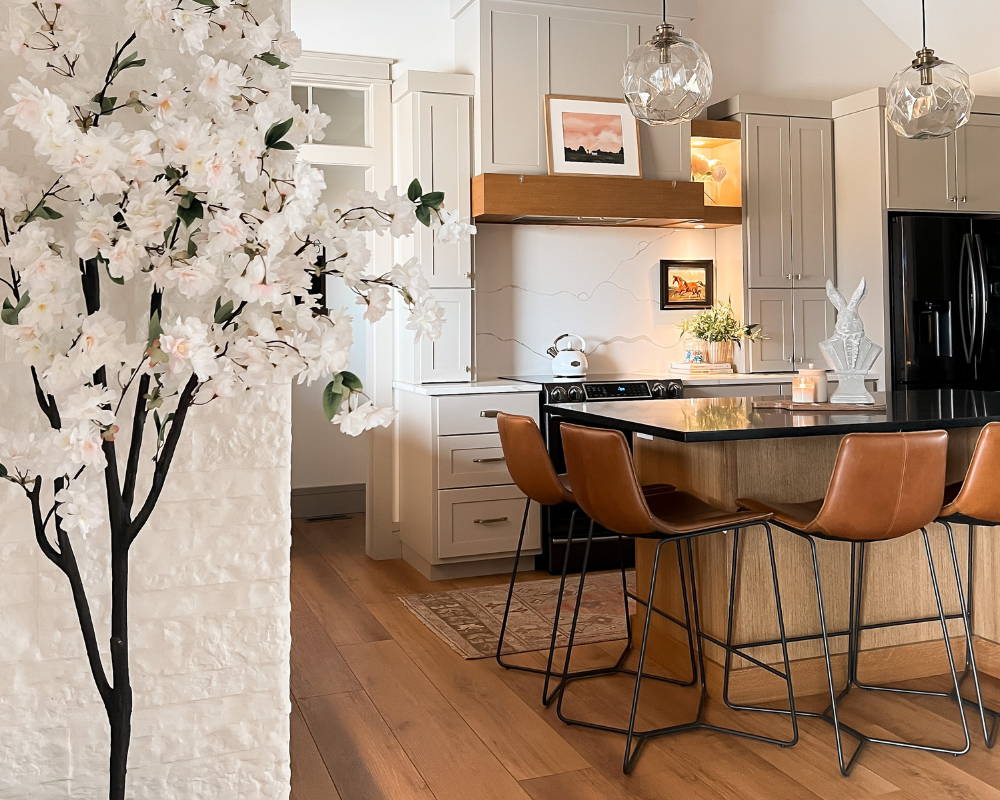 Most country kitchens have some lovely artwork on the walls. To soften the looks and apply some great farmhouse kitchen decor ideas, add some gorgeous faux ferns to the sconces; no one can tell that they are not natural with their subtle glossy leaves.
When the sconces are complete, consider the lighting. A row of pendant lights above the kitchen benches appears to be a new trend that brightens the workspace while darkening the upper walls and ceiling. This enables hanging baskets from the top with Peperomia or some other artificial plant to give a summery look to the space. Under the lights, the bench will be illuminated and cozy, and the best thing is there won't be any risk of bugs in the artificial plants. They throw a great pattern on the walls if the light is too bright.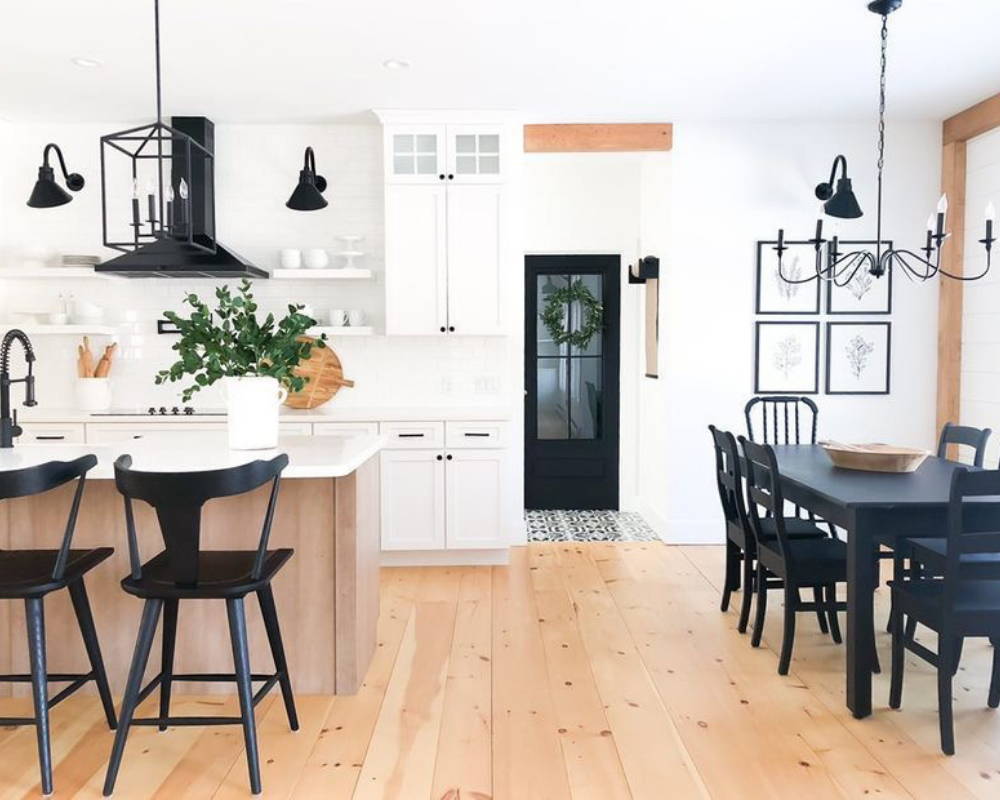 It is essential to have a centerpiece for the dining table, and fortunately, there is plenty to choose from. The choice of centerpiece varies, depending on the size of the dining table, and there is something for everyone, A delicate and elegant lace fern would look amazing on a small table. In contrast, a more extended table will require some trailing Ivy or a small flowering plant. When a formal dinner is being held for a family event, the occasion may require a small flower at every place. When using place names denoting where guests sit, excellent floral place cards can be put away and used again later as they are always fashionable in an old-fashioned way.
Your Farmhouse Kitchen Counter Decor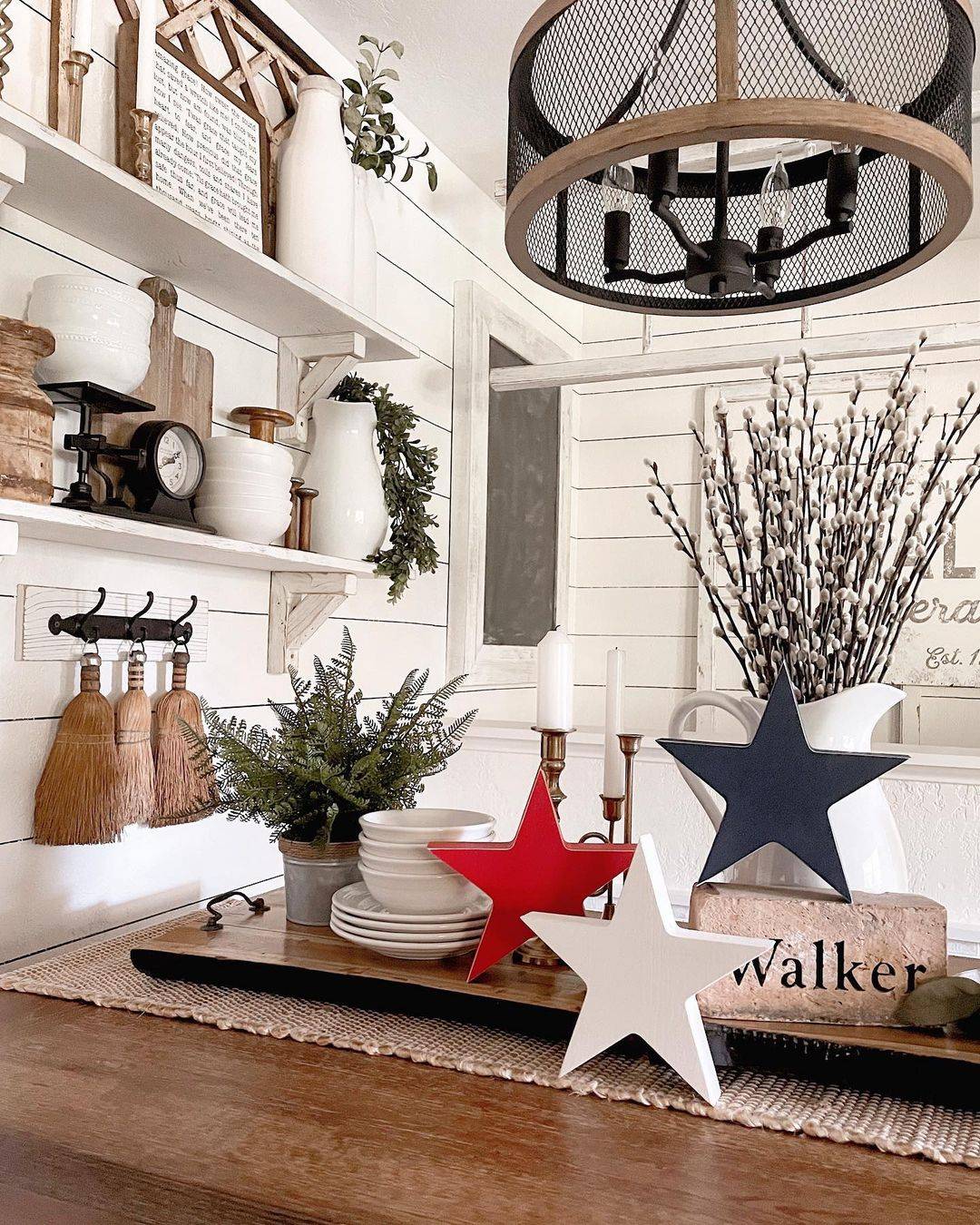 A floating shelf near the stove will be handy when working in the kitchen all day. However, it should not become cluttered, so it is a perfect spot for some small potted artificial plants. African violets and daisies look realistic and brighten up the space hiding a few necessities like the spice rack and potholders. Small artificial plants are helpful in these spots and can be moved around regularly to give a new and fresh vibe. If you're looking for more shelf décor, consider smaller knickknacks and accents.
It is incredible how a few changes can give the space a total makeover. Visitors will notice the difference but probably won't be able to pinpoint exactly what has changed, Don't stop at the faux greenery; take a look at the faux fruit that looks good enough to eat, and in dim light, most are easily deceived. Fake greenery is getting better and better, and we all want more green in our lives.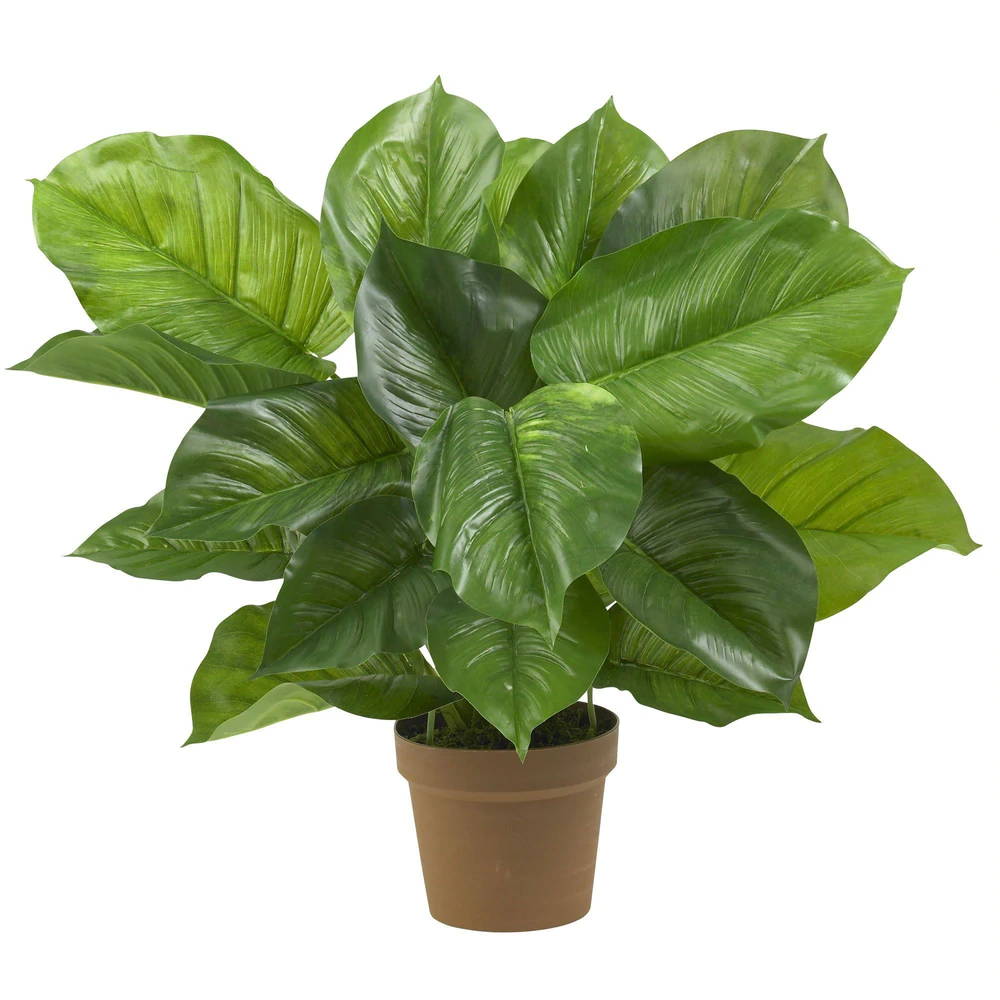 Farmhouse kitchen decor ideas are not complete without the Faux Philodendron that will trail around the kitchen and over the cupboards, only needing the occasional dust. It can easily be attached to some cables to look as though it is well trained, adding instant greenery for summer.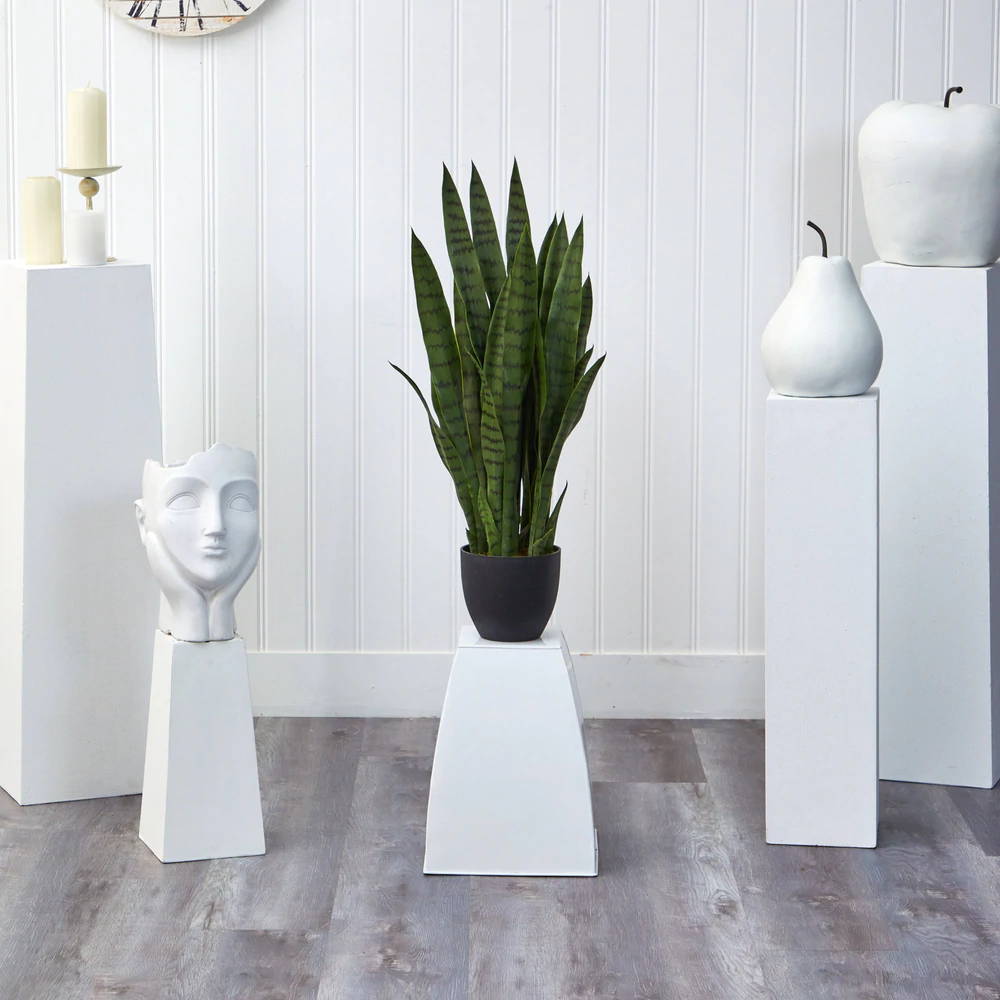 Purchase a set of small artificial plants succulents, and get an array of beautiful plants. They look natural, varying in shape, size, and color. Set them up just near the kitchen door for visitors to admire as they enter the house. The praise received will make the homeowner feel like a leading interior designer because the effect is fantastic. In fact, to some of us, succulents never look pretty natural, so this is the perfect talking point.
Unique farmhouse kitchen decor ideas always include greenery, and the ideas today will save so much time and money when implemented at home in the kitchen.
It is easy to get inspiration for your faux greenery, and many hardware stores now have faux green walls. This is handy as one can view what is available before choosing what best suits the farmhouse kitchen decor ideas. Now you can buy a kit, take it home, and erect it with minimal difficulty. Once winter ends, most people are ready for change, especially since lockdown, where we have all been socially isolated. So it is time to break out and create a new look for your kitchen and dining area. Farmhouse kitchen counter decor ideas have never looked so good.
If a particular look fails to work, the good thing is it can be changed without incurring an added expense. Just move the greenery around and try a different look. Nothing is ever wasted, as it can be placed somewhere else. Farmhouse kitchen decor ideas are so numerous that the homeowner will never tire of trying them out, as new plants are becoming available every year. Don't forget to wash and clean them as dust is the only way one can tell that they are not real.