Kitchens are some of the best rooms in the whole house. Why? Because it's where we spend intimate time with family, sharing recipes, cooking, and hosting guests to parties. There's just something so inviting about creating a space to love in one of the most visited areas of the whole home. Especially in farmhouse décor, it's essential to curate with countertop décor to refreshen the area and bring it to life. And what better way to refresh any kitchen than with faux plants and trees? We know you might be a bit hesitant to explore this new artificial greenery, but Nearly Natural's silk plants are crafted from high-quality materials and inspired by nature. Founded by a horticulturist with plants named after us, we aim to offer you the highest quality faux trees at the best prices -- so you don't break the bank. And feel confident knowing that our artistic renditions of nature are featured in top influencers' homes, restaurants, and interior design magazines. So create the kitchen of your dreams today by adding some kitchen plants.
Countertop vignette with plants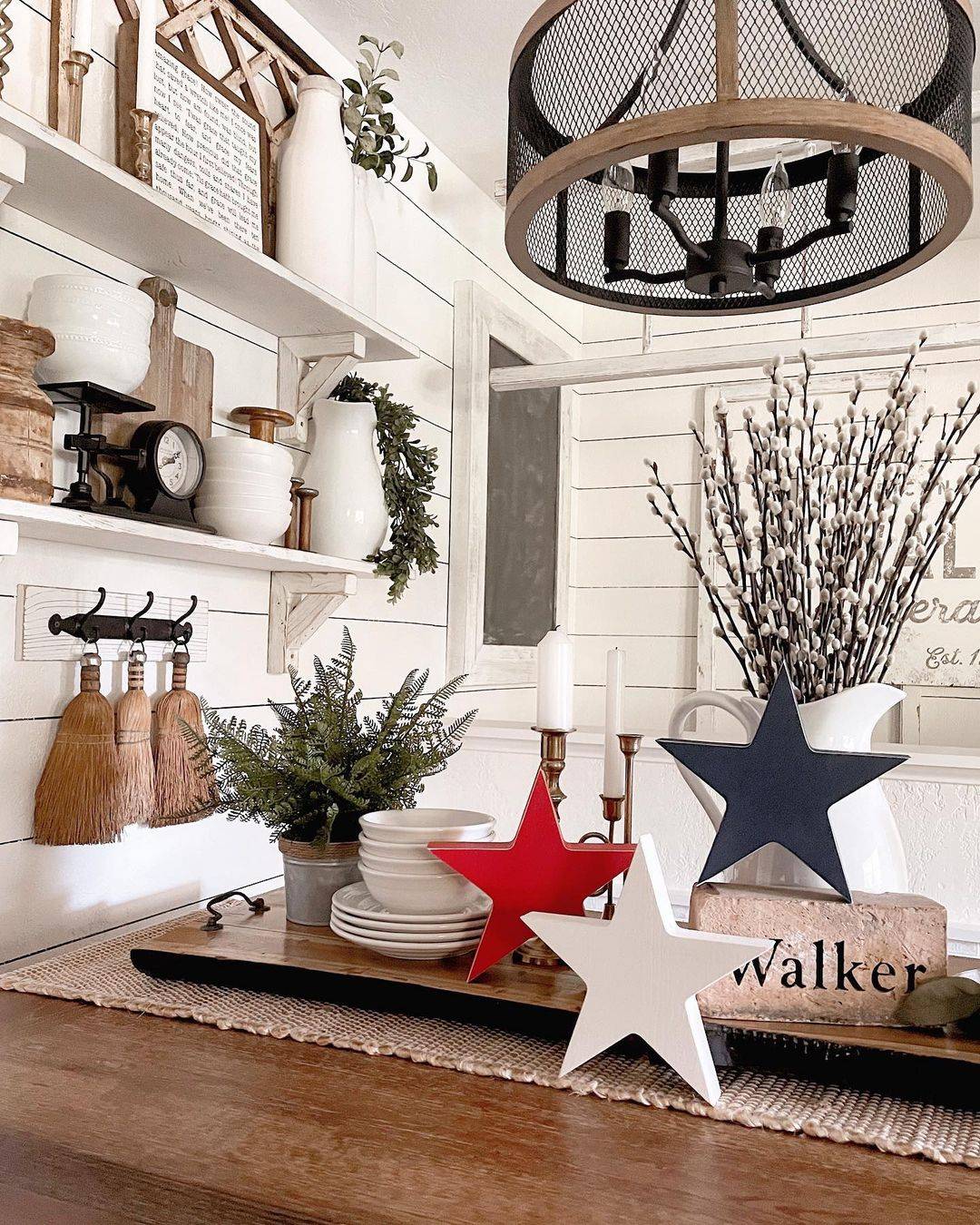 Designing in a tight area presents challenges that seem tough to tackle. But did you know that having a smaller size makes it even more fun to curate and solve any difficulty along the way? You have to get scrappy and use every last inch to its full potential. This is why we recommend small kitchen counter décor to fill in those awkward and bare corners. One of our favorite DIY ideas for countertops is creating a vignette with faux plants; we recommend silk here to keep pests and other creatures from venturing into the kitchen. Think about the rule of three when decorating any space; it's where you pair items in sets of odd numbers; this will give you the designer touch. For example, if you want to add stems alongside other green, verdant plants, consider adding two smaller ones, then soften the look with a vase and three loose branches. Learn more about kitchen plant décor tips.
As far as kitchen sink décor goes, the options are endless; you might overlook this section of your home, but we wanted to share a few tips you can easily recreate and on a budget. If you have a farmhouse sink, perfect, the larger size and distinct color create endless options when thinking about how to accent the area. One of the best tips is to add faux greenery to the sides of the sink or near it. And we recommend faux plants and flowers because they pair well with any countertop and finish of a faucet. This is where you can DIY and have a bit of fun. Designer tip: mix and match with finishes by adding a faux plant in a different finish than your faucet. This will create drama and juxtapose the lighter finish with one more subtle for some visual interest. We love boxwood for the kitchen sink.
Mornings can feel rushed and a bit on the crazier side. So what is life before coffee in the morning or during that mid-day slump? Luckily, you can make the morning coffee a bit greener with some farmhouse decor kitchen coffee bar goodies. Some of you might have a dedicated space in a little nook for a bar, and if you do that's great, you can enhance the space by adding some smaller décor pieces. For example, we love how trays with cups condiments such as sugar look displayed on the countertops. Also, consider a cup holding rack for all your mugs. Finally, soften the look with a small tabletop faux plant for an elevated look and feel. We love artificial fiddles, boxwood, and ZZZ plants for this space. Remember the rule of three we discussed earlier and curate in odd numbers for a designer curated look.
Decorate a small cooking space

Small kitchen lovers rejoice! We love small kitchens, they're so intimate and allow you to expand your creativity by thinking about how to best use every inch of space to its full potential. One crucial element of small spaces is the good use of organization and displaying the essentials. A fun space-saving solution to not add more items to a crowded countertop is the use of hanging plants. Consider hanging them to the ceiling to free up real estate on the countertops. Have some fun and be bold; go with colorful picks such as bougainvillea, geraniums, or other more vibrantly hued blooms. Especially if you have quartz or white marble countertops, the color will create a great contrast and add some visual interest. Remember to feather dust the faux flowers and plants about once a month to ensure they can flourish for years to come.
Kitchen shelves have had a great year, with no plan of slowing down anytime soon. Since farmhouse-inspired spaces tend to include elements of nature, wooden shelves provide the perfect opportunity to kill two birds with one-stop. First, you can display any plates, cups, or other ornamental items that you think add a little bit of spark to your space. Then, to soften the look of these shelves, consider an authentic, fresh-from-the-farm look with some loose silk flower stems or another messy, bushy faux plant. This will add that natural element that's important in creating a dreamy, outdoor-inspired kitchen you deserve. Another fun idea is to add an overgrowing faux plant that has long leaves spreading through different levels of shelves for a greenish look and feel. And when you feel like you need a little refresh, remember that you can always change the items to match the seasons.