How to Decorate For Spring On a Budget With Outdoor Plants And Trees
Decorating your home for spring is a great way to celebrate the season and give your living space a fresh new look. But you don't have to break the bank! There are plenty of ways to decorate your home this spring without spending a fortune.
Using outdoor spring decor plants and trees is a great way to bring some of springtime's greenery into your home, and it's not as expensive as you might think! If you're looking for budget-friendly decorations you can use to bring the outdoors in this season, check out artificial plants designed just for spring. But don't feel scared about exploring with faux greenery, at Nearly Natural, horticulturists with over 75 years of experience design every item with meticulous attention in detail to capture mother nature's beauty at every branch, stem, and leaf. Now we're here to teach you how to achieve the designer look on a budget. Learn how to transform your space into an oasis of green with silk trees.
Our Favorite Outdoor Floor Plants & Trees for Spring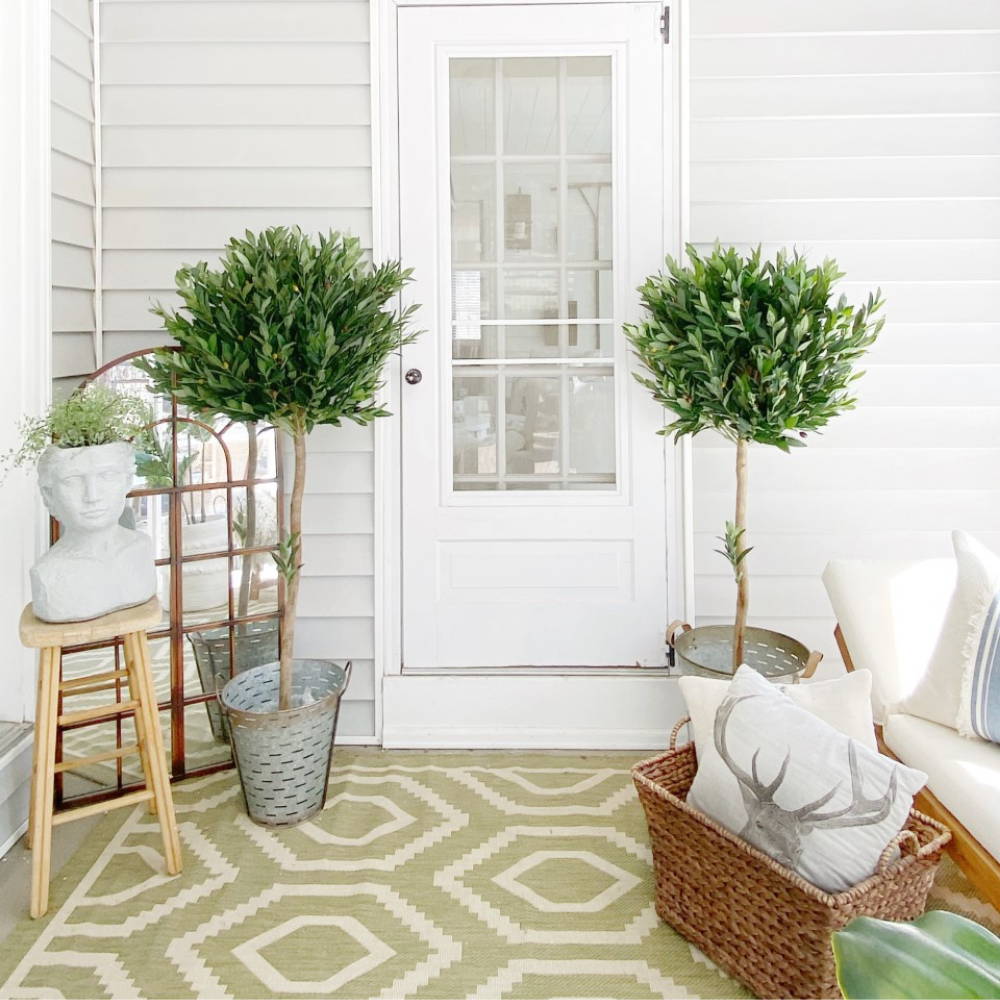 This beauty is a great floor plant for any room. It is 6 feet tall and 4 feet wide, but its slim shape won't overwhelm your space. With over 300 leaves, it appears to be lifelike and lush in nature. It's UV-resistant and also weatherproof, making it ideal for outdoor and indoor use. And with robust construction, it will last for years to come with the proper care and maintenance. Make summer last faux-ever
---
If you're looking for something a little more dramatic, we love our tall boxwood topiary tree. It makes a statement wherever it's placed! You can also try picking up one of our lovely bonsai tree arrangements, which go perfectly with our mini faux succulents. These pieces come in unique colors that you won't find anywhere else. We recommend using these outdoor decorating ideas with planters, or if you want to create a cheerful space, try grouping several different colored balls on a tabletop.
---
The Boxwood Ball Topiary is one of our most popular outdoor floor plants, and we can see why: it's instantly recognizable but also looks incredible when grouped with other topiaries or used as an accent piece.
It comes in your choice of three sizes, so you can spread them around your garden or patio for a burst of green wherever you need it most. These beautiful tiny spheres are crafted from high-quality materials, which means they'll hold their shape even as they're exposed to wind and rain.
---
This is a customer favorite tree and for good reason. It just has such an authentic look and feel, which is why people love it so much! It's perfect for any spot in your garden where you want to add a nice touch of greenery. Pairing this palm with our black planter makes for a great combination that'll stand out wherever you put it. Not only is it great for spring but can be used year-round no matter the season! A great budget-saving piece that transitions gracefully, you can even use them during Christmas.
---
This is an excellent solution if you're looking for an outdoor plant that's a little bit taller than your average potted plant. It's made with natural wood stems that have been professionally treated and lifelike leaves, so it looks and feels like the real thing without any maintenance! The trunk splits in two at the top, so the branches spread out for a fuller look overall. The natural variance in color gives it a realistic feel that will work well with any decor scheme.
---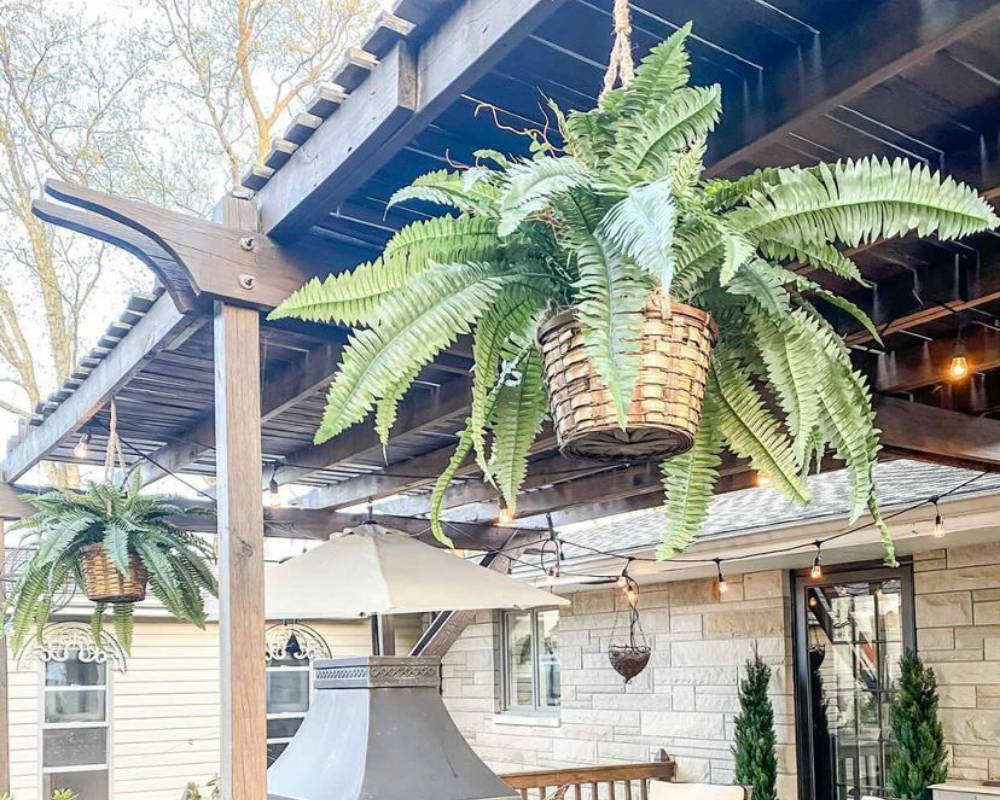 If you're looking for the best indoor or outdoor hanging plants, you've come to the right place. Here are some great plants which you can consider all designed by leading interior designers with an attention to detail.
If you are looking for a classic hanging plant that will look great year after year, then you may want to consider the Bougainvillea Hanging Basket. This gorgeous array of artificial flowers is UV resistant and made for indoor and outdoor use. This is a bright and vibrant plant perfect for any garden or home. The color is so rich it will add some pop to your decor! If you want to make your space even brighter consider displaying these hanging plants next to some faux trees or plants and watch as your space becomes an oasis of green. Especially during the winter months, you can add more seasonal items to make them blend with your other décor. No need to take them down during the holidays, instead embrace this new way of living with faux hanging plants. Add a little color during the winter without any of the maintenance.
---
If you're looking for spring door decorations, a hanging basket is a good choice. Pothos Hanging Basket Plants UV Resistant Indoor Outdoor is the best with beautiful colors. It is an ideal choice for customers who want a low-maintenance plant that can thrive outside in any environment. In addition, this unique design features UV-resistant fabric to withstand natural, outdoor elements. As an extra budget saving feature, the planter is already creating a win-win situation by allowing you to save the hassle of buying a new basket.
---
Silk hanging baskets plants have many merits over natural plants. They never need water or sunlight and won't wilt during the summer heat. And they're not seasonal so that you can enjoy them year-round! This faux plant is easy to care for and maintain, requiring only a feather dusting about once a month and that's it! It's a lot easier than caring for the real thing.. its hanging nature makes it perfect for decorating spaces without taking up valuable surface area. Place it on a hook or shelf and let its leaves run wild! Especially if you live in tight areas such as a townhouse or an apartment, you can't go wrong with this faux hanging plant. Consider adding multiple along a straight line for more cohesion and symmetry.
---
If you're looking for a pop of color and beauty in your garden or yard, look no further! Our outdoor hanging plants are just the thing to brighten up your space. The bougainvillea hanging basket is perfect for adding that extra touch of color to any room. It features a beautiful array of pink, orange, red, and purple blooms that are sure to make any space feel more lively and vibrant. Especially if you don't live in the tropical regions of the USA, bring the aura of the tropics to your space today easily and effortlessly.
With its delicate petals and soft leaves, this plant will be sure to bring joy to your home. It comes with a natural burlap-style planter hung from a hook or placed on any tabletop surface. The basket itself measures 7"x6"x7" and will fit perfectly in small spaces where other arrangements won't work as well. We recommend decorating according to the rules of 3, where you set your decorations in odd numbers in order to create cohesion and symmetry among all the elements. This is one of the reasons why some spaces seem more well-thought of.
---
Philodendron is a tropical plant that is known for its vibrant, heart-shaped leaves. It can reach up to 10 feet in height, which makes it a conversation piece as well as an aesthetically pleasing addition to your home.
It is also ideal for hanging baskets because it's creeping vine, which will spill over the edges of the basket and create a lush, natural look. In addition, this plant is easy to care for and maintain, requiring only an occasional feather dusting about once a month, some customers set up a reminder on their phones to not forget.
---
Depending on where you live and what types of plants thrive in your area, there are many great options to fill your outdoor space with plants that will help to revitalize the space. The key is thinking about ways to make your outdoor space more plant-friendly and using the spring season as an opportunity for growth. If you dream of a spring oasis but want to stretch the dollar, think about adding budget-friendly faux plants to your décor as they transition from season to season and help you save time of care. Instead you can use this time to spend with the ones that you love. Check out our top 10 best selling outdoor trees to learn about our customer favorite picks.