Our top 10 artificial plants for home décor
You might be asking: How can I decorate my house with artificial plants? The answer is simple. You can decorate with artificial indoor plants by following a few easy steps.
1. Determine your space's size

Pick a number you feel comfortable with and stick to it to avoid headaches in the future.
3. Decide on a plant based on your style

This one is entirely up to you! There is no right or wrong answer.
Fake plants get a lousy rip for being tacky, old school, and cheap-looking, but we're here to tell you a lot has changed since the first faux plants were distributed. First, through innovations in manufacturing and second with Nearly Natural's experience in the live plant industry, the company was founded by a horticulturist. Gone are the days of cheap faux artificial greenery.
Is it okay to decorate with fake plants?
Absolutely! Artificial plants are the perfect alternative for those with allergies, travelers, pets, and small children. Fake plants give you peace of mind knowing you're bringing family-friendly products home – that require zero maintenance. Nearly Natural's faux plants look so real; you'll try to water them! Seriously, even the birds and cats think they're real.
To help simplify this process for you, we created a list of the top artificial indoor plants for home décor.
Make Your Plant Look Less Fake
Choose high-quality faux greenery
Many people are traumatized at the sight of cheap-looking artificial greenery, from the dust accumulation to the tacky plasticky look. So Nearly Natural became the first silk botanical company to hire lead designers and horticulturists to design every product to solve this issue. Long gone are the days of those frightening fake flowers, say hello to high-quality faux greenery.
Look for natural elements
When buying faux greenery, be on the lookout for keywords such as real to touch and natural trunks; these are the most lifelike out of all our silk trees and tend to be the most popular.
Add some faux moss or dirt
How to make your fake plants look more real? To increase the likelihood of fooling your friends into thinking you have a green thumb, consider adding faux moss or dirt in the planter of your new home decor plants. Some artificial plants for home decor already include it, saving you the hassle of having to procure it yourself.
Here's Our Top 10 Artificial Plants

25" Coleus Artificial Artificial Plant in White Planter

Bring color, dimension, and depth to your home or office with this realistic looking artificial coleus plant. Featuring layers of bright, vivid, multi-colored leaves with naturally occurring details, this vibrant fake plant will bring a fresh appearance to any environment. Perfect for home offices, bookshelves, or bathrooms.
50" Bird of Paradise Artificial Plant in Gray Planter with Stand (Real Touch)

Introduce hints of natural color in your home with the help of this artificial plant showcasing oversized bird of paradise leaves that fan out with a lifelike quality in bright, rich hues, handsomely accented with silk blossoms - all of which feels real to the touch. Perfect for living rooms, bathrooms, bedrooms, and guest rooms.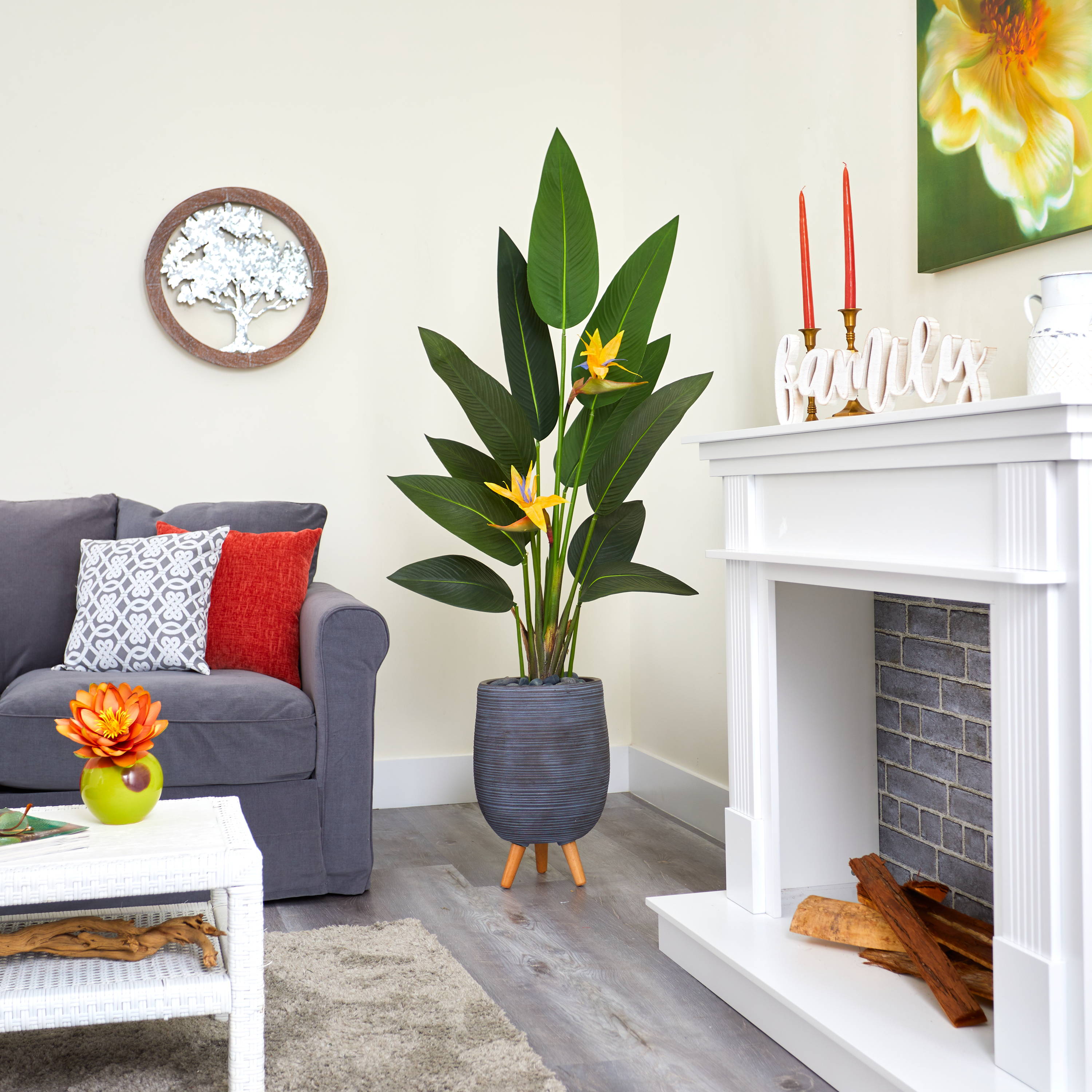 A beautiful contrast of colors and textures, this 4' Spiked Agave Plant has it all. The intricate, stout trunk rises from the planter, culminating into an array of spiky leaves that point in every direction. Curate this Southwestern beauty in your living room, bedroom, or home office.
23" Raspberry Artificial Plant in Green Planter with Stand

Add instant freshness throughout bare spaces with this artificial plant boasting an overgrowth of brightly colored raspberry foliage in bright evergreens and accented throughout with berries that look so real you'll try to eat them. Add freshness to spaces such as offices, living rooms, or kitchens.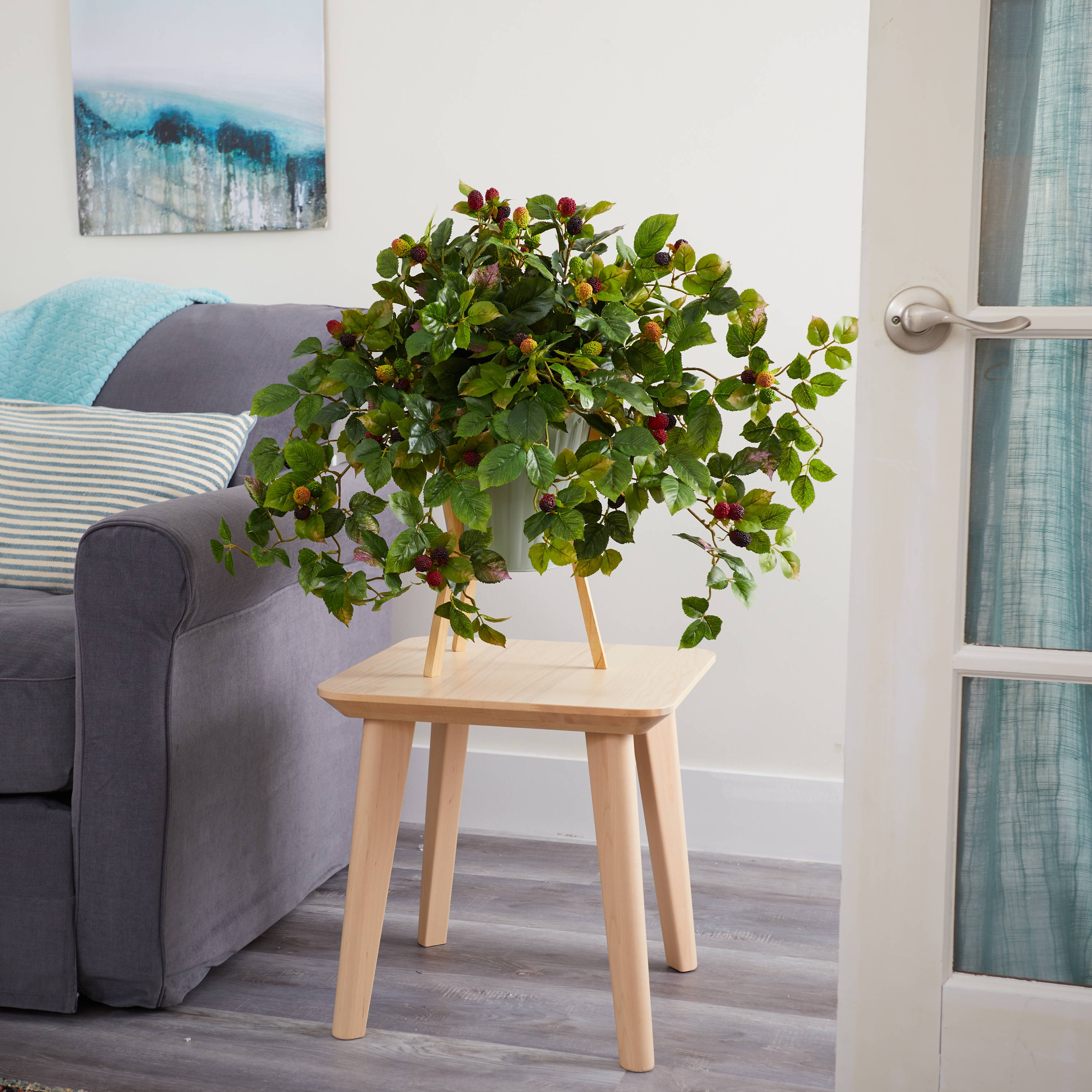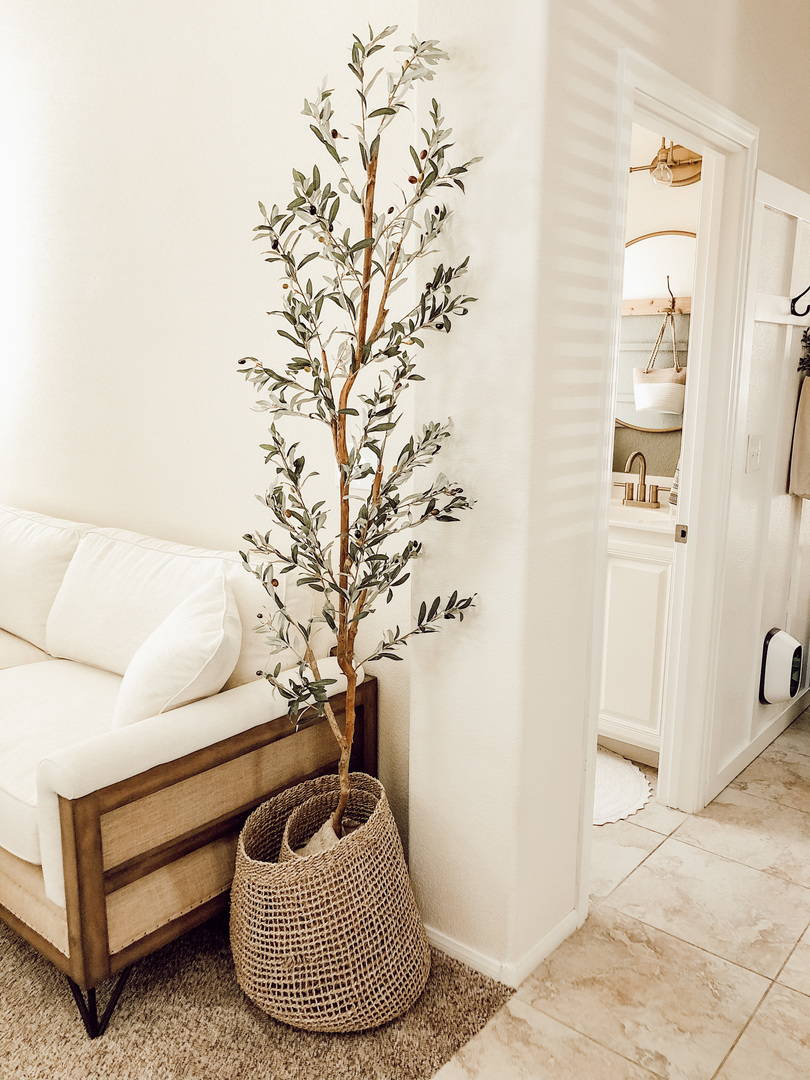 82" Olive Artificial Tree

Featuring a massive height of 82 inches, this artificial olive tree is a perfect vertical accent for your home. It has thin brown stems that branch out with fine and delicate bright green leaves on them. Bring the Italian flair to spaces that need a little love like living rooms, nurseries, or bedrooms. This one is a best seller for a good reason; hurry catch one before it sells out.
40" Philodendron Artificial Plant (Real Touch)

Incorporate year-round greenery with the help of this artificial philodendron plant boasting a rich overgrowth of lifelike fronds and oversize foliage in a palette of evergreens - all of which looks incredibly lifelike to the naked eye. Bring the jungle look to your bedroom, offices, or awkward corners.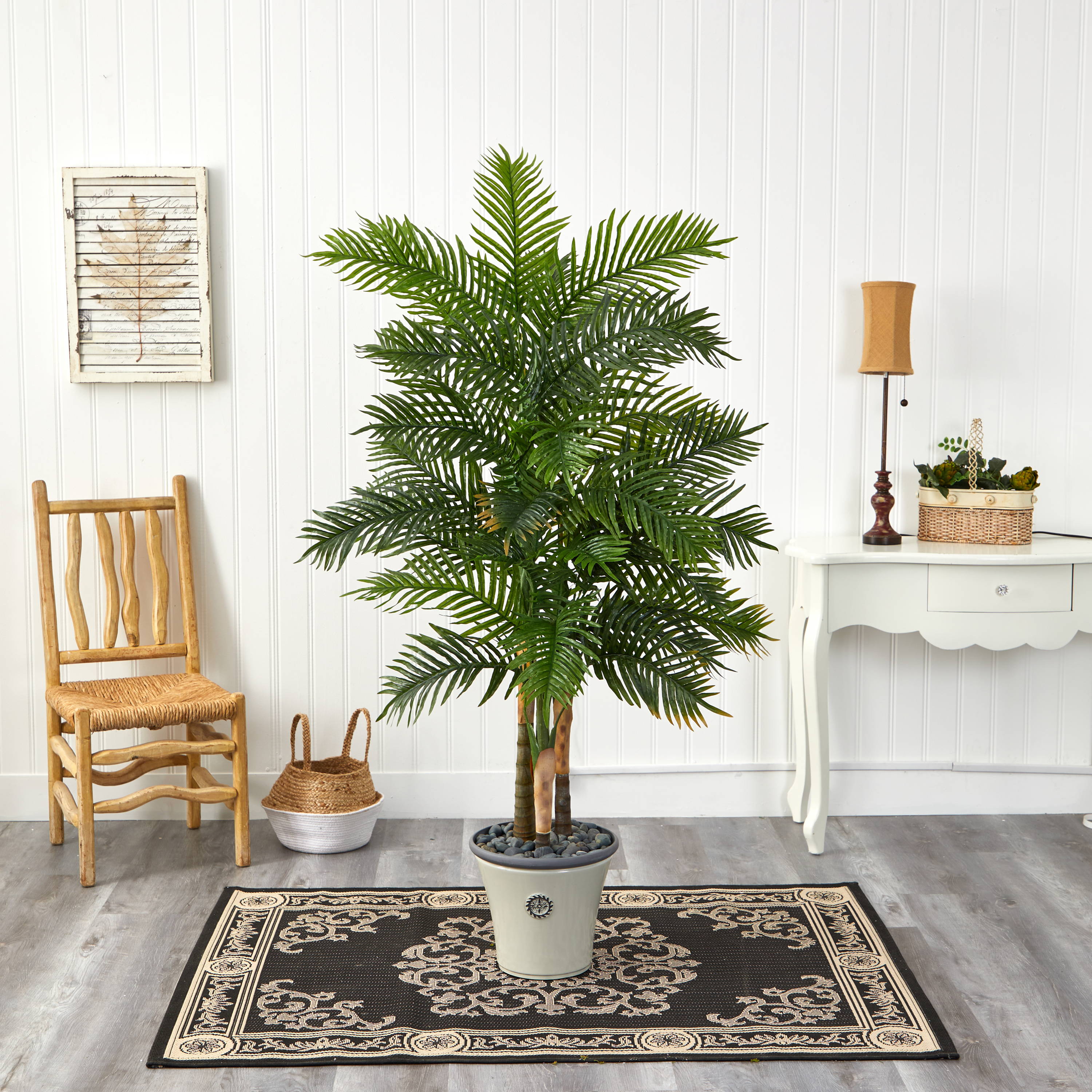 52" Triple Stalk Banana Artificial Tree in Decorative Urn (Real Touch)

Escape to a tropical paradise from the comfort of your own home with the help of this artificial banana tree; boasting a canopy of large leaves atop a trio of sturdy and stabilized trunks - all of which feel real to the touch. Transform your living room or office into a jungle with the help of this banana tree.
Unlike the real Ficus tree (which is finicky and practically leafless in almost any home light conditions), our Ficus tree is eternally verdant and deep green with 1008 individual leaves on several sturdy branches. If you're looking to bring an elegant look to your spaces, this is your best piece. Curate in your living room, bedroom, or foyer.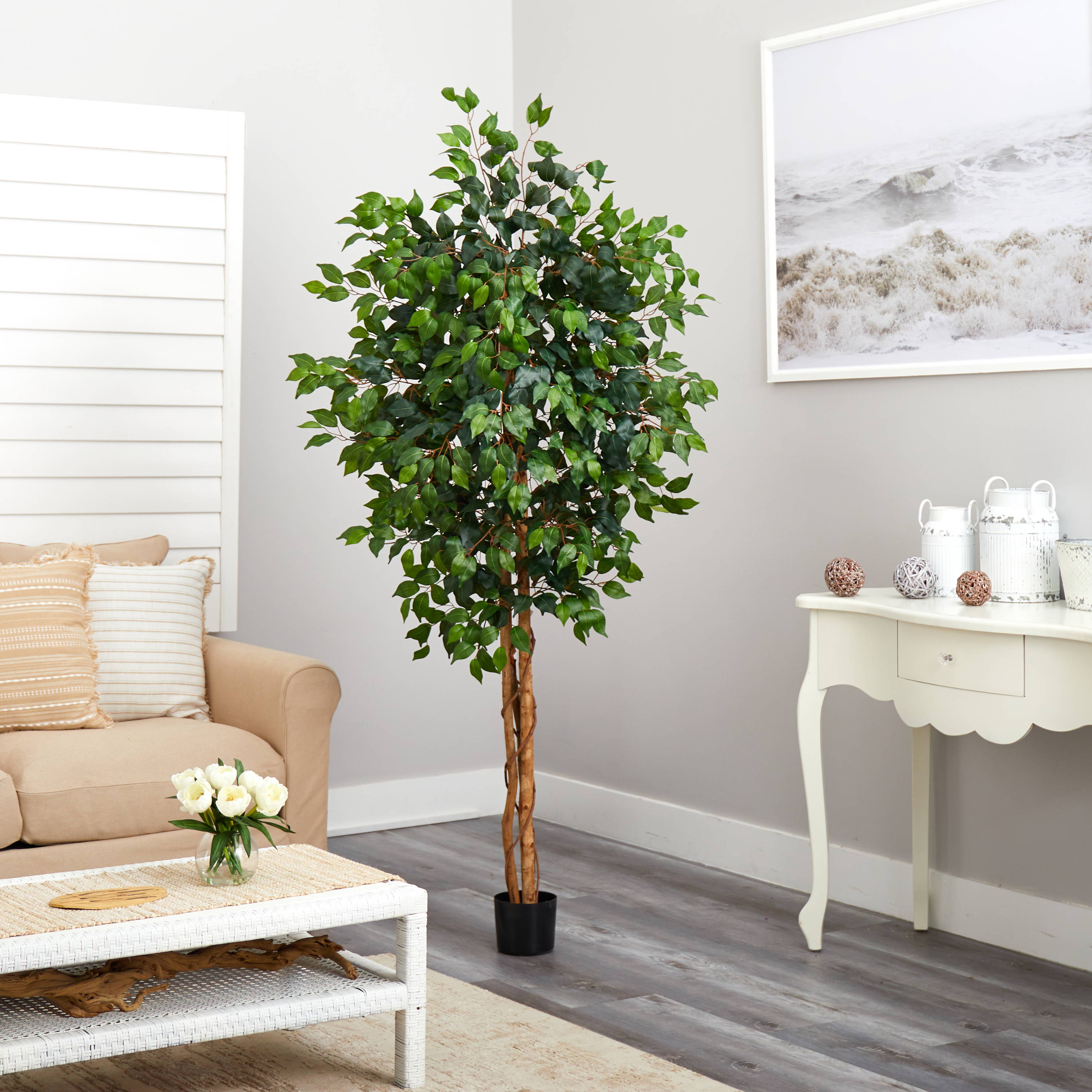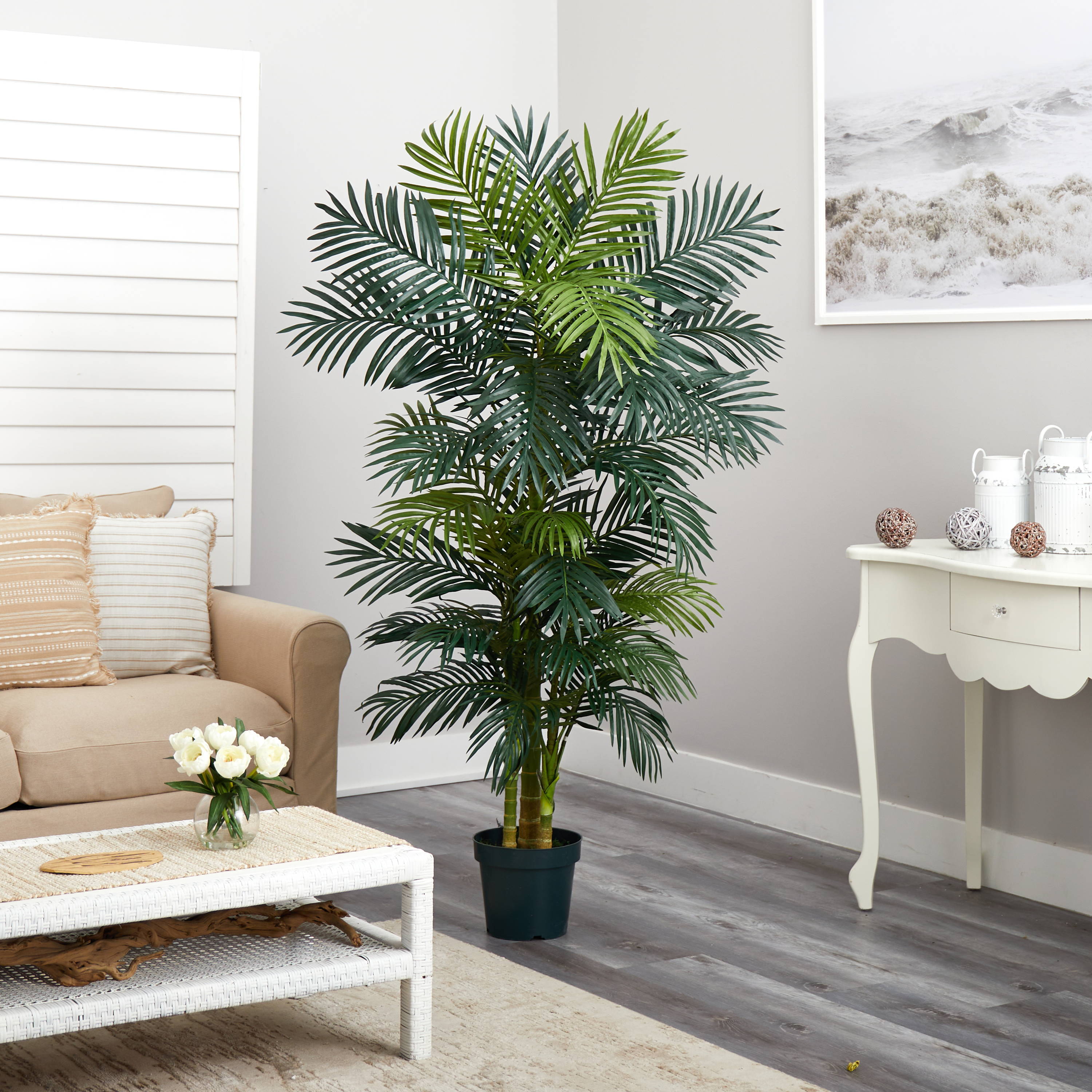 6.5' Silk/Artificial Tree - Fake Golden Cane Palm

One of the finest silk palm trees we offer, this six-and-a-half-foot Golden Cane Palm tree will have you feeling like you are always on vacation. Standing a full 78" high, the multiple trunks sport 333 palm leaves, just waiting to dance in the warm tropical breezes. Perfect for any room or office décor.
The hibiscus tree is one of our favorite flowering trees. Because in full bloom, the mixture of colors and textures is unlike any other tree. This perfect recreation captures a 4' tall Hibiscus tree in bloom, with unique "gnarly" trunks twisting upwards, an explosion of lush greenery, and pretty hibiscus flowers. It's an ideal home or office decoration and even makes a lovely gift to a friend.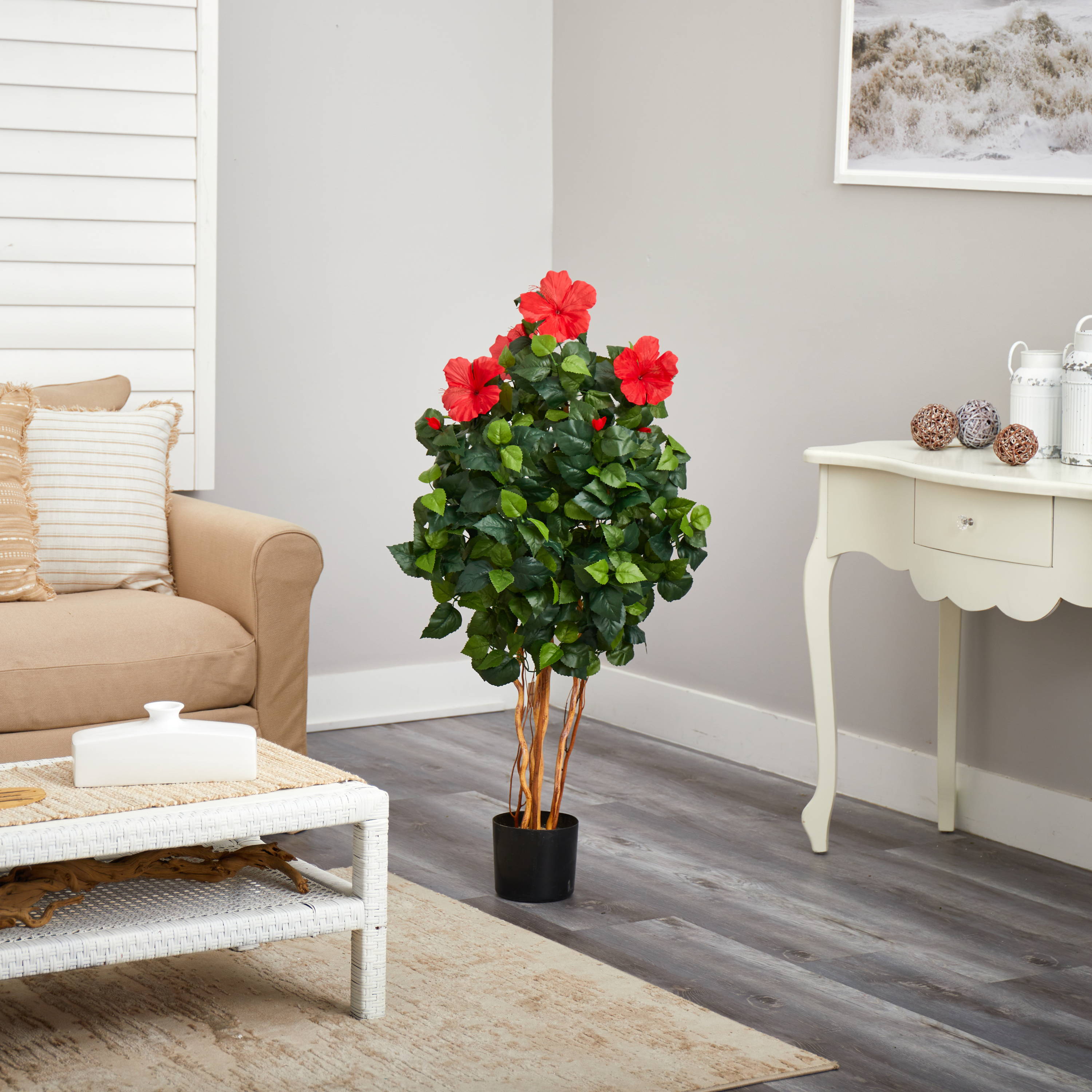 After reading this list, you might now be wondering:
Where is the best place to get fake plants?
Good question! The answer is at Nearly Natural – the leader in artificial greenery, founded by a horticulturist and interior decorator. With our experience in the live plant industry, our standards are high, so you can enjoy the most natural faux plants out there. We pay attention to the details only a horticulturist would know. Get peace of mind knowing we have 1000s of items from different styles of home décor. No matter which type of tree, size, or interior style you like, we guarantee there's a product for you. Why not give us a try? We have Free shipping and returns.